If you're planning a visit to Seattle in April or May and wondering how to best spend your days in the Emerald City, I've got you covered! While most travel guides provide a generic list of tourist attractions from a traveler who's spent a few days in the city, today I (a former Seattle tour guide and resident) am sharing the next article in my series on the best things to do in Seattle, season by season.
In this article, I share the absolute can't-miss activities in Seattle if you happen to be planning a visit to Seattle in April or May. Early spring in Seattle brings a reprieve from the rainy skies and offers the benefit of thinner crowds at Seattle's most popular attractions. You may get hit with rain during a May visit to Seattle, but don't worry, there are so many things to do in Seattle in the rain.
What to Expect visiting Seattle in April and May
As may already know, Seattle has some pretty unpredictable weather, even during "predictable" weather seasons, so planning the perfect trip in April and May can be a little complicated. Especially in spring, you never know whether a trip to Seattle will bring days of blue skies or steady rain (or both!). That's why we've put together this list of both indoor and outdoor activities so you can pick and choose exactly how you'd like to spend your spring visit in one of America's most adventurous cities.
Not sure how many days to spend in Seattle? I recently designed a quiz that surveys all the attractions you want to visit and returns a mathematically calculated number of days you should plan to spend in Seattle. Take the quiz now.
Why April & May are Great Months to Visit Seattle
As the first full month of spring, April is when the Pacific Northwest really starts to wake up after the long winter. With flowers blooming all over the city, cherry blossoms in bloom, and a handful of sunny days popping in between storm fronts, April is a great time to visit Seattle. Of course, the weather will still be hit or miss, so be sure to pack a raincoat and some waterproof shoes in your Seattle packing list. But even if you're determined to avoid bad weather, Seattle is well-designed to accommodate fun any time of the year.
Inching closer to summer, May is a great time to visit Seattle and offers many of the same activities as the earlier spring months. That said, there are a few things that become more accessible and fun in May as the days get a little longer and dryer.
Here's my visual illustration of the best things to do in Seattle by month, notice that April and May offer so many options! Let's explore more…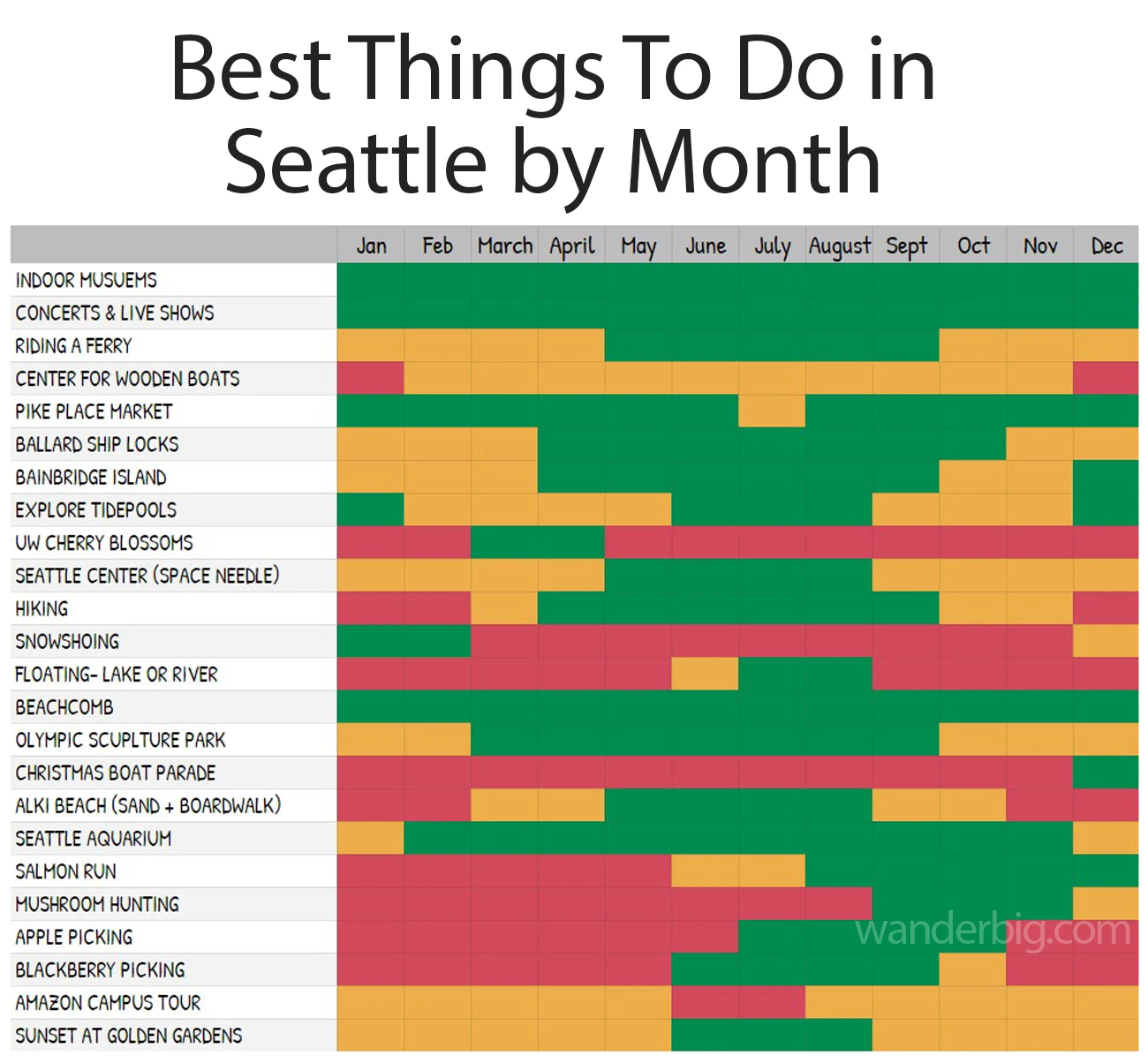 Hiking:
If you're excited about venturing into the outdoors, April and May are a great time to experience the preferred recreational activity of Seattle locals: hiking! Just a 30-minute drive from some of the most popular day hikes in the state, Seattle is a prime location for experienced hikers and new hikers alike.
The most popular spots for hiking are in the Snoqualmie Valley, just east of the city in the Cascade foothills (a quick and easy drive on Interstate 90). For intermediate day hikes, check out Rattlesnake Ledge or Little Si. And if you're up for a super rewarding challenge, try out Mount Si or Mailbox Peak. (Just remember that if you're parking at any of the state-owned trailheads, you'll need to pick up a Discover Pass at any REI or local ranger station to avoid getting a ticket.)
If you're looking for a mellow walk through the woods rather than a full-on trek up a mountain, head over to Seward Park. On the shores of Lake Washington, this gorgeous hidden gem offers extensive forest trails, wildlife viewing, and lakefront picnic spots that will make you completely forget you're in the middle of the city.
Looking for April in Seattle hiking options that will keep the non-hikers in your party engaged? Here are my best suggestions:
This short hike features gnomes, (yes, gnomes!) placed playfully along the entire route. Visit to find the gnomes frolicking through scenes posed by grassroots volunteers and fellow hikers or get involved and buy your own gnome to leave during your visit! Here's how to get there.
This mountainside trail is littered with quartz and amethyst crystals free for the taking. April and May are the perfect time to visit, since as soon as snow melts, quartz crystals heaved up by precipitation and freezing soil can be collected from the ground with no digging required! (This trail can be very muddy in the spring for the same reasons- bring serious hiking boots and poles for safe hiking) Here are a few other things you might want to pack.
Flaming Geyser State Park is an easy entry-level trail and for those looking for some excitement, there are literal geysers (sometimes flaming) to be found at this park. In recent years the flame has died out, but I have some tips for enjoying it in its glory.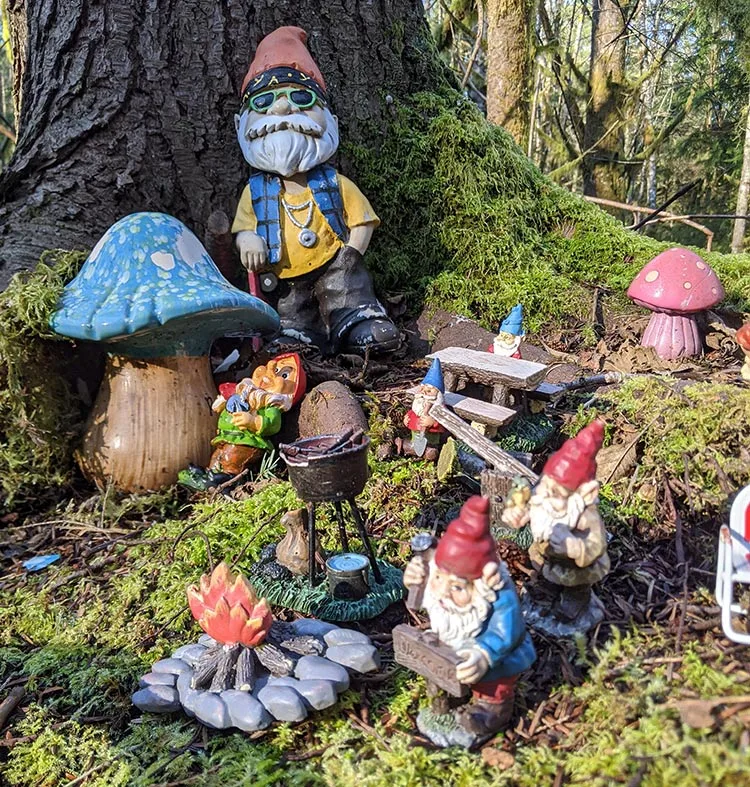 University of Washington Cherry blossoms
Little known by outsiders but a treasured spring tradition for locals, the campus of the University of Washington's quad is filled with cherry trees which burst into bloom in March or sometimes April. Visiting the UW cherry blossom festival means getting to appreciate stunning historical buildings with a foreground of pink cherry blossoms. While you're on campus, you can visit Suzzallo and Allen Library– a building consistently listed as one of the most beautiful libraries in the world and a chief entry on my list of best places to study in Seattle.
Hint: Parking near campus during this event is nearly impossible, so consider using Seattle's state-of-the-art public transportation to navigate the city.
Concerts and live shows:
Long before the tech boom, Seattle was well-known for its vibrant local music and art scene. Even today, Seattle is one of the top destinations for touring musicians, stage plays, and other live shows from all over the world.
In April and May, the calendar of live shows in Seattle starts to heat up as many performers, actors, and bands return from a winter off. In early spring in Seattle, you'll always be able to find an exciting event to liven up your evening in this artsy city. Check out resources like Seattle Theatre Group and Visit Seattle for helpful, year-round event calendars.
Pike Place Market:
One of Seattle's most popular landmarks and institutions, Pike Place Market is well worth a visit any time of the year but really burst into life in April and early May. The great thing about going to Pike Place in April is that the famous flower stalls are just beginning to stock spring flowers, so you'll find fresh flowers as well as fresh local foods and artisan goods.
By mid-April or early May in Pike Place, the weather is a little better, and the famous buskers (street music performers) of the market are more likely to be on the corners, serenading shoppers with their legendary talent.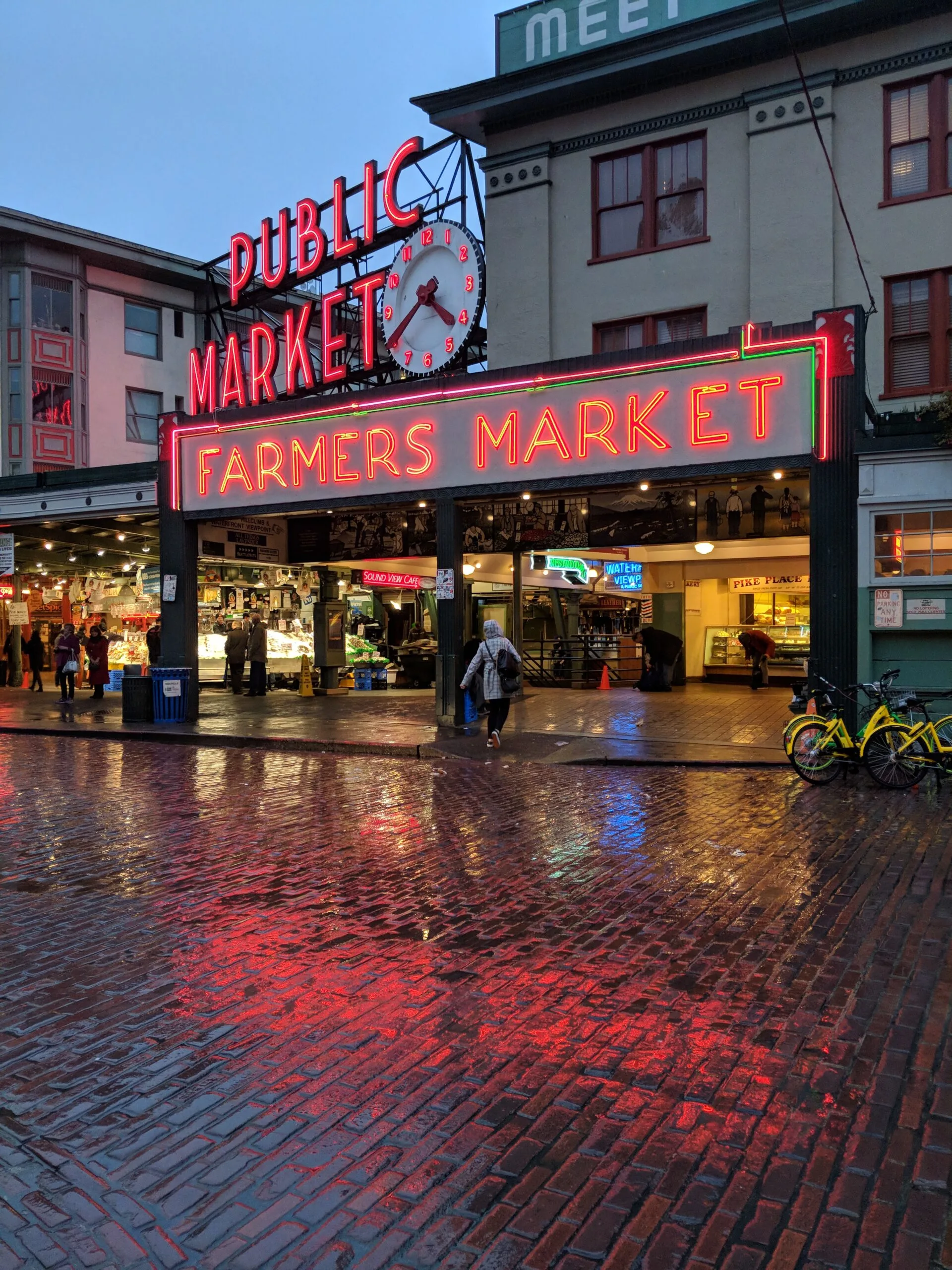 Located just above Seattle's waterfront, Pike Place offers a multi-level, indoor-outdoor market bazaar experience. Whether you're looking for a quick bite, a bouquet of flowers, or a unique local bookstore, Pike Place always makes for a fun and eclectic afternoon.
By late May, the secret rooftop garden in Pike Place Market is just coming into bloom, so follow my guide to find this public rooftop park to browse the garden and appreciate the view of the Puget Sound.
Olympic Sculpture Park (free):
Centrally located on the shores of Elliott Bay, the Olympic Sculpture Park is an extension of the Seattle Art Museum. The sculpture park offers an entirely free, year-round modern art experience. Spread out over nine acres, this park is the perfect place to head on a sunny afternoon with some snacks and some time to wander and appreciate the sights. It's right along my recommended walking path from Pike Place Market to the Space Needle, and by mid-april is a lovely place to spend a few hours enjoying the art and nearby pocket beaches (ecologist reconstructed beaches in the heart of downtown Seattle).
Indoor museums (sometimes free):
Perfect for a rainy spring day, Seattle's museums are world-renowned and sometimes even free to visit.
The Seattle Art Museum (SAM) is free to all visitors on the first Thursday of each month, and the Seattle Asian Art Museum is free on the last Friday of each month. The Frye Museum, which features art from 1800-present, is always free.
Whether you're interested in fine art, history, industry, pop culture, science, or Scandinavian culture, Seattle's many museums will not leave you feeling bored. Some of the city's most popular museums include SAM, the Museum of Pop Culture (MoPOP), the Pacific Science Center, the Center for Wooden Boats in South Lake Union, and the National Nordic Museum. (Fun fact: the Puget Sound region is one of the most densely settled areas by Nordic immigrants, so Scandinavian culture is thriving here, especially in neighborhoods like Ballard where the Nordic Museum is located).
Seattle Aquarium:
Located right on the waterfront next to Pike Place Market, the Seattle Aquarium is another perfect destination for a drizzly April or May day in Seattle. Great for families and kids (but, frankly, I bought my adult self an annual pass for my first year living downtown), the aquarium features a wide variety of marine animals, including birds, otters, and Pacific Northwest salmon. Don't miss the fish tunnel where you can see schools of fish swimming from underneath.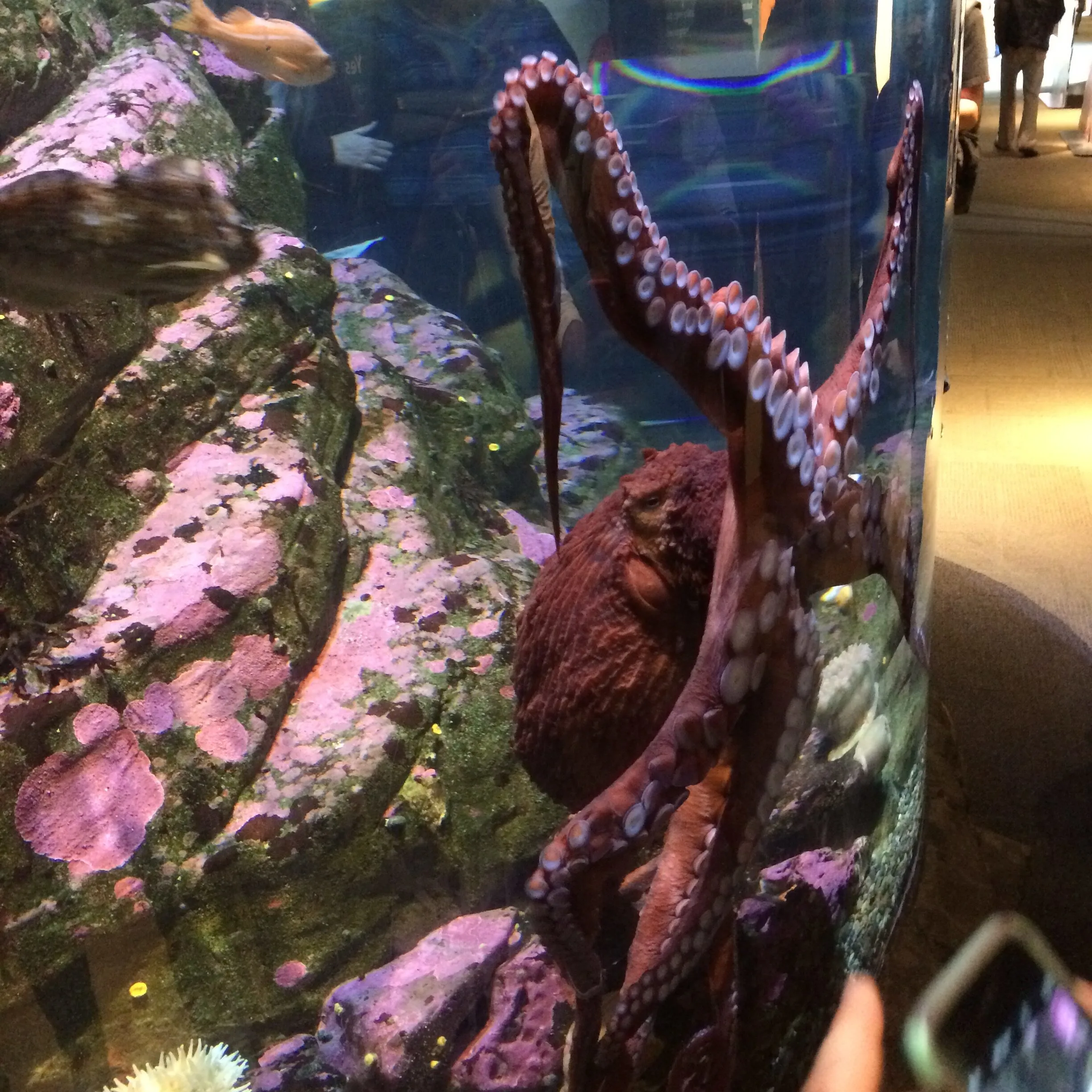 (Tip: if you're planning a vacation to Seattle with young children in your family, it's lots of fun to combine a visit to the aquarium with a stop at the nearby Pacific Science Center, which is designed specifically for kids!)
Riding a ferry in Seattle in April & May:
Unless they're headed out on an Alaskan Cruise, riding a ferry in Seattle is one of those activities I make everyone visiting me promise they'll do. Ferry riding in Seattle is iconic- and, frankly, the best way to appreciate the Seattle city skyline.
When I moved to Seattle, I fell in love with these elegant forms of public transportation. Traveling between downtown Seattle, Bainbridge Island, and Bremerton, the Seattle Ferries offer a one-of-a-kind view of the sound and an easy way to hop away from the city for an afternoon. If you get lucky, you might even see some wildlife from the deck of your ferry, like seabirds, seals, or even a whale!
Best on a clear, sunny day, a ferry ride to Bainbridge Island is an exhilarating experience, especially if you step out onto the deck to feel the wind in your hair and smell the sea air. Once you get across, Bainbridge Island has lots of things to do without a car and is a great place to grab a coffee and some lunch (try Pegasus Coffee House) and visit the cute shops along Winslow Way.
Hint: In April and May, even if the weather is mild, the deck of a moving ferry will feel frigid. Pack a jacket, coat, or even a wool hat to enjoy the outdoor decks in early spring. Find more tips for riding Seattle ferries in my post, Seattle Ferries: a Fan's Guide to Enjoying the Journey.
Seattle Center and The Space Needle:
(May event: Northwest Folklife Festival)
No trip to Seattle is complete without a visit to the legendary Space Needle at Seattle Center. Built for the 1962 World's Fair, this eye-catching landmark features an elevator that takes visitors 520 ft. into the air to a rotating observation deck and sky-high restaurant.
But the Space Needle is housed within a park called Seattle Center- and Seattle Center has tons to offer in April and May. This sprawling 74-acre complex features multiple performing arts spaces, cafes, and festivals throughout the year. On Memorial Day weekend each May, the Center hosts one of the most long-standing and popular festivals in the region, the Northwest Folklife Festival. Bursting with music, performing arts, workshops, vendors, and delicious food, this festival is not to be missed if you find yourself in the city over this May holiday.
Alki Beach and boardwalk (free):
Tucked away in laidback West Seattle, Alki Beach is the ideal spot to spend a sunny spring day in Seattle. Lined with restaurants and cafes that live up to Seattle's reputation for great food, Alki Beach is a complete west-coast-style beach with a boardwalk and sandy beaches that make this city getaway feel more like southern California than the Pacific Northwest. The beach features volleyball courts and fire rings for enjoying campfires after sunset. Pack everything you need and enjoy a full day of fun, food, sunbathing, and s'mores at Alki Beach!
Final thoughts on Visiting Seattle in April and May
Along with fall in Seattle, the early spring months of April and May are my favorite times to explore the city. With thinner tourist crowds at major attractions, but all venues open and ready to receive visitors, your spring trip to Seattle is sure to thrill your whole group- or even just you if you're exploring Seattle as a solo traveler!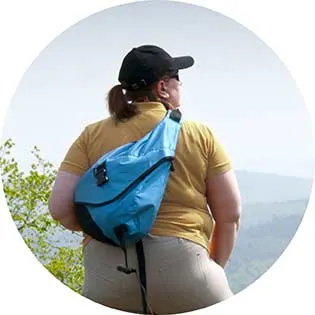 Lynli Roman's unique approach to travel is informed by decades of experience on the road with a traveling family and, later, years spent as a solo international traveler. When she's not writing about Seattle from her Pike Place Market apartment, Lynli writes on-location while conducting hands-on research in each destination she covers. Lynli's writing has been featured by MSN, ABC Money, Buzzfeed, and Huffington Post. She is passionate about sharing information that makes travel more accessible for all bodies.