In the past decade, I have lived in and cooked in Airbnb's in 14 countries and 3 continents. Based on the popularity of my easy recipes for Airbnb kitchens post that I developed after working remotely from international locations in 2019, I realized that other people might be interested in my week's simple meal plan.
This meal plan includes 6 days of simple home cooking that's perfect for a cabin, beach house, or vacation rental home. This meal plan was my way to make sure I had everything I needed to cook and eat my meals without exposing myself to a grocery store or restaurant on vacation in 2020, but this meal plan can be a useful way for anyone to plan meals, groceries, and snacks for solo, family, and group vacations.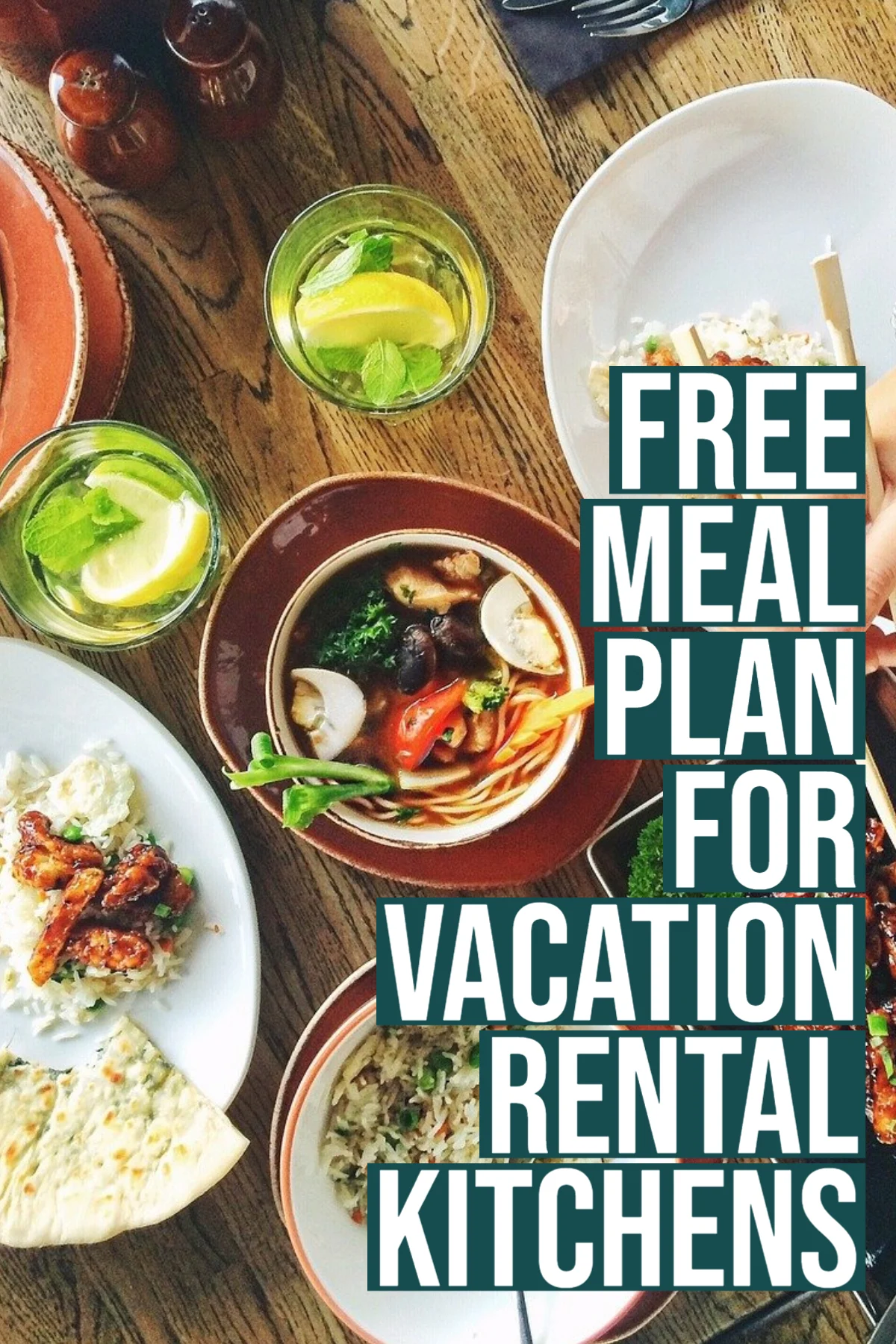 This six-day meal plan is perfect for any vacation where you have limited access to restaurants or grocery stores: like remote mountain cabins, out-of-the-way beach houses, camping in vans or campers in national parts, temporary vacation homes, and even boats with living quarters.
I designed it for a short term rental kitchen, assuming there are not basic supplies provided (like butter, oils, spices, or condiments) so the meal plan encompasses everything you'll need to have 3 meals and 2 snacks a day for a full 6-7 days. (The meal plan covers 6 full days, although it's likely that if you follow this plan you'll have leftovers to cover the final meals as you are ending and cleaning up at the end of a full week trip).
If you are creating a meal plan for a long trip or for multiple people with dietary restrictions, it's best to skip this simple printable and use a more detailed method, like this method for using Trello for family meal planning.
Download this Meal Plan for Free:
Download a Free Meal Plan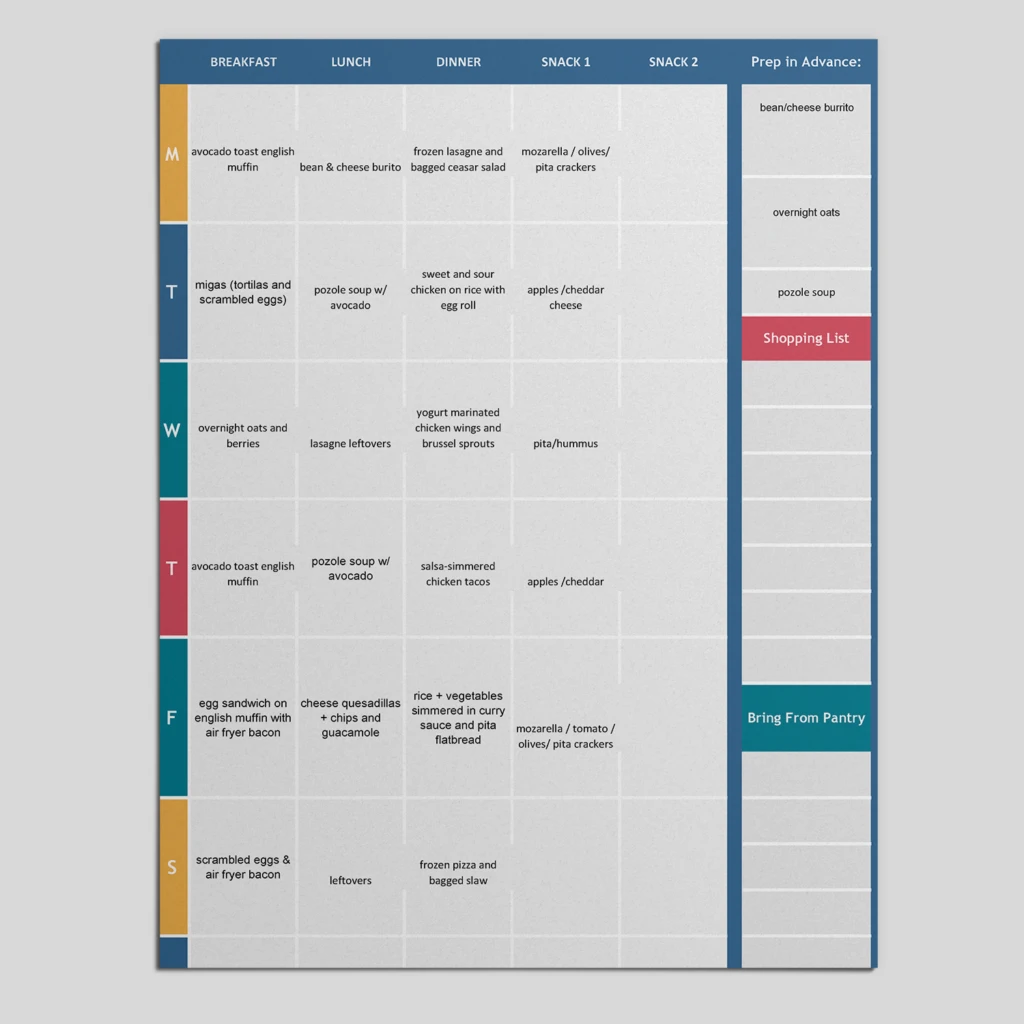 Air B&B meal plan for 2, 4, or 6 people
This meal plan was initially developed for one person, and can easily be scaled up for a couple, a group, or a family with kids. My cooking style tends to appeal to younger kids as well as adults, so this simple is easy to adapt for kids as young as toddlers.
Essential tips for cooking this Vacation Rental meal plan
1. Prep before you go
when my vacation rental home is close enough to drive to, one of the ways that I make cooking easy and low stress is by prepping several meals in advance. By making a few favorites before ever leaving my own home, I was able to spend minimal time cooking and preparing food and more time enjoying my vacation on the brood February PNW beach.
For the free menu download offered here. My plan includes making frozen burritos in advance, portioning out overnight oats into Mason jars, and preparing one of my favorite Mexican soups, Pozole.
2. Use pre-prepped ingredients prepackaged ingredients
When it comes to cooking in an unfamiliar kitchen, simpler is better. For this menu, a three-dollar package of frozen jasmine rice is a cheap shortcut to avoid trying to figure out how to make rice from scratch with an unfamiliar stove and cookware. The frozen rice elevates the sweet-and-sour chicken and the curry dish to hearty dinners.
Similarly, I skipped packing all the spices for my curry and instead grabbed a jar of curry- which made it possible to get a meal on the table in minutes instead of an hour or more of simmering. None of these are groundbreaking shortcuts or new suggestions, but for folks who are used to either cooking from scratch or not cooking at all, the use of prepackaged ingredients during a vacation rental that limits access to groceries or restaurants can be a huge relief.
3. Bring your favorite appliance
One thing I have learned from staying in over 30 Airbnb's is that you never really know what your host will claim is a "kitchen" or "fully equipped." It's unpredictable to know whether you'll have the essential supplies you'll need to cook (like cookie sheets for an oven or pots and pans for the stove).
Since I am in love with my AirFryer, and this trip was a short drive away from home, I brought my air fryer along just so I could be sure that I had a way to cook that was comfortable and functional. Bringing one familiar small appliance- like an Instant Pot or an air fryer – is a great way to avoid the learning curve associated with using appliances in an unfamiliar kitchen.
Note: if you don't have access to an air fryer, you can still follow along with this meal plan, just use a cookie sheet and an over to heat food I cooked in my air fryer.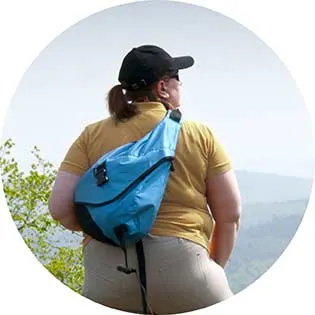 Lynli Roman's unique approach to travel is informed by decades of experience on the road with a traveling family and, later, years spent as a solo international traveler. When she's not writing about Seattle from her Pike Place Market apartment, Lynli writes on-location while conducting hands-on research in each destination she covers. Lynli's writing has been featured by MSN, ABC Money, Buzzfeed, and Huffington Post. She is passionate about sharing information that makes travel more accessible for all bodies.