There are few experiences Hollywood gets wrong more than airport arrivals. While film stars saunter off a plane looking refreshed and glowing, most travelers deplane looking weary, frazzled, and more than a little dehydrated.
In this article, you'll learn some of my best tips for making it to your destination airport in style, including: tips for makeup on planes, in-flight beauty tips for long flights, strategies to change up your outfit in flight, and a skincare-focused packing list for your carryon so that you'll look & feel stunning on arrival.
The Challenges of Air Travel on Style & Beauty
No one looks their best after a long flight, although there are strategies we can use to fix the issue. Several things contribute to our skin not looking its best on arrival at our destination airport, including:
😬 stress
🚱 dehydration
🧽 disrupted skincare routine
🚫💤 and lack of sleep.
Through countless domestic and international trips, I've learned several tricks for looking stylish, put together, and healthy. Yes, these beauty tips work even at the end of a long plane trip!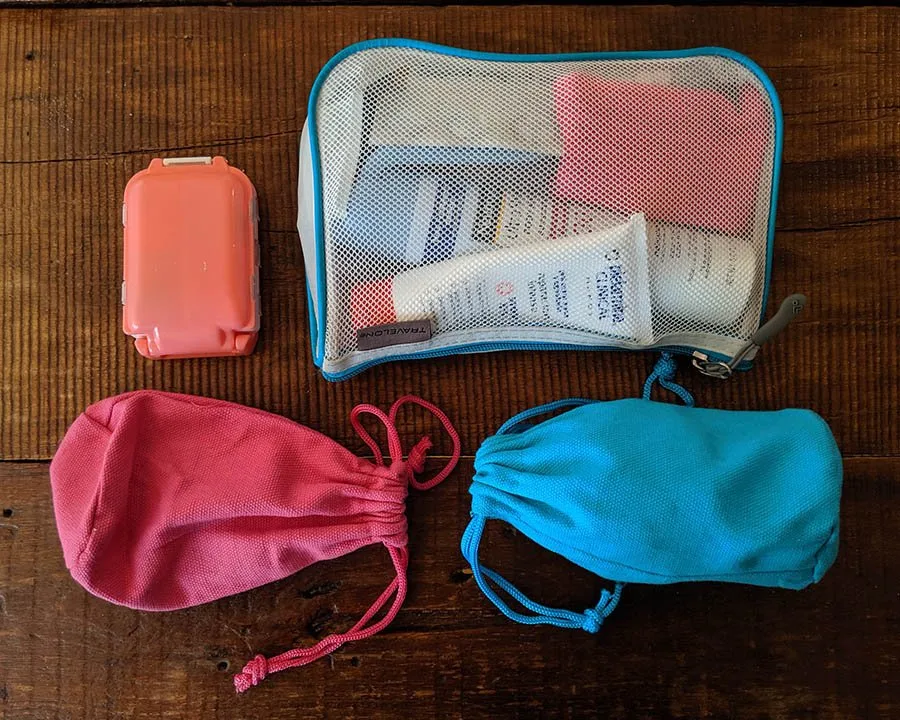 Here's the Science behind why Airplanes Wreck our Skin
It doesn't matter if you're 14 or 40; airplane air wreaks havoc on our skin. And it's not just a matter of perception. Airplanes constantly pull air in from the outside and condition it for the cabin. While the system is a wonder of modern science, it has one huge drawback for travelers: low humidity.
According to researchers, air on the typical airplane has a humidity of 20-25%. 1 and may drop as low as 10%. 2 That's far less the average outdoor humidity level, in which our skin looks its best. In the USA, outdoor humidity ranges from about 70-82% 3. When we spend hours in a low humidity environment like a plane, the moisture in our skin evaporates faster than it can be replenished by our circulatory system.
As skin becomes less hydrated, it looks less healthy and firm. This leads to us looking haggard or exhausted on arrival. That's not how we want to make a first impression (or re-impression)!
To arrive in style at your destination, here are a few:
Beauty Tips for a Long Flight
💅🏻 1. Practice good nail care
Nails speak volumes about us and our style. Getting a manicure before your trip is a great way to arrive polished despite the challenges of airports and airplane travel. If you're going on a business trip, consider getting a manicure the day before departure. If you are prone to chipping your nails, consider getting a gel or shellac manicure for durability.
2. 🚿 Shower just before departure
If you've got a long flight and want to arrive at your destination without feeling gross, it's best to shower right before you leave. This might mean disrupting your typical shower schedule, but taking an extra shower just before you leave for the airport can help you get through a long flight and the stress of travel a little fresher.
3. Take off your makeup after boarding.
I know, I know, not what you were hoping to hear. But bear with me:
In the low humidity environment of an airplane, most of the moisture in your makeup will evaporate rapidly. Your makeup won't look great, it will draw moisture from your skin, and the skin below won't be able to benefit from any moisturizer applied in-flight.
Makeup remover wipes are great for removing makeup, cleansing your skin and flight, and helping your skin stay moisturized in flight. So instead, pack in your carry-on makeup remover wipes (preferably with a moisturizing ingredient).
Remove your makeup about an hour into the flight, or at the very least, before sleeping on a plane.
The following section may contain affiliate links. As an Amazon Associate, we earn from qualifying purchases.
4. Apply a moisturizer during your plane trip
As soon as you've removed your makeup, moisturize. This is so important!
When researchers studied women on long-haul flights, they found that (without using moisturizer), hydration of the skin on their face dropped by 37% by the time they reached their destination! 4
Think beyond simple moisturizers, and include:
💄 Chapstick or lipgloss
🧴 facial moisturizers
✋🏻 hand cream
To get through airport security quicker, use solids or trial size packages. (This is an excellent opportunity to use those sample packets that come in the box with many online makeup orders!)
You may not have lip moisturizer samples on hand. In this case, I highly recommend ordering and traveling with Blistex packets (order from Amazon here). They have saved me from painfully chapped lips during multiple travel excursions (and can even be used as a hand lotion in a pinch!)
I like a tin of Nivea cream (buy a travel size tin here) in my carry-on bag because it doesn't get restricted in the way that liquid lotions do.
5. 💧 Drink Water & Other Drinks
Are you seeing a pattern yet? That 20% humidity? That's equal to spending the day in the Sahara desert! 5 For the entire time we're on a plane, our bodies are slowly dehydrating. That's why we feel so sluggish and may even have digestive issues following a long flight.
Many travelers try to avoid going to the bathroom in order to not disrupt a seatmate or have to deal with heavily-used bathrooms, but that can worsen dehydration. If you want to arrive healthy and looking fabulous, you'll need to put aside your desire to avoid the bathroom and keep chugging water.
Aim for drinking 8 ounces of water every 2 to 3 hours. Since this is generally quite much more than the flight attendants will offer in the cups they pass out, you should have a water bottle handy. When I travel, I always arrive at the airport with an empty 24 oz water bottle and fill the entire bottle from a water fountain after I pass through security.
Is Water Alone Enough?
You've probably heard that water is the key to healthy, glowing skin- but it's not the only effective strategy. Research indicates that a carbohydrate-electrolyte beverage (that's academic-speak for Gatorade) actually does help our bodies rehydrate faster. 6 For this reason, you might want to consider being single-packs of electrolyte drink powder, like these Gatorade Packets from Amazon.
8. Braid, don't brush your hair on a plane.
Cool, dry air creates frizz. That's probably not a surprise for you if you are from a place with cold winters. But what you might not realize is that an airplane is a similar environment. The low humidity creates static, which can build up and make our hair terrifyingly frizzy!
A simple braid or bun can keep long hair out of your face and prevent much of the static buildup. Resist the temptation to use a brush (or even your fingers) to comb your hair on a plane – this creates static and frizz.
9. Avoid heavy hair products.
On a long flight, we are often forced to go longer between showers than our typical routine. For this reason, our scalps have more time to produce natural oils and leave our hair looking greasy.
Lighter hair products can prevent a greasy look. If you often use heavy moisturizing hair products, go easy or choose an alternative on the day of your flight.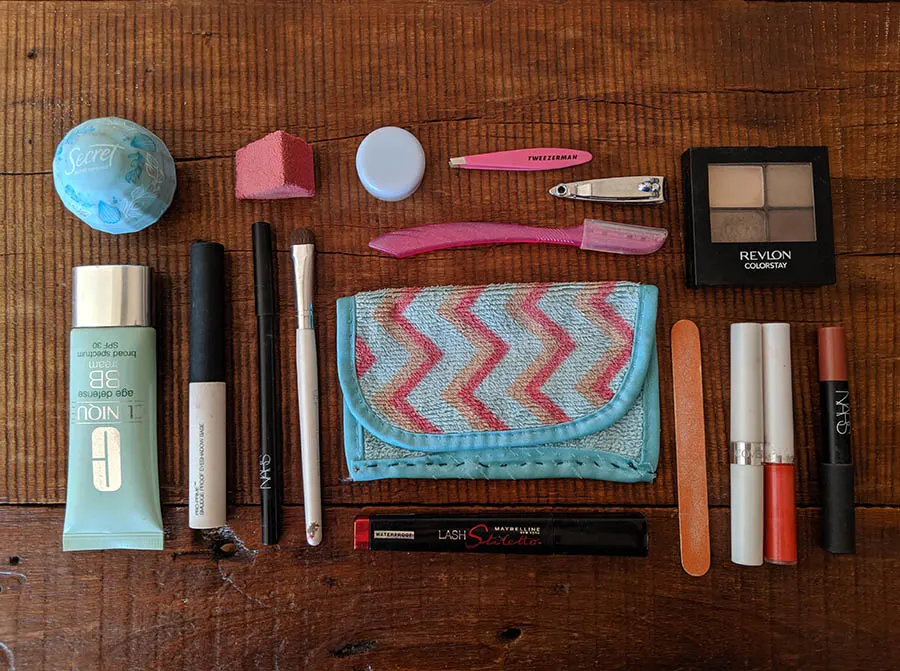 10. Use a powdered dry shampoo.
I've been hooked on dry shampoo for a few years, but for most of that time I thought aerosol was the only option. Accordingly, I left it off my beauty-essentials packing list. However, more recently, I've discovered dry shampoo in powder form that sprays. It's a game-changer!
Inexpensive Got2b texturizing powder provides both a dry shampoo lift and additional texture. It's small enough to be on my packing list for every long flight.
11. 💤 Tips for Beauty Sleep on a Plane
You may have already read my list of sleeping on a plane hacks that help me get some shut-eye on a long flight. Sleep especially matters for those of us who want to look our best and arrive in style, so here are some additional tips:
Sleep prevents puffy bulging eyes and dark shadows under our eyes. A good night's sleep helps skin stay toned and even. While you're probably not going to get a great night's sleep unless you are lucky enough to be traveling first class, even a few hours of rest will help. Even 3-4 hours of sleep can be a more effective beauty tip than any tip for makeup on a plane.
The best skincare routine for sleeping on a plane includes a cooling eye mask. By upgrading from a typical sleep mask to a cooling gel eye mask, you can get the benefits of a cooling mask while also blocking out light. About 20 minutes before you plan to try and sleep, request a cup of ice from a flight attendant to soak your gel mask. By soaking it in ice first, you'll be sure to maximize the cooling benefits.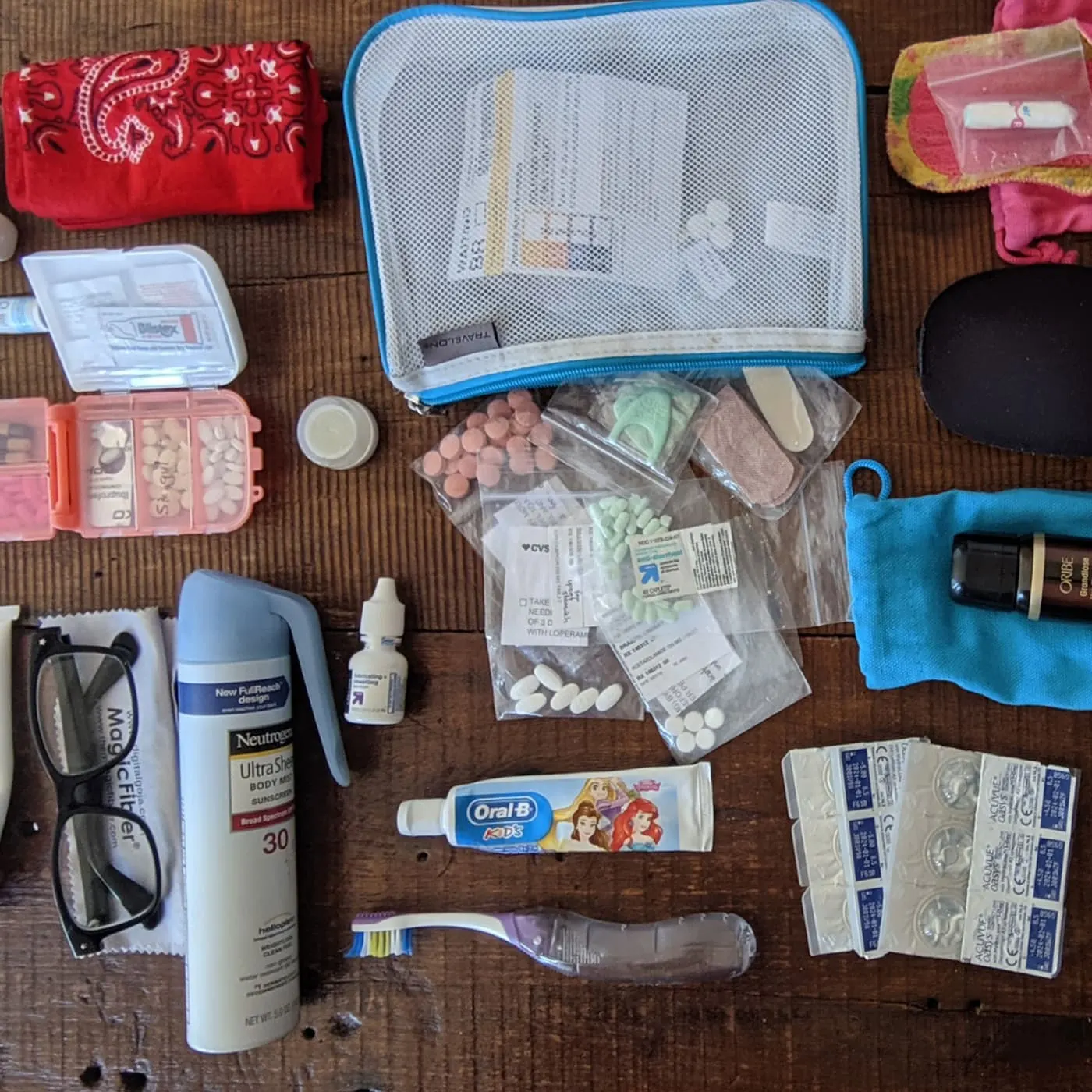 12. Makeup on Planes: Reapply Before Arrival
An hour before your flight lands (no sooner- or you'll dry out your makeup!), grab your toiletry bag and head to the nearest toilet. Use the mirror in the restroom to freshen up your face, apply fresh deodorant, brush your teeth, and then reapply your basic makeup routine.
I tend to stick with my classic look when I'm doing my makeup on the plane, however many travel influencers insist that a little more color than usual can make our airport style pop.
13. Make Wardrobe Adjustments Before Descent.
For long and overnight flights, it's common to board the plane in an outfit comfortable for sleeping. However, if you are meeting someone at arrival or just headed out to explore the city immediately, you'll probably want to change clothes.
While changing your entire outfit in an airplane bathroom can be a challenge, plan ahead for strategies to easily change your luck by adding a few accessories or changing your top.
Next, I'll share some clothing tips:
Outfit style tips for airport arrival
1. Change clothes – or even just an accessory!
Many women slip into the airplane restroom before landing to change clothes. Choose an easy-to-change-into outfit like a sundress or tunic. Alternately, you can simply add an accessory like a scarf. I find that changing even part of my airplane outfit before arrival helps me feel fresher and more confident as I walk through the airport toward baggage claim.
2. When in Doubt, Wear a Hat
Personally, I can't pull off hats. But if you're blessed with a face shape that works with hats, they can be a great way to cover up oily roots and flat hair. With a cute hat to cover your hair, you can make a stylish impression as you arrive at the airport.
3. Add Glamour to Your Airport Outfit
It's best to avoid expensive jewelry when traveling to many destinations (it can make you a target of travel crime). However, simple accessories like necklaces, bracelets, and earrings can help us look our best and turn a simple outfit from drab to spectacular.
When choosing jewelry to travel with, take items that are stylish but obviously low value (such as artful leather, wood, or paper jewelry). This can help you feel cute and stylish while not identifying yourself as a tourist traveling with excess money.
💍👀 Read my advice on how to pack jewelry in your suitcase.
🛫 Airplane Beauty Routine Packing List
To review, the best beauty tips for a plane include getting plenty of hydration and using a few products perfect for use on a long flight.
My in-flight skincare routine packing list includes:
Final Thoughts on Makeup on Planes & Airport Style
Arriving at our airport looking our best is possible with a few strategies for style and self-care. In this article, we've covered the skincare routine to take on a plane to arrive looking phenomenal, ways to change close on a plane to look stylish on arrival, and what you should pack to do your hair and makeup on a plane.
Do you have additions to this guide to airport style? Drop me a comment below!
For more flight-savvy travel tips, see these related articles: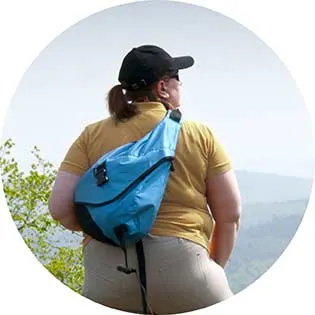 Lynli Roman's unique approach to travel is informed by decades of experience on the road with a traveling family and, later, years spent as a solo international traveler. When she's not writing about Seattle from her Pike Place Market apartment, Lynli writes on-location while conducting hands-on research in each destination she covers. Lynli's writing has been featured by MSN, ABC Money, Buzzfeed, and Huffington Post. She is passionate about sharing information that makes travel more accessible for all bodies.
Sources