This blog is reader supported. As an amazon associate, I earn from qualifying purchases.
Packing light is hard- and if your clothes are a bit bigger than average, it can feel 10 times more difficult to stay within one bag packing limits, hand luggage weight limits, and carry-on bag dimension. As an expert at packing plus size clothing in ultra-compact luggage, today I want to share with you a little bit about what works and what doesn't work, for creating and packing a plus-size capsule travel wardrobe, and what I recommend for others trying to jump the same hurdle.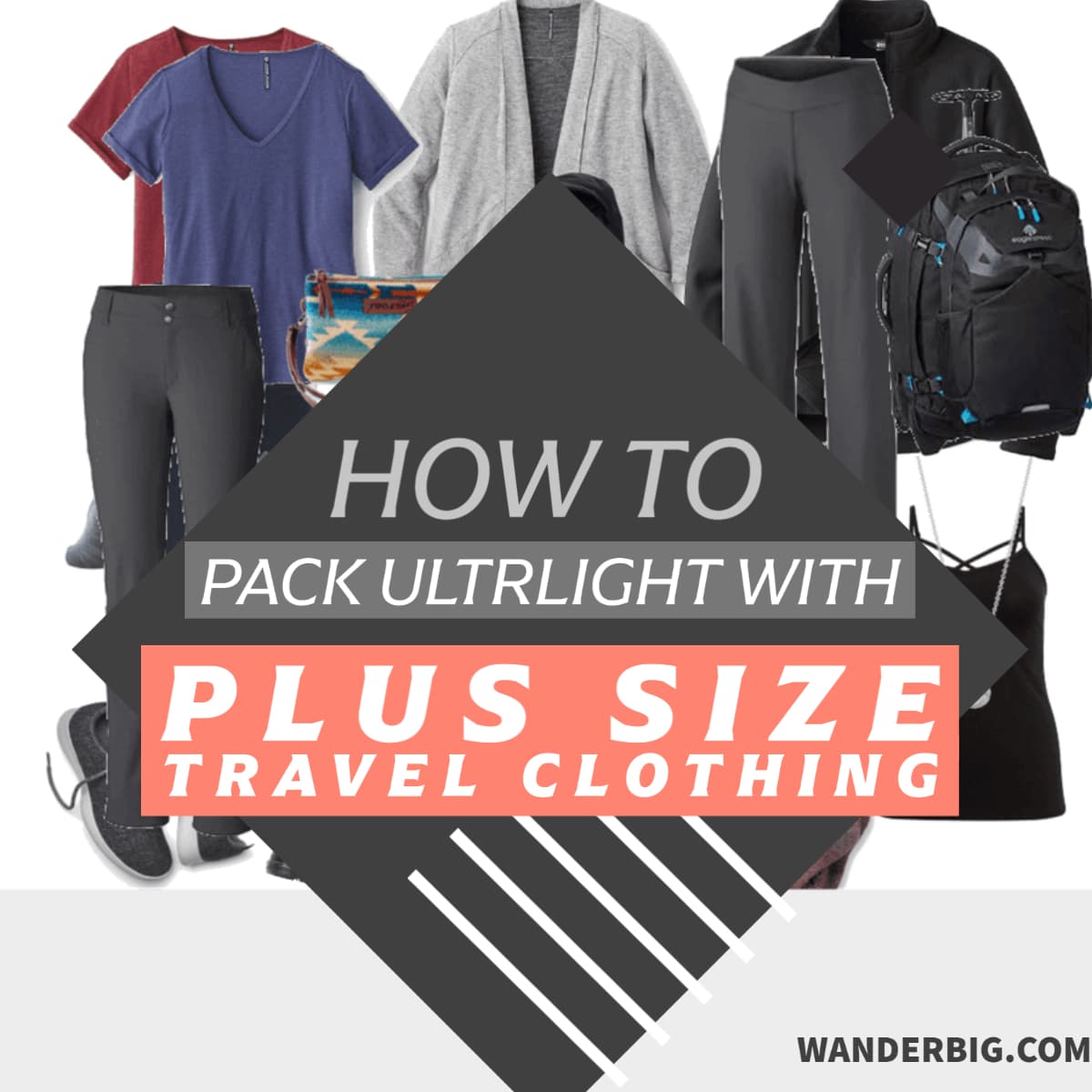 Before I set out to live as a digital nomad in South America, I scoured the Internet for (mostly elusive) plus-size travel clothes and carefully built a capsule wardrobe that could fit in my one-bad luggage allowance and keep me comfortable through a variety of climates. This packing challenge was especially difficult because I knew I was packing for weather ranging from autumn bluster in Argentinian Patagonia to high noon in the Atacama desert, and 100 different microclimates in between.
Invest in Tech clothing
Spending months living out of a carry-on means either lots of small loads of laundry or making handwashing part of the daily routine. I chose the latter, and with that in mind, I pack mostly clothing made from high-tech materials. Modern synthetics, like those used in athletic clothing, wick sweat, dry fast, and resist odors- all qualities essential for good travel clothing.
While fluffy sweaters and puffy jackets are warm and cozy, they're difficult to pack. High-tech materials offer the same warmth without taking up as much space in luggage.
Blending Basics with Statement Pieces
I've found the secret to living with the same 15 pieces for weeks or months at a time is to mix up classic staples with bolder choices.
My Best Buy: Columbia's Silver Ridge shirt (SM-3X)- A high-tech take o a basic Chambray, I love the versatility of this piece. It's a great lightweight layer for warmer climates or areas with bugs and the ultralight tech fabric blocks UV rays and bug bites, without adding much warmth or weight. This is my go-to top for hot climates like the Atacama Desert. Like many Columbia brand items, I found the sizing of this piece to be a little inconsistent, so if you aren't able to try on in stores (which you likely will not be due to the fact that Columbia's physical stores do not have inclusive sizing) you may want to order multiple sizes and plan to return shirts that do not fit or flatter.
Jewelry
no matter how long the trip is, I start every international travel adventure with just two items of jewelry: a statement necklace and a modest pair of earrings. Packing ultralight with jewelry not only helps to fit within my ultralight packing limits, but enables the purchase of handmade jewelry from international markets and artist, which is one of my favorite types of souvenirs.
PJ's
Plus size pajamas can take up a lot of space in luggage, but here's my secret: a swimsuit! Wait, no, bear with me… years back I bought a two-piece swimsuit with the bottom styled as a pair of shorts with a liner (like a fitted version of the men's equivalent). I've now bought two more swim-short things for at-home PJ's. Not only do they pack in a tiny amount of space, but when in use they stretch every-which-way, but never ride up and show more skin that I'm comfortable with. They also dry super fast and if you need a swimsuit, you've got a swimsuit.
For a pajama top, I recommend a quick-dry workout tank top- it can also be handy to have for exercise, layering, or a swimsuit!
Footwear
When it comes to footwear for a trip that will include both urban landscapes and rugged trails, I pack just two pairs of shoes: Blundstone 500s and Allbirds Sneakers, both of which can be purchased in unisex or men's sizing without changing the styling, offering a still-feminine option for those of us with wider feet.
Blundstones – If I have my choice, blundstone's are the shoes that I will die in. These classic boots, made in Australia in a style that's unchanged for decades, Blundstones are Chelsea boots that can go from the office to the trail without skipping a beat. They are my heaviest clothing item I pack, but are comfortable enough to be worn on flights. During ground travel, the the loop at the back of the boots makes it easy to secure them to the outside of a suitcase- freeing up space inside.
Allbirds – constructed of breathable 100% wool, these sneakers manage to keep my feet toasty in cold climates and not too hot in warmer locations. They do tend to get dirty faster than leather or canvas sneakers, but the heathered gray color sneakers hide dirt well and these sneakers can be tossed in the wash or, as I have done, washed in a hotel sink. Thanks to the wool constructions, these get bonus points for drying within 24 hours.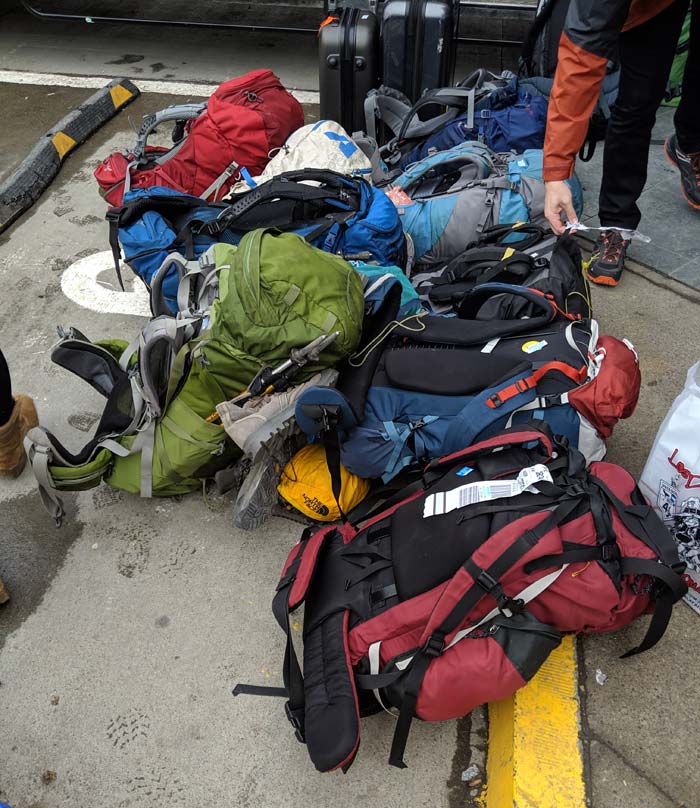 Socks
Purchasing sized socks in natural fibers and pairing them with breathable, stretchable shoes has resulted in the dream: weeks of city exploring with no blisters!
When planning a capsule wardrobe for a trip that will require washing cycles, wool socks are the way to go. After walking hole through too many Smartwool socks to count, my plus-size travel capsule wardrobe now is now made up totally of Darn Tough socks- which offers more sizes of wool socks with a lifetime guarantee against holes or unraveling. Since socks are quick to wash in the sink and wool dries overnight, five pairs of socks are plenty for a capsule wardrobe that packs compactly in a small suitcase.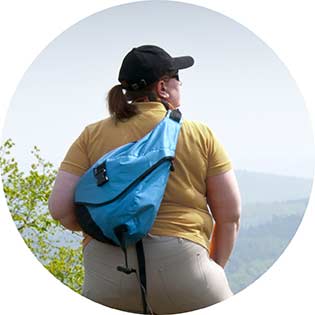 Artist, digital nomad, and highly sensitive person, Lynli started traveling full time as a digital nomad in 2018. Writer and Illustrator by day, remote-destination explorer by other-days, Lynli is passionate about pushing the boundaries of her own comfort zone, exploring the world as a female, fat, one-bag traveler, and journalling it all on WanderBig.com