Packing light is hard for everyone. If, like me, your clothes are a bit bigger than average, it can feel 10 times more difficult! Staying within a 🎒 one bag travel style, ⚖️ under baggage weight limits, and meeting 📏 carry-on bag dimensions is a challenge.
As an expert at packing plus size clothing in ultra-compact luggage, today I'm sharing my method. You'll learn what works and what doesn't work, plus size packing list essentials, tips for creating a plus-size capsule travel wardrobe, how to pack plus size clothes to save space, and more.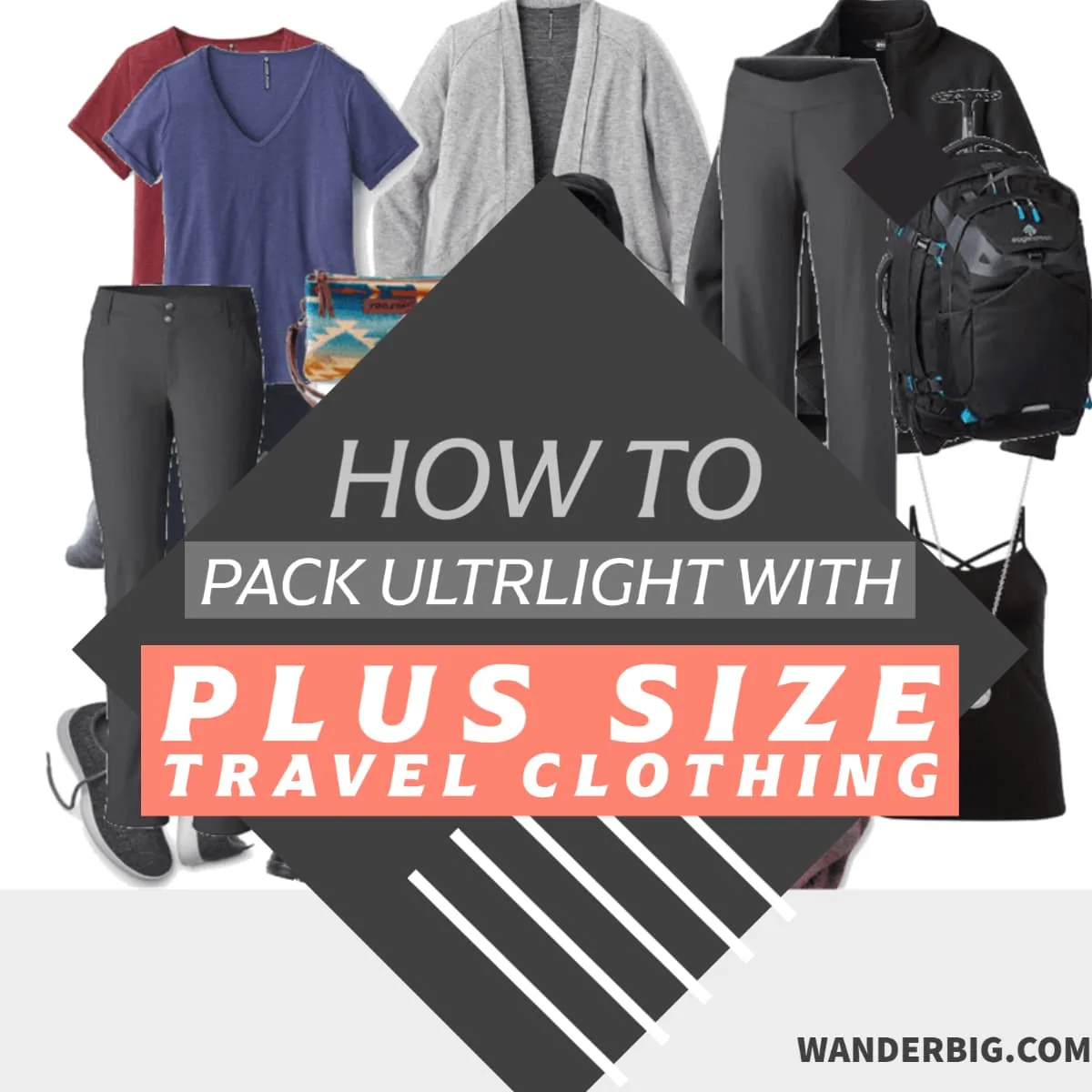 Before I set out to live as a digital nomad in South America:
🥶🔥 I researched the climate in my destination(s).
🔎🧙🏾‍♂️ I scoured the Internet for (mostly elusive) plus-size travel clothes and built a plus size travel capsule wardrobe.
🧳😅 I managed to get everything packed into just a carryon (here's how I pack a carry-on bag)
This packing challenge was especially difficult because I knew I was packing for weather ranging from autumn bluster on the islands off the coast of Patagonia to high noon in the Atacama desert, and dozens of microclimates in between.
For Plus Size Packing Success, Invest in Tech clothing
Spending months living out of a carry-on means either lots of small loads of laundry or making handwashing clothes in a sink part of your daily routine.
I tend towards the latter, and with that in mind, I pack mostly clothing made from high-tech materials. Modern synthetics, like those used in athletic clothing, wick sweat, dry fast, and resist odors- all qualities essential for good travel clothing.
While fluffy sweaters and puffy jackets are warm and cozy, they're difficult to pack- especially in larger sizes. High-tech materials offer the same warmth without taking up as much space in luggage.
The following section may contain affiliate links. As an Amazon Associate, we earn from qualifying purchases.
Blend Basics with Statement Pieces in your Plus Size Capsule Wardrobe
The secret to living with the same 15 pieces for weeks or months at a time is to mix up classic staples with bolder choices.
My Best Buy: Columbia's Bahama shirt (SM-3X)- A high-tech take on a basic Chambray, I love the versatility of this piece. It's a great lightweight layer for warmer climates or areas with bugs and the ultralight tech fabric blocks UV rays and bug bites, without adding much warmth or weight.
This is my go-to top for hot climates like the Atacama Desert. Like many Columbia brand items, I found the sizing of this piece to be a little inconsistent. If you aren't able to try it on in stores (which you likely will not be able to, due to the fact that Columbia's physical stores do not have inclusive sizing) you may want to order multiple sizes and plan to return shirts that do not fit and flatter.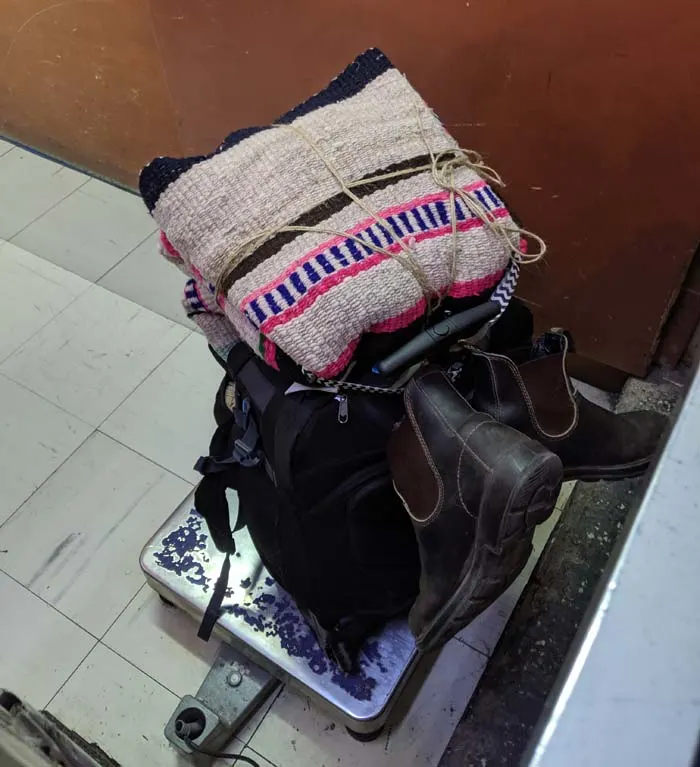 Leave Jewelry at Home
No matter how long the trip is, I start every international travel adventure with just two items of jewelry: a plain necklace and a modest pair of earrings. (Here's how I pack my jewelry for travel.)
Skipping jewelry helps me fit within my ultralight packing limits. It also leaves space for me to purchase handmade jewelry from international markets and artists, which is one of my favorite types of souvenirs.
Pick Dual Use Pajamas
Plus size pajamas can take up a lot of space in luggage, but here's my secret: a swimsuit!
Wait, no, bear with me…
Years back I bought a two-piece swimsuit with the bottom half of the suit styled as a pair of shorts with a liner (like a fitted version of men's swimming shorts). I've now bought two more swim-short-things for at-home PJ's. Not only do they pack in a tiny amount of space, but they stretch every-which-way, but never ride up and show more skin that I'm comfortable with. They also dry super fast and if you need a swimsuit, you've got a swimsuit.
For a pajama top, I recommend a quick-dry workout tank top- this plus size travel clothing capsule piece can do double duty for exercise, sleeping, layering, or a swimsuit!
Need more Plus size travel tips, destination ideas, and inspiration? Follow on Pinterest:
Plus Size Packing: Footwear
When it comes to footwear for a trip that will include both urban landscapes and rugged trails, I pack just two pairs of shoes: Blundstone 500s and Allbirds Sneakers, both of which can be purchased in unisex or men's sizing without changing the styling- offering a still-feminine option for those of us with wider feet.
Blundstones – If I have my choice, blundstone's are the shoes that I will die in. These classic boots, made in Australia in a style that's unchanged for decades are Chelsea boots that can go from the office to the trail without skipping a beat. They are my heaviest clothing item I pack, but are comfortable enough to be worn on flights. During ground travel, the the loop at the back of the boots makes it easy to secure them to the outside of a suitcase- freeing up space inside.
Allbirds – constructed of breathable 100% wool, these sneakers manage to keep my feet toasty in cold climates and not too hot in warmer locations. They do tend to get dirty faster than leather or canvas sneakers, but the heathered gray color sneakers hide dirt well and these sneakers can be tossed in the wash or, as I have done, washed in a hotel sink. Thanks to the wool constructions, these get bonus points for drying within 24 hours.
Invest in Plus Size Socks
When planning a capsule wardrobe for a trip that will require washing cycles, wool socks are the way to go.
After walking holes through too many Smartwool socks to count, the soct section of my plus-size travel capsule wardrobe is now entirely made up totally of Darn Tough socks- which offers more sizes of wool socks with a lifetime guarantee against holes or unraveling.
🧦 Purchasing sized socks made with natural fibers and pairing them with breathable, stretchable shoes protects from blisters even if your feel swell during a long flight.
Be sure and experiment with sock sizing before your trip. While a switch to wool socks helped reduce blisters on long days exploring a city on foot, when I upgraded to size L women's socks, my travel blisters all but disappeared even on the longest days.
Since socks are quick to wash in the sink and wool dries overnight, five pairs of socks are plenty for a capsule wardrobe that packs compactly in a small suitcase.
Bonus Item: Turkish Towel
My best recommendation for packing as a plus size woman is to bring a Turkish towel.
Without the weight or bulk of a traditional towel, a thin Turkish towel offers more than enough fabric to wrap securely around bodies sized up to 4X. Hotel towels never stay put around my body, but a Turkish towel stays in place and keeps me covered.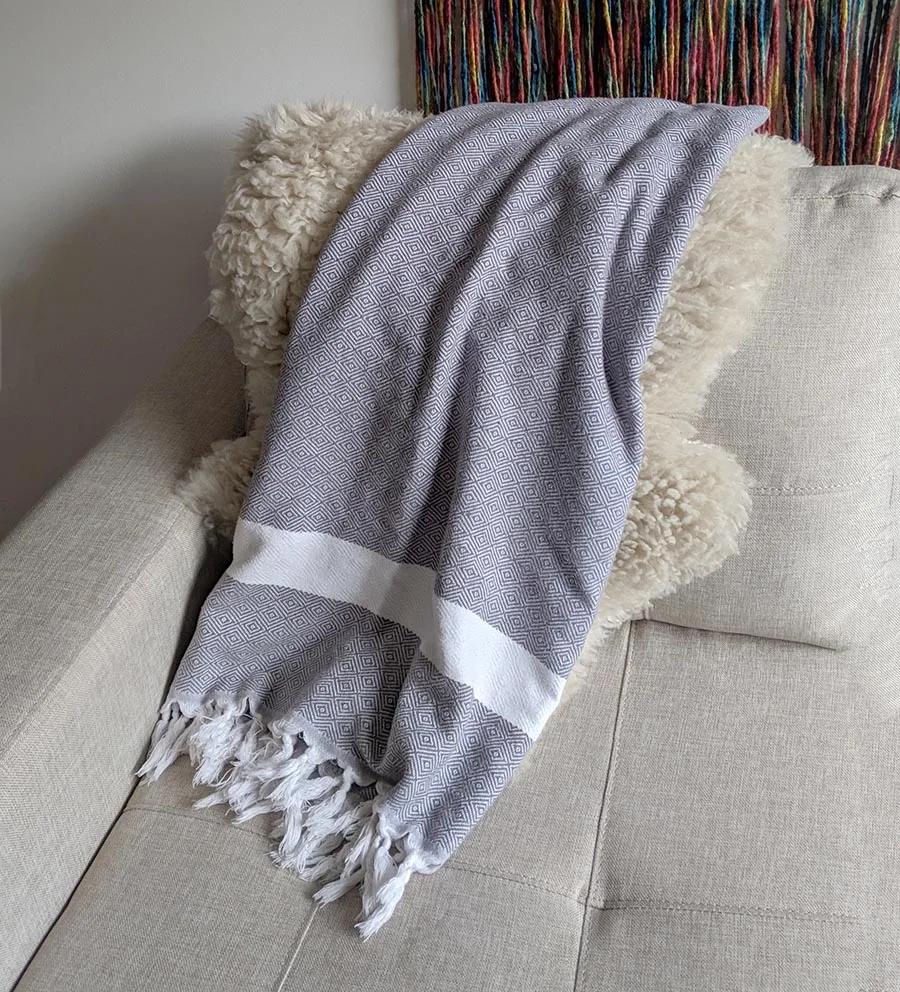 Many of the Turkish towels at Amazon are mislabeled poly-blend fabrics, but I've had great luck buying real turkish cotton towels from Turkish Dowry on Etsy
💡 I recommend keeping your turkish towel in your daybag– it has endless uses! On a recent cultural immersion trip to the Day of the Dead festival in Mexico, my group spent 5 hours perched on a plain wood seat in a rustic boat. With my turkish towel folded under me, I was the only one who avoided misery!
They work on the beach and at hotels as a soft stand-in for scratchy towels. I've used mine as a towel, blanket, lumbar roll, and as a shawl for mosques and cathedrals where sleeves and long skirts are required (While visiting the Vatican in 100-degree heat, while others sweltered in line in extra layers, I was able to wear shorts until I was at the front of the line- where I simply knotted my Turkish towel over my exposed legs and was permitted entry) When I get my period while traveling, I lay the soft, absorbent towel over my fitted sheet before bed- as an extra layer of protection for clean linens.
How to Pack Plus Size Clothes & Save Space
Packing efficiently for travel can be a challenge, especially when it comes to packing plus size clothes. However, with some clever strategies and the right tools, you can save space in your luggage and bring along everything you need. 😊✈️
Rolling Clothes
One trick that I absolutely love is rolling your clothes as I pack. I know, you've probably heard this before and shrugged, but seriously- rolling clothes saves a ton of space. Essentially, you're using the outer layers of the roll as a DIY compression bag- and it works!
🧺Depending on the material, rolling clothes to pack them can cause more wrinkles (frankly, any space-saving packing method can cause wrinkles) but it can be worth it. If I'm staying in nice hotels, I usually just request a garment steamer at the front desk (75% of the time- they have one for loan) or pack my own travel steamer. (As a travel influencer, crisp clothes matter. I love this clothing steamer from Amazon and take it on almost every trip)
Vacuum Space Saver Bags
Another game-changer for packing plus size travel clothes is using vacuum compression bags.
These bags let you suck out all the extra air, so your clothes take up way less space.
Try Compression Packing Cubes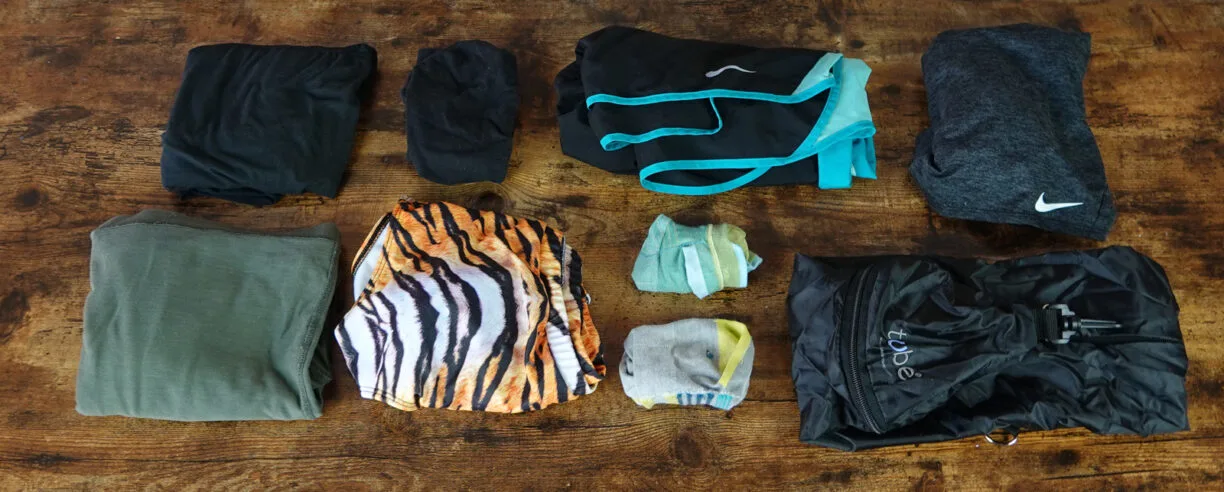 Now, if you want to keep things super organized and very compressed, compression packing cubes are the way to go.
These lightweight fabric containers are perfect for keeping your clothes organized by day. I especially love using them for undergarments and smaller clothing items like pajama sets.
Compression packing cubes are packing cubes with an extra layer of compression. Either a second zipper or exterior straps help to squash the contents into a smaller space. 🧳🔲
Use your Void Space
Let's not forget about utilizing every inch of space in your suitcase. Stuffing socks, underwear, or small accessories into your shoes is one of the best ways to make the most of that void space, as well as storing documents in your suitcase liner. You can also fill up empty bottles or cups with small items like jewelry you'd like to pack to avoid wasting any space. It's all about being smart and creative! 👟🔋
Conclusion
In conclusion, packing light with plus size clothing can be challenging, but it's very possible to take even weeks-long trips using one carry-on suitcase if you pack smart!
Key Points:
👕 Invest in high-tech clothing and create a capsule wardrobe.
👟 Choose versatile footwear for different terrains.
🍥 Utilize packing techniques like rolling clothes and using compression bags to save space.
By investing in high-tech clothing, creating a capsule wardrobe, and choosing versatile footwear, you can save space and meet strict airline travel requirements. Remember to utilize packing techniques like rolling clothes, using vacuum compression bags, and maximizing void space in your suitcase. With these strategies, you can pack efficiently and travel comfortably.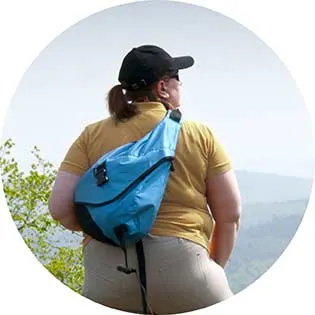 Lynli Roman's unique approach to travel is informed by decades of experience on the road with a traveling family and, later, years spent as a solo international traveler. When she's not writing about Seattle from her Pike Place Market apartment, Lynli writes on-location while conducting hands-on research in each destination she covers. Lynli's writing has been featured by MSN, ABC Money, Buzzfeed, and Huffington Post. She is passionate about sharing information that makes travel more accessible for all bodies.