This blog is reader supported. As an amazon associate, I earn from qualifying purchases.
When I moved to Seattle in 2015, my Missouri home spent more than a year vacant. Unsure whether I wanted to sell the house, but still faced with monthly mortgage payments, I prepared and posted my home on Airbnb. In the year of (mostly remote) Airbnb Hosting that followed I learned a lot.
Combining that hands-on education with my professional experience in marketing has prompted a few posts on Airbnb management, including this list of Airbnb Hosting Tips to maximize profits.
Also, I'm convinced that my experience hosting also made me a better Airbnb guest- a more savvy housing-shopper, astute review reader, and more considerate guest.
Because this is a detailed guide, here's a quick navigation map:
For easy reading on the go, download this + a free Airbnb Listing Troubleshooting Guide to improve your booking rates with the following resource:
Download my Free eBook:
5-Star Tips for Creating Passive Income via Airbnb Hosting: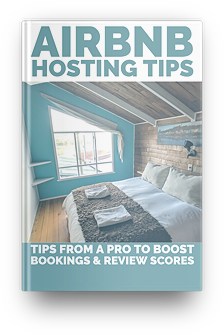 Easy Airbnb Hosting Tips:
These changes- some super simple, and some with an initial complexity- are easy to implement, and improve convenience, satisfaction, and property-protection in any Airbnb, guesthouse, or even small hostel. If you're hosting guests in your home for payment, these easy tips all help to either 1. Improve guest reviews, 2. Protect your property from damage, or 3. Save time and money by simplifying hosting-related tasks.
1. Put Phone Chargers Everywhere
Everyone needs chargers- but despite this there one of the most frequently forgotten essentials them when people travel! For 5-star reviews, help USB charger related travel inconveniences to be less disruptive by providing chargers. You can match chargers to your decor AND ensure the cables do not wander beyond your Airbnb home by installing retractable phone chargers on dressers and nightstands. Be sure and offer a selection of common charger types- a genre which is thankfully growing more narrow due to recent legislation on standardizing device charging ports.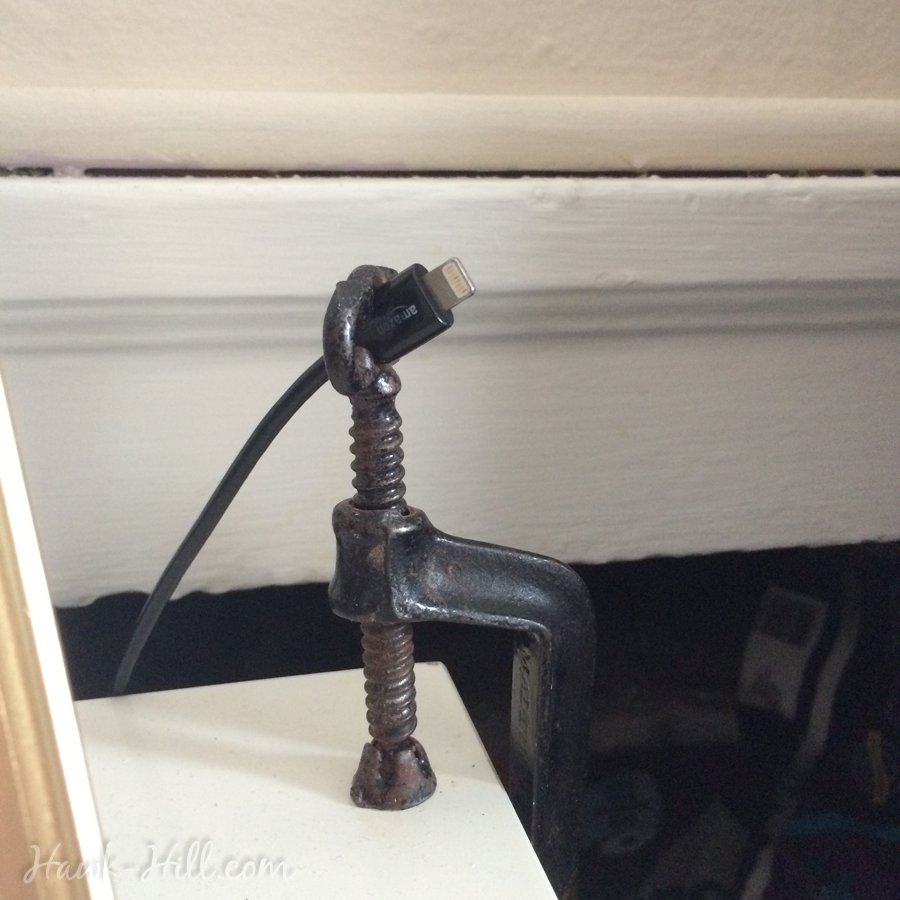 2. Streamline Kitchen Cookware
As people gather and bring food, cook, clean up, and carry their items from your kitchen back to their own home, it's likely that some of your own cookware and utensils might get caught and carried off in the confusion. People often use Airbnbs to gather for events and reunions with friends and family, and I think the chaos of cooking in community contributed to my disappearing kitchen supplies. Over the course of the year that I hosted guests in my home as a remote host of an Airbnb, my cookware and especially utensils slowly dwindled as essentials disappeared from drawers and cabinets.
To prevent this, I recommending paring your kitchen down to absolute essentials and then replacing any high-end items with dollar-store or garage sale versions. If you are going to lose a mixing bowl, make sure it's a $2 plastic bowl rather than an expensive wedding gift! (Exception: if your Airbnb caters to long-term guests that stay weeks or months at a time, curate a kitchen that's easy and fun to cook in, including mid-range cookware that will hold up to nightly homecooked meals)
Collect your niche kitchen utensils (lemon zester, vegetable spiralizer, garlic press, etc) and any especially sharp knives and place them in a secure area that can't be accessed.
3. Decorate with Fresh Flowers- Even on a Budget
Think small. I used to think putting out fresh flowers meant I needed to purchase large and expensive arrangements, but a fellow Airbnb host introduced me to welcoming guests with tiny arrangements made from cheap bouquets split into multiple vases. In the summer, I sometimes even made small bouquets for bedsides, windowsills, and sinks using native plants (i.e. "weeds") already growing outside at my Airbnb property)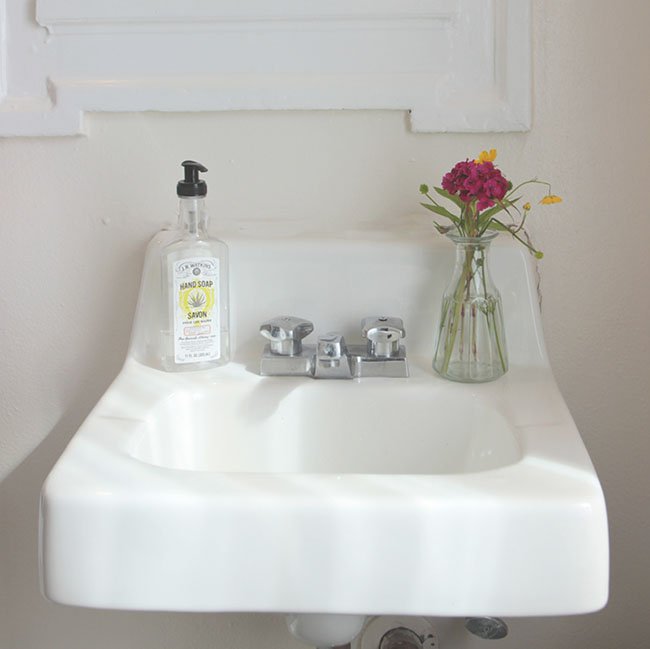 4. Digitized Your Door Lock
A keyless entry setup is essential to success when remotely managing an Airbnb. When I converted my house to a guesthouse, I purchased Schlage's top-rated coded deadbolt and was VERY pleased with the performance. That same lock I purchased in 2015 works so well it's still being made in 2020, with thousands of positive reviews.
There are several other smart deadbolts available that allow codes to be set and removed via an app, but I appreciated the reliability and performance of the Schlage pictured here.
I kept 3 codes programmed into my lock- my code, a code for cleaning/maintenance workers, and an Airbnb guest code, the latter of which I changed periodically.
AIRBNB HOSTING TIP: When sharing your code with guests, be specific:

DON'T: say "The lock code is 1234"

DO: send instructions exactly as they are worded in the manual, for example: "Press the Schlage logo button and wait for the numbers to light up. When the numbers light up, press 1234, and wait 2-3 seconds for the deadbolt to unlock."
5. Cut Cable & Streaming Service, and Replace with Smart TVs (HDMI Cables)
It's 2020! Everyone has a device that streams, and most people have a phone that can cast TV and movies. As long as your Airbnb provides fast wifi, you can cut the cable without impacting the guest experience.
Smart TV's are an inexpensive investment in your Airbnb, so if you haven't upgraded to a device that can cast, it's time. Just in case casting technology fails or is incompatible (For example, Android phones may not be able to cast to an Apple TV without third-party apps), provide HDMI cables. With an HDMI cable and a mini HDMI cable available, your guests can watch streaming content from their phone or laptop on your TV screens.
AIR BNB HOST TIP: Identity any USB charters or HDMI cables boldly (and arguably, somewhat obnoxiously). I used white rip-proof plastic tape to indicate the cables belonged to the house. Nail-in cable clips are an inexpensive way to ensure cables stay in place and don't wander around the house, by securing cables permanently to walls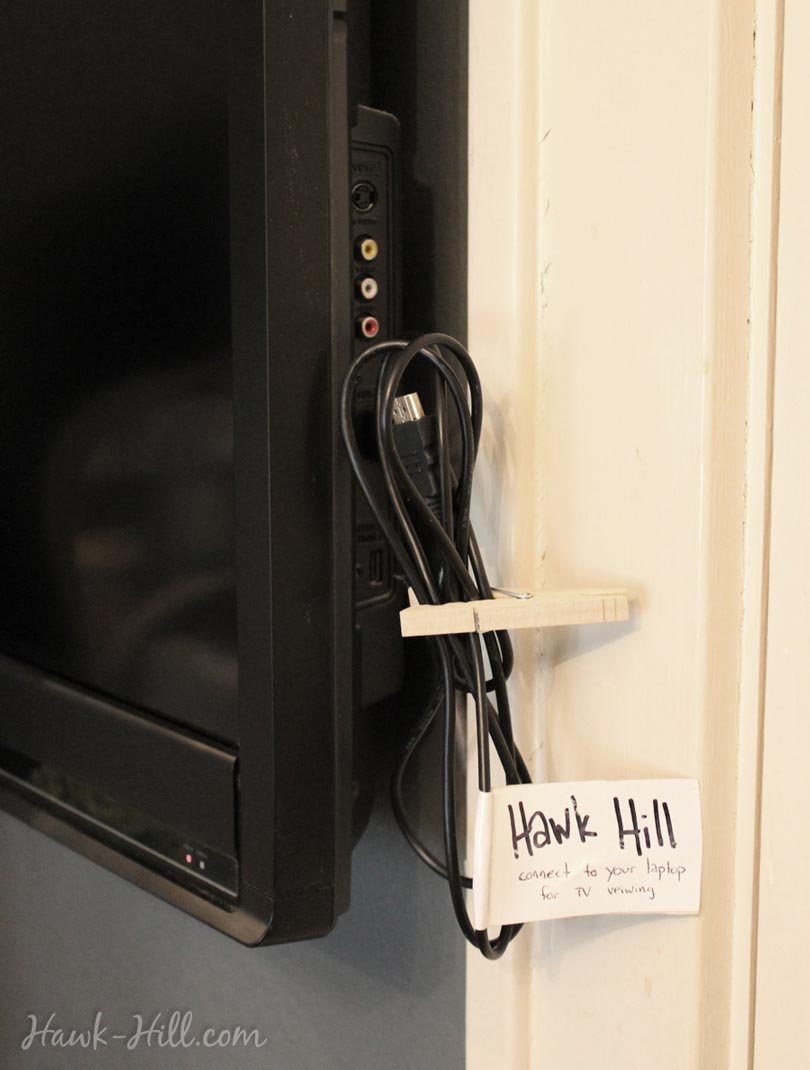 6. Upgrade to a WiFi-Connected Thermostat
As a homeowner, I feel lukewarm about the Nest, but as an Airbnb Host, the Nest Thermostat makes my "must-have" list.
In my mostly-vacant house, I saved a significant amount on my utilities by being able to turn the thermostat to a comfortable temperature just before guests arrived. Remotely being able to prepare the house for guests' comfort was amazing.
HOSTING TIP: To use a nest thermostat in an Airbnb, you'll first need to be sure and turn off the "schedule-learning" feature- this will prevent unwanted temperature changes based on when the nest AI thinks the house "should" be empty.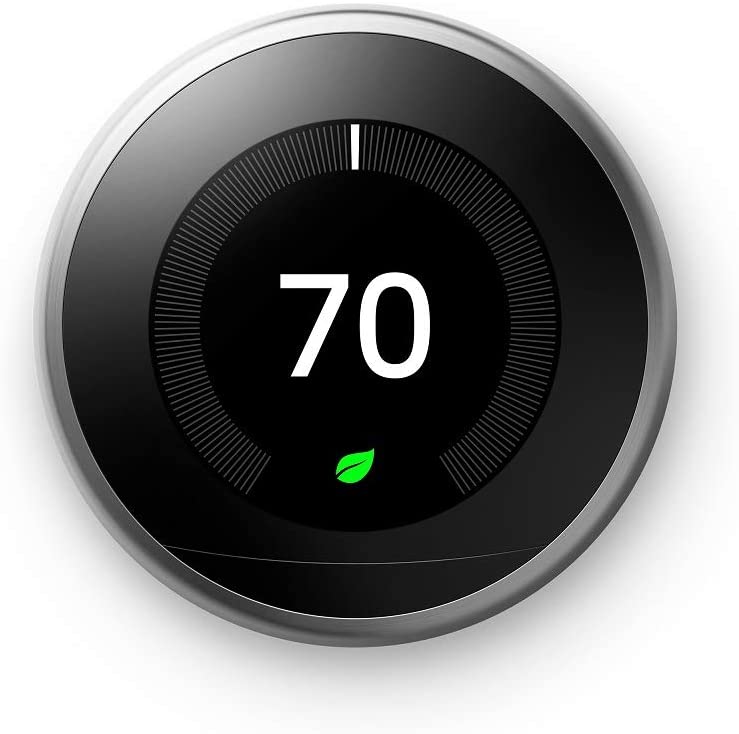 7. Clearly communicate important information
There's a bit of a bind in communicating vital information to Airbnb guests: too much information upfront can overwhelm potential guests during the property selection process, but too much information after booking often won't get read. Additionally, information guests read while comparing several properties during the booking process probably won't be remembered when guests arrive for their stay in your Airbnb property.
As a way to get vital information to guests, I created a "Frequently Asked Questions" document that emailed out to guests a few days before their stay and, more importantly, was also posted prominently on the kitchen refrigerator: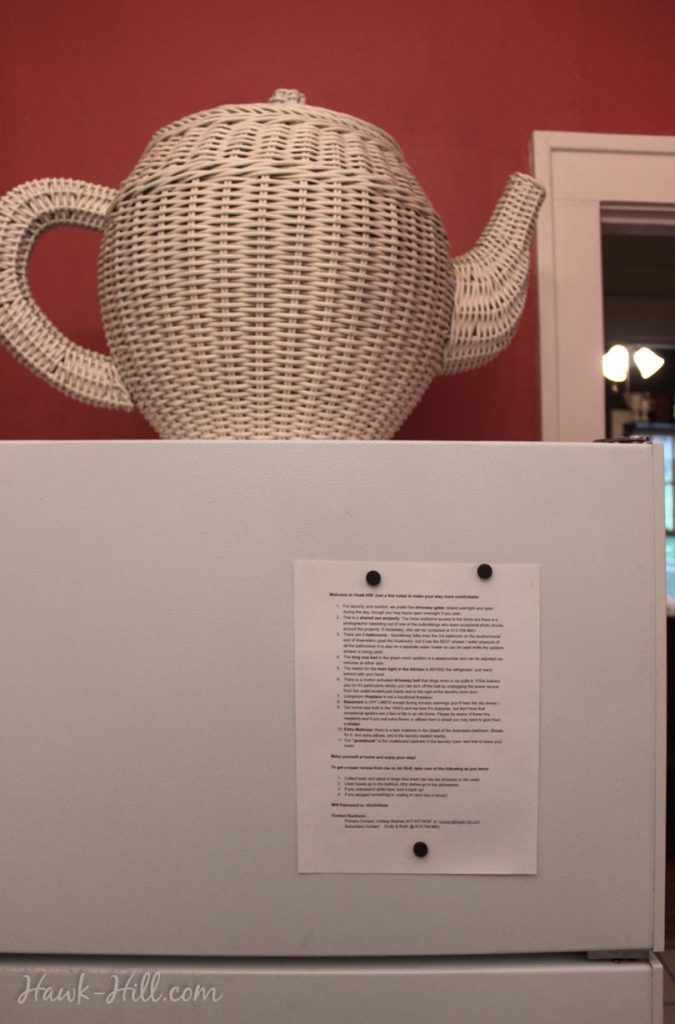 8. Respect Comfort and Privacy of Guests
Take time to imagine checking into your property as a guest, do you feel invited? Like your comfort has been considered? Like you are welcome? Consider what small upgrades (like extra pillows, a sound machine, or an upgrade to the wall art) would make a visitors stay elevate to a 5-star worthy review.
As a frequent Airbnb user as a guest during travel around the world, my Airbnb pet peeves are homes that seem to be a mashup of random furniture and linens- or worse, guest suites overstuffed with personal belongings or that are built to be comfortable only for thin, young bodies. For more insight into these hosting issues, check out my post on reasons why people aren't booking your Airbnb.
9. Know your Market and Price Accordingly
Just two tips on pricing:
A. price your nightly rate low then go high.
People who pay very little for a product or service are more likely to give the product or service very high reviews. Starting out on Airbnb, the importance of reviews cannot be overstated – reviews are so important they are practically worth paying for when you consider how many guests a handful of 5-star reviews lure in. (Point of note: you can ask for reviews but are prohibited from actually paying for them). Luring guests in with a very low nightly rate is a great way to get those critical first reviews.
Caveat: My experience was that the guests who booked at a lower price tended to show less respect for my home and leave my home less tidy at checkout, if I was starting from square one again I think I might be more particular about reservations I accepted at the low starting rates- by checking, for example, that the guest had reviews from other hosts and wasn't a new account.
Once you have a handful of great Airbnb reviews, raise your nightly rate. Once I had 10+ five star reviews I found that could get the same number of bookings with a 30% higher nightly rate as I could at the lower rate.
B. Know your local Airbnb market
My Airbnb was in the middle-of-nowhere-adjacent, but once every fall that middle-of-nowhere became a hotel-hotspot as thousands of travelers converged for a particular denomination's religious conference. I never knew until I became an air bnb host that hotels book a year in advance for this conference, and people frequently requested the dates for my Airbnb many months in advance. Research your local events and adjust your price accordingly. Instead of $150 each night, I could take bookings for $300 per night during this festival, with the freedom to confirm a reservation that was for 3+ nights.
AIRBNB HOSTING TIP: cancellation fees – When pricing for an event, keep in mind cancellation fees. If you don't have a penalty set for guests who cancel, you can be left vulnerable if your guest cancels in the days just before the event and you're left empty that weekend without even a standard-rate booking. My WORST Airbnb hosting experience occurred when my $300/night guest canceled 8 days before the event and I scrambled to get a guest in last-minute who ended up leaving me with a major cleanup bill after their stay.
10. Communicate with Guests Before, During, and After their Stay
Each guest received a bulleted list of "things to know" about the property. For reference, the text of this document is outlined below.
Bullet points 1-3, 5-6, & 10-11 are helpful suggestions to get the best use out of the property (which showers could be used simultaneously, where extra bedding can be found, how to find a particularly hard to find light switch, etc). 7-8 are house rules about limited access areas, and 4 & 9 were added to help shape expectations. Obviously, I hoped no one encountered a spider or unexpected person on the property during their stay, but advising guests to possibly expect that, and explaining why I think probably helped maintain my 5-star host rating.

Welcome to our home! Just a few notes to make your stay more comfortable:
The switch for the main light in the kitchen is just BEHIND the refrigerator.
There is a motion-activated driveway bell that dings when a car pulls in. If this bothers you (or the wind fives false alarms) you can turn off the bell by unplugging the unit located in the laundry room.
For security and comfort, we prefer the driveway gates closed overnight and open during the day, though you may leave open overnight if you wish.
This is a shared-use property. You have exclusive access to the home but there is a photographer operating in one of the buildings who may host clients. If necessary, she can be contacted at xxx-xxx-xxxx
There are 3 bathrooms – Sometimes folks miss the 3rd bathroom on the southernmost end of downstairs (past the mudroom)- but it has the BEST shower of all the bathrooms! It is also on a separate water heater and can be used while other showers are being used.
The king size bed in the green bedroom is a Sleep Number and can be adjusted via remotes at either side.
The living room fireplace is not currently operational. For your own safety please do not attempt to light the fireplace.
Basement is off-limits except during tornado warnings (If you hear the city sirens and it's not a 10am weekday drill, go downstairs and turn on the radio)
We love this old house's character, but don't love that occasional spiders are a fact of life in an old home. Please be aware of these tiny residents and if you pull extra linens or pillows from a closet, give them a shake!
Extra Mattress: there is a foam twin mattress in the closet of the grey bedroom downstairs. Sheets for it, and extra pillows, are in the laundry basket nearby.
Our "guestbook" is the chalkboard cabinets in the laundry room- feel free to leave your mark!
Make yourself at home and enjoy your stay! To get a super review from me on Airbnb, take care of the following as you leave:
Collect trash and place it in the large blue trash can by the driveway.
Place used towels in the downstairs bathtub,
Place dirty dishes in the dishwasher.
Please leave slept-in beds unmade.
If you unlocked it while here, lock it before leaving. If you unplugged it, plug it back in. If you opened it, close it, etc.
Wifi Network: "guesthouse"
Wifi Password is: 3-example-0
Contact Numbers: Primary Contact: XXXXXX
Secondary Contact: XXXXX
Emergency Contact: XXXXX
Local Emergency Numbers:
11. Build a hosting support team
Even if you aren't hosting remotely, you'll need help. You may plan to do all the cleaning and washing yourself, but it's easy to find yourself double-booked or under the weather and unable to flip the house or apartment before the next guest arrives. For that reason, it's important to have a team you can rely on for help.
The most challenging part of remotely managing my midwest Airbnb from thousands of miles away in Seattle was arranging for house cleaning between guests. In the year I operated my AirBnB, I went through 3 different non-professional cleaners (friends I trusted, mostly moms with school-age kids, who were interested in making extra money while their kids were at school) and, after the third, turned to a professional cleaning service. If I started over in remote Airbnb management, I'd hire a professional from the start. Although about a 50% higher cost than hiring an independent contractor, using a commercial cleaning service provided a lot of peace of mind.
To help my cleaners, I created a custom checklist for cleaning my property, which you can copy below.
Between AirBnB Guests: Cleaning Checklist
Strip beds that were slept in, gather towels, & start laundry.
Start dishwasher & clean the kitchen as needed.
Clean bathrooms, wipe down sinks, faucets, and clean toilet bowl. Clean shower drains, walls, and bathtubs if needed.
Tidy up if house left untidy.
Dustmop floors and mop high traffic areas
Check the refrigerator for abandoned food/take out containers & trash
Trash to the trashcan (trashcan to curb on Sunday)
Check toilet paper reserves in each bathroom & paper towels in the kitchen. (keep extra stock locked in the garage, but guests need access to 2-3 rolls of TP in each bathroom, 1 roll of kitchen paper towels on the holder, & one extra roll under the sink)
Water houseplants.
Remake beds. Leave 1 set of clean & folded towels on each bed (2 sets on king size) (Set = bath towel, hand towel, washcloth)
Text owner to know you're done and the house is ready!
12. Create a Secure Storage Space in your Airbnb
Even if you've moved everything but the essentials out of your nightly rental property, you'll want a space to store extra linens, cleaning supplies, bulk toilet paper, and paper towels without worrying that they will wander off. I'm generally a trustworthy person and expect the same from others, but even I might be tempted to swipe a roll of toilet paper from an abundant stash left unlocked in an Air BnB- so lock it up and remove the temptation!
AIRBNB HOSTING TIP: The simplest/cheapest option for creating locked storage in your rental unit is to install a drawer lock on a large drawer or cabinet. This $5 drawer lock installed on an old freestanding wardrobe secured a location for me to store documents, art projects, and expensive kitchen gadgets during my year away. Depending on your available drawers and cabinets, it may not be enough space. In that case, a cheap locking doorknob installed on an interior closet door provides a secure storage spot.
Want more Airbnb Hosting Hints? Follow me on Pinterest
For even more storage, if your property has an attached garage you can change the lock on the door connecting the garage to house interior, and limit guest's access to your garage. When I set up my remote Airbnb I actually flipped the existing doorknob so instead of the door being able to lock someone in the garage out of the house, the lock presented access to the grade from the house. Cleaning professionals were given access to the home via the garage door code, allowing open access for cleaning.
---
My Home's (Now Retired) Air BnB Listing: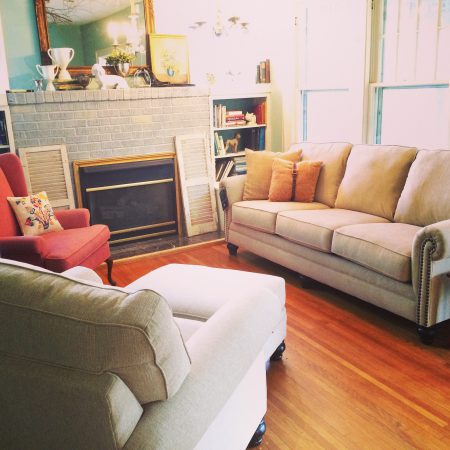 (HOUSE NAME)- 3BD home in Joplin

Acreage and woods make this 1930's home in the heart of Joplin feel like a world away. Big enough for family gatherings, convenient location for business in Joplin, & quiet enough for a personal or creative retreat. 3 Bedroom, 3 bath on 3 park-like fenced acres. This home has beds for 5 people, with additional sleeping options to accommodate 4 more (for a total of 9 adults)
The space
3 stylish bedrooms accommodate up to 5 guests (1 king room, 1 double mattress room, and 1 room with 2 twin beds) with the flexibility to sleep up to 8-10 people on 3 full size couches and a twin size mattress stowed in a closet. Of interest to the artist/writer: the property includes a perfect creative space: a well lit, quiet, sunny studio with tables of varying height, a comfortable sofa, and a comfortable writing desk and chair- with attached deck so you can move the creative process outdoors on a nice day.
Guest access
Access to all unlocked areas of the home (several hall closest will remain locked) Outbuildings and garage access are not included. Some food items may be available in the kitchen, which you may help yourself to. Limited art supplies may be available in the studio, but plan to bring your own art supplies.
The neighborhood
Located 500 yards off Joplin's main thoroughfare, the home seems miles away. The property is a historic farm, tucked back behind thick hedges, backed up to a golf course, and offers all the convenience of being in the middle of town with room to stretch out and relax. 5.9 miles from Joplin Airport, 4.9 miles from the convention center, approximately 7 miles from both hospitals.
Other things to note
This historic farmhouse was built in the late 1920's and the property has cycled through being operated as a vineyard and a riding stable in the years since. We've reestablished the original strain of grapes and planted an orchard since we purchased the house in 2010, please feel free to pick fruit in season. A washer and dryer are available in the laundry room off the kitchen. See attached brochure for things to do in Joplin during your visit.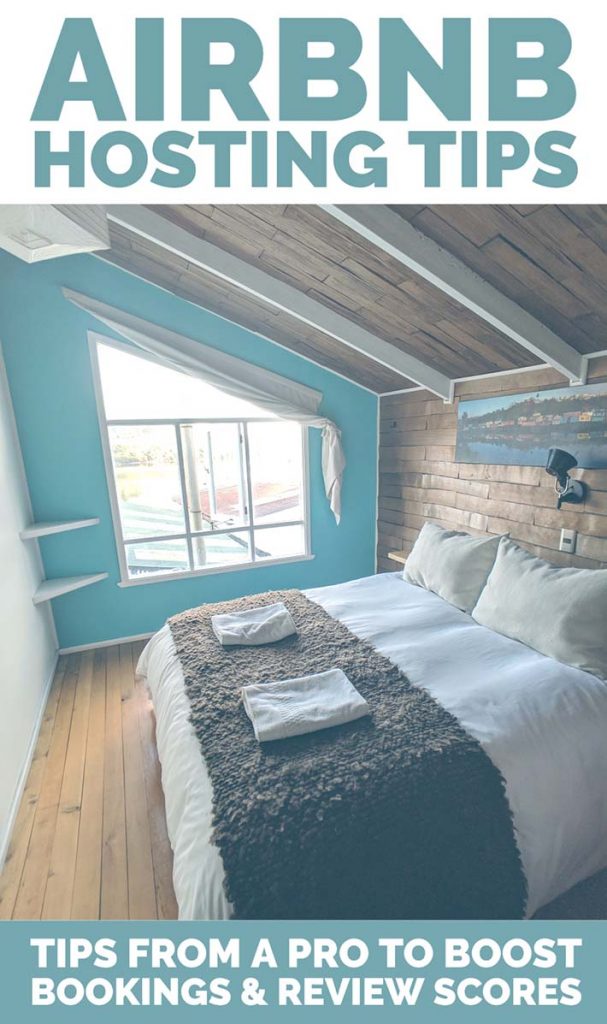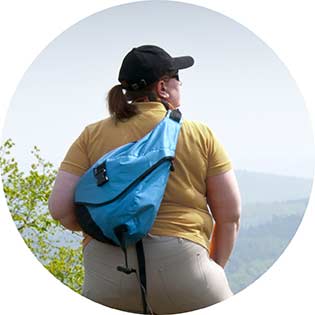 Artist, digital nomad, and highly sensitive person, Lynli started traveling full time as a digital nomad in 2018. Writer and Illustrator by day, remote-destination explorer by other-days, Lynli is passionate about pushing the boundaries of her own comfort zone, exploring the world as a plus size, one-bag traveler, and journaling it all on WanderBig.com