Bainbridge Island is a fun and easy day trip for Seattle travelers. With this quick day trip, you can see a bit more of the Pacific Northwest without needing to have a car! It's easy to get from Pike Place market to Bainbridge Island– the opportunity to ride a ferry across the Puget Sound is icing on the cake!
Some tourists simply ride the ferry over and back from downtown Seattle to Bainbridge and back again, without ever leaving the Bainbridge Island ferry terminal. While this ride is an inexpensive (about $9 per walk-on passenger) way to see the Seattle skyline from the water and enjoy an hour cruising the open waters, it's definitely worth getting off the ferry in Bainbridge Island to explore many of the fun things to do on Bainbridge Island.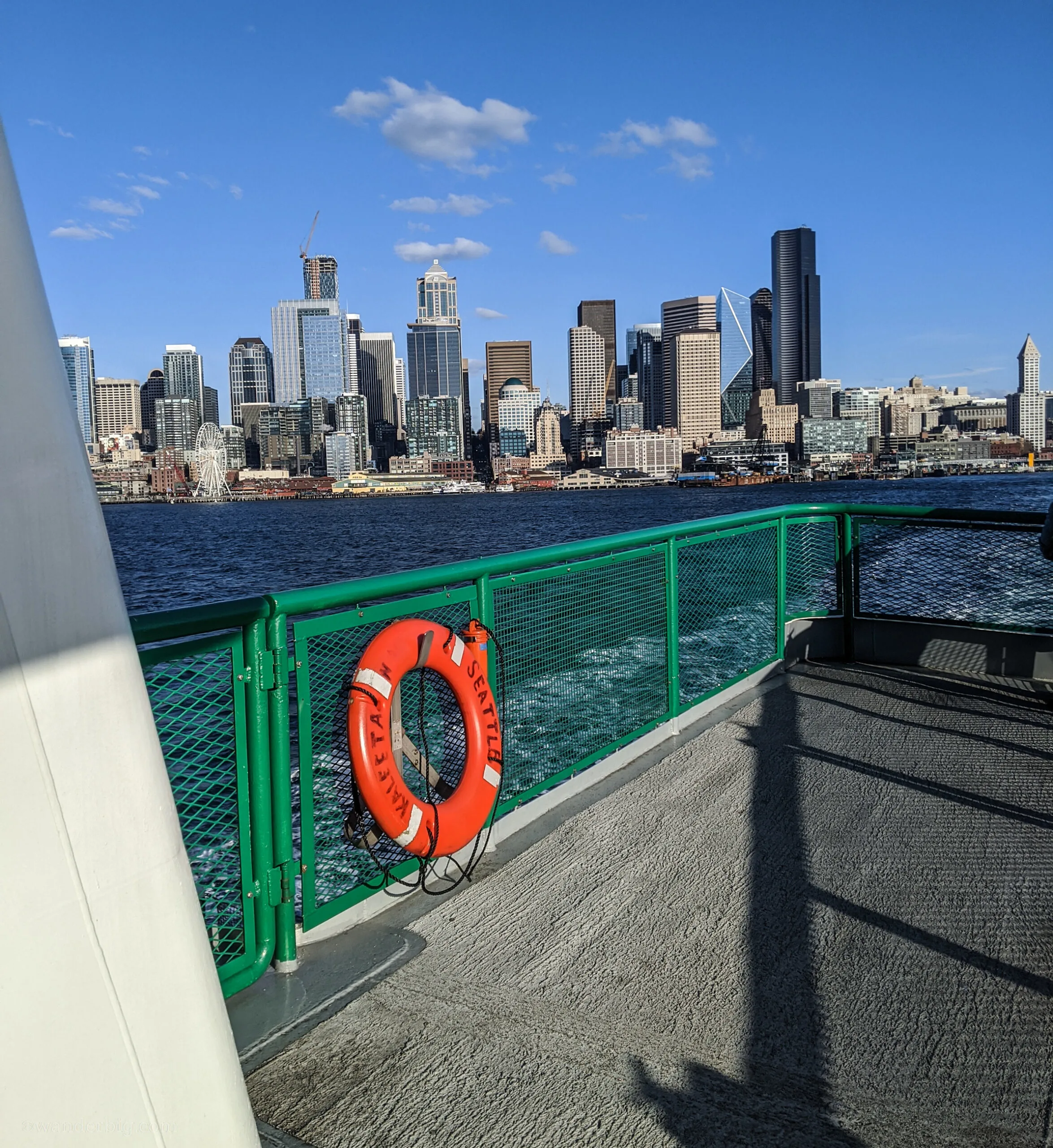 How Long to Spend on Bainbridge Island
A typical day trip to Bainbridge Island, on foot, will take most of the day. Often, when I visit Bainbridge from Seattle with friends or visitors I'm showing around, our Bainbridge Island day trip is not-quite a full day- but way too much to cram into a half-day. In my opinion, the best way to plan your Bainbridge visit is to allow 3/4ths of the day for exploring the island.
I recommend arriving by ferry in the morning, exploring, lunching, and wandering back towards the ferry to catch a mid-afternoon ferry back to the city.
After a bit of a siesta to recharge in your hotel or Airbnb, you'll still have time (though energy might be harder to come by!) for an evening out on the town in Seattle.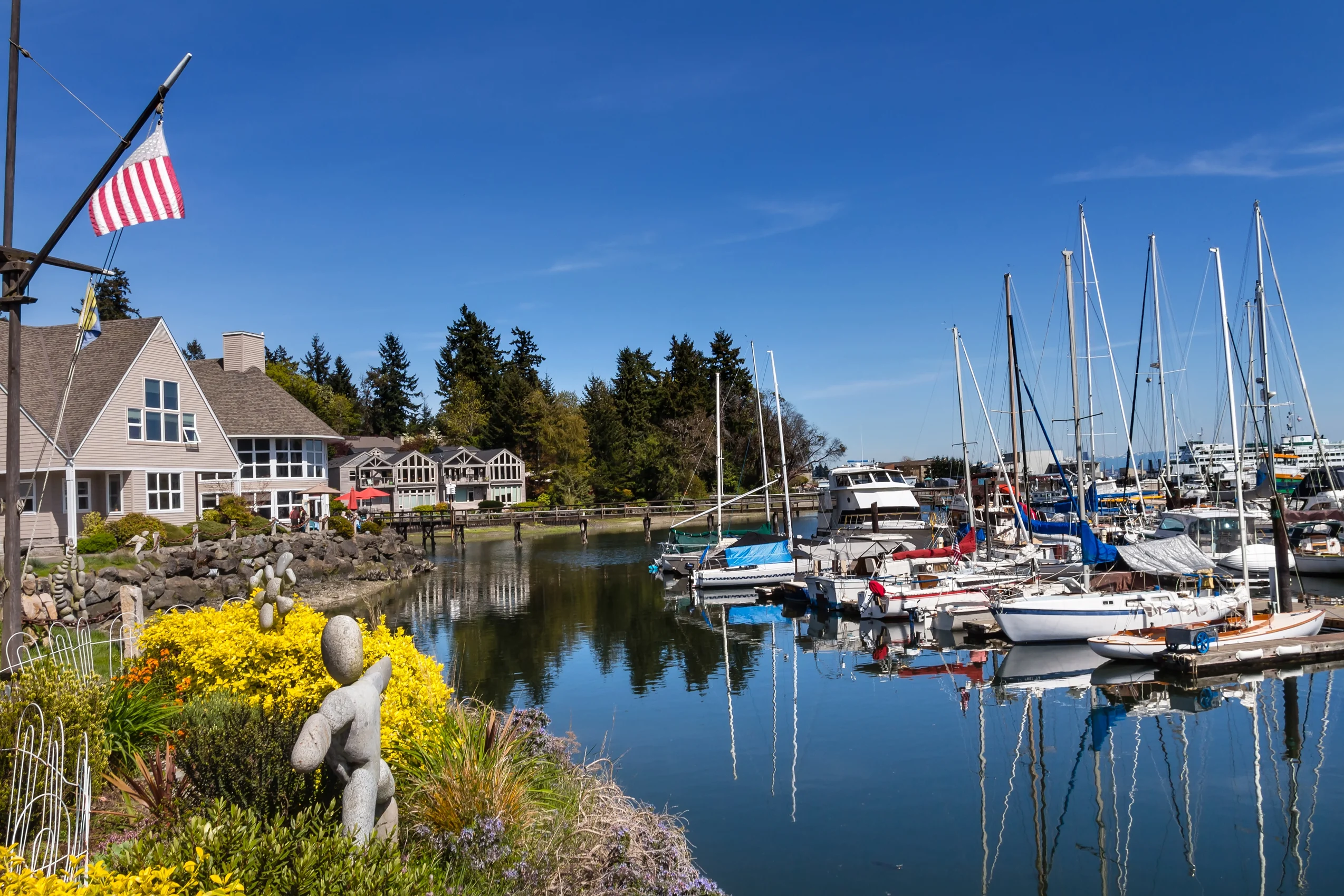 Getting to Bainbridge Island on Foot
Navigating to Bainbridge is straightforward- thanks to the many commuters who travel these routes daily. Check out my step-by-step guides to learn how to get from the Seattle Airport to Bainbridge Island or how to get from Pike Place Market/Seattle Downtown to Bainbridge Island.
Download My Map of Bainbridge Island
Explore these activities via My Google map of things to do on Bainbridge Island
My experience visiting Bainbridge Island
When I moved to Seattle in 2015, my graduate school orientation week included a day in which new students could sign up for various day trips. Excited to try riding a ferry for the first time, I signed up for a day trip outing to Bainbridge Island.
From our location near Pike Place market, we walked to the ferry terminal and rode a ferry to Bainbridge Island. It was there, on my first visit, that I began to discover just how much I loved this unique island and the way it offers a completely different life just a few minutes away from dense and crowded downtown Seattle. Over the years that I lived in Pike Place market, whenever I needed to clear my head with a view of an open horizon I'd hop on a ferry and spend an afternoon walking around Bainbridge Island.
It was through exploring the island on foot that I had the chance to try many new and different experiences, to shop in news stores, and to taste my way around the island. I discovered, also, that Bainbridge Island at Christmas is particularly magical, and previously I've written on the best ways to enjoy the holiday season on the island. Based on all of those experiences, here is my guide to things to do in Bainbridge Island.
Curated for Car-less pedestrians
If you, like me, find yourself in Bainbridge Island without a car, this list is perfect for you. You don't need a bus pass or public transportation on Bainbridge Island- so much is walkable! Travelers with a car can enjoy all sorts of activities in Bainbridge including hiking, wineries, a Japanese American Exclusion Memorial (acknowledging the World War II-era internment camp on Bainbridge Island), and botanical gardens. However, tourists visiting without a car who are navigating the island by foot as pedestrians will be a little more limited in the distance that can be covered.
This list of things to do is curated specifically for Bainbridge Island visitors without a car.
Things to do on Bainbridge Island for couples, families, kids, and solo travelers
Keeping in mind that not every traveler has the same goals for their visit, my list of things to do on Bainbridge Island includes a few items for everyone. Kids and families will love the large, locally owned toy store (with more dog stuffies than you can possibly imagine!) and the Kid's Discovery center at 301 Ravine Ln NE, Bainbridge Island, WA 98110. While adult travelers and couples may be drawn more towards the island's history museum and art museum.
Bainbridge Island can be a fun place to visit as a solo traveler. It's easy to be alone on Washington State ferries, with thousands of individuals commute between home and work each day, making it easy to blend in. Once on Bainbridge Island, it's a comfortable place to explore solo as you enjoy the waterfront, walking trails, coffee houses, shopping, and museums alone.
Getting around: Walk, Bus, Bike, or Kayak!
After arriving on the island as a foot passenger on the ferry, you'll have a few options for getting around. For most people who just want to explore the waterfront and the quaint business district of Bainbridge Island's waterfront town (called Winslow), 2 feet are all you need to spend a day exploring things to do on Bainbridge Island.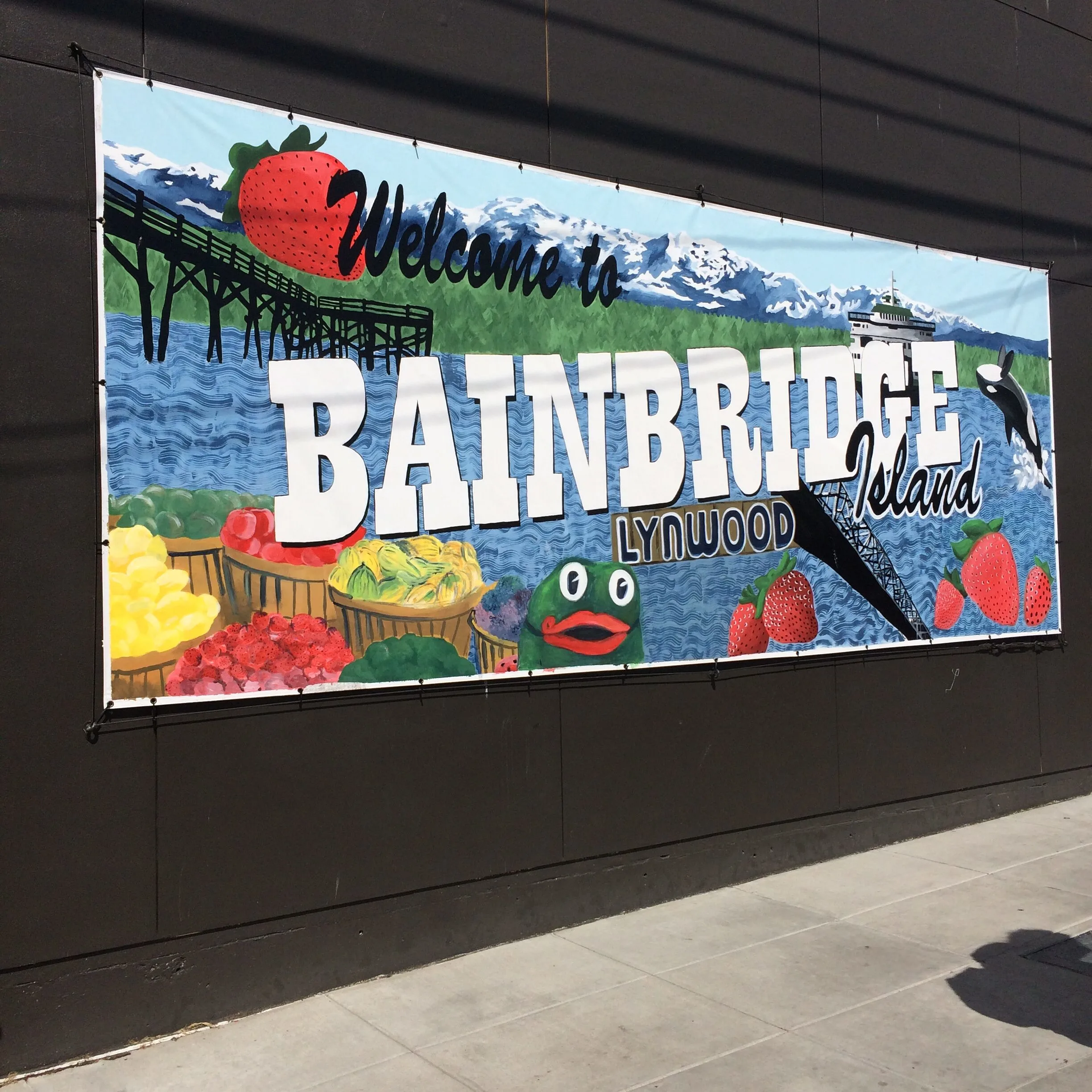 Bainbridge Island Art Museum
550 Winslow Way E, Bainbridge Island, WA 98110
The Bainbridge Island art museum is free to all and open almost every single day. It's also just a few steps from the ferry terminal, making it a great way to kill time if you miss a ferry and have to wait for the next one.
The Bainbridge Island Art Museum is well funded by the affluent of Bainbridge. This small museum has well-curated exhibits that far exceed typical expectations for a small town art museum. Often, the art museum has exhibits geared towards kids, so check their website or call ahead to see what might be on display during your visit.
Bainbridge Island History Museum
215 Ericksen Ave NE, Bainbridge Island, WA 98110
The Bainbridge Island history Museum is a fun chance to poke your head inside of one of Bainbridge's original old schoolhouses. If you're willing to walk a few blocks out of the way to visit this small museum, you'll learn much about the history of Bainbridge Island and how it has changed over the last few centuries.
Shopping:
100-300 Winslow Way E, Bainbridge Island, WA 98110
Toy Store, Book Store, and More – Bainbridge Island's main business thoroughfare- called Winslow Way0 is an adorable arrangement of charming shops, perfectly positioned to appeal to pedestrians visiting from Seattle. My must-stop shops when I visit Bainbridge include the toy store, the book store (don't miss the used book store downstairs), and various charming home decor shops and antiques.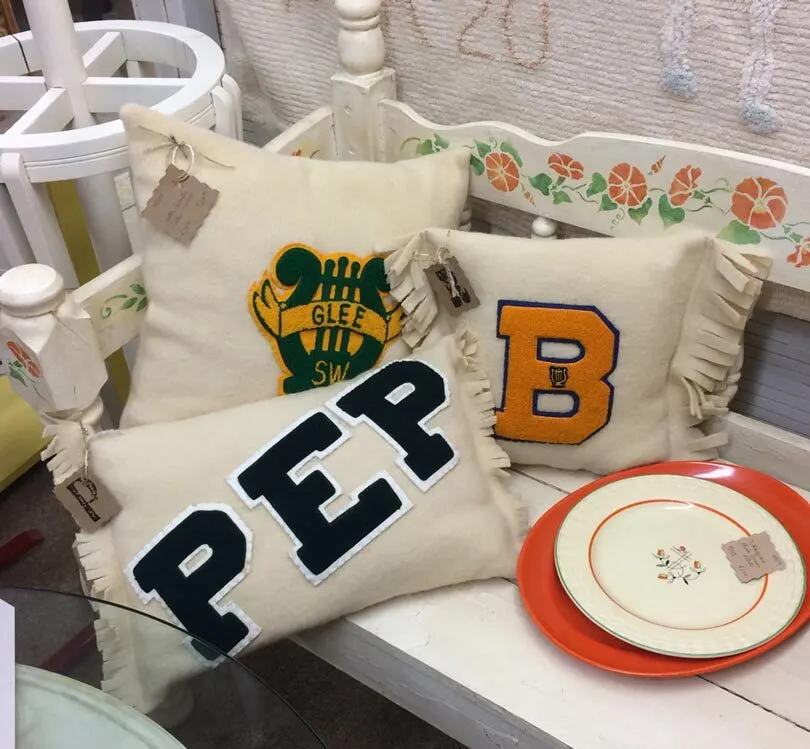 Best Places to Eat on Bainbridge Island
If you read my guide to Pike Place Market, you know that my best advice for enjoying the restaurants in Pike Place market is all about small bites and progressive dining. Tasting your way through is the best way to visit Pike Place Market, and there's a strong argument for approaching Bainbridge Island's restaurants in the same way. Here are a few of my favorite restaurants in Bainbridge Island that are easy to walk to from the Seattle ferry terminal.
Blackbird Bakery
210 Winslow Way E, Bainbridge Island, WA 98110
[cash only] A bakery of impressive- but not too stuffy- confections can be found at Blackbird Bakery, located among the shops of Winslow Way. Scones, cake, and pie by the slice are highlights of their menu.
Hitchcock Deli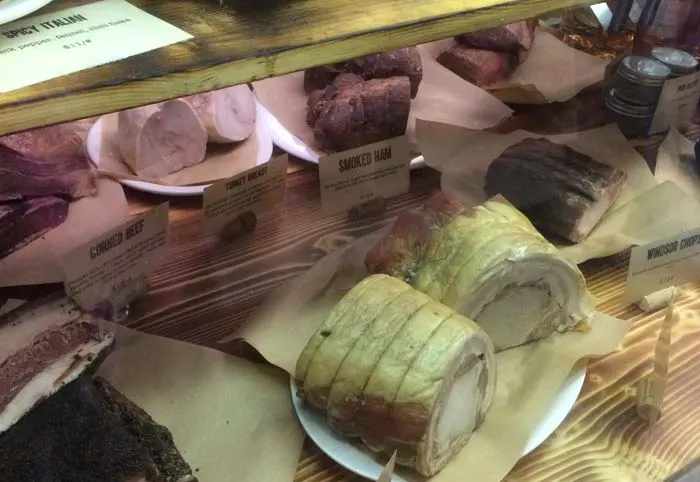 129 Winslow Way E, Bainbridge Island, WA 98110
Part cocktail lounge, part deli, and part lunch spot, Hitchcock deli is my favorite lunch spot on the Island. Grab a sandwich piled high with artisanal deli meats and pair it with a Bainbridge Island-made Kombucha from the tap.
Mora Ice Cream
139 Madrone Ln N, Bainbridge Island, WA 98110
when I visit Bainbridge Island without a car I always go to Mora. In fact, most trips end with me sprinting down the hill with ice cream to catch a ferry. While I do recommend taking time to enjoy your ice cream cone, a sweet treat from this ice cream shop is a great trip-ender. This elevated ice cream parlor can give you a sugar rush to power you back to the ferry and on with your trip.
Habor Public House
231 Parfitt Way SW, Bainbridge Island, WA 98110
My best pick for dinner on the island is Harbor Public House. This restaurant offers quality seafood (and land food) with a view of the sailboats in the marina at Eagle Harbor.
Inspired to visit? Pin your Plans: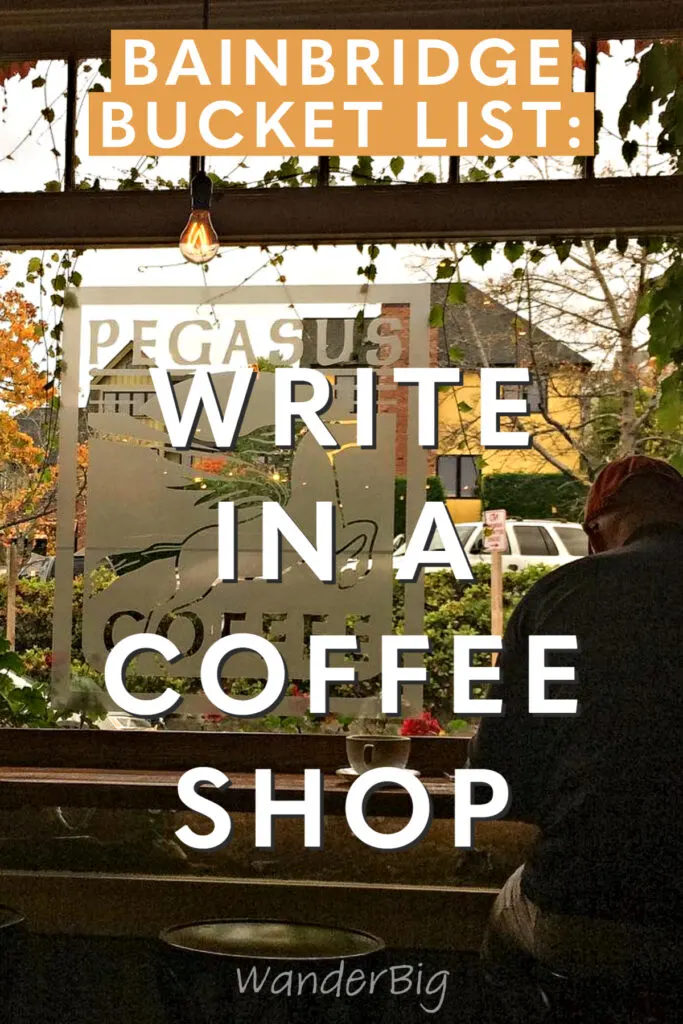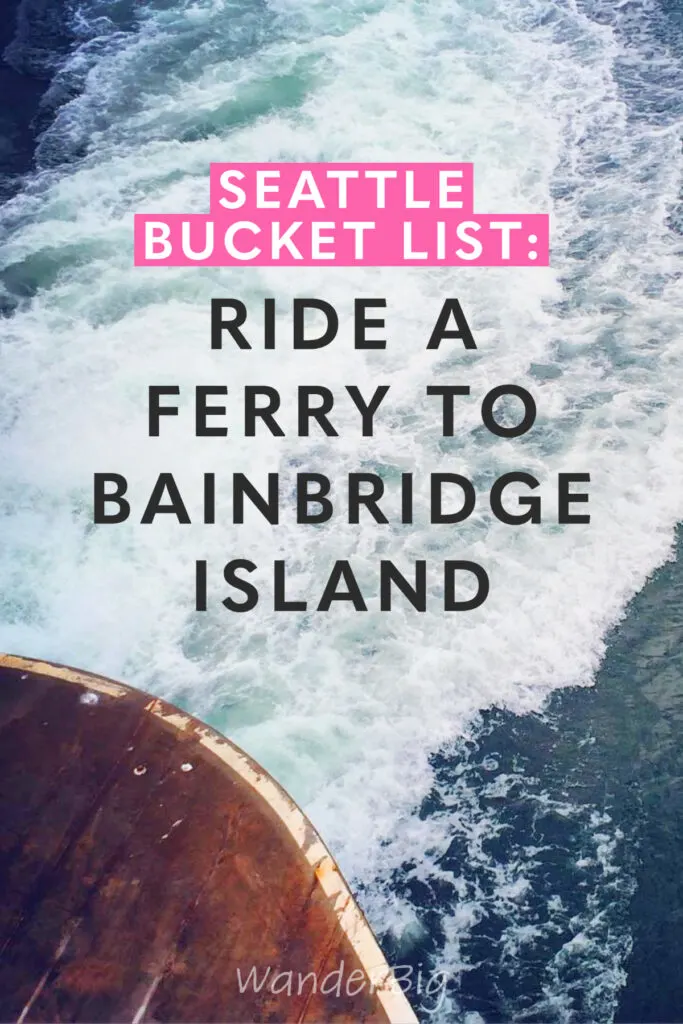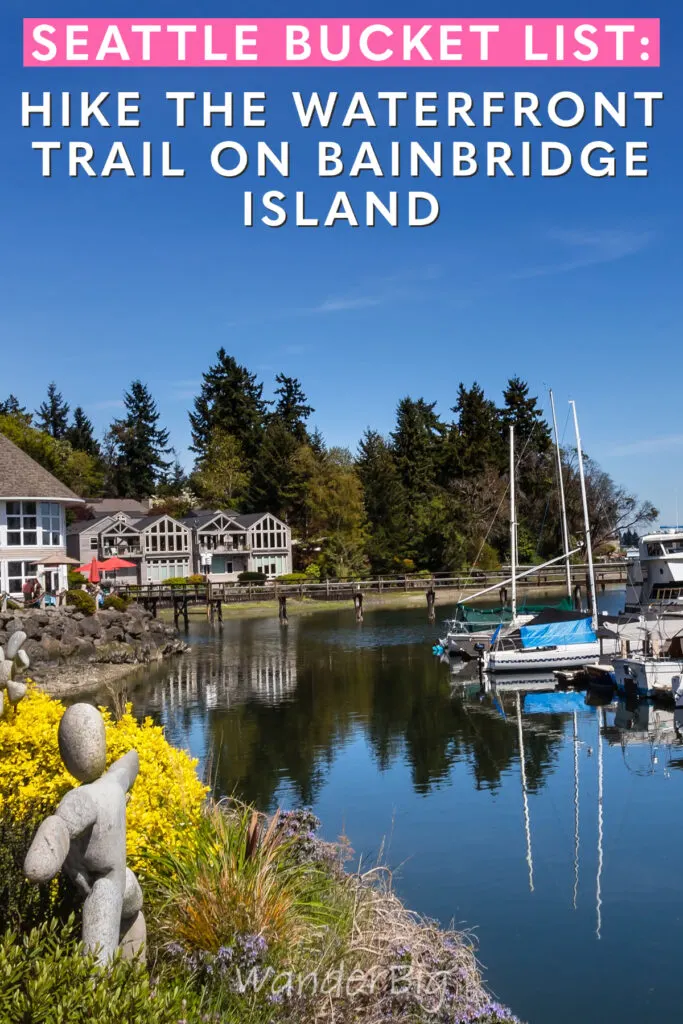 More Things to Do on Bainbridge
Community Garden
100-298 Finch Pl SW, Bainbridge Island, WA 98110
As a gardener and plant lover, when I visit Bainbridge Island in the summer, I always stop in at the Eagle Harbor Church's Community Garden. This community garden is open to the public. It's worth visiting this whimsical Bainbridge Island community garden because there you'll find botanical-garden-worthy blooms, in unusual varieties that are nurtured by the unique climate of Bainbridge Island.
Pegasus Coffee House
131 Parfitt Way SW, Bainbridge Island, WA 98110
When you're ready to sit and rest your legs for a bit, you can't find a better spot than Pegasus coffee house. It's hard to tell if the coffee is better than the vibe, since both are top-notch in my book. If Pegasus was across the water in Seattle, I think I would have written the Great American Novel by now, in the amount of time that I would have spent in their cozy and ivy-covered window seats. Pegasus coffee house also offers breakfast and lunch, and I once ordered a breakfast cobbler here that haunts my food-dreams.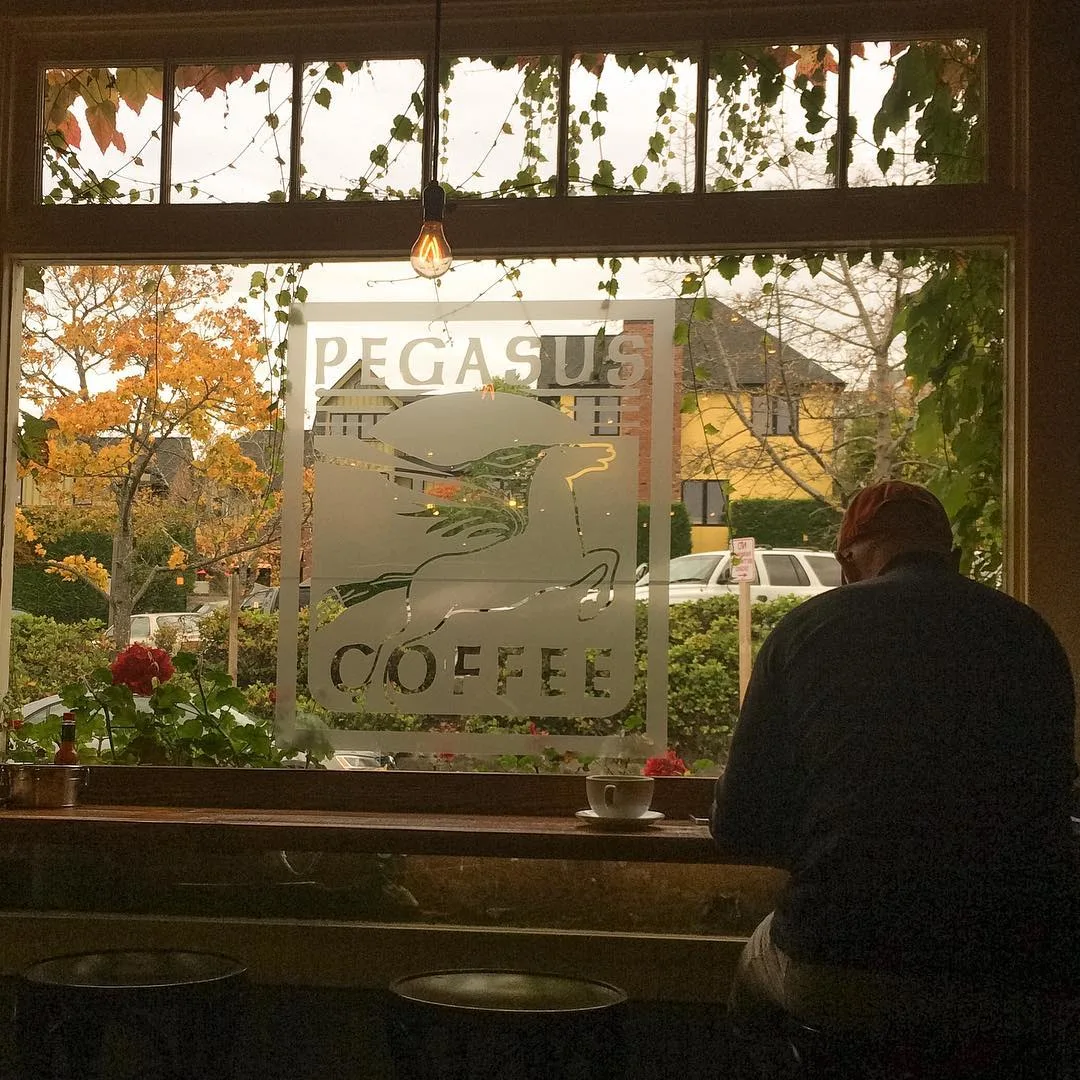 Winslow Warf
141 Parfitt Way SW, Bainbridge Island, WA 98110
Sailboats gently bobbing in the waters off Bainbridge Island is an iconic site that's so signature Bainbridge Island that it shouldn't be missed. Just next to Harbor Public House, you'll find a small walkway that leads out into the Marina. Portions of the marina docks are open for sightseeing and casual visitors – just observe the signs on some closed gates that indicate visitors should not enter.v
Waterfront Walking Trail
625 Winslow Way E, Bainbridge Island, WA 98110
Adjacent to the ferry terminal is a small walking trail that hugs the coastline of Bainbridge Island. It's worth visiting for the sake of viewing this area, but can also be a quick shortcut between the ferry terminal and the things to do on the western edge of the walkable area of Bainbridge Island.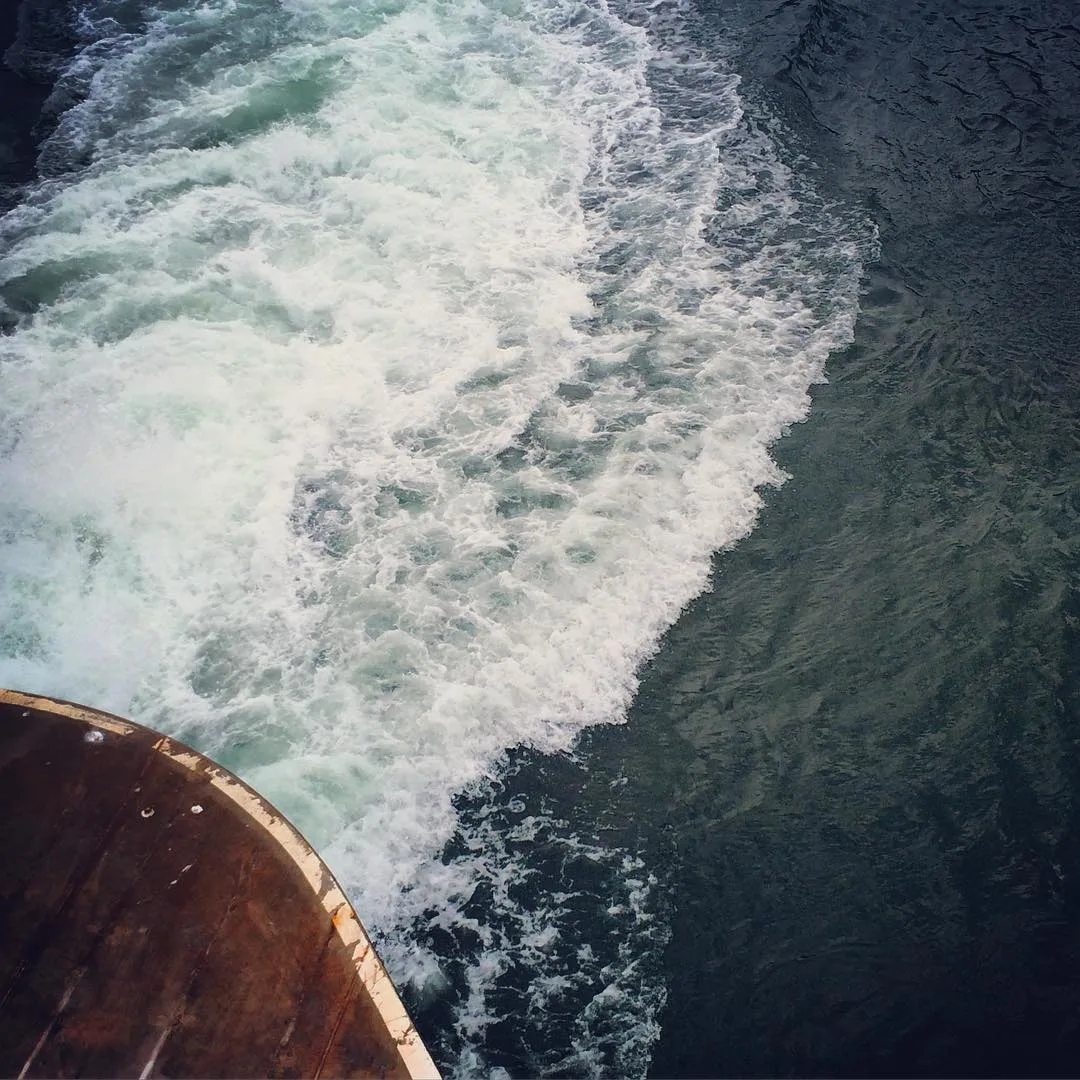 Kayak Rentals
301 Shannon Dr SE, Bainbridge Island, WA 98110
So you like kayaking? Good news! You can rent a kayak near waterfront walking trail. With a paddleboard or kayak you can head into the waters of Eagle Harbor. From there, you'll have a water view of Bainbridge Island. FYI: the Puget Sound is very cold year-round, and it's not recommended that new kayakers or stand up paddle boarders learn in these waters. For warmer water head to one of Seattle's best swimming spots.
Bike Rentals
260 Olympic Dr SE, Bainbridge Island, WA 98110
If you're interested in exploring a little more beyond this list of things to do on Bainbridge Island, or if biking is just more comfortable than walking for your body, consider renting a bike from the bike rental station slightly uphill the hill from the Bainbridge Island ferry terminal.
The best times to visit Bainbridge Island
Since the village (at least, the portion accessible to pedestrians walking from the ferry port) is, basically, a commuter suburb rather than a seasonal tourist-focused area, you'll find the shops and businesses open year-round. Although the available activities may vary by time of year, there's no bad time to visit Bainbridge Island. Some particularly great dates to visit Bainbridge include the Fourth of July, the summer harvest festivals, and the Christmas Season on Bainbridge.
Seasonal Events: Additional things to do in Bainbridge Island
Although the list above features things to do that you can do practically any day of the year (with the exception of kayaking!) There are many events on Bainbridge Island:
First Friday Art Walks – the Pacific Northwest Islands seem to have a unique draw to artists and craftspeople. Bainbridge Island is home to countless artists, writers, and other creators. Throughout most of the year, the first Friday of each month brings an art fair to town. Your exploration of Winslow Way will include temporary art set up by local artists. Plus, the opportunity to buy from local artists!
Second Saturday dances – love the opportunity to kick up your heels and dance? While community dances are falling out of popularity around the country, in Bainbridge Island this tradition stays alive. On the second Saturday, you can participate in a city-hosted dance.
First Sunday – For many, live music is a great reason to schedule a trip to the island to enjoy the island atmosphere and a free concert. Throughout the spring and summer, the island's city government hosts free concerts in the park each and every first Sunday of the month. Check out the Bainbridge Island events calendar for more information.
4th of July Festival – When July comes around, so does Bainbridge Island's biggest tourist event: a celebration of Americana featuring a parade, pageant, market, and of course a massive firework show. (Traveling to Bainbridge on the Fourth of July is particularly fun, since the return ride back to Seattle on a ferry after dark will reveal a sky exploding with massive fireworks displays along the pacific northwest beaches)
September: Bainbridge Harvest Festival – According to BainbridgeIsland.com the activities of the Harvest Fair include gardening and harvesting demonstrations, goat milking, demos of sheep shearing, beekeeping educational displays, dog agility competition, a slide, a pie contest, apple cider pressing, food trucks, music, and more.
Art studio tours – one of my personal favorite things to do on Bainbridge Island is to step into the Bainbridge arts culture a little deeper than just visiting the museum or first Friday Art walk. A few times a year, Bainbridge artists open their studio and invite visitors to view not just their art but also their homes and workspaces and sometimes gardens. There is a fee for these tours, but the profit support the arts on Bainbridge Island and the opportunity to view the artistic process as well worth the price of admission.
Farmers market – Each Saturday from 10 AM to 2 PM the island host a farmers market on the town square just outside City Hall (this is within walking distance of the ferry terminal). Bainbridge Island farmers market is a vibrant market featuring music and performers and street food as well as typical produce.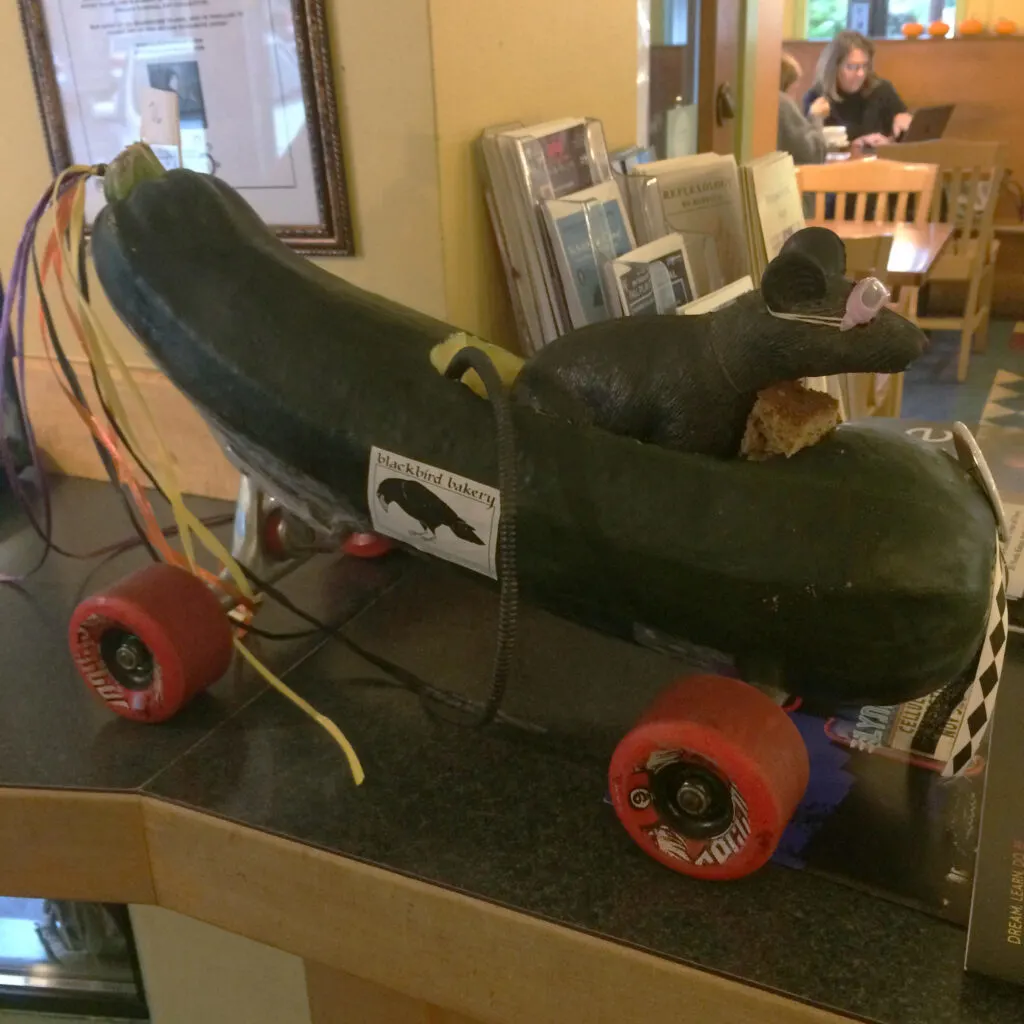 One major annual draw for the farmers market? The end of summer zucchini races! A now annual event, locals outfit their biggest zucchinis with wheels and send them racing down ramps in competition for who can have the fastest zucchini. If you like roadside oddities with an Americana twist, this farmers market event on Bainbridge Island is well worth scheduling to be a part of. Learn more here
Christmas: Christmas ship Festival and ship parade – Boat parades and regattas occur regularly in the waters between Bainbridge Island in Seattle, but none of them are quite as fun as the Christmas boat parade in which highly decorated boats parade around various neighborhoods and waterways around the Christmas season.
The parade only passes Bainbridge on one night during December, so be sure and check the calendar if you hope to catch it during your visit.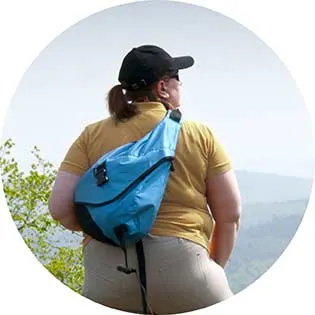 Lynli Roman's unique approach to travel is informed by decades of experience on the road with a traveling family and, later, years spent as a solo international traveler. When she's not writing about Seattle from her Pike Place Market apartment, Lynli writes on-location while conducting hands-on research in each destination she covers. Lynli's writing has been featured by MSN, ABC Money, Buzzfeed, and Huffington Post. She is passionate about sharing information that makes travel more accessible for all bodies.