Washington State Ferries are a public transportation system like no other. But for travelers and tourists, riding a ferry for the first time can be confusing.
In this article, I share:
Keep reading to learn how I, a ferry-obsessed local, recommend enjoying this incredible form of PNW public transportation
Set on a backdrop of water and mountains, these ferries traverse the relatively calm waters constantly. Chugging along the coast, shuttling cars, bikes, and foot passengers from islands to mainland terminal, WSF ferries are practical and can be a fun part of any PNW adventure.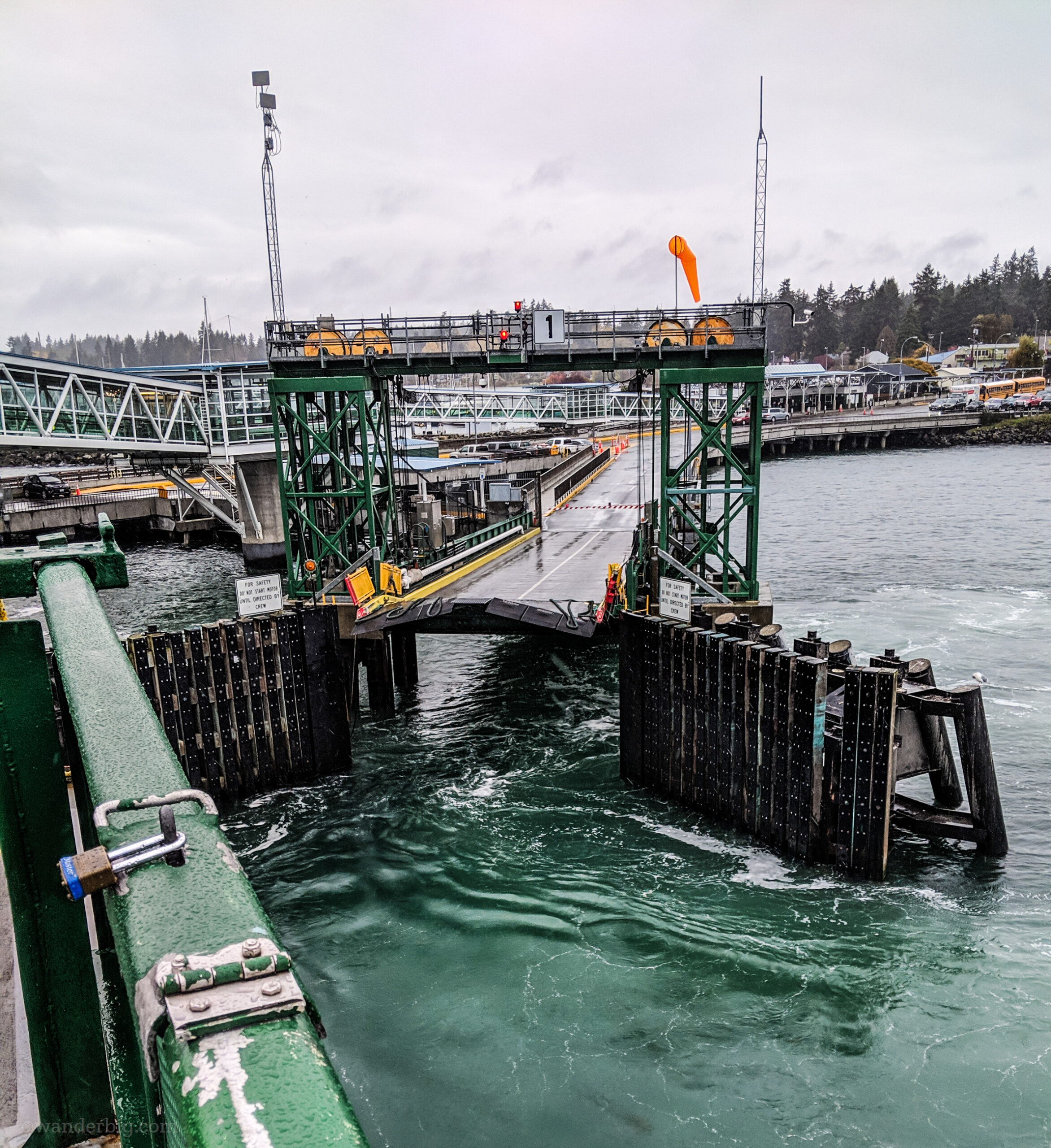 How I Became a Pro Ferry Rider
When I moved to Seattle from the midwest, it was a difficult transition. I traded in long, open horizons of the Midwest for the urban cityscape of downtown Seattle. Since I was, by choice, living without a car in Seattle I didn't have the option to simply drive to the nearest open horizon, instead, I became a recreational rider of Washington State Ferries.
When I needed time to think or wide-open spaces to soothe my soul, I'd walk the 6 blocks from my apartment to the downtown Seattle ferry terminal and board a ferry bound for Bainbridge Island or Bremerton– where I could get a 30 or 60-minute trip, respectively, each way to clear my head.
Over time, I became an aficionado of Washington State ferries – at one time making it my goal to traverse every single ferry route in Washington state! I learned, from another ferry obsessed friend, many of the secrets to maximizing the recreational aspects of riding Washington State Ferries- like what to pack, where to sit, and how to get the most out of the ride. Today, I'm thrilled to get to share some of that experience with you.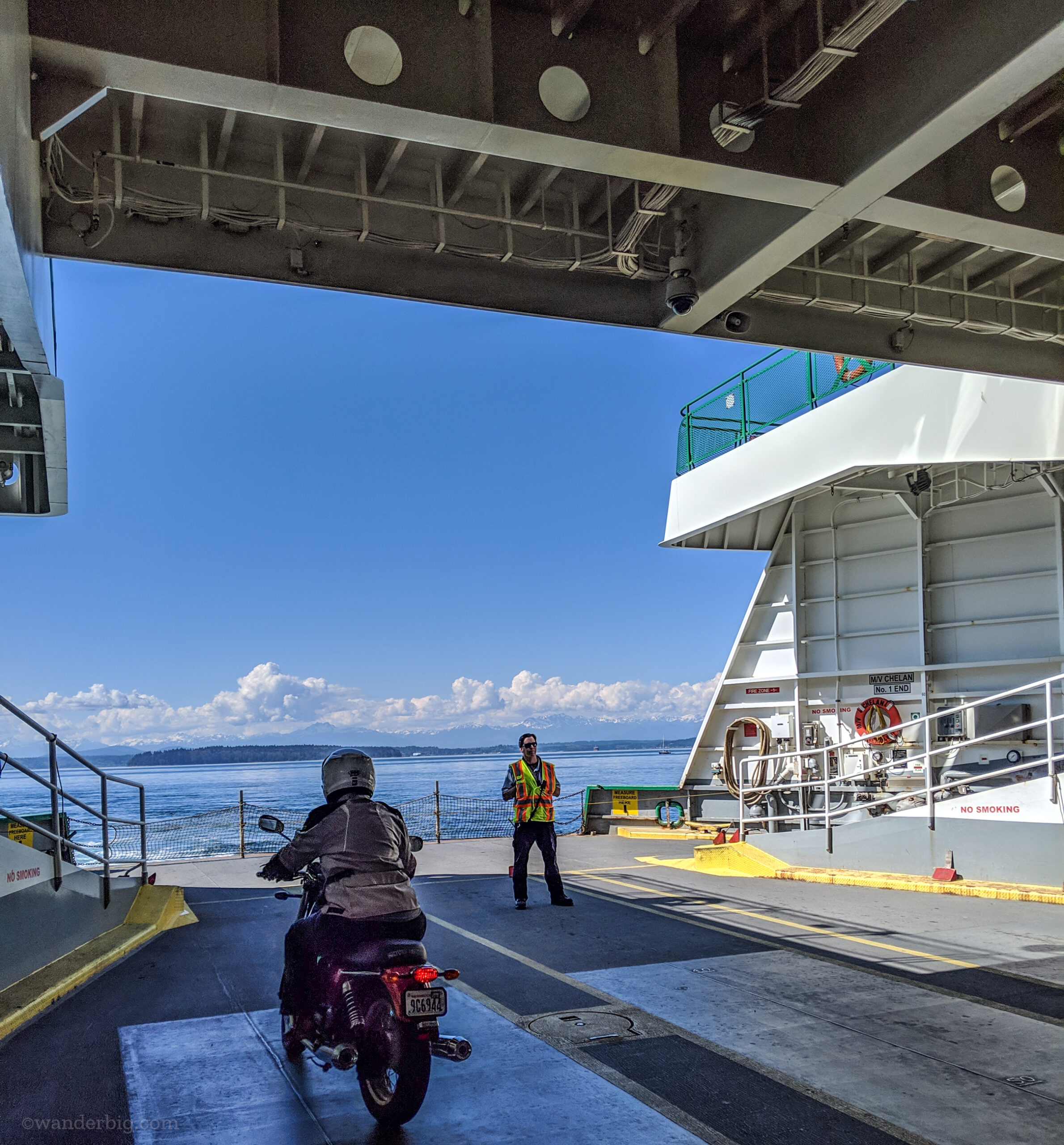 What to Do on a Seattle Ferry:
1. First, Get the Best "Seat" on the Boat
When boarding a ferry from Seattle, race to get a spot on the upper-level outdoor deck on the back of the ferry. By getting a spot on the rearmost portion of the (standing room only) outdoor deck, you'll be able to take unobstructed photos of the Seattle skyline as the ferry departs the terminal and begins the journey to Bainbridge Island.
On routes leaving from other ports, you can choose between the front or back deck, since a view of the city skyline won't be available from those locations.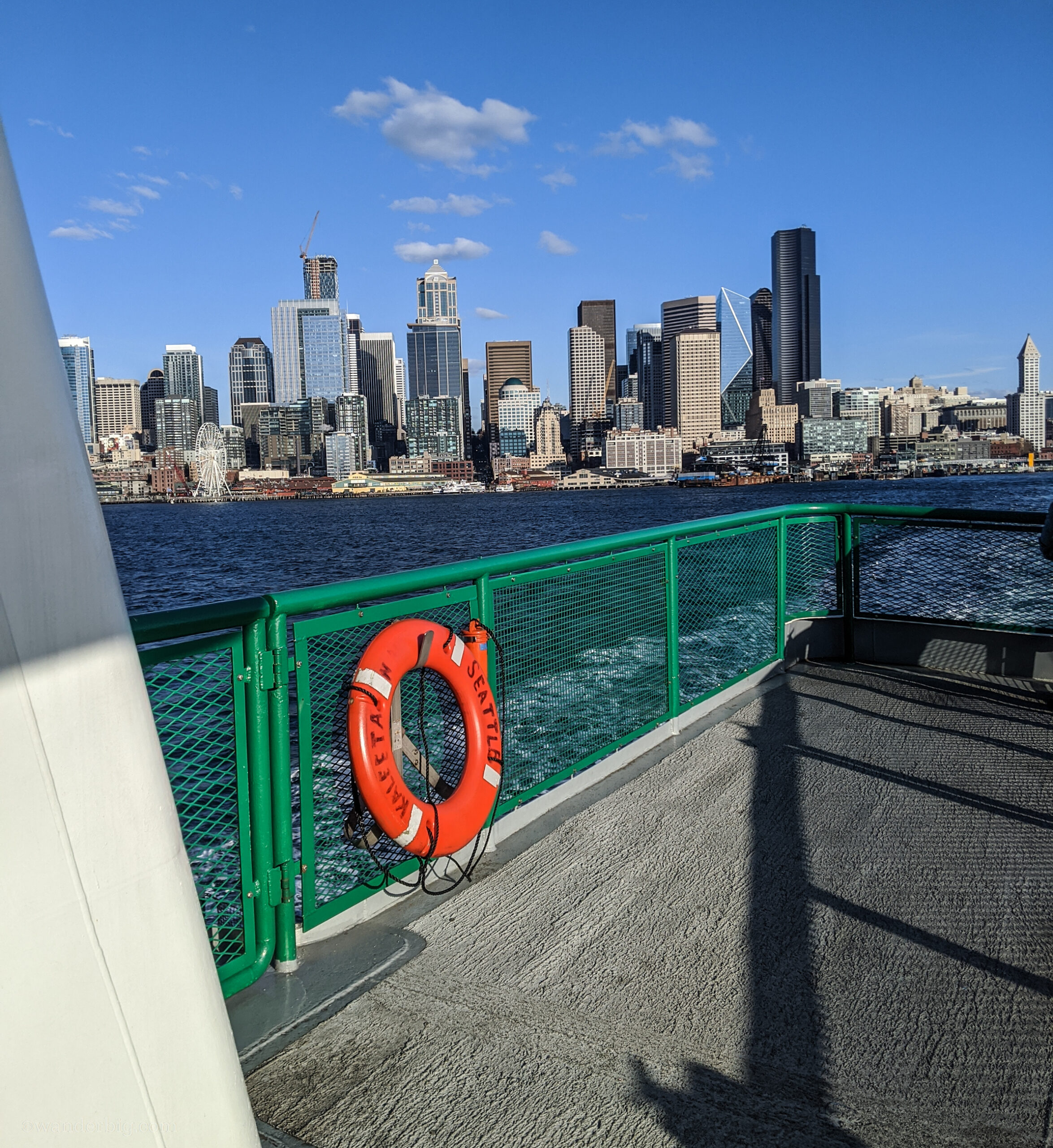 2. Then, Get a Snack from the Ferry Concession Stand
Washington State Ferries have an impressive concession stand (including beer and wine- though consumption requires that you stay in the concession area). I recommend the pretzel and the popcorn before progressing to the next step of enjoying a Seattle ferry.
3. Try a Puzzle
The thousands of people who commute between Washington's ferry terminals each day have a fun tradition: puzzles!
At several of the booths on the interior of the ferry, you'll probably find half-finished puzzles. These collaborative projects are completed by both tourists and regular commuters as each ferry bounces from terminal to terminal.
4. Watch the Water
Even though you're on a form of mass public transportation, you are traversing a Puget Sound teeming with marine life. If you keep your eyes peeled you may see a creature that you might never have another opportunity to spot in the wild!
From the bow of a Washington state ferry, I've seen harbor seals, swarms of jellyfish, and on one memorable occasion even the back end of an orca whale disappearing into the white caps. (My whale spotting experience was particularly remarkable, as- at 45 minutes into a 60-minute crossing- every other passenger on deck was occupied with their phone, computer, or conversation instead of watching the water- leaving me the only one to spot the enormous split black tail slipping into the water)
5. Explore an Empty Car Deck
There's something haunting about the vast openness of an empty car deck on a ferry. Washington state ferries are built to accommodate peak traffic, so in the off-season it's not uncommon for entire floors of a ferry to be empty. Passengers are allowed to walk through these public spaces, and they can be an opportunity for some great photography of scenery or even portraits of yourself while traveling.
Hint: Ferries arriving to Seattle's downtown terminal after dark are often below capacity, and the lights of the Seattle skyline, viewed from an isolated car deck on a late-night ferry is a magical experience.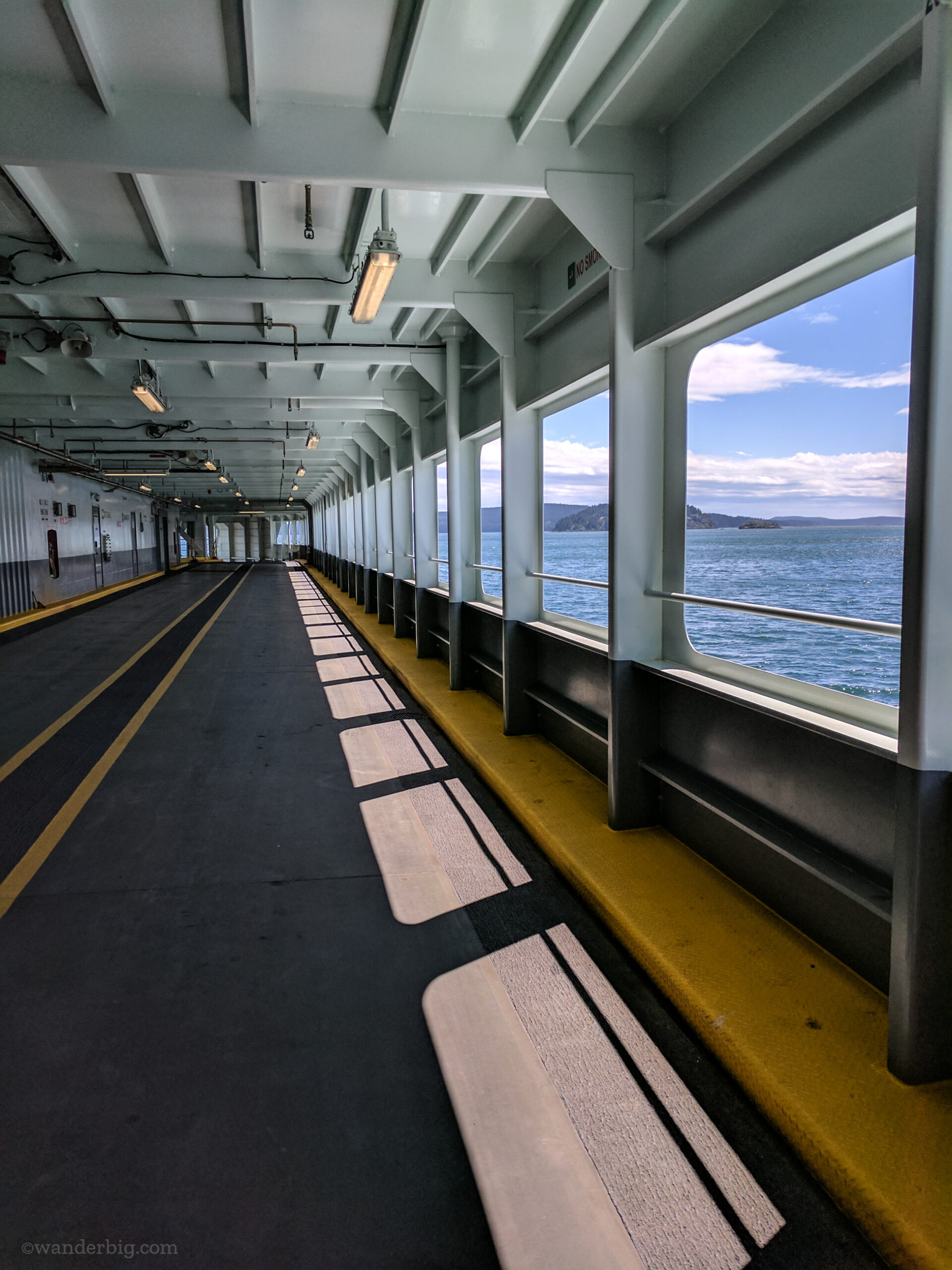 6. Look for Bioluminecense
Bioluminescent bacteria are native to the Pacific Northwest and the icy cold waters of the Puget Sound. These bacteria glow when disturbed- and a ferry wake can create a massive disturbance in the water. If you are arriving or departing by ferry after dark, be sure to stay on the outdoor portion of the passenger deck and watch the water for this underwater light show.
7. Stand on the Front Outdoor Deck at Arrival
Arriving by boat is a pretty amazing travel memory to form of any location, and the vision of your destination is something you'll want to watch for. Particularly going to Bainbridge at Christmas, you'll want to be outside to see waterfront Christmas decorations as the boat rounds Bill Point and arrives in Eagle Harbor.
Not only is the first sight of your destination ferry terminal worth vying for a spot to see, but the movement of water as a ferry pulls in to the terminal is worth watching. Washington State ferries don't brake, instead, they turn on a massive jet of water that blasts out from the front of the ferry. The shades of blue, green, and aqua in these artfully churning waters are some of my most poignant memories of riding the Washington State ferries- and it's a sight you'll miss if you stay indoors.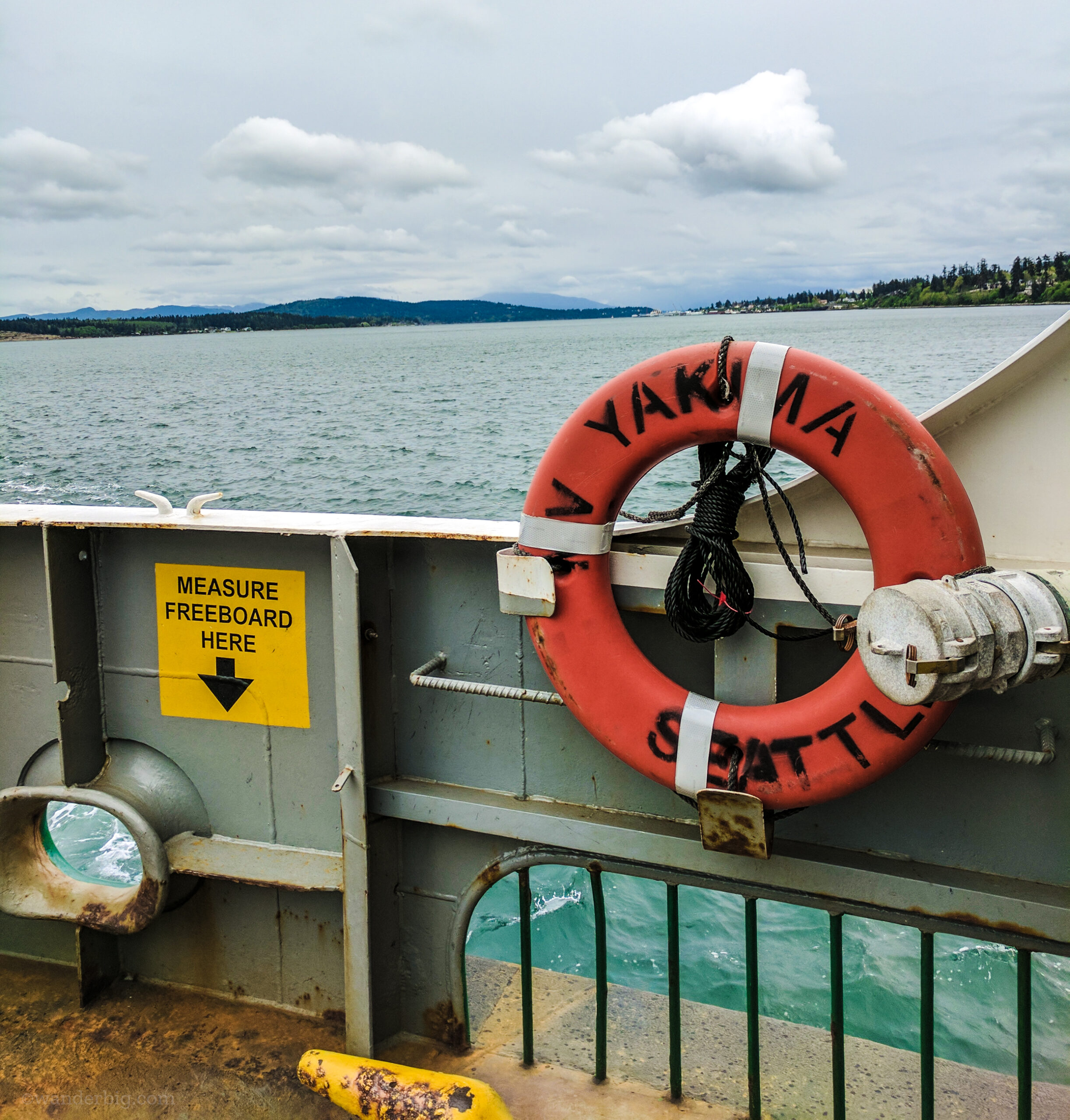 How to Get a Good Seat on a Seattle Ferry
Tickets to ride Washington State ferries do not include assigned seats. While seasoned ferry commuters have favorite seating sections they'll rush to claim, if you are a tourist on a short ferry ride in the summer, I recommend standing on the outdoor decks to better enjoy the experience of riding a ferry.
If you are on a longer crossing (like Seattle to Bremerton or Anacortes to Lopez Island) or a traveler with limited mobility you will want to claim a good seat immediately after departure.
Best Seat: Standing outside!
If your body and the weather make it possible, the best "seat" on a ferry is standing at the rail of the bow or stern. Although windy and often cold, this spot is magic- amazing for photos, city skyline, and for spotting marine wildlife (and even whales!)
How to get this seat: this spot fills quickly on popular ferry routes. When boarding, rush directly to the opposite side of the ship to claim your spot.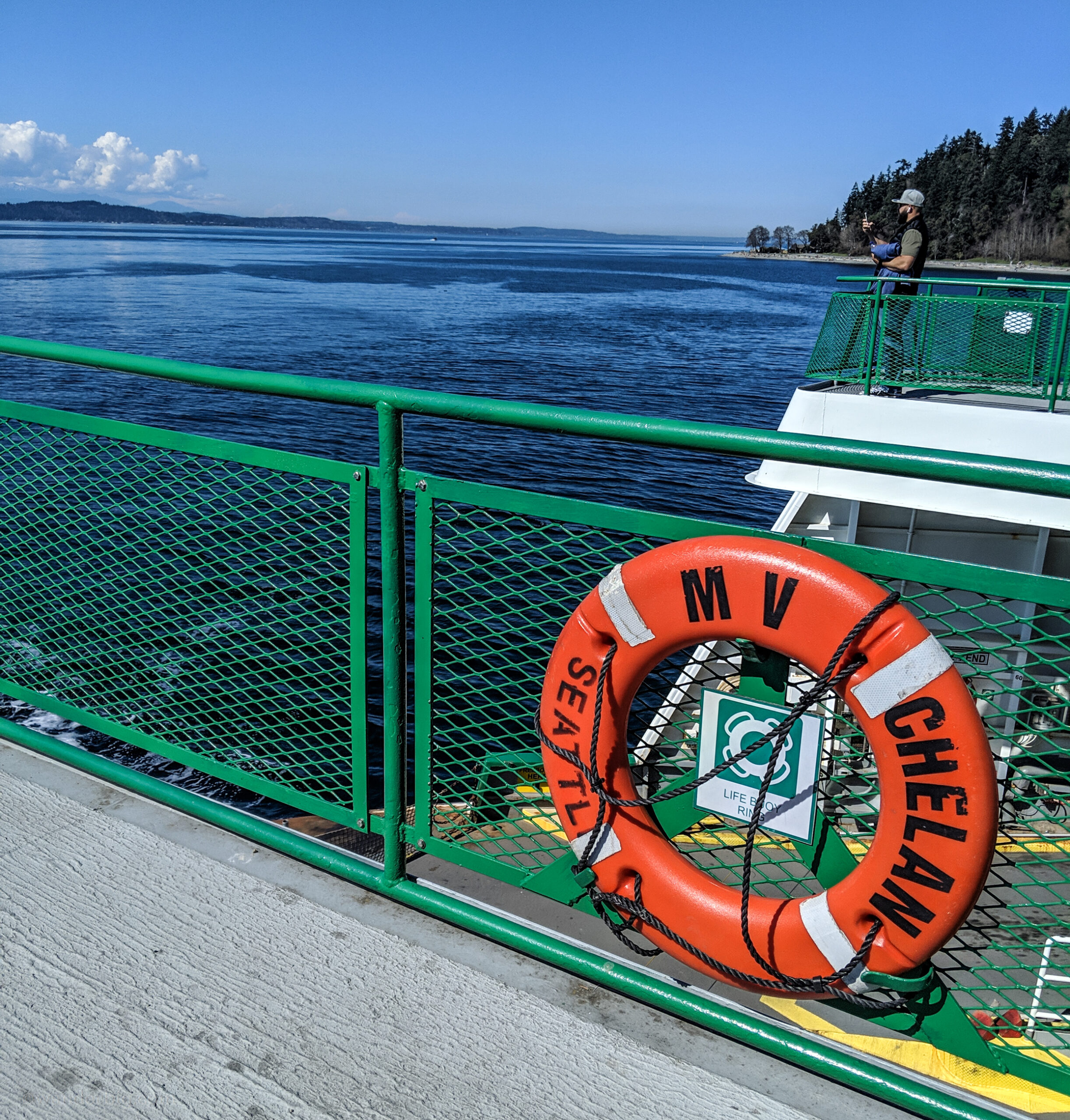 Second Best Seats: Bench seats facing the front or back window
On most Washington State ferries, you'll find large picture windows lining the bow (front) and stern (back) of the ferry. In fact, these seating areas will be identical but reversed on each end of the boat, since Washington State ferries have motors at both ends allowing for faster docking, loading, and departure. On a cold or wet day, these are the best seats in the house for sightseeing, although on some classes of many ferries this area is less sheltered from the weather or climate controlled than other seating areas.
How to get this seat: On most ferries, this seating area is not in high demand – as most folks who want to sit down for the duration of the sail want to do so in the comfort of fully indoor seating. (Good news for Bainbridge Island travelers though: on the class of ferry used for this route, this seating section is warm, dry, and fully indoors)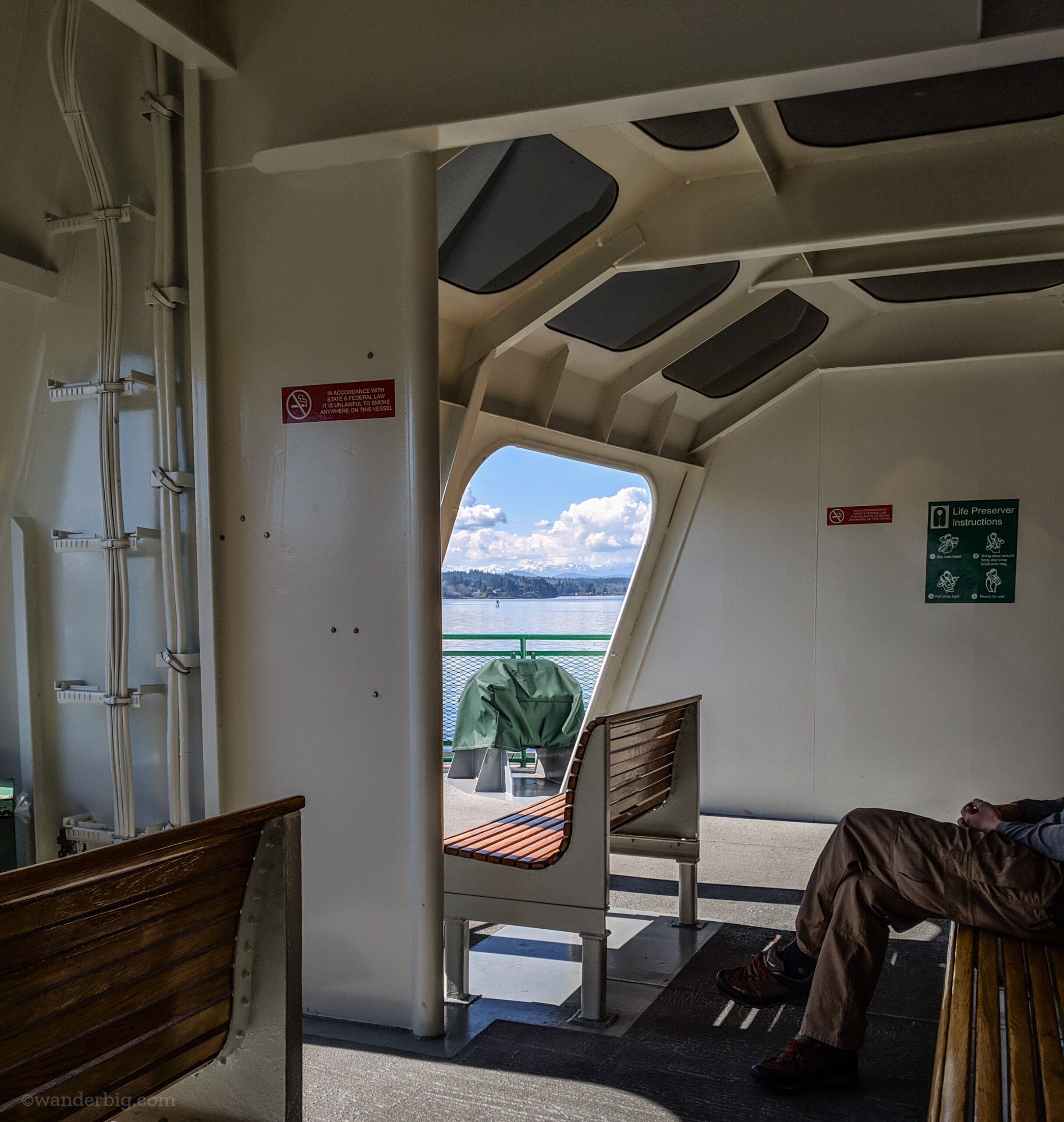 Good seats on a WSF ferry: Booth style seating
Usually found lining the outer walls, My second favorite seating on a Washington state ferry are the padded booths that give you a front row seat to an amazing view out the large picture windows lining the sides of the boat.
How to get this seat: while tourists to rush to the outdoor decks at bow and stern, commuters quickly call dibs on the booths with cupholders, tables, and long cushioned benches that offer the weariest passengers a chance for a nap. If your ferry is crowded, you'll need to claim one of the seats immediately after boarding, not after exploring or spending time on an outdoor deck.
TIPS: almost all of the booths have cupholders, but keep your eyes peeled for a smaller number of booths with tables between the benches. These are great for eating a meal on board, adding an entry in your travel journal, or working on one of the shared puzzles that ferry commuters collaboratively complete through the day.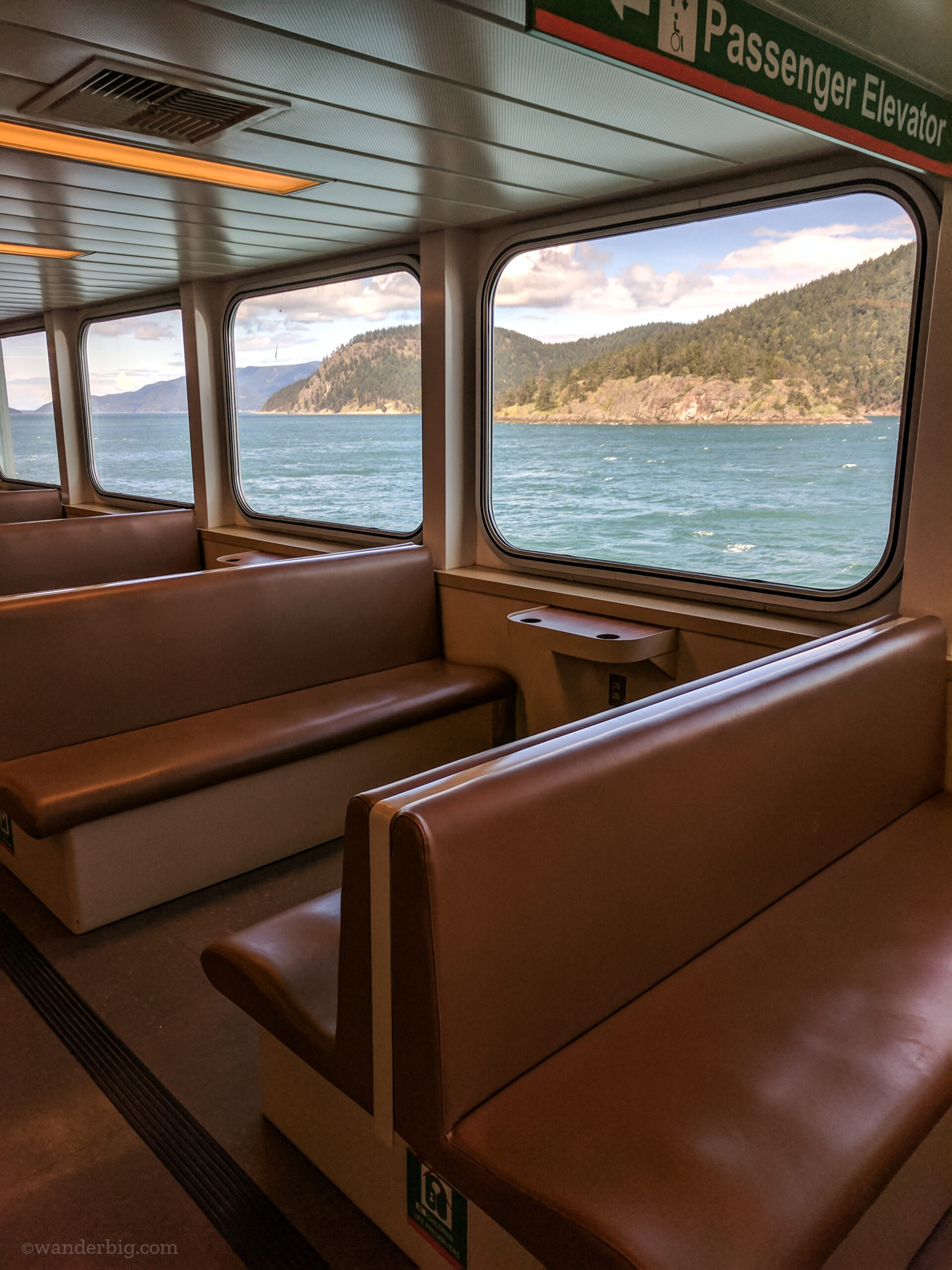 Worst Seats: Inner seating areas
If you wait too long to find a seat on a very crowded ferry, you may find yourself with the only option of the seating section in the middle of the boat. I hate getting stuck in the seating area! While it's marginally more stable when the Puget Sound winds are howling, sitting in this section feels like waiting in a bus station- and a good trip on a Washington state ferry should feel just as exciting as getting to the destination. If I'm stuck with a seat on the inside of a ferry, You'll find me remaining on the outside deck.
How to get this seat: I have never seen a Washington state ferry with no seats remaining open- although it's probably happened on packed holiday season sailings. Generally, people come and go from this section of WSF ferry seating. Finding a seat here- or a group of seats for your party – is easy.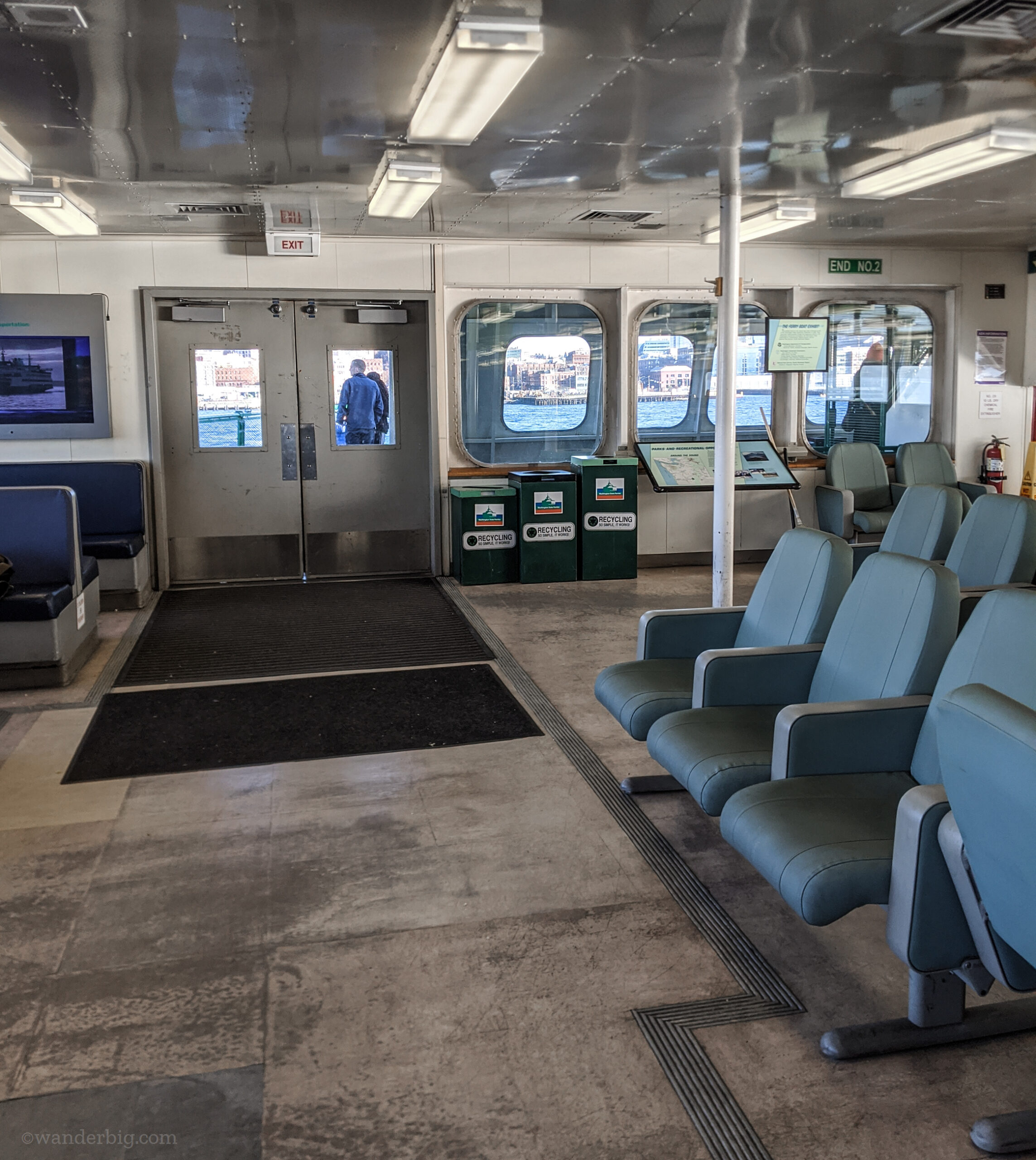 The following section may contain affiliate links. As an Amazon Associate, I earn from qualifying purchases.
Packing List for a Ferry Ride in Seattle
Outdoor Gear for Weather + 1 additional Layer – If it seems warm in Seattle, pack a light windbreaker for your ferry ride. If it's chilly in Seattle, bring a heavy jacket. If you plan to spend any time enjoying the incredible views from the outdoor deck, you'll need to prepare for the wind generated by a quickly moving vessel on the open waters of the Puget Sound. That means preparing for 15-20 degrees cooler than the ambient temperature!
(spring/summer/fall) A headband or ear warmer – The biting winds generated by a ferry on open water will numb unprotected ears before your body even has time to get cold. Plan ahead to be able to cover this sensitive body part.
Travel binoculars – tiny travel binoculars are one of the best travel purchases I ever made, and on a Washington state ferry, they come in handy to get a close view of marine wildlife in the waters below deck or on the horizon. Get the pair I love on Amazon here.
For a more complete guide to packing for Seattle, see my Seattle Packing List.
Are there bathrooms on Ferries in Seattle?
Washington State's ferry system is modern and includes all basic amenities – including full-service restrooms with changing stations.
What is the best ferry ride in Seattle
The ferry ride with the best views of the mountains and the Seattle skyline also happens to be the most convenient for most tourists: the Seattle to Bainbridge Island route- with the Seattle to Bremerton route as a close second place. Both leave from the Downtown Seattle Ferry Terminal.
I recommend the Bremerton route if you just want a ferry joyride- it's about 50 minutes each way. Take the Bainbridge route (30 minutes each way) if you want to spend some time on a PNW island; Bainbridge Island is pedestrian-friendly and has lots of things to do.
What to expect riding a Seattle ferry: car, bike, foot passenger
Walking onto a Washington state ferry
The cheapest way to ride a ferry in Seattle is as a foot passenger. Here's what you can expect. When riding from Pike Place market/downtown to Bainbridge Island, the ferry terminals are very much like you might expect from a small airport: glass-enclosed walkways provide easy access directly to the passenger deck.
Many of Washington State's ferry terminals, however, are structured more for car access than for foot passengers. For example, on many ferries (including West Seattle, Kingston, and Anacortes) foot passengers board the vessel via the car ramp. Foot passengers can then climb to the passenger deck via stairs or an elevator.
When your ferry is approaching its final destination, you'll hear announcements over the intercom system with instructions on how to depart the boat. Even if you want to ride right back to your starting point, you have to get off the boat as they reset and reload for the return trip.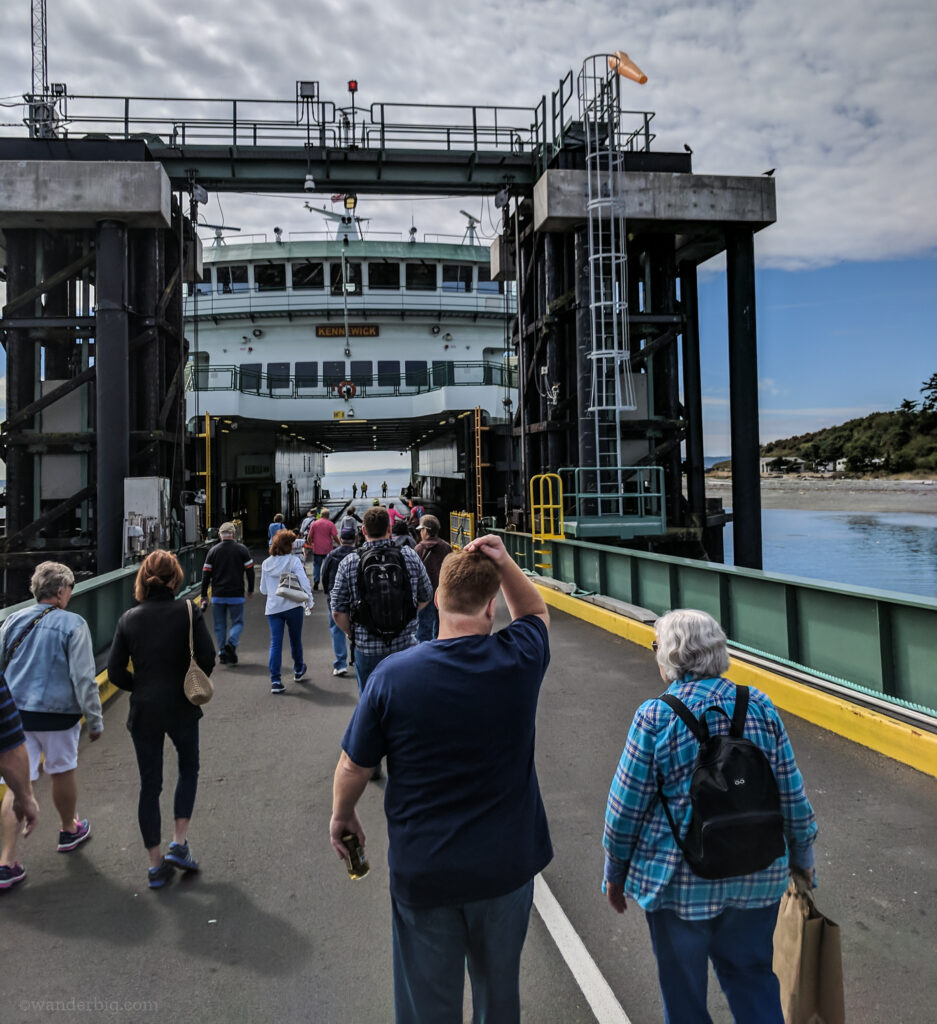 Driving on to a Washington state ferry
As a native Kansan, I'll never forget the first time I drove onto a ferry and Washington state. While everyone around me on the boat was nonchalant about this typical form of transportation in the area, I was comically entertained by the fact that my car was on a boat!
Even though I got used to driving on and off of ferries as I navigated life and recreation in Washington state, that wonder of floating my car across the enormous body of water never quite went away.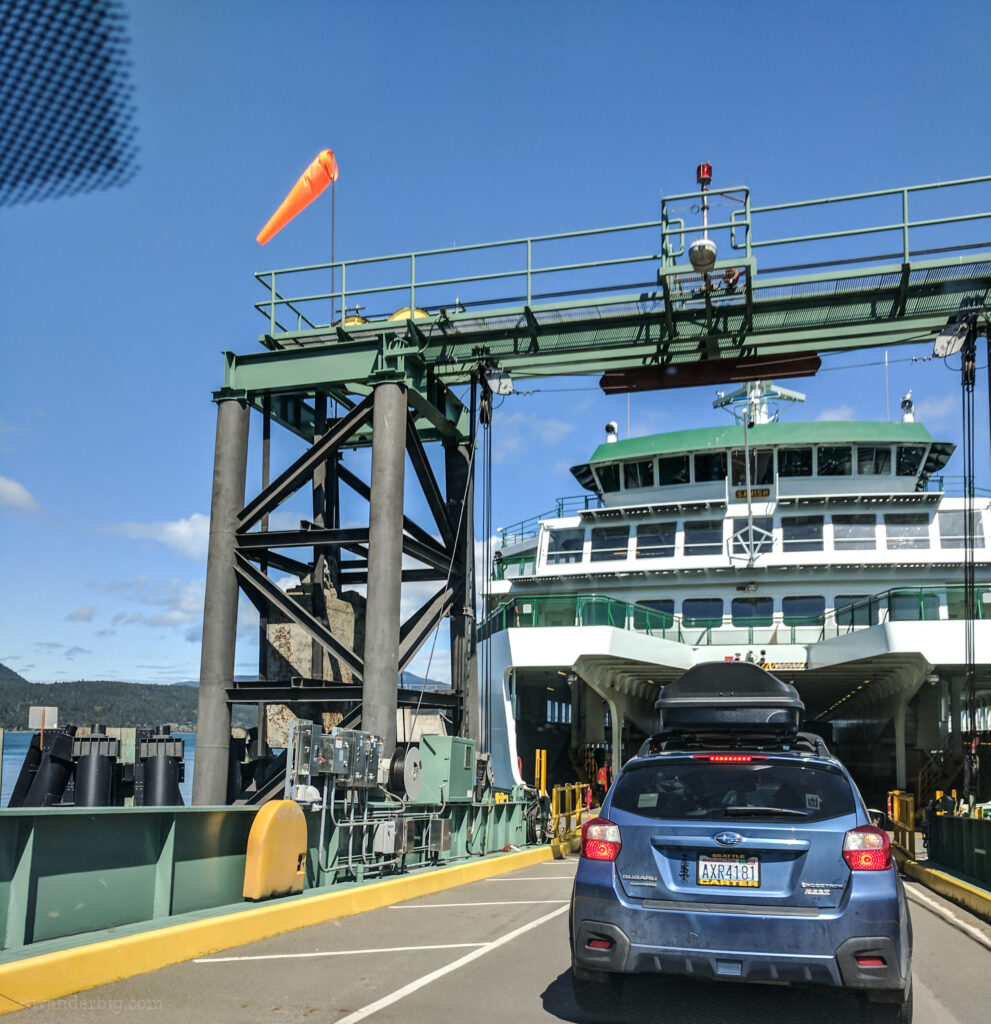 Here's what you can expect driving onto a Washington state ferry:
If you are navigating between any of the following ferry terminals, especially during peak season in the summer, WSDOT recommends making vehicle reservations: Anacortes, Friday Harbor, Orcas Island, Shaw Island, Lopez Island, Friday Harbor, Port Townsend, Coupeville.
When you get to the terminal, you will pull into a line of cars, usually designated by signs or painting on the road that it's the line for the ferry.
As the line moves (or immediately, if there is no line) you will reach a tollbooth. At the tollbooth, a worker will look at the size of your vehicle and the number of passengers, tell you the cost, and take your payment.
After payment, the ferry tollbooth worker may give you a number- this number corresponds to numbers painted on lanes in the area designated for cars waiting to board the ferry. If the tollbooth worker does not give you a number, follow the instructions of ferry workers directing traffic.
Directed by either the number assigned or the gestures of the ferry crew, pull into your lane and wait. It is appropriate, here, to turn off your engine and headlights if applicable while you wait for the next ferry to arrive, unload, and prepare for loading.
Unless you're in the very front of the waiting lanes, you'll notice cars firing up and lanes emptying. That's your cue to have your car started and be ready to drive on to the ferry- being ready helps the ferry load quickly and stay on schedule.
Follow the car in front of you unless directed by the road crew- during loading there will be many WSF employees in high visibility vests and jackets directing you when to merge, where to park, and when to stop.
If you manage to get a front or back row seat on the car deck, a WSF worker will come and place wheel chocks under your wheels to prevent accidental rolling. These will be removed before disembarking.
Once you have parked, turn off your engine and be sure that your headlights are off.
Passengers are allowed to exit their cars and walk to the passenger deck unless specifically instructed not to over the loudspeaker (a policy put in place for portions of 2020 and 2021 as a public health measure)
On arrival, when the car in front of you begins moving, follow them. WSF staff will direct you how to exit and when to merge.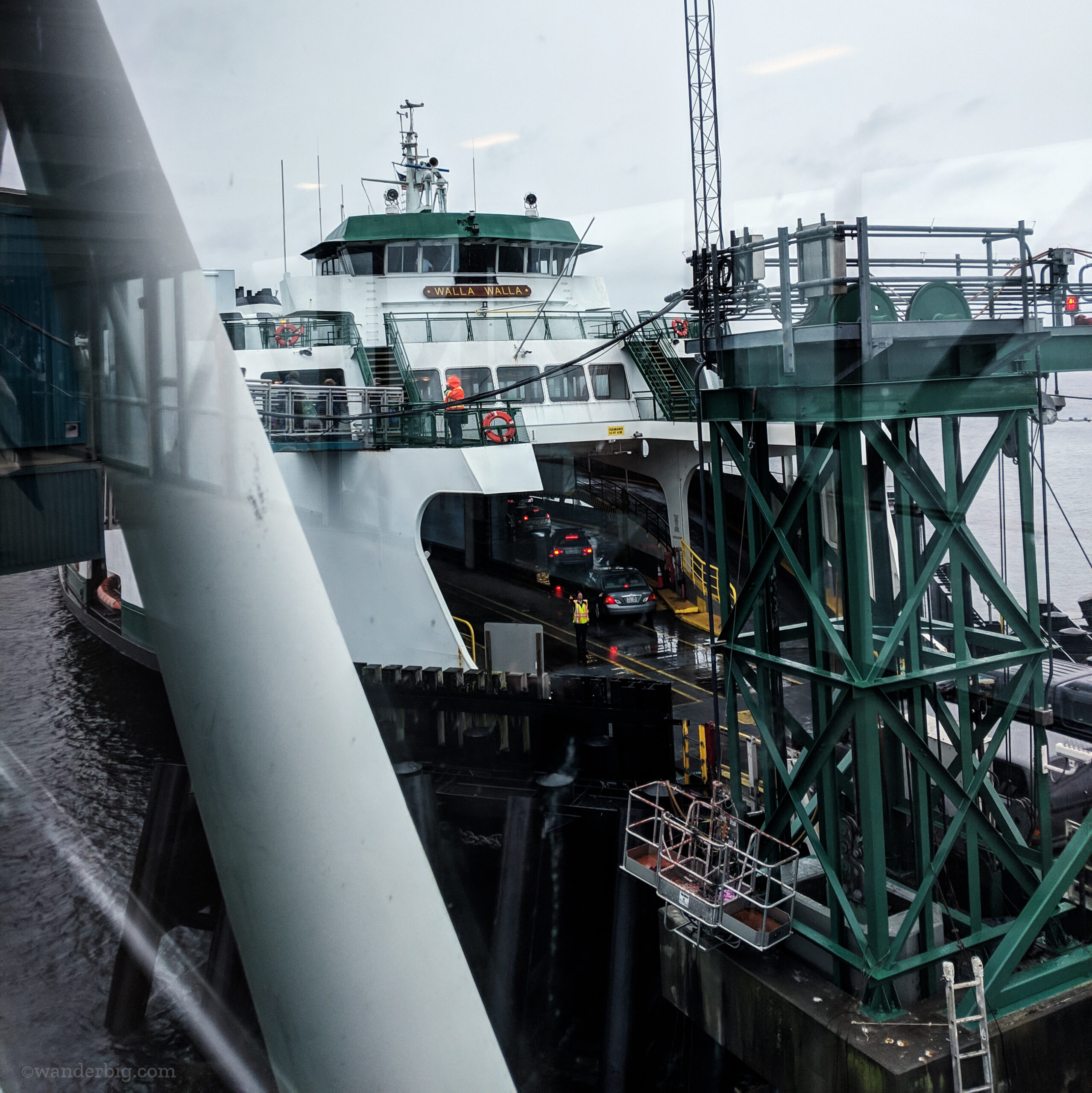 Don't let your battery die on a Washington State Ferry
It's very common for batteries to die during a ferry crossing. Using lights, radios, or headlights during the ride can drain a battery quickly. Trust me, I've done it!
If your car won't start on arrival, try not to panic- WSF has a plan to get your car started and off the vessel ASAP.
What to do if your car won't start on a ferry:
Pop your hood. This is a visual cue to others to help or go around.
Tell the car behind you. They won't be able to see your hood up, so let them know that when a side lane is clear, they should go around.
Find or Flag down an employee and report that your car won't start.
Prepare to get a jump. WSF ferries act quickly to get dead cars started again. Once you've communicated to an employee, they'll radio for a jump starter. You should return to your car, have your hood popped, and your keys in hand ready to start the car as soon as the jump starter is connected.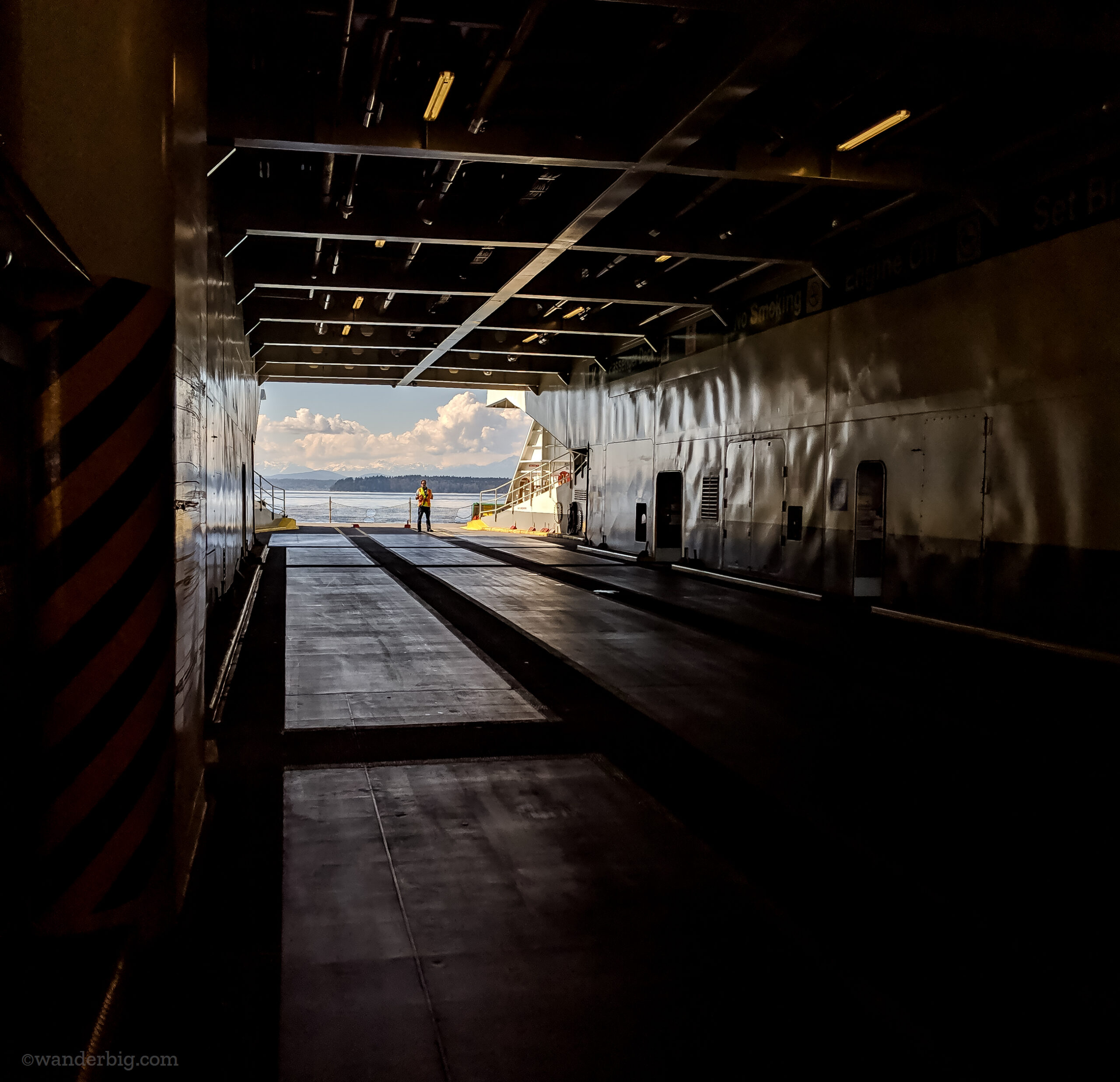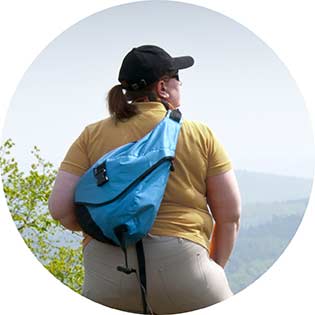 Artist, digital nomad, and highly sensitive person, Lynli started traveling full time as a digital nomad in 2018. Writer and Illustrator by day, remote-destination explorer by other-days, Lynli is passionate about pushing the boundaries of her own comfort zone, exploring the world as a plus size, one-bag traveler, and journaling it all on WanderBig.com