My first trip to Seattle was a solo trip, and six months later I moved to the Pike Place Neighborhood where I spent the next four years exploring Seattle as a single. In this article, I share all my best tips as a Seattle local for seeing the best of Seattle as a solo traveler.
Unlike many American cities, the city of Seattle is far easier to navigate by walking, public transportation, and rideshare than it is by driving. Rare for an American city, many of the top tourist destinations that travelers (both group and solo alike) want to see are located within a 1 to 1 1/2 mile radius of the city center.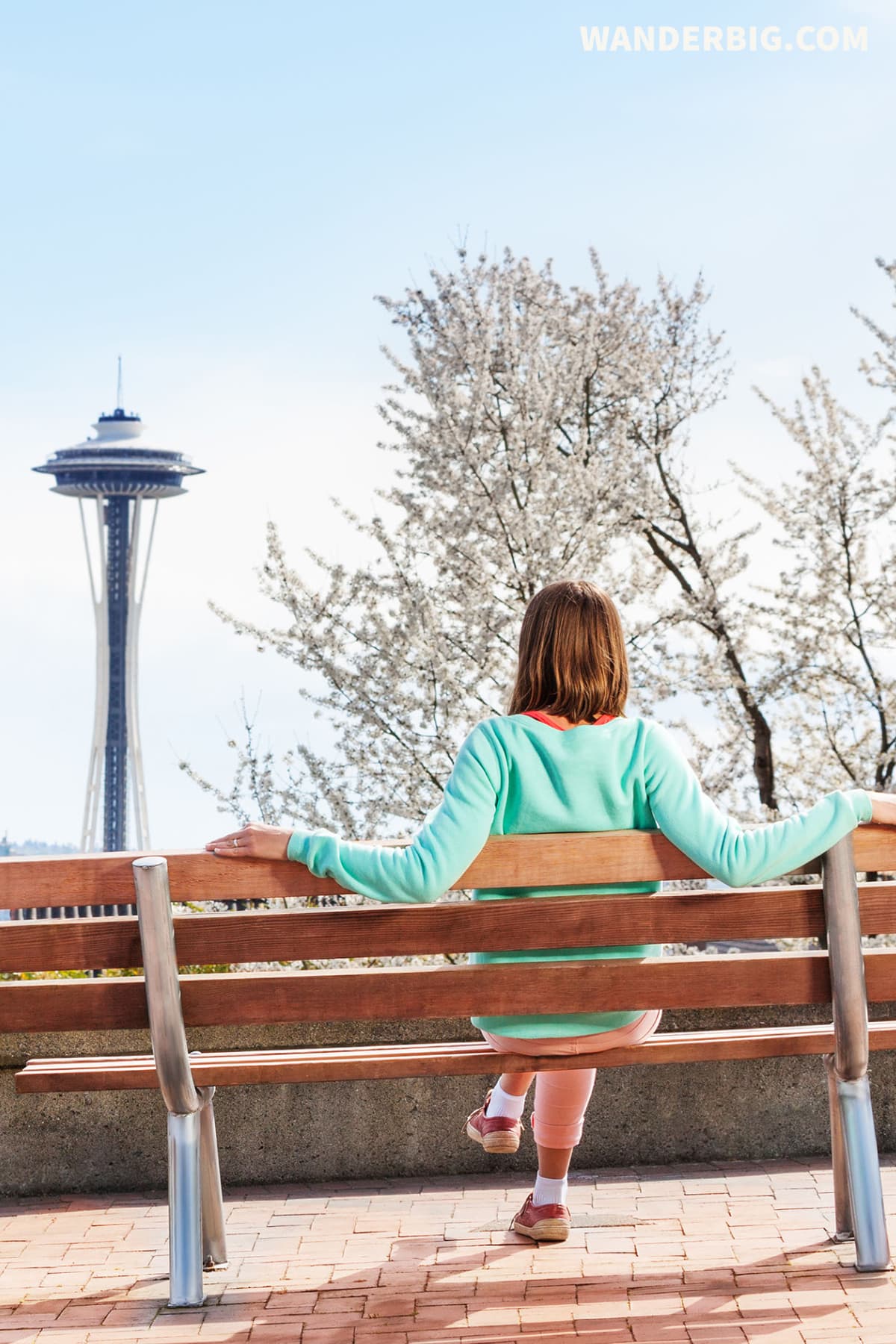 Planning your solo trip to Seattle
One way to stay safe while solo traveling, is to have a plan and communicate that to your emergency contacts. Before you head to Seattle, create a list of places you'll stay and things you will do. This itinerary helps organize your trip so you can focus on exploring, but also helps people who care about you to know how they can reach you in an emergency.
There are even apps that enable you to create an itinerary and share it, but a shared Google doc can work just as well.
Solo lodging in Seattle
Seattle has no shortage of lodging in the form of Airbnbs and hotels, but due to the tech boom in Seattle hotel rooms can be cost-prohibitive for many travelers. Thankfully, there are multiple clean and safe hostels throughout the city that focused on affordable accommodations for young travelers. Hostels can be a good place to meet other travelers and find companions for a day, though you might trade a good night's sleep if you find yourself in a particularly loud hostel (see tips on sleeping in a hostel here).
Getting around
Many American cities are difficult to navigate without a car, and rental cars can be an expensive add-on to solo travel. Thankfully, Seattle is well equipped for people traveling alone without a car. Budget travelers may wish to familiarize themselves with King County Metro (Seattle's bus system) and plan to use public transportation for destinations outside of the city center.
Navigating by light rail from SeaTac airport to Seattle downtown
Stretching from SeaTac airport (about 30 minutes south of downtown) to- as of late 2021- the Northgate neighborhood (about 20 minutes north of downtown), the light rail can be an efficient way to travel from the airport into the city. From the light rail stops downtown, most tourist hotels within easy walking distance- making it easy to get from the airport to Seattle without a car or expensive rideshare.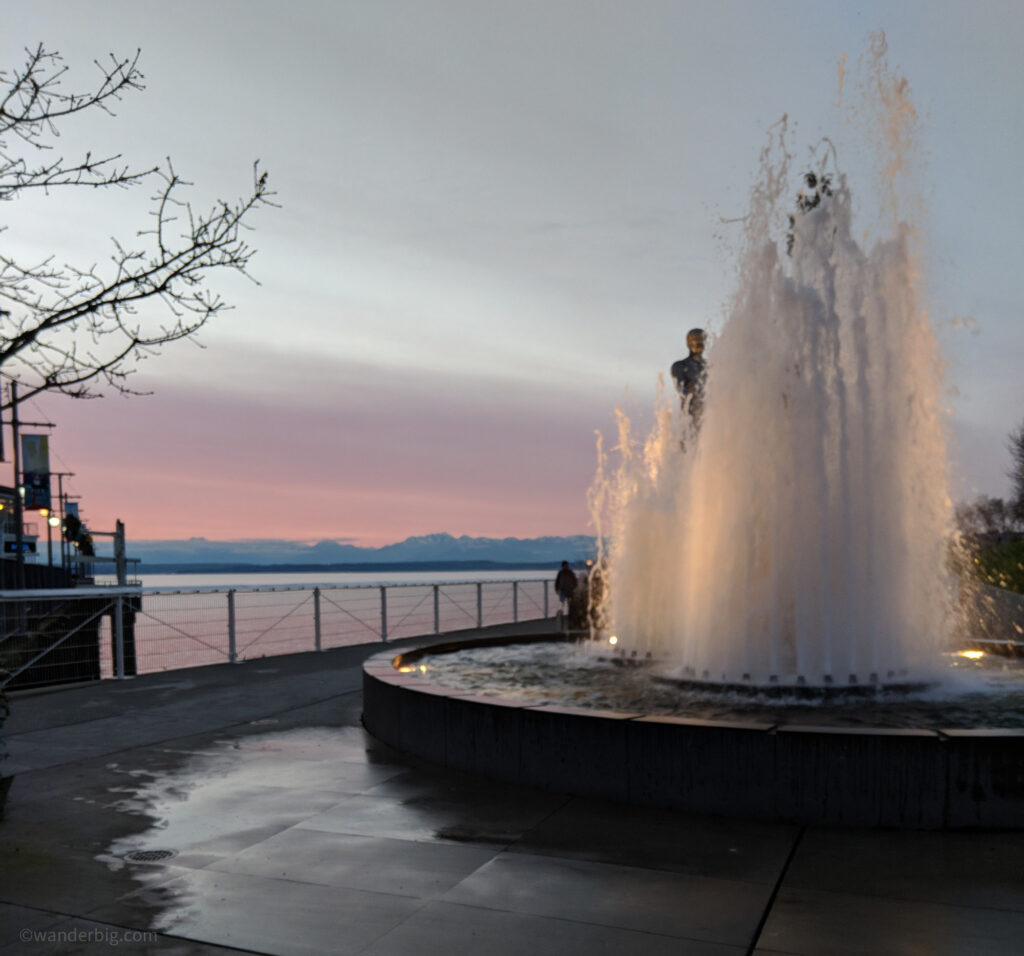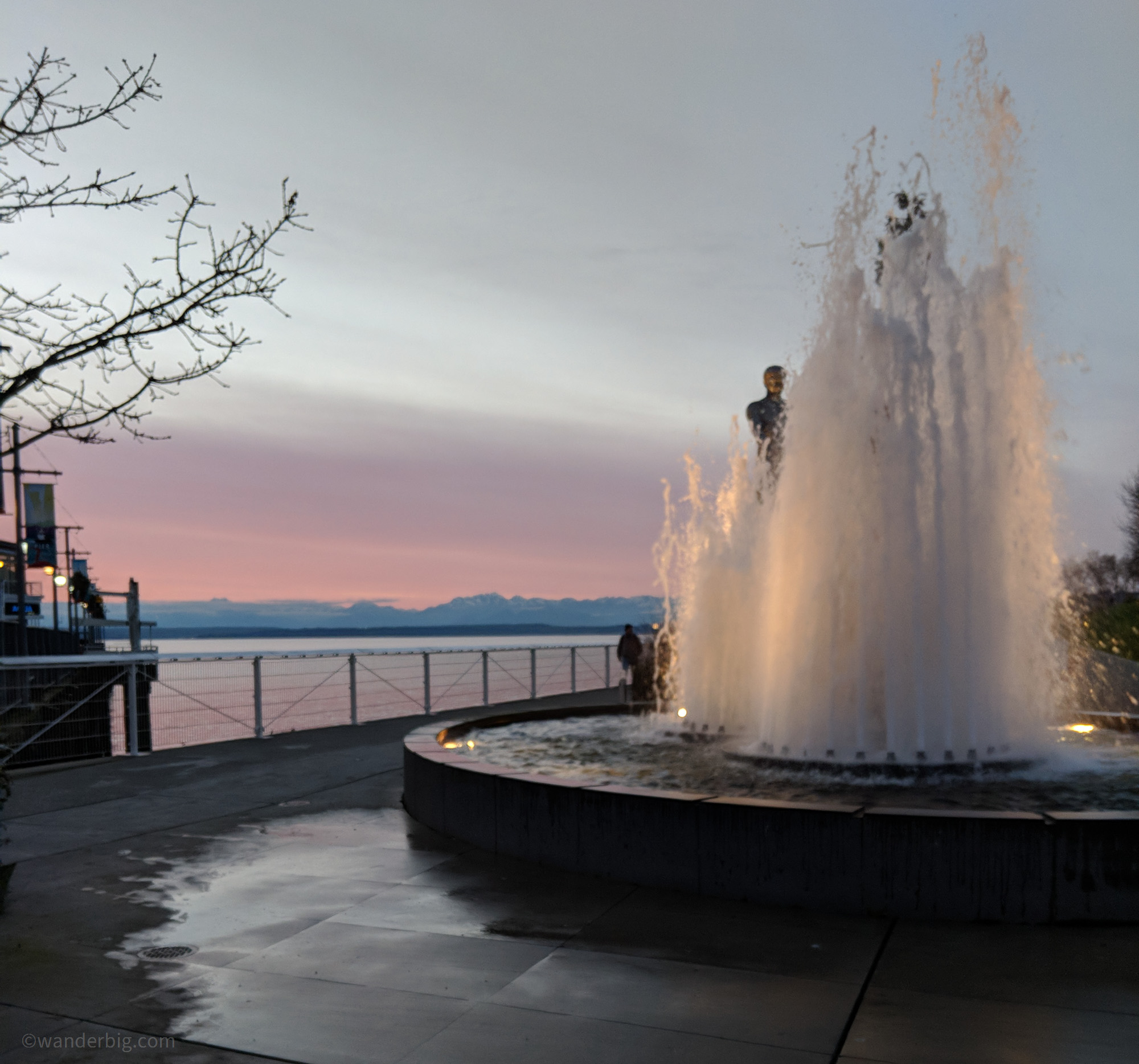 Things to see
Seattle has no shortage of things that are fun to do alone. In fact, for the four years that I lived, worked, and shopped in the Pike Place neighborhood, I visited Pike Place market well over 100 times alone. Visiting Pike Place market solo is a unique opportunity to really be present to the sensory element of travel.
Pike Place is one of the most vibrantly sensory places I've visited. If you're busy chatting with travel companions or listening to a tour guide, you might miss the full experience of walking on the old uneven bricks, noticing the smells change as you pass through the fishmarket towards coffee roasters, or tasting many of the free samples that are available. For more information on the best tips for visiting Pike Place Market visit my Pike Place Market Insiders Guide and my article on 15 Things to do at Pike Place Market.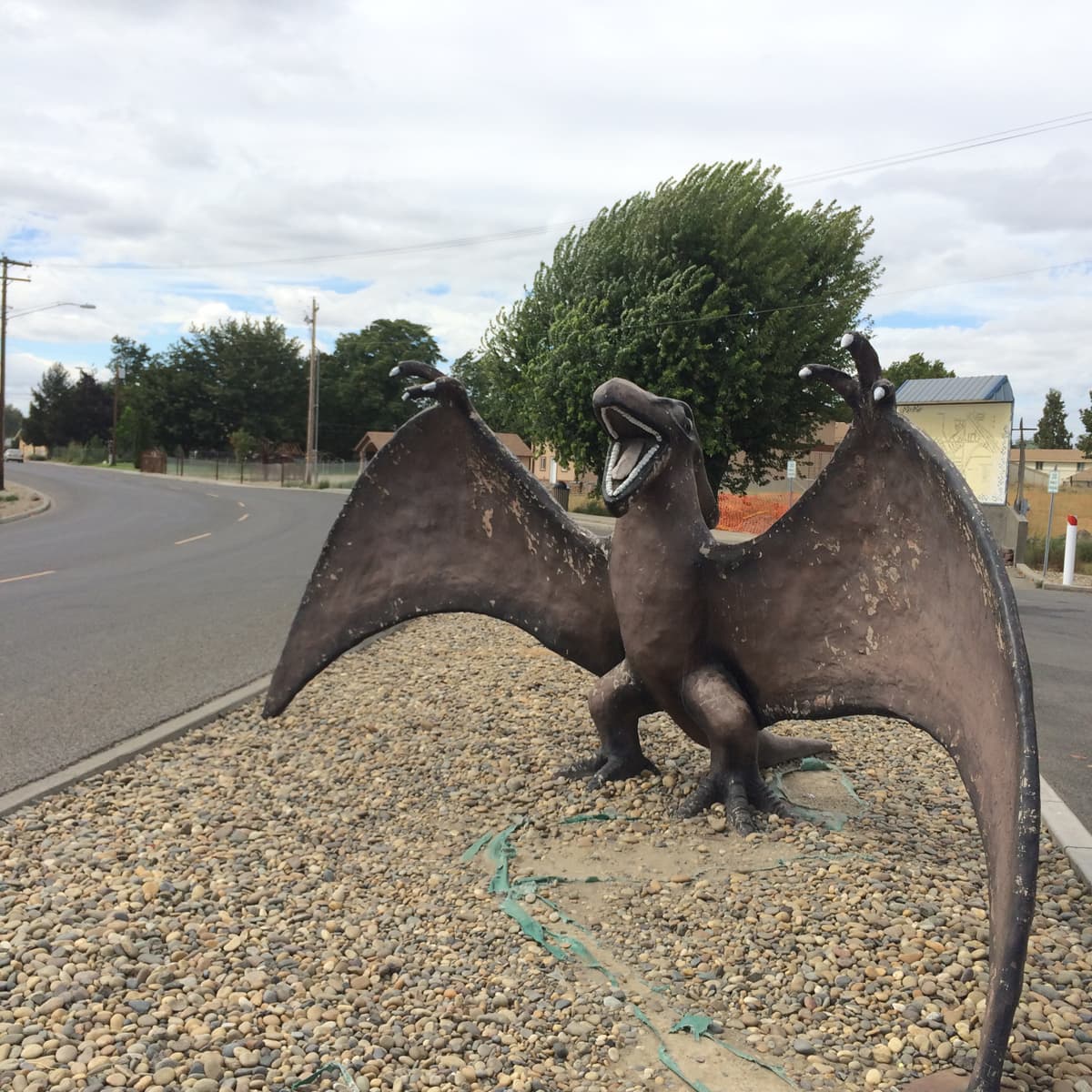 When I moved to Seattle in 2015, I made the move by driving across the country from my home (then into an Airbnb) in Missouri. It was a 2,000-mile solo…
Things to do in Seattle Alone on a Solo Trip:
As a local, here are some of my favorite activities to do in Seattle on my own
Ferry Ride
The Washington state ferry system is impressive, not only are the boats themselves technically pretty amazing, they are also the cheapest way Seattle has to take a cruise on the Puget Sound. Ferries leave from the downtown ferry port every 20 to 30 minutes, and a round-trip (which takes one to two hours depending on which route you choose) costs around nine dollars per person.
While on the ferry you can explore the outdoor decks or take a seat in the indoor seating area with panoramic views of the cityscape, mountains, and water below. Seattle ferries are a great activity for almost anytime of the day. Early morning and sunset cruises offer dramatic skies and mountain views (on a clear day), but if you take a nighttime ferry, keep your eye on the water churned up by the ferry's engines: bioluminescent bacteria are native to the Pacific Northwest's coly waters and are especially bright in the winter.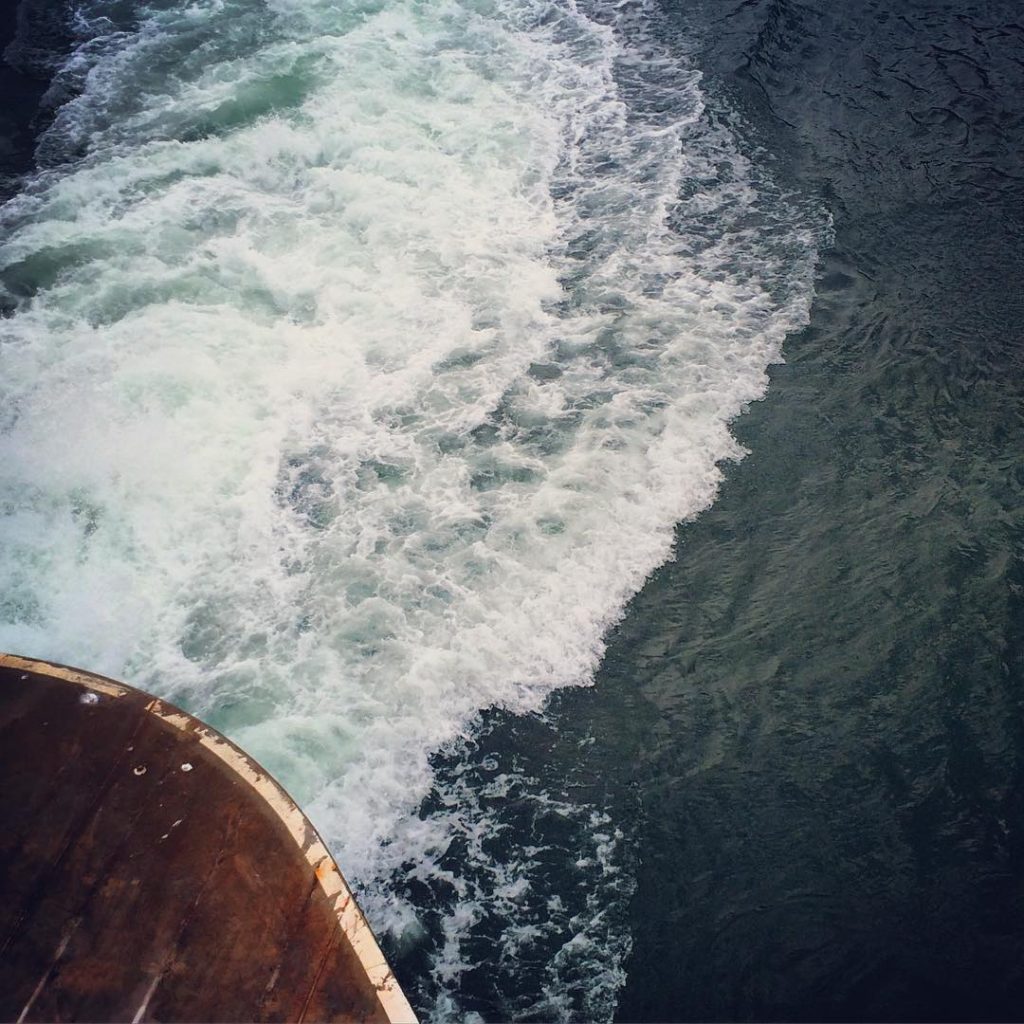 Mural Walk
One of the most recent additions to WanderBig's archives on things to do in Seattle is this interactive map of murals to see in Seattle's downtown.
This is a fun addition to any Seattle itinerary because it requires only the slightest modifications to routes you'll be traveling anyway- for example, while a standard tourist guide will likely lead you down 2nd Avenue as you travel from Pike Place Market to the Space Needle in the nearby Queen Anne neighborhood, this route has you take a few easy detours, adding just a few hundred feet to the route, past iconic murals and even an alley turned open art museum.
The mural walk is a fun way to see a little more of Seattle than most solo tourists manage to catch. You can do a self-guided walking tour for free using our map.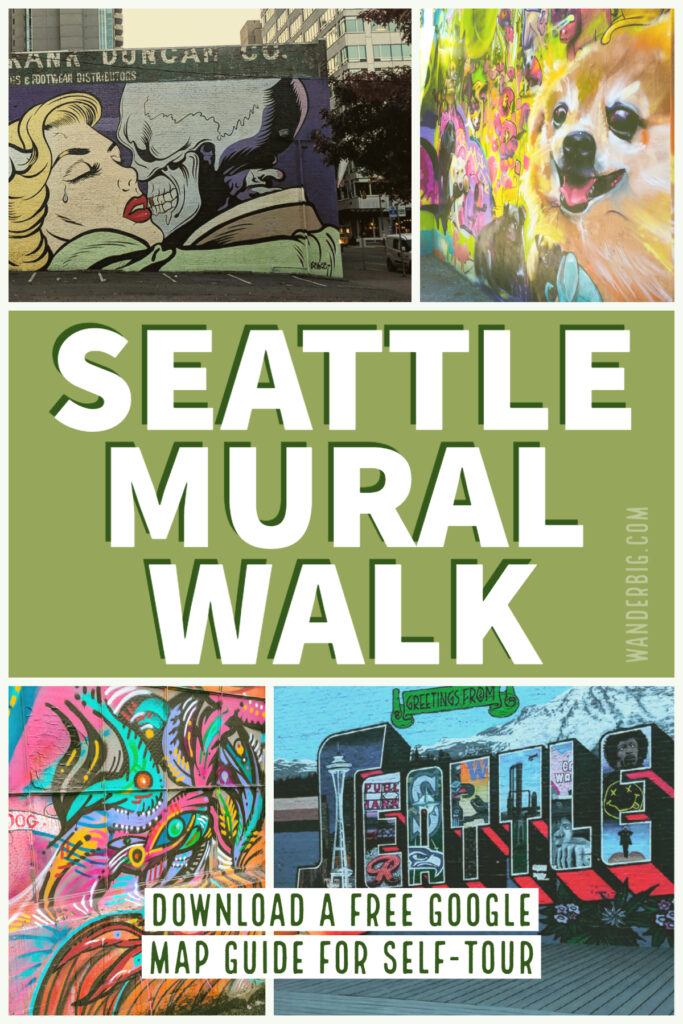 Pike Place Market
It goes without saying that Pike Place Market is an essential stop for anyone visiting Seattle, but it is an especially great destination for solo travelers. When you're traveling alone, you're free to explore Pike Place market at your own pace. My advice? Go deep. Most people visiting Pike Place market walk down the main Avenue and think they "seen it"- but there's so much more to the market! Pike Place market actually has multiple levels, including basements and sub-basements that include niche shops, vintage markets, and a tiny museum.
Eating Alone in Seatte at Pike Place Market
For some solo travelers who feel self-conscious about traveling by themselves, eating alone can be the hardest part. Good news: The bustle and chaos of Pike Place eateries make this easier for many travelers. There are hundreds of restaurants and food counters, and thousands of locals stop in for a solo bite on their lunch hour. It's easy to blend in while eating alone at Pike Place Market.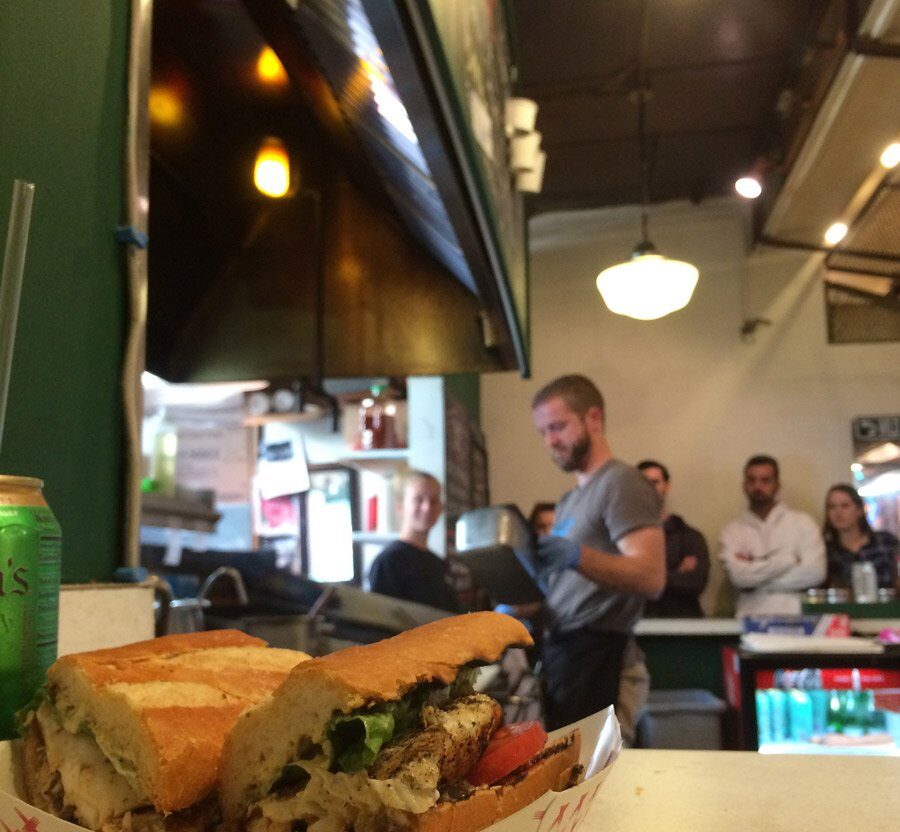 SLU / amazon go / dog park / Center for Wooden Boats
If you want to extend the traditional space needle/Pike Place market Seattle solo travel itinerary by another half day or so, add South Lake Union as a destination to explore in Seattle.
This itinerary, which we describe in detail in our article on visiting South Lake Union and the Amazon campus, includes a visit to the now-famous Amazon spheres (plus the, frankly pretty magical, dog park hidden at the base), Amazon's experimental store "Amazon Go" (which allows shoppers to walk out with products without being a cashier or self-checkout) and ends at the banks of Lake Union, where you can explore the cultural heritage museum Center for Wooden Boats, and even set out on a free sail on certain days of the week.
Live Shows
Seattle has no shortage of live shows (at least, when we're not in a pandemic). Live music and performance form an important part of the heart and history of Seattle. Whether it's improv comedy, rock, symphony, ballet, or even burlesque (or BOY-lesque, the male-dancer equivalent) Seattle has a show to satisfy your interest. Live performances are a great way to spend your time solo traveling in Seattle.
National Park & Pioneer Square
Did you know and Seattle has a national Park plopped right down in the center of downtown? It does! The gold rush national Park celebrates Seattle's role in the Alaskan gold rush and it's free to enter and explore the tiny park and museum. Adjacent to Pioneer Square, it's a great way to see a unique part of Seattle alone. Click here for more information on this itinerary.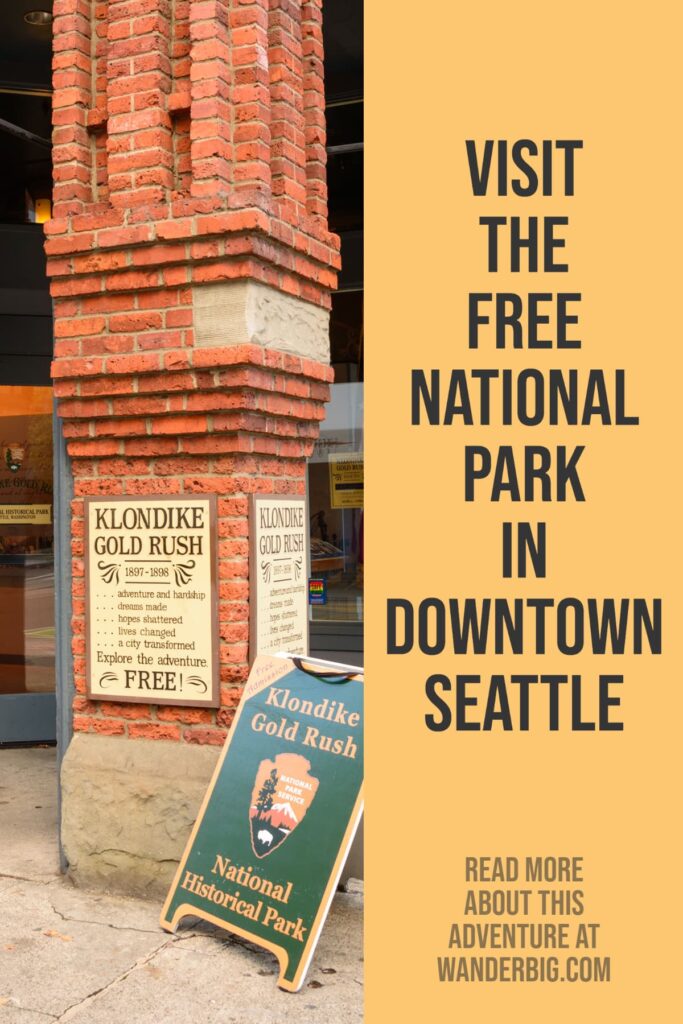 PNW Beach Walk
The beaches of the Pacific Northwest are majestic, and no trip to Seattle – whether it's group, family, or solo – is complete without walking along the glacier-formed beaches. The best access point to a real "beach" (rather than the touristy piers near downtown) is easily accessed by foot from Pike Place Market or the Space Needle. Adjacent to the Olympic Sculpture Park is Myrtle Edwards Park, a beachfront park with multiple "pocket beaches" that are perfect for low tide exploring or simply sitting on driftwood logs and enjoying the sound of waves gently lapping the shore.
Coffee & Journaling
Solo travel is an opportunity for reflection and contemplation, and for many people, coffee and journaling while solo traveling goes hand-in-hand. And trust me, there's no better place for coffee OR soulful writing than in Seattle – if Seattle's reputation for rain strikes during your trip, and you're not down for rainy day adventures in Seattle, join the locals in cozying up in a coffee shop to work, write, or make travel art. Although it may not be your first choice for spending your time in Seattle, it can actually be an amazing way to experience the coffee and the unique coffee culture of Seattle.
If you travel as a remote worker or digital nomad, combine work and play by choosing an exciting destination to work from, using my list of the best study and work spots in Seattle. For more tips on seeing Seattle on a budget, see my guide to Free and Cheap things to do in Seattle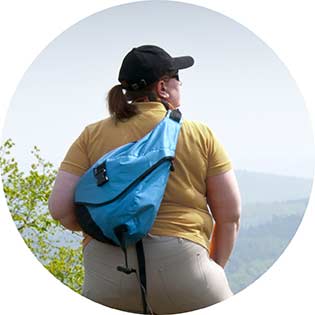 Artist, digital nomad, and highly sensitive person, Lynli started traveling full time as a digital nomad in 2018. Writer and Illustrator by day, remote-destination explorer by other-days, Lynli is passionate about pushing the boundaries of her own comfort zone, exploring the world as a female, fat, one-bag traveler, and journalling it all on WanderBig.com