Suitcases can be expensive; in this article I share my tips for the cheapest place to buy a suitcase.
I could tell you about online sales, discount stores, or even surplus outlets. But none of those offer luggage as cheap as Goodwill Outlets. After my experience buying suitcases for travel for more than two decades, I've found that the cheapest place to buy a suitcase is a thrift store- especially a thrift store outlet. At Goodwill Outlets, suitcases are rarely priced more than USD $5.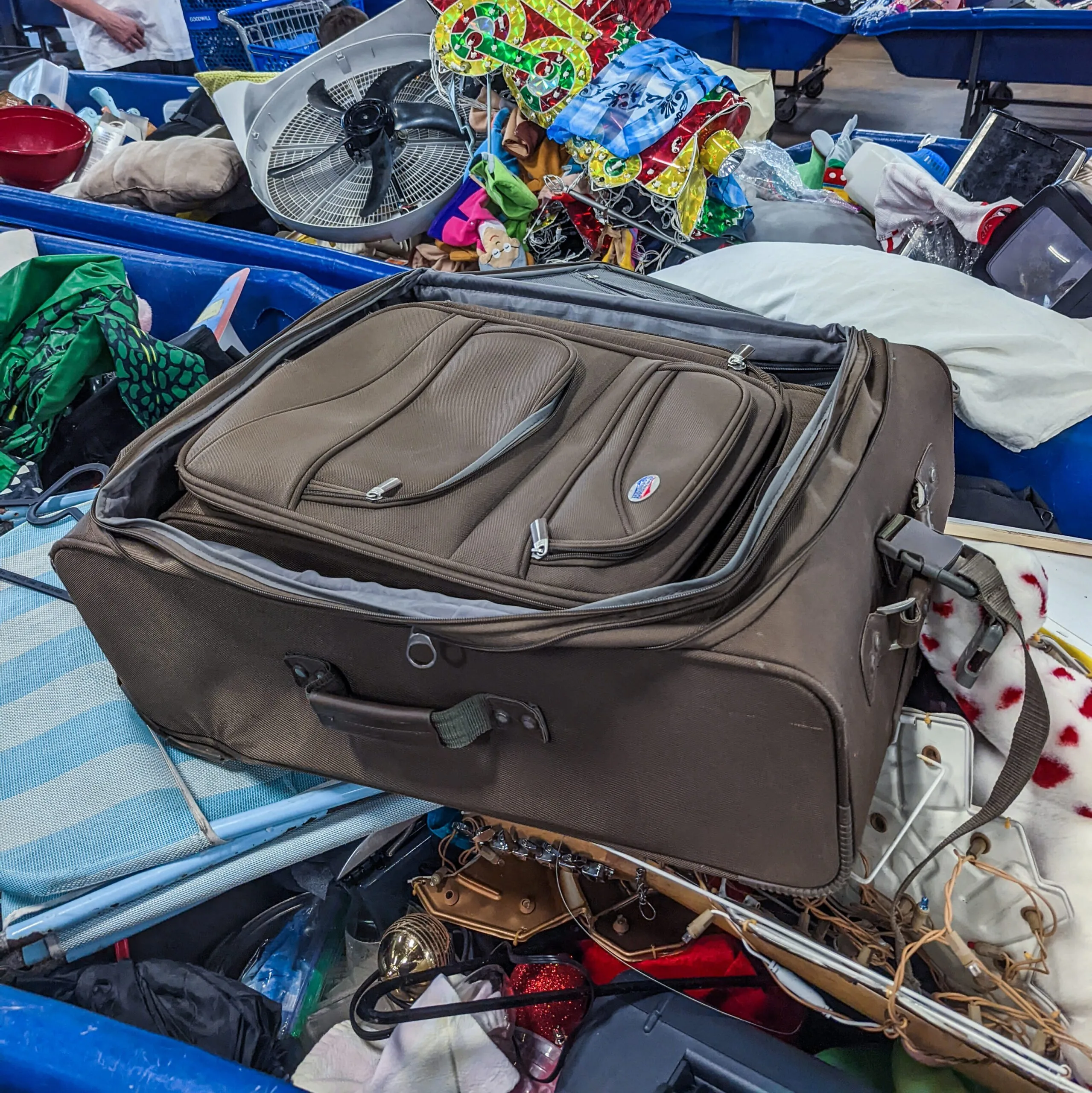 While many of us have a suitcase on hand or are lucky enough to get quality hand-me-downs from a friend, parent, or sibling, purchasing a suitcase is a part of travel for many people.
The problem is, suitcases are really expensive. A full set of suitcases that include full-size checked bags and carry-on bags can exceed $1,000 – or multiples of that if a luxury brand is important to you. But I am a deal seeker, so I found a cheaper way to buy a suitcase and am excited to share it with WanderBig followers today.
You may need a suitcase for your first big trip, or perhaps your bag is just worn out. While old suitcases work great for storage, I finally tossed my tired and bedraggled XL suitcase during my pandemic cross-country move. When I found myself ready for my first big international trip since the pandemic started, it was time to go shopping.
I began luggage shopping online, where it was clear that my options were to purchase expensive over-engineered luggage or get stuck with cheap imports from no-name brands on Amazon. Frustrated with the pricing for both options, I decided to look for a cheap store to buy a suitcase.
In this article, you will find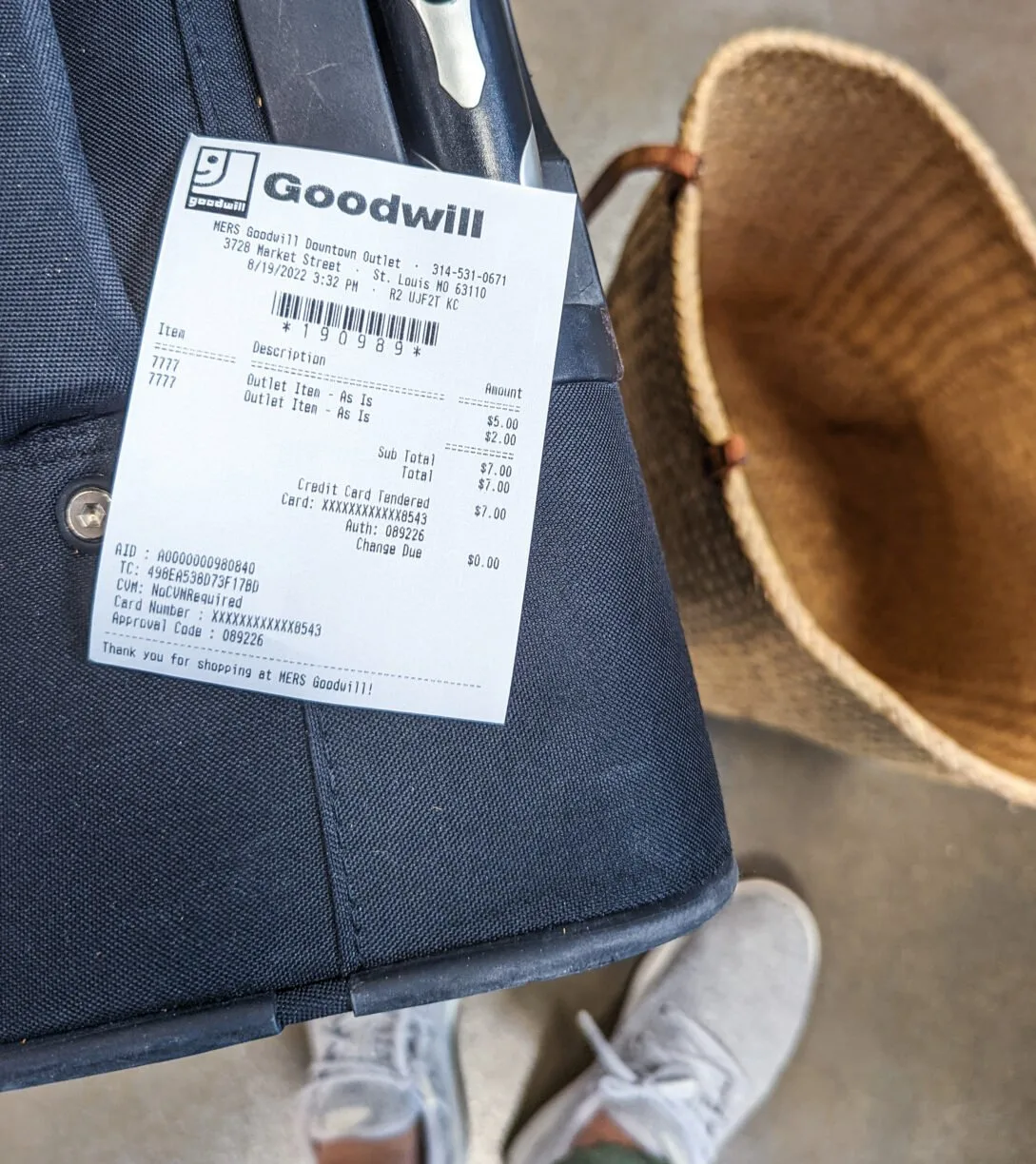 Hunting for Cheap Luggage at Discount stores: a bust
A friend convinced me that the best and cheapest place to buy a suitcase would be a discount store like T.J. Maxx or Kohl's, so I packed my little car for a shopping trip and headed to the suburban shopping malls. There, I checked out the "cheap" suitcase options in the luggage department of these discount stores. Disappointingly, I found that there were few options under $100, and the $100-$300 options weren't that impressive.
quality is worth paying for – but you don't have to
I don't mind dropping big bucks for a quality product – especially for a thing as important as the container for everything I take with me when I'm traveling thousands of miles from home. Especially now that WanderBig returns a bit of a profit each month, I could absolutely justify high-quality luggage as an investment in travel. But here's the thing – I am a pro discount shopper and I knew that I didn't have to. Instead, here's where I bought my cheap suitcase:
Cheapest place to buy a suitcase: goodwill outlet
Now, you might skip directly from discount stores to a regular thrift store, but if you're in a large city in the US, I recommend checking out the Goodwill outlet. At a Goodwill outlet you can purchase a full-size suitcase for $5 – sometimes even less!
Goodwill outlets are where overflow donations and unsold merchandise from Goodwill retail stores go to be sold at a massive discount. If you've ever been in a thrift store in the past few years and thought the prices were too high for used stuff, then the Goodwill outlet might have the deals you are looking for.
To learn more about how to shop at the Goodwill outlet and what to expect, check out this article on how to shop at the Goodwill outlet. Since that article is great at all the details for scoring a good deal, for the rest of this article I will specifically discuss how to buy cheap suitcases at the Goodwill outlet.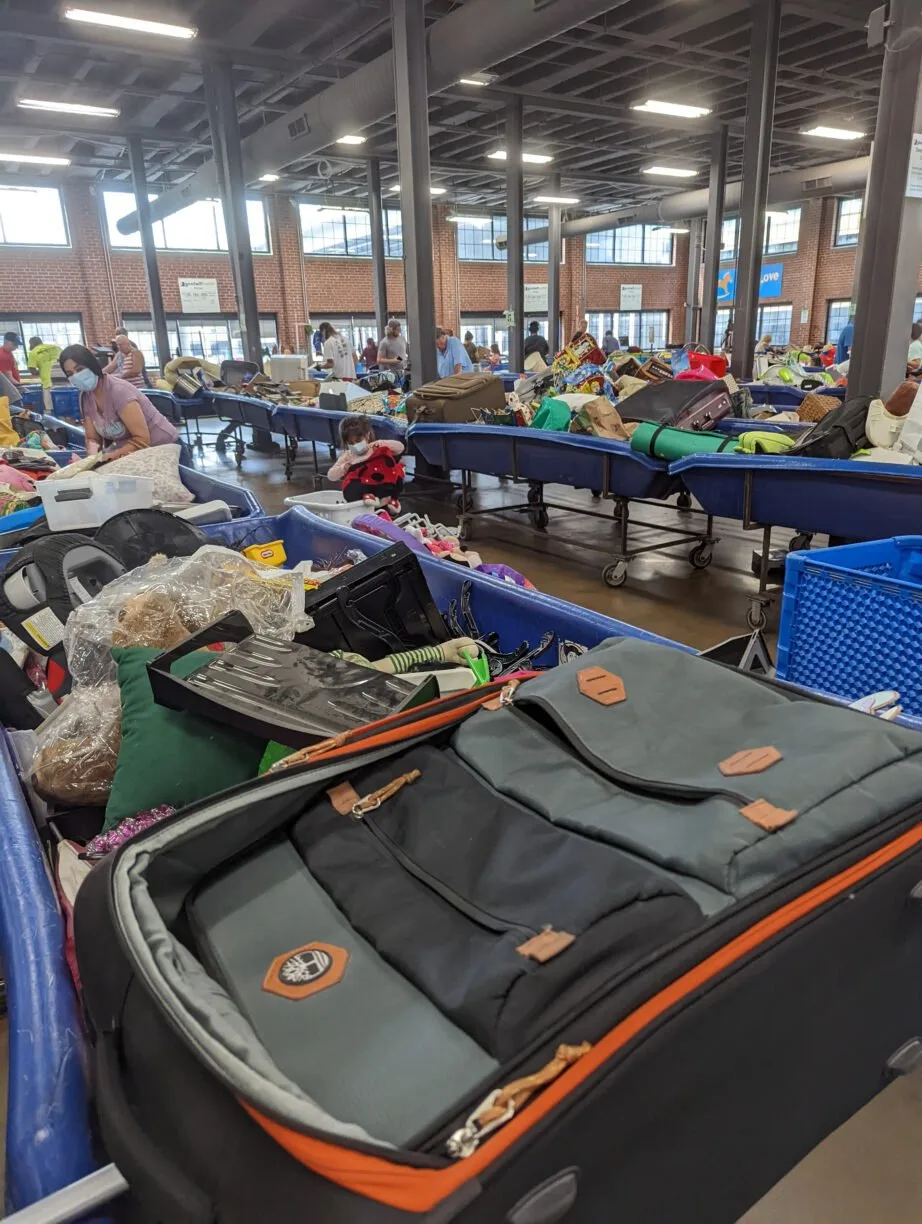 General advice for buying a suitcase at a thrift store outlet
1. Get There Early ⌚
While suitcases aren't generally highly desirable items at the goodwill outlet, you can bet that a really good suitcase will get snagged soon after opening. To be sure that you have a good selection on the day that you go suitcase shopping, arrive early. I recommend getting in line 10 minutes before the store opens (you'll be surprised how many shoppers are lined up to have first dibs!)
Some goodwill outlets will bring new merchandise to the floor every 15 minutes, while others close midday and switch out the entire store's inventory midday. It's easier to buy a cheap suitcase at a goodwill outlet with the latter stocking practice.
2. Grab Potential Suitcases And Keep Shopping 🛒
Most shoppers at Goodwill outlets will make a beeline for their favorite section (expect a lot of resellers elbowing their way to purses, shoes, and clothing). If you're looking for a cheap suitcase, however, you'll want to shop in a wider area faster. Because suitcases – especially large suitcases are very visible in the bins of merchandise that fill the floor of the goodwill outlet, you can easily spot potential purchases.
If you are shopping right after opening, don't pause to spend too much time inspecting individual suitcases. If you spot a good suitcase that you think might work for you, grab it and keep walking. Toss it into your shopping cart or roll it behind you as you continue to walk the aisles looking for cheap suitcases.
💡 Hint: My best advice: Never buy a used suitcase with even a trace of glitter! A speck or two of glitter may be the sign of glitter in the suitcase liner, creases, or pockets.
3. Carefully Inspect Secondhand Suitcases 🔍
Once you shopped the entire store and hopefully identified several suitcases that are the size and style that you're looking for, take your suitcases and head to a quieter part of the store (I usually park my cart near the books to inspect items before purchasing.).
Remember that many times things end up in the bins for a reason, and suitcases are no exception. Even a really really cheap five dollars suitcase isn't a bargain if the zipper won't hold up through an airline baggage check.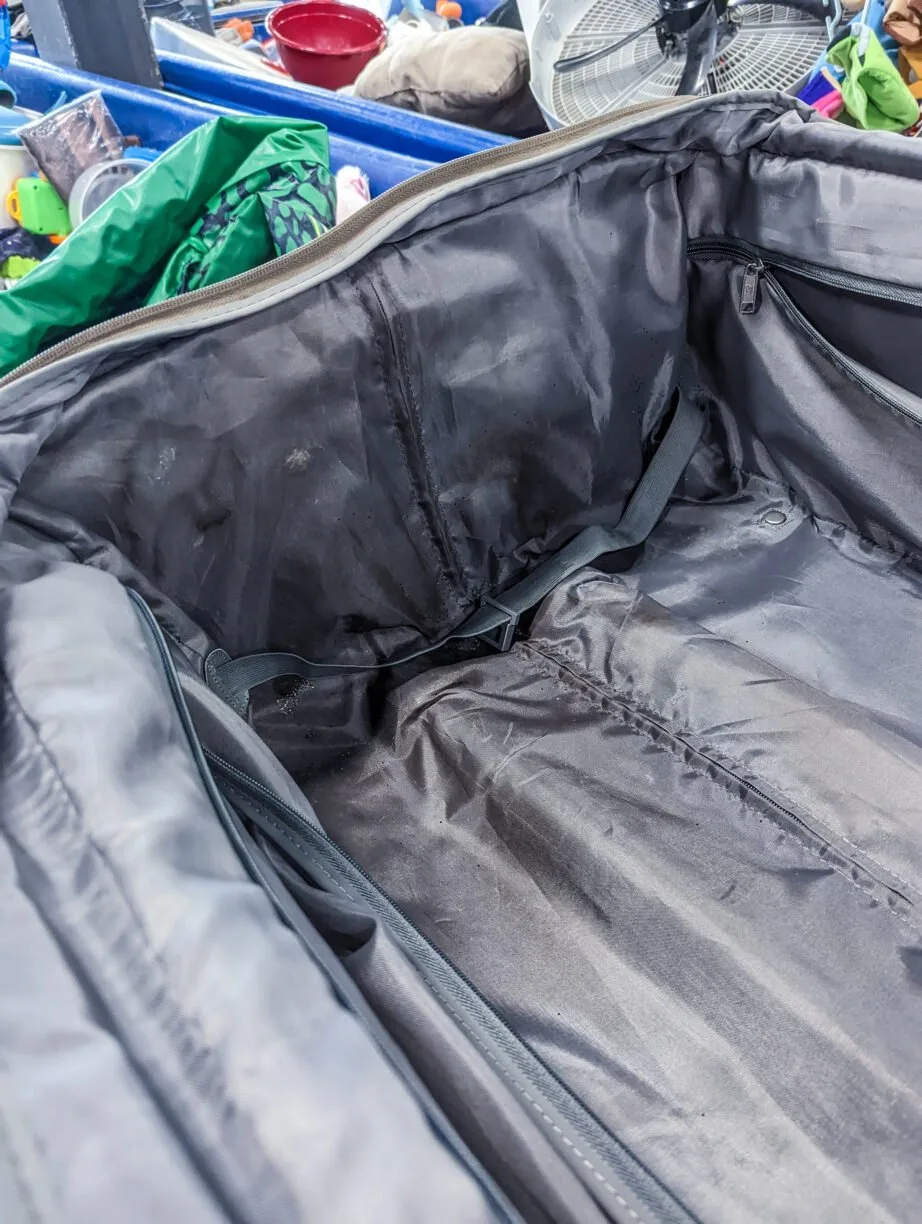 Here's how I inspect cheap secondhand suitcases:
Check zippers: Zip and unzip every single zipper on the suitcase. Check for zippers that are torn away from the body of the suitcase, zippers with tines that are not aligned, and zippers that come open. Some zipper repairs are an easy DIY (here's a guide on Youtube), but don't commit yourself to a complicated project when you should be prepping for an upcoming trip!
Check the roller handle: Extend and stow the roller handle a few times, making sure that the mechanisms work to lock it in place in the up position and in the down position.
Check the suitcase wheels: Visually check each wheel and confirm that they roll freely in the direction that they're supposed to (i.e., a full 360° swivel or spinning freely in a simple fixed position)
Do a sniff test: This is really important, especially if you are shopping while wearing a face covering. Take a minute to bury your nose in the compartment of the suitcase and check for any strong odors. Mildew, mold, and even strong perfume smell should all be deal breakers. No cheap suitcase is worth spending your whole vacation smelling someone else's perfume at 100 volume.
Visually check cleanliness: Check the suitcase inside and out to be sure that you are comfortable with the cleanliness level. While it's entirely possible to deep clean a suitcase and modern suitcases can even be taken to a manual carwash and pressure washed, it's best to avoid intensive cleaning if there are other options for suitcases of the same price.
💡 Hint: Some people are (understandably) concerned about purchasing textiles- including suitcases- second-hand. Modern suitcases, however are easy to disinfect and it's much better for the environment to purchase second-hand. If you're a bit squeamish about used items, leave the suitcase in your car in a sunny parking lot for a day or two (A few hours of heat over 40 C kills most bugs 1 ) and then take it to a car wash. Use the high-pressure sprayer to clean the suitcase inside and out, and then allow it to dry fully before packing.
Using these tips, you can shop at the absolute cheapest place to buy a suitcase. Occasionally, you might not find a suitable suitcase on your first trip. Try to have realistic goals, (the odds of finding a luxury brand suitcase with no damage is slim to none) and you'll be amazed at the price and affordability of luggage at this store.
If you're just looking for one large type of item, shopping the Goodwill bins is quick and easy. If you don't find the perfect suitcase on your first trip, you can come back on another day or even make it part of your routine. The number of suitcases on the sales floor on any given day can vary widely, so while this is the cheapest store to buy a suitcase, it may not be the most consistent.
For the best deals and the best products, visit a few times. Because suitcases are so cheap at the Goodwill outlet (a flat five dollars at the St. Louis location) it's okay to buy one and then buy a better one at a later visit. Homeless shelters and day centers are often grateful for the donation of suitcases.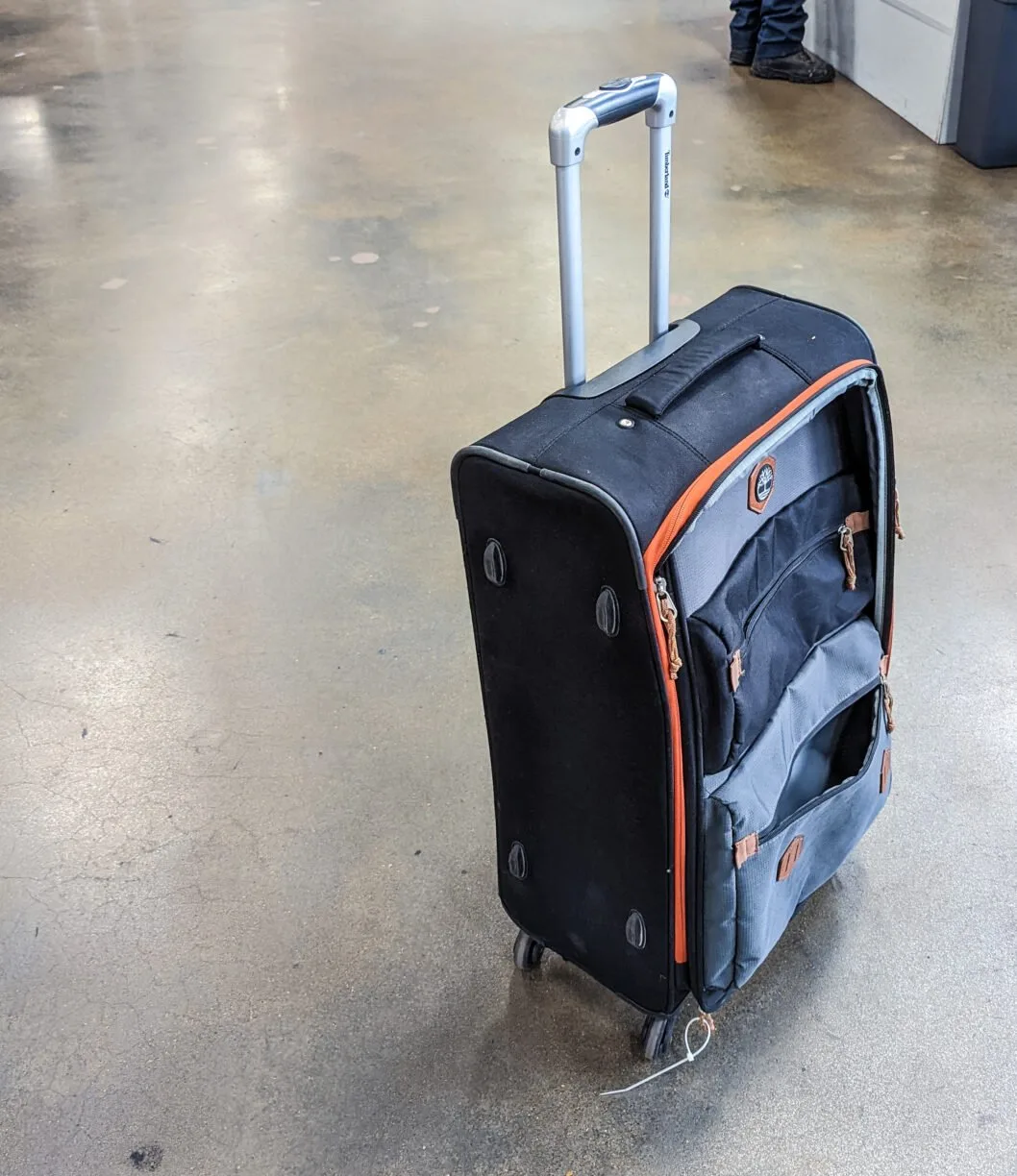 Cheap suitcases don't have to be cheaply made 🧳
I love this method for buying a cheap suitcase because the suitcases I end up with don't feel cheap. $5 or $10 doesn't go very far even when it comes to cheap knockoff suitcases from shady sellers on third-party seller websites, but $5 spent on the secondhand suitcase at a thrift outlet can easily score you a $100, $200, or even $300+ suitcase in exchange for just a few dollars and a bit of time.
Better yet, with such a small investment in your luggage, and the confidence that you now know the best place to buy cheap luggage, you can travel without feeling extra protective of your luggage. Rather than worrying about luxury luggage getting dinged or scraped, you can shrug off any damage your suitcase shows up with at baggage claim. In fact, by using this environmentally friendly method for purchasing luggage, I've felt free to even swap suitcases mid-trip giving away or discarding my suitcase and overpacked-contents and continuing my trip one-bag style.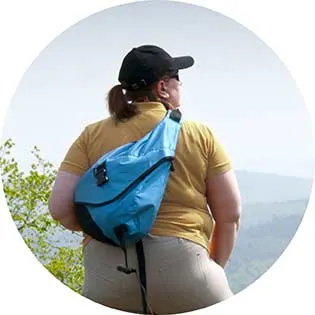 Lynli Roman's unique approach to travel is informed by decades of experience on the road with a traveling family and, later, years spent as a solo international traveler. When she's not writing about Seattle from her Pike Place Market apartment, Lynli writes on-location while conducting hands-on research in each destination she covers. Lynli's writing has been featured by MSN, ABC Money, Buzzfeed, and Huffington Post. She is passionate about sharing information that makes travel more accessible for all bodies.
Sources
Pereira, R. M., Koehler, P. G., Pfiester, M., & Walker, W. (2009). Lethal effects of heat and use of localized heat treatment for control of bed bug infestations. Journal of Economic Entomology, 102(3), 1182-1188. [↩]