Flaming Geyser State Park is one of my favorite getaways. It's so close to Seattle that unlike many of my favorite Seattle day trips , Flaming Geyser is a perfect half-day adventure for when I need a little bit of a break from the downtown grind.
While some of Washington's state parks are particularly seasonal, Flaming Geyser State Park is home to a number of popular activities that can be enjoyed year-round. In this article, I will share a few of my favorite things to do at Flaming Geyser State Park in the summer, spring, fall, and even in the winter.
What is Flaming Geyser State Park
Flaming Geysers State Park is a wildlife preserve and recreation area in King County, about 30 miles from Seattle-proper. Although this state park is within the same county as urban Seattle, you'll feel a world the way in this dense natural forest, meadow, and river valley. Flaming Geyser is known for a rather remarkable feature: a literal flaming geyser (more on that, and its current status, later).
After our first visit, Flaming Geyser became one of the favorite retreats of my friend group in grad school. Returning over and over again through the years for picnics, outdoor activities, and gatherings, this easily accessible park gave me a way to recharge in the outdoors through those years of school. I still return regularly to this spot when I'm in the area- the natural beauty and charm draw me back over and over again.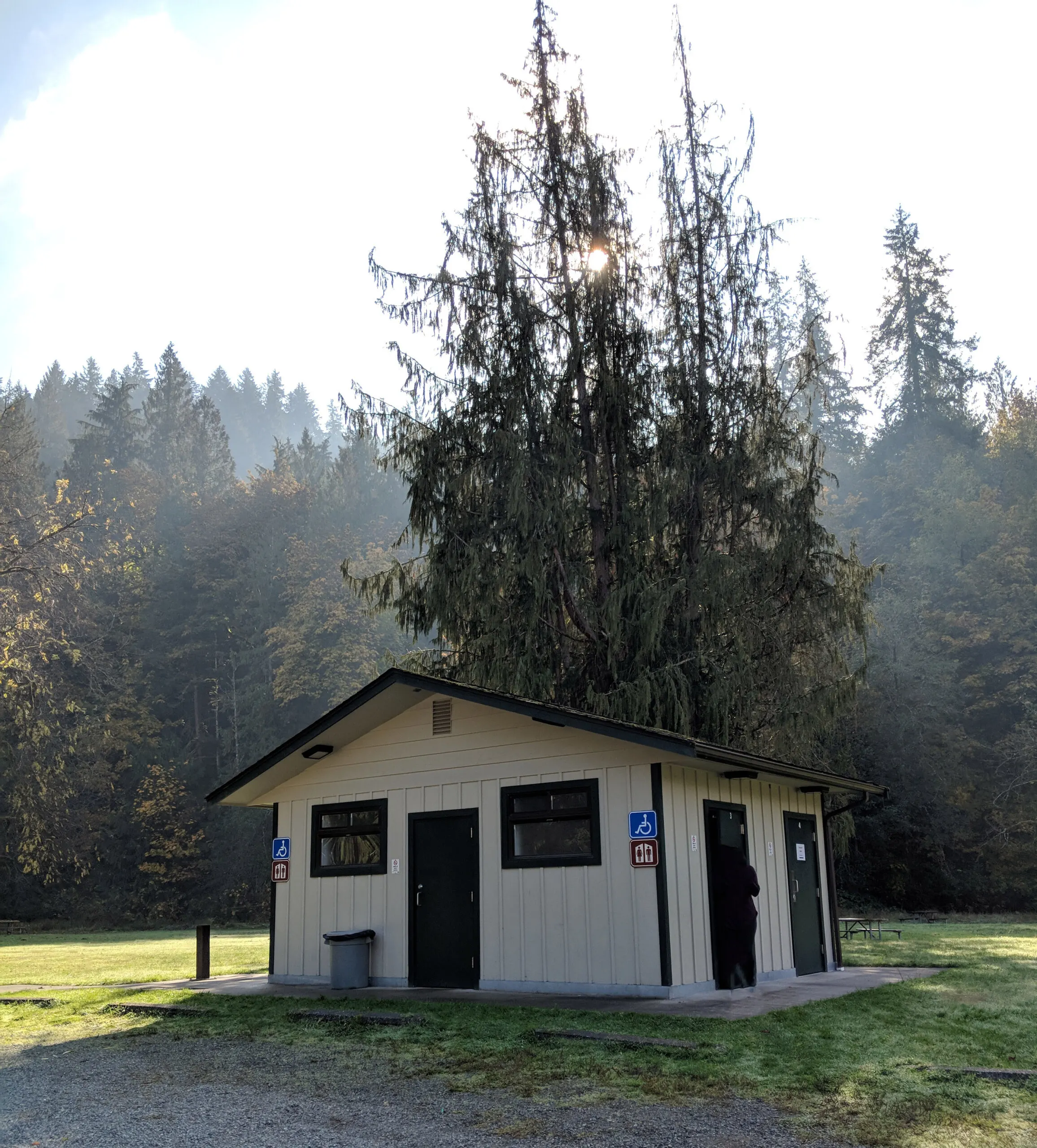 How Flaming Geyser State Park got its name
In the early 1900s, coal miners discovered a methane gas pocket about 1000 feet below ground. First-hand accounts of the birth of this geyser claim that the flames leaped 25 feet into the air and burned at that height for a long period!
While a 25-foot geyser of flames doesn't sound like a place I'd want to plan a picnic, today that methane pocket is tapering to empty and the flame is, if lit at all, a little larger than a flame put out by a lighter.
This State Park's Geysers
Although this Park boasts two geysers, and you'll definitely want to visit both, I recommend not making the geyser sightseeing the central focus of your day trip for one simple reason: they're actually not that impressive.
While the park itself is definitely worth visiting, and a number of fun activities for families, couples, and solo travelers are available nearby, you'll enjoy the geysers and the park more if you view these modest geysers as just a small part of your adventure.
Geyser number one: 🔥 "Flaming Geyser" 🔥
Flaming Geyser is easily reached via a wide ADA accessible trail leading from a parking lot. You'll find it contained within a small courtyard of cement (presumably to reduce the risk of fire if leaves or debris fall and come in contact with flame)
*Flaming geyser was, indeed, ablaze (well, a-lit) during my last few visits, but some reviews from 2021 indicate the flame has now disappeared as the methane pocket feeding it is depleting. Unless someone has taken the risk of lighting the gas vent recently, there may not be a flame during your visit (I do not recommend attempting this, as a methane buildup in the area due to the flame being out is possible and potentially extremely dangerous)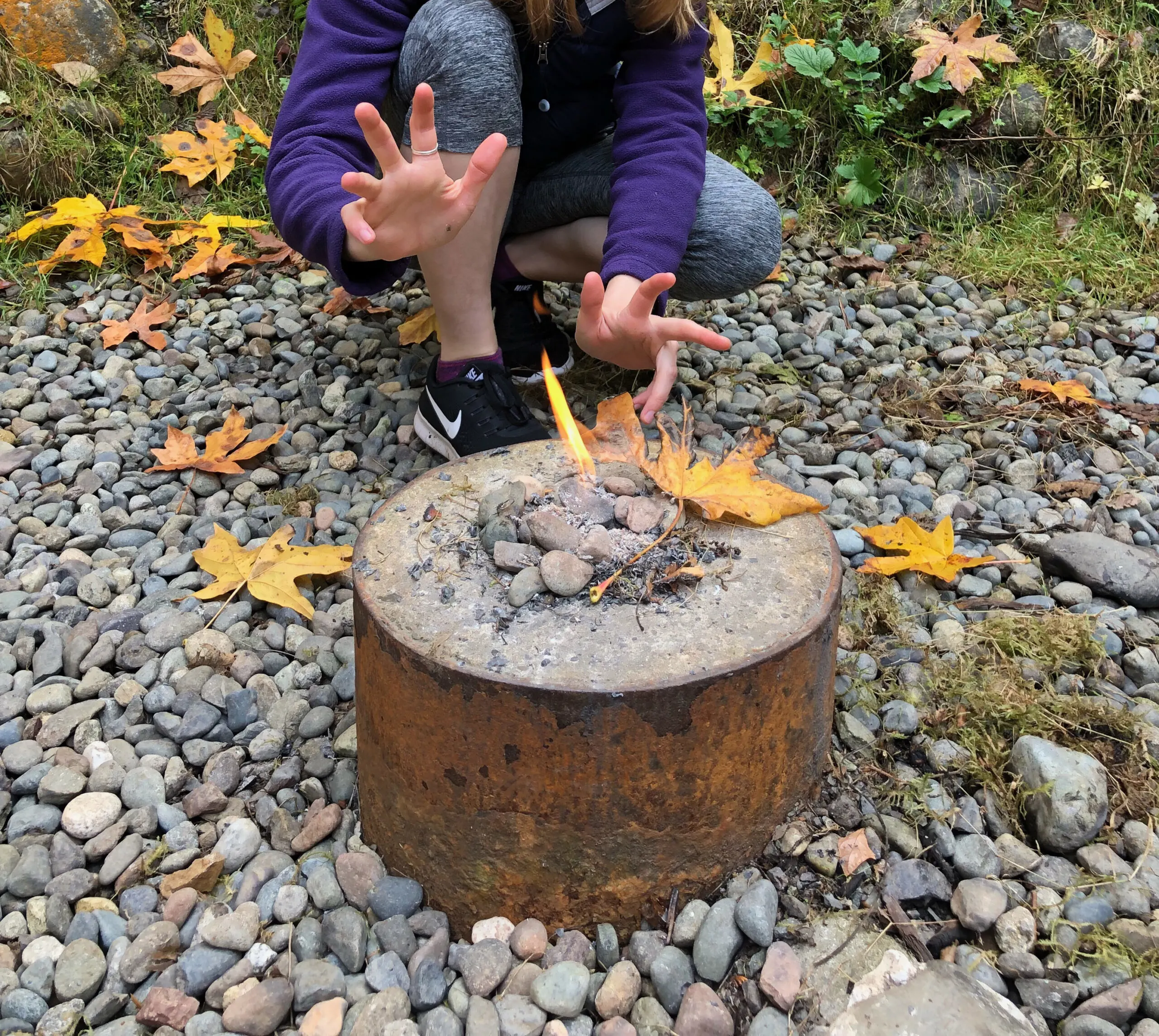 Geyser number two: "Bubbling Geyser"
Bubbling Geyser takes just a bit of a hike to access from the parking area- a brief (.15 mile) but steep (150ft elevation gain) hike up the hill is well worth it for the lush forest scenery, rushing creek, and wood steps and bridges.
When you reach the bubbling geyser you may find it with your nose before you spot the bubbles. Because the gas from the bubbling geyser doesn't burn off, like the flaming geyser, this geyser has a mildly unpleasant sulfurous odor when you get close.
As you watch the water around the bubbling geyser, you'll not only notice small bubbles, but a fascinating assortment of mineral deposits (mostly calcium carbonate), moss, and fungus thriving in this unique microclimate.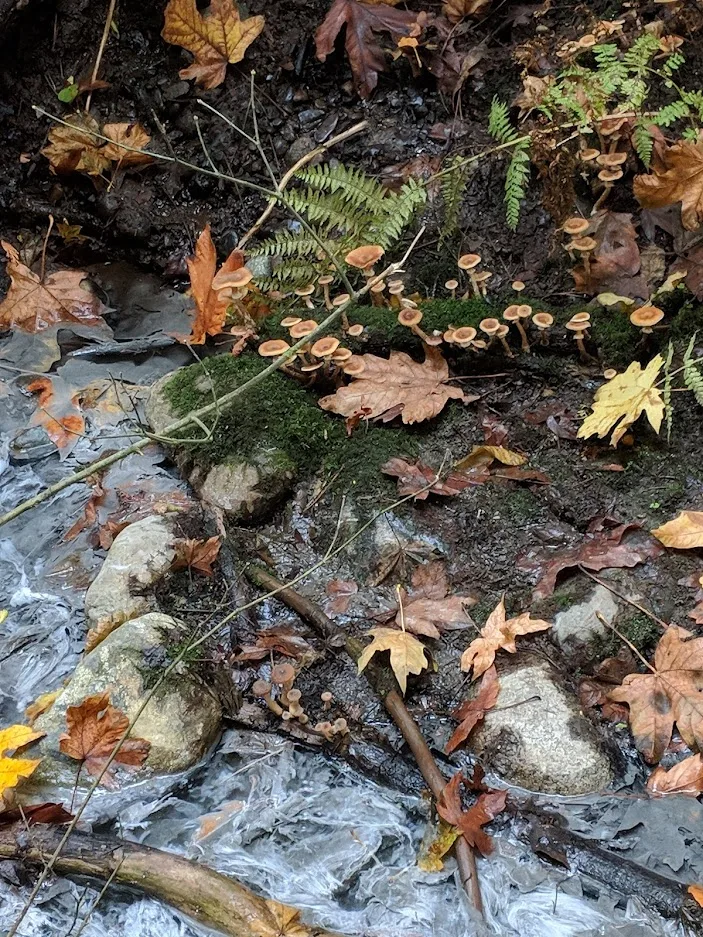 Things To Do at Flaming Geyser State Park
Hike the Trails above Green River
A system of trails offers opportunities for hiking along curated trails, rough trails, mountains, meadows, riverfront, or a combination of all three. Consult with trail maps in the area to choose the hike right for you and your group.
Spot Spawning Salmon as they Swim Upstream
If you're visiting Flaming Geyser or other Western Washington state parks in the fall, keeping your eye on rivers and creeks may reward you with spotting spawning salmon. Salmon began their annual run upstream as early as late July or early August, and some subspecies may continue to be spotted swimming upstream in creeks and streams as late as November or December.
This park's waterways are known to be salmon streams – if you visit during the right time of year you may see more salmon than you can count furiously swimming up the shallow waters on their quest upstream.
At Flaming Geyser State Park, you'll even find an ADA-accessible salmon viewing trail that includes signage and an interpretive guide to what to look for and how to identify the species of salmon that you might see. Because of the easy accessibility of this salmon stream and the flaming geyser, Flaming Geyser State Park is a good travel destination for travelers with limited mobility.
Take a Photography Scavenger Hunt
One of my favorite family-friendly things to do at this park (which is also fun for couples or solo travelers) is a photo scavenger hunt. Depending on the season you visit, your scavenger hunt could include the following:
Mushroom Hunting
In the fall, Flaming Geyser State Park is on the list of things to do for many mushroom hunters. Although you should not hunt for edible mushrooms unless you're an expert or accompanied by an expert guide, capturing the fascinating fungus of the Pacific Northwest fall can be done using only your cell phone's camera. If you are traveling with a group or family, you can compare notes and see who photographs the most different species of mushrooms.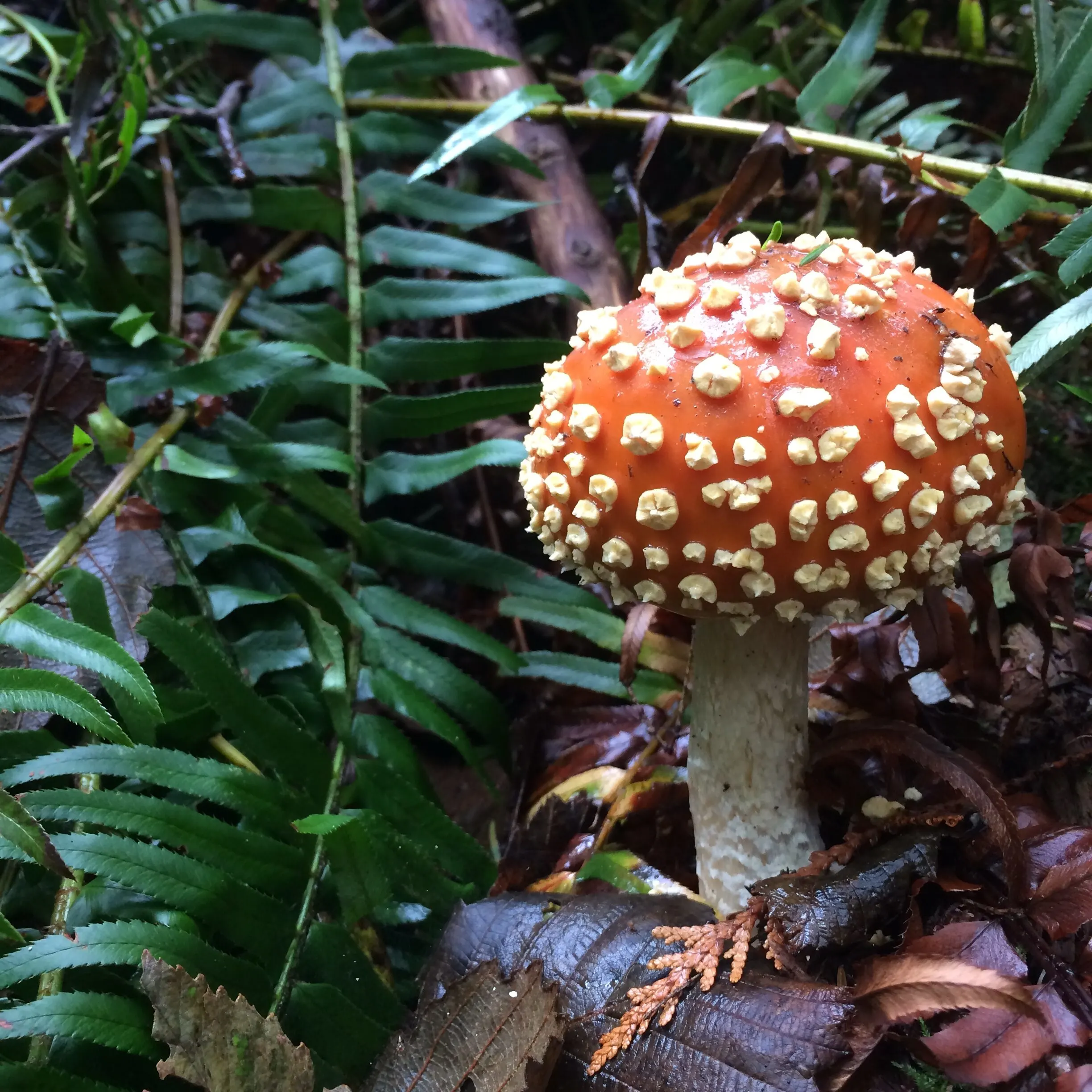 Slug Spotting
Deep forests, moderate temperatures, and lots of rain, make this park a haven for less popular forms of fauna: slugs and snails. In these wet woods, slugs can grow to several inches long (and may the Lord help you if you step on one!) Make it an adventure by seeing who can spot slugs first.
In my hiking group, we somehow developed the tradition of singing a banana slug-related song every time we see one! Perhaps because the phrase "banana slug" is just so musical!)
The following section may contain affiliate links. As an Amazon Associate, we earn from qualifying purchases.
Wildflower Identifying
Although picking wildflowers in a state park is a big no-no (and park rangers are almost constantly present in this popular park) taking photos of them is highly encouraged! A summertime photo-scavenger hunt (similar to mushroom photo hunting in the fall) of wildflowers can be an artistic activity that challenges kids to notice the world around them.
🌼🔍📕 Insider tip: At Flaming Geyser State Park, you'll find Siberian Miner's Lettuce, Forget-Me-Nots, and dozens if not hundreds of other varieties of wildflowers. If you're looking for an educational project for kids during this day trip, bring a book on identifying native wildflowers of the PNW (like this one at Amazon) and see how many they can learn the names of.
TIP: Although wildflowers growing in the state parks are not to be touched or picked, roadside ditches and byways outside of the park are fair game. If wildflowers have spread into these areas, picking one to press for your travel journal or travel scrapbook is ok.
Pick Wild Blackberries
If you are confident in your ability to tell the difference between Washington's delicious native blackberries and potentially poisonous berries that might look similar, picking berries can be a fun thing to do- and a nice break during a hike.
TIP: If you think you might pick blackberries to take home, bring a bucket, bag, or cup with you on your hike.
Like most recreation spaces in the PNW, you'll find blackberries throughout Flaming Geyser State Park, especially on the main hiking trail as it extends past the Bubbling Geyser.
River Float Flaming Geyser State Park
As you may know if you've read my guide to river floating near Seattle, the Green River is one of the most popular rivers to float on near Seattle. The stretch of the Green River near Flaming Geyser Stae Park is an especially nice stretch, because the state is actively reforesting the banks of the Green River along this portion.
HINT: If you put in rafts or floats near Flaming Geyser, be sure and look for the rope swing at the next sharp bend in the river.
Try your hand at PNW freshwater fishing
The Green River is an impressively clean waterway given its proximity to a city as large as Seattle. Environmental teams work actively on this stretch of the river to make sure that recreation, development, and wildlife can exist in balance. Fishermen regularly fish on the shores and from bridges near and within Flaming Geyser State Park.
🐟🎣A basic fishing pole and tackle kit is an inexpensive way to try a new hobby (according to Amazon reviewers, this under-$30 fishing pole set works well enough to get outside and give it a try). Just be sure to grab a recreational fishing license before fishing or hunting shellfish in Washington state parks. Visit the Washington Department of Fish and Wildlife to get your paperwork in order before heading out.
Plein air painting
Once you exit I-5 and began the transition from suburban to rural Washington state, the river valley opens up to some majestic scenery. If art is in your wheelhouse (and, frankly, even if it's not!) it can be a fun way to create a unique travel record to take a few minutes- or even a few hours – to create a painting or a sketch of a scene from the roadside. It's not all that uncommon to see artist's easels set up along the banks of the Green River or even roadside on the way.
Fly RC Planes or Drones in Designated Areas
If you have an interest in remote control aircraft, Flaming Geyser State Park features this as one of their unique things to do- with a designated area for flying these tiny recreational aircraft. Even if you don't have your own aircraft to enjoy, standing along the boundaries of the remote control airfield can be an entertaining view, depending on how busy the airfield is.
You can connect with the community of local RC pilots or bring your craft and launch it anytime- the airfield is part of the state park and, as such, is open for use by all visitors, but just club members.
Things to Do in the Surrounding Area
The immediate vicinity around Flaming Geyser State Park is filled with fun things to do. As you approach the park, you'll see various farms, fields, and interesting buildings- here are a few open to visitors:
Blueberry Picking at Canter-Berry Farms
While wild blackberries can be found in abundance in the surrounding hills, Canterberry Farms offers a more curated berry picking experience – no thorns included! For kids and families, picking berries on this cultivated u-pick farm may be a more enjoyable and memorable experience than battling the thorns of native blackberries. This farm includes the ambiance of picking berries on a horse farm with a historic 150-year-old barn. (Blueberries are generally ripe in the PNW in August, a little behind blackberries, but check their website for annual updates)
Pumpkin Patch at Mosby Farms
(Google Maps Directions) Website mosbyfarm.com
Mosby Farms offers a pumpkin patch open to the public in the fall, plus a corn maze, food vendors, and brewery offerings.
Historic Tours at Neely Mansion
This stately mansion offers a glimpse back in time through multiple cultural lenses- it includes a Japanese bathhouse and acknowledges its even older tribal ownership. Make an appointment for a tour or on a weekday or catch a regular tour each Saturday on the hour between 11 AM and 3 PM. Suggested donation is $5 for adults, $3 for children.
Christmas Tree Farm at Honeytree Farm
(Google Maps Directions) Website: honeytreefarm.com
If you've popped up to the state park for a late fall visit, check this popular Christmas tree farm. Even if you aren't ready to buy your tree – or perhaps you already have- I recommend visiting. I learned during my Christmas-tree-less years in a micro-apartment in Seattle that sometimes you can pick up some Christmas cheer just by stopping into a PNW Christmas tree farm.
Are dogs allowed at Flaming Geyser State Park?
According to park rangers, dogs are allowed everywhere in this Park as long as they remain on a leash. Park rangers are actively ticket owners of off-leash dogs at this location.
How to get to Flaming Geyser State Park from Seattle
Getting there With a Car:
from the heart of downtown Seattle, it takes about 50 minutes in light to average traffic to get to Flaming Geyser State Park, which is about 40 miles away from Pike Place Market. Getting to Flaming Geyser State Park from the Pike Place Market neighborhood requires only that you hop on I-5 South to exit 142A, from there, Hwy 18 will take you most of the rest of the way. You will need to use directions on google maps for the last few turns.
Getting there Without a Car:
Unfortunately, it is not currently possible to get to Flaming Geyser State Park without a car – or, at least, without a very expensive rideshare. While your options for getting there without a car might be limited, there are many trailheads and state parks that are accessible without a car thanks to Seattle's Trailhead Direct bus service provided by King County Metro on weekends and holidays through the spring, summer, and fall. To learn more about getting from any bus stop in Seattle to serviced hiking trailheads for only $2.75, visit the website for Trailhead Direct.
Budget Tip: Washington state parks require the purchase of a Discover Pass, which permits parking in state park parking lots. However, pedestrians arriving by foot to state parks are not required to purchase a day pass or show proof of a Discover Pass. For this reason, you'll often see cars parked along the roadside just outside the boundaries of Washington State Parks.
In the case of Flaming Geyser State Park, you'll find free parking by parking on Flaming Geyser Rd just before the road crosses the Green River and into Flaming Geyser State Park. However, if you're able, splurge on a Discover Pass. The $30 annual purchase is good for parking at state parks for a year, supports the maintenance of our state parks, and avoids a $100 fine for being caught parking without a Discover Pass) a Discover Pass can be purchased from a machine at the entrance to flaming geyser's parking area.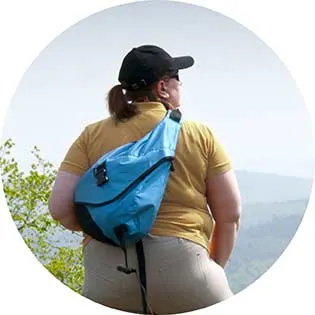 Lynli Roman's unique approach to travel is informed by decades of experience on the road with a traveling family and, later, years spent as a solo international traveler. When she's not writing about Seattle from her Pike Place Market apartment, Lynli writes on-location while conducting hands-on research in each destination she covers. Lynli's writing has been featured by MSN, ABC Money, Buzzfeed, and Huffington Post. She is passionate about sharing information that makes travel more accessible for all bodies.