It's easy to get from Pike Place Market to the Space Needle. With only about 1 mile between these two iconic Seattle destinations, it's just a matter of navigating a few city blocks to get from one to the other. Public transportation (including the one-route Monorail!), rideshares, and bike rentals are all options to get from Pike Place Market to the Space Needle, but I recommend walking this route.
Why do I recommend walking to the Space Needle? Simple, there's so much iconic Seattle art, culture, and urban life between Pike Place market and the Space Needle that I think anyone able to should be on foot to best enjoy the journey.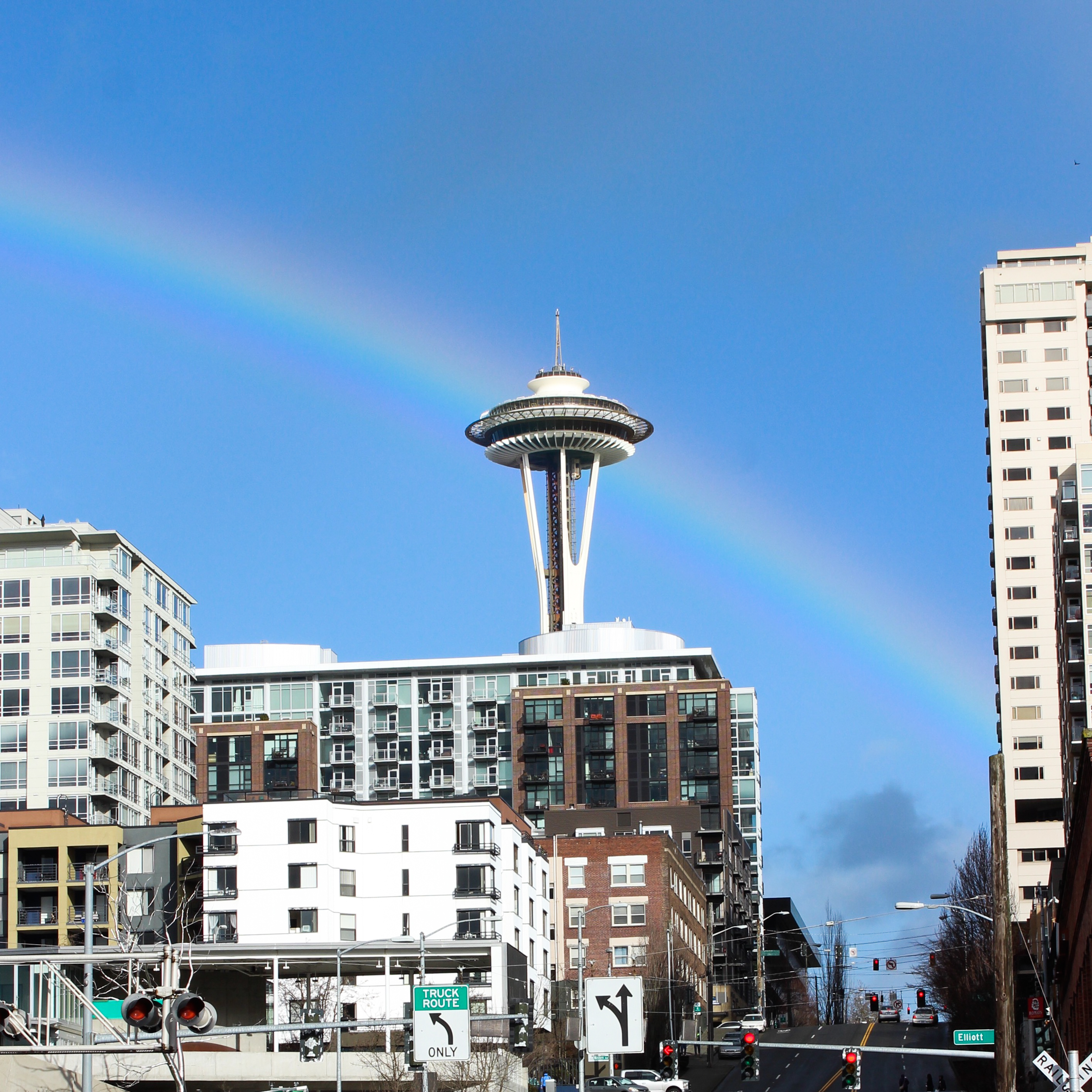 My experience walking downtown Seattle
For more than four years, Pike Place Market, the Queen Anne neighborhood (just beyond the Space Needle), and Belltown (the neighborhood in between the two) were my stomping ground. After I moved to downtown Seattle and sold my car, I walked these streets every day on my daily commute.
I made it a point to make a practice of taking a different route and trying different shops and restaurants along the way. Over the years, I discovered routes for getting from major points of interest in downtown Seattle that were faster – or just more interesting – than the routes that Google Maps would direct me to take.
In this article, I want to share from my own experience on these routes some of the really cool spots between these two destinations that you might miss if you hopped on public transportation or a taxi.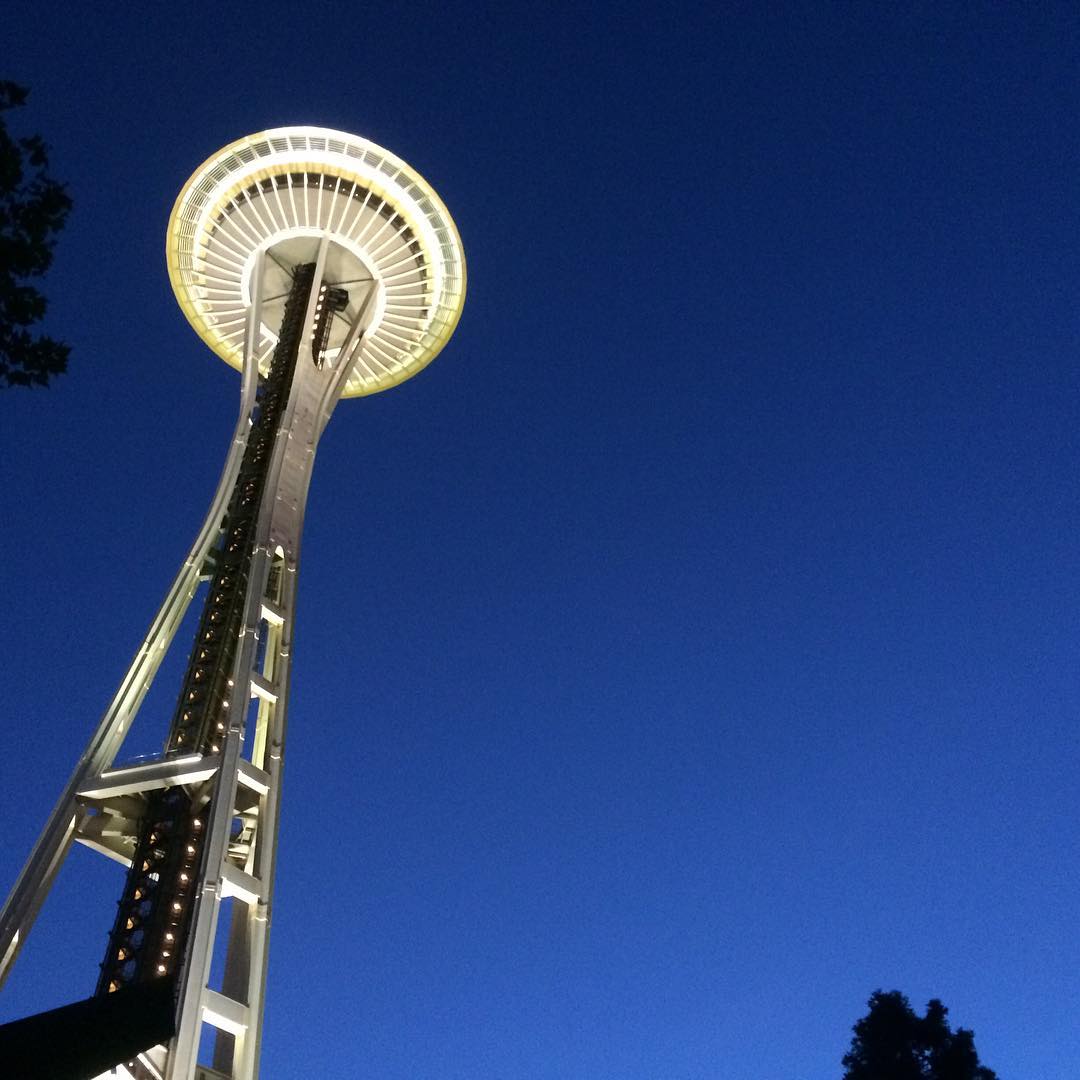 From infinite combinations of ways to navigate the blocks between Pike Place Market and Seattle Center (the park that houses the Space Needle) here are my three favorite routes:
3 ways to get from Pike Place Market to the Space Needle on Foot:
Fastest: 4th Avenue
(1 mile / About 20 minutes)
This is the route that most map apps will send you off on. Here's a google maps link. While it's the fastest- shaving about 5-10 minutes off more scenic routes – there's nothing special about 4th Avenue.
Home to urban chaos, traffic, and one notable donut shop, 4th Avenue is indistinguishable from any other downtown sidewalk in a large American city. If you're on foot and in a hurry, this is the route you should probably take, but if you've got a little time to wander, check out the alternate routes below to see scenic views of the waterfront, tiny patches of restored Puget Sound beaches (called "pocket beaches"), and amazing art.
The Scenic Route from Pike Place to Space Needle
Things to see on the way: Waterfront / Olympic Sculpture Park / Pocket Beaches
(1.2 miles, about 25 minutes – but give yourself at least 60 minutes to enjoy the journey) Google Map Link
If I have plenty of time to get from Pike Place Market to the Space Needle, you can bet this is the route I'm going to take.
It circumvents the chaos of downtown Seattle sidewalks and instead follows the Puget Sound waterfront all the way to Pier 70, which is the last pier before the Olympic Sculpture Park and the amazing waterfront views of Myrtle Edwards Park and the Elliott Bay Walking Trail beyond.
To take this route, use this Google map or simply follow the main street of Pike Place Market north as that street turns into Western Avenue 1 block later and then into Elliott Avenue a block after that. When Elliott Avenue hits Bell Street, hang a left onto what will look like an unassuming urban plaza. If you follow this sidewalk towards the waterfront, you'll actually find yourself, in about 100 yards, coming out on Bell Street Rooftop Park– an amazing overlook that most tourists never find.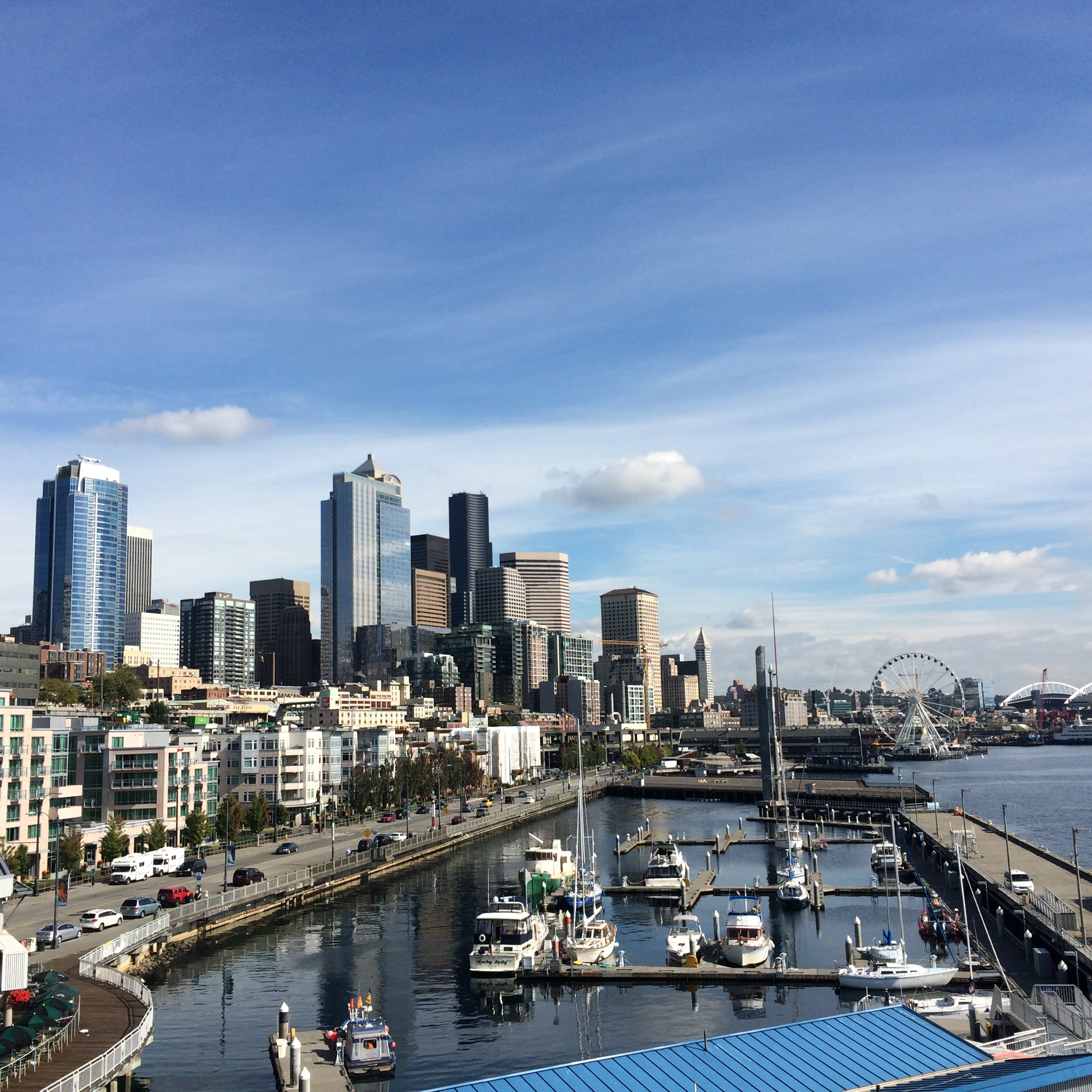 From Bell Street Rooftop Park, you'll find both a staircase and an elevator leading down to Alaskan Way (a street that runs parallel to the Seattle waterfront). Proceed down to the ground level and continue on Alaskan Way, heading northwest away from Pike Place Market.
On the way, you'll pass one of my favorite Pike Place restaurants located in the Edgewater Hotel, and some of Seattle's best coffee at Uptown Espresso.
When you reach the point where the street turns to park (marked by a large fountain with sculptures of naked people) you can take a few minutes to explore this scenic walkway into the park or continue along the curve up Broad Street and towards the Space Needle.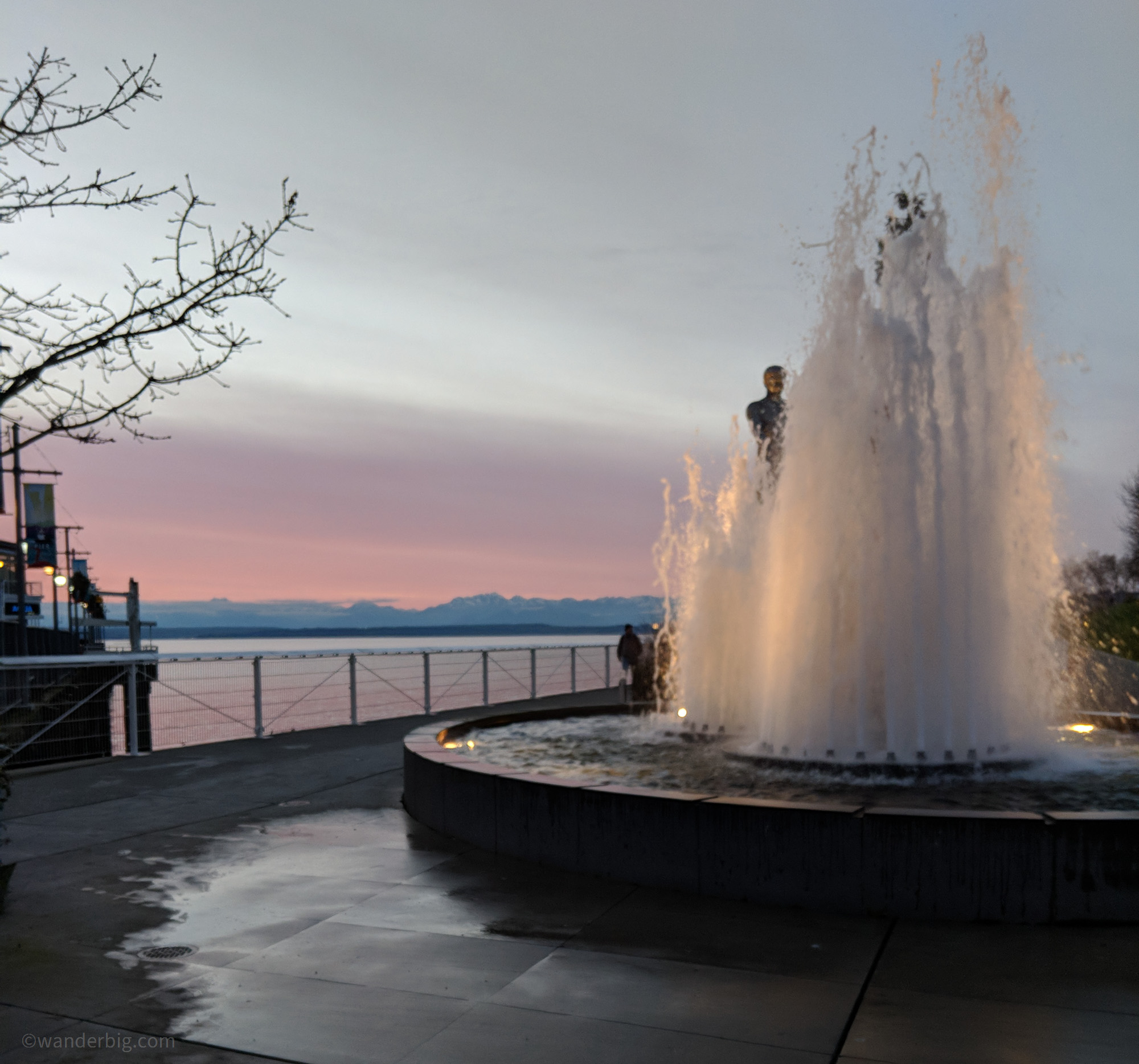 Don't Miss: Seattle's Pocket Beaches
I highly recommend taking a few minutes to explore the Olympic Sculpture Park and Myrtle Edwards Park's pocket beaches. If you're a typical tourist that will only be seeing urban Seattle, the pocket beaches are an absolute can't miss stop.
Unless you will be headed out to the Olympic National Forest or up to the San Juan Islands, these carefully restored pocket beaches are your best opportunity to experience the wildness of a Pacific Northwest beach. At low tide, I've seen many starfish on this beach, though sea stars are one of many species struggling to survive in the Puget Sound in recent years.
The Olympic Sculpture Park is free to walk through and allows access to view huge modern art exhibits. Be sure not to miss the Vivarium– a unique greenhouse/art exhibit open in season.
Once you've had your fill of waterfront and modern art, you can head directly up Broad Street (and I do mean up! You'll have some elevation gain here as you leave the waterfront for high ground). It's easy to get to the Space Needle from here since you can navigate visually to the looming landmark on the horizon.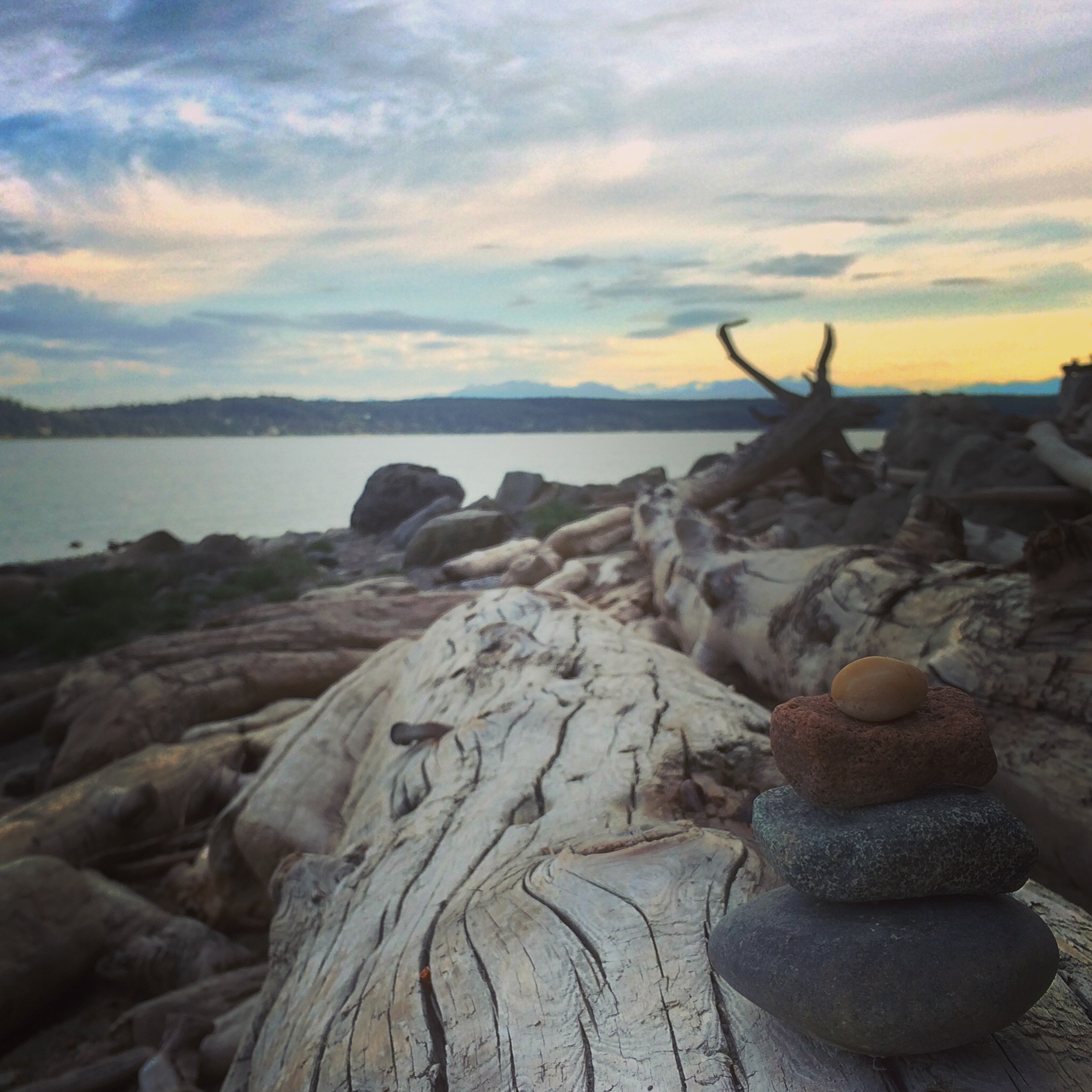 Once you turn away from the waterfront and began walking uphill, you'll reach Seattle Center, a fountain filled park that is home to the Space Needle, and within 3 to 4 minutes of reaching the boundaries of the Seattle Center, you'll find yourself at the base of the Space Needle having completed your journey from Pike Place Market to the Space Needle.
The Urban Art Route
(about 1.5 miles, or 30 minutes)
The final option for walking route, for those willing to walk just a bit longer and explore a little more of the neighborhood between Pike Place market and the Space Needle, is one that takes a roundabout route in order to pass by some of Seattle's best urban art. The streets on this map, explained more in detail in my article on Murals in Seattle, are picked specifically for the impressive street art exhibits which, in my opinion, pair well with the more representational modern art in the sculpture park.
More Articles on Pike Place Market: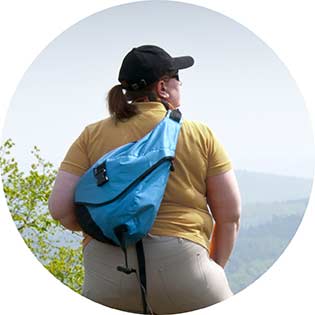 Artist, digital nomad, and highly sensitive person, Lynli started traveling full time as a digital nomad in 2018. Writer and Illustrator by day, remote-destination explorer by other-days, Lynli is passionate about pushing the boundaries of her own comfort zone, exploring the world as a plus size, one-bag traveler, and journaling it all on WanderBig.com