A common concern for new solo travelers is the difficulty in selecting the correct hostel (or making the call of whether to stay in a hostel at all.) Popular media hasn't done a great job accurately representing international hostels, so there are many misconceptions about what the experience will be like.
Staying in a hostel is very much like any other lodging option during travel. Like hotels, Airbnbs, and other housing options, there are generally three truths:
A huge variety of options are available that range from basic essentials to luxury level accommodations,
You'll generally get what you pay for, and
Carefully reading reviews befor booking pays off.
While there certainly are hostels with dirty, unaccommodating dorm rooms and shady guests, there are strategies to avoid these issues. By knowing in advance what red flags to look for in listings and reviews, there's a very good chance that your hostel will be clean, accommodating, and a great place to make friends while traveling.
Here are some pointers on how to pick the ideal hostel.
1. Make an Informed Choice
Hostels are not right for everyone. These days, I exclusively stay in private Airbnb's and connect with hostels for group day tours. Don't feel pressured to stay in a hostel if the experience will be extremely unpleasant and compromise your sleep. Booking.com is a great option that can search all levels of accommodation- from hostel dorms to luxury private apartments- and give you an idea of what accommodation options are in your budget.
2. Read Hostel Reviews
When researching hostels, HostelWorld.com is the industry standard for reading about hostels and how other travelers have reviewed them. Remember that reviewers tend to spin feedback in a positive way to avoid confrontation, so if you see a comment such as "the owner is working hard to renovate the dorm rooms" or "public transportation was a bit of a walk" translate these review comments as indications that the hostel is poorly maintained or in an inconvenient location.
3.) Choose your top criterion.
Although luxury hostels have started popping up in recent years, and many hostels now have very comfortable private rooms available, you should expect simple accommodations in a hostel. Before choosing a hostel, decide what's most important to you and make a list, here's an example of areas where you'll need to set wants, needs, expectations, and deal breakers:
Price
Location
Employee availability/friendliness
Free services (dinner, walking tours, pub crawls, etc)
Atmosphere / Vibe
Can I rent sheets/towels?
Male, female, or unisex dorm rooms
Private shower stalls vs. communal bathrooms
Private room availability
Social vs. family vs. party
Ratings for safety
Reviews for cleanliness
Security + Secure storage of valuables
Is there a restaurant/bar attached to the hostel?
Personally, in my hostel days, my dealbreakers were 1. cleanliness, 2. storage lockers, and 3. affordability, but every traveler has different priorities.
4. Make a reservation in advance
While some travelers choose to have an open-ended travel style and find a hostel online whenever they arrive in the city, the best hostels do tend to be booked in advance. If you value comfort, predictability, and choosing a hostel that feels like the best fit, you should book your hostel in advance. On the other hand, if the freedom to be flexible in your travel plans outranks your need for planning for your comfort, it's okay to wait and book hostels last-minute or even the same day.
5. Be Open to Connecting with Other Hostel Guests
The majority of the guests at the hostel are tourists, backpackers, and other travelers like yourself. Hostel guests come from a variety of backgrounds. The majority of individuals I've met at hostels are nice, enjoy chatting, and have the most amazing travel experiences to tell. Take advantage of opportunities to connect with other travelers- there are few times in your life when you'll be around so many like-minded adventurous folks in one spot.
6. If your Hostel is a Nightmare
Do not be afraid to leave your hostel if you feel unsafe, uncomfortable, unclean, or anything else. Each hostel handles cancellations differently, so make sure you check their cancellation policy before taking off. Most hostels will charge you a cancellation fee but refund most of your money. Having a safe place to stay is the absolute foundation of traveling well.
It's okay to go over budget, or even use your emergency credit card, to make sure you're safe, healthy, and well-rested enough to make good decisions.
Patagonia was my first experience of having to escape a hostel. I knew, with my first glimpse at the hostel, it wasn't a place where I could stay, rest, and feel safe. Instead, I walked back to the bus station that I'd arrived at a few minutes earlier and booked a last-minute deal on a luxury room in a lodge near the boundaries of Torres del Paine National Park. What could have been a really miserable travel experience is now one of my favorite memories and a memory that reminds me that it's okay to make last-minute decisions to keep myself safe, even if they cost a little more.
However, don't expect to be pampered in a hostel environment. Most of the time, you'll be sleeping in a down on an uncomfortable bunkbed next to a stranger who snores loudly. Use my tips for sleeping in a hostel and try to roll with the challenges – they're all part of the adventure. Give it a try before bailing on a hostel- especially on your first trip.
Final thoughts on How to Choose a Hostel
Just keep an open mind and, if you can, travel with an experienced friend for your first stay at a hostel. Every year, tens of thousands of people stay in hostels, grow global friendships, and experience the world from a unique perspective. To choose a great hostel, use common sense, be attentive, read reviews, and make an informed choice.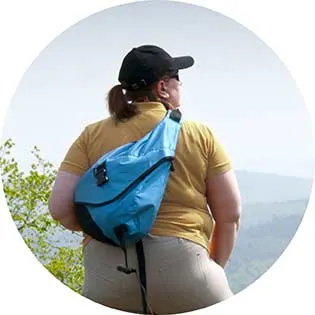 Lynli Roman's unique approach to travel is informed by decades of experience on the road with a traveling family and, later, years spent as a solo international traveler. When she's not writing about Seattle from her Pike Place Market apartment, Lynli writes on-location while conducting hands-on research in each destination she covers. Lynli's writing has been featured by MSN, ABC Money, Buzzfeed, and Huffington Post. She is passionate about sharing information that makes travel more accessible for all bodies.