Solo travel is liberating, empowering, and (at least at first), absolutely terrifying.
Most new solo travelers learn by jumping into the deep end: a full-length vacation alone in a foreign country. However, there are ways to experiment with solo travel and gain the confidence needed to take a trip alone without, well, taking a trip alone.
If you want to try solo travel but are unsure if it's for you, one way to try solo travel with low-risk is through a solo staycation.
🏖️ What's a Staycation?
In 2020, many travelers discovered what micro-budget travelers have known for years: a vacation in our own backyard is possible- it's just a matter of mindset. A staycation is vacation in which you spend time exploring your own city as a tourist. It's making a vacation out of staying at home.
Staycations were popularized by millennials.1 but invented by Gen X parents during the US financial crisis of 2008.2 Solo travelers can use staycations as a way to test their solo-travel legs in an environment that's still safe and familiar.
According to an ABC news article published during the peak of that 2008 "Summer of Staycations," there are 4 golden rules for making sure a staycation actually feels like a vacation:
Schedule start and end dates. Just as you would with a vacation, schedule a beginning and ending for your staycation to make it feel like an official vacation. Otherwise, it runs the risk of feeling like just another string of nights in front of the tube.
Pack the time with activities. Plan a daily activity, and make sure something takes you out of the house – for fun – every day.
Declare a "choratorium." That means no chores! Don't make the bed, vacuum, clean out the closets, pull weeds — nothing. You're on vacation!
Take staycation photos or videos, just as you would if you went away from home for your vacation.
Why Staycations are Perfect for the Solo Travel-Questioning
Some people know they are destined to solo travel (Hey, that's me! I'm in this group!), but for many, solo travel is an idea that bounces around in their brain, perhaps gets added and removed from a bucket list, and eventually fades as family, age, or careers make solo travel harder.
Here's an alternative: Try a solo trip that's really low cost and really low risk: hyperlocal travel.
You might think your city is boring. Maybe you think that you've seen everything it offers. Here's the thing, I guarantee that with a fresh perspective, you will discover amazing adventures in your staycation.
I lived in Joplin, MO for 5 years before I discovered the world's largest small appliance museum and rode the 130-year-old elevator in the county courthouse- and I only found those gems because I set out one day on a solo staycation quest to discover the best things to do in Joplin, MO.
Not only will a solo staycation in your hometown be a way to discover new stuff in your city, but it'll also give your solo-travel muscles a chance to stretch, grow, and build the confidence you need to book your first real solo trip.
Things to Do on a Solo Staycation to Prepare for your First trip as a Solo Traveler:
Stay in a local hotel or hostel
Even small towns have interesting Airbnbs, hotels, or hostels. If your budget allows you to stay at a hotel rather than at home, do it. More than any other strategy, this will help you shift into the mindset of a solo traveler.
By staying in a hotel or hostel, you will get the feeling of actual travel away from home. In hostels, you'll have the chance to hang out in common areas and make connections with other tourists and staff, which is one of the fun parts of traveling solo (check out my #1 never fail tip for making friends in a hostel).
If you live in the suburbs rather than the city center, a downtown hotel or hostel also offers quick access to area attractions, and you wont need to commute into the city each day.
Grab some travel brochures
Visit the city's welcome center or the lobby of any area hotel, and you will find a treasure of free travel brochures. Grab a bunch, including brochures for activities or attractions that wouldn't usually catch your attention.
See what is free or affordable, and go for it! You don't need to worry about anyone else's opinion when you travel alone – and on your solo staycation you are alone! Do what sounds fun or interesting to you! (And stuff those leftover brochures in your travel scrapbook as a reminder of your first ever solo trip)
Visit local markets in cultural neighborhoods
Markets with local artisans, farmers, and cooks offer you the opportunity to see and taste lots of unique and unusual local items and flavors.
Heighten your sense of being out-of-the-ordinary by shopping in small businesses in cultural districts or markets in immigrant neighborhoods. These local experiences can offer potential solo travelers the chance to be the "outsider" without having to fly 1,000 miles from home.
Learn the local history
If you live in your original hometown, you probably saw the local historical sites and museums a dozen times as a kit. But hasn't it been a few years, now? Taking in your own local history with the eyes of a tourist can be eye-opening and an excellent way to prepare for solo travel.
Do some reading about local history, go on a guided historical tour of the city, and take the time to read plaques and roadside markers that you would typically pass by. As a solo traveler, you won't have anyone rushing you, so take the time to learn something new!
Try an Unfamiliar form of Transportation
If you usually drive through your city, try walking or taking public transport on your staycation. Ride a bike or electric scooter.
If you live in a city people often visit as tourists (that's me in my home just 2 blocks from Pike Place Market!), join a free walking tour! There's no rule that you have to be a tourist from far away.
By navigating your city differently, you will see things you might not otherwise have seen, and you will experience your city in a whole new way.
Don't skip this key technique for learning to become a solo traveler. More than anything I've experienced in my life, I think the experience of going carless in Seattle for a season gave me the confidence and an internal glossary of familiarity to navigate trains, buses, subways, and ferries around the world.
Eat like a Tourist
A great way to sample the local flavor during a staycation is to check out food stands and food trucks! You will find everything from hot dogs to churros to falafel and beyond, all for a reasonable price. You can also check out a local cafe to rest your feet and do some people-watching while you sample some local dishes.
As a trial run for an international solo trip, try visiting a restaurant serving an unfamiliar cuisine in your city. (Bonus points if the menu is not in English!) Order food to try and get used to the thrill and discomfort of not being totally sure what you're eating.
💡 Hint: When there is a significant language barrier, the best way to order food in a restaurant is to find reviews of the restaurant that include food photos, choose a photo of a dish you'd like to order, and show your server the image.
Try to branch out and challenge yourself to eat something new! Ask other locals what food the city is world-famous for, and don't leave without trying it. Since you're on a solo staycation, you don't have to worry about pleasing anyone's palate but your own! Worried about eating alone in a restaurant? No worries, I've got some pro tips for you.
Be one with nature
Even if you are staying in a large city, you can find ways to connect with nature on your solo staycation. Get up early to see the sunrise. Sit on the beach and have a packed lunch. Visit a local arboretum. Explore a local park that tourists visit but you've mostly ignored. Connecting with nature near your home will remind you of one of the best parts of solo travel: getting to take in the vast wonder of the world.
Become a photographer
On a solo staycation, you might literally want to look at your world through a whole new lens. Think about photos, not like a local looking for an Instagram shot, but like a traveler seeking to record a memory of a place.
When we take in a destination as an artist bent on taking interesting photographs, it changes our perspective. Through different eyes, we can take on more fully the role of a solo traveler.
Experiment with different angles, lighting, and filters than you'd typically use.
Explore with an open mind
Leave all of your judgments and preconceived notions behind. You might be traveling solo in your hometown, but any solo travel is an adventure. And this trip, well, it's the gateway to amazon explorations beyond your city, state, or country.
Treat your city like it's a whole new world, and undoubtedly you will be amazed at what you find!
Final Thoughts
By following these ten tips for a solo staycation, you not only will discover new and exciting things about your hometown, but you'll also empower yourself for solo travel. You can decide if more solo traveling is in your future through an authentic (if local) experience with what it is like to travel alone.
Sources
Alexandra James, Swathi Ravichandran, Ning-Kuang Chuang & Edward Bolden III (2017) Using Lifestyle Analysis to Develop Lodging Packages for Staycation Travelers: An Exploratory Study, Journal of Quality Assurance in Hospitality & Tourism, 18:4, 387-415, DOI: 10.1080/1528008X.2016.1250240
Sharma, S. (2009). The Great American Staycation and the Risk of Stillness. M/C Journal, 12(1). https://doi.org/10.5204/mcj.122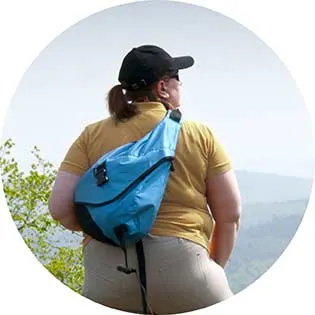 Lynli Roman's unique approach to travel is informed by decades of experience on the road with a traveling family and, later, years spent as a solo international traveler. When she's not writing about Seattle from her Pike Place Market apartment, Lynli writes on-location while conducting hands-on research in each destination she covers. Lynli's writing has been featured by MSN, ABC Money, Buzzfeed, and Huffington Post. She is passionate about sharing information that makes travel more accessible for all bodies.