99% of Pike Place Market visitors walk right past one of my favorite free things to do at Pike Place Market- it's the rooftop urban garden, hidden around a few corners, and just a few steps from Pike's iconic entrance sign.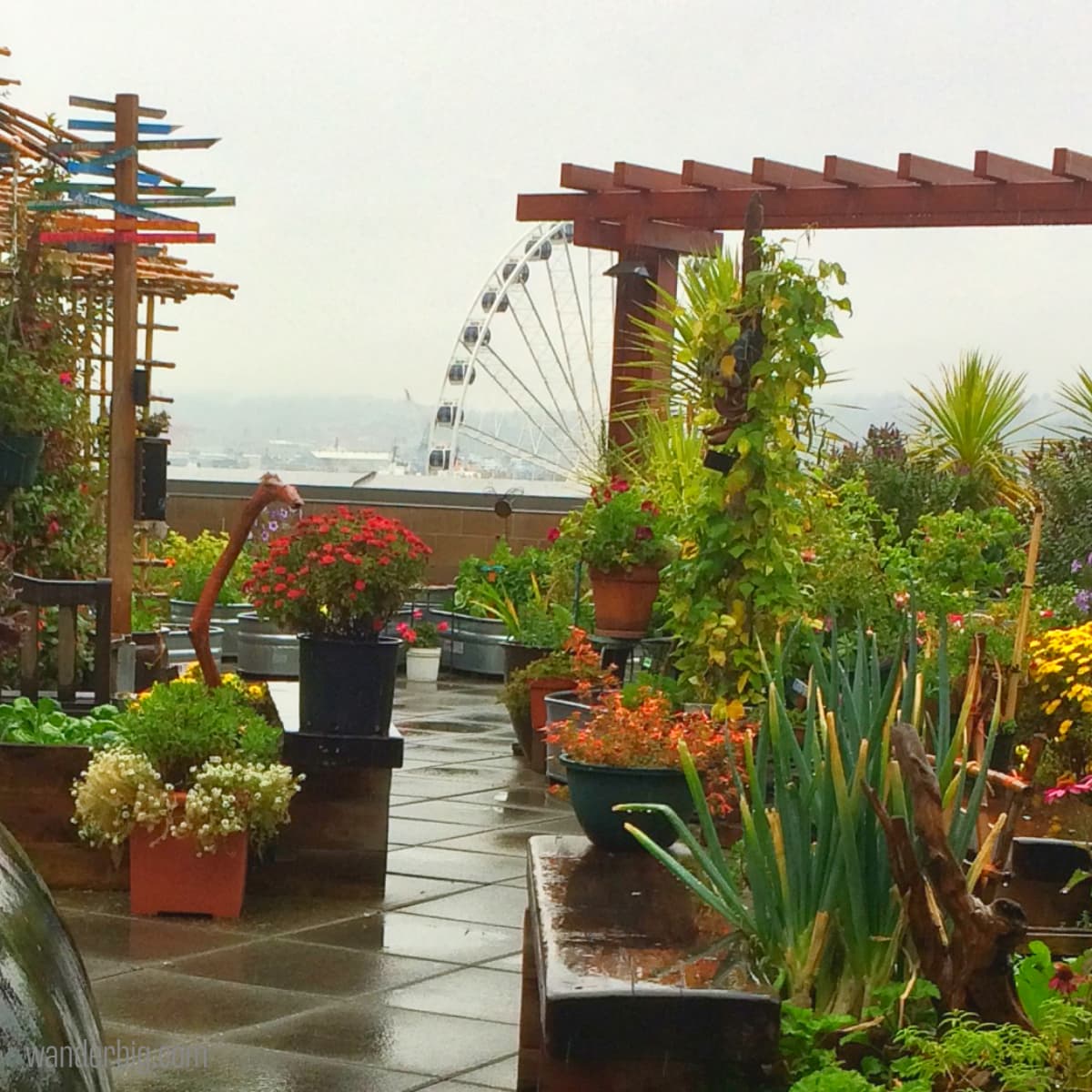 It made the list of my Local's Guide to Pike Place Market, but directions to find it require a post of their own, if you aren't familiar with the market.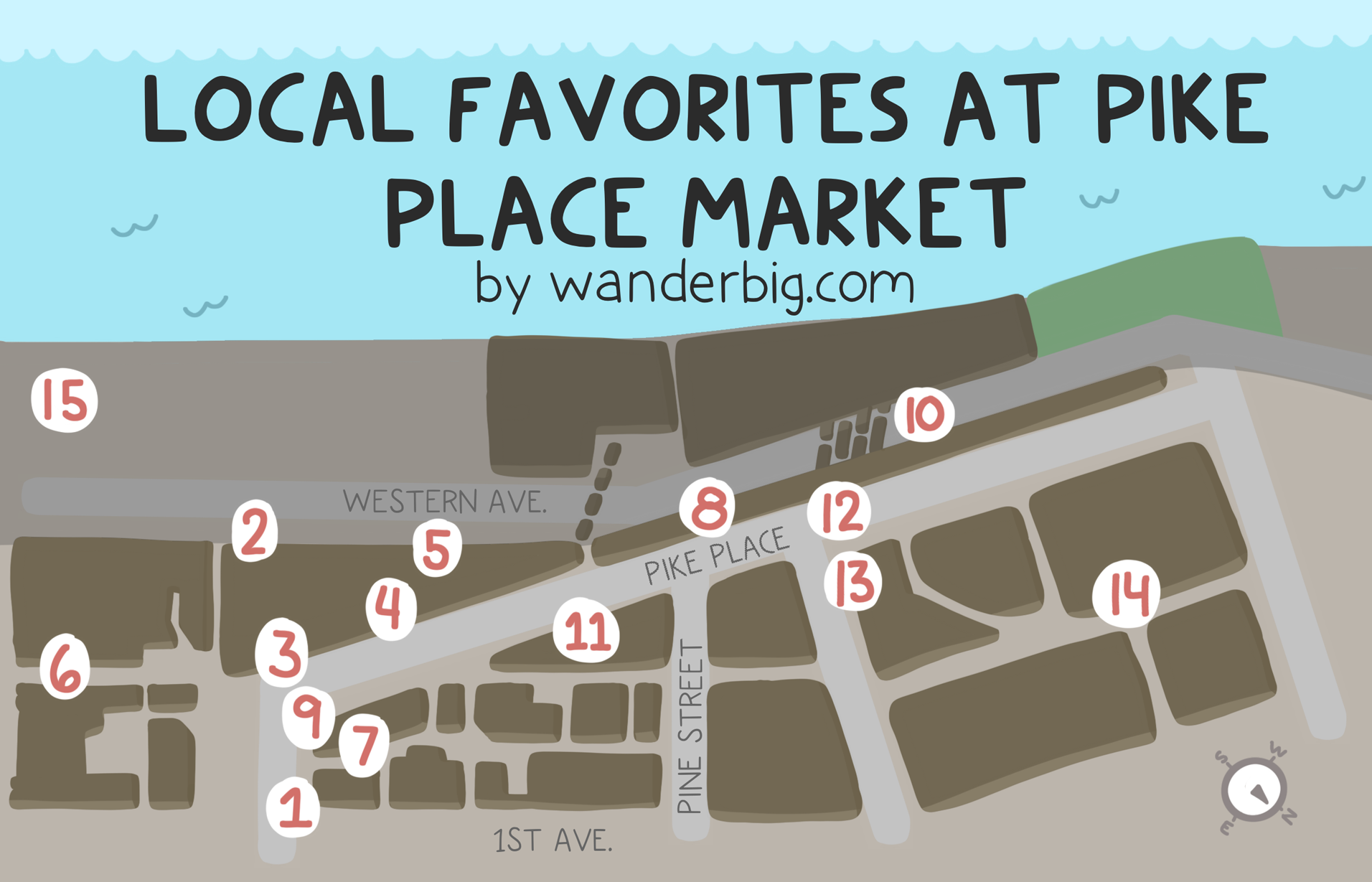 The rooftop garden at the market is a quiet reprieve from the noise and crowd of the market. Even in the peak of tourist season, this relatively unknown spot remains pretty quiet. It's a great spot to take a picnic lunch, or to have a few moments of quiet amid the urban landscape. It's a fun stop for kids- as chalk is provided to draw on the resident pig statue or a few designated walls. If you're lucky, you might get to call dibs on one of their rocking chairs!
Keep reading for more about what this garden is and how to find it.
How to Get to the Garden:
Finding the community garden is really easy once you locate some iconic landmarks.
Pike Place Market is "L" shaped, with the fish throwers, iconic clock, and bronze pig statue located at the corner of the "L".
At that corner, press through the crowd gathered around the fish sellers and go deeper into the corner of the L
Past the crowd, you'll see Don & Joe's butcher's counter, and across from them, a spice shop called Marketspice. The walkway between them becomes a hallway as you follow it back away from the crowd of the market. (under the Maximilian neon sign)
A few steps down this hallway, it meets another hallway on the left- turn left there.
After turning left, the rooftop garden will be straight ahead.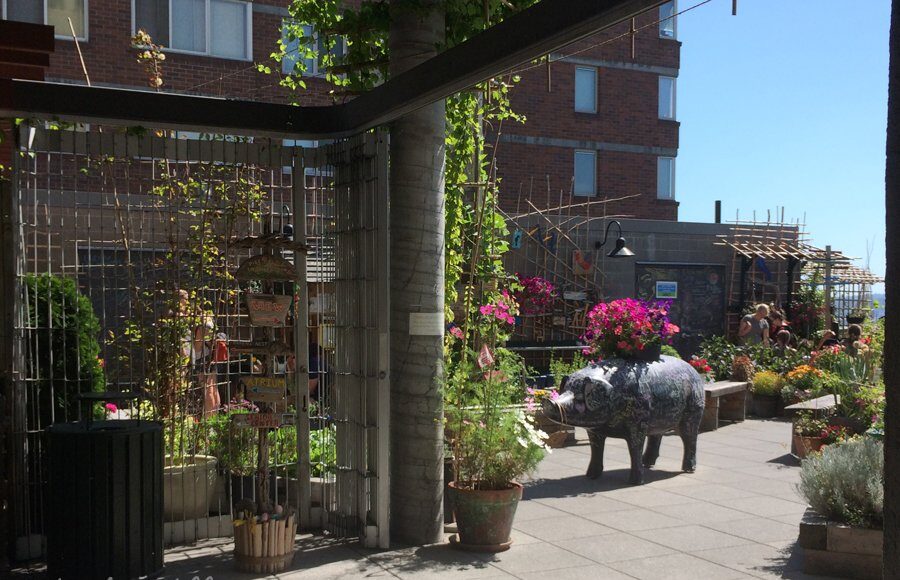 The market garden has lots of fun and whimsical features, including water features, chalk-walls open to the public, art, mosaics, creative seating, and more. A particularly impressive feat since this lush garden is comprised entirely of containers and raised beds. Vegetables are inter-planted with flowers and supply the food bank and Pike Place's Senior Center.
On a clear day, the views from this spot are unbeatable. The haze on this day hid Mt Rainier, but often visible is Mt Rainier to the left and the Olympic mountains to the Right, with views of miles of Puget Sound and beaches, the Seattle Waterfront, passing Washington State Ferries, cruise ships, and the ferris wheel always in view.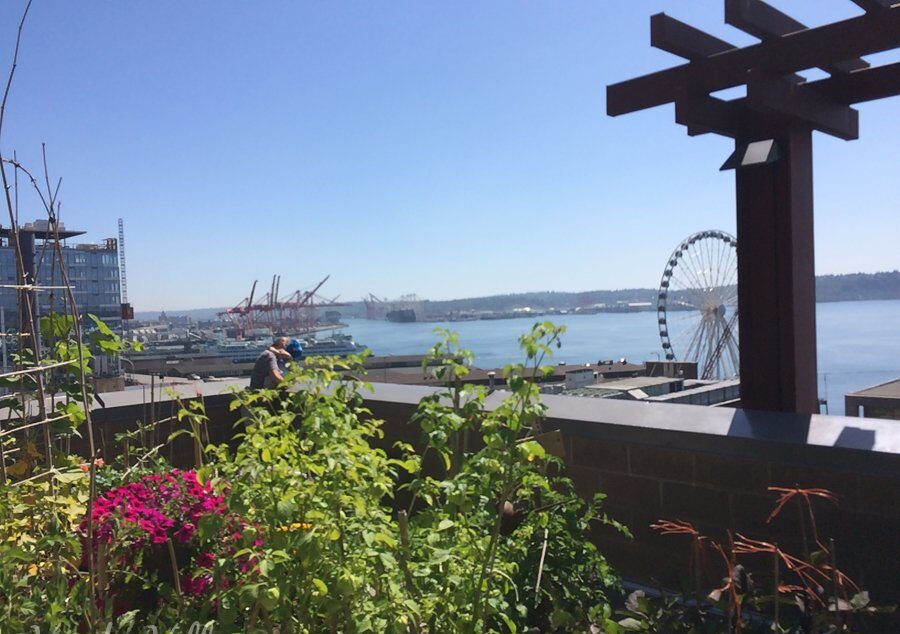 I love visiting this secret hideaway in all four seasons in Seattle. Even during the Christmas season, when the Puget Sound is cloaked in a thick fog almost daily, this rooftop garden in Pike Place still feels like an oasis. Even though the flowers and vegetable planters are dormant, somehow this just highlights the garden art and the view. Whether you are visiting in the winter, spring, summer, or fall, don't miss this treasure just a few steps off the main walkway in Pike Place market.
A place for Kids and Families
the incredible sensory experience of Pike Place is actually the same thing that can make it really hard to bring children to Pike Place market for a day of sightseeing. The market, with all of its smells, sights, sounds, and crowds can be really sensory overwhelming to people sensitive to those sort of experiences (which, let's be honest, as every child as they learn to take in the world). The secret rooftop garden at Pike Place market is a retreat that every parent visiting Pike Place market with kids should know about. If your child gets overwhelmed by the experience, head out to this waterfront overlook. There, muted sounds from the market meet fresh sea breezes coming in off the Puget Sound. There, in a quiet place surrounded by green things and open water, you can help your child regulate, calm down, and get ready to re-engage with the Pike Place market experience.
A romantic spot in Pike Place market
If you want to make a romantic gesture (perhaps even a proposal) at Pike Place market but you don't want 1000 onlookers to be part of your special moment, this rooftop garden is the place to go. Boasting incredible views of Elliott Bay and West Seattle in the midst of vibrant florals and garden art, it's hard to take a bad photograph from any angle in this garden. Although it's technically a public space, and you will have to share with other visitors to Pike Place market, this rooftop garden is well off the radar of most tourists- meaning that even on busy summer market days you might only see a few other individuals during a visit to this garden.
More Articles on Pike Place Market: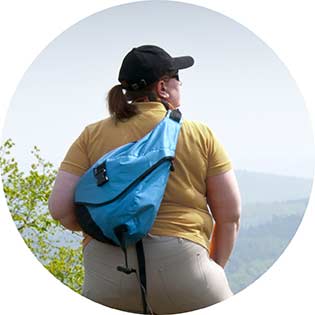 Artist, digital nomad, and highly sensitive person, Lynli started traveling full time as a digital nomad in 2018. Writer and Illustrator by day, remote-destination explorer by other-days, Lynli is passionate about pushing the boundaries of her own comfort zone, exploring the world as a plus size, one-bag traveler, and journaling it all on WanderBig.com