This blog is reader supported. As an amazon associate, I earn from qualifying purchases.
If you're seeking a quirky half-day adventure near Seattle, look no further than the gnome trail in the foothills of the Cascade Mountains about an hour east of downtown Seattle. The gnome trail is a collective art project, collaboratively in a state of constant creation and change thanks to visitors who participate in this hiking trail turned art project.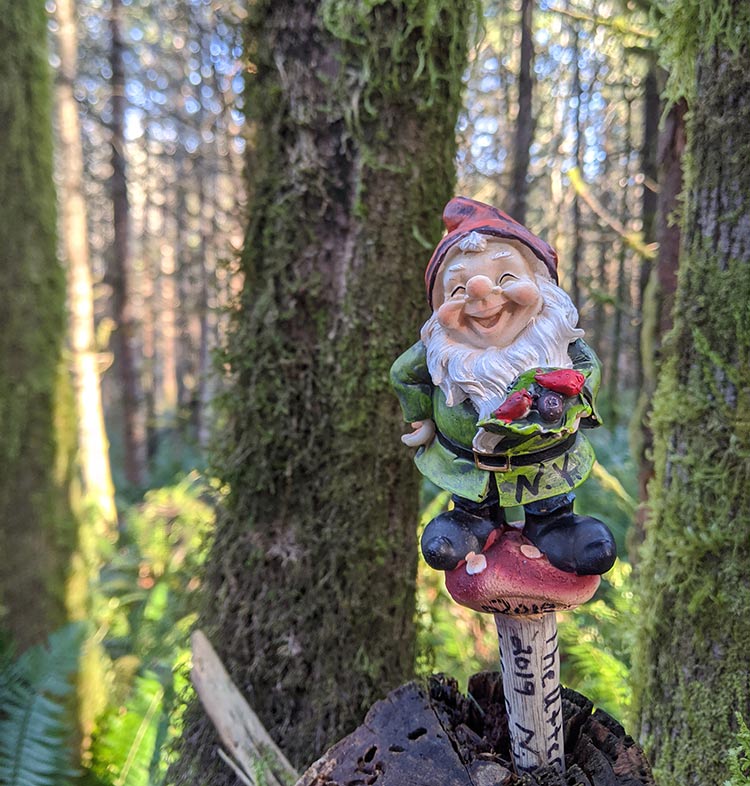 What is the gnome trail?
The gnome trail is an easy hike for most age groups (although not stroller friendly). It has a good amount of incline, just enough for a nice stroll with slight exertion. The trail is well-maintained, with no particular parts difficult to traverse due to standing water, excessive mud, fallen trees, etc.
Throughout the woods, in this particular section, people have placed garden gnomes (with the occasional fairy garden decorations and genre-skipping Santa Claus). Delightfully, the gnomes aren't just dropped in place but often artfully arranged in humorous situations.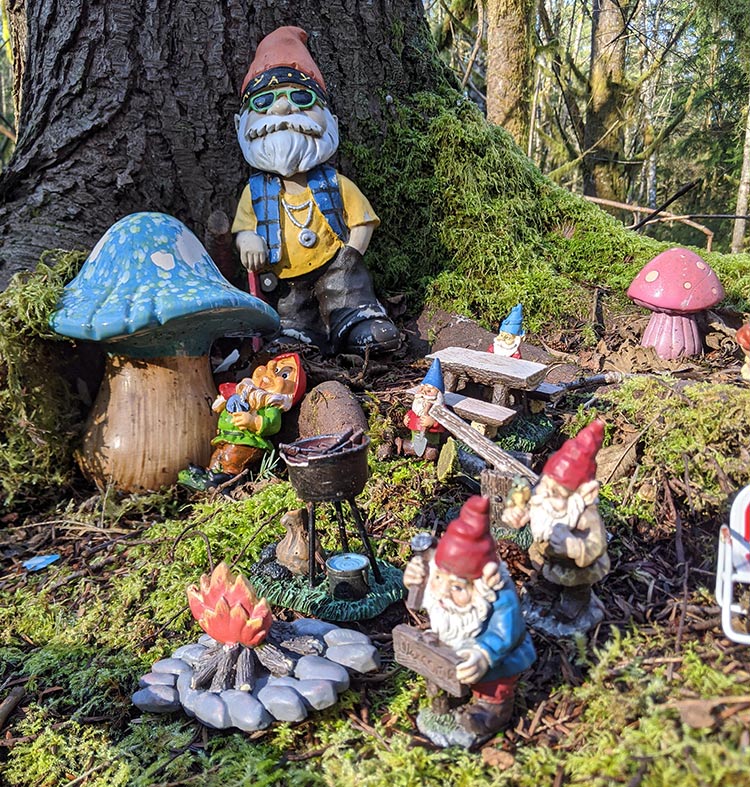 How to find the gnome trail:
January 2021 Update: I've been informed the access point previously listed is not part of the park, but is private property. For now, the best access point is street parking near 279th Street Park and hiking in via the "Route 66 Trail".
The best way to get to the gnome trail is to park in a tiny dirt parking lot off 243rd Ave, and hike a short distance through the woods to intersect with the gnome trail (there's no actual trail connecting this parking area to trail, but phone signal is strong and the gnome trail is well marked on google maps, so you can follow your phone's GPS to find the gnome trail within 3 or 4 minutes of leaving the road).  The trail can be found by connecting with other trails in the Henry's Ridge Natural Area, however, it's a bit of a hike to reach the beginning of the gnome trail when starting from other trailheads in the park.
Unlike many other hiking trails, it's easy to know when you have found the gnome trail, the evidence of gnomes peeking out from trees, rocks, and roots are a dead giveaway!  – Though at certain points you will also find signage such as the sign pictured below.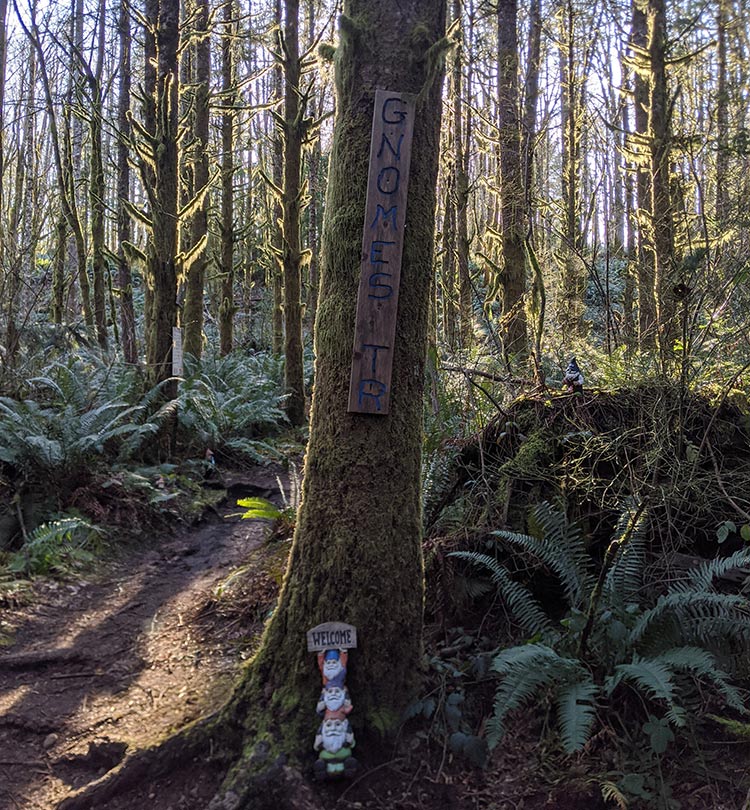 Tips for enjoying:
I also enjoy this trail because it feels like a quintessential Pacific Northwest hike: Large trees, uneven terrain, and monstrous ferns turn this into what always feels to me to be a prehistoric setting. If you're looking for a fun and easy hike to introduce "non-hikers" or out of town visitors to hiking in the Pacific Northwest, this hike is an excellent choice for all ages and family groups. Just like visiting the gum wall in Seattle, participation in a communal art project always makes an experience more memorable. Before your trip to the gnome trail,  pick up a couple gnomes and/or fairy garden accessories to add your own contribution to the project.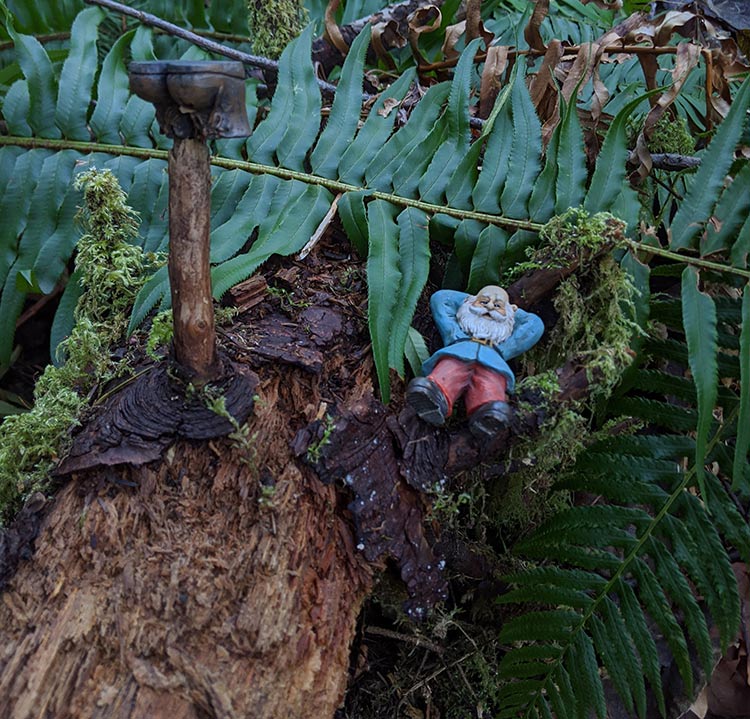 What are the gnome rules (rules for enjoying this trail)?
According to the signage at the official start of the gnome trail, here are the rules: "
We are shy, so you know.
You may look, or say "hello."
But please don't touch us,
or we might run into the woods and end the fun."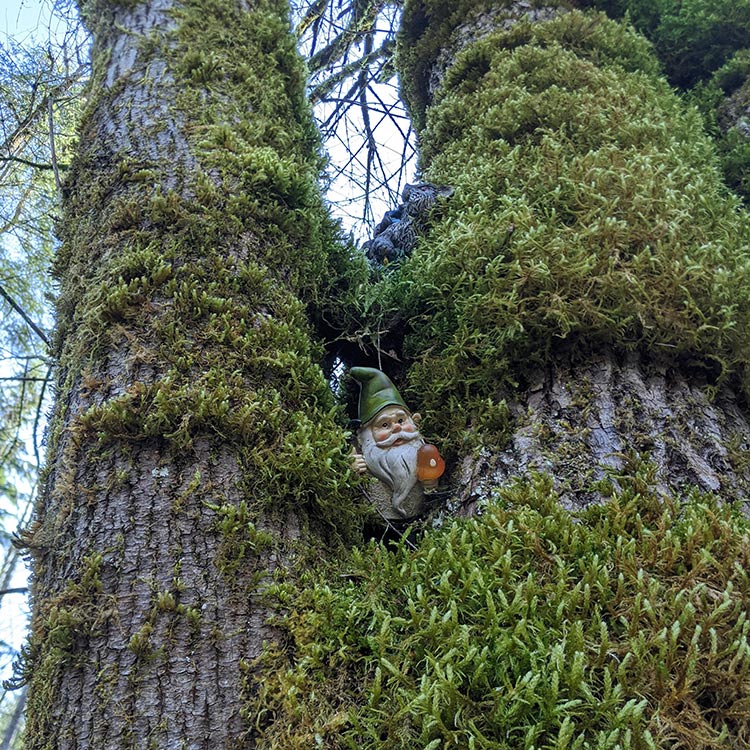 Making it a day trip
I adore this collaborative art project that combines physical movement, art, recycling, and community collaboration. To turn this into a fun day trip, and experience something else that the surrounding area has to offer, check out the Alaskan Dumpling Restaraunt in nearby Maple Valley, which offers Russian dumplings and Russian tea service in a casual setting.
Although this is the only collaborative art/hiking hybrid I know of, I hope that more will spring up. Do you know of any hiking trails in the Pacific Northwest or elsewhere that offer the opportunity to create art while exploring outdoors? If so, leave a comment in the comment section below.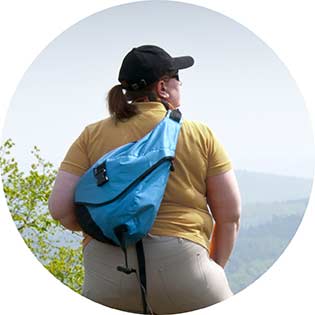 Artist, digital nomad, and highly sensitive person, Lynli started traveling full time as a digital nomad in 2018. Writer and Illustrator by day, remote-destination explorer by other-days, Lynli is passionate about pushing the boundaries of her own comfort zone, exploring the world as a female, fat, one-bag traveler, and journalling it all on WanderBig.com