Although you can get espresso and coffee from any corner store or diner in Seattle, and the neighborhood just beyond Pike Place Market has a few incredible options for coffee (I'm looking at you Moore Coffee!), here's my guide to the best coffee in Pike Place Market.
How do I know? I spent four years stomping around Pike Place Market, living a few blocks above this bustling urban destination, and commuting on foot to graduate school- right through the market – at unreasonably early hours.
Trust me, I've had A LOT of coffee in Pike Place Market, and I'm not a creature of habit! Instead, I love trying new things until I find something irresistible and worth making a habit. So my coffee recommendations are based on a lot of experimentation and my own experience discovering which coffee shops in Pike Place Market drew me back time and time again.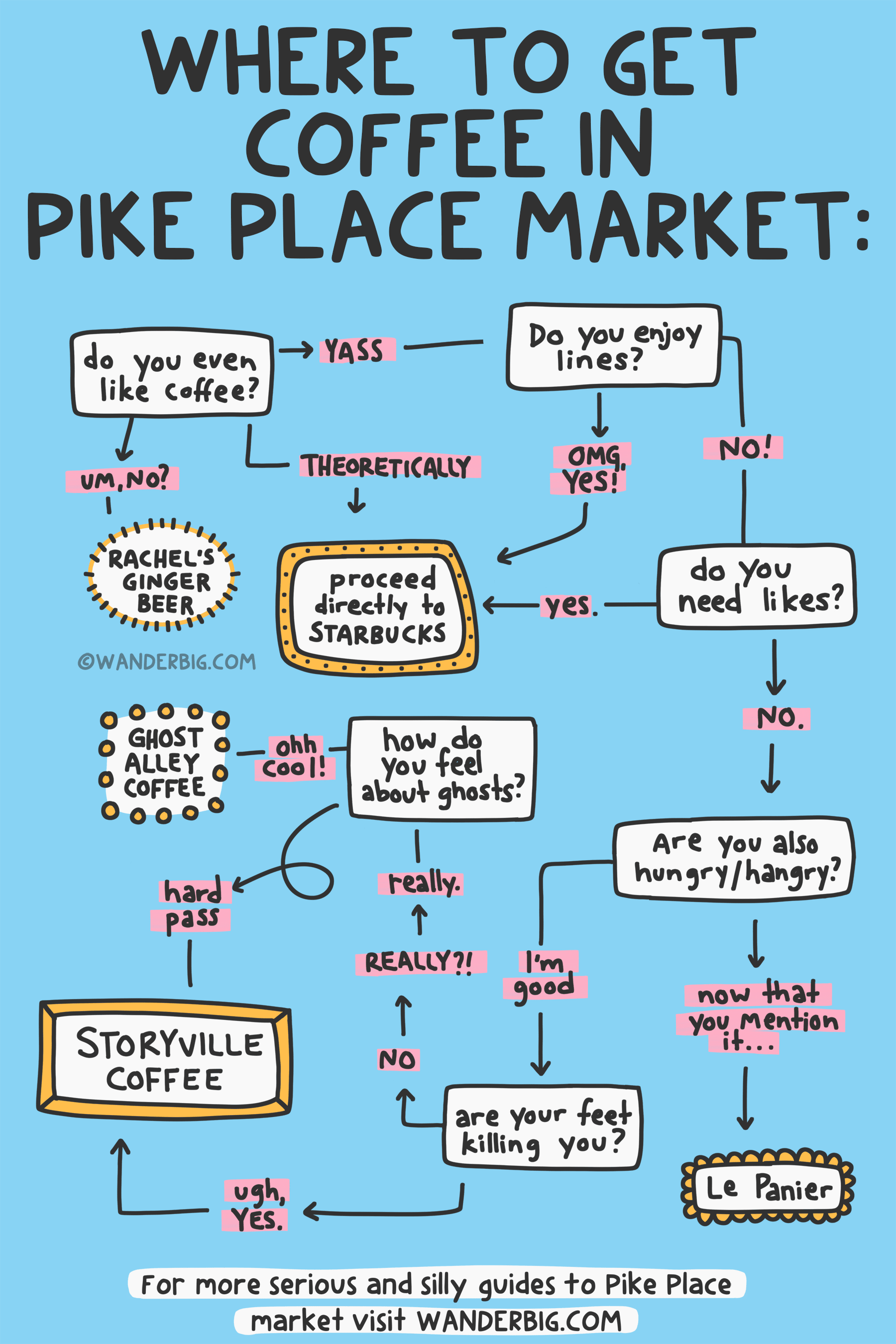 My favorite: Le Panier
Le Panier (1902 Pike Pl) is a French bakery in the heart of Pike Place. Despite being known for their macarons, baguettes, and croissants, this place makes a mean cup of coffee. In fact, after MUCH taste testing, I decided that Le Panier had my favorite vanilla latte in the city.
You won't regret ordering anything food item off the menu here, which is unique, since most coffee shops in the market (including Starbucks) do not serve food items.
The Best for Chilling Out: Storyville Coffee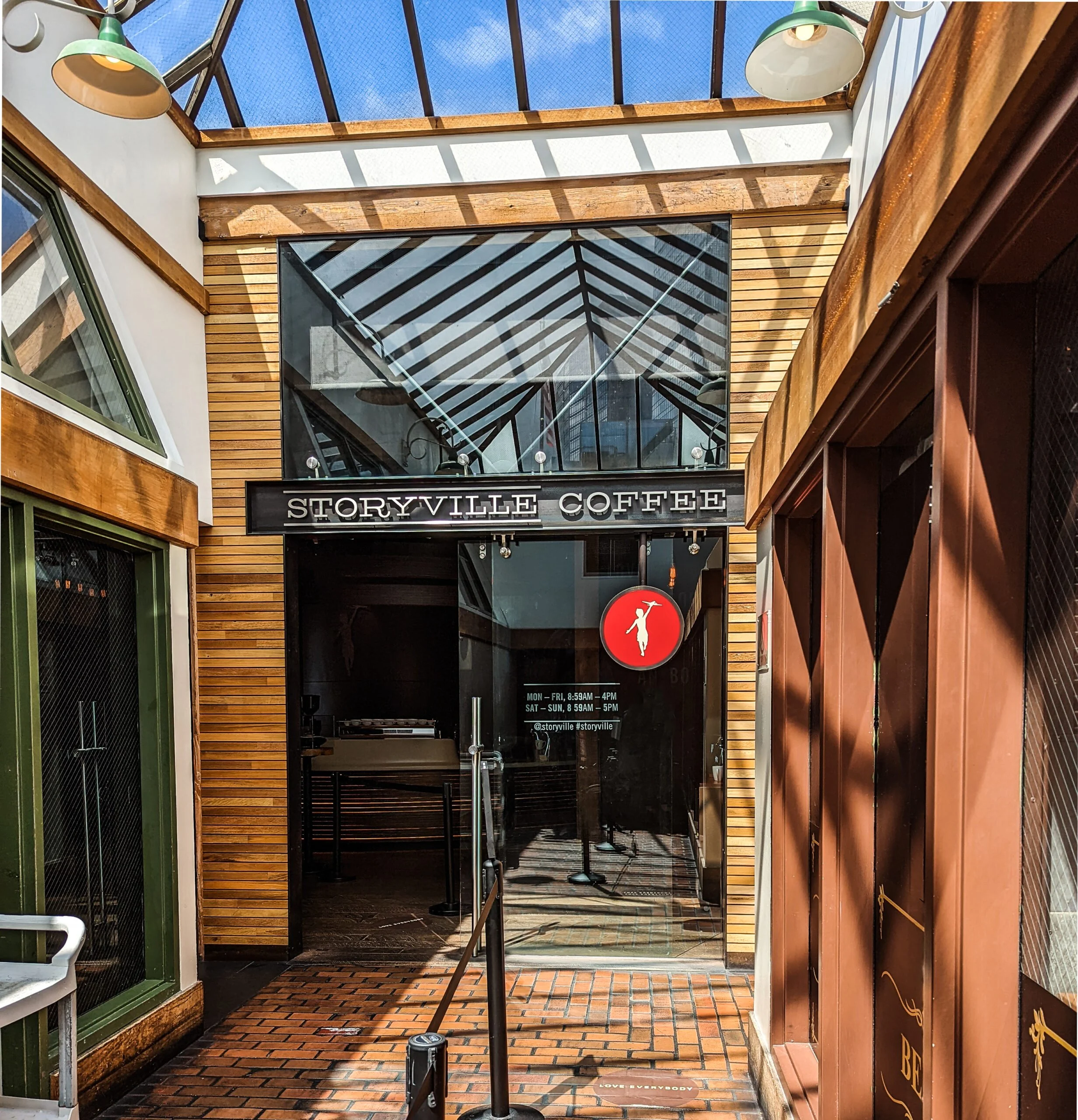 Storyville Coffee (94 Pike Street, Top floor, Suite 34) is perched above the market on the third floor of the corner building. Although easy to miss, this spot is popular among both locals and tourists. One benefit of Storyville coffee that you won't find in any other Pike Place market coffee shop is ample seating. If you're looking for a place to sit and relax in Pike Place market link link link link link, Storyville is the destination for you. And as a bonus, Storyville is known for randomly handing out chocolate cake periodically throughout the day.
Storyville Coffee is perched above the market in a third-floor space with ample views of the waterfront in the market below. Cozy seating around open fireplaces is perfect for resting your feet at Pike Place and maybe even making friends with other travelers.
Find it via the staircase above Corner Produce – and don't miss the chance to take an amazing and unique Pike Place photo from this second-floor landing on the way up.
The best for non-coffee drinkers: Rachel's Ginger Beer
If you don't actually like coffee, Rachel's Ginger Beer (1530 Post Alley) is the destination you'll enjoy more than a non-coffee drink at a Pike Place market coffee shop. Rachel's Ginger Beer features house-brewed ginger beer, spike to ginger beer, ginger beer/cheese, and other seasonal drinks.
The coziest/most haunted: Ghost Alley Coffee
Ghost Alley Coffee (1499 Post Alley) is a tiny enclave located under the fish throwers. Follow the stairs by Rachel the Pig downstairs. Just before you hit the gum wall, you'll stumble upon a tiny hole in the wall with an aged-looking sign reading Ghost Alley Coffee.
Ghost Alley Coffee is locally owned and the espresso drinks, as is required for a coffee shop in Pike Place Market, are phenomenal. During grad school, a fellow student worked as a barista in this coffee shop. When I asked if it was really haunted, her response was simply an ambiguous "it's not not haunted."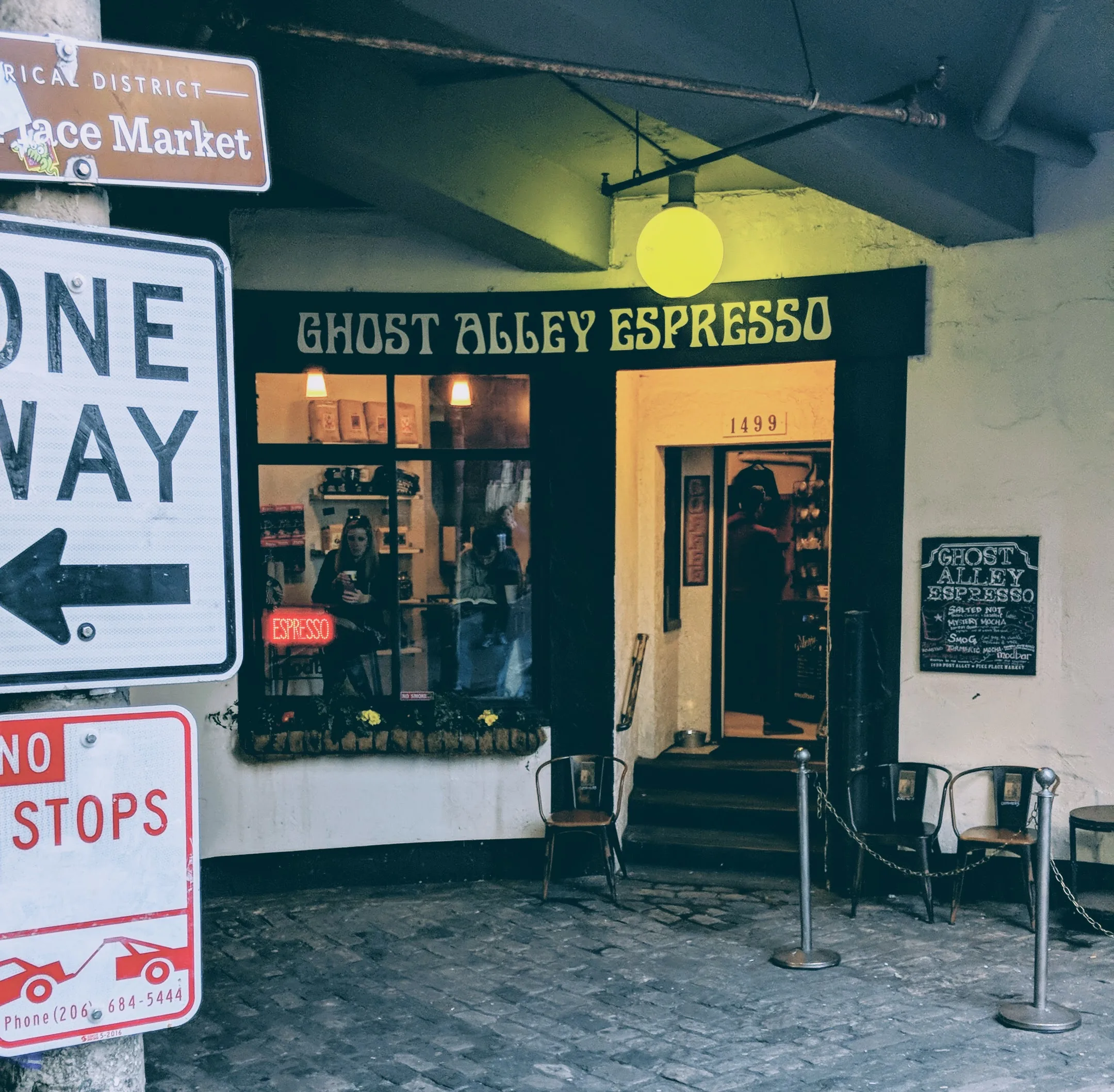 Where you'll probably go anyway: Starbucks
Despite some great marketing to the contrary, the Pike Place Starbucks (1912 Pike Place) is not the original Starbucks – it was demolished many years ago in Seattle's march towards modernity. Instead, what makes the Pike Place Starbucks unique is the constant line, no food on the menu, no mobile ordering (this may be updated in response to 2020's health and safety changes), and psychological screenings for potential employees to determine if they can withstand the chaos of this Starbucks location.
If your heart is calling out for that classic Pike Place Starbucks photo, here's a timesaving hack: on your way to the market, stop at the Pike STREET Starbucks (102 Pike St) that is located .2 miles from the Pike Place location. Grab a drink there and carry your cup down the street and snap a photo of yourself (here are my tips!) by the Pike Place location's sign. You'll save up to 30 minutes of time standing in line!
Image description for screen readers:
A hand-drawn flowchart, titled "where you should get coffee at Pike Place Market," starts with a box labeled "do you even like coffee?" If no, a line that leads to Rachel's Ginger Beer. If yes (marked "Yass" on this playful graphic) advance to the next question. A third option from the "do you like coffee" question is "theoretically," and it directs the user to a box titled "proceed directly to Starbucks".
The second question is a box labeled "do you enjoy lines"? If yes, an arrow points to Starbucks, if no an arrow points to a third box labeled "do you need likes"? If yes, a line points back to Starbucks again. If no, a line points to another white box with the question "are you also hungry/hangry?" If yes (noted by a playful "now that you mention it…") a line points to Le Panier, the name of a French bakery with great coffee in Pike Place Market. If no (noted by a playful "I'm good") a line points to the next box.
The next box is a question: "are your feet killing you?" If yes, a line points to Storyville Coffee, if no a line points to the final question, which is: "how do you feel about ghosts?". If no ("hard pass") a line points to Storyville coffee, if yes ("oh cool!") a line points to Ghost Alley Coffee.
More Articles on Pike Place Market: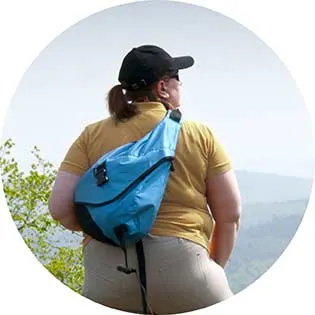 Lynli Roman's unique approach to travel is informed by decades of experience on the road with a traveling family and, later, years spent as a solo international traveler. When she's not writing about Seattle from her Pike Place Market apartment, Lynli writes on-location while conducting hands-on research in each destination she covers. Lynli's writing has been featured by MSN, ABC Money, Buzzfeed, and Huffington Post. She is passionate about sharing information that makes travel more accessible for all bodies.