Hi. I'm Lynli Roman, solo traveler, digital nomad, and general mischief-maker.
I have always been an adventurer, an artist, a loner, and highly sensitive person. WanderBig.com is where the combination of these aspects of myself find a home online. After years of DIY blogging, in 2017 I started crafting less and traveling more. By 2019 I was traveling full-time as a digital nomad and a new lifestyle had begun.
---
| | |
| --- | --- |
| Name: Lynli Roman | Email: lynli@wanderbig.com |
| Age: 36 | Current Home: Seattle, USA |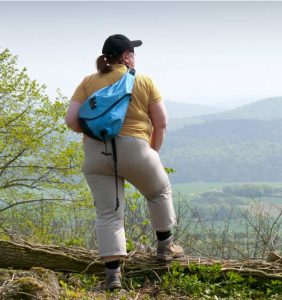 I grew up traveling. Not to the farthest reaches of the world, but crisscrossing the American Midwest in the back of the van as my parents navigated a family business that had the whole family on the road most weekends. Although I learned young to pack light, as I was growing up in low income rural midwestern family, I never imagined I would become a traveler.
And yet, when a friend took me to a remote island in Nova Scotia at age 14, my passion for visiting locales far off the beaten path was birthed. Since then, I've enjoyed traveling not just to common destinations but to obscure, less popular, and remote locations like the Maramures Forest in Romania, hauntingly beautiful Chiloe Island in Northern Patagonia, and across the Adriatic Sea on public transportation. As I make my way as a slow traveler-digital nomad through these locations (and through the emotional and social challenges of solo travel) I continue to write about these destinations and how I navigate them as a female, plus size, one bag traveler.
As a former Airbnb host-turned-pro-guest-user and as a Seattle local, I also blog not infrequently on the topic of how to navigate Airbnb, how to create a travel journal record of your adventures, and about all of the amazing adventures to be had in my home neighborhood: Pike Place Market.
Digital Nomading has become an important part of who I am, even though at the time of this writing COVID-19 has me taking refuge in an apartment in Seattle indefinitely. Even though the COVID-19 pandemic has the digital nomad lifestyle in question, and despite the fact that the "poster child" for digital nomading on most digital nomad sites and forums is a white male tech worker, I believe the digital nomad lifestyle is a trend that's here to stay- and it's a trend with room for everyone. WanderBig is dedicated to the experience of travelers with marginalized identities, like me, and the tools and inspiration to take the adventure of your dreams and create tangible amazing memories.
Recent Articles By Lynli