There's just something special about Christmas in the city.
Downtown Seattle can be a magical place at Christmas, in this article I'm sharing a few of my favorite things to do to celebrate the season in downtown Seattle (and the downtown-adjacent urban Seattle neighborhoods of Pike Place Market and South Lake Union).
While most of the year, urban neighborhoods can feel gray and chaotic, when tree-lined streets glow with twinkling Christmas lights and store windows fill with holiday displays, the city is transformed.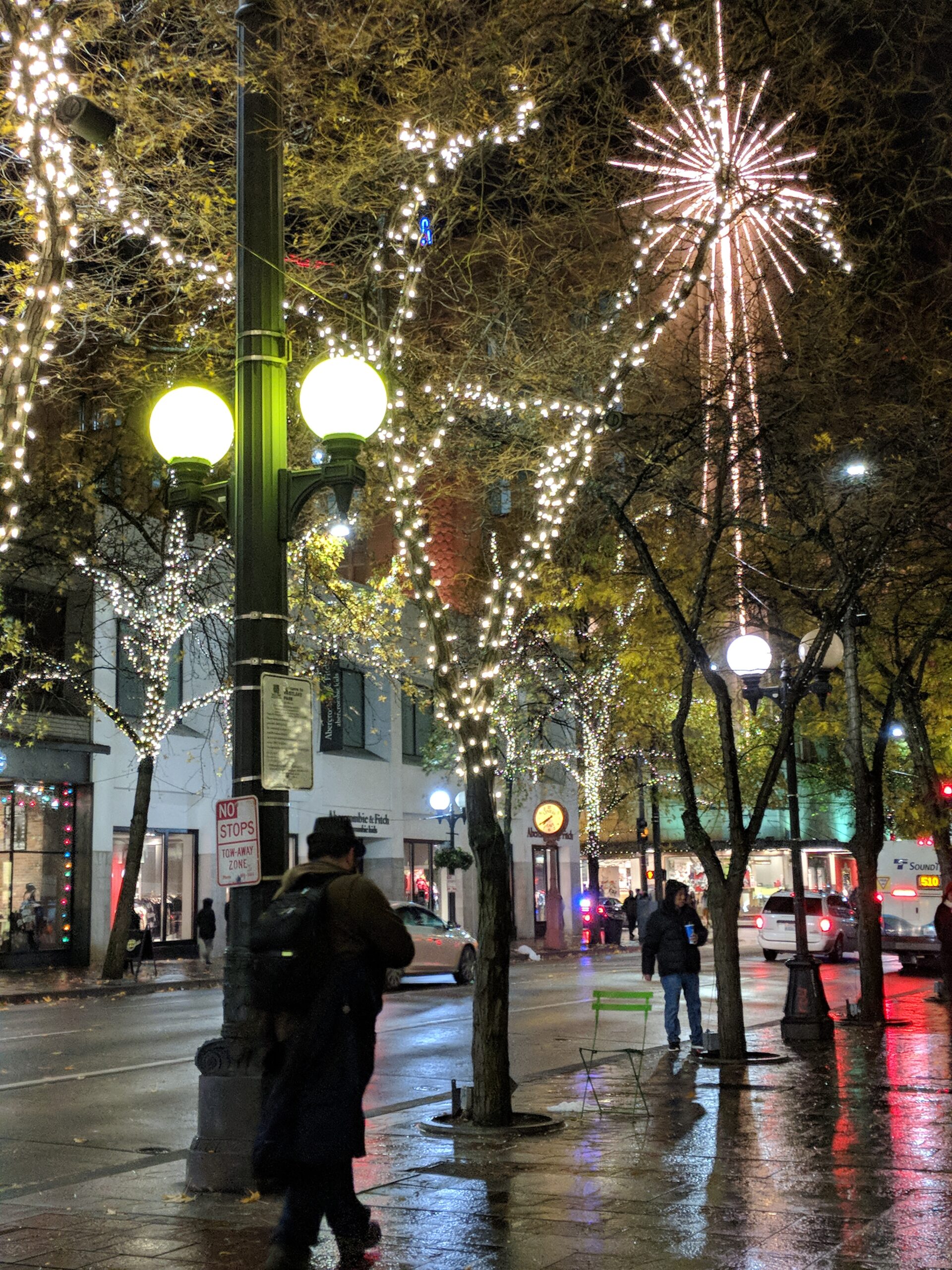 Growing up in rural Kansas, my family would make a pilgrimage to downtown Kansas City- our version of the "big city"- most Decembers. There, the urban sidewalks and storefronts lit up the night and created a cheerful, cozy, and quintessentially Christmas downtown displays. When I moved to Seattle, I was so thrilled to find that the same transformation takes place in downtown Seattle in late November of each year.
City workers spend weeks adding bright white Christmas lights to the trees lining the avenues, and stores and businesses in the downtown area and in Pike Place market transform their storefronts to celebrate the season (with inclusivity of other winter holidays, of course. This is Seattle, after all!)
Here's my list is can't-miss Christmas activities for visitors traveling to Seattle around the holiday season:
The Christmas market at Westlake Market
Inspired by Europe's "Christkindlmarkt" Christmas markets, Westlake Park- a small postage-stamp-sized city park in the heart of Seattle- is home to a Christmas market of handmade goods.
Westlake Center, where you'll find the Seattle Monorail's second (and last!) station, is across the street from Westlake Park. Although Westlake Center is a prime destination for shopping during the holiday season, I love the small makers and creators that pop up in this special market across the street each November. If you're looking for a great Christmas gift or unique souvenir from your Christmas visit to downtown Seattle, this- (plus them year-round makers market at Pike Place Market) is the place to go.
Pike Place Market at Christmas time
Although I've cavorted through Christmas activities in many Seattle neighborhoods, I still think that Pike Place Market is the place to go to enjoy the Christmas season in Seattle.
In fact, I get so excited about visiting and taking tourists to see Pike Place in Christmas that I made an entire article dedicated to things to do in Pike Place Market at Christmas – where you will find my bucket list of must-do activities for your November, December, or January trip to Pike Place Market.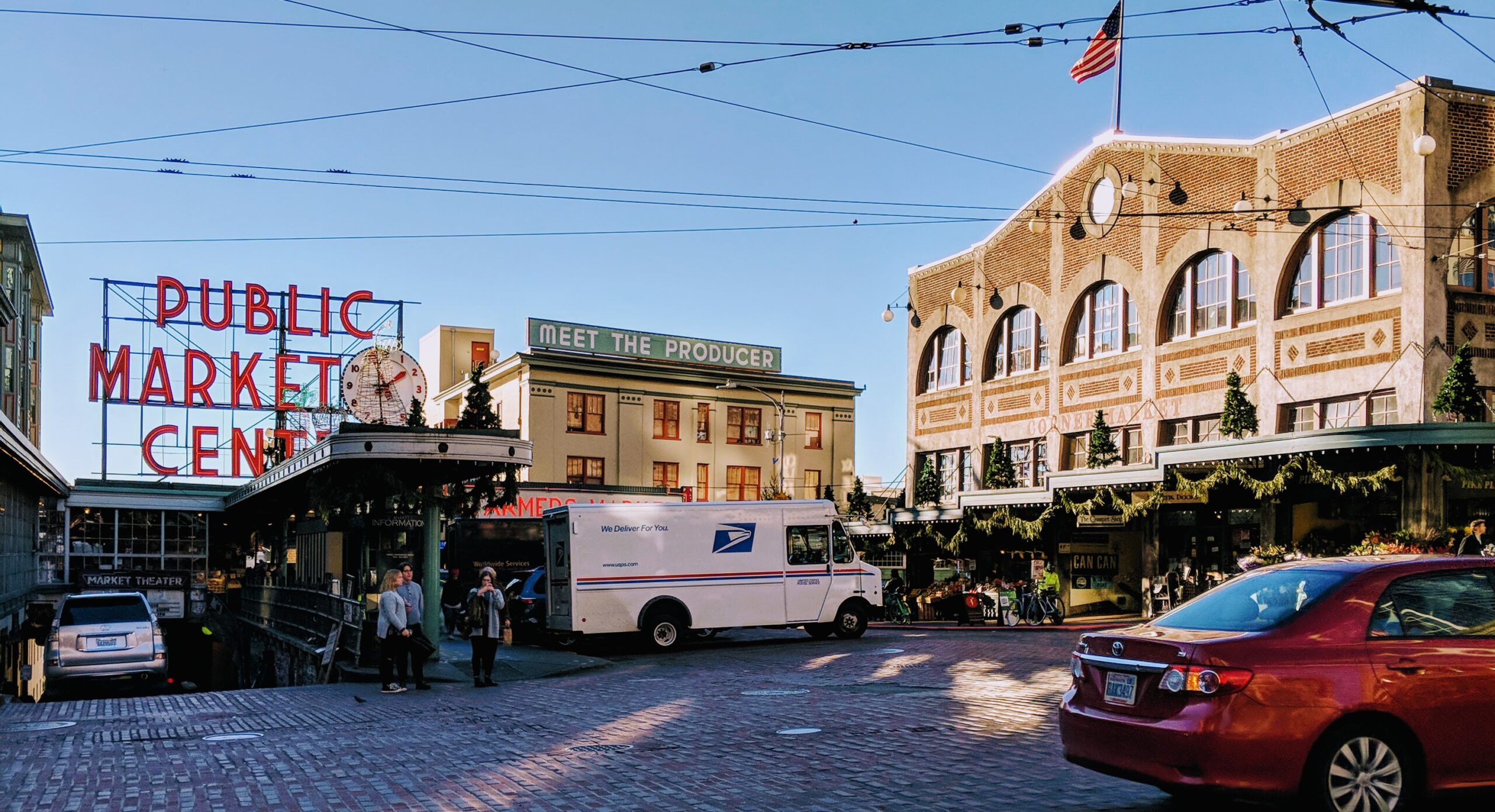 Catch Seattle's Christmas Boat Parade
Even locals adore this annual Christmas tradition. Because Seattle is surrounded by so much water – all of it linked through locks and channels- most neighborhoods are adjacent or near a waterfront. So rather than a traditional parade, Seattle hosts a boat parade!
In the Christmas boat parade, local boat owners go to extravagant measures to create elaborate floating Christmas displays. In order to make this event more accessible, the Seattle Christmas boat parade visits multiple portions of the waterfront so that the parade can reach different sections of the Puget Sound coastline, lakes, and even nearby islands like Bainbridge Island.
Go see the Macy's Santa Claus (and get your picture taken!)
Like every big city, Macy's downtown storefront features an authentic Santa Claus in a decked-out North Pole scenic backdrop.
Unlike many other cities, however, the Seattle Macy's generally places Santa Claus front and center in a large window-wrapped portion of the store. After dark (which comes around 4 PM in Seattle at Christmas time!), this window glows with the brightly lit holiday scene inside.
It's fun to watch from the city sidewalk or you can get great photos of yourself traveling by popping inside to have you or your group's photograph taken with this Santa Claus.
Go windowshopping (it's worth it!)
Although decades have passed since the time period in which ornate Christmas displays in shop windows were commonplace during the holidays, in downtown Seattle this tradition is alive and well!
The Seattle Macy's and other department stores go all-out- often with elaborate and interactive displays in their windows at Christmas time. (One recent year, pedestrians viewing the Christmas windows from the sidewalk could control the model railroad within through an electronic reader sensing hand movements from the outside of the glass!)
Even smaller retailers join in the fun- and in fact, the Army-Navy Surplus store on the way from Pike Place Market to the Space Needle often has the most stunning Christmas window displays- thanks to a partnership between the store and students from a local design school.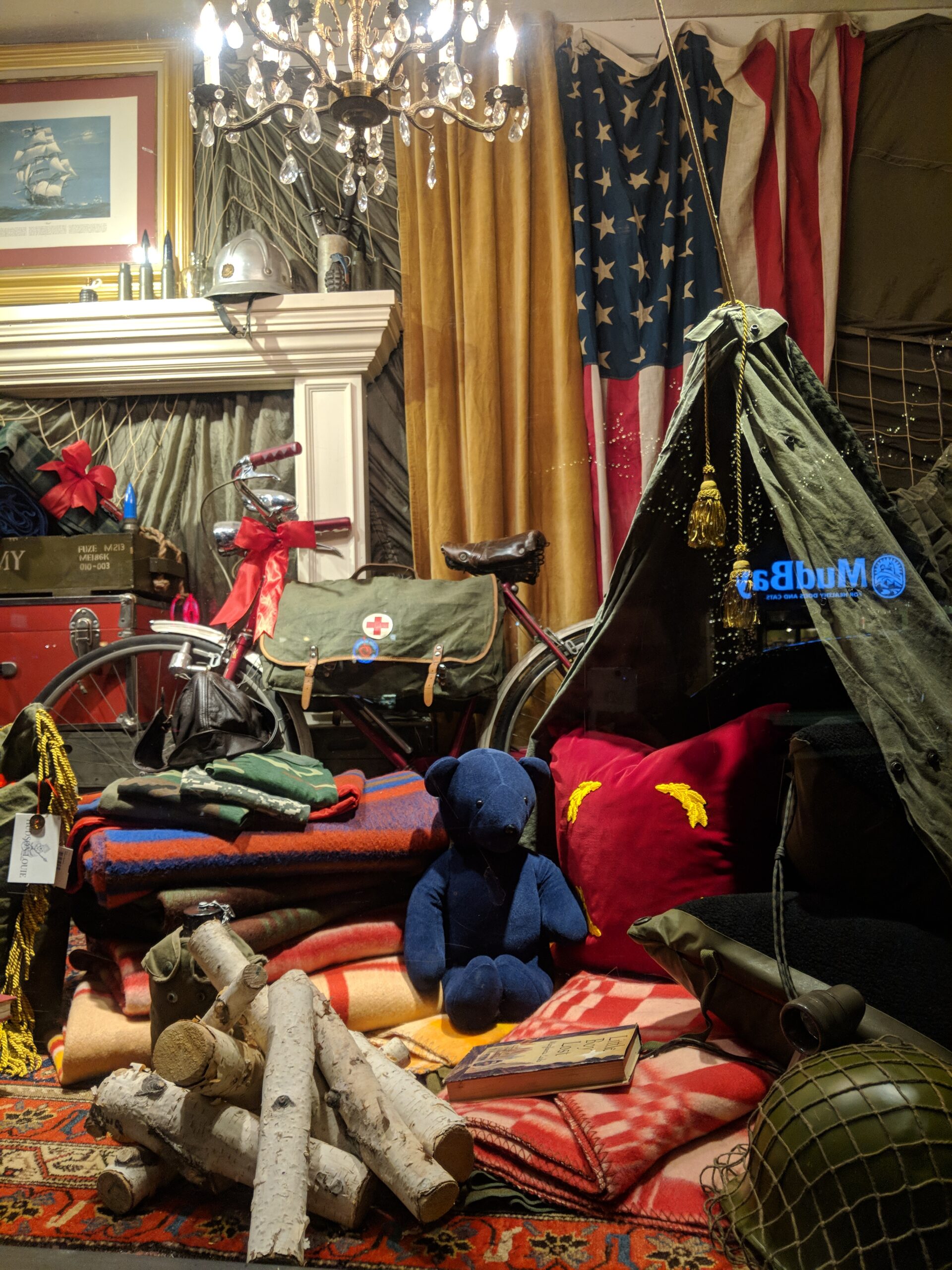 Catch the Dueling Carolers
Every December, downtown Seattle hosts a giant Christmas caroling competition called the Great Figgy Pudding Caroling Competition. This Pike Place Market Food Bank fundraiser becomes a winter festival of its own as the corridors of downtown Seattle fill with carolers – all singing at the same time! In between groups of carolers, you'll find all the treasures of downtown Seattle at Christmas, food trucks, the Christmas market Westlake Park, and warm drinks.
Visit Seattle's Giant Christmas Tree
Like most big cities, downtown Seattle decorates one giant Christmas tree each November, but in Seattle, there are actually two: The tree most tourists to downtown Seattle during Christmas will find is the traditional large city Christmas tree placed near the Christmas market in Westlake Center – including a giant Macy's star. But locals know there's another, and definitely more beloved city Christmas tree in Seattle: The Macy's Sequoia.
The Macy's Sequoia (find it at 4th and Olive) is a live 100-foot-tall tree standing proudly at an intersection in the heart of downtown. This tree, like Seattle itself, has a storied history and a future in question. Affected by climate change and the pollution of its downtown location, this giant city Sequoia – like the orcas in the Puget Sound nearby and like many Seattle residents- struggles to survive in a rapidly changing city.
Historically, this live tree has been ornately decorated each Christmas however Macy's has indicated this tradition may not continue. (Did you visit and find it decorated? Drop a comment to update below!)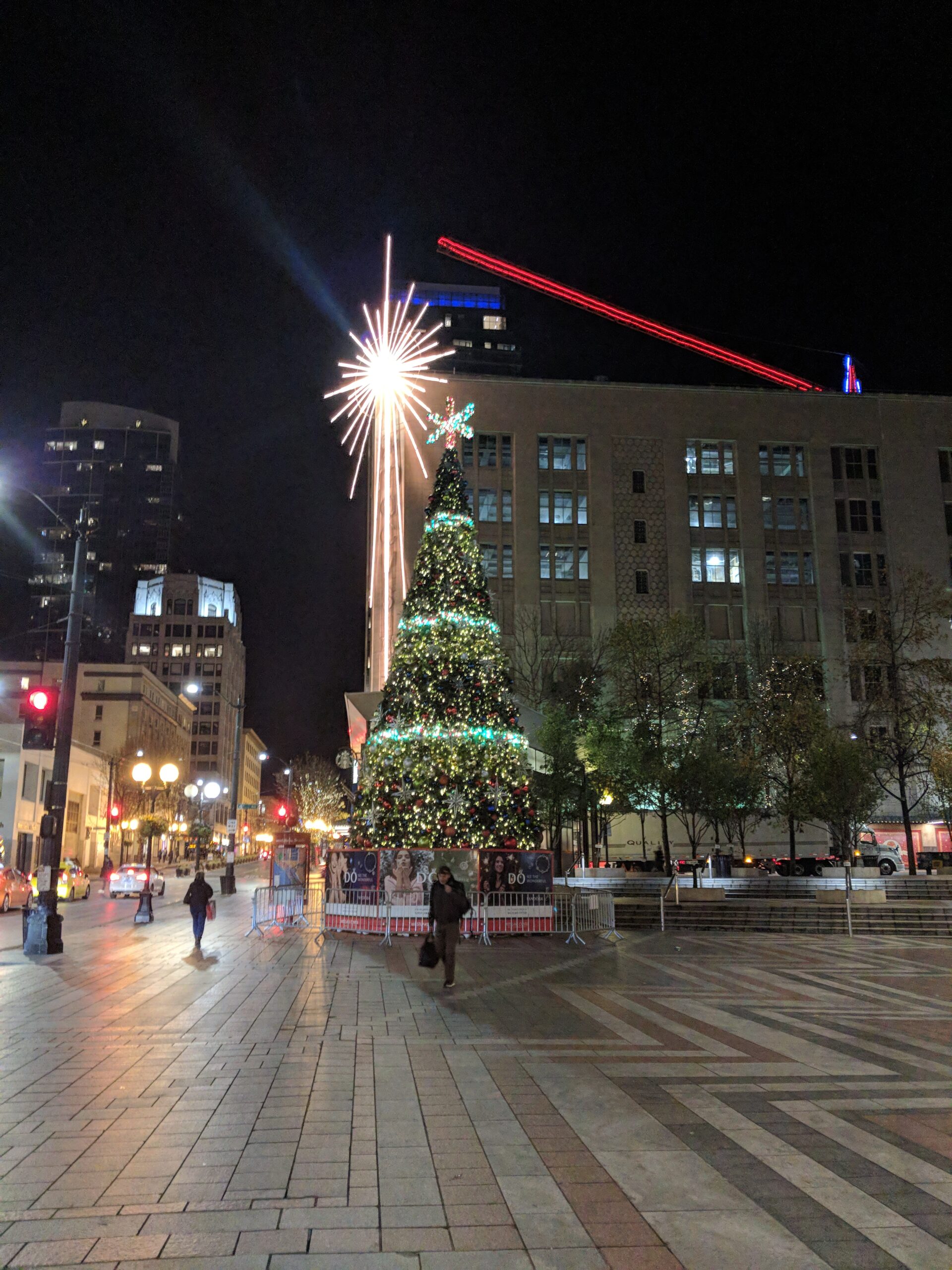 Denny Park Lights Display
Denny Park (100 Dexter Ave N) is an urban park in South Lake union Link link between Pike Place market and the space needle, it's within easy walking distance of either landmark, and in most winters, this urban oasis is transformed into a wintertime fantasy-scape.
Thousands of lights create a dramatic experience for visitors. Although you may have visited lights displays in the past, chances are that they were designed to be viewed from the inside of a car. Thanks to the small urban footprint of this Park and Seattle's generally temperate climate, this lights display is designed specifically for pedestrians, creating a unique experience. Because it's in a public space, access to this dramatic Seattle Christmas light display is generally free, although premium activities may include a charge.
Ferry to Bainbridge Island
A 30-minute ferry ride away from downtown Seattle you'll find the quaint island of Bainbridge Island. Near the ferry terminal, you'll find a pedestrian-friendly business district that goes all out with holiday cheer. Read more about Things to do on Bainbridge Island without a Car or How to Celebrate Christmas on Bainbridge Island in our articles.
For more guides to travel in Seattle, see: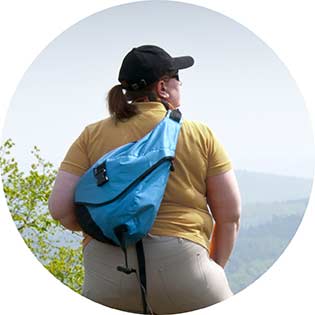 Artist, digital nomad, and highly sensitive person, Lynli started traveling full time as a digital nomad in 2018. Writer and Illustrator by day, remote-destination explorer by other-days, Lynli is passionate about pushing the boundaries of her own comfort zone, exploring the world as a plus size, one-bag traveler, and journaling it all on WanderBig.com