Using locally available foods to cook meals in a hostel kitchen is an effective way to stretch your travel budget. A well-managed budget means you can stay on the road longer, travel farther, and save money for truly splurge-worthy travel experiences.
In this post, you'll learn my favorite food to make in hostel kitchens. These simple recipes (that literally anyone can make, I promise!) use only the essentials, like:
Basic ingredients you can find in grocery markets around the world, and
Simple kitchen equipment that you'll find in any hostel kitchen
to make nutritious, comforting travel meals on an ultra-tight travel budget.
🍳Before You Start: Pro Tips for Cooking in a Hostel Kitchen
Before you even set foot in the local street market or supermarket, do an inventory of what you've got already:
✅ Cooking Equipment
What's available in your hostel's kitchen to cook with? Do you have a full stove and oven, or only a toaster oven and kettle? Checking your heat sources first will tell you a lot about the hostel food you'll be able to cook!
✅ Pots, Pans, and Utensils
Heat source covered? Great. Now check out what appliances, pots, pans, and utensils are available for you to use. If you've got a pot but no collander- you're going to have a big challenge cooking pasta! If the non-stick pans are trashed from misuse, you'll want to avoid planning an omlette for dinner!
✅ Pantry Ingredients
Finally, check the pantry for shared ingredients. Often, travelers leave behind leftover oil, salt, sugar, rice, or pasta. Before you go shopping, see what you've got to work with. However, two cautions here:
💡 Be extra careful to check the freshness and/or expiration date of the products (not everyone cooks in a hostel, so you might find expired food.)
💡 Don't eat food that belongs to someone else! There should be labeled spaces for common ingredients and personal food storage- but if you aren't sure, check!
Now that you know what you have to work with, let's hit the market and start cooking!
Cooking Eggs Around the World
Eggs truly are an international ingredient. They're easy to find, full of protein and nutrients, and cheap: they're the perfect traveling food!
While you probably already have some great egg recipes in your back pocket, here are a few that have gotten me through some serious backpacking and hostel stays:
🍳 Omelet (or Scramble)
This is an easy and straight-forward meal, and you can customize it however you want. Add local veggies, cheeses, and meats. Deli meats or other pre-cooked options are perfect.
Simply crack the eggs into a lightly oiled pan and add your other ingredients. Once the eggs are cooked to your liking, you're ready to enjoy a cheap, filling, hot meal in minutes!
🍳 🍙Eggs with Rice
You can cook your own rice or, often, find some leftover riceshared by another person cooking in a hostel. You can stir-fry cooked rice with veggies and/or pre-cooked meat and simply crack an egg over the top at the final stage of cooking. Don't forget to add salt, pepper. Try some local spices for a quick and hearty meal wth regional flavor.
💡 Heads Up: Leftover rice is a common cause of food poisoning thanks to naturally occurring bacillus cereus bacteria that multiply rapidly in cooked rice. 1 If you're enjoying rice someone else has cooked, be extra careful about food safety.
🍞 French Toast
If you're in a country with a strong bread game, make sure none of that bread goes to waste. Instead, use a couple eggs and some day-old bread to make french toast. Simply crack the egg(s) into a bowl, stir to combine yolk and eggwhite, and then dip the bread in the egg. Cook it in a lightly oiled pan on both sides until golden brown. Your toast can be either sweet or savory; try experimenting with local spices for an extra kick!
Make Vegetarian Meals for No Stress Hostel Cooking
After a few days of street food and travel meals, my body is often begging for some vegetables. Vegetables provide the vitamins and minerals that our bodies needs to stay healthy- and all that fiber can be a helpful strategy to deal with upset stomachs while traveling.
This can be especially important when you're abroad and eating things that aren't always familiar.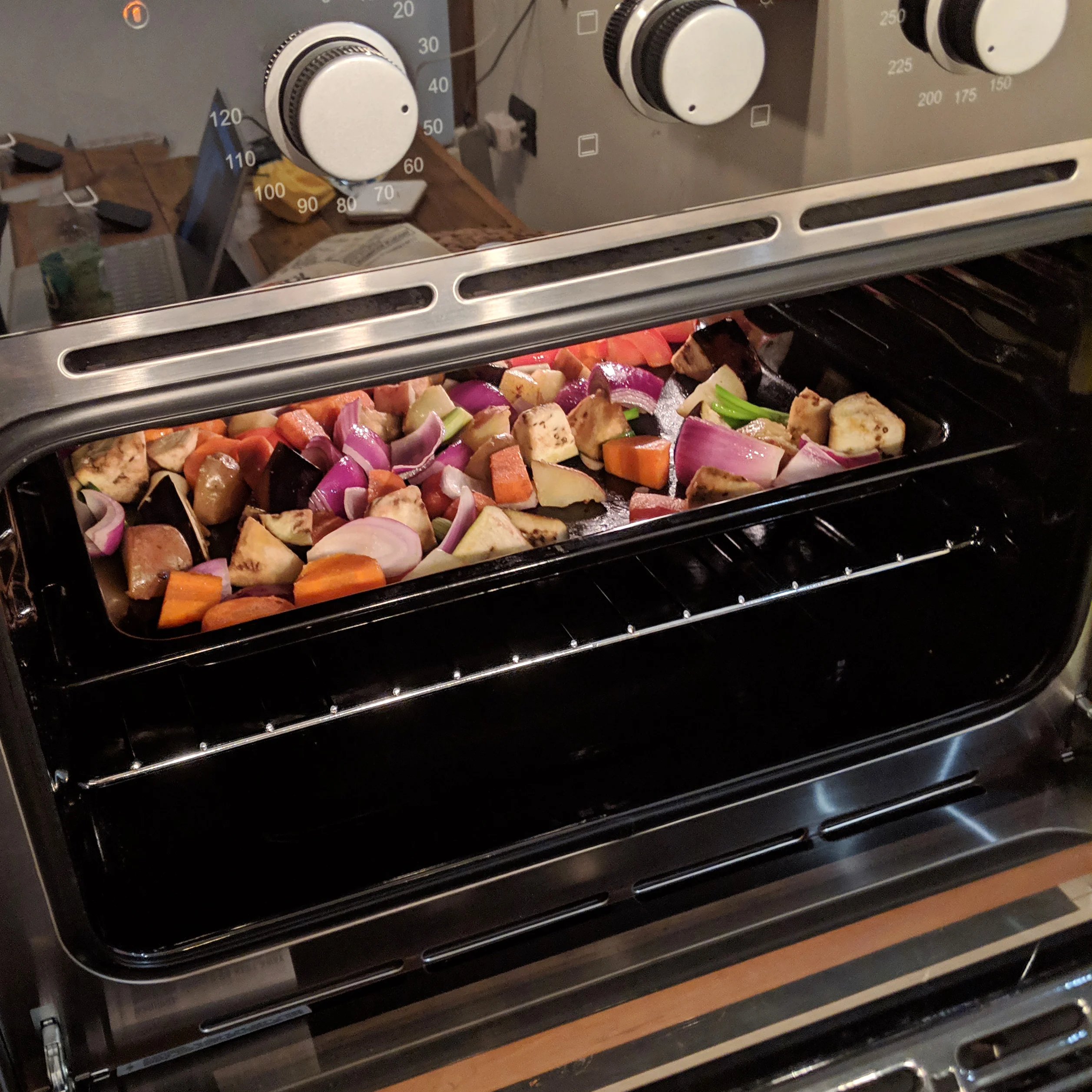 💡 Hint: In many countries outside the US, meat can be expensive. In many places, it's cheaper to eat meat at a restaurant than it is to cook it yourself. So, if you're looking for a cheap and filling meal to make in a hostel kitchen, try vegetarian dishes.
Here are a few staple veggie-heavy recipes that will leave you feeling full and nourished.
🥕 Stir-Fried Vegetables
This hostel meal is so simple: find the tastiest looking vegetables at the local market and saute them in a pan with oil.
Popular vegetables to stir-fry include onion, carrot, sweet pepper, and broccoli. Season your stir fry with salt, pepper, soy sauce, and/or local spices, and serve it with rice. Or, for a more hearty meal include starchy veggies like potato, eggplant, and squash.
🍠 Roasted Vegetarian Dishes
If you're in a hostel that has an oven, you have everything you need to make a big pan of roasted vegetables. Just cut up whatever fresh local vegetables catch your eye, drizzle with oil, and toss them with salt, pepper, and a spice you like. Then, spread it out on a pan and bake at 350 degrees (F) for 30 to 45 minutes.
Some great vegetables for roasting include all types of potatoes, carrots, onions, peppers, eggplant, squash of any kind, and cauliflower. For best results, cook using local ingredients that are in season!
🥦 Vegetables in Soup
Vegetables make a great base for a hearty soup- and soups are SO easy to prepare in a hostel kitchen. Make a classic tomato base by sauteing some onions in a lightly oiled pot. Then, chop up tomatoes and cook them until sweet and bubbly with a bit of oil and water. As you go, season with salt and local spices. Leafy greens like spinach also make a hearty addition to the tomato base.
For something creamier, you can saute onions in oil or butter, then add any veggies that you like to the mix. The vegetables release water as they cook down.
Add a flavorful liquid like broth, stock, or even a packet of seasoning from a powdered soup mix (like "Cup O Soup"). Once the veggies are tender, add milk or cream if you want a creamy base for your soup. The result is a filling and nutritious hostel meal for, often, less than $2-3 per serving.
Cooking Meat, Chicken, and Fish in a Hostel Kitchen
If you're craving animal based protein, consider getting a pre-cooked chicken, like a rotisserie chicken. It's a staple in many places, and you can buy less than a whole chicken. This option is often safer than buying raw meat in an unfamiliar place and cooking it with unfamiliar equipment.
Canned meats and fish are also great alternatives to handling raw meat. Once you have cooked chicken, meat, or fish, you have countless meal options! Pair your protein with one of the egg or vegetable meals listed above, or you can enjoy sandwiches or salads.
No-Cook Meals for Hostels
Sometimes, you just don't have the time or energy to cook after a long day of exploring. Or maybe you're headed out on a tour super early but want to make sure to get breakfast in before you go. Thankfully, there are some easy no-cook meals that you can throw together in a flash.
Bread and Cheese
Honestly, this is my trusty go-to for cheap, easy, and portable meals. Lots of countries pride themselves on their unique breads and flavorful cheeses. Bread and cheese is a great way to get a taste of the local cuisine without spending an arm and a leg. Plus, it goes great with local beverages!
In Transylvania, where pâté is a cheap and widely available protein source, I ate many $1 USD lunches by pairing a tin of pâté with a baguette and local cheese.
🥗👨🏽‍🤝Bringing People Together over Food: In my post on 10 tips for making friends in a hostel, I recommend cooking and sharing food as the best way to make friends in a hostel. Bread and cheese are a great option. Make a plate in charcuterie style, offer it up to the common room, and find connection over a globally-shared affection for food.
Yogurt Parfait
If you're in a destination where yogurt is easy to find, try pairing it with fresh local fruit. Simply add fruit and yogurt in a bowl and enjoy! (Just make sure to completely peel or wash the fruit thoroughly before you eat it.)
Overnight Oats
Leave oats (or whatever hearty grain is available where you are) in a closed container overnight with water, milk, or yogurt. Add fruit, honey, or a little bit of sugar. Leave it in the fridge overnight, and you'll have a delicious and hearty breakfast waiting for you in the morning! These are a great breakfast option and, prepared without milk, make a great packable-breakfast for overnight trains and night buses.
For more no-cook meal ideas, check out my guide to easy meals to make in a hotel room– that article (thought it's based on US grocery options) is packed full of dozens of meal ideas for eating when you don't have access to a real kitchen.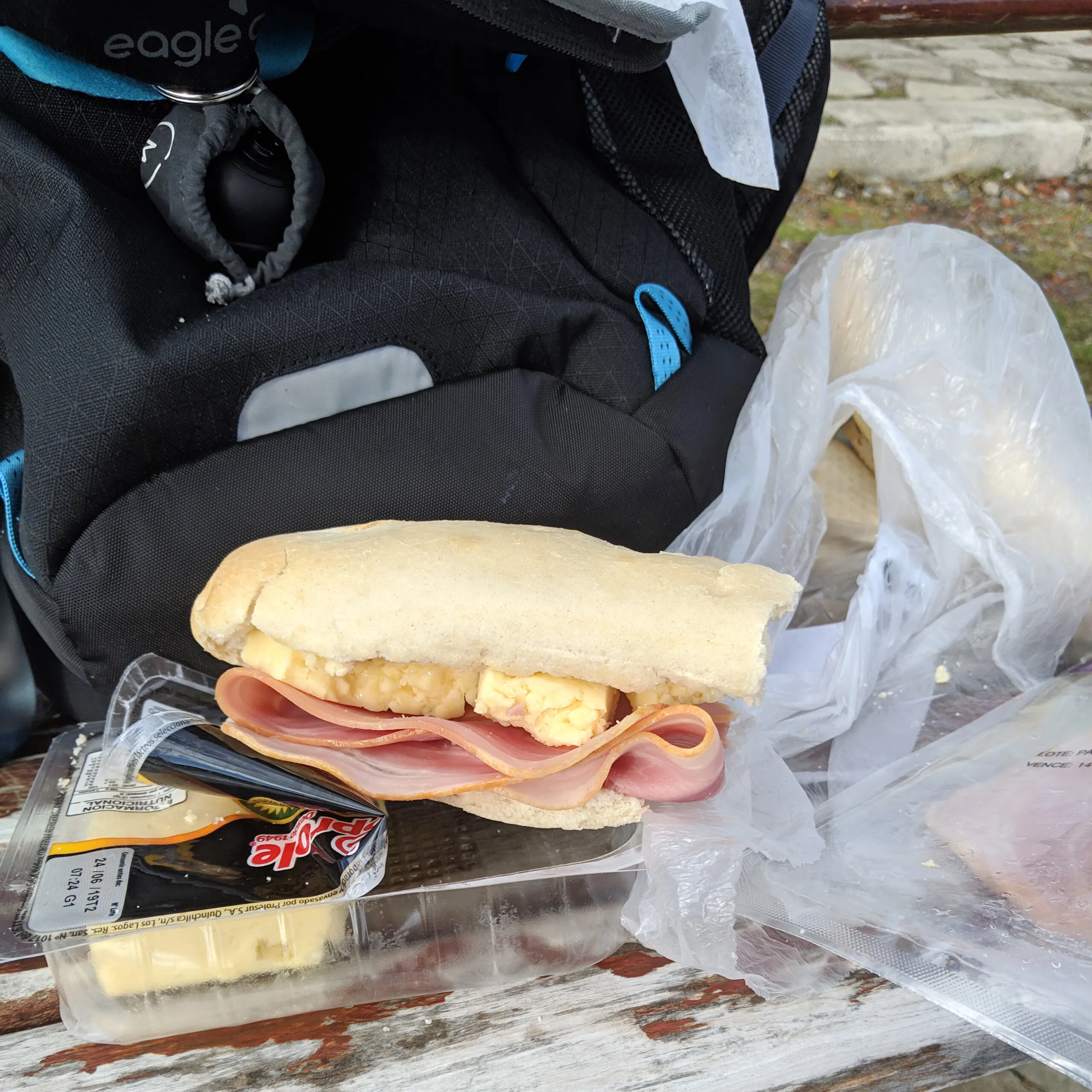 Final Thoughts on Meals for Hostel Kitchens
Hostels are like a microcosm of the world, and as you cook with others you may find your palette expanding to food options even far beyond the country you are visiting! In a hostel kitchen, you can meet fellow travelers from around the world and share your travel stories with other like-minded adventurers. These meal ideas work best for cooking for yourself or a small travel group. If you're cooking in a hostel kitchen for a crew, check out these ideas for easy meals for large groups.
One of the biggest perks of a hostel rather than a hotel room is access to a kitchen. Cooking in a hostel kitchen is a great way to connect with other guests and save a ton of money while you travel. Even when you're abroad in a country with unfamiliar cuisine, you can make some homey dishes to keep your belly full, your budget managed, and your homesickness at bay!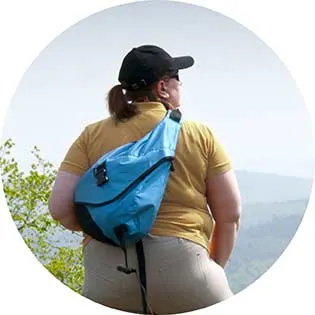 Lynli Roman's unique approach to travel is informed by decades of experience on the road with a traveling family and, later, years spent as a solo international traveler. When she's not writing about Seattle from her Pike Place Market apartment, Lynli writes on-location while conducting hands-on research in each destination she covers. Lynli's writing has been featured by MSN, ABC Money, Buzzfeed, and Huffington Post. She is passionate about sharing information that makes travel more accessible for all bodies.
Sources
https://www.nhs.uk/common-health-questions/food-and-diet/can-reheating-rice-cause-food-poisoning/ [↩]