It's 2023 and renting a car is expensive– really expensive. For some travelers, the convenience of a reliable, on-demand rental car might be worth an investment in enjoying your vacation (like stressed families who really need that vacation, business travelers, and folks splitting the bill as part of travel with a friend group), but if you're traveling on a budget there are plenty of rental car alternatives.
In this article, I share:
5 rental car alternatives that make getting around part of the travel experience
Navigating a City using Buses, Trams, and Streetcars
You probably know from my articles about being carless in Seattle and why public transportation is always the best way to escape the Seattle airport, but you might not know that I love riding public transportation when I'm traveling as well. I've made friends in Croatian ferry terminals, napped in Chilean bus stations, and zipped around a half-dozen European cities on trollies, streetcars, and light rail trains. In fact, only twice in all of my travels have I ever rented a car abroad (once in Killarney, Ireland, and again to visit Chiloe Island in Northern Patagonia).
There's no rental car alternative more popular than taking a combination of buses and trains to get around the city you're visiting. By riding the bus, tram, or streetcar in your destination, you can travel around the city more slowly and intentionally, hopping on and off as you like. Plus, you never have to worry about parking! When you take public transportation instead of renting a car, you spend a few dollars instead of hundreds, so this method is popular among budget travelers.
Taking public transit is sort of like taking the scenic route– you'll get there, but it's best if you consider getting there as part of the journey. If you've got the time and the willingness to learn a new city's transit system, you'll be saving some serious cash.
Using City Scooters
More and more cities offer rideshare scooters, with varying degrees of success. In some cities, the scooter system is owned by the city, while in other cities a private corporation owns the scooters.
If scooters are available in the city you are visiting, there are good options since they offer a high degree of flexibility in travel. Scooters typically require an app to download and cost a bit more than a bus but far less than a rental car. For short trips, scooters are a good alternative to rental cars and offer an uncomplicated approach to pricing and payment.
Wear a Helmet. Scooters are only a bit more convenient than public transportation but quite a bit more dangerous. According to 3 research articles published in 2019, head injuries are the most commonly injured body part when riding standing scooters, and fractures and dislocations are the most common reason for a scooter-related ER visit. (Azapura, 2019, Trevedi et. al, 2019, Badeau et. al., 2019)
🛴 PRO TIP: Whatever you do, don't toss your scooter in the middle of the sidewalk when you finish your ride. Poor rider behavior like this is responsible for scooter bans in some cities. Instead, when you are done with your scooter, stand it up (making sure there's plenty of room left for wheelchairs to pass on the sidewalk) and proceed with your travels.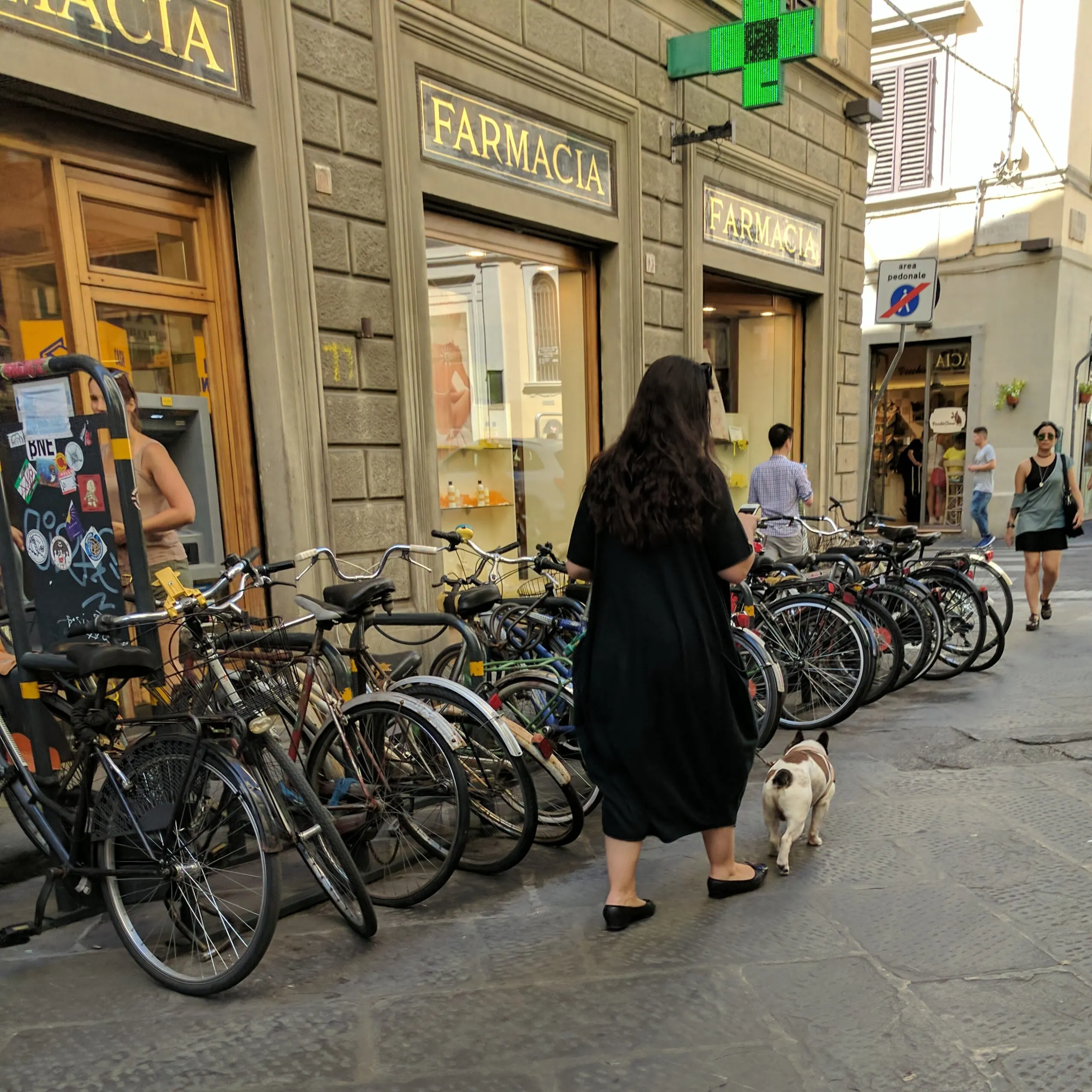 Navigating a city by bike instead of rental car
Bikes are an incredible way to experience many cities around the world – and even rural locations. Bike rental has been an option in popular tourist destinations for decades (maybe even for as long as the bicycle has been around). Bike rentals are available in many cities as part of bicycle tours or standalone forms of transportation.
Today, old-fashioned bicycle rentals have a new look. While many locations (including my beloved Lopez Island and Bainbridge Island outside of Seattle) still offer old-fashioned bicycle rentals, cities are increasingly looking for ways to entice potential rental car customers to try alternatives.
The methods for renting a bicycle to see a city include the following:
Traditional bike rentals. In many bicycle-friendly destinations, bicycles can be rented through local sporting goods stores or even from kiosks on popular biking routes.
App-based bike shares. Lime, Jump, MoBoke, and Bikecity are just a few of the players in the developing market of bike shares. The name of the bike-share company in the destination your planning a visit to will probably be unique, but a quick Google search before your trip should turn up your bike share options and where to find them.

While a bit more work than just scooting around, it's a great workout and a way to get some fresh air in as you travel.

Free bikes. It's hard to beat free, but in some cities, bikes can be rented – or in this case, borrowed- at no charge. Whether it's through a public library bike loaning program, a hotel amenity, a grant to increase accessibility in mobility options, or simply a tourist-focused group providing free bikes for local use, definitely check out free options in your destination before choosing a paid option.
Using Rideshares instead of a Rental Car
Uber and Lyft aren't as cheap as they used to be, but there's still a great option for navigating complicated routes in an unfamiliar destination. If it's after dark, you're a little bit (or a lot) intoxicated, or if you have a bad vibe about a location, rideshare can be the best alternative to a rental car while traveling. With just a few pushes of a button, you can have a driver arrive to pick you up and get you directly to your destination.
For most travelers, rideshare makes more sense than a rental car. In fact, in many destinations with a good exchange rate, you can Uber anywhere you need to go, whenever you need to go there, for far less than the cost of a rental car. In pricier cities, however, this is often not a budget-friendly option – and you miss out on all the character of public transportation or slow transportation methods.
When using rideshare makes sense as a rental car alternative
Listen, if you are taking a vacation because you need a vacation, go big on rideshares. If the hassle of taking public transportation or the anxiety of driving a rental car in an unfamiliar destination feels overwhelming, and you have the option to spluge on rideshare- you have my permission to splurge on rideshare. Sometimes, especially when it comes to family travel, reducing conflict with a group or travel partner, or just taking a burnout recovery vacation, the cost of removing that stress is a bargain.
🚕 PRO TIP: If you don't use rideshare apps regularly at home, open the app, update your payment information, and make sure your account is in good standing before leaving home. The last thing you want is to find yourself in an unfamiliar or even unsafe location and have to fumble with your phone or credit card to update your information. Instead, have the peace of mind of knowing that your app is ready to use.
Walking as an alternative to a rental car
If you know that a rental car is an expense you can afford for your next trip, consider choosing a city that's easy to see on foot! In cities like Seattle, where most of the major tourist attractions are squeezed into a small geographic area, navigating the area by foot is fun! Without having to hassle with another form of transportation, you'll be able to get from point A to point B and enjoy the mindful travel experience of walking instead of driving.
I'll admit that walking instead of renting a rental car is more of a commitment than the other options. However, if you're in the travel planning stage and trying to decide between a couple of destinations, choosing a walkable one can make room in the budget for other fun activities. Being a tourist on foot is often easier in European destinations, where the tourist areas are usually located in walking friendly "old towns." In the USA, consider places like NYC, San Francisco, Seattle, or Boston if you choose walking as a rental car alternative. So many Boston things to do are easy, accessible, and more fun as a pedestrian.
Five Hacks I Use to Save Money on a Rental Car
You now know that there are many great alternatives to renting a car, but what are some options for saving money if you decide that having your own vehicle and control of the wheel is right for you. Let's run through a few ways you can save money if you need to rent a car.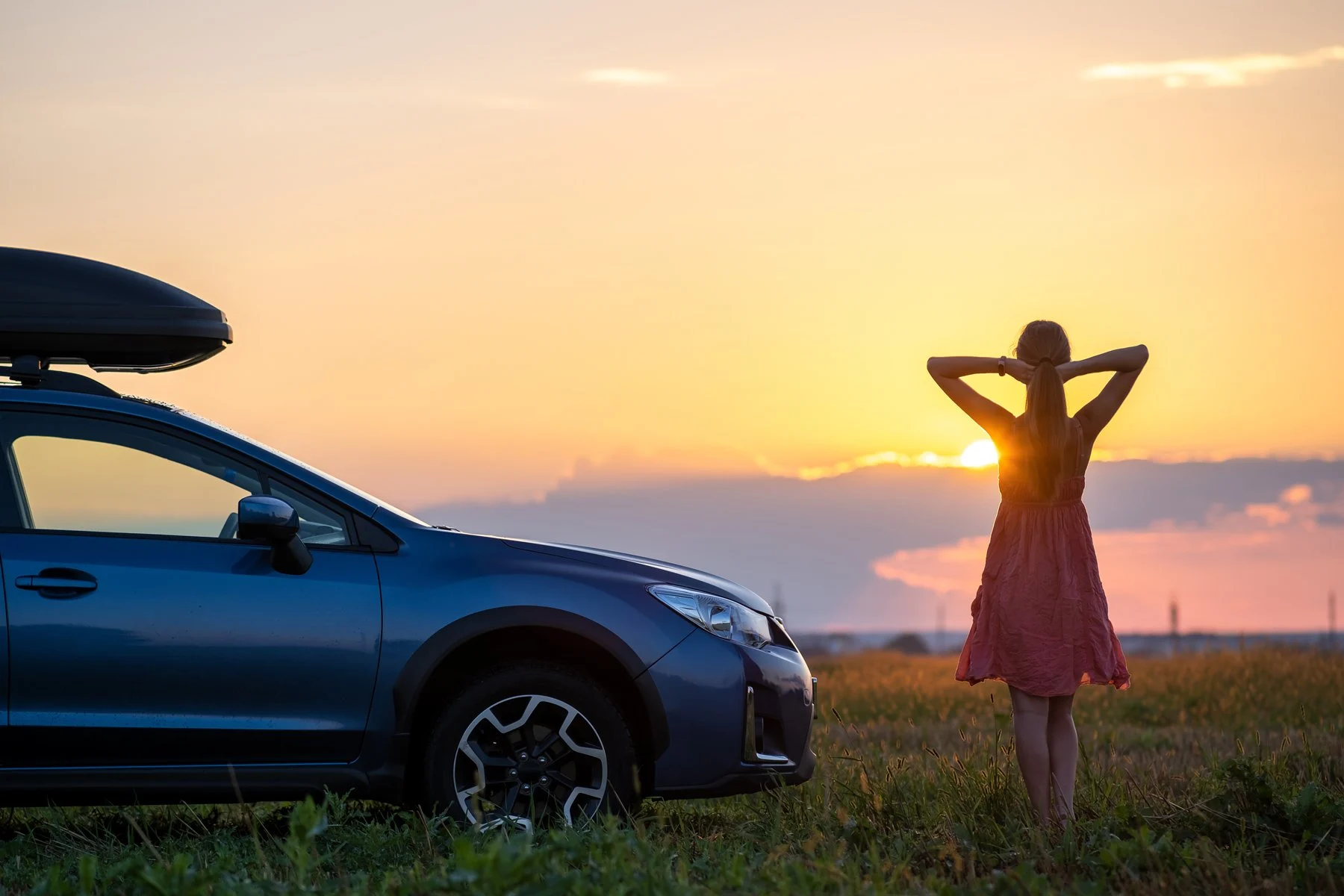 Rent Direct from a Car owner on Turo
Turo is like Airbnb for cars. Cars rented through Touro are almost always cheaper than cars rented from rental agencies, and the options are often more unique. This is a good alternative for all ages, but especially travelers under age 25 who don't want to get hit with the huge extra fees. Turo has some young driver fees, but not as many as most corporate car rental agencies. Turo states: "If you're age 18-20, you'll pay a minimum Young driver fee of $50/day. If you're age 21–25, you'll pay a minimum Young driver fee of $30/day"
🛴 I'm prone to feel stressed out when I am behind the wheel of a car in an unfamiliar city! To counter this, I try to find a car that is almost identical to the car I drive at home. As an owner of a popular model, it's easy to find a car that feels familiar and it's one less thing I have to stress about during a trip!
Use your own insurance, not theirs
Check your car insurance before purchasing rental car insurance. Most car rental agencies – including Turo- will pressure you into purchasing insurance to cover your rental car. During my most recent Turo rental experience in May of 2023, it took no less than three clicks and the dismissal of a few alerts to check out without insurance. What did I know that they didn't want me to? My standard, no-frills car insurance from a standard car insurer covered both liability and damages to any rental car I rent.
Before purchasing insurance for a rental car, check the policy of your own vehicle. There's a good chance you'd simply be paying for double coverage.
Know Who to Book With
You may be able to get a discount on the rental car costs by using club card memberships or credit card points. Many credit cards with travel rewards offer special perks that apply to things like rental cars and hotels. Costco and other big-box membership stores often have benefits that extend to car rentals – in fact, Costco has its own car rental portal. Before reserving a rental car, check your credit cards and memberships for discounts on rental cars. You may be surprised at just how much you can save!
Skip the Airport Rental
Just like every other service available at the airport (yeah, like that $23 turkey club sandwich), you'll pay a convenience markup for rental cars at the airport. Instead of picking up your rental car at the airport, take public transportation into the city and pick up your rental car there. Do your best to return it to the same spot you picked it up to increase your savings.
Rent a U-Haul
During my recent visit to Hilo, Hawaii and Hawaii volcanoes national Park, we noticed U-Hauls parked at nearly every beach and scenic pullout. Eventually, our host clued us in: those U-Hauls were actually rental cars that savvy tourists were using instead of the typical sedan or four-wheel-drive rental. According to Reddit, this practice is happening all over the Hawaiian Islands and beyond. With rental car costs potentially exceeding several hundred dollars a day in the inventory-strapped car rental business, the affordable rates of U-Haul's become a viable alternative.
My Experience with Turo
Turo has been around since 2009, but was just starting to catch on when I moved to Seattle and began experimenting with a carless lifestyle, while still keeping my car around for emergencies. In 2015, I decided I would give this new alternative car rental platform a try, and list my car. While my initial attempt to rent my car on Turo kinda flopped, during a recent trip I had the opportunity to manage a Turo owner's small fleet of 2 cars.
For two weeks, in exchange for living in a vacation home for free, I dropped off, picked up, cleaned, and maintained two cars that were rented on Turo. Following that experience, I decided to use this platform to rent a car to drive to the San Juan Islands from Seattle for my spring 2022 trip. Overall, with the exception of my initial experiment with the platform, my experience has been positive. Like Airbnb, it has advantages and drawbacks when compared to the alternative, but the expansive choices and, with that, price point, make Turo a viable option that I will likely repeat again on future domestic trips.
Final Thoughts
While most of us think mostly about getting to and from our destination, considering how we'll navigate from attraction to attraction is a huge part of planning smooth travel. While in the past rental cars were the most popular way to navigate many destinations, particularly in the US, today there are many alternatives to rental cars.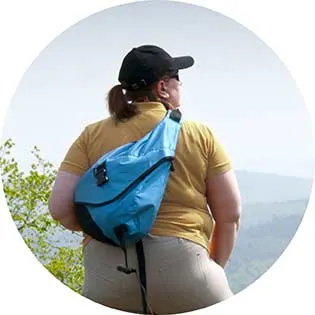 Lynli Roman's unique approach to travel is informed by decades of experience on the road with a traveling family and, later, years spent as a solo international traveler. When she's not writing about Seattle from her Pike Place Market apartment, Lynli writes on-location while conducting hands-on research in each destination she covers. Lynli's writing has been featured by MSN, ABC Money, Buzzfeed, and Huffington Post. She is passionate about sharing information that makes travel more accessible for all bodies.