I recently read a heavily-shared list of "must do" things to do in Pike Place Market that left me, a local, thinking that anyone checking items off that list would miss some of the best parts of Pike Place Market!
So, I decided to make my own list of things to do at Pike Place Market, including the gems I've discovered in my time living in, working in, and exploring this part of Seattle.
From 2015-2019, I lived a block from Pike Place Market. In those 4 years, I made it part of my routine to walk through Pike Place a few times a week, each time aiming to see, taste, or try something new. After hundreds of these adventures, I became an expert navigator of the streets, food, and culture of Pike Place. With that experience under my belt, I want to offer my local's list of things to do at Pike Place Market: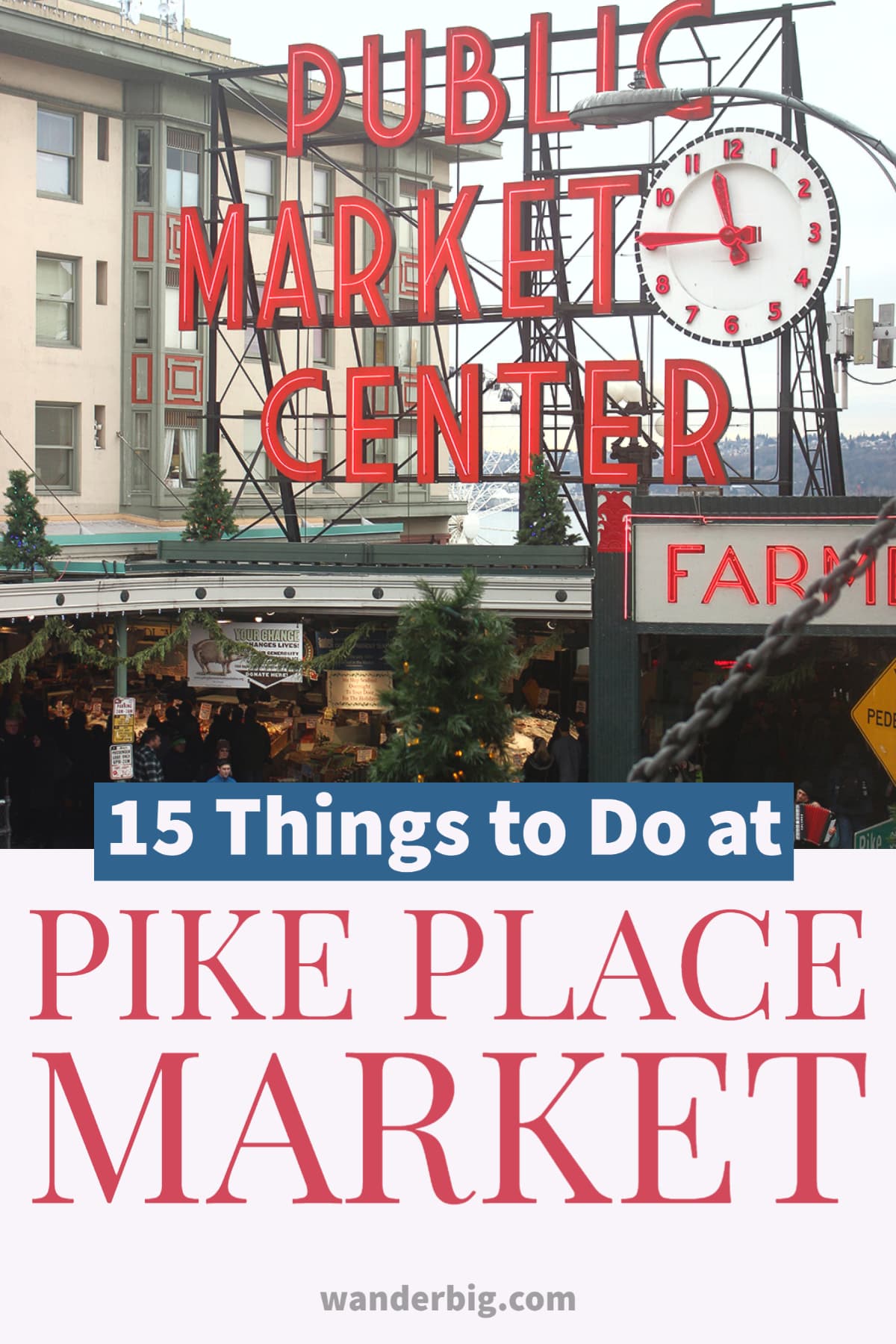 [Note: If you are planning a visit in November-December, be sure to check out my Christmas at Pike Place Bucket List, and if you're visiting on a rainy day- I've got you there too! There are so many special things to enjoy in Seattle on a rainy day ]
Local's List of 15 Things to Do at Pike Place Market:
1. Take a crosswalk shot
• Pike Place's iconic signs are at the bottom of a hill, so the best spot for pictures is a little uphill, at the center of the 1st & Pine Street crosswalk.
• The best photos, which center the neon signs, can be taken from the middle of the crosswalk. Based on the timing of the all-way crosswalk, you'll have 25 seconds every 3 minutes to get the perfect shot!
• Want more photo tips? Check out my list of particularly Instagrammable Spots at Pike Place.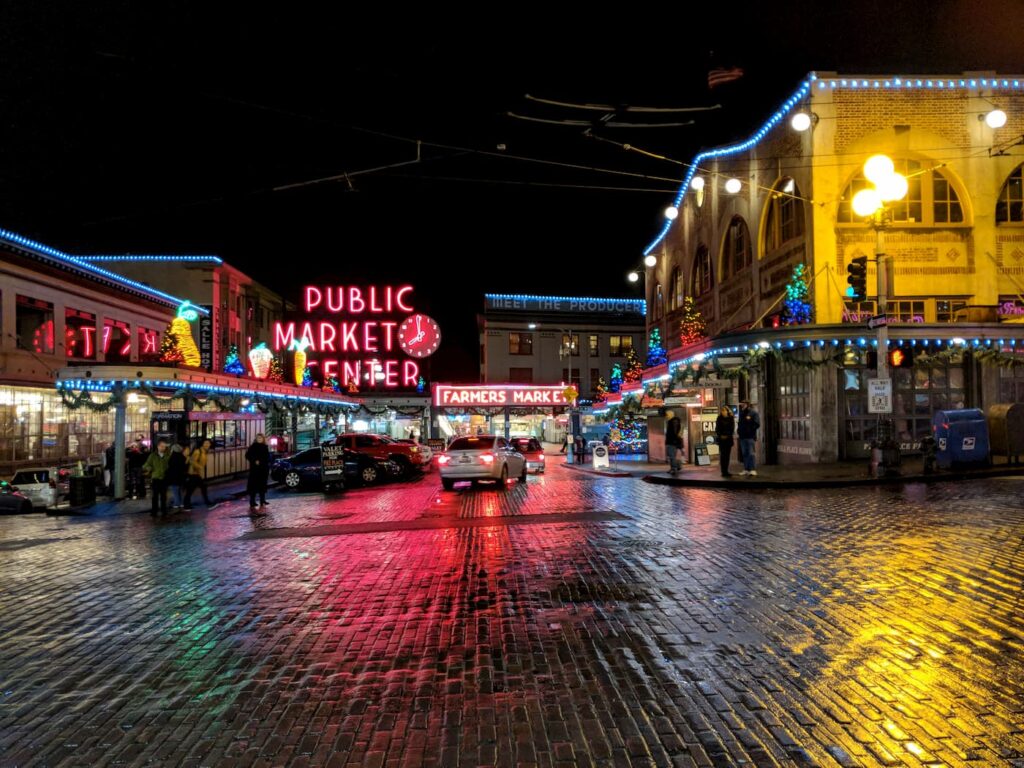 2. Adventure out to the Secret Rooftop Garden for pictures.
• Just on the other side of the crowd gathered around the fish throwers, you'll find a dim and unremarkable hallway. Follow it, and you'll find yourself out in a public rooftop garden with breathtaking views of Elliott Bay.
• Bonus: few tourists find this spot, so you may have the entire garden to yourself!
• It's tricky to find, but I've posted directions to this well-kept secret.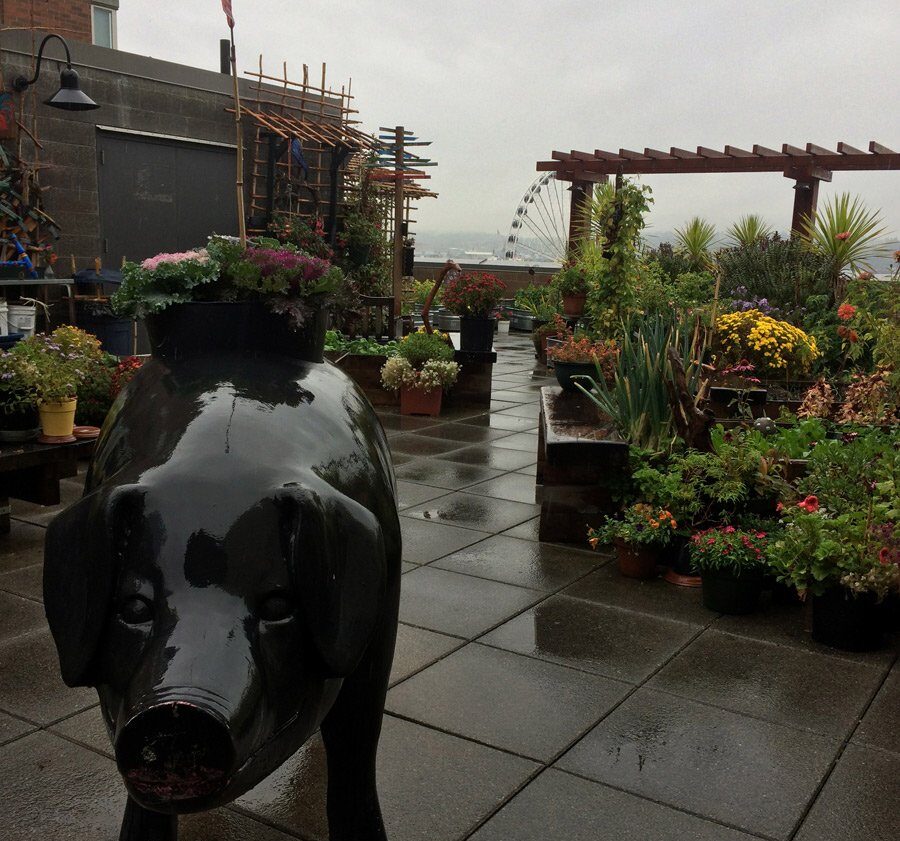 3. Take a photo with Rachel the Pig & Drop Some change in her belly
• Pike place is actually a low-income neighborhood in Seattle with many unhoused and precariously-housed residents. Donations support health care for locals, a senior center, and support vendors' families if they become ill or unable to work.
4. Get Chowder at the Market Grill
• Claims to the "best chowder" abound in the neighborhood, but take the advice of this local who has tried them all and head to Market Grill right in the thick of the market.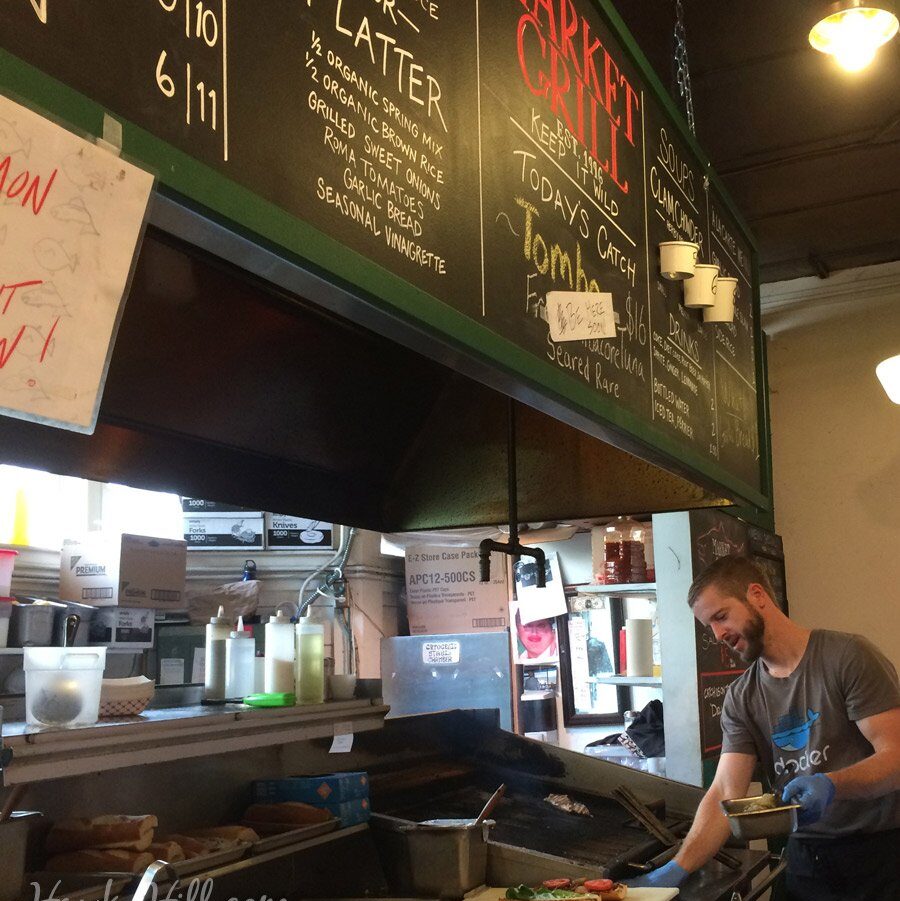 5. Explore the depths.
• 80% of tourists only see the main thoroughfare, but there is so much more to Pike Place if you adventure downstairs and check out the halls leading off the main markets.
6. Chew gum and be a part of the weird communal art that is the Gum Wall
• Take the stairs located directly under the main sign and the giant neon clock to go down to the next level. The gum wall is located in "Ghost Alley," just under and slightly south of the booth famous for fish throwing.
• Add to the gum wall by picking up gum at a shop nearby.
7. Check out the food counter at Oriental Market.
• If you've never tried Filipino food, the time is now. Owner Leila's well-known attitude just adds charm to this local favorite- which recently won a James Beard American Classic award.
8. Buy Cheap Flowers
• Flower sellers will make custom bouquets if you ask- just tell them what colors/flowers & what you want to pay.
• If travel plans mean you can't take home a bouquet, you can still have the experience (and a cheap souvenir): just ask to purchase $1 worth of filler flowers and press them in your travel journal.
9. Skip going to Starbucks (locals know it's not the original!)
• Snap a picture if you need to scratch the itch, then outsmart the long line in front of the Pike Place Starbucks by heading to local favorite Storyville Coffee (which has a fireplace, ample seating, and amazing views overlooking the market) or Ghost Alley Coffee (which offers excellent espresso drinks in a tiny venue that is poorly lit, often damp, and definitely haunted).
10. Catch a mini-show by hanging out at the Pastry Pet booth.
• Each plush cat-donut (yes, cat-donut) sold gets a dramatic and theatrical send-off that's worth waiting around for or purchasing just for the show.
• 2022 Update: this booth is now a store! Find MarninSaylor store downstairs in the market interior via google Maps
11. Try to see how many food counters you can hit with a budget of $25.
• Locals know: the best way to visit the market is eating your way through!
• I recommend working your way through the market one small bite (or split entrees) at a time. Don't forget the humble fruit stands- which offer often unusual produce at peak freshness.
12. Sample what's in season.
• Offerings vary by season, but if you make it during Ranier Cherry season (usually the month of June, give or take a week) you will be ruined for life in the best possible way.
• Even winter has amazing seasonal offerings in the form of hot apple cider, fresh citrus fruits, and piping hot spiced tea in the spice store.
13. Try an almond croissant and latte at Le Panier, Pike Place's famous french bakery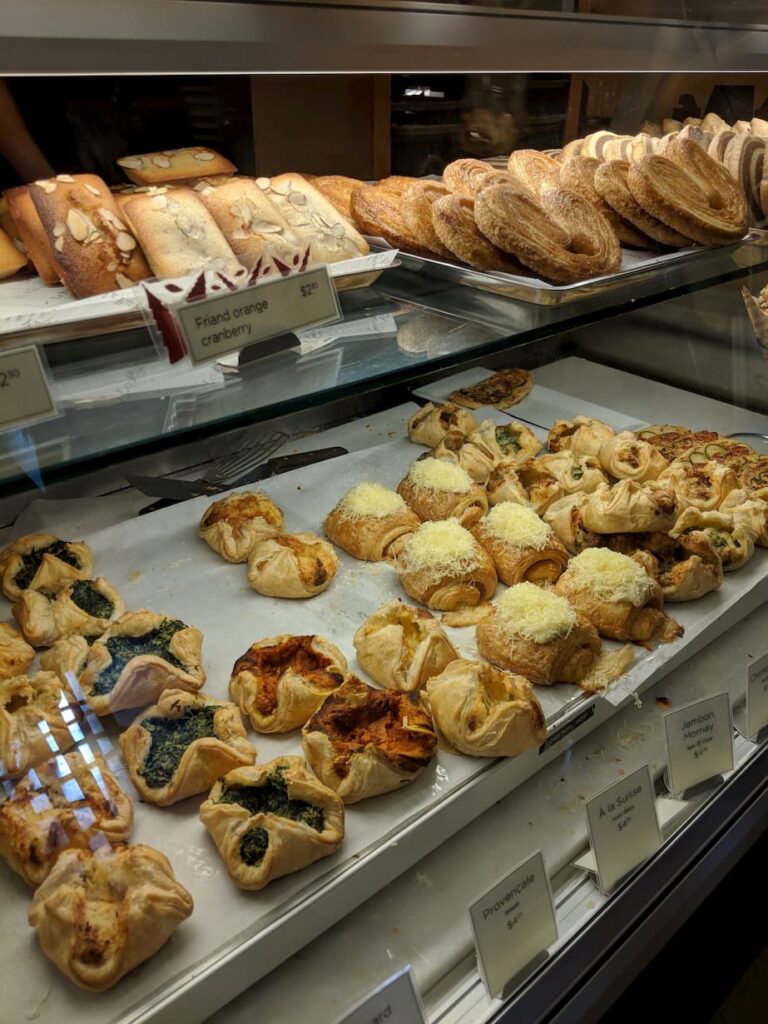 14. Find the Secret Hotspot
• Find the unmarked pink door in Post Ally to reveal a local beloved favorite restaurant, Pink Door. Pink Door even features cabaret & trapeze artists on weekend evenings (though tables for these events usually take a reservation).
• Their recent expansion means you can dine with a view of the market, in a relaxed restaurant far removed from the crowds.
• Your waiter will recommend the lasagne (in my opinion it's "meh") but I'd get into a fistfight to win their meatball-stuffed baguette or herbed french fries.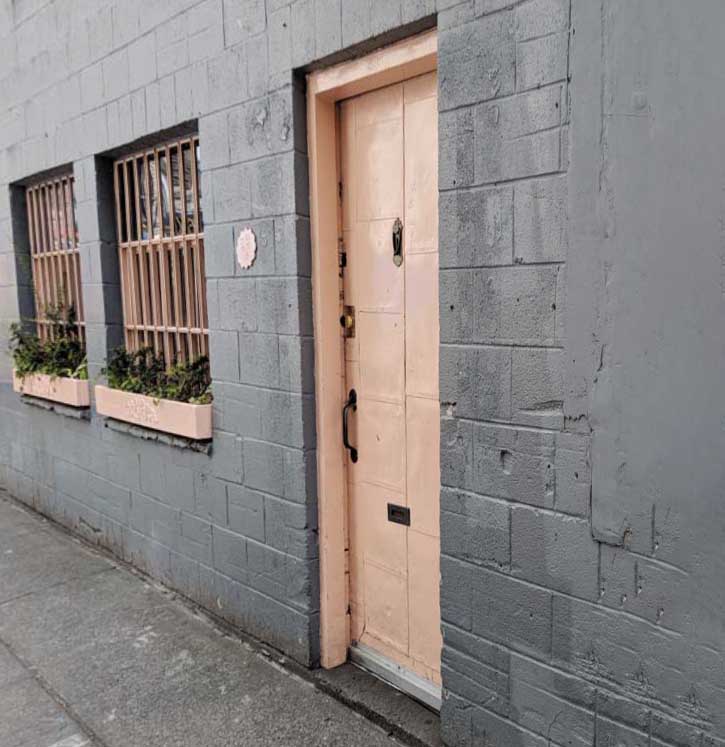 15. Ride an iconic Washinton State Ferry
• If you have daylight left, head a few blocks to the ferry dock. You can't beat the $9 roundtrip ticket for a sunset cruise across the Puget Sound. Here's everything you need to know about riding a WSF Ferry.
Important Tips for Visiting Pike Place
#1 Tip: Start early if you want to visit the biggest tourist spots. Starbucks & Piroshky Piroshky won't have long lines till 10 am or so.
#2 Tip: Whatever you do, DON'T drive and park. Parking near Pike Place Market can cost more than $20 per hour! Use public transportation or ride shares- even if it means driving to a Park & Ride parking lot and commuting from there.
What to Pack for a Day at Pike Place Market in Seattle
In many ways, packing for a day at Pike Place is just like packing for a day at most tourist spots, with a few pretty important exceptions (explained below).
I call the neighborhood around Pike Place market home. Despite being in the top 30 tourist spots in the world, Pike Place is actually a popular destination for downtown residents, not just tourists. For in-season produce and niche-grocery items, the market can't be beaten- and where else could we find enormous bouquets for less than the price of a Starbucks Venti latte?
As I've become an unofficial tour guide of Pike for friends visiting from out of town, I've learned a lot about how to pack and prepare for a day at Pike Place and avoid many of the common mistakes. Here's my list.
DON'T:

BRING AN UMBRELLA
Just don't do it. I'm not kidding. Despite the rainy weather, Seattlites have a fierce animosity towards umbrellas. On a more practical note, umbrellas just don't work in Pike Place. The market is so close to the waterfront that winds coming off the Puget Sound make umbrellas almost useless. Even when rain is actually falling vertically, the crowded sidewalks mean there's simply not room for umbrellas.
DO:

BRING A RAINCOAT
90% of the rain in Seattle falls lightly- like mist. A good raincoat will keep you dry and free to navigate the market.
---
DON'T:

BRING A PURSE
Seattle has a fairly low crime rate, but purse snatching does happen. Days at the market can be long, and with a purse on one arm and a shopping bag in the other, it's hard to have hands free to have the full experience.
DO:

BRING A BACKPACK (With an empty cloth shopping bag inside)
I always recommend a backpack for a day at Pike Place. You can browse hands-free and store your purchases in a safe spot. Vendors and shops around Pike Place aren't generous with bags, due to Seattle's laws limiting plastic bags, so having your own stowed in your backpack can be really helpful if you plan to do much shopping.
---
DON'T:

RENT A CAR
Finding parking at Pike Place Market is nearly impossible and can costs upwards of $20 per hour. In fact, with a state of the art light rail train connecting the airport to downtown/Pike Place, and a healthy competition between Lyft and Uber, Seattle is one place to skip bringing a car entirely. With so much within walking distance, and no free parking near the city center, having a rental car can be a much bigger headache than convenience.
DO:

BRING A PHONE PRELOADED WITH RIDESHARE APPS
Ride-share apps can get you anywhere you need to go in Seattle, without the headache of parking.
If you aren't from an area where rideshare is common, download Lyft & Uber apps on your phone and sign up before you leave home. Using referral links to sign up instead of signing up independently will get you modest discounts on Lyft and Uber. If traveling with a partner or group, maximize discounts by each installing the apps.
Tip: Go ahead and sign up and enter your payment information before your trip. The app won't charge you anything unless you use it, and it's much easier to sign up while you are home. That way when you are traveling and frazzled you'll only need to click the "pickup" button!
Inspired to visit? Pin your Plans: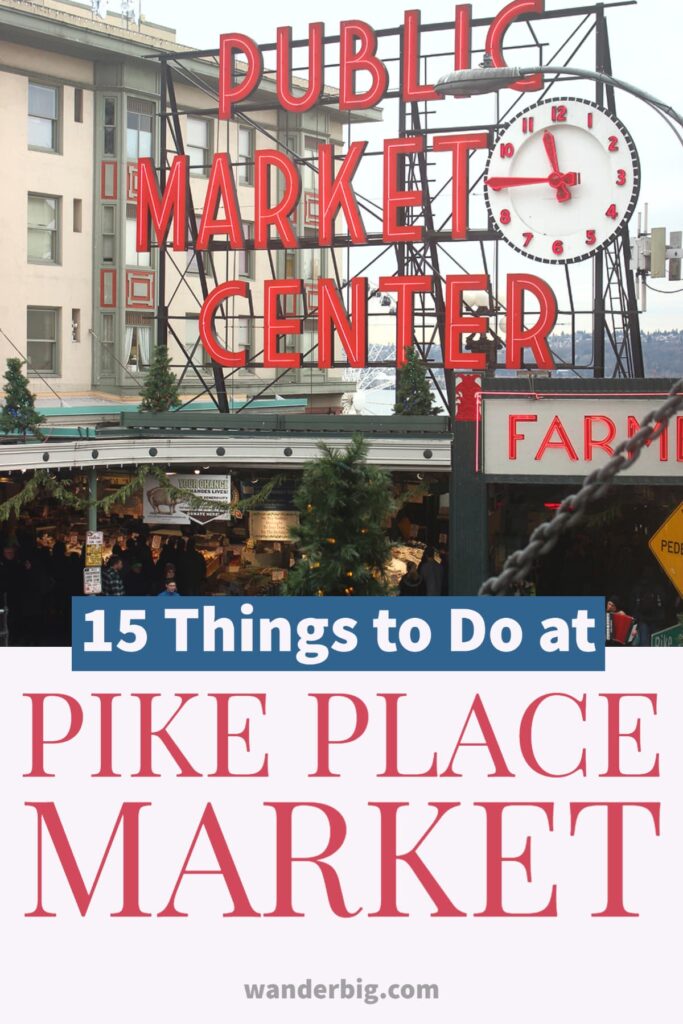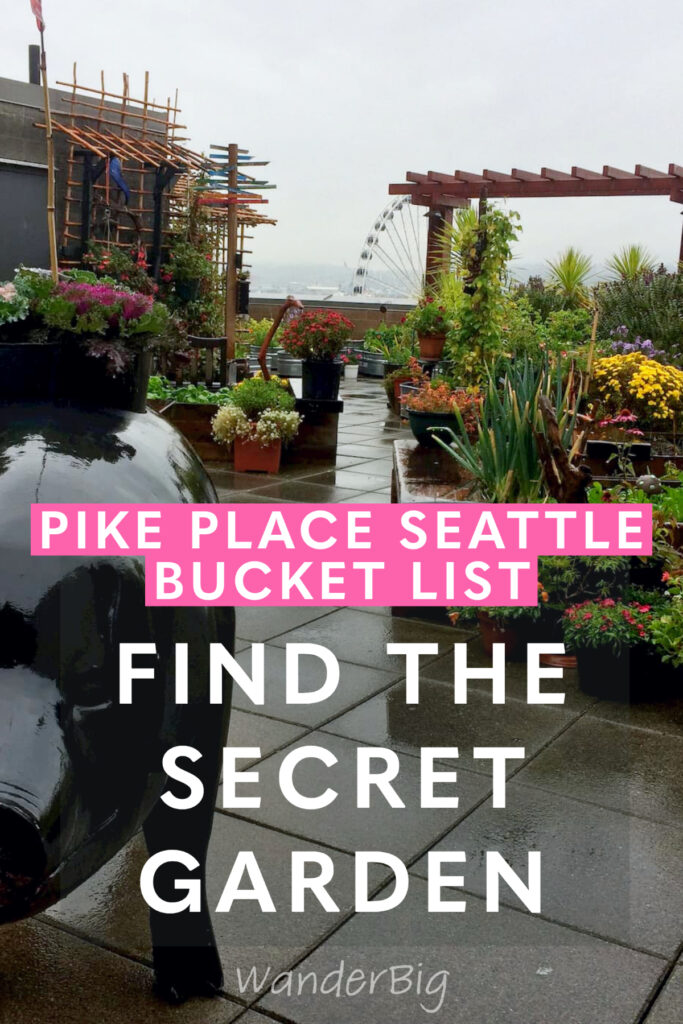 The following section may contain affiliate links. As an Amazon Associate, I earn from qualifying purchases.
---
DON'T:

FORGET TO PLAN FOR HEALTH
Millions of people come to Pike Place Market every year, touch common surfaces, and then take food by hand from vendors offering samples. I'm not gonna lie- even before COVID-19 this totally grossed me out.
DO:

BRING HAND WIPES
Pike Place Market is a grungy place. Seattle does well at keeping it tidy, and COVID-19 protocols mean it's cleaner than ever, but thousands of people touching common surfaces daily can leave even a healthy immune system quaking. Be sure and pack sanitizing hand wipes + sanitizing gel – so you can enjoy food and snacks with a little less worry (travel packs of textured hand sanitizing wipes, like these on Amazon, are shown to help remove- not just kill- bacteria and viruses).
---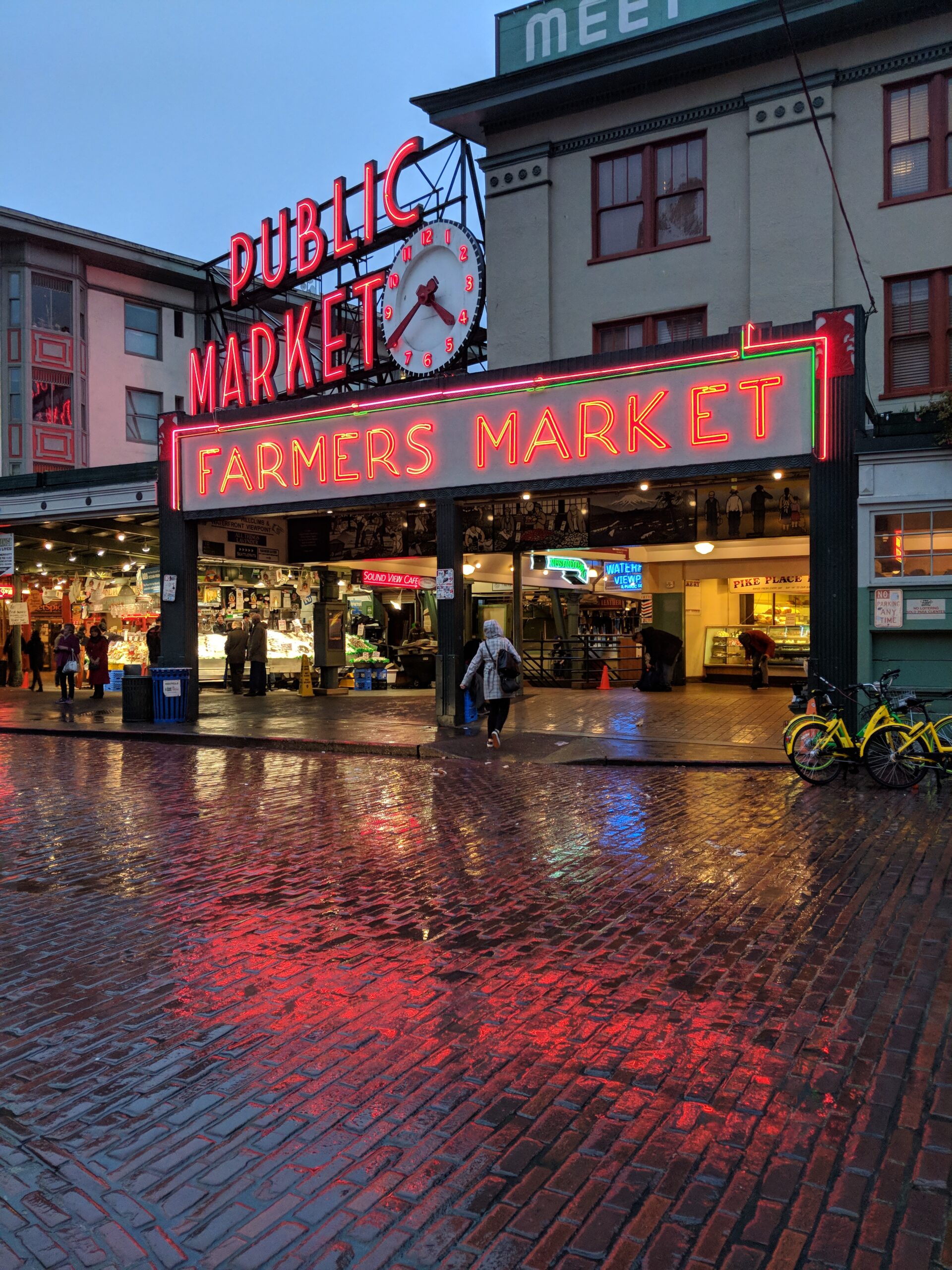 DON'T:

RELY ON CREDIT/DEBIT CARDS
Pike Place Market is composed of local vendors and small businesses – it's one of the few historic shopping districts that have kept chain stores out. Because of this, some stores have a cash-only policy or add a surcharge for paying by Credit Card.
DO:

BRING CASH
The few nearby ATMs have high transaction fees so you plan a withdraw before you reach the Pike Place Market neighborhood.
---
OTHER THINGS TO BRING:
Chewing Gum – The "Gum Wall" is iconic, and participating in cocreated the gum wall, instead of just viewing, is a great memory and photo op.
Sunglasses – Even if it's rainy. Trust me on this one. Seattle weather can change in an instant.
Water bottle – Many of the food options are street vendors, plan ahead so you don't find yourself shelling out for a 4-dollar bottle of water.
That's my list of what to bring and what not to bring- what about you? I'd love to hear suggestions and feedback in the comments!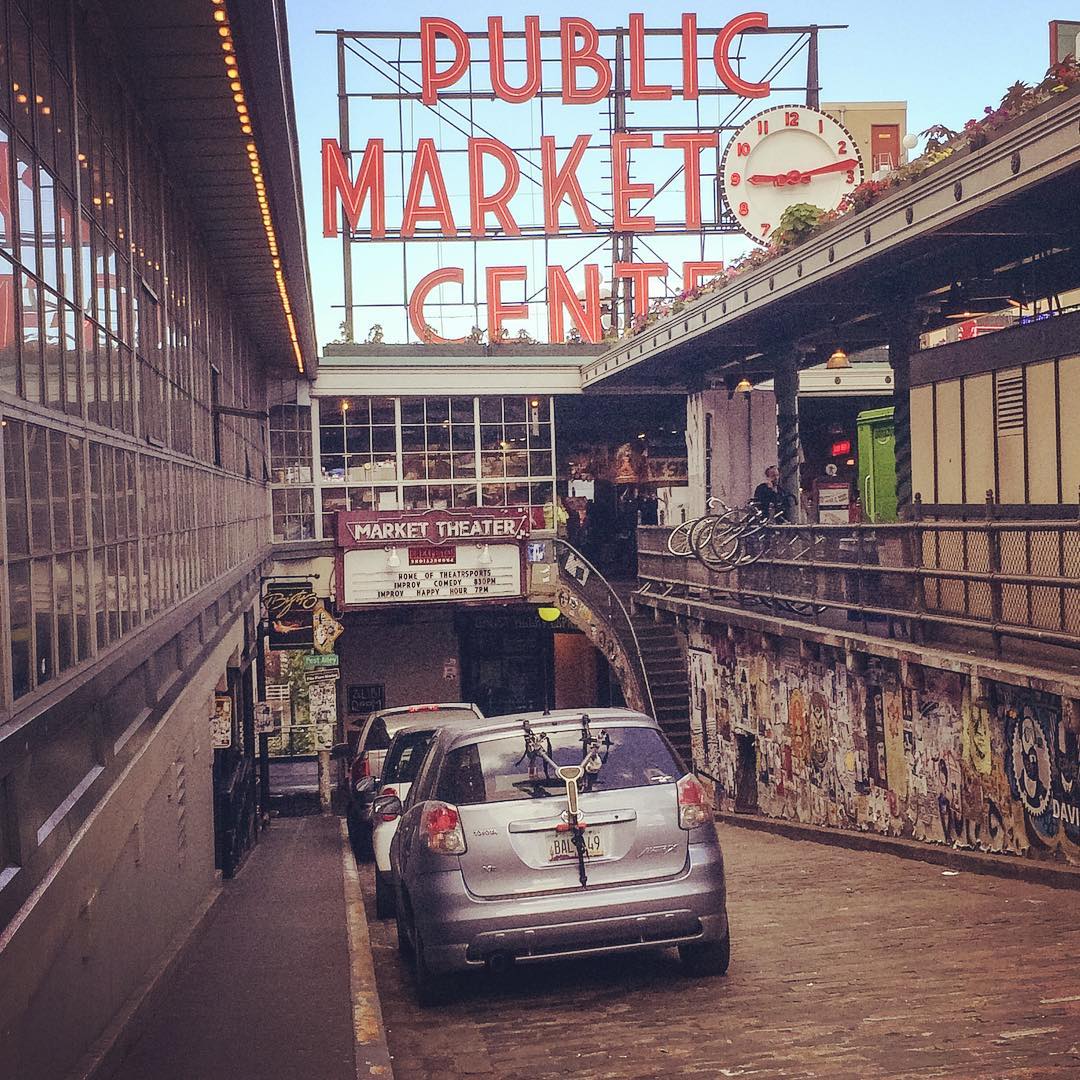 FAQ's
What are pike place's market Seattle hours?
Pike Place Market is open every day 9 a.m. to 5 pm, except on Christmas and Thanksgiving.
COVID-19 safety compliance has not impacted operating hours, but masks are required.
What is the best time of year to visit Pike Place Market?
As a local, I love wandering Pike Place Market during the light crowds of fall and winter, but a visit during late spring or summer guarantees that you'll see the market at its liveliest. When the tourist season peaks in June/July, every corner of the market is filled with fresh produce, handmade goods, and live music. Visiting in the "shoulder season" of early spring or fall. when tourism drops off, can mean access to a bustling market without the crush of the peak-season crowds. If you visit during the holiday season (one of my favorite times to visit Pike Place) be sure and check out my guide to enjoying the Christmas season at Pike Place Market.
What is the best time of day to visit Pike Place Market?
The best time of day to visit Pike Place is first thing in the morning. In the offseason (winter) and shoulder season (early spring and late fall) visiting the market anytime between 8 am and 3 pm guarantees that you'll get to see and enjoy all that the market has to offer. In the summer, however, throngs of shoulder-to-shoulder tourists can make visiting the market mid-to-late in the day less fun. If you're visiting Pike Place between May and August, plan to arrive at the market no later than 9am (8:30 am is even better!). At this hour, the market is empty, the vendors are bright-eyed and just finishing set-up for the day, the flowers are fresh, the fish market doesn't smell quite so questionable, and smells of fresh-baked bread and fresh-ground coffee waft out of the coffee shops and bakeries lining the market.
More Articles on Pike Place Market: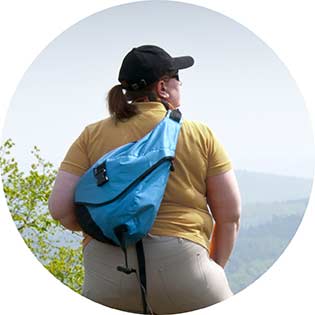 Artist, digital nomad, and highly sensitive person, Lynli started traveling full time as a digital nomad in 2018. Writer and Illustrator by day, remote-destination explorer by other-days, Lynli is passionate about pushing the boundaries of her own comfort zone, exploring the world as a plus size, one-bag traveler, and journaling it all on WanderBig.com