Traveling with jewelry presents challenges for most travelers. These challenges fall into three categories: 👚💍matching outfits, 🧳 packing jewelry in a suitcase, and 👮🏽‍♀️💎 staying safe as a tourist with jewelry.
In this article, you'll learn solutions to these 3 challenges: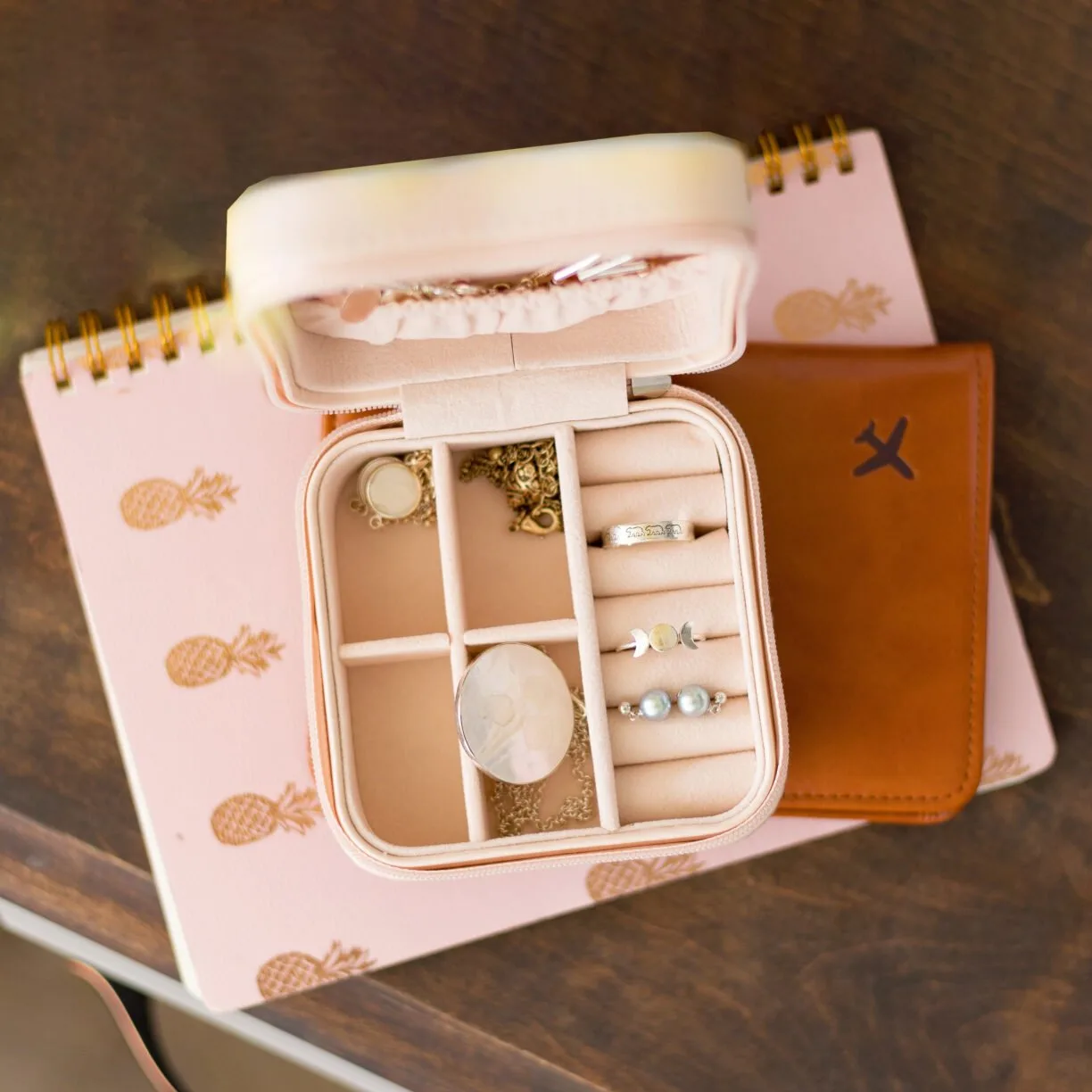 Keeping jewelry organized while traveling
Some travelers organize their jewelry by using rigid plastic containers with compartments or fabric pouches (like my pouches that keep small items in my suitcase and carry-on organized). Alternately, some travelers use a method similar to my method for packing vitamins for travel: using small plastic zip-top bags to organize jewelry for travel. Finally, custom bags for packing jewelry are also available. These jewelry organizers for suitcases are beloved by many travelers – especially those traveling for business, weddings, or a honeymoon.
There are a few basic types of jewelry organizers for travel. In the following section, you'll learn about some of the packing options available for jewelry- plus the pros and cons of each style.
The following section may contain affiliate links. As an Amazon Associate, we earn from qualifying purchases.
Hanging jewelry organizer
PROS
✔️ easy to see what you've packed
✔️ inexpensive
CONS
❌ tangled necklaces
❌ easy to lose pieces
❌ looks cheap
❌ requires a place to hang
Hanging jewelry organizers are designed for hanging in a closet. They're perfect for being able to see all of the jewelry you've packed for your trip, thanks to the flat construction.
However, one problem with traveling with this style of jewelry organizer is that small items tend to get lost. Because the pockets are not sealed, things fall out when the organizer is folded for packing in a suitcase. Additionally, necklaces tend to be tangled inside of pouches during travel. Hanging jewelry organizers are a budget option, but they often look cheap.
Jewelry roll bag for travel
PROS
✔️ keep necklaces untangled
✔️ protects the jewelry from scratches
CONS
❌ harder to see contents
❌ added weight in bags
Jewelry roll bags are a better option for most travelers. Roll bags are great for travelers who want to bring a few jewelry items. They are also good for travelers who pack and unpack often, such as during a multiple destination trip.
A jewelry roll bag is the option I would use for travel if I wanted to wear different bracelets, necklaces, watches, or rings each day. Roll bags have the advantage of being better at keeping necklaces untangled. This is due to the ability to tightly roll the bag and keep necklaces at their full extension, instead of bunching up. While I travel with minimal jewelry as part of my one bag packing style, I like this option.
Plastic bags for traveling with jewelry
PROS
✔️ keeps jewelry organized
✔️ easy to split & hide jewelry
✔️ great for packing 2-3 pieces.
CONS
❌ looks cheap
❌ plastic isn't sustainable
❌ spreads out jewelry
Simple, cheap, and easy to hide, small plastic bags are actually my preferred method for traveling with jewelry. While this method probably isn't a great fit for travelers who want different jewelry for each day of the trip, it is perfect for keeping a few pieces handy.
I also like that storing jewelry in small plastic bags allows me to spread out my jewelry through my luggage. This may help prevent theft when traveling with valuable jewelry.
For example, if a hotel worker notices that your jewelry roll bag has been left on a vanity, they might steal your entire jewelry collection. However, if your jewelry is in small zip-top bags tucked into pockets of your suitcase or even your suitcase liner, you likely won't lose all your jewelry to one thief. If you do experience theft while traveling, they are unlikely to steal all of the jewelry tucked into your luggage.
A travel jewelry case
PROS
✔️ provides protection
✔️ keeps necklaces from tangling
✔️ looks stylish
CONS
❌ easy to steal
❌ adds weight to luggage
❌ unnecessary for packing a few pieces.
A soft sided jewelry case is often the best option for traveling with jewelry. I prefer this method for traveling with jewelry when I am on a short trip or a a domestic trip. I also use this method when traveling to an event where I am extra-mindful of my jewelry choices (such as a wedding weekend or a trip to a business conference).
Though it takes a bit more space in luggage, a jewelry case designed for travel is a good choice for many travelers. Cases strike a balance between staying organized, saving space, and storing jewelry in a safe way.
Travel jewelry cases can offer a way to clip necklaces in the case. With a good case, you'll never discover a tangled necklace when you are already running late for the meeting you traveled so far to attend!
If you think a travel jewelry case is a good fit for you, I recommend this well-reviewed travel jewelry case at Amazon.
Cardboard and saran wrap: a budget traveler's jewelry organizer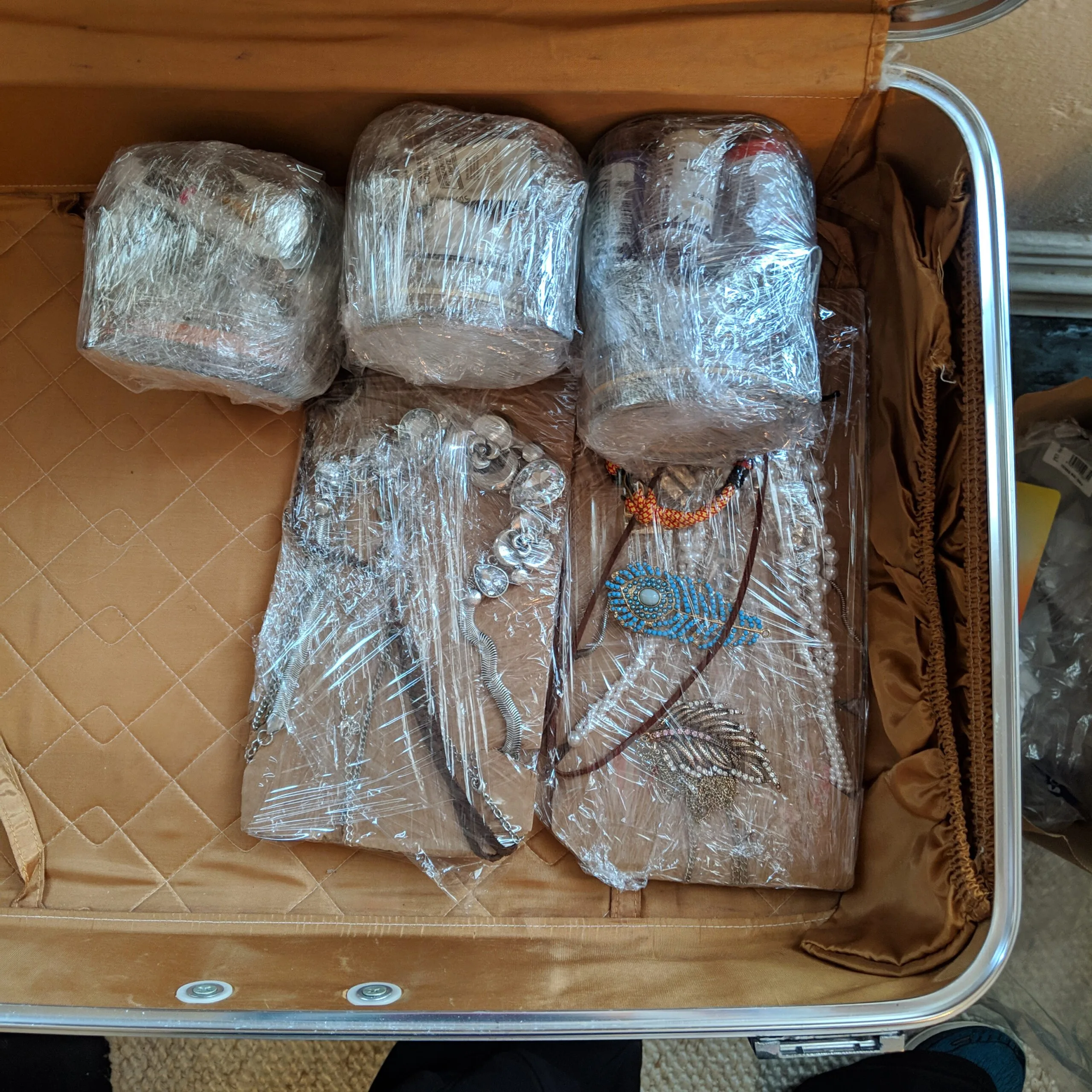 I have moved across the United States a few times, and moving with jewelry is always a challenge. After my first move left me with a tackle box full of badly tangled necklaces to painstakingly unwind, I learned a better method. Now I pack necklaces on cardboard- much like inexpensive necklaces are packaged in stores. With cardboard cut to size, necklaces can be stretched around the length of the board and held in place with a bit of plastic wrap. This cheap jewelry organizer DIY, using items you already have in your home, is a budget travel trick.
How to choose jewelry for your packing list
At home, you may put a lot of thought into what jewelry goes with a particular outfit. During travel it is often necessary to travel with only a few pieces.
Deciding which bracelets, necklaces, and rings to take with you on your trip can be a challenge. Here's how to decide what to pack:
Pack versatile pieces
This will differ for everyone. Maybe you're the type of person who can make a pair of hot pink acrylic lightning earrings go with every outfit! Go for it!
For most of us, however, packing jewelry that will go with many different outfits means choosing simple, elegant, and conservative items . Bringing one or two comfortable pieces is often better than bringing necklaces and bracelets for every outfit we think we might wear during our trip.
Inexpensive pieces
Jewelry is something that thieves look for to find a mark for theft or even mugging. But don't worry, you don't have to leave all your jewelry at home to avoid theft and pickpocketing in Europe and beyond.
A few thoughtful changes to the type of jewelry we bring can help us stay safe. When traveling, leave precious metals and rare gemstones at home. Instead, opt for jewelry made with paper, wood, resin, acrylic, or other materials that can make a big statement without advertising yourself as a target.
Pack lightweight necklaces, bracelets, and rings
You can't make it through airport security quickly if you are wearing lots of jewelry. But placing lots of heavy jewelry in your suitcase or packing it in your carry-on bag can add unnecessary weight.
To keep yourself mobile and traveling light, choose jewelry that won't weigh you down. This is another reason I love resin and acrylic bangles, earrings, and necklaces . This type of jewelry offers travelers big style without adding weight or advertising wealth.
Choose durable jewelry
There's nothing worse than packing something you love only to pull it out at your destination and realize that it's broken during the trip.
To keep the jewelry you love safe, avoid traveling with it. If you leave beloved necklaces, rings, and bracelets at home, there's no chance that you will break, lose, or have them stolen.
How to travel with jewelry & not be targeted for theft
If you love jewelry and wearing jewelry is central to your personal style, you don't have to abandon this completely to stay safe and avoid theft- but you will need to be smart.
Be mindful of where you wear jewelry
Packing jewelry for travel doesn't mean you must wear jewelry constantly during your trip. For example, you might decide to wear your jewelry to meals at your resort's restaurant, but leave your jewelry in a safe when you are exploring the nearby historic district or hiking trails.
Leave expensive (and faux expensive) jewelry at home
At a glance, thieves won't know that your tasteful statement necklace was a ten-dollar impulse purchase at Target. They might see you, a tourist from a first-world nation, and think it's a 24-karat gold chain with a diamond!
When I'm packing for travel I never pack gold or silver-tone jewelry or anything with the appearance of diamonds or other gemstones. This is especially true for travel outside of the United States, where I will already stand out as a tourist.
Whether it's costume jewelry or the real thing, keep it home and stay safe.
Buy jewelry on location as a souvenir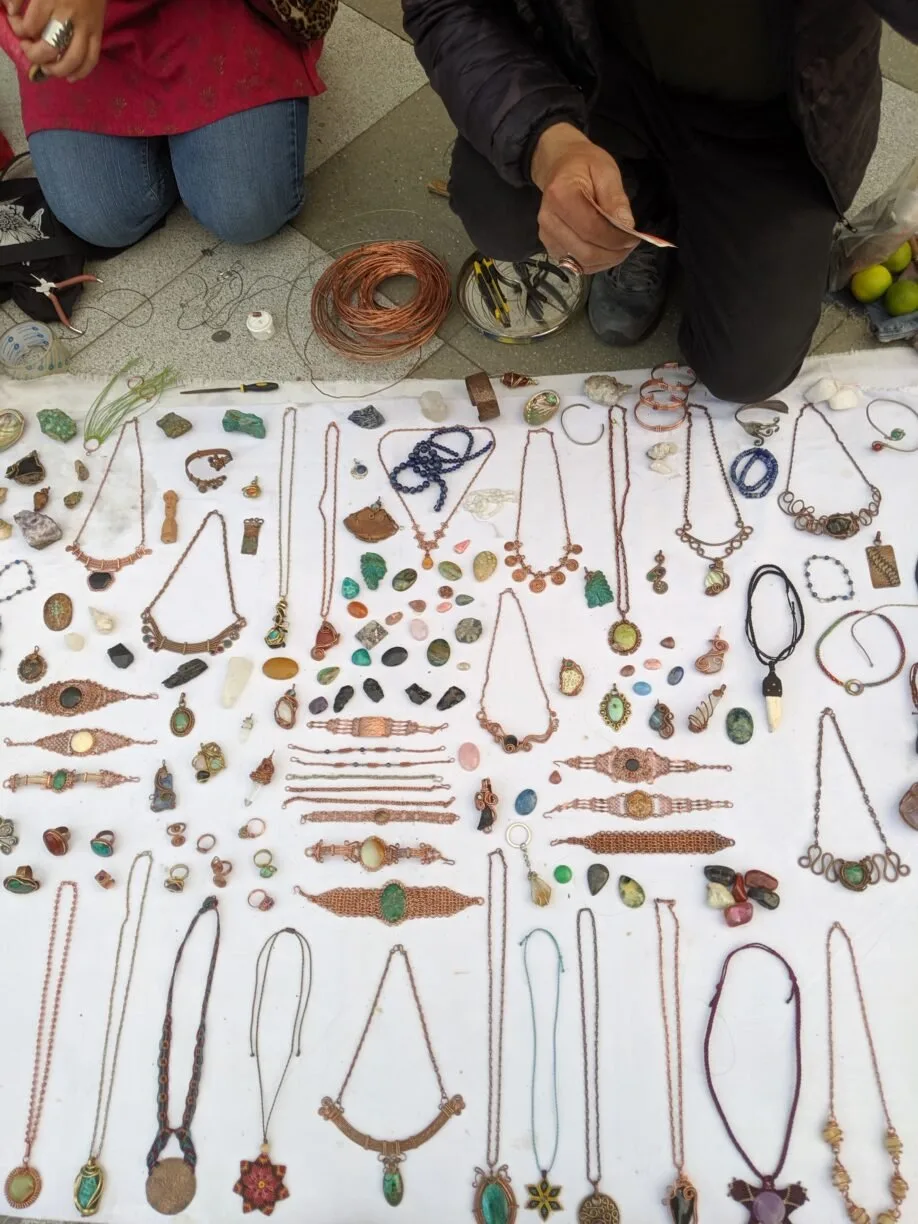 As I've written previously, locally made jewelry is one of the best souvenirs you can buy. One of my very favorite pair of earrings is a set of carved bone earrings I purchased from a local artist in central Romania.
Leaving home with no, or very little, jewelry leaves space in our luggage to purchase jewelry from local artists or vintage markets.
My experience traveling with jewelry
I've noticed that the easiest way to feel great about my appearance when traveling is to have jewelry that upgrades or refreshes my typical travel outfit.
Jewelry makes me feel more put-together. Whether it's a simple necklace or a pair of chunky earrings, having jewelry that me feel good is worth making space in my luggage.
Packing jewelry for travel is like having a little bit of home with me wherever I go. I never travel without at least a few pieces of jewelry. I always bring an inexpensive necklace and at least two pairs of earrings (I skip bracelets and rings for sensory reasons). I choose my jewelry depending on where I'm going and what I'm doing. If I'm going to the beach, I pack more casual pieces. If I know I'll enjoy dinners out, I'll bring something a little more dressy. It's like a little bit of luxury I can take wherever I go.
With advanced planning, you can find simple jewelry that will work with your travel capsule wardrobe and help you feel your best while traveling.
Final thoughts on packing jewelry for travel
Traveling with jewelry can present many challenges. It draws unwanted attention, adds weight to luggage, and slows our progress through security lines.
By choosing the right method for packing jewelry in a suitcase that works with our travel style and packing jewelry that works well with the wardrobe we've selected, it's easier to enjoy our trip without the frustration that poorly packed jewelry can bring.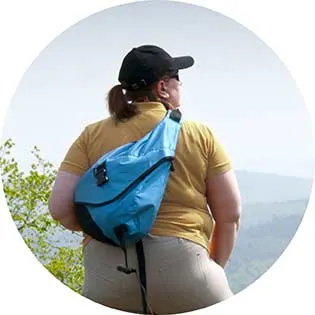 Lynli Roman's unique approach to travel is informed by decades of experience on the road with a traveling family and, later, years spent as a solo international traveler. When she's not writing about Seattle from her Pike Place Market apartment, Lynli writes on-location while conducting hands-on research in each destination she covers. Lynli's writing has been featured by MSN, ABC Money, Buzzfeed, and Huffington Post. She is passionate about sharing information that makes travel more accessible for all bodies.