While shopping is part of a typical travel experience for many travelers, for some, finding that perfect souvenir can turn into a sort of personal challenge!
In this article, we will delve into the reasons people buy souvenirs and explore the diverse options available in Seattle. Whether you're looking for a heartfelt gift for a loved one or a personal keepsake, Seattle has something for everyone.
Expect to learn the following:
🎁 Where to buy Seattle-branded souvenirs.
☕ The best place to find unique Seattle-made souvenirs.
🧸 Where to find kid-friendly gifts in Seattle.
Why People Buy Souvenirs
People are motivated to seek out souvenirs during there travels for many reasons. No matter the reason for your hunt, souvenirs are either purchased to gift to others or keep for yourself.
Buying Souvenirs as Gifts
When you love someone and you travel without them, it's natural to want to bring them a small gift back from your trip. The gift of a souvenir is sure to make them smile and, even more so, souvenirs serve as a sort of token to show that you were thinking of them while you are away. For others, souvenirs purchased as gifts may be more of a family tradition or expected practice.
In either case, purchasing souvenirs for other people is probably the most common reason that people shop for souvenirs in Seattle or anywhere in the world.
Buying Souvenirs for Ourselves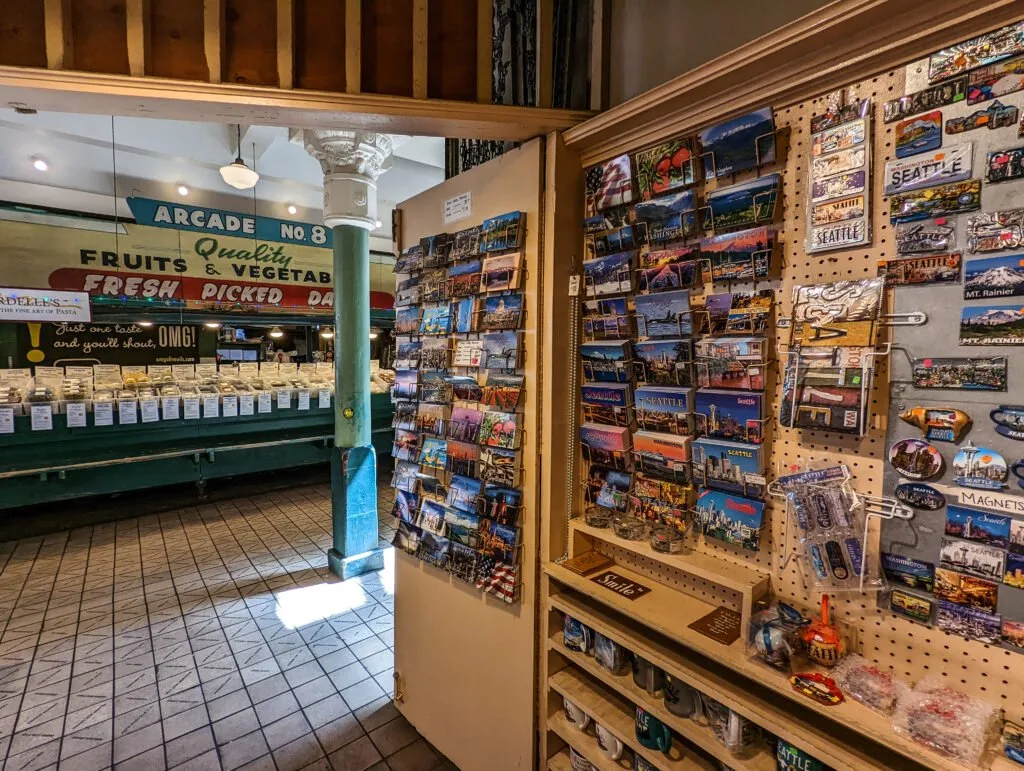 Nearly as popular, according to some travel surveys, many travelers purchase souvenirs to add to their own personal collection. Just like golfers keep trophies and hunters have their greatest conquest taxidermied, many travelers like to keep and display souvenirs that they purchased while traveling.
A collection of souvenirs can serve as a conversation starter, and (like a travel journal) a way to prompt fond memories of a trip long after you have returned home.
How to Buy Souvenirs in Seattle
The first step to buying great souvenirs in Seattle is deciding what kind of souvenir you're looking for. By my own personal calculations there are really just three types of souvenirs:
Seattle Branded Souvenirs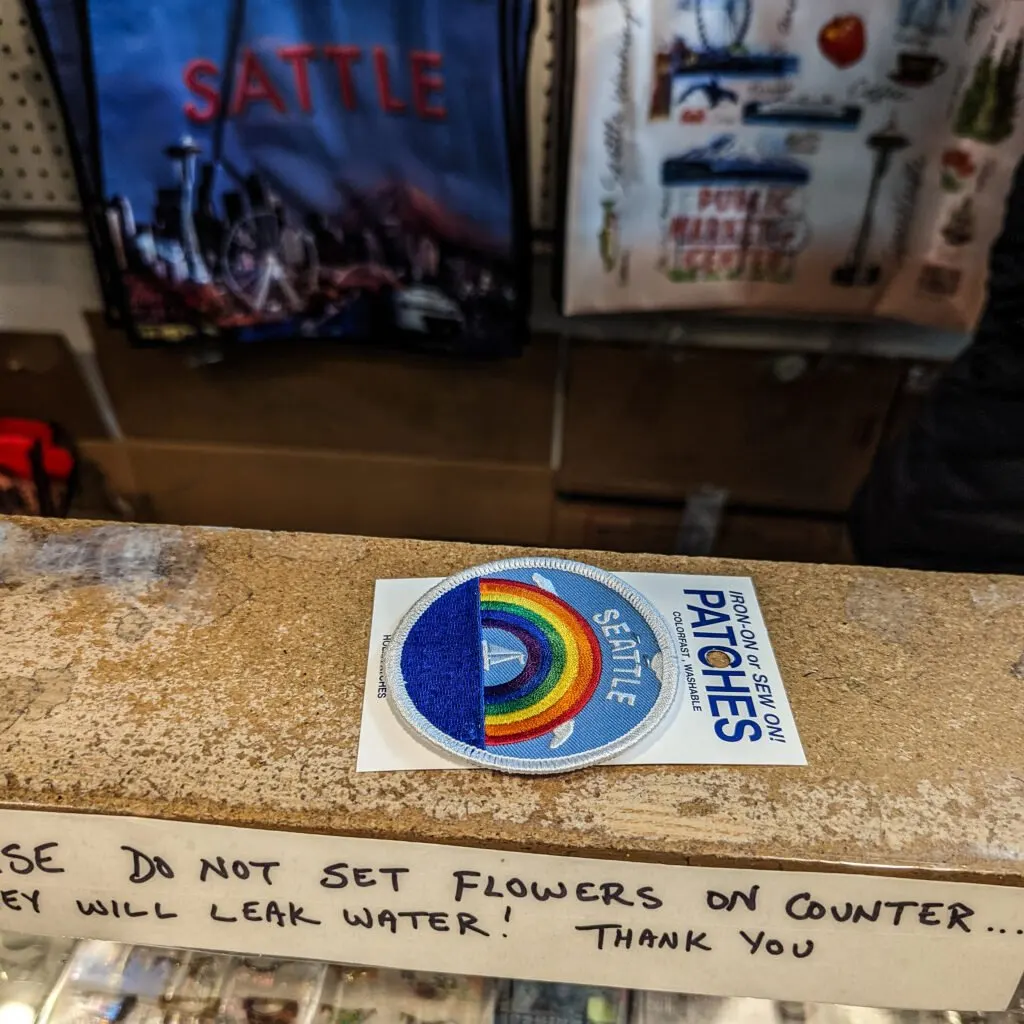 Destination-branded souvenirs are probably what the word "souvenir" means to you: travel magnets with destination names emblazoned boldly, T-shirts printed with iconic landmarks, and various tchotchkes (usually all created by the same few Asia-based manufacturing companies) proudly proclaiming that they hail from Seattle. Branded souvenirs can be purchased at a huge variety of price points from under a dollar to over $100.
Where in Seattle to Get Seattle-Branded Souvenirs
In Seattle, the best place to get branded souvenirs is actually (and arguably, sadly) the big box stores near Pike Place Market. The Walgreens drugstore located near the market entrance has the largest selection of Seattle souvenirs including keychains, coffee mugs, T-shirts, snow globes, and a variety of other small plastic items. Target, which also has an urban location adjacent to Pike Place Market has a smaller selection of branded Seattle souvenirs, though it is a bit tucked away.
Within the heart of Pike Place Market, there are also a few places to purchase branded Seattle merchandise souvenirs including Simply Seattle's street front store and a small booth of keychains, postcards, and magnets, called Swanbergs Gifts, located in the heart of Pike Place Market's main market hall.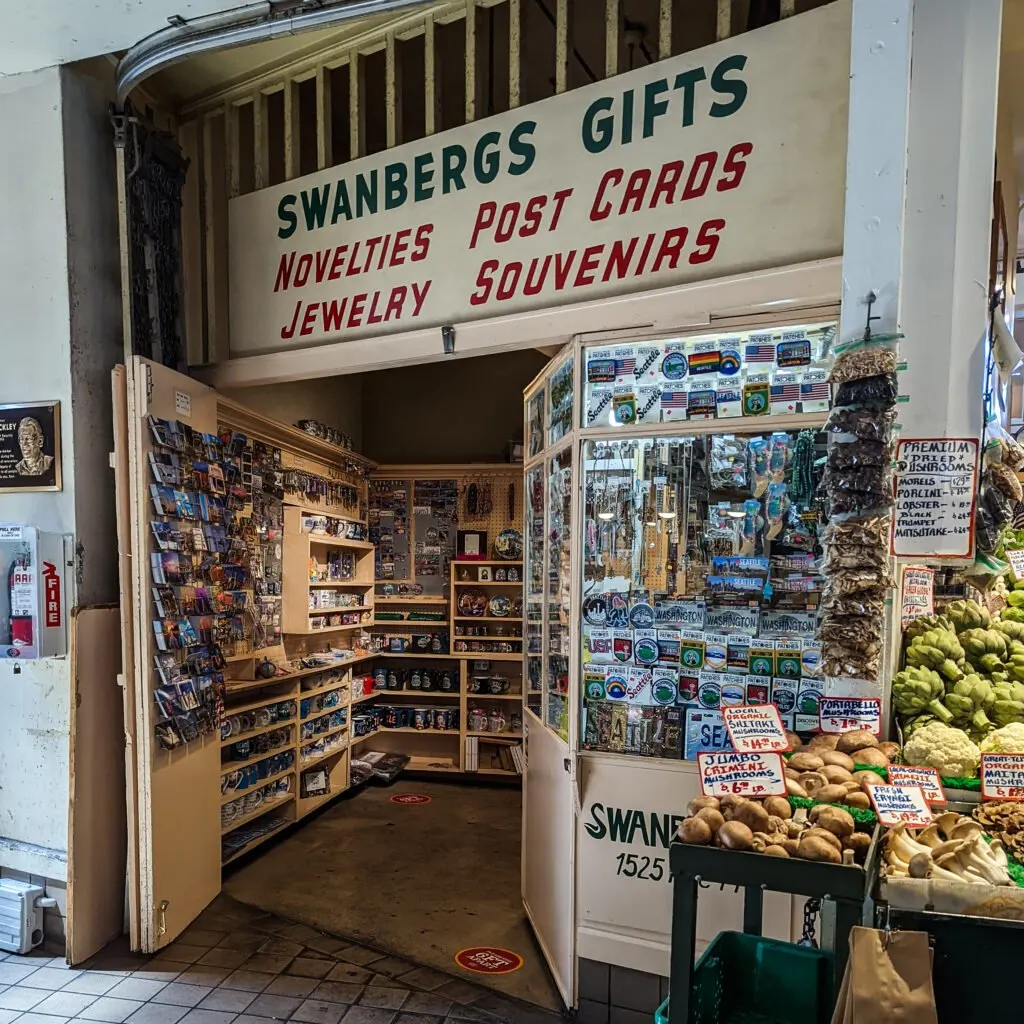 Seattle Made Souvenirs
If you can't tell already, I'm a little biased against overly advertorial souvenirs, whether they're from Seattle or from my list of best souvenirs from other destinations. I think the best souvenirs from Seattle are unique artful objects.
These types of souvenirs likely won't have "Seattle" written on them anywhere, but when you find an object that speaks to you and that you'll always remember you purchased in Seattle, you don't need the cheesy label.
Where to Find Seattle-Made Souvenirs:
The best places to get handmade Seattle souvenirs are from the artisans at Pike Place Market. On a sunny day, hundreds of vendors of handmade goods set up stalls in and around the market. You can find everything ranging from jewelry to pottery, woodcraft to quilting, and stuffed animals to handmade weavings.
For those looking for an even more unique souvenir from Seattle, I think one of the best things to bring back from Seattle as a souvenir is also one of the cheapest: natural objects.
If you visit one of the pocket beaches I map out on the way from Pike Place market to the space needle, and I recommend you do, you'll find no shortage of bits and baubles to pick up and place in your pocket for your return trip home. Whether it's a bit of driftwood or a colorful rock perfectly smoothed by glaciers, there's no shortage of free souvenirs in Seattle.
✨HINT: Turn your free souvenirs into souvenir refrigerator magnets by gluing the object to a strong magnet using epoxy glue.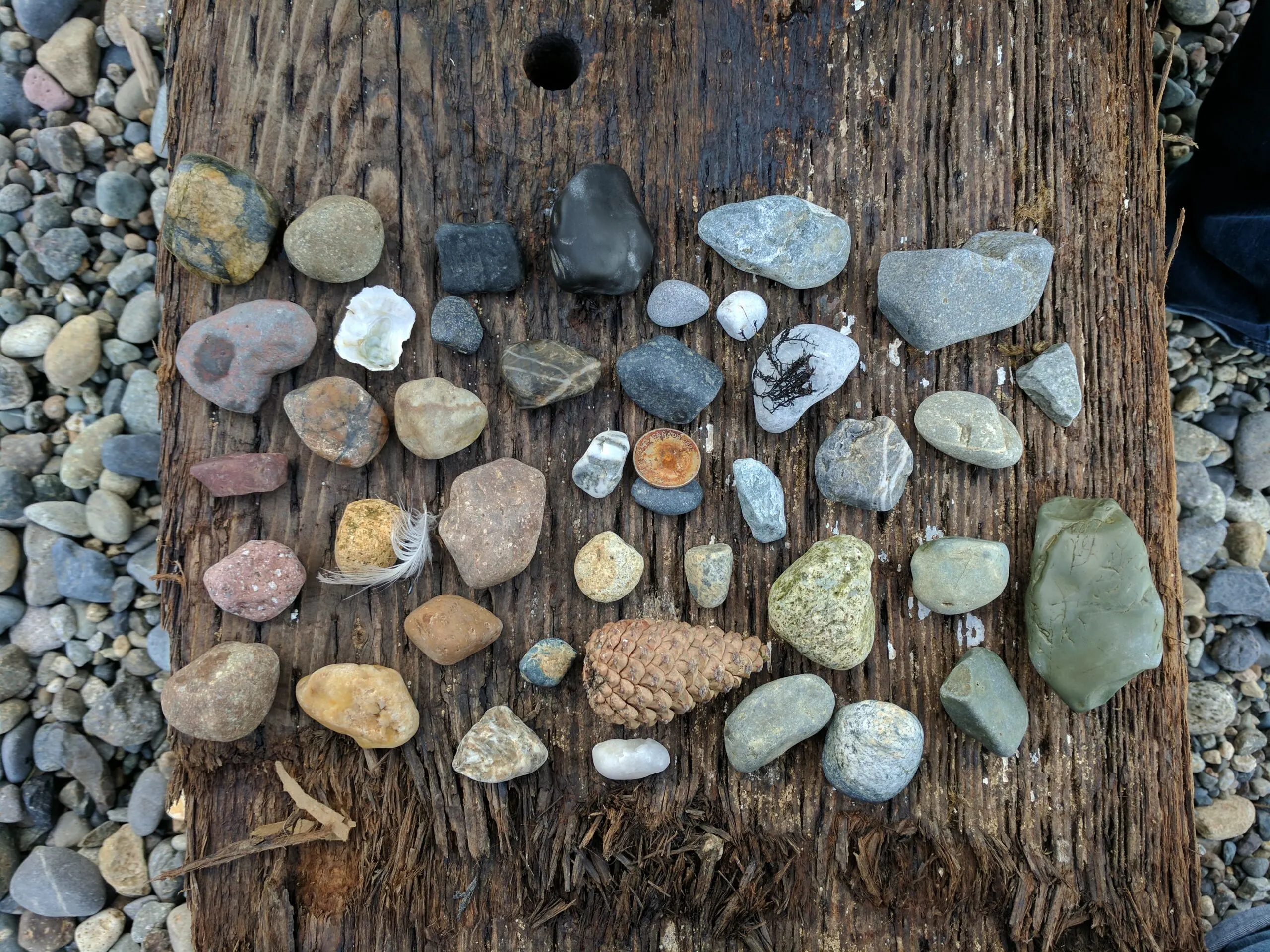 Perishable Souvenirs
Probably the least popular souvenirs to bring back from Seattle, perishable souvenirs are still some of my favorite. Perishables souvenirs, like things that can be eaten, often get the biggest response as gifts, in my experience. A gift of a perishable item tells the person receiving the gift that not only were you thinking about them during your trip, but you took the time to figure out how to bring them a perishable item.
Good perishable souvenirs from Seattle include some of the most iconic products from the city, including:
🍥 Fresh salmon – at Pike Place Market, every fishmonger booth is prepared to pack fish in packaging that will keep it chilled for 24 hours. Smoked salmon is a more stable alternative.
🌷 Fresh flowers from Pike Place Market – While extravagant bouquets can be purchased for just $15 or $20- they do present a challenge during air travel. Don't worry, though, it's nothing that SeaTac airport and Seattle flight crews haven't seen before.
☕ Coffee and Chocolate – in my opinion, the absolute essential souvenirs to bring back from Seattle are coffee beans and chocolate. Both foods have an abundant locally produced supply, and a bag of coffee beans from one of the best coffee shops in Pike Place Market and a few artisanal chocolate bars from Theo chocolate is sure to delight anyone.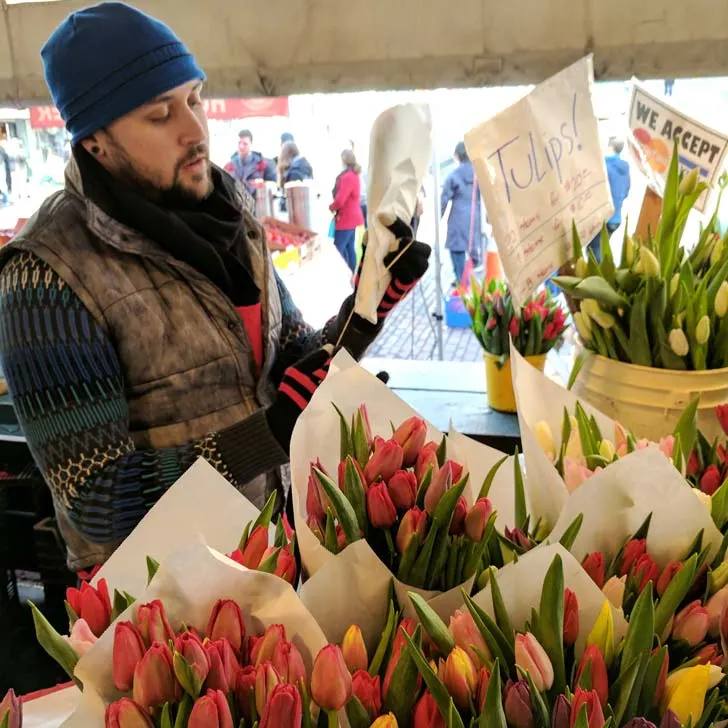 Gifts from Seattle for Kids
Perhaps you're planning an adults-only trip to Seattle and need to bring home something special for the kids in your life. When it comes to finding the perfect souvenir for children, Seattle offers a range of fun options. From handmade toys to unique items inspired by local attractions, here are some great Seattle gift ideas for kids:
🍩😻 Handmade Toys from MarninSaylor. This renowned toy store in Seattle is known for its beautifully crafted handmade toys. Their creations are not only fun but also promote creativity and imaginative play. The Donut Cats are sure to make any cat-obsessed kid grin! These toys make for meaningful and unique gifts that children will cherish.
🧩 Seattle-themed items from local attractions. The Space Needle and Chihuly Garden and Glass are iconic attractions in Seattle, and their gift shops offer a wide selection of items that are perfect for children. From space-themed toys and puzzles to colorful glass art-inspired trinkets, these gift shops have something to suit every child's interests.
🤖🦥 Robot vs. Sloth's Whimsical Goodies. Robot vs. Sloth is a quirky family-run gift shop in Seattle that features handmade art from 40+ artists. Located within the Pike Place footprint, you likely won't even need to go out of your way to visit. Their collection features several craft kits perfect for artsy kids, along with plush toys and kid-friendly accessories.
⚽ Seattle Sounders FC Soccer Jersey or merch: For young sports enthusiasts and soccer fans, a Seattle Sounders jersey is an excellent gift choice. The Sounders are a beloved part of the city's sports culture. A jersey is a great way for children to show their love for soccer, making it a fantastic souvenir from Seattle.
When choosing gifts for children, it's important to consider their age and interests. Seattle offers a diverse range of options that cater to different preferences, making it easier to find the perfect souvenir for the young ones. These Seattle-inspired gifts are sure to delight children, plus, they might forgive you for visiting Seattle without them!
Final Thoughts on Seattle Souvenirs
As you can see, there are many options for great souvenirs to bring back from Seattle. Whether you are searching for the perfect souvenir for a child, partner, parent, or friend, Seattle souvenirs are never in short supply- especially if you are open to unique, as well as standard, souvenirs and shop at the most popular tourist destinations in Seattle.
For more recommendations on travel in Seattle, including the 15 things you must do at Pike Place Market be sure and check out my archives on Seattle travel.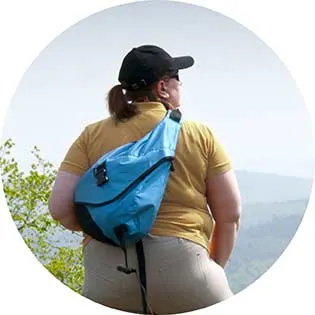 Lynli Roman's unique approach to travel is informed by decades of experience on the road with a traveling family and, later, years spent as a solo international traveler. When she's not writing about Seattle from her Pike Place Market apartment, Lynli writes on-location while conducting hands-on research in each destination she covers. Lynli's writing has been featured by MSN, ABC Money, Buzzfeed, and Huffington Post. She is passionate about sharing information that makes travel more accessible for all bodies.