I'm not a typical crystal collector. Neither geologist nor a true believer in healing crystals, I just like treasure hunting- and rockhounding for quartz crystals in the Cascade Mountains definitely fit the bill.
When I learned that people could dig their own quartz and amethyst crystals on a public access trail that was just minutes from downtown Seattle, my interest was piqued. After several visits to Hansen Creek Trail, I'm ready to spill my best tips for taking this dig-your-own crystal adventure yourself.
My friends and I are something of oddball-adventurers. When we found out about Hansen Creek, we were pumped to go (Not totally unlike the discovery of Seattle's Gnome Trail). Still, it took more than a year after hearing about Hansen Creek and how easy it was to find crystals there to make a plan to visit together.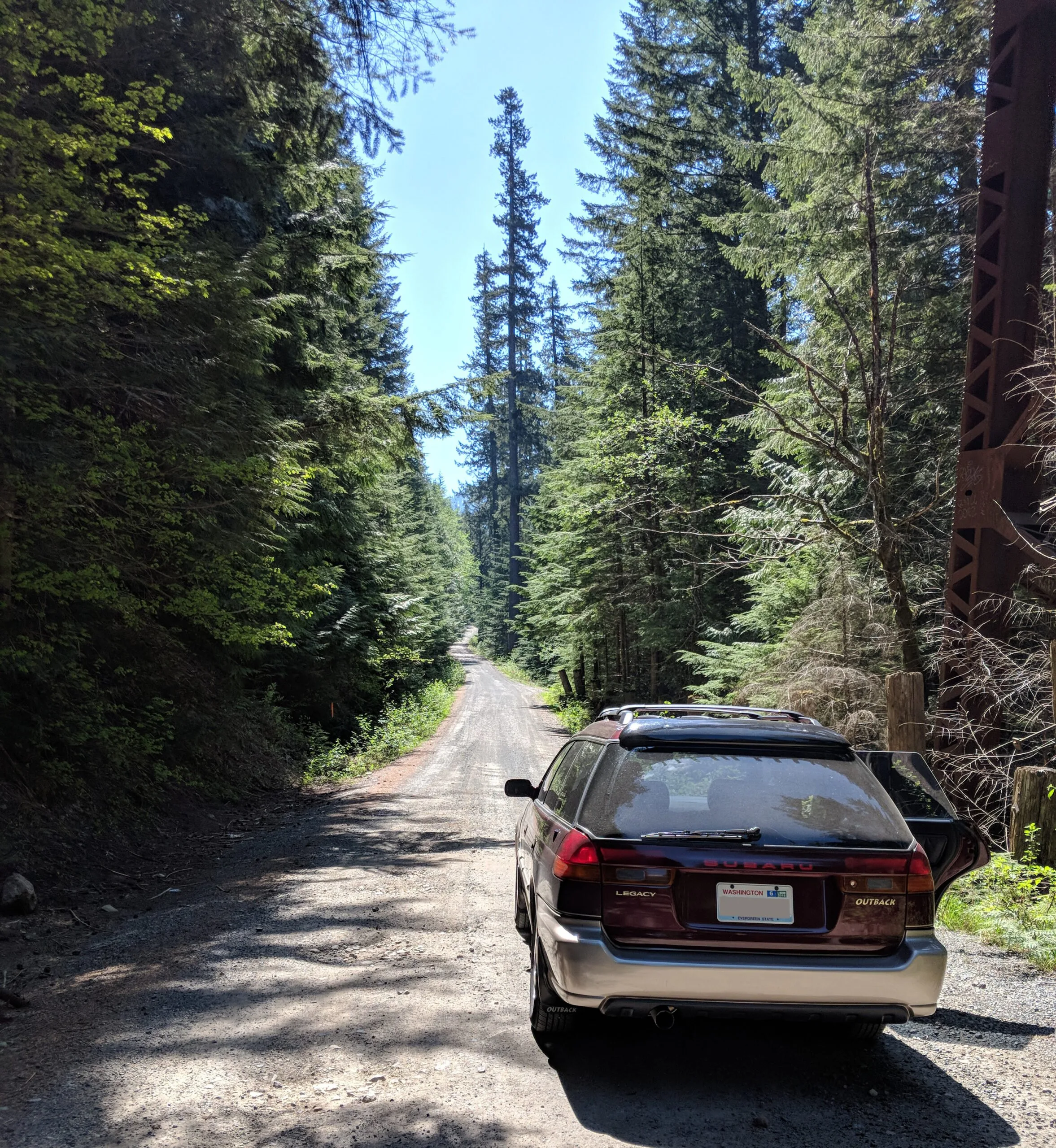 Getting There
Hansen Creek is in the Cascade mountain range – one of two mountain ranges that sandwich the city of Seattle, Washington. The Olympic Mountains to the west are a few hours away from Seattle by car, but you can reach the foothills of the Cascade Mountains in well under an hour of driving from downtown (depending on traffic!).
The following section may contain affiliate links. As an Amazon Associate, we earn from qualifying purchases.
Including a stop to photograph a dramatic train trestle on the way up, our drive to the Hansen Creek trailhead from downtown Seattle took less than an hour.
Essential Supplies You'll Need for Crystal Hunting:
If you want to participate in the crystal-hunting part of this hike, don't skimp on these essentials. They aren't optional- they're the bare minimum you'll need!
Recommended Additional Supplies
Pickaxe or Rock Pick – This is the tool that takes this adventure from ordinary to extraordinary. You'll find the biggest crystals with a pickaxe to pry fresh clay.
A Headlamp – Even during daylight hours, a headlamp lets you shine directional light. This light makes the biggest, brightest crystals glint in the light and catch your eye. It's also great for digging down under roots, where some of the best crystals are.
Something waterproof to sit on – You'll be sitting or kneeling on the ground in the Pacific Northwest. Padding is nice, but a waterproof layer will prevent mud from soaking through your pants.
Very good shoes (the slope where the best crystals can be found is steep as soon as you step off the trail)
Getting Started on Our Quartz Crystal Hunt
After navigating to the trail head (You can find the GPS, geographic locators, and google map link below) we started. A pack of cars parked along the road– even on a Tuesday morning in May– and a few discarded rock hunting-related items let us know this unmarked trailhead was the one we were looking for. No special parking permit or trail access pass is required as of Winter 2023 (but check for seasonal road closures via the National Forest Service's website).
I'll admit that when a friend first told me about this adventure I was skeptical – if there were big crystals that easy to collect, wouldn't they all been picked up by now? But curiosity got the best of me and off we went up the trail hopefully on that first visit.
The name is a bit deceptive as Hansen Creek passes long before you actually arrive at the trailhead. Hansen Creek trail doesn't have much in terms of "majestic views" (like many Seattle hikes do) but what it makes up for scenic vistas it makes up for in geology!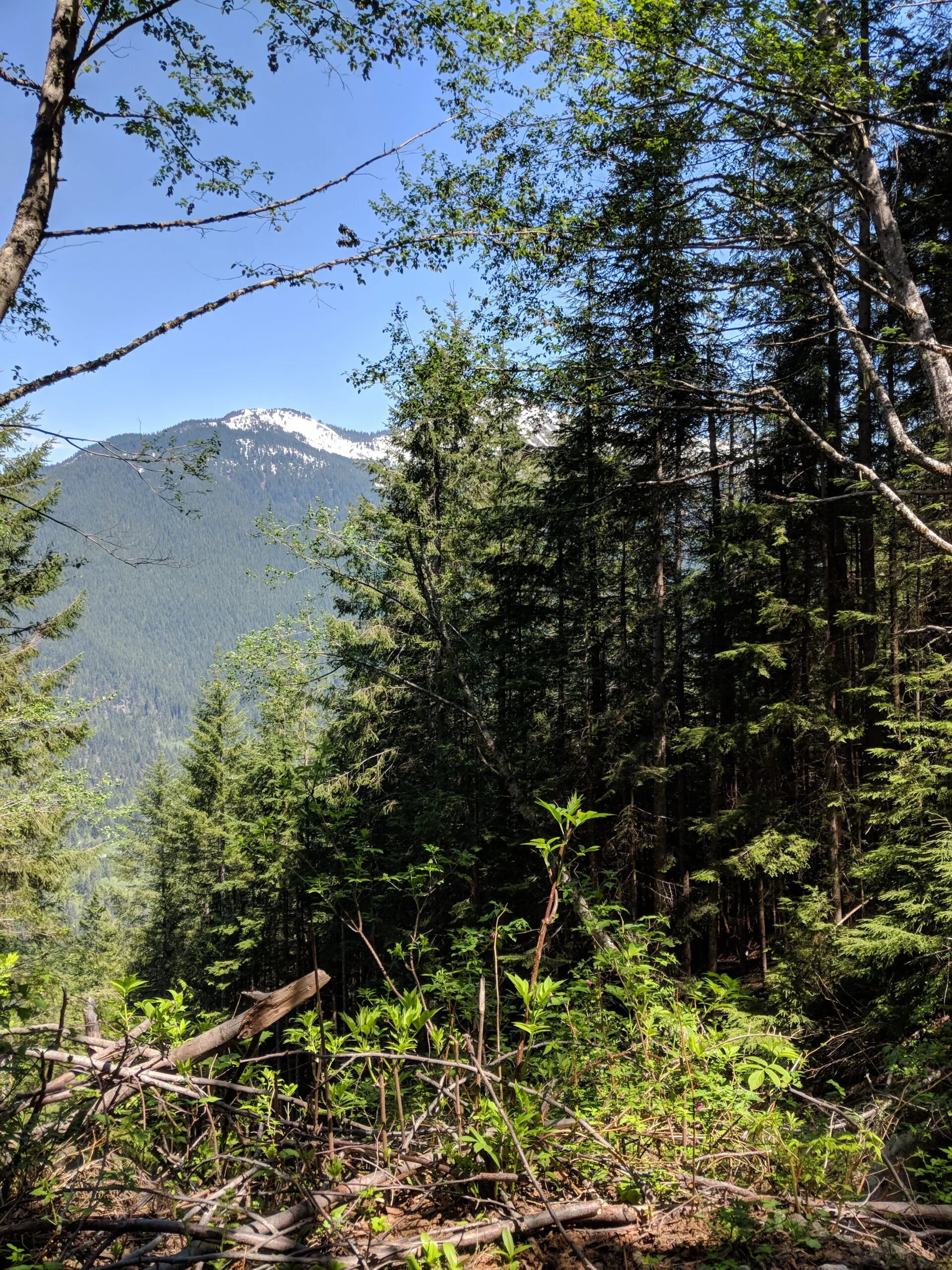 No one in my group had ever been crystal hunting before- or were even particularly interested in building a collection of crystals- but the lure of a good hunt followed by a good story to tell was enough to convince us to spend the day off at Hansen Creek digging for quartz and amethyst.
As soon as we started down the trail, I immediately began noticing how interesting the geological formations were. I'm not a professional geologist– or even an amateur geologist– but it's interesting to notice when one small geographic area contains a huge variety of different minerals and rock formations. Hansen Creek is definitely one such area. The crystals result from the same process that brought diverse geology to the area– glacial movements.
Crystals found their way to this mountainside due to glacial movement. That same geological process left many other rocks in the area too. In other words, although obvious areas are very popular digging spots for crystals, you may find crystals at any point on this trail.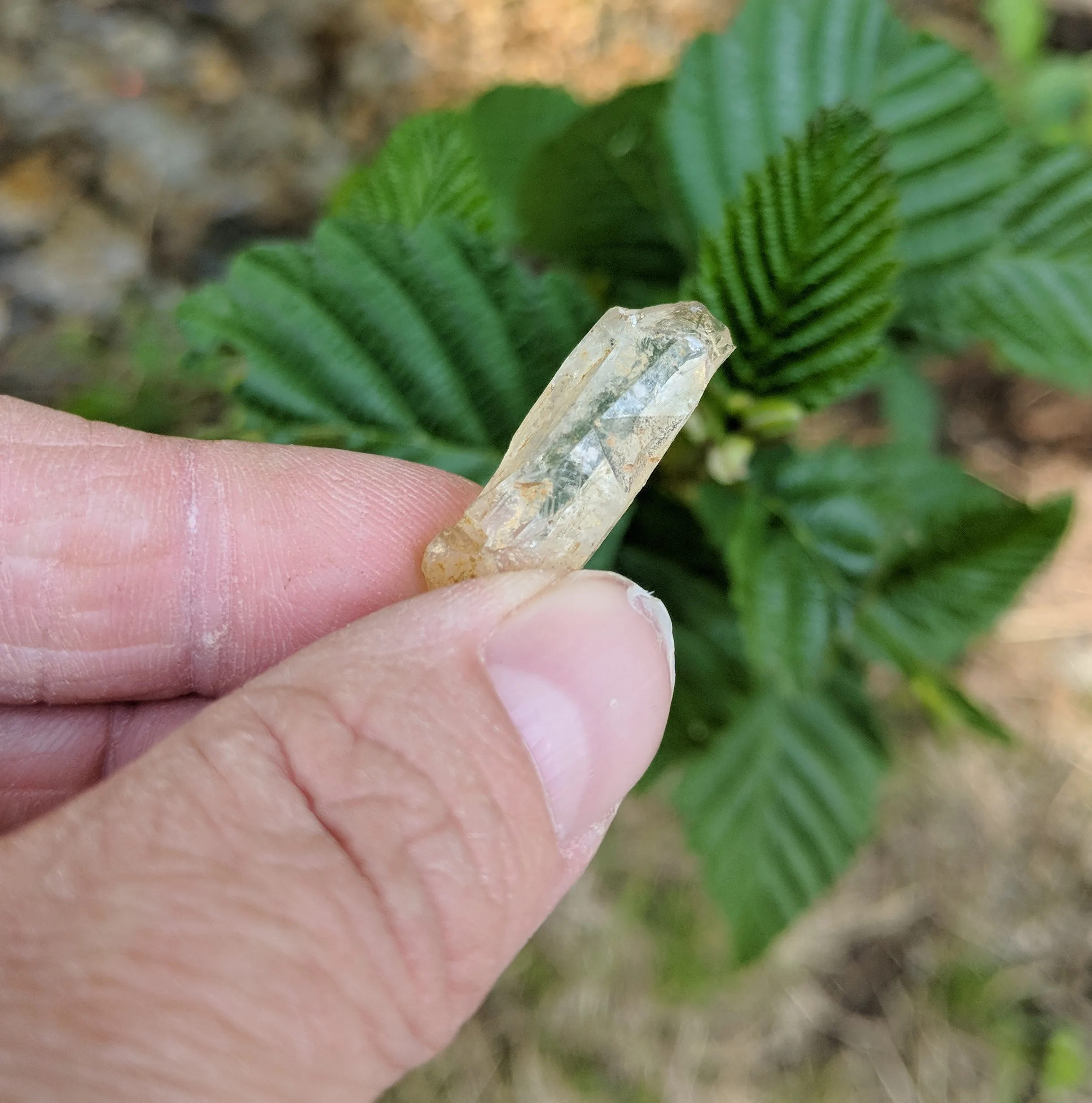 I think the most remarkable thing about crystal hunting at Hansen Creek was the abundance of crystals that seem to be literally everywhere – everyone we met on the trail had tools to dig, but my largest crystal finds were crystals that I found essentially lying along the trail! (Likely washed down the mountain in a recent rainstorm and stopped by the relative levelness of the trail.)
I read on the Internet that crystals are best located in red clay soil, so I settled myself near a dead stump not too far from the main trail. By following the red clay trail and looking for dirt with a consistency of not having been dug before, I was successful in locating crystals of varying sizes.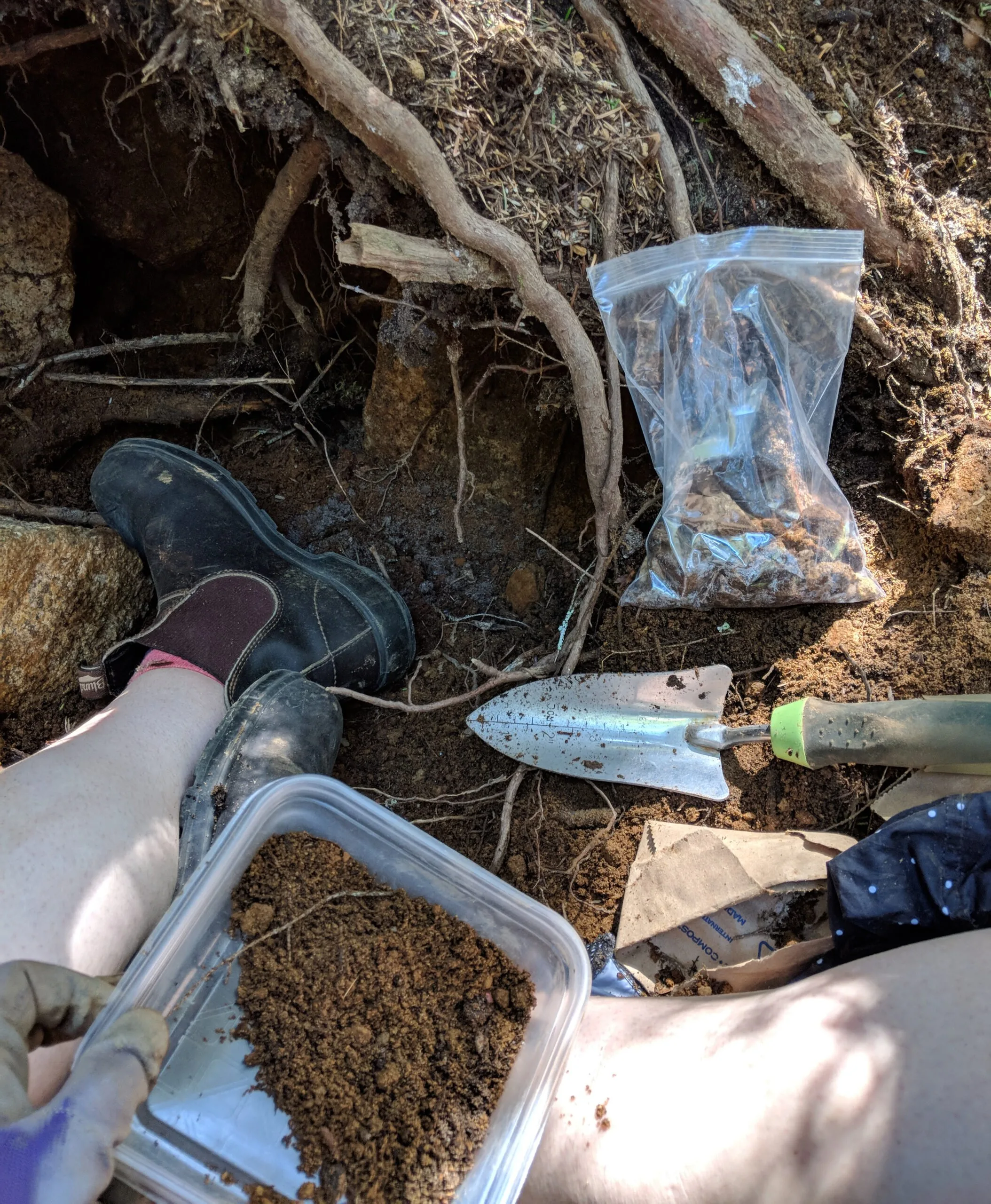 Below you can see some of my crystals during the cleaning process. Because clay discolors everything, and the quartz crystals can be easy to miss, it's a good idea to bag and bring back every rock you suspect "might" be a crystal– so when I got home I actually had lots of rocks – but in the mix with ordinary rocks, the washing process revealed many crystals. I soaked my crystals in a safe, organic citric acid solution to clean them, although I'm told more caustic cleaners can get them bright-white sooner.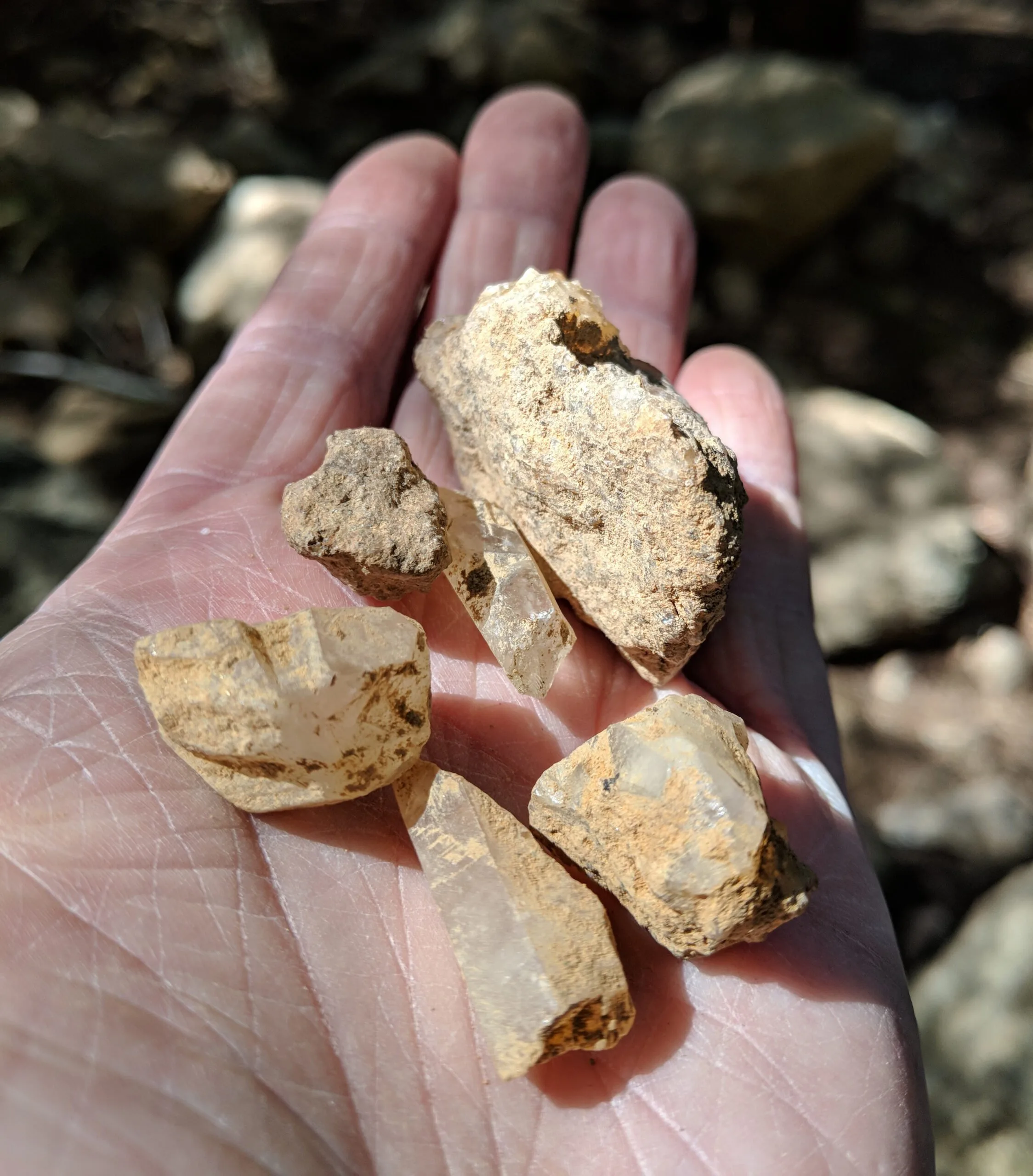 Hansen Creek Gem Hunting as a Family Adventure
Hansen Creek trail is suitable for all ages. Although the trail is uphill consistently for a mile up the mountain, and the ground can be very steep and unstable in areas that have been heavily dug, the trail is wide, with great footing until the dig site.
If you visit Hansen Creek trail with kids, you may want to make sure that they don't leave the trail, and locate a spot a bit before the obvious digging spots (where footing become steeper and less stable) to plant yourself. Crystals are so abundant, and seemingly more exposed with every hard rainfall, that it is likely nearly anyone could have luck finding a crystal on this trail/hike even if they never left the trail at all!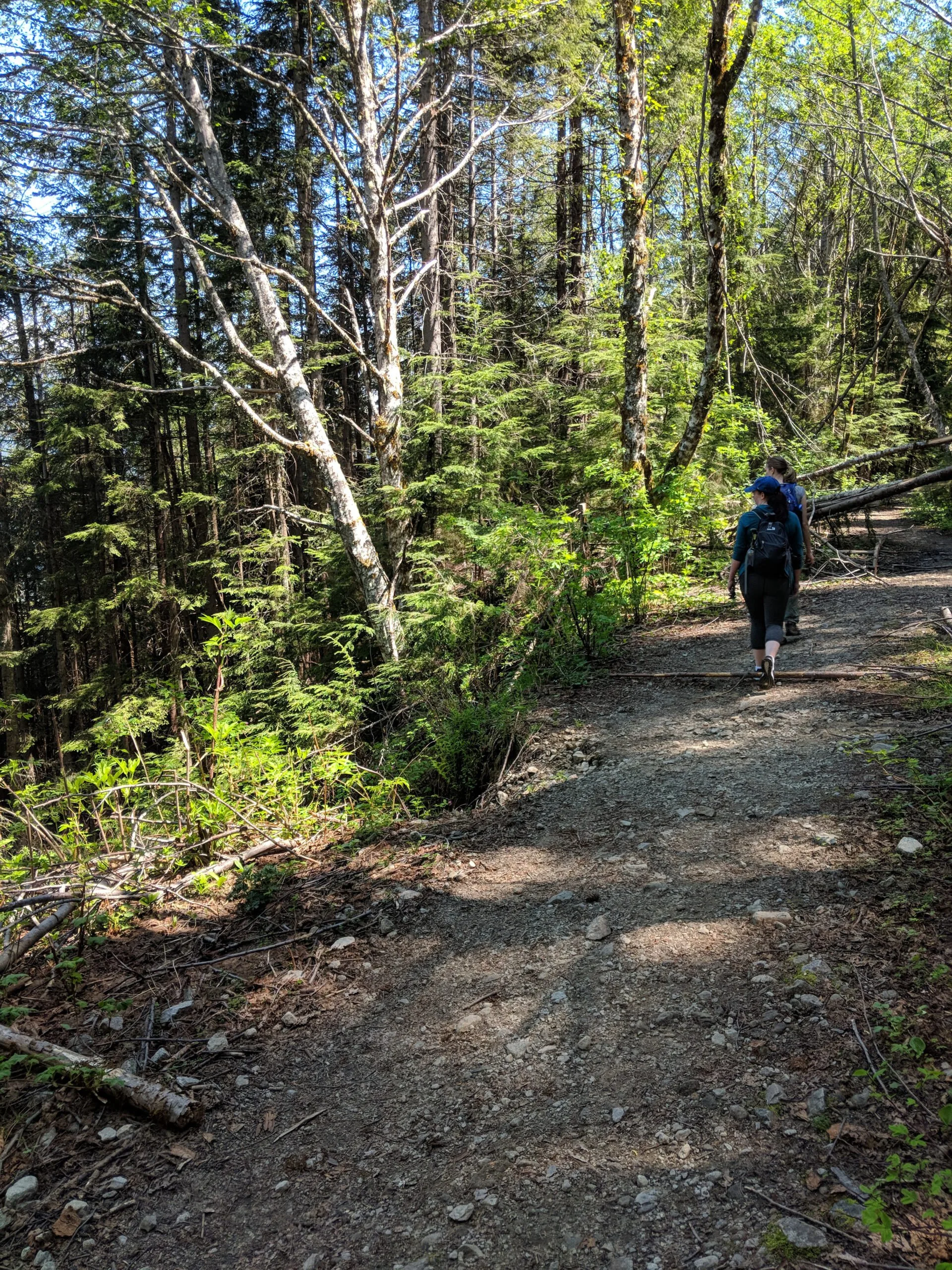 Crystal Digging and Mindfulness
Crystal digging, it turns out, is an incredibly mindful experience. I am not someone who buys into a lot of the "magic" around crystals, but research in social sciences has demonstrated that mindfulness is incredibly powerful in inducing brain states that enhance a sense of wellbeing.
In the process of digging, and intently looking for glimmers of light, I grew more and more aware of my surroundings and myself. As I'd scoop a handful of dirt onto a flat stone and then spread that dirt with my hand looking for crystals, I felt myself growing increasingly aware of the sounds in the mountains around me, the feel of the dirt and minerals on my hands, and my own breathing. Although some would credit the crystals, I am certain that a day spent mindfully aware of my surroundings in an environment so near dirt and trees and fresh air dramatically changed my mindset and awareness of myself.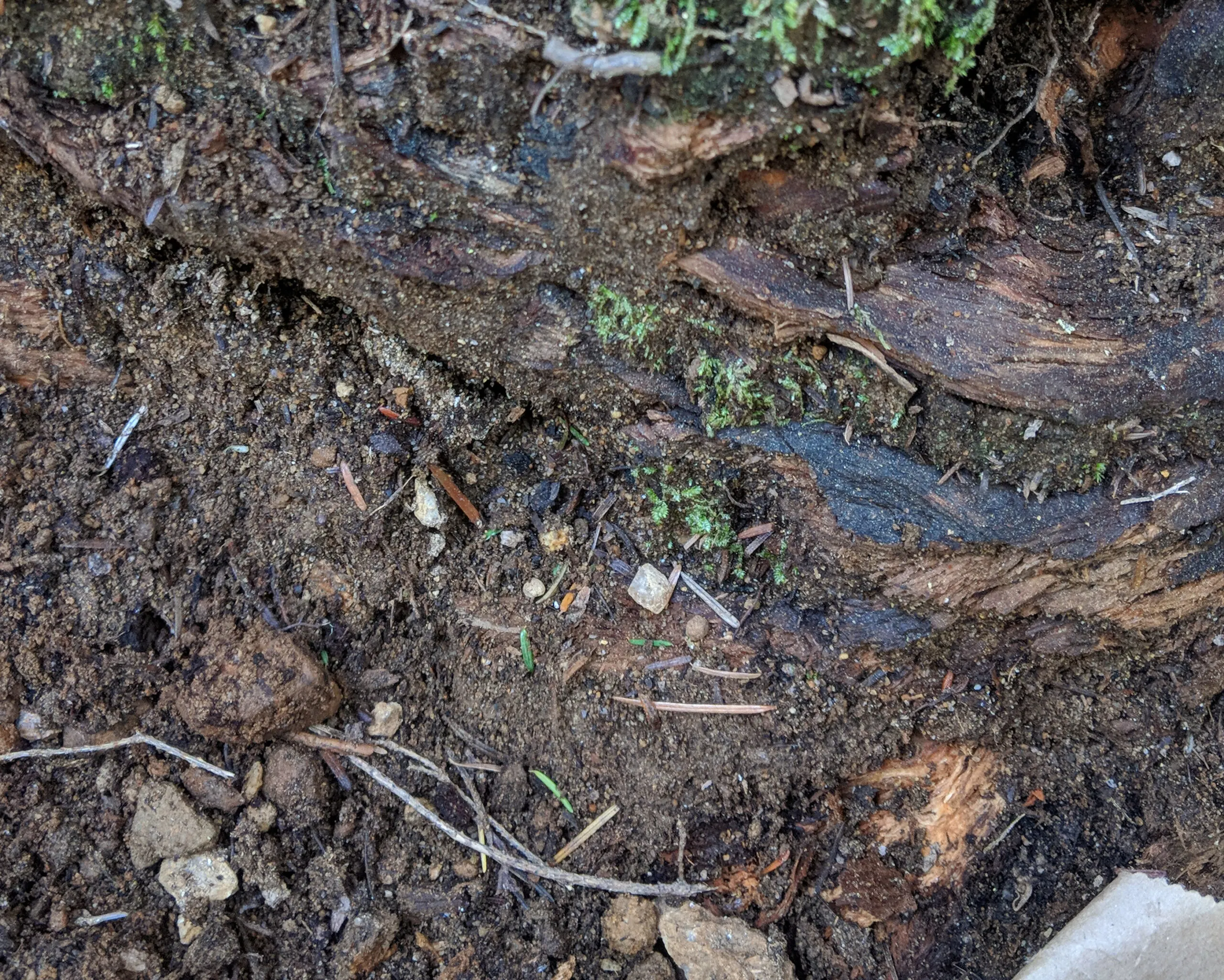 Crystal Hunting as A Free Seattle Tourist Adventure
If you are a Seattle tourist, Gem hunting at the Hansen Creek trail is a fantastic way to experience hiking in the Pacific Northwest. It has the benefit for not wasting too much of your vacation time on a multi-day-commitment to backpacking. Hansen Creek can be hiked in a half-day, including the drive there and back.
I'm adding Hansen Creek trail gem hunting to my list of fun free things to do in Seattle. While almost everything in Seattle has a higher price tag due to the current economy and popularity, Hansen Creek is one of the few free things left to do.
For the price of transportation there and back, you can have the experience of hiking in the Pacific Northwest, crystal hunting, and the spoils of your effort- which, for me, was a handful of beautiful quartz crystals and a great story of a day well spent in the mountains.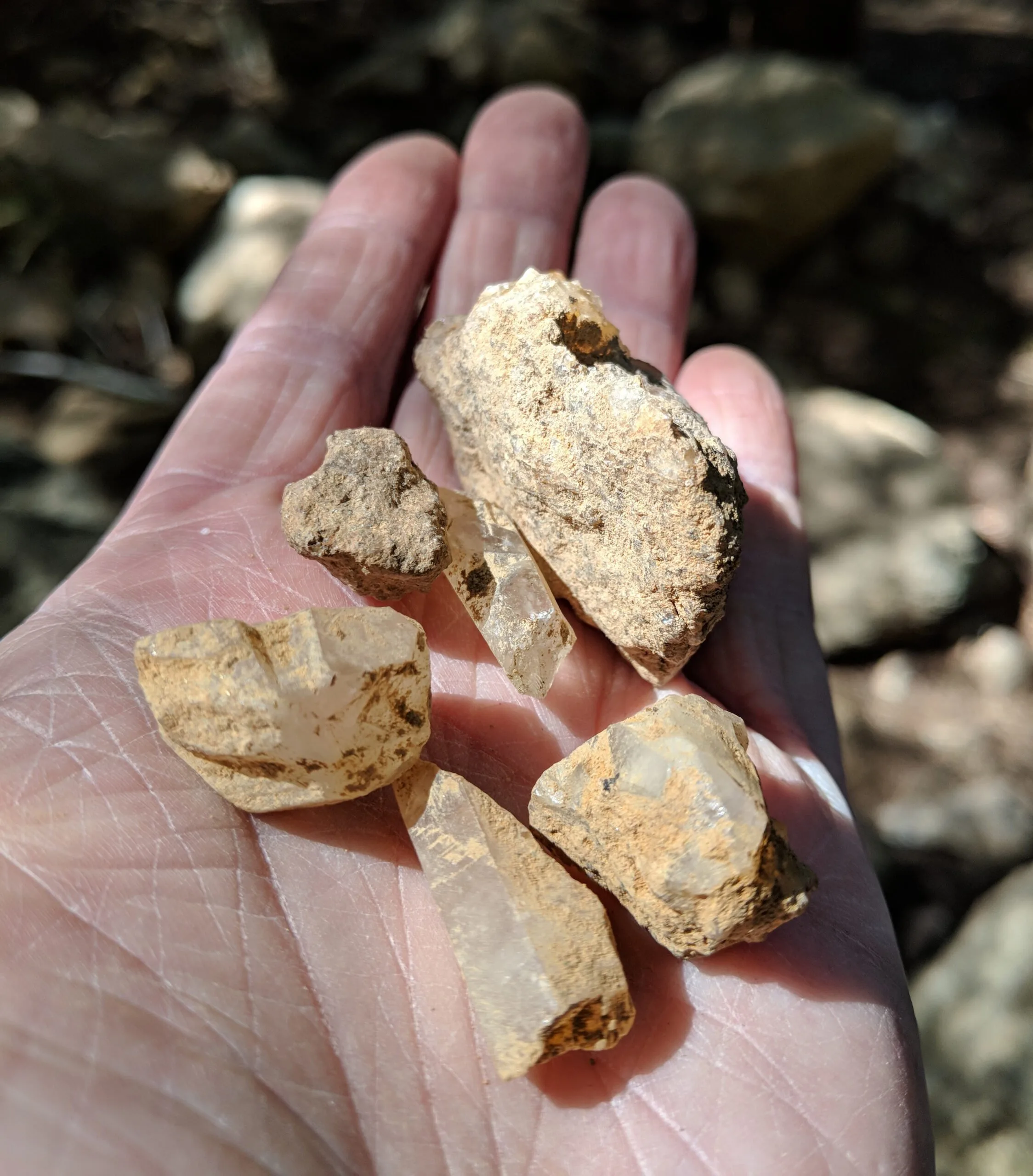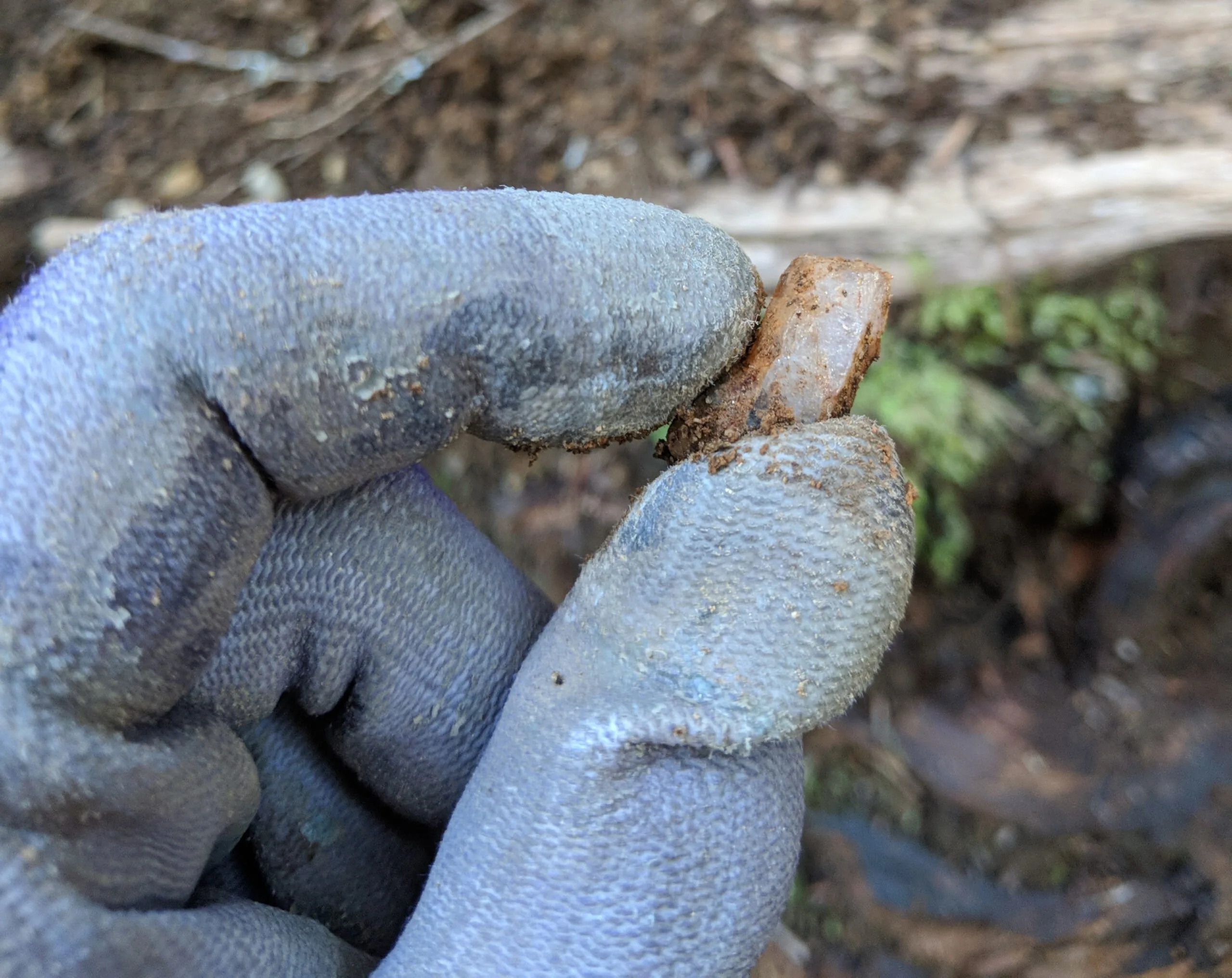 Getting to the Hansen Creek Trailhead for Crystal Hunting
Trailhead GPS coordinates are: Latitude 47.366° N Longitude121.512° W (Google Maps Link)
The google plus location code is: 9F8Q+95 Bandera, Washington
Get there with Google Maps by using the map below: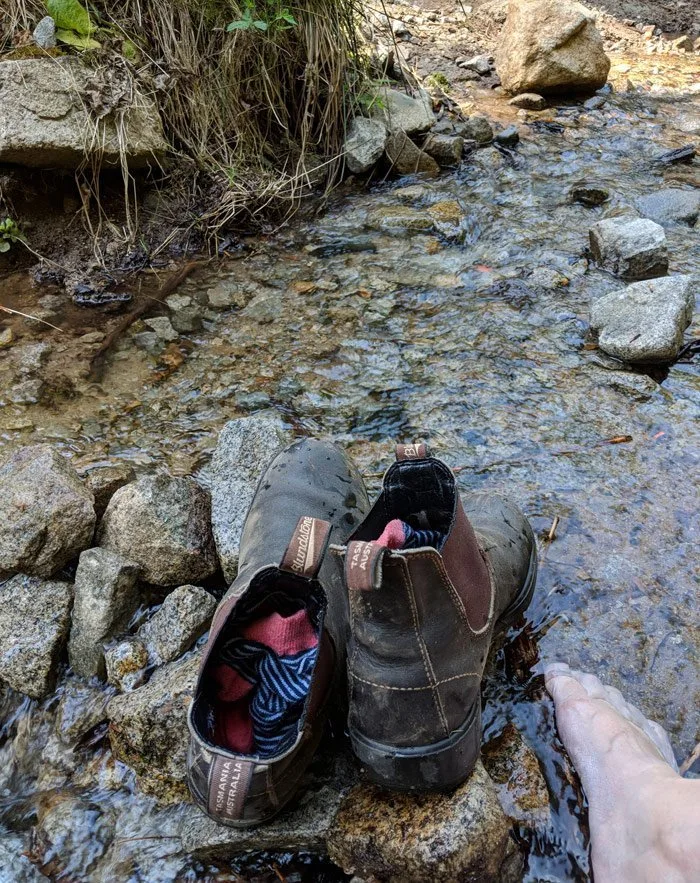 Crystal Hunting in… The Vatican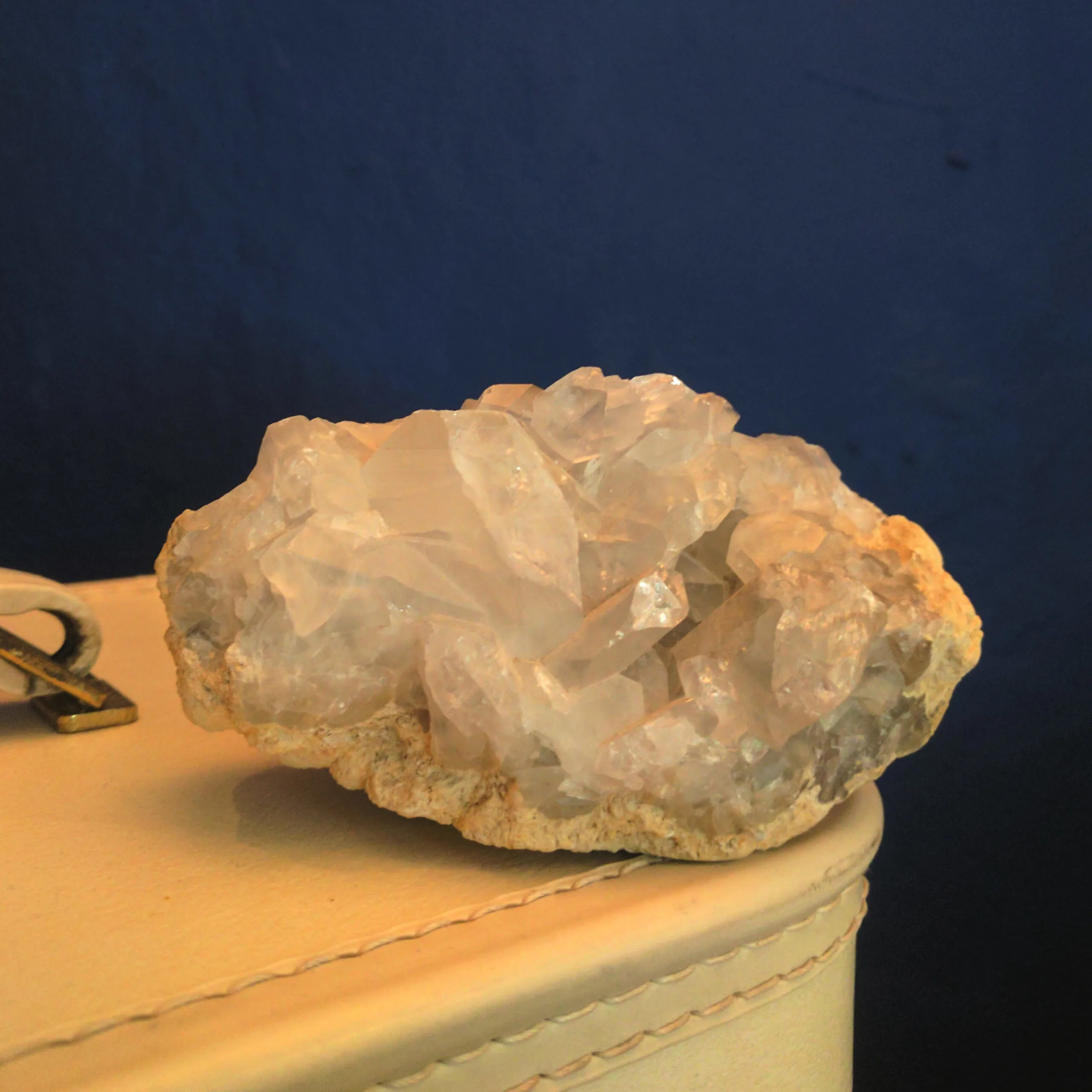 The first quartz crystal creature I "found" was long before this amateur rockhounding trip- it was when I was wandering the back streets of Vatican City on a solo trip to Rome. On a nondescript corner, a spillage into the narrow street of vintage chandeliers and ancient-looking wooden items
signaled an antique store, and as I turned the corner and entered I was a bit embarrassed to discover it was more of a meeting space for retired locals than a bustling shop.
Before making a hasty retreat, I noticed this giant crystal on a shelf. Its natural beauty was starkly in contrast to the ornate Italian fixtures hanging from the ceiling and on every shelf. After a well-aided translation of conversation with the shopkeeper (and the assortment of amused locals), I bought this crystal for $5. While I'll never have the pleasure of pulling it from the earth, bringing it home tucked in my backpack leaves me especially affectionate towards this crystal. To this day, it remains one of the best souvenirs I've scored and definitely my favorite souvenir from Italy.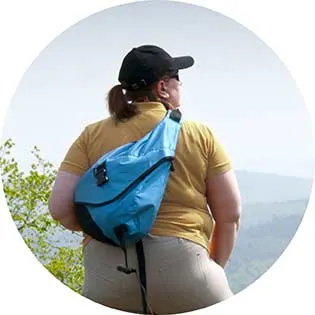 Lynli Roman's unique approach to travel is informed by decades of experience on the road with a traveling family and, later, years spent as a solo international traveler. When she's not writing about Seattle from her Pike Place Market apartment, Lynli writes on-location while conducting hands-on research in each destination she covers. Lynli's writing has been featured by MSN, ABC Money, Buzzfeed, and Huffington Post. She is passionate about sharing information that makes travel more accessible for all bodies.