Pool parties, float trips, and beach vacations can be part of a relaxing vacation. But, if (like me!) you're a plus size person that's had a bad experience with a too-small pool float, you know that getting a plus size pool float is key to maximizing fun on the water.
I tested a bunch of pool floats in my relentless pursuit of maximizing the ultimate form of relaxation: floating. Every product listed below has been tested by me– a robustly plus-size traveler and self-identified fat person. In this article, I share – from my personal experience – the best plus-size pool floats I've found.
Big Bodies on the Water
I'm an avid swimmer and an even more avider (is that a word?) floater. Water is the one place in the world where, as a self-identified fat person, there's no resistance to the largeness of my body. As I began swimming again as an adult, the local neighborhood rec center, with its almost abandoned pool, became my refuge. For me, the water is a place of both weightlessness and freedom to take up space.
Shortly after I began swimming again, I began fitting more swimming into my travel planners.
If there was a pool, I was determined to get in it before leaving- even if I didn't have a float. (And in some cases, even if it was very, very cold!) Floating became my favorite way to be photographed during travel.
When I float, I feel weightless and fully supported by the water.
To me, floating is rest. With a good pool float, it's bliss.
Benefits of Using a Pool Float as a Plus Size Person
One of the few benefits of being in a larger body is buoyancy. Even though my body floats easily, it can be hard to float comfortably without a float.
Using an inflatable or buoyancy-assisting pool float makes floating:
💆🏻‍♀️ 🌴 🌞Pool floats make it more comfortable to rest on the water,
💦🌊With comfort and support, pool floats can help bodies feel more relaxed and reduce stress.
🏄🤿With an inflatable, you can control how wet you get. Choose a high buoyancy float to ride above the water or a low-riding sling to stay stable and submerged.
👂🏻 Floating without an inflatable support often means ending up with water deep in the inner ear. With a pool float that has a headrest, it's easy to keep water out of your ears.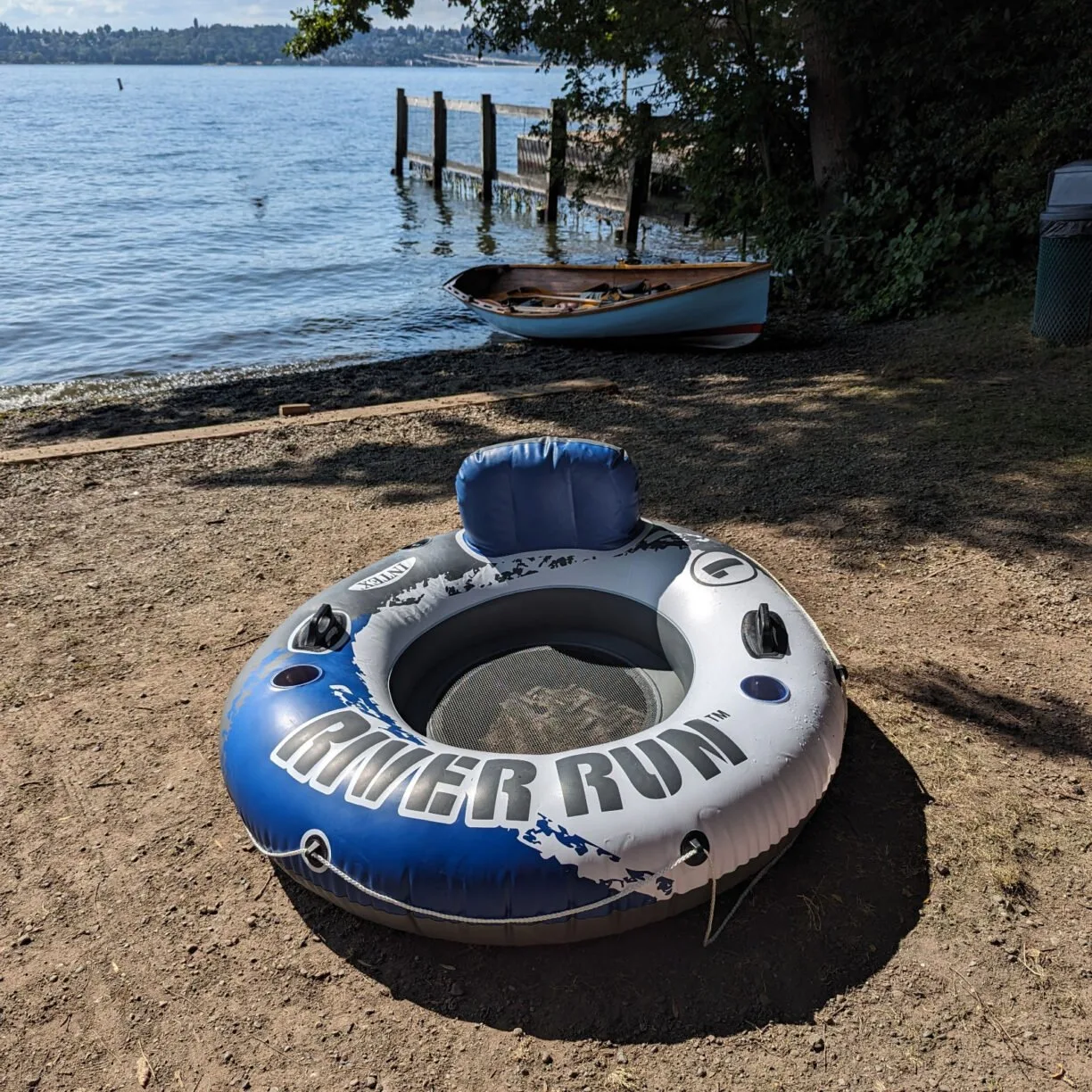 Why Standard Pool Floats (Often) Don't Work for Plus Size People
There are two reasons you may want to buy a specifically designed pool float for plus-size people: buoyancy and ease of getting on and off the float:
1. Bouancy
All pool floats (or boats, for that matter) have a maximum weight they can support.
Just like how a 10-year-old-kid can't sit on an inflatable drink holder and expect to float on top of it, big people need bigger floats.
If you're heavy, you'll have more fun in the pool, lake, lazy river, or river if you purchase a pool float that is designed to support your weight and stay buoyant.
HINT: buying a pool float rated for plus-size people means your float will ride in the water similarly to friends in smaller bodies. The alternative, a very low riding pool float, can be embarrassing. This embarrassment can be avoided by getting the right size float.
2. Getting On and Off a Pool Float as a Plus Size Person
The main reason I buy pool floats specifically meant for plus-size people is to avoid embarrassment. It can be inelegant (to say the least) to climb atop a pool float in a big body. Attempting to balance while getting on a too-small inflatable is an easy way to get dumped in the water!
An appropriately sized pool float makes it easier. (If you need a very easy-to-get-on pool float, check out the float sling below- getting on is as easy as sitting in a chair!)
Best Pool Floats for Plus Size People (according to an actual plus size person)
Listen ya'll, I'm not a yahoo who asked a bot to auto-populate a list of pool floats to stuff with affiliate links. I'm a real fat person who freaking loves to float and these are inflatable pool floats I have personally used and like enough to recommend.
The following section may contain affiliate links. As an Amazon Associate, we earn from qualifying purchases.
Intex River Run Inflatable Water Float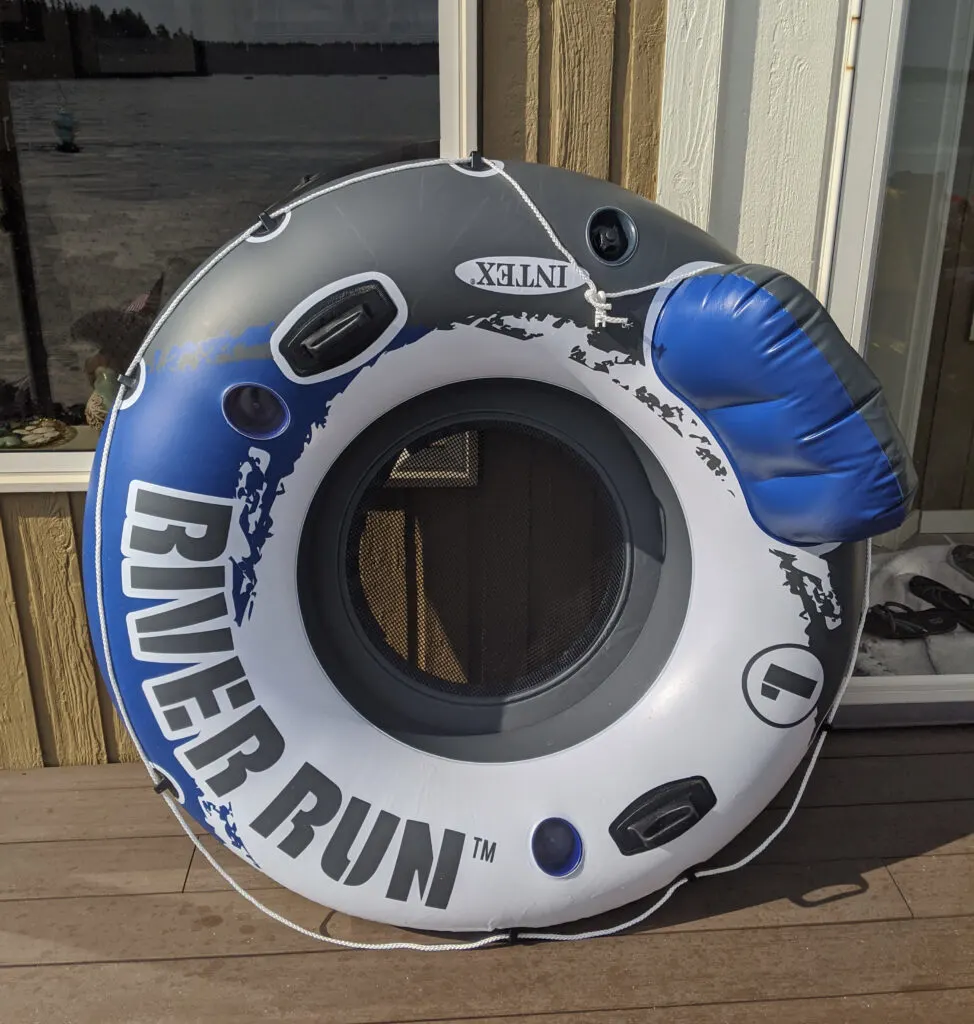 Buying this innertube-style pool float back in 2018 was the first time I realized that it was possible to be a plus size human and be comfortable on a pool float.
This inner tube is perfect for when you want to ride a little higher in the water- like river floats or taking a dip in Seattle's popular but arguably toxic Green Lake.
It's made from VERY sturdy plastic which resists punctures and popping. With drink holders, handles, and ropes to tie it to other floats, this is my go-to for boating or open-water floating.
Because it sits higher in the water, climbing on board this float can be tricky.
Getting onto it from the shore or pool steps is easiest.
Getting on this plus-size pool float while swimming in the water next to it is very hard. Climbing on from the water is possible, though, if you have a strong kick and someone to hold the raft steady while you make your ungraceful attempt.
Weight Capacity: ~300lbs*
Ease of getting on: 5/10
Rides in the water: HIGH
Fun looking: 2/10
Stability: 7/10
Comfort: 7/10
Versatility: 4/10
*(This information was surprisingly difficult to locate. Amazon mentions no weight capacity, Academy Sports lists the capacity as over 400 lbs, while Walmart Lists it as 220 lbs. As an actual plus-size user of this pool float, I'm confident you'll stay stable and buoyant on this float at 300+ lbs.
Sling Pool Float: FindUWill Fabric Pool Hammock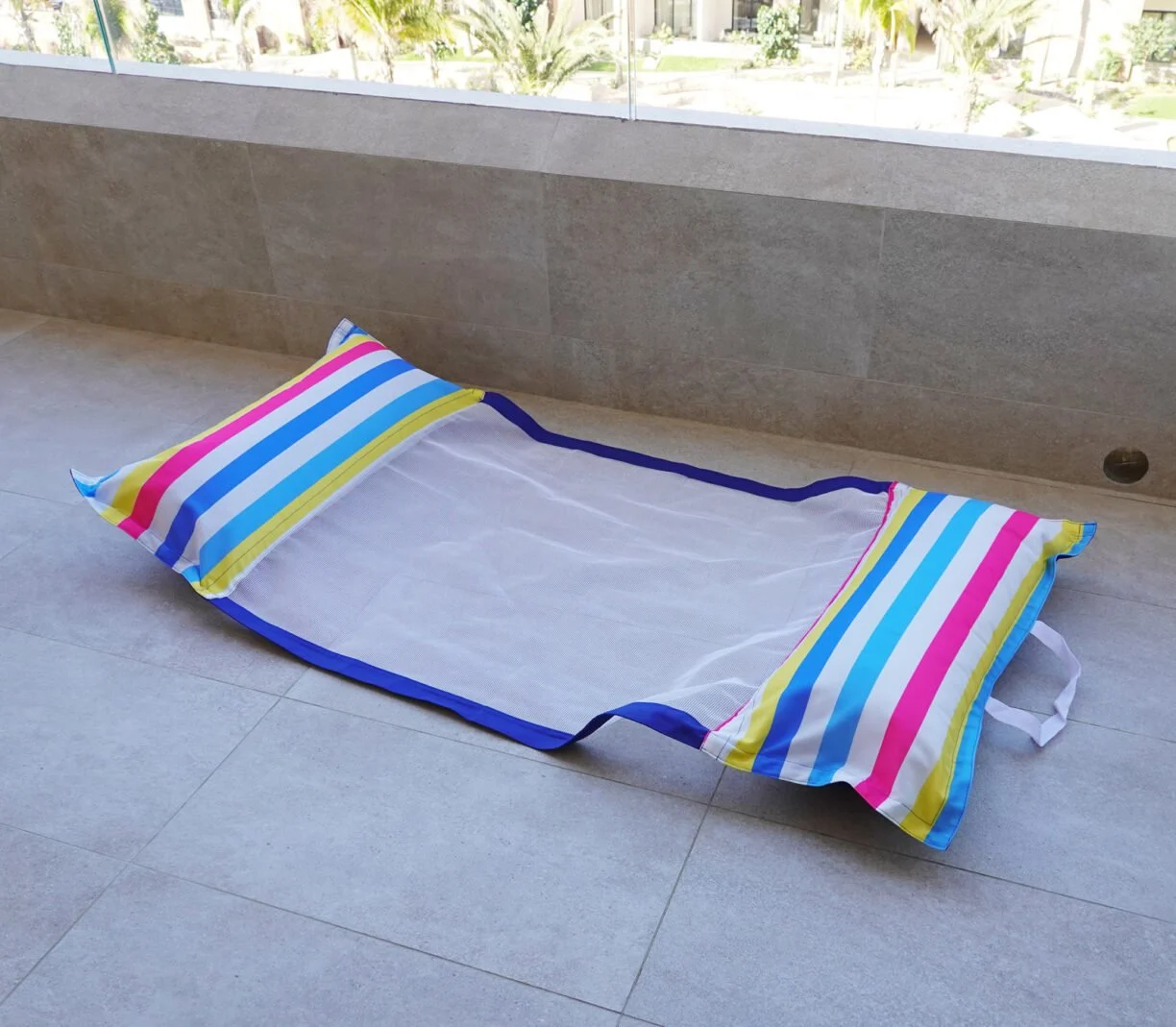 Buy this Pool Hammock Here on Amazon (plus you can grab replacement pillow inserts separately, which make this a more sustainable choice)
The Intex River Run tube (above) used to be my favorite float as a self-identified fat person. Then, I met the sling float. This specific float (there are many imitators, be warned!) is the best float for plus-size people in my experience.
Why is it so great? Well, in addition to looking pretty fun (it's no novelty float, but it wouldn't be out of place at a pool party), it's extremely stable and versatile. Longer, wider, and with bigger inflated portions, it's sized for plus-size people.
Even for big bodies, getting on this pool float is as simple as swinging a leg over the sling, which drapes in the water.
From a position straddling the sling, laying back into a full recline is just a matter of kicking legs up over the tail end of the float. I took this one to a lazy river resort in Mexico and got on and off this float a couple of dozen times with no unplanned dunks. I think that's pretty good!
Weight rated for 300lbs
Ease of Getting on: 10/10
Rides in the water: LOW
Fun looking: 5/10
Stability: 9/10
Comfort: 9/10
Versatility: 8/10
HINT: Besides being a great pool float for plus-size people, I highly recommend this one for folks with limited mobility or other challenges. Just before my last resort vacation, I tore my rotator cuff. Laying on this low-riding pool float allowed my body the benefits of deep relaxation and buoyancy without active balancing or pain.
Warning: There are dozens of cheaper versions of both of these products- but no rivals. The sling float linked is rated for 300 lbs and is covered with a thick canvas fabric that is soft on the skin and adds support to prevent punctures or bursts. Cheaper versions may only support bodies up to 200 lbs and are often narrower, making them less stable.
Choose a Pool Float Based on Your Activity
Relaxing in backyard pools may require a different type of pool float than floating a river in the Midwest or sunbathing near one of Seattle's best swimming spots.
While novelty floats can be fun for pool parties or backyard floats, as a plus size person it's more important to be safe, comfortable, and stable than to draw attention with a pizza-shaped novelty pool float.
When you're on a river, lake, or even getting down to the serious business of relaxing on calm water, a pool float specifically made for larger bodies can make a trip more fun and avoid embarrassing dumps.
Last Point
Recently, I got to go to a fat kids' pool party. Organizers had rented out a whole water park- including, I was excited to find, a lazy river!
Grabbing an inner tube off the largest adult-size rack, I placed my tube in the water, gently lowered myself onto it- and promptly flipped head over heels into the water! 🌊😐
Standing up, embarrassed, I tried a few more times to get on the too-small pool float. Each attempt ended in failure and I eventually gave up. That's when I realized that larger bodies need specialized pool floats- if you've discovered this too, I hope this article has been helpful for you in choosing a pool float that will help you be a happy, safe, and confident floater this summer.
Call for Submissions
You are invited to help me develop this list! I'll spend the summer of 2023 testing pool floats suggested by readers. With luck, together we'll be able to add a few more resources to this list of pool floats for heavy people.
If you're a plus-size swimmer, boater, or floater, drop a comment below to share your favorite pool float.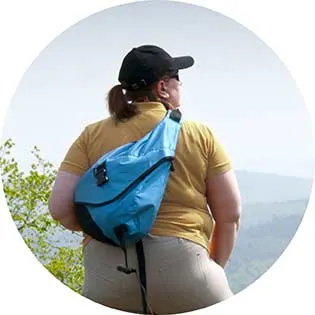 Lynli Roman's unique approach to travel is informed by decades of experience on the road with a traveling family and, later, years spent as a solo international traveler. When she's not writing about Seattle from her Pike Place Market apartment, Lynli writes on-location while conducting hands-on research in each destination she covers. Lynli's writing has been featured by MSN, ABC Money, Buzzfeed, and Huffington Post. She is passionate about sharing information that makes travel more accessible for all bodies.