As I prepared for my trip to Morocco I found myself mindful and a little bit anxious about what it would be like to be a plus size tourist there.
I worried about how my body might be perceived in a culture I was less familiar with and I wondered about logistics. One of the benefits of solo travel is that I am often able to be discerning about the transportation methods I use and the accommodations I select – making sure they're accommodating for my body. When I decided to visit Morocco through small group travel, I knew I'd lose some of that control.
🌅 Before my trip, I searched for information about traveling to Morocco as a plus size traveler. I found very little information online- so here's my attempt to remedy that: a trip report and packing list from my plus size tourism visit to Morocco.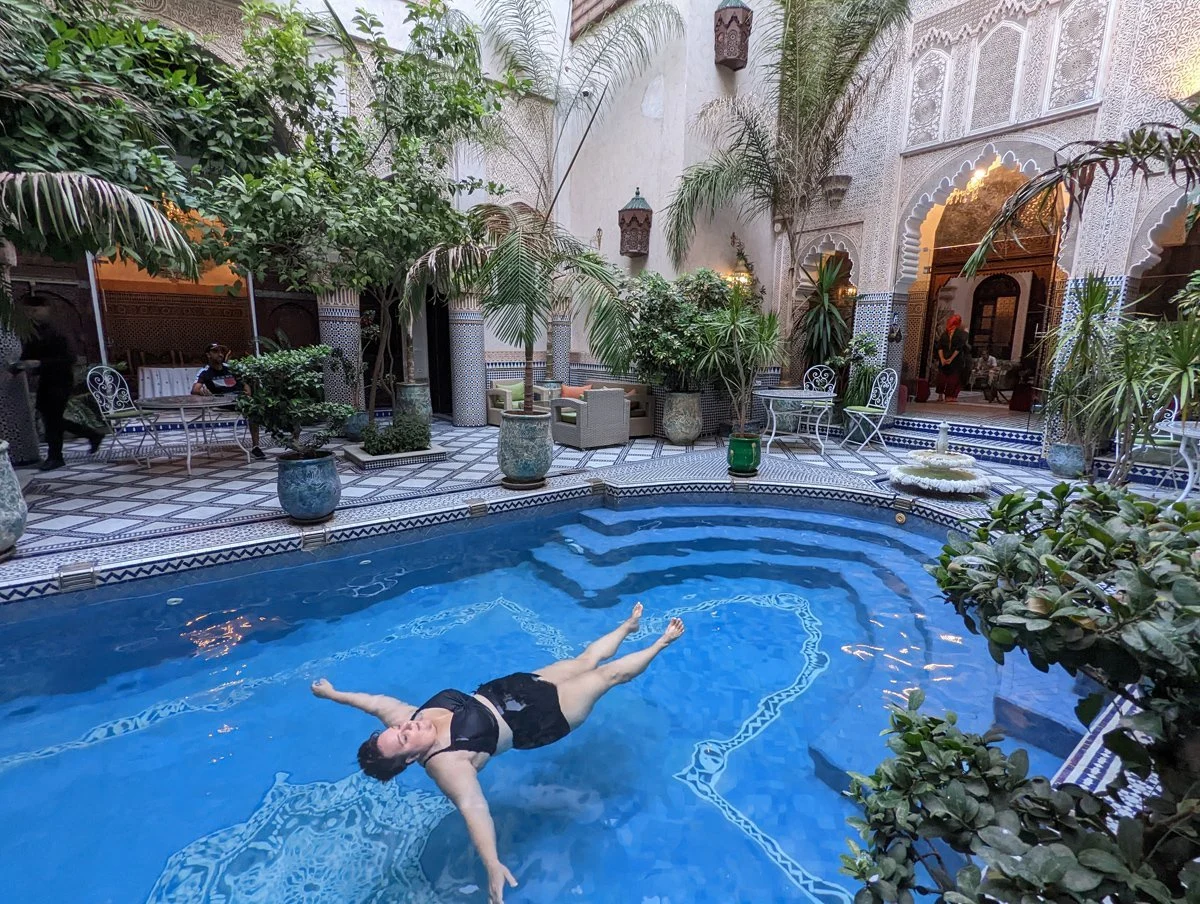 Visiting Morocco as a Fat Woman
I was surprised to notice that, during my time in Morocco, I was more aware of my body as a woman than as a person who identifies as fat.
While most locals I encountered in Morocco certainly were much slimmer than my body, I didn't feel particularly singled out because I was plus size. Now granted, there was some staring, but I suspect that was more related to being in a group of mostly-white tourists exploring (at times) far off the most popular tourist routes.
Wanderbig.com is fat positive travel blog rooted in HAES (Check out the research on HAES or my article on the topic here)
The only time I felt the gazes of eyes was when I, perhaps rather obnoxiously, decided to pull on my swimsuit and jump in to the tiny courtyard pool in one of the riads where we stayed. I simply couldn't resist the blue-tiled pool surrounded by lush greenery- though I certainly did draw some raised eyebrows. Partially, I'm sure, this was more about being seen in public, as a woman of any size, in a swimsuit. (However, we were assured by our local guide that within our hotels and riads it was fine to dress according to western standards)
Being a Plus Size person on an Intrepid tour in Morocco
On this trip, I wasn't just concerned about being a plus size person in Morocco, but also what it would be like to be a part of a tour group. I worried that my other group members would be far more athletic than me, or that there might be spaces that could not accommodate my body.
As it turns out, there were other bodies of diverse sizes, ages, and abilities in my tour group. The one activity that felt like too much for me (a hike straight downhill and back up again to see a waterfall that we had already seen from the top) was east to opt out of.
It is worth noting, however, that Intrepid Travel's partner in Morocco (Intrepid does not operate tours directly, but through contractors local) does not have the ability to accommodate all body sizes in their transportation safely. Our tour group's van was modern and clean. However, as a US size 22 I was not able to buckle a seatbelt without pain – which led me to spending most of the hours in the vehicle unbuckled. It's unfortunate that my body was left without access to the safety offered to travelers in smaller bodies and something I hope that Intrepid Travel and other tour operators will require in the future.
The following section may contain affiliate links. As an Amazon Associate, we earn from qualifying purchases.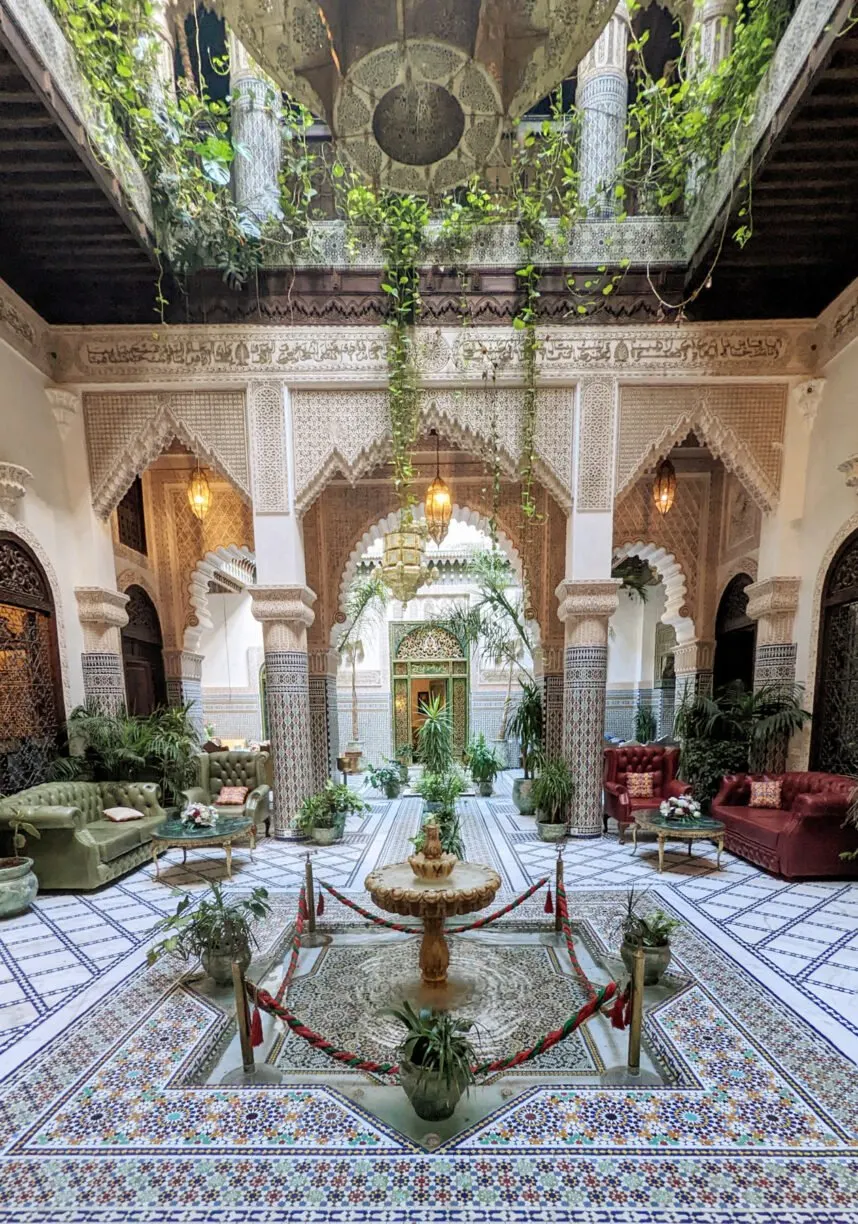 Plus size tips for packing for morocco
skip scarves
The general advice for plus size female travelers visiting morocco is often to just "pack a scarf" to cover up with. Even I always include a Turkish Towel (which can be used as a scarf) on my essential packing list for plus size travelers – but not for Morocco.
Morocco's heat is pretty intense, and in a well insulated body, it can be oppressive. I found even lightweight scarves to be sweltering. Instead, I recommend an oversized crisp cotton or linen buttonup shirt you can pull on in public.
Dress in Layers
With well planned layers you can strip down to bare arms and or even legs when you're in private spaces like your tour van, hotel, or riad.
My outfit I handwashed in hotel sinks and re-wore over and over in Morocco was a loose, billowing jumpsuit with a white Calvin Klein collarless button up knotted under my bust. (I know, WHITE, am I crazy? Maybe. But the thin cotton was cool, it was easy to layer, and my photos turned out adorable)
The CK "Frany" shirt is still available- and the no-iron fabric and stretchy knit-cotton back means it's is going to be your new travel staple.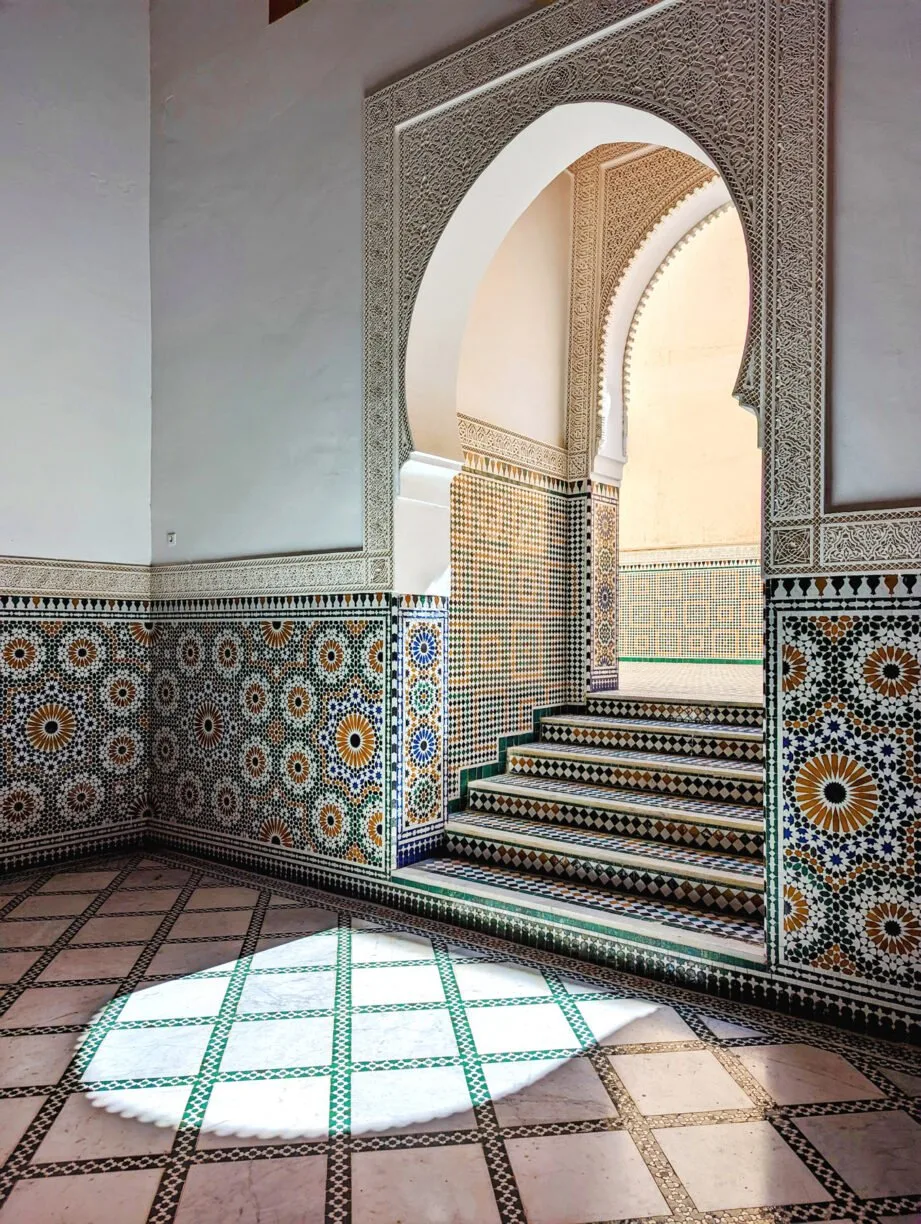 Wear Loose Clothes
Knit jumpsuits are perfect for morocco- the generous fabric allows for modest coverage in public. Wide-cut legs, though, mean that you can hike those bad boys up to the thigh to cool off the moment you climb back onto the van or tour bus with your fellow travelers.
Portable Fan
My best decision when it came to packing as a plus size traveler to morocco was a portable fan. The 5″, 6 ounce SmartDevil fan (pictured above) is like packing a vortex in your purse- it's way more powerful than any USB device has a right to be.
It can be used in the car when paired with a USB port or portable charger, but I most appreciated it in Moroccan hotels. If you have the good fortune of reservations in riads, you'll be in love with the hotel but probably not the air circulation. These old hotels were converted to run air conditioners only recently, and I found some to be very stuffy. With a portable fan on my nightstand, I slept much better.
General Thoughts
Morocco has some challenges for plus size travelers, including heat, modesty expectations, and some limits to the body sizes that can be safely accommodated. By packing smart, planning ahead, and asking questions about accessibility in advance, plus size travelers can have an incredible and safe visit to Morocco.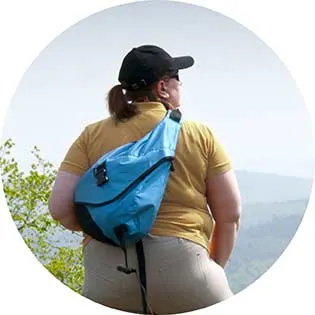 Lynli Roman's unique approach to travel is informed by decades of experience on the road with a traveling family and, later, years spent as a solo international traveler. When she's not writing about Seattle from her Pike Place Market apartment, Lynli writes on-location while conducting hands-on research in each destination she covers. Lynli's writing has been featured by MSN, ABC Money, Buzzfeed, and Huffington Post. She is passionate about sharing information that makes travel more accessible for all bodies.