Whidbey Island is an easy way to escape from Seattle for a weekend or even just a day trip. Whidbey Island can be accessed by driving (a bridge provides highway access to the north end of the island) or by a combination of driving and riding a ferry (ferry service is provided to the southernmost tip of Whidbey Island to mainland Washington).
The itinerary for visiting Whidbey Island below is designed as a semi-staycation day trip from Seattle (click here for more Seattle day trips). With minimal time invested in getting there, you can spend a full day exploring and enjoying Whidbey Island and still make it home to Seattle the same evening.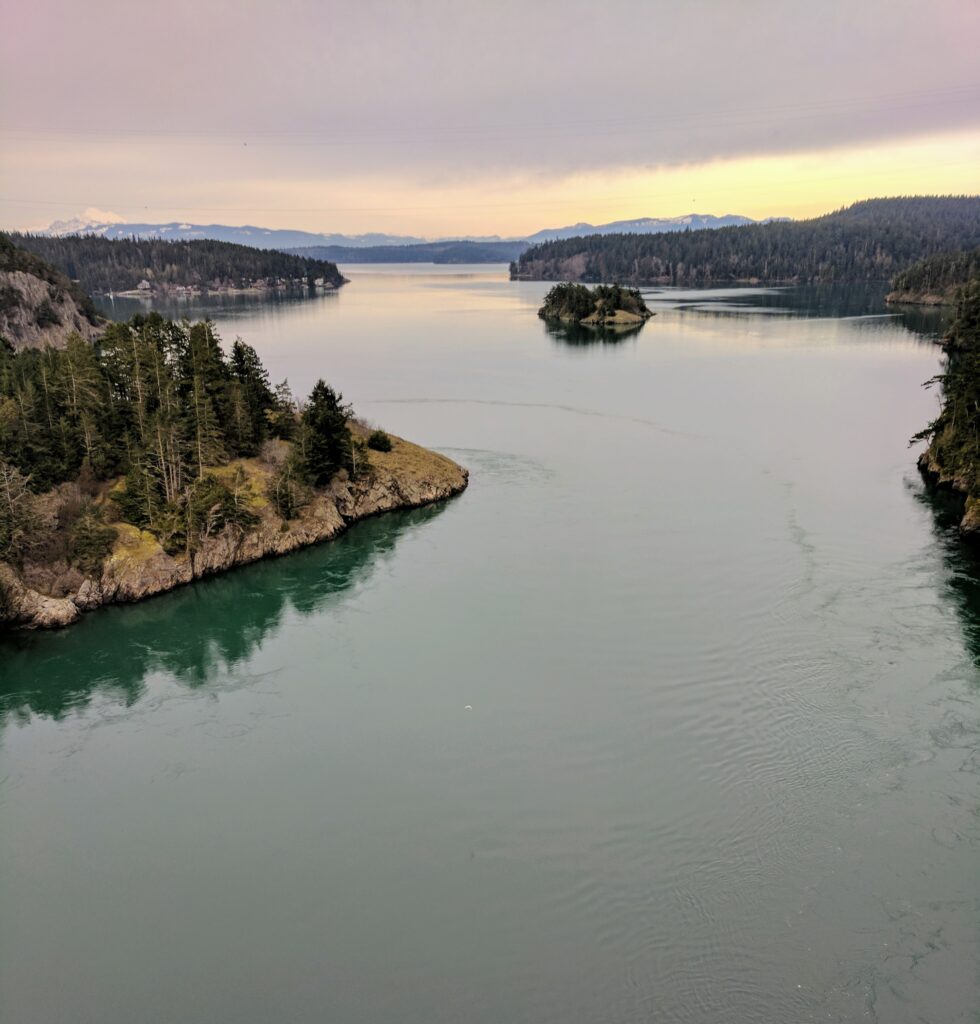 Whidbey Island is a great trip for solo adventures, family fun, or an interesting getaway with a friend or partner. Restaurants line the main highway from Clinton in the South, Coupeville in the middle all the way to Oak Harbor in the north, ensuring that you'll find a great meal and some adventure along the way.
For this day trip identical itinerary, I'll show you my plan for getting the most out of a single day on Whidbey Island. Of course, like all the Puget Sound islands, Whidbey Island is home to many hotels, motels, and Airbnbs at all different price points and budgets, so if you want to turn this one day Seattle day trip into a long weekend getaway, it's easy to extend your time on Whidbey Island.
Getting there from Seattle
You can drive onto Whidbey Island by driving north from Seattle on I-5 and taking exit 226 for WA state highway 536W until you get to highway 20 (a roundabout where you'll need to stay in the left lane). Turn left, following the signs for Whidbey Island/Deception Pass and you'll soon find yourself crossing Deception Pass bridge onto Whidbey Island.
Plan to spend 1.5-2hrs driving, if you're starting from downtown Seattle and plan to drive onto the island via the north bridge access.
Follow me on Pinterest for more Seattle Day Trip Ideas
Driving on, Floating Off
I think the best plan for a daytrip to Whidbey Island from Seattle is to drive onto the island in the morning via the bridge access on the north end of the island and spend your day trip meandering south. After dinner near the southern tip of the island, you can hop on the Clintion > Mukilteo Ferry (check the schedule here) for a much faster return trip. The ferry crossing takes about 20 minutes, and from the Mukilteo ferry dock (which is near Everett, WA) you can drive to downtown Seattle in about 30 minutes if traffic is clear.
Can't Miss Stops on Whidbey Island
Deception Pass
Deception Pass is the destination for many new transplants to Seattle's first day trips. Located about two hours from Seattle proper, deception Pass is a deep but relatively narrow chasm between Whidbey Island and mainland Washington State.
Deception Pass is bridged by a majestic oxidized-green bridge linking Whidbey Island to the mainland. Much more majestic than the bridge connecting Bainbridge Island to the mainland, this single narrow bridge paired with the rushing, frigid waters below and the dramatic landscape, makes Deception Pass a prime spot for some of the most dramatic PNW photography.
Deception Pass State Park is located on the southern side of the bridge, and includes campgrounds, beaches, hiking trails, some of which are linked via a trail that extends down from the bridge. You'll need a Discover Pass WA State Park parking permit to park on the Whidbey Island side of the bridge, however on the northern side of the bridge is not a WA state park and there, parking is free and requires no state park pass (this is subject to change- always check signage before parking).
Many travelers get out and walk across the bridge to enjoy the view and get a look at the water below.
LOCAL TIP: If you visit on a clear day, without too much wind disturbing the surface of the water and creating white caps, stop and focus your eyes on the water for a few minutes. As you focus on the shapes and shadows in the water below, you should be able to see marine life swimming in the clear blue waters below. Watch closely for seals and otters, and, in the air above, bald eagles.
To Do: Cranberry Lake Kayaking or Floating
A favorite pastime of Seattle residents is grabbing a tube and floating in the water near one of Seattle's countless beaches. It's so popular in the city that on a hot day floating at popular beaches in Seattle can feel a little congested.
Breakaway from the city crowd and head up to Whidbey Island to paddle, float, and swim in motorboat-free Cranberry Lake. This serene lake set near the edge of Deception Pass State Park features clear freshwater, free from the noise and disruption of engine-powered watercraft. It's all kayakers, swimmers, rowboats, and floats at this hidden gem.
Too Cold to Swim? try a Boat Tour
If you want to get up close and personal with Deception Pass State Park on Whidbey Island, boat tours are available. Although the waters that pass under the Deception Pass Bridge are notoriously dangerous for small watercraft, professional captains with appropriate boats regularly navigate this stretch of water. For a reasonable fee you and your group can take a tour of Deception Pass from the water- seeing a view of the bridge, pass, and park that few Washingtonians have seen. It's a great plan B if your day trip to Whidbey Island turns out a little too chilly for the float trip you planned.
Berry picking on Whidbey Island
By midsummer and early fall, Whidbey Island berry patches, farms, and (later) pumpkin patches are ready to be enjoyed. If you're looking for Seattle family fun on a budget, Whidbey Island has miles upon miles of blackberry bushes growing in roadside byways (which are, by law, public land, allowing fruit growing there to be picked).
If you prefer to skip the thorns, check out a cultivated berry picking farm for Pick-your-own fun. Pick from blueberries, raspberries, or thornless blackberries. No interest in picking your own? That's okay, you can stop at any of these roadside berry farms and pick from a selection of pre-picked fresh fruit or jams, jellies, and preserves. Jams and preserves are a great gift for folks back home or a good way to remember your Whidbey Island day trip after you return to urban life in Seattle.
Fort Ebey & Fort Casey State Parks
If you have visited many state parks on your Seattle day trips, you know that most Washington state parks feature lush, dense, coniferous forests. These two state parks- located just 14 minutes apart by car – are a little bit different – offering a totally different landscape and a welcoming open space for Seattle transplants like me looking for a little piece of home in the landscapes of open fields.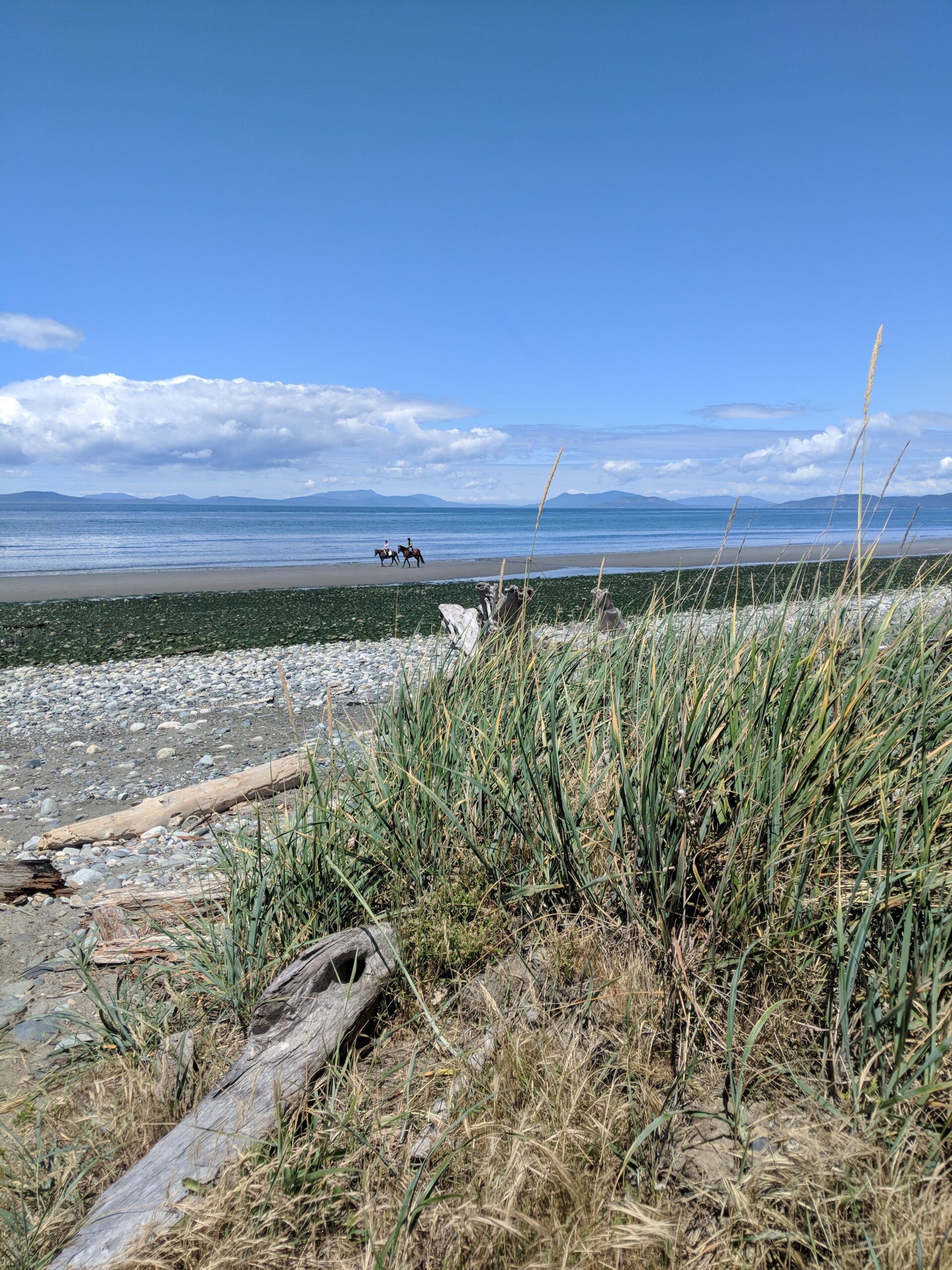 Fort Ebey State Park is located on the waterfront on the west side of Whidbey Island on the location of a former US military fort. Visitors to Fort Ebey State Park can explore the semi-underground fort and nearby lighthouse.
Seasonally, Fort Ebey is a destination for professional kite flyers and even kite-flying competitions! Bring your own kite to fly in the open fields along the beach, or bring a blanket to sit and watch highflying acrobatics by professional kite flyers. Before leaving, pop over to the Fort Casey lighthouse – a free historical site that can be entered and explored in season.
Whidbey Island Drive-In
End your day trip to Whidbey Island by catching a movie at the Blue Fox Drive In just outside of Oak Harbor Washington. Unlike most drive-ins in the United States, this gem never really fell out of popularity – it's posted an impressive crowd most Friday and Saturday nights for the last decade – and the pandemic only boosted the popularity of this outdoor movie viewing spot. If you've never enjoyed a drive-in movie, relive a little bit of the past by adding this drive-in movie theater to your Whidbey Island day trip from Seattle.
Itinerary for a Day trip to Whidbey Island
DRIVE – Drive onto Whidbey via Deception Pass
LUNCH – Pack a picnic for Deception Pass state park
SWIM – Afternoon floating/swimming in Cranberry lake
If chilly, boat tour of deception pass.
HIKE – Wander a bit at Fort Ebey State Park
FOOD – Dinner in Coupeville or Clinton
Return via ferry
A visit to Whidbey Island is a day well spent if you are looking for an easy to access, affordable, and fun-for-the-whole-family day trip from Seattle. What's your favorite thing to do on Whidbey Island? Drop a line in the comment below to add even more adventures to this Whidbey Island Itinerary.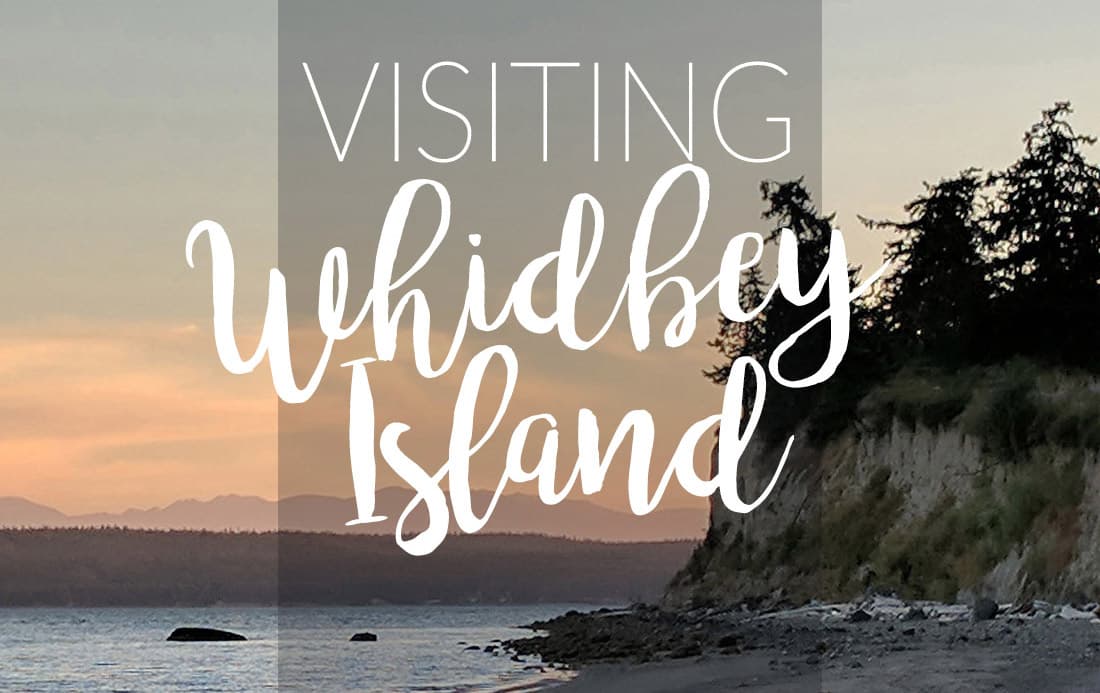 Part 2: My Latest Trip to Whidbey
The summer of 2017 was one that offered me many opportunities to travel. While it was nice to be home after the long trip in July, I took one last jaunt out of the city in August to savor some of the last days of summer before Seattle's all-too-short summer came to an end and classes for my master degree started back up again.
A friend and I took a quick trip to Whidbey Islands to visit friends. While not technically part of the San Juan Islands, or as tourism-focused as the San Juan's, Whidbey feels like an escape to a small town with a pace and appearance that reminds me more of home back in Missouri than either Seattle or the San Juan Islands.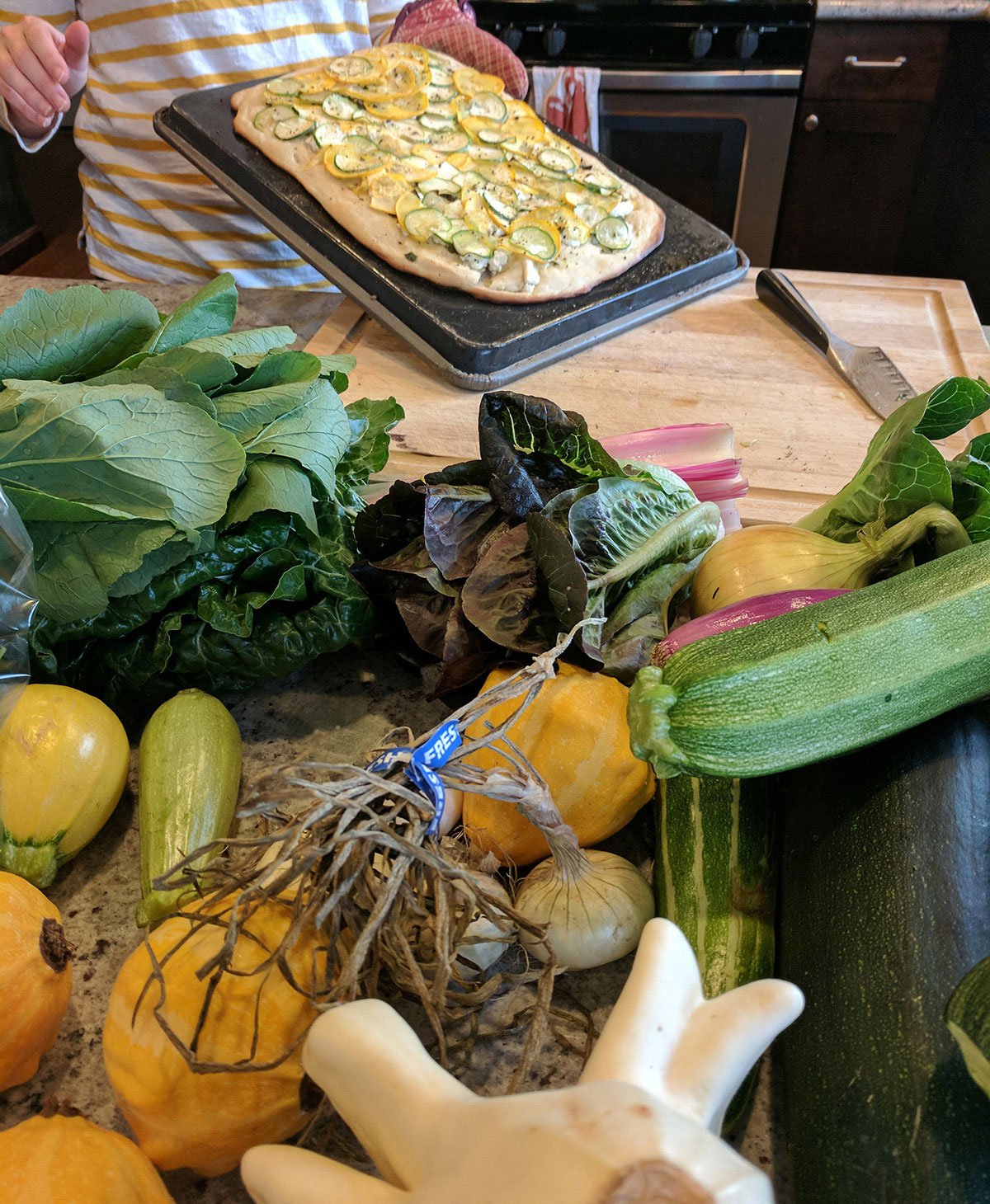 My 3 day trip this fall wasn't as crammed with activities as previous trips to Whidbey, but I did a fair amount of travel art journalling during the trip that I wanted to share.
On Friday we hopped the Coupeville to Port Townsend ferry and actually left Whidbey for a bit. Port Townsend is a town on the Kitsap Peninsula (across the puget sound from Seattle) that feels worlds away from the PNW.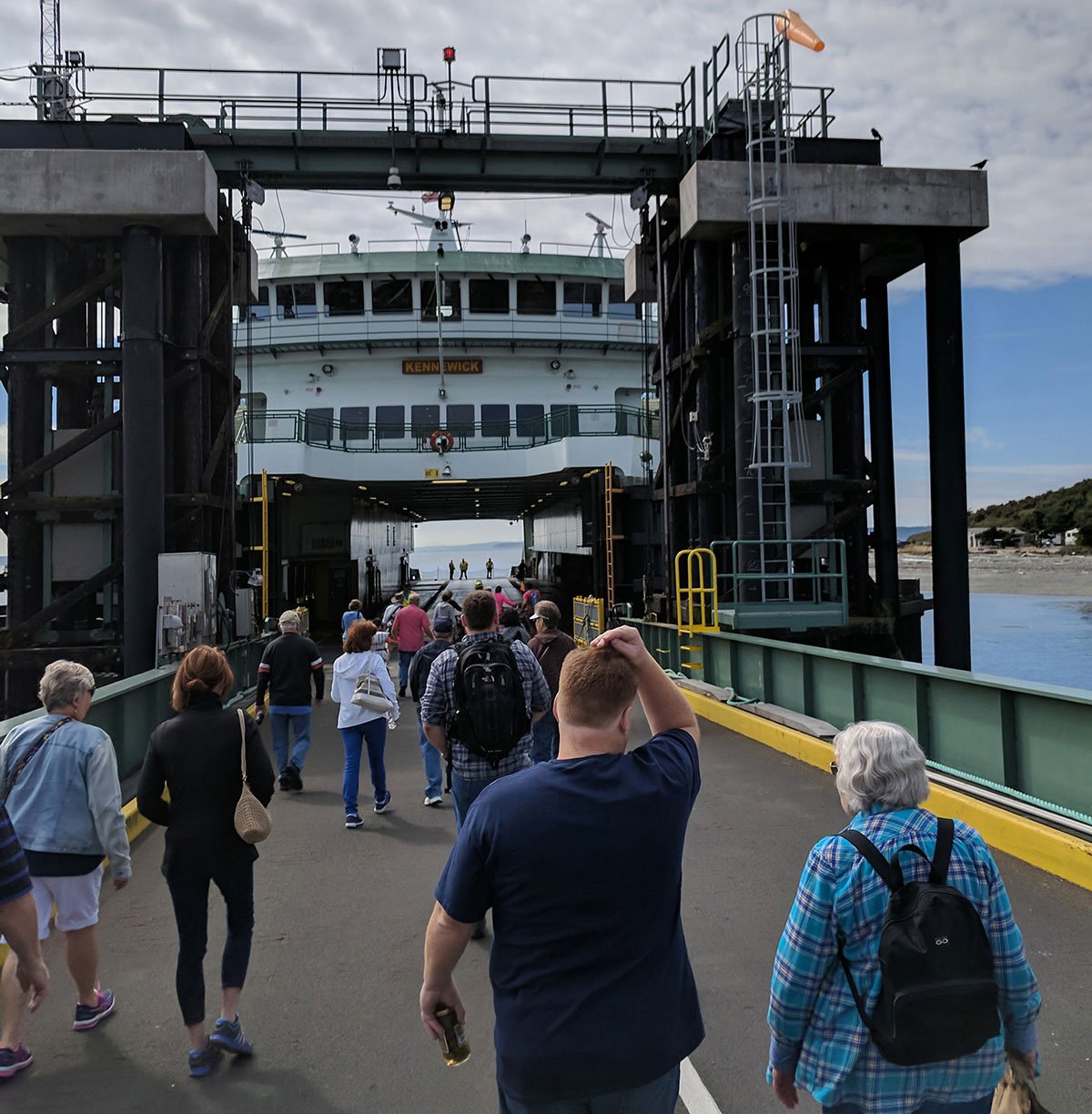 Unlike the islands, which have a distinct island flare, or seattle, which is unrelentingly hipster with often ultra-modern architecture, Port Townsend's downtown is straight out of the old west- with ornate storefronts and an almost-european vibe to some of the buildings. The city was adorable, but the city's dogs had me undone.
I didn't expect that visiting Port Townsend would be a vacation of dog-petting, but it was. Here's my visual record of the dogs I pet and wish I'd pet: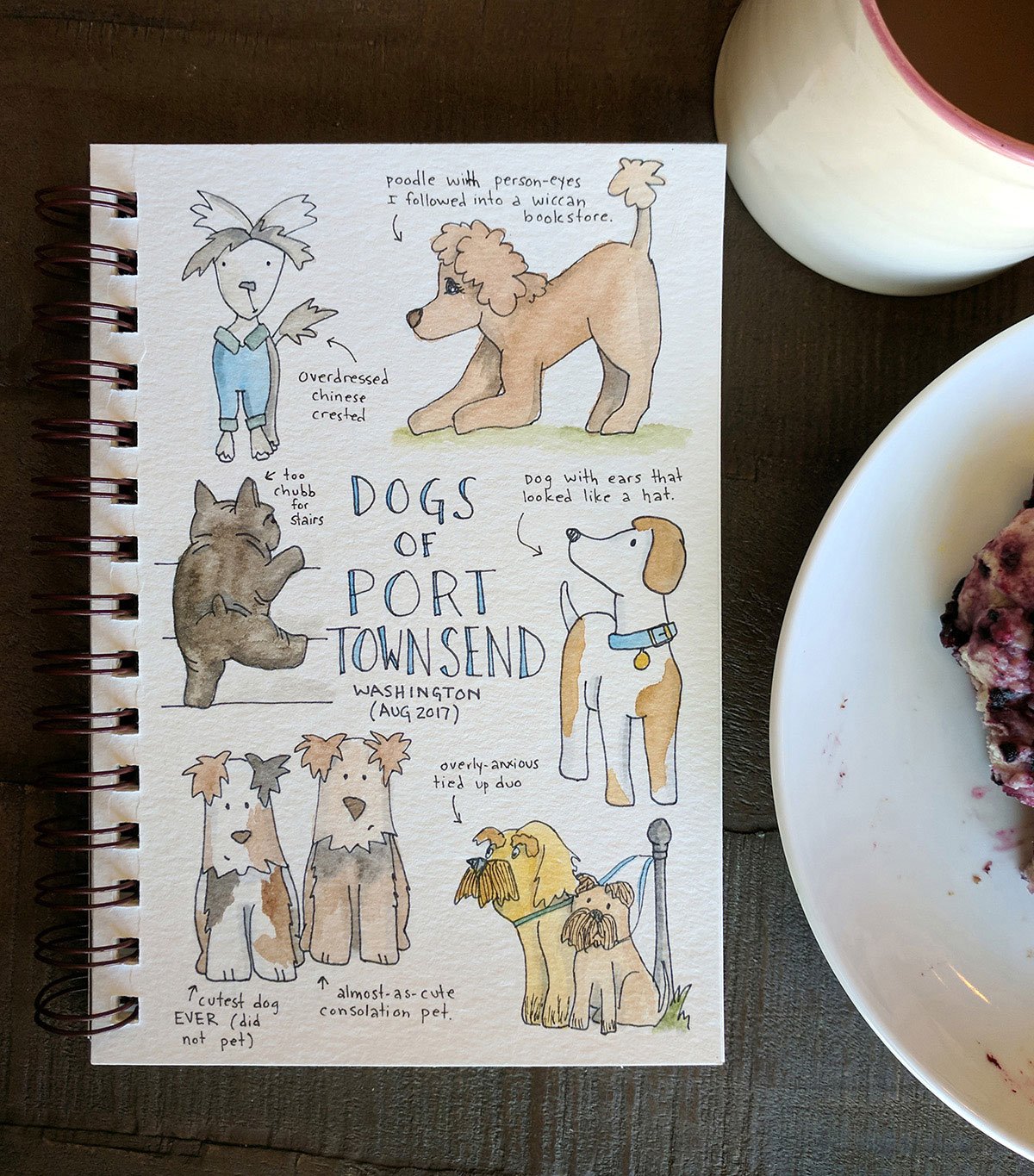 Touring Whidbey at a slower pace was great because I had a chance to doodle more- even some during the 20-30 minute ferry ride.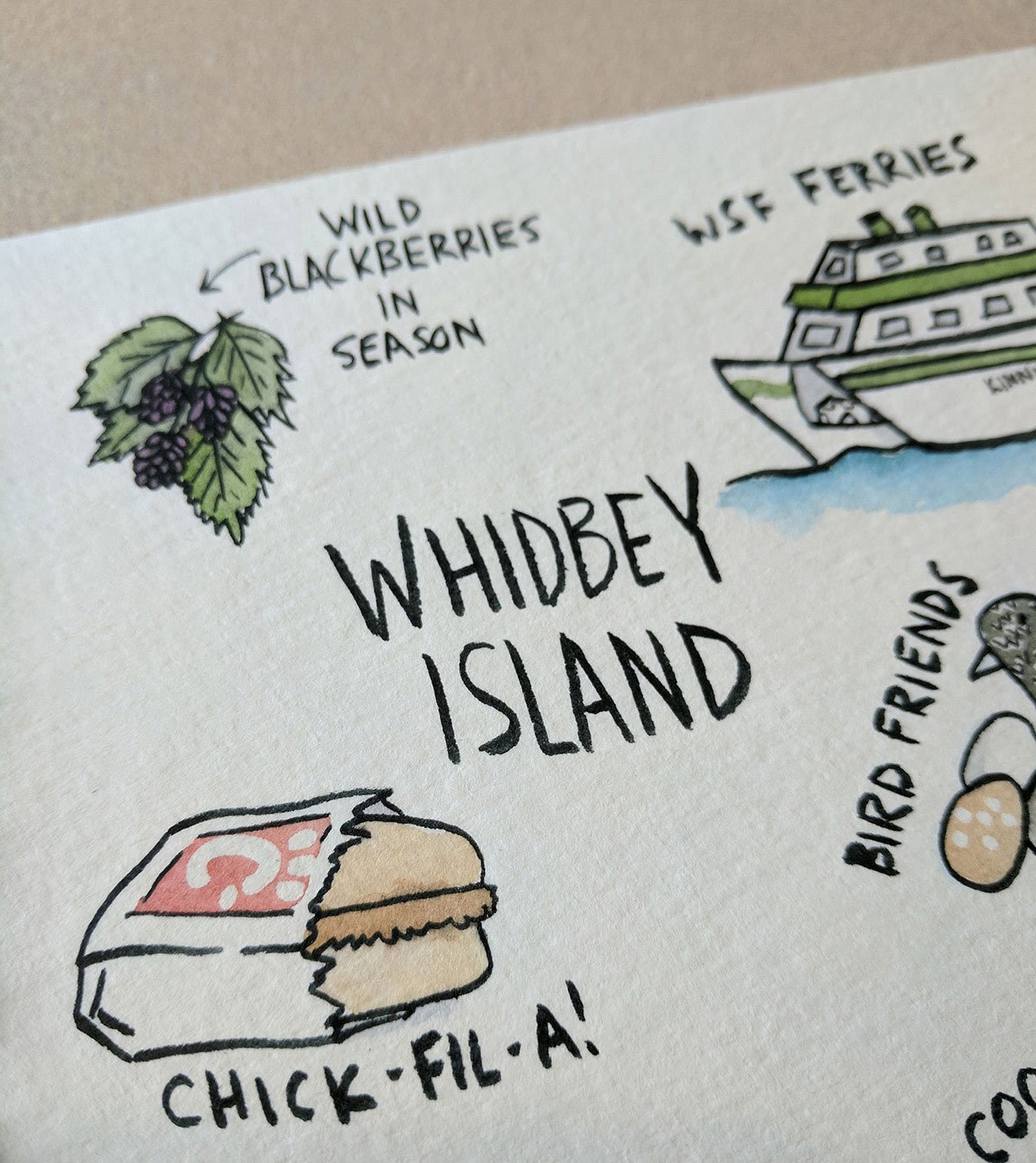 Ferry time was a great space to reflect on what made the trip to Whidbey special. My list ended up illustrating:
Wild Blackberries in season in all the ditches (which, yes, I did pick and yes, I made scones)
WSF Ferries
Chick Fil A! (not on the island, but a necessary stop on the way)
Bird Friends (re: our host's chicken coop and egg laying team)
Ft Casey Lighthouse (you should check it out)
Cooking for Friends (I commandeered the kitchen night 1 and made Best Ever Broccoli Beef)
Lots of Coffee (PNW required trip supplement)
My Favorite PNW Cliff (see above!)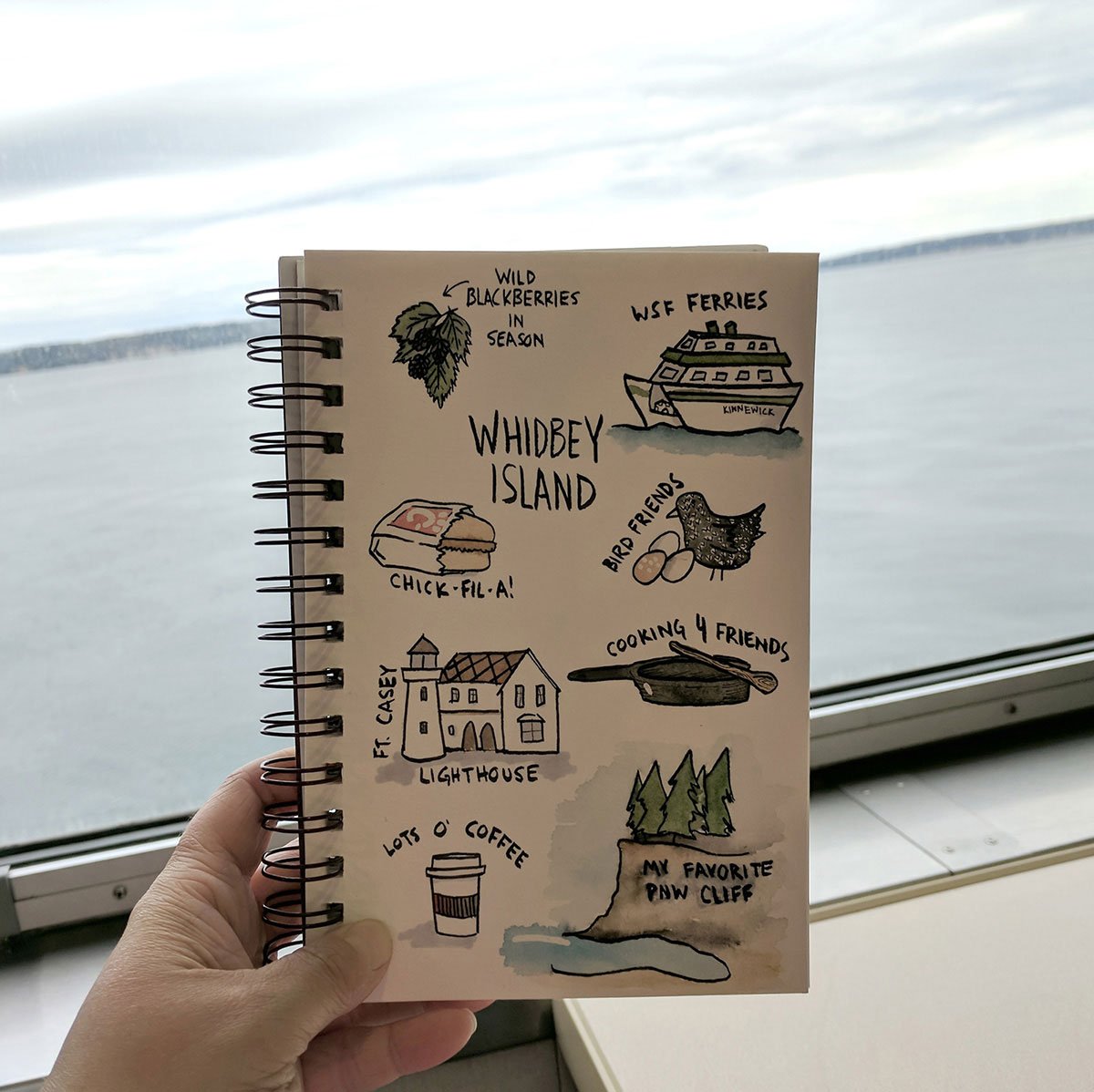 TIP: when you visit a Pacific Northwest Island take a few minutes to save the tide chart to your phone and set reminders. Low tides- especially very low tides- are the best time to beachwalk and explore PNW beaches.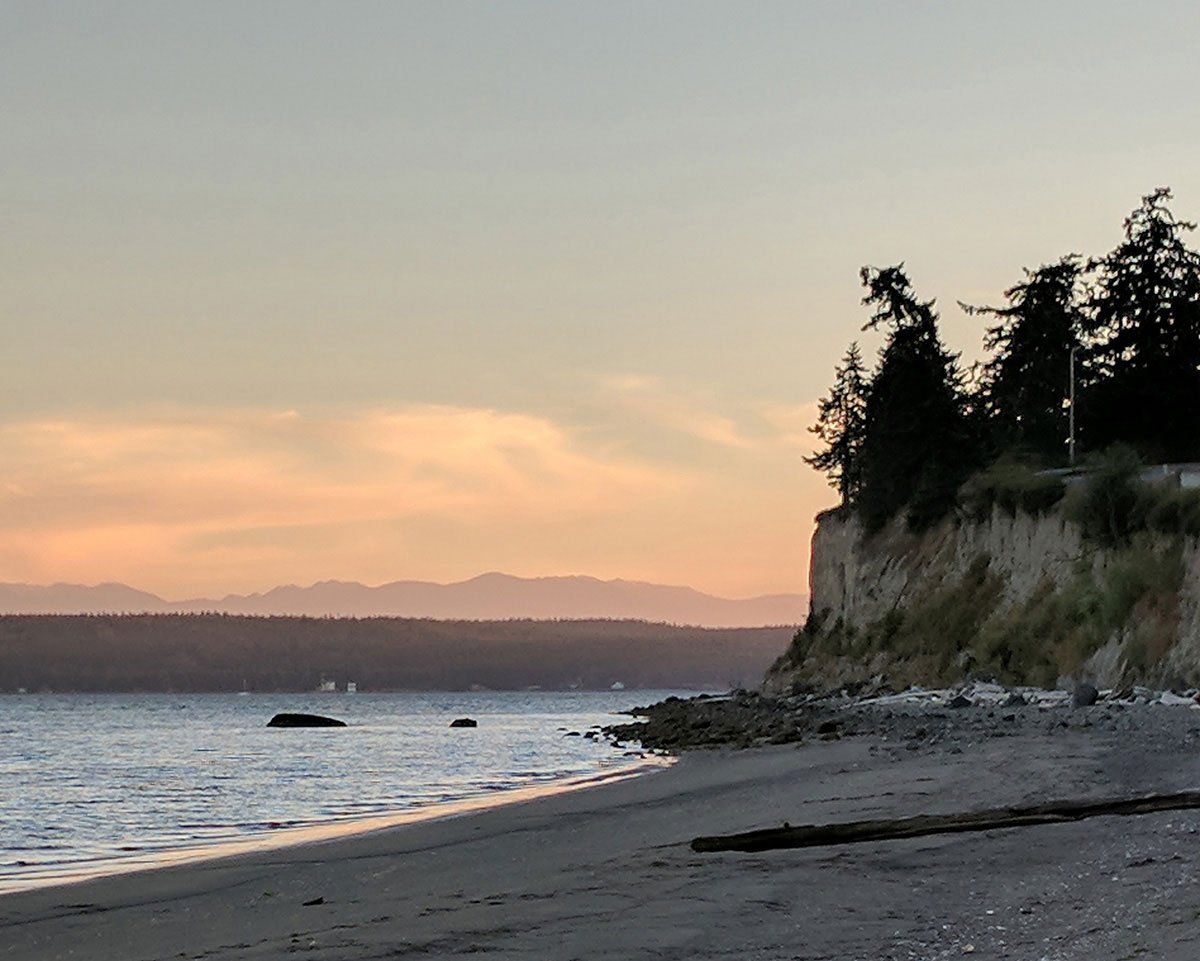 On the way back to Seattle from Whidbey, on the advice of our host, we detoured to Mt Vernon, WA to visit Christianson's Nursery. As both a plant lover and amateur photographer, it did not disappoint. My travel companion found herself a new plant-companion while I focused on scouting for good photo locals and squealing with delight each time I rounded a corner and discovered a pet dove in an ornate cage nestled among the flowers.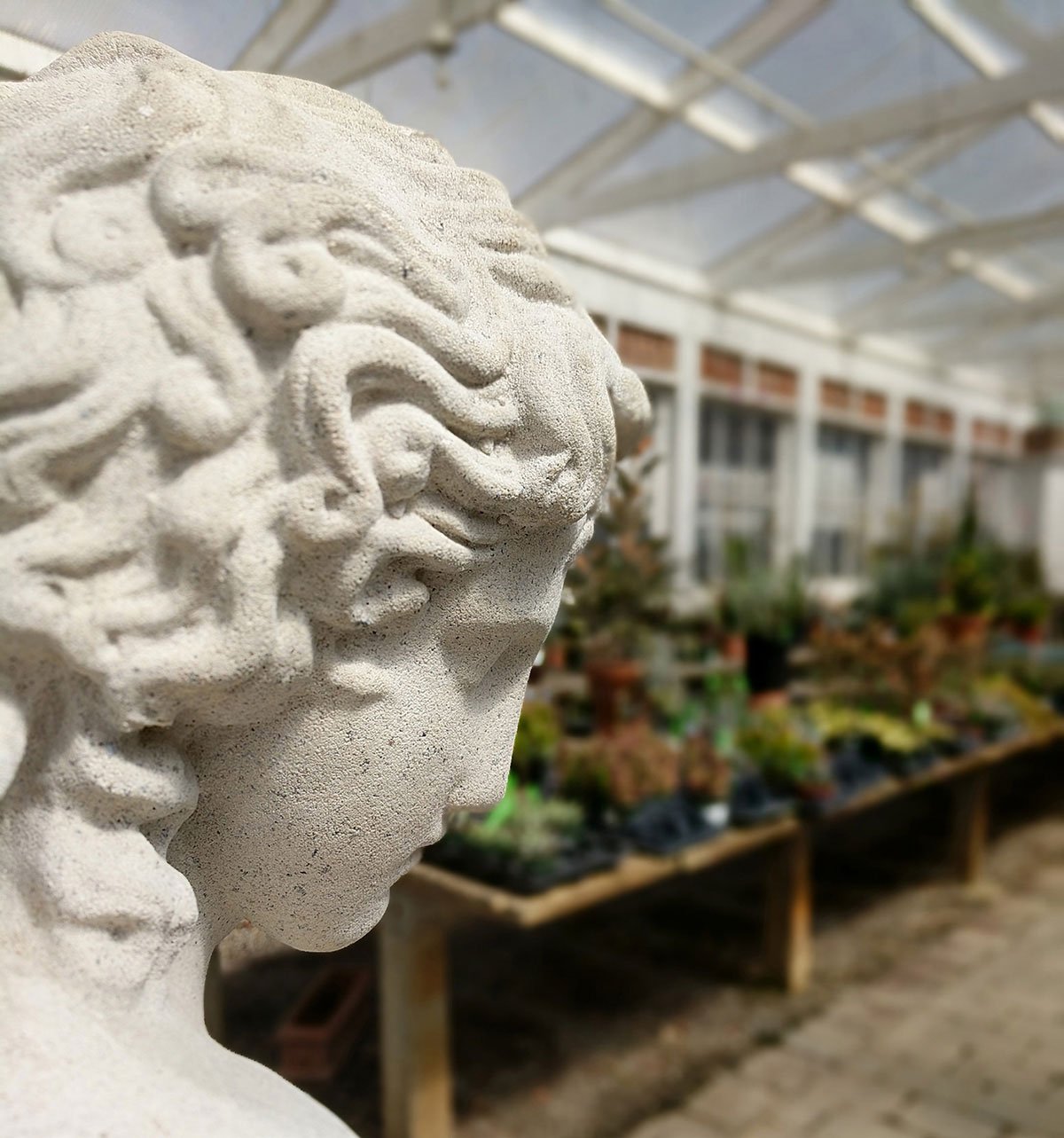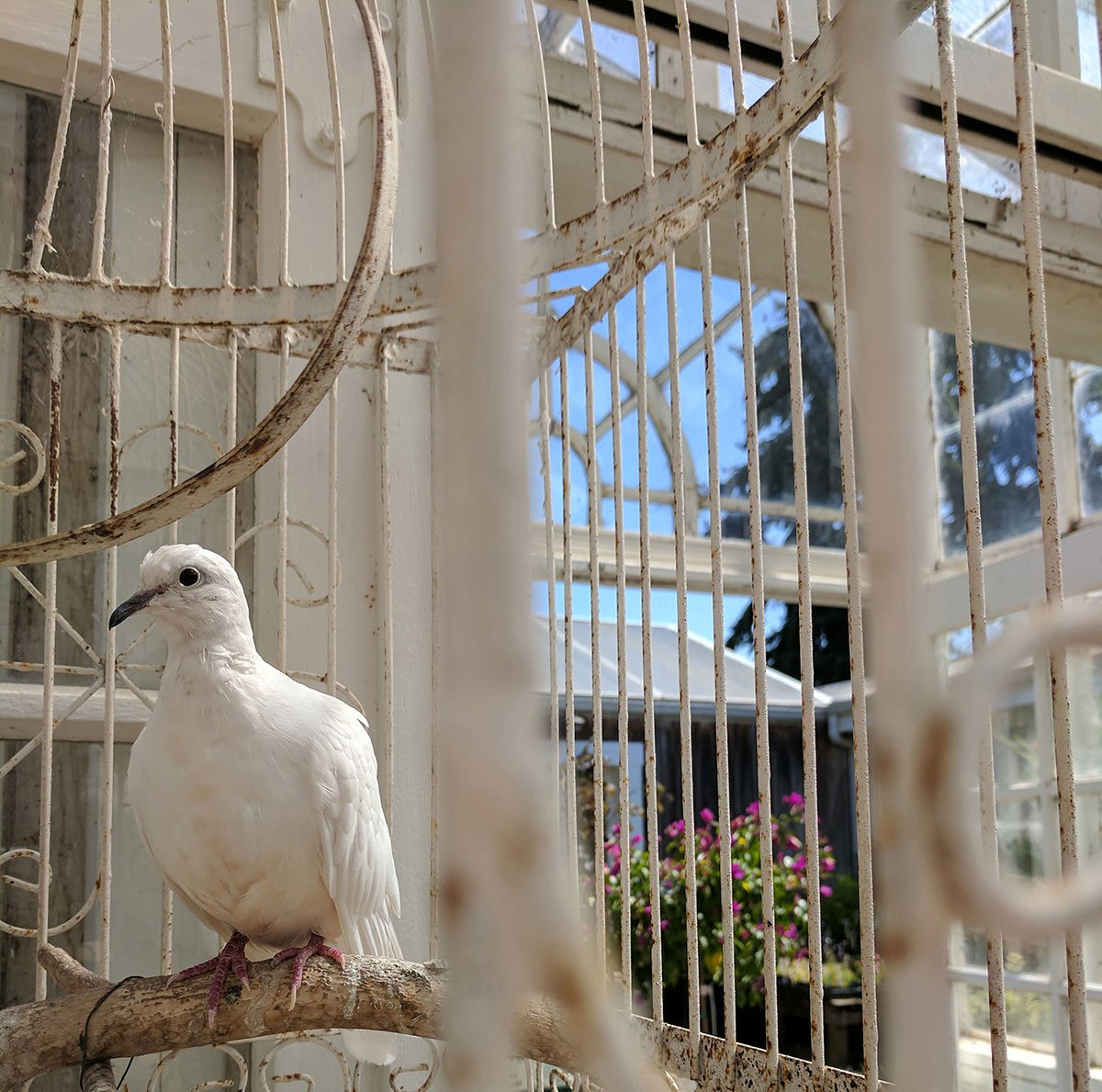 A quick stop in La Conner was also part of the return trip- where an interactive art exhibit of rolled paper enchanted me: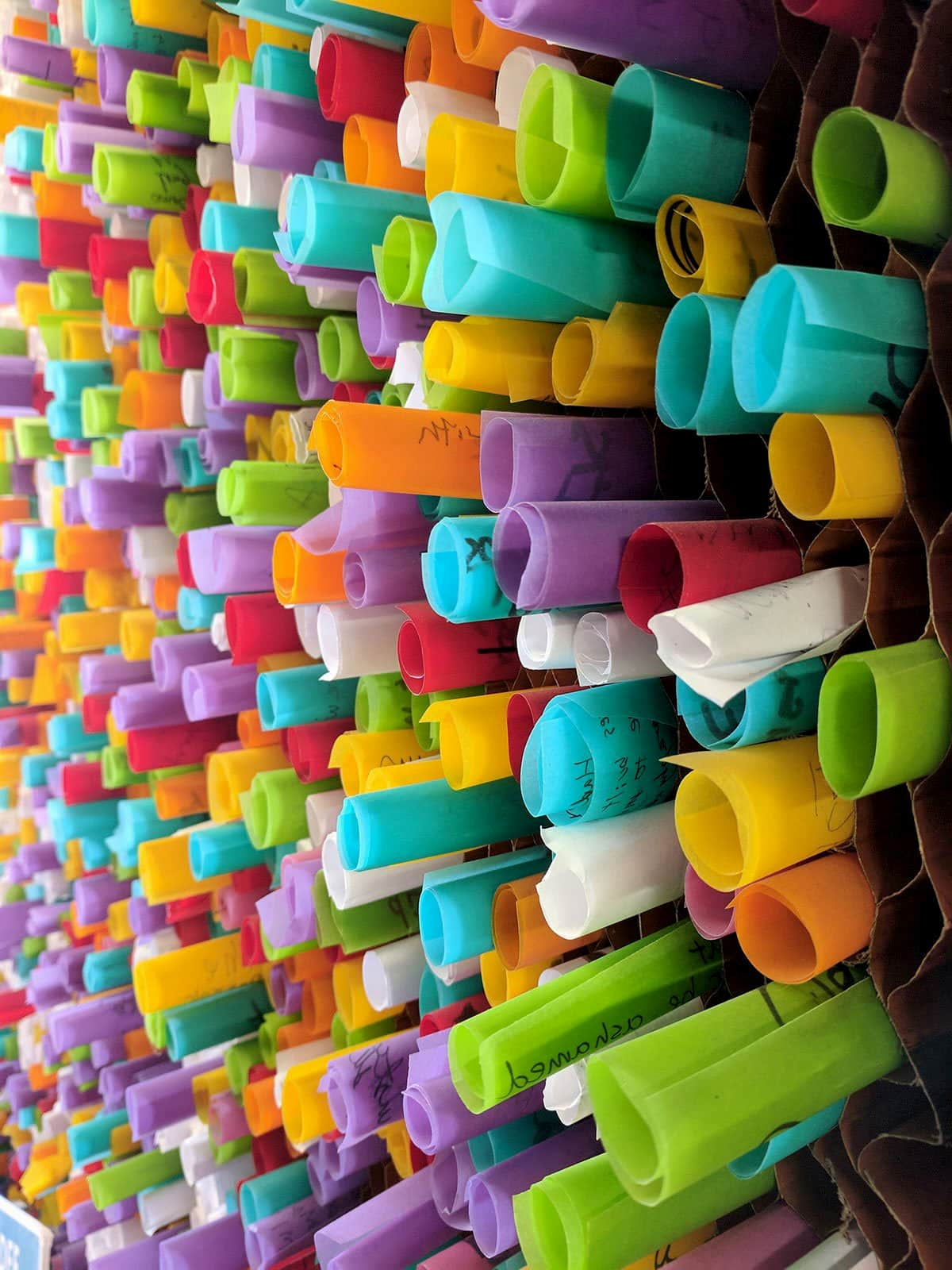 Like my travel style? See more of my art travel journal content at LindsayBraman.com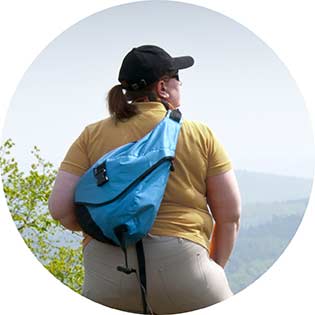 Artist, digital nomad, and highly sensitive person, Lynli started traveling full time as a digital nomad in 2018. Writer and Illustrator by day, remote-destination explorer by other-days, Lynli is passionate about pushing the boundaries of her own comfort zone, exploring the world as a female, fat, one-bag traveler, and journalling it all on WanderBig.com