Pike Place Market and Bainbridge Island are two of Seattle's most popular tourist destinations, but getting from Pike Place market to the Bainbridge Island Ferry can be a little bit complex – especially for tourists who are unfamiliar with Seattle's public transportation, waterfront, and ferry system.
Read on to learn a step-by-step guide for getting from Pike Place Market to the Seattle ferry terminal (right across Elliott Bay from both Bainbridge Island and the Bremerton Ferry dock), from a Seattle Pike Place Market pedestrian Pro.
Download the Google Map Here or keep reading for expert tips on navigating this route with less stress and more fun!
Learning Seattle on Foot
In 2015, I moved to Seattle, promptly sold my car to try living in the city without a car, and sign the lease on a tiny urban apartment above Pike Place Market. It was a major life shift for this rural-born and raised Kansan, but the years were filled with adventure and challenge that helped me grow. Going carless in Seattle was also a pretty good way to get around – and learning to use public transportation was definitely better for the environment than adding another car to the gridlock.
As I did my grocery shopping, socializing, and dining in the Pike Place Market neighborhood, I got intimately familiar with this Seattle icon. And when I missed being able to see the sunset on the horizon, like back home in Kansas, hopping on a Seattle ferry bound for Bainbridge Island became my respite where I would go to get away from the noise and the chaos of living in the city so close to such a major tourist hub.
Getting from Pike Place market to the Bainbridge Island Ferry
Although this route is not a direct route intentionally designed to get visitors from point A to point B (like the light rail from Seattle airport to Pike Place Market), it's not difficult to get from the Pike Place neighborhood to the ferry dock, and once you reach the ferry dock it's easy to make your way across Elliott Bay to the ferry dock on Bainbridge Island.
How long it takes to get from Pike Place market to Bainbridge Island
Getting from Pike Place market to the ferry bound for Bainbridge Island (i.e. the ferry dock in downtown Seattle) takes about 15 minutes. It's about a half-mile, depending on what point in the market you begin.
Getting from Pike Place market to the ferry port on Bainbridge Island takes closer to an hour. Crossing the Puget Sound on the Bainbridge Island ferry takes about 35 minutes. Combined with the 15-minute walk from Pike Place market and anywhere from a 5 to 30-minute wait for the next ferry departing Seattle means that you should plan for your trip from Pike Place market to Bainbridge Island to take about an hour on average.
Here's how to get there, step-by-step:
1. Walk from Pike Place Market downhill to Alaskan way
You know that saying that all roads lead to Rome? Well, In Pike Place Market, all downhill roads lead to a street called Alaskan Way. Alaskan Way is the road that closely hugs the downtown Seattle waterfront, and it's the best way to approach the Seattle ferry terminal.
Whether your starting point is Post Alley, the Sanitary Market, the Secret Garden, the Gum Wall, or the new addition to Pike Place's waterfront, follow streets and steps as they descend towards the waterfront. Eventually, just before you walk out onto the piers that house the Seattle Aquarium and Ferris Wheel, you'll bump right into Alaskan Way.
2. Follow Alaskan Way Southwest to the Seattle Ferry Terminal
Use your phone or google maps to navigate to the ferry terminal at 801 Alaskan Way, Seattle, WA 98104 . Head southwest for Pike Place (that's towards the giant shipping cranes on the horizon and away from the Space Needle).
(You can also take Western Avenue southwest to Marion street, then follow Marion down to the waterfront- but I can't think of a good reason to walk along a crowded city sidewalk instead of walking along Seattle's stunning waterfront on wide pedestrian pathways!)
3. Look for Signs for Ferry Foot Passengers
The Seattle ferry terminal is an important part of car transportation in Seattle, so you may find that as you approach the ferry terminal, most of the signage and crossing are car-centric. Thankfully, the route for passengers is well marked- book for a sign and an overhead walkway to guide you to the indoor terminal where you can purchase a ticket board the next ferry.
4. Purchase a Ticket for the Bainbridge Island Ferry
A ticket booth and kiosk offer options for purchasing a ticket to Bainbridge Island.
The cost for ferry ticket to Bainbridge Island is about nine dollars in 2020, however, the return passage is free so the nine-dollar ticket is a round trip pass.
TIP: Pay attention to signs, and follow directions for foot passengers bound for Bainbridge Island. This ferry terminal is a departure point for multiple ferry routes and you don't want to accidentally find yourself an hour away on the military-adjacent port in Bremerton!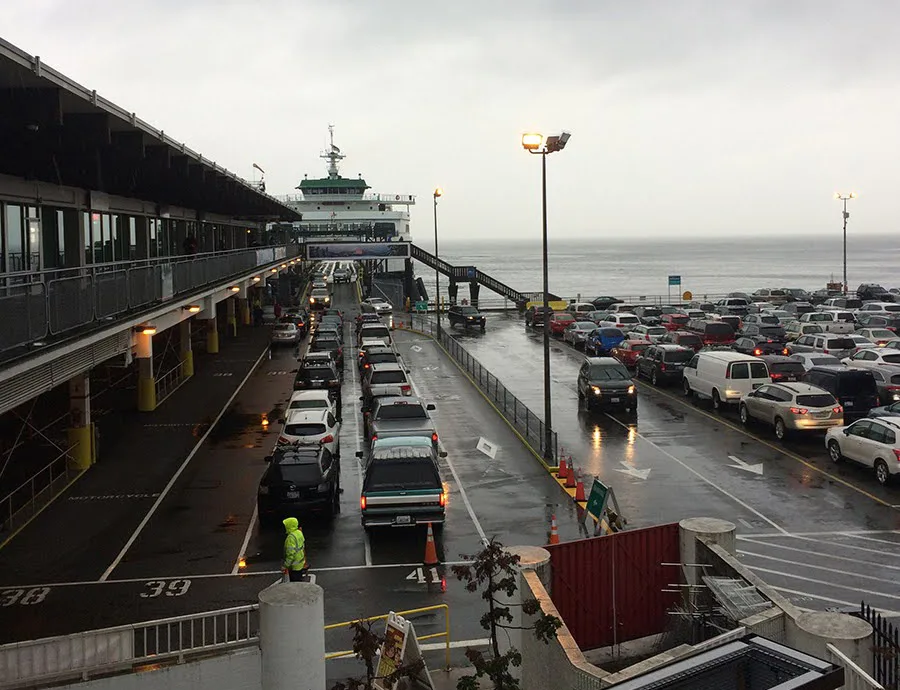 5. Join the Queue Waiting to Board
Once you've purchased your ticket, you'll pass through a ticket scanner and enter a waiting area for foot passengers bound for Bainbridge Island. During busy commuting hours this may be a chaotic area but most of the time you can grab a seat on a bench and wait comfortably until the signal is given for passengers to board.
6. Board the Ferry from Seattle to Bainbridge
Here's a hint you won't find in typical Seattle tourist guides: there's some fun stuff to do on Seattle ferries!
You have 35 minutes (each way) to take in the full ferry experience. (Be sure and check out my recommendations for maximizing the tourist "wow" factor of a Bainbridge Island ferry ride)
You'll also want to finalize your list of things you want to do on Bainbridge Island so you'll be ready to disembark and explore when the ferry docks.
7. Exit and Follow the Flow of Foot Passengers
The Seattle to Bainbridge Island ferry has just one stop- so when the ferry docks you'll be on the very last step of your journey from Pike Place market to Bainbridge Island by ferry. All passengers will be required to exit the ferry. Follow the flow of foot passengers as you exit the ferry and head up the hill to Bainbridge Island's quaint business district.
More Articles on Pike Place Market: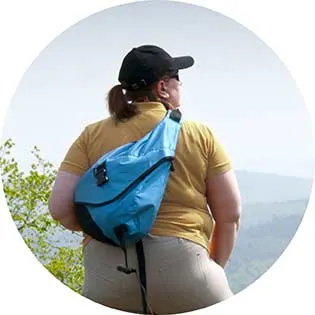 Lynli Roman's unique approach to travel is informed by decades of experience on the road with a traveling family and, later, years spent as a solo international traveler. When she's not writing about Seattle from her Pike Place Market apartment, Lynli writes on-location while conducting hands-on research in each destination she covers. Lynli's writing has been featured by MSN, ABC Money, Buzzfeed, and Huffington Post. She is passionate about sharing information that makes travel more accessible for all bodies.