Getting from Seattle's SeaTac airport to Bainbridge Island without a car might seem daunting, but with this step-by-step walk-through, you'll see just how easy it is to navigate from SeaTac to Bainbridge using easy-to-access, comfortable, and affordable public transportation.
The Short Version:
Although I'll go into more detail later in this post, navigating from the passenger terminal at SeaTac to Winslow (Where you'll find most of Bainbridge Island's homes and businesses) is pretty simple. To get from SeaTac to Bainbridge, just take Seattle's light rail train north from the SeaTac Airport Link station. Get off the light rail at the Pioneer Square Station, then walk downhill to Seattle's downtown ferry terminal and catch a ferry to Bainbridge.
For maps, what to expect, and a step-by-step walk-through, read on.
From the ferry terminal, it's easy to board a ferry headed to Bainbridge. When you dock in Bainbridge, simply follow the flow of foot passenger commuters trekking up the hill from Bainbridge Island's ferry terminal to the commercial district a few blocks away.
If that sounds a little confusing, let's break it down…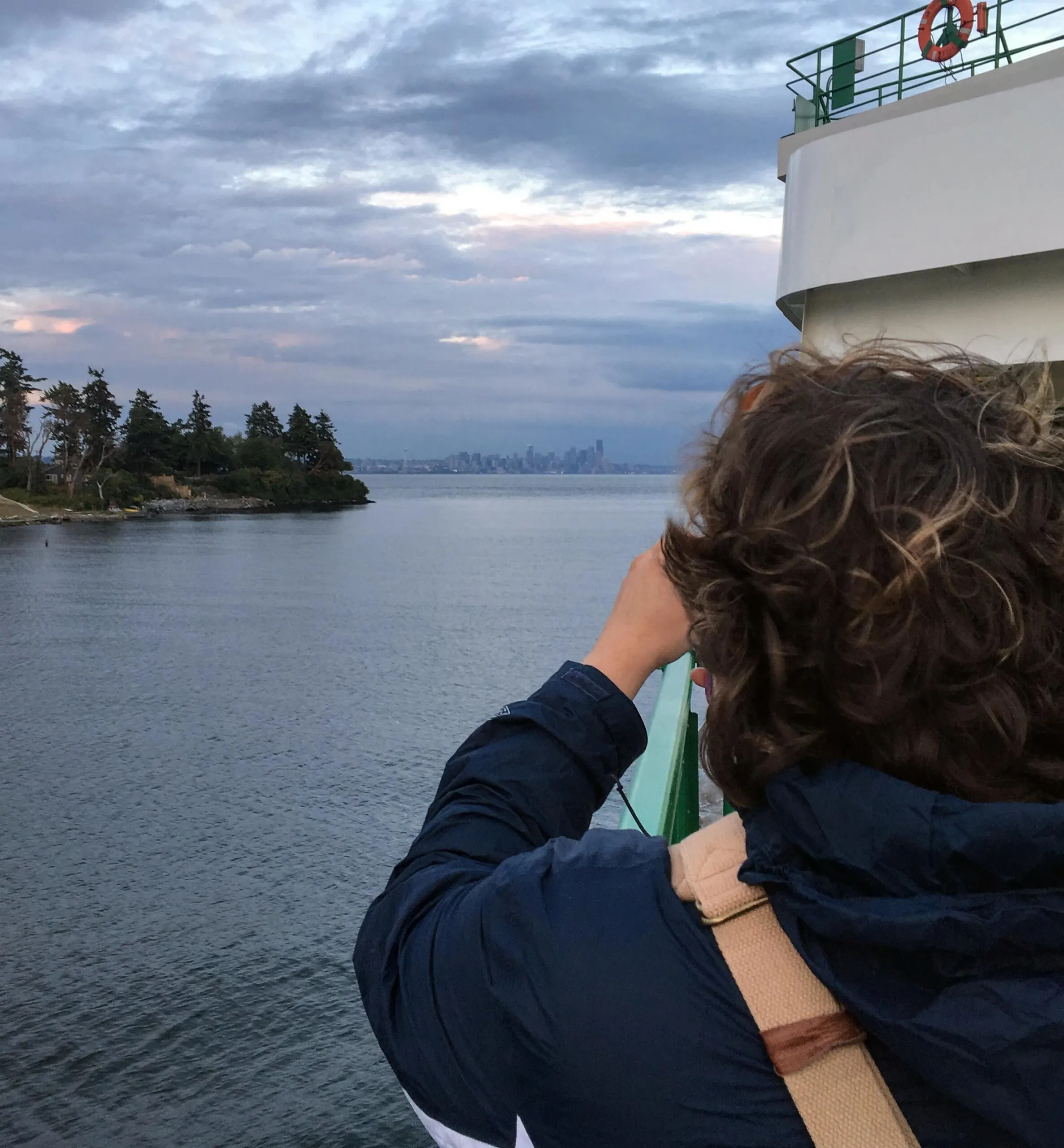 Step-by-step Instructions to get from SeaTac airport to Bainbridge Island without a car
1. Walk from SeaTac arrivals to the Airport Light Rail/LINK station.
From your arrival gate, follow the signs that guide arrivals to the baggage claim area. Even if you don't have baggage to claim and you travel with only a carry-on, proceed to the baggage claim area because from baggage claim you'll see signage pointing you to the light rail/LINK station.
In the baggage claim area, follow the signs directing travelers to the light rail station. Getting from SeaTac to the light rail station is a short walk through a covered parking garage. The path is safe, well lit, and well-marked. It takes about five minutes from leaving baggage claim to arriving at the elevated light rail station.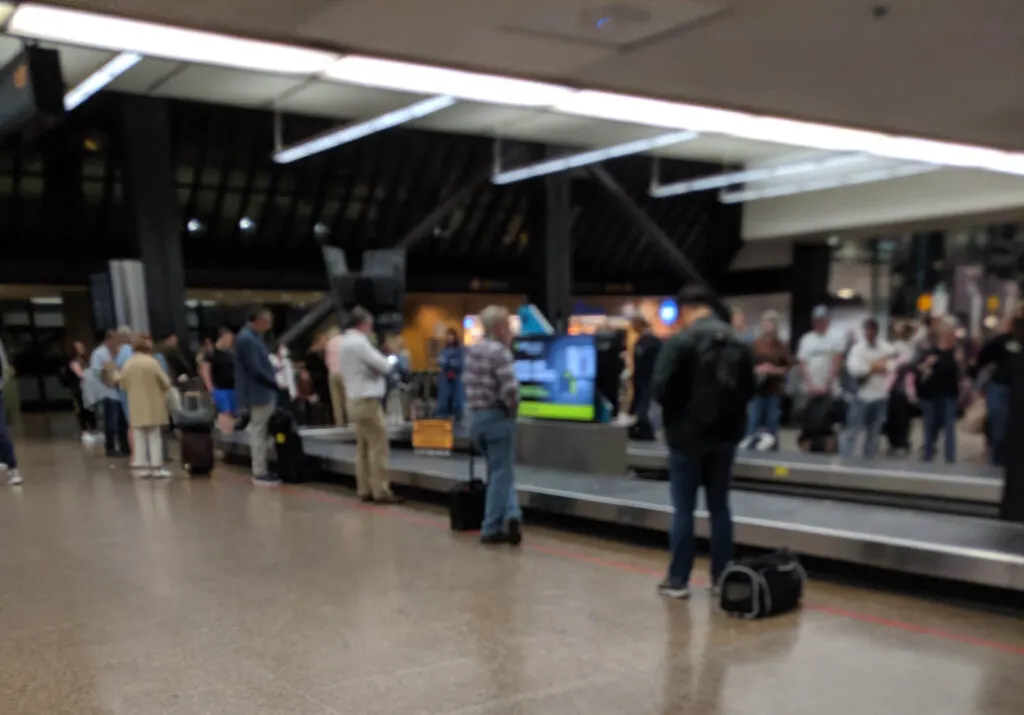 2. Purchase an ORCA card to pay for public transportation
Before taking an escalator up to a waiting train, look for a large blue ATM-type machine. From this kiosk, you can purchase a single ticket to ride the LINK light rail or an ORCA card. If during your time as a tourist in Seattle, you'll be navigating Seattle by public transportation, I recommend going ahead and getting a prepaid card.
Important: swipe your card (or ticket) immediately after purchasing. While the trains are located on the upper level of the station, the ticket scanners are located on the bottom level, near the entrance to the escalators. (I've definitely found myself scrambling up, down, and back up again after forgetting to scan, while trying to catch a departing train!)
3. Board the light rail train
After scanning your ticket at the bottom of the escalator, proceed to the upper level.
Good news: you literally cannot catch the wrong train from this station! ALL trains from SeaTac airport light rail station are northbound into the city. These trains typically say that they are University of Washington bound (that's the other end of the line, at least until construction is completed on the Northgate station) but they'll all take you right through the heart of downtown Seattle, where you can transfer to a ferry.
Trains leave about every 10 to 20 minutes, depending on the time of day, and when you arrive there will probably be a train sitting at the station. Board and find a place for your bag where you can keep an eye on it, and wait for the train to depart.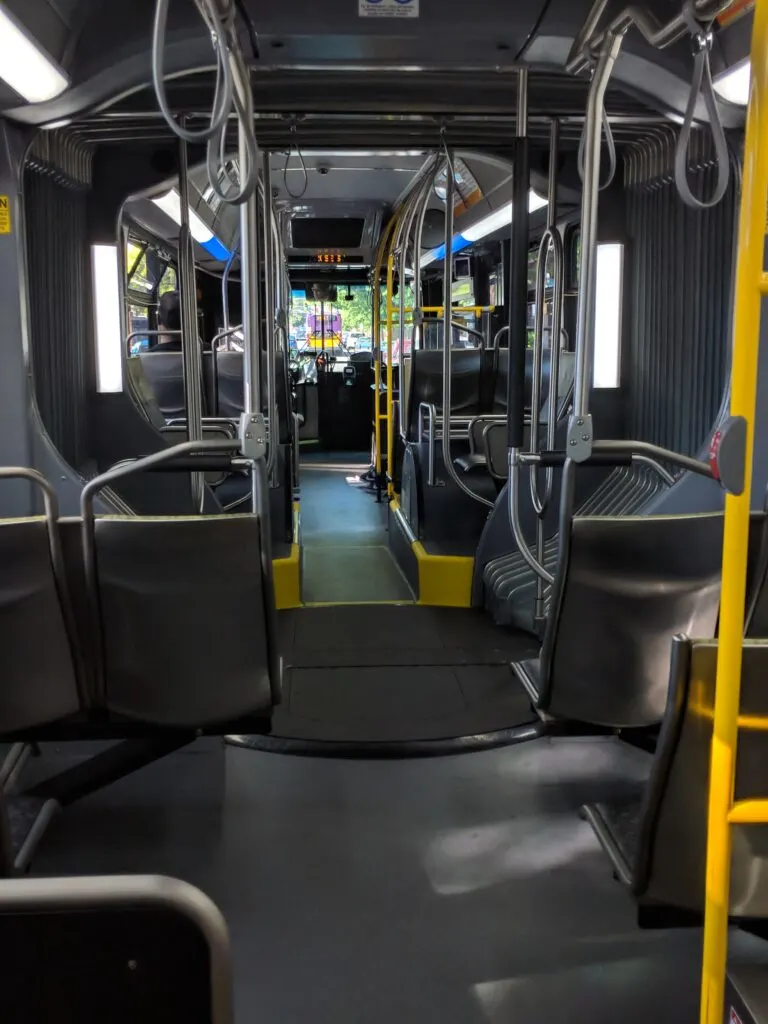 4. Get off at the Pioneer Square Station
From SeaTac airport station, ride the light rail 10 stops to Pioneer Square Station (this takes about 30 minutes). Seattle's light rail announces upcoming stops through both audio announcements and a screen at the front of the train. For more information on this station, see Sound Transit's Informational Page (including arrivals for Pioneer Sqare station)
Have your luggage and belongings collected before your stop is announced. Be ready to step off the train as your train car is pulling into Pioneer Square Station, especially if you are traveling during peak commuter hours.
5. Walk from Pioneer Square station to Seattle's Ferry Terminal.
When you get off the train in the underground station, take an elevator or escalator up to street level (escalators can be a little safer than elevators for solo female travelers in this urban transportation hub. If you have bulky luggage that won't fit on an escalator, look for another traveler or trustworthy looking commuter headed up via an elevator and join them)
Exit onto third Avenue, take Third to Colombia St, and head straight down Columbia Street to the waterfront. Use this link for Google maps to navigate by foot from Pioneer Square station to the Ferry Terminal at 801 Alaskan Way.
You'll need to walk 5 to 10 minutes, when you're Bainbridge bound this is an easy walk- there's an elevation loss of 66 ft as you head downhill from Pioneer Square light rail station to the waterfront.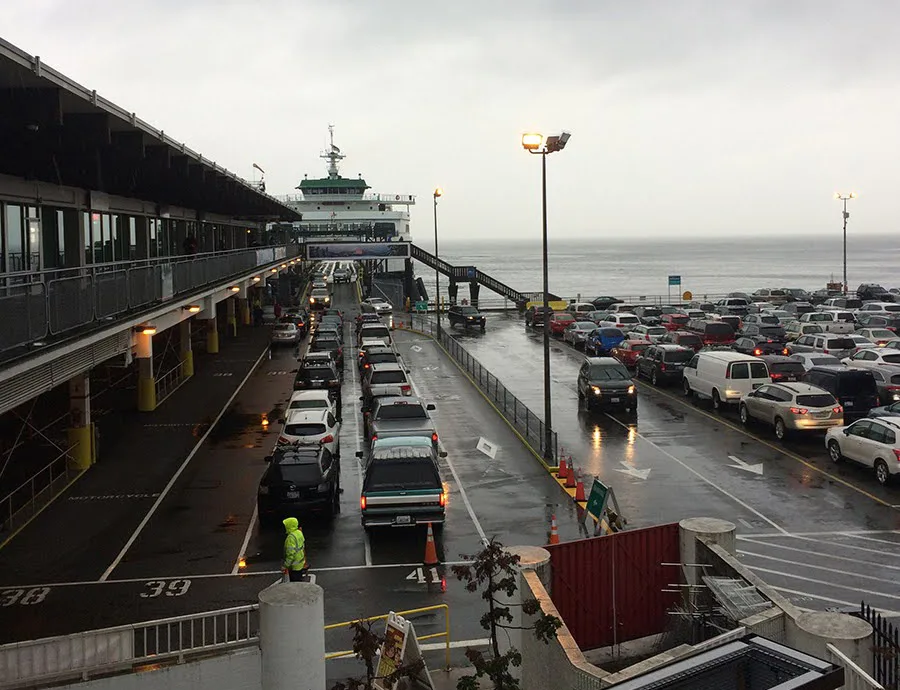 This walk will take you right through the heart of Seattle's downtown, including past amazing murals (see my mural map here), and within a few blocks of Seattle's tiny national Park and urban waterfall. If you have time to kill, you can even hit Seattle's freeway Park, which is a bit of a walk, but a fun detour. Seattle's Pike Place Market is an easy walk away, but if you want to accomplish my list of Things to do at Pike Place Market, you'll want to dedicate at least a half-day to exploring that neighborhood.
6. Board a Bainbridge-Bound Ferry
As you approach the ferry terminal, you'll see signs directing foot passengers where and how to board the ferry.
The downtown Seattle to Bainbridge Island ferry route is popular with commuters who live on the island and work in the city, so once you get near the ferry terminal, following the flow of foot traffic can actually be a helpful way to figure out where you need to be. Pay attention to the signs and you'll soon find yourself in a queue to embark on the next outbound ferry. For more help navigating the ferry, click here.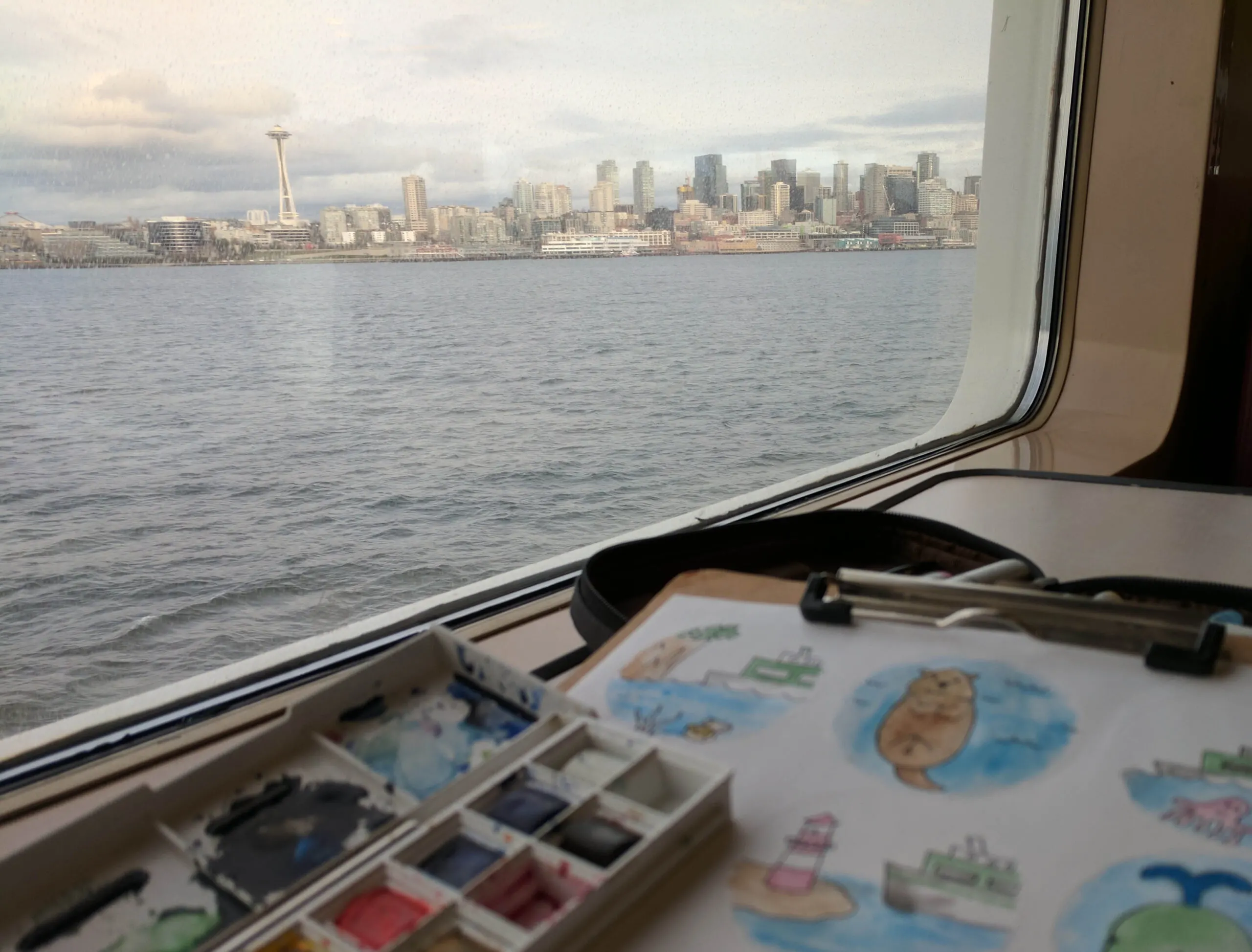 7. Enjoy the ride
The 30-minute ferry from Seattle's downtown ferry terminal to Bainbridge Island is my very favorite part of getting from SeaTac airport to Bainbridge Island without a car. The views are, without a doubt, majestic, and- if the weather allows- riding outside on the open deck is the way to go.
On rainy days, the (relatively) comfortable indoor seating is perfect for working on one of the shared puzzles or making last-minute changes to your list of things to do on Bainbridge.
TIP: Be sure to hang out on the back deck of the ferry on the outbound trip- the views of the Seattle skyline from the deck of the Bainbridge Island ferry are stunning.
Keep one eye trained on the water as you enjoy the views, I've seen seals, otters, jellyfish, and on one remarkable trip, even an orca from the stern of a Washington State Ferry!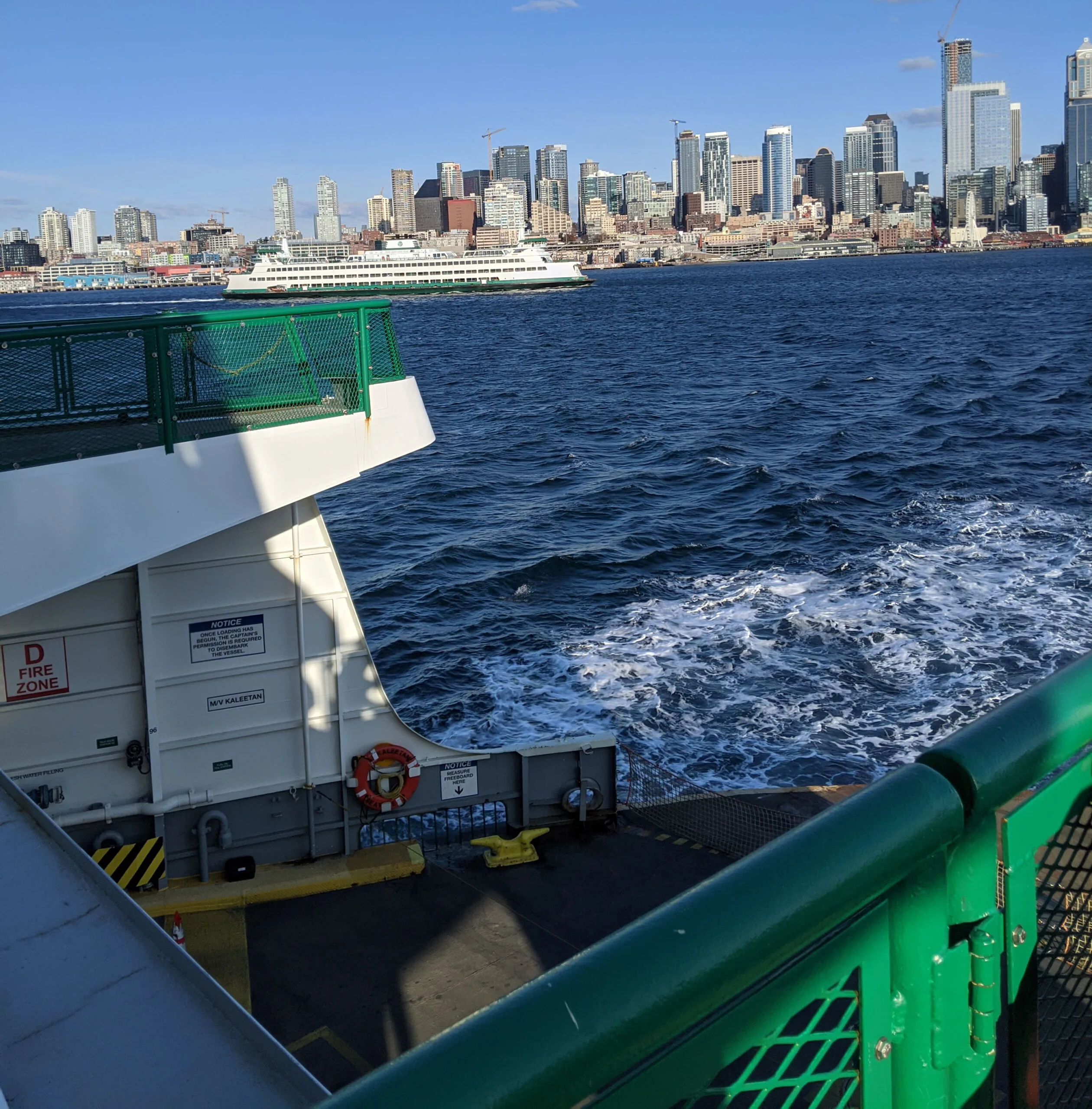 8. Disembark and follow other passengers.
The Seattle to Bainbridge ferry, which is the last step of getting from SeaTac to Bainbridge Island, doesn't make any stops between Seattle and Bainbridge- so you'll know exactly when to get off. When the boat docks at the Bainbridge Island's ferry terminal, an announcement will instruct all passengers to exit.
A large group of foot passengers will gather at the front of the ferry and exit onto a covered walkway that leads to the ferry terminal lobby and out onto a sidewalk. Most passengers will continue walking up the sidewalk (35 ft elevation gain) towards the main business area of Bainbridge Island- you can use this google map to navigate this step or follow the flow of foot traffic until you reach civilization.
9. Walk, Bus, or Rideshare to final destination on Bainbridge Island.
If your final destination is a hotel, guesthouse, Airbnb, or hostel on Bainbridge Island, you may need to arrange for a final leg of transportation. If it's not within walking distance from the ferry terminal, your lodging may offer a shuttle. Alternately, once you are on the island, a Uber or Lyft to more remote parts of the island can be relatively affordable.
If you're determined to complete your trip from SeaTac airport to the more remote parts of Bainbridge Island entirely without a car and only by public transportation, you can find a bus stop directly outside of the ferry terminal connecting ferry travelers to the Island's small but mighty public transportation system .
Never Rent a Car in Seattle
If you found this article, you're probably planning on navigating the Puget Sound region of the Pacific Northwest without a car- but just in case you're feeling uncertain about which transportation route to take let me reassure you that Seattle is one of the worst cities for a traveler to rent a car.
Not only is Seattle traffic a nightmare, but the grid of streets and the signage is utterly maddening. The good news? Seattle is one of the easiest cities for travelers to navigate via public transportation. Tech can help, thanks to all the tech commuters in the area, Google Maps is extremely accurate for plotting trips by Seattle public transportation, and the free mobile app called One Bus Away can locate bus stops and predict bus arrivals and departures within seconds.
A grid of light rail trains, clean and energy-efficient buses, and ferries make it possible to affordably get almost anywhere in the Puget Sound region without a car. Seattle residents love to hate our public transportation system, but as someone who has navigated international public transportation, buses in developing nations, and international ferries in Europe and ferries in South America, I honestly think Seattle's public transportation is much better than its reputation among local drivers.
Paying for Seattle's Public Transportation
It's easy to pay for using a prepaid transportation card (called an ORCA card) you can purchase a card from an ATM-like a kiosk at SeaTac airport. Once you've got your ORCA card you can swipe and ride trains, buses, and ferries without fumbling for payment. Every bus route in Seattle is a little bit different, and some are rougher than others, but the routes that most tourists navigate are well-maintained and the passengers are generally well behaved. Like any public transportation in any city, keep alert to your surroundings and practice basic personal safety. With comfortable seating and clean amenities, compared to my experience as a traveler on the ferries making the crossing between Italy and Croatia, Washington state ferries are practically luxury cruise ships!
How I learned: Island living without a car
When I moved from rural Missouri to Seattle, I decided to make the dramatic life change even more dramatic by selling my car and navigating Seattle by foot, public transportation, and occasional rideshare. Over the next four years, I learned how to get just about anywhere by train, bus, or ferry – including living, for a time, on one of the San Juan Islands in the Puget Sound, and making an annual pilgrimage to Bainbridge Island at Christmas.
As a Midwesterner plopped down into an urban city, ferries became one of my outlets for self-care, when I needed the soothing scene of a flat horizon to remind me of home, hopping on a ferry as a foot passenger was an inexpensive remedy. With practice, I learned to navigate without a car between Seattle and most of the Puget Sound Islands. Since Bainbridge Island is the closest island to Seattle, and the easiest to access by ferry, it became my primary retreat as I made the journey from Seattle to Bainbridge Island at least once every few months.
For more guides to travel in Seattle, see: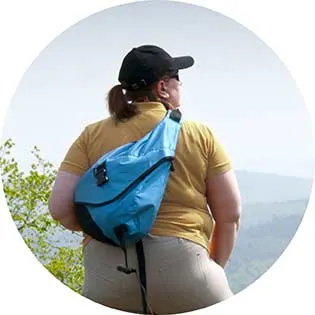 Lynli Roman's unique approach to travel is informed by decades of experience on the road with a traveling family and, later, years spent as a solo international traveler. When she's not writing about Seattle from her Pike Place Market apartment, Lynli writes on-location while conducting hands-on research in each destination she covers. Lynli's writing has been featured by MSN, ABC Money, Buzzfeed, and Huffington Post. She is passionate about sharing information that makes travel more accessible for all bodies.