Seattle isn't known for its murals, but maybe it should be. In this post, I'm sharing my best tips for mural hunting in downtown Seattle.
The best part about this adventure is it's so easy. I've created a map for you that leads directly from Pike Place market to the Olympic Sculpture Park – a route most Seattle tourists take anyway. You can see some of Seattle's best street art by popping just a block or two off the most trafficked routes.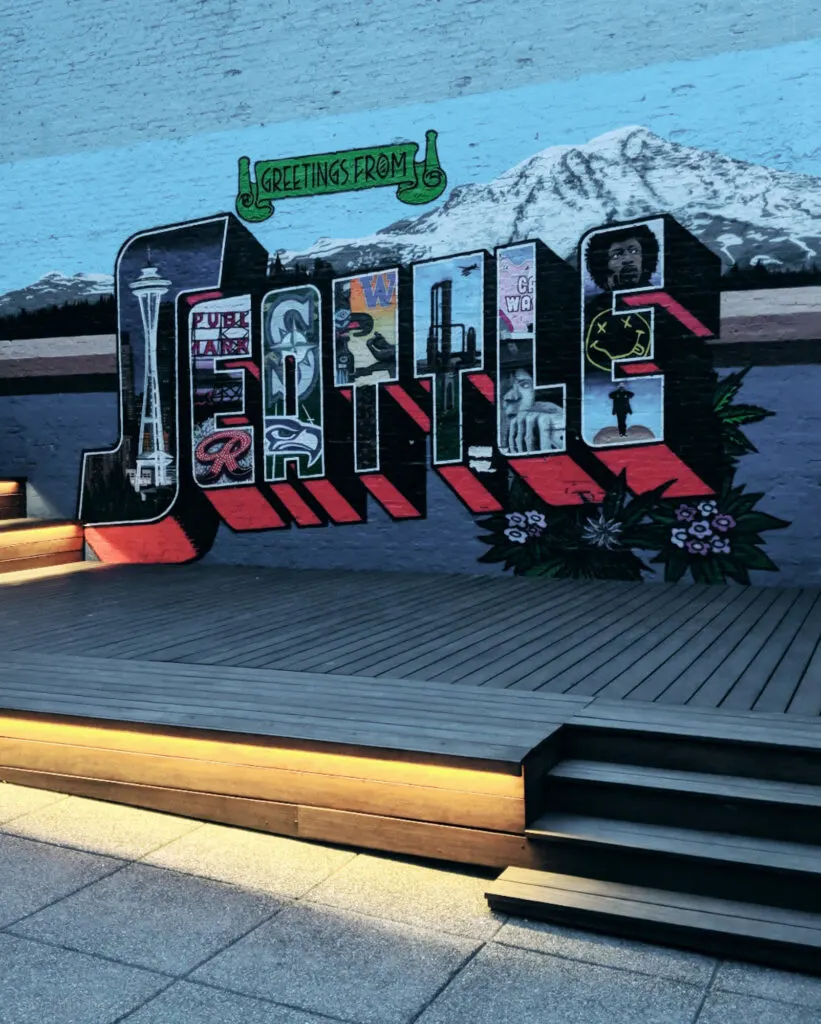 This mural walk is among my favorite free things to do in Seattle. If you walk straight from point to point without stopping to check out any of the cafes, shops, and food counters you'll pass on the way, it's walkable in about 30 minutes and accessible for almost all bodies, fitness levels, and abilities. (On average, it'll take about 45 minutes to 1 hour from start point to endpoint, assuming a casual pace and stopping for photos).
In this mapped mural walk through the Pike Place and Belltown neighborhoods of downtown Seattle, you'll find yourself just a bit off the trail of the typical tourists. Instead, you'll be exploring some amazing street art created by talented Pacific Northwest artists.
Guide to a 1 Hour Downtown Seattle Mural Walk
Starting Point: Pike Place Market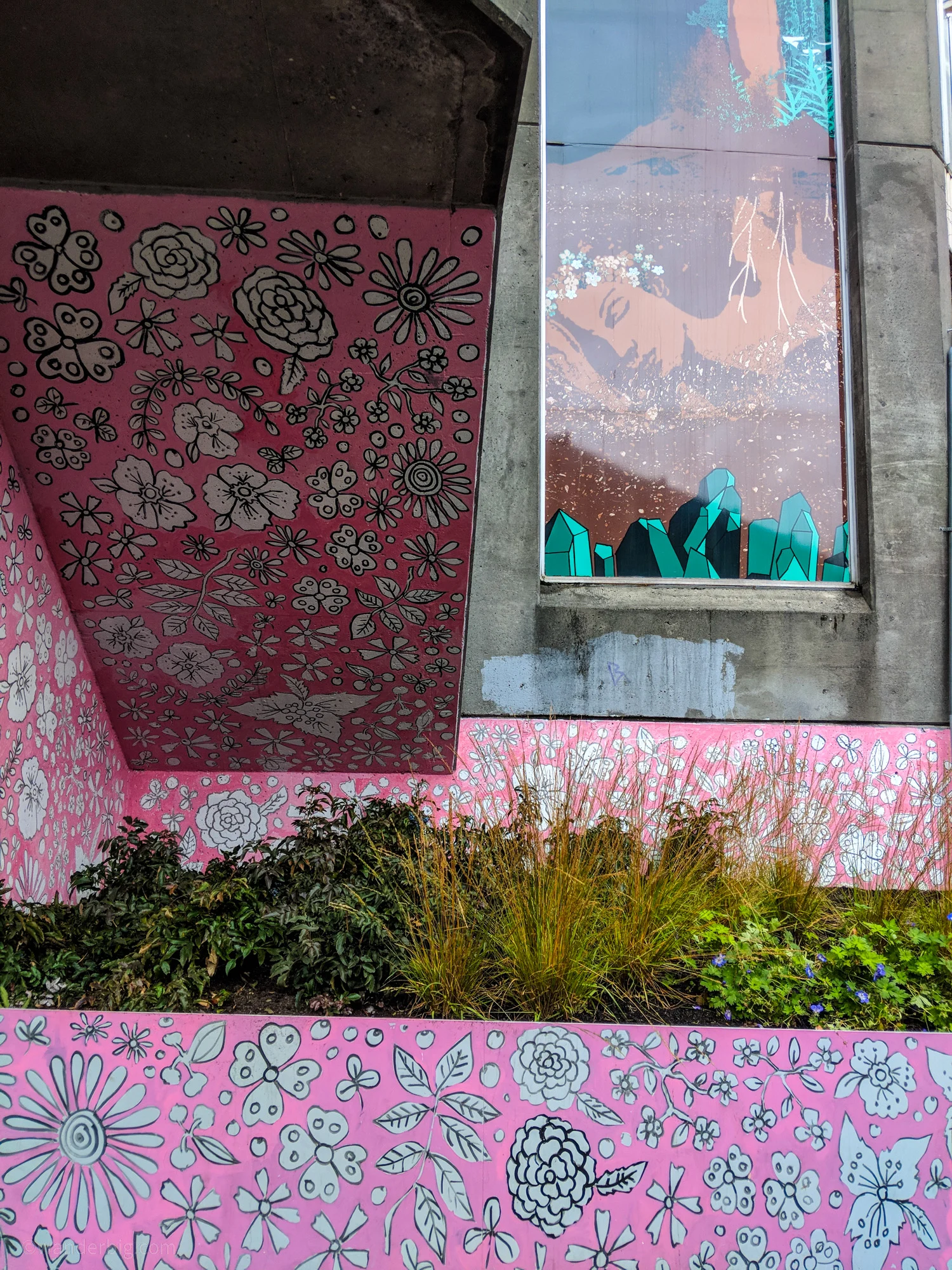 If you are visiting Seattle, you are almost certainly visiting Pike Place. It can't really be avoided – and by all means, shouldn't! While many tourist destinations are far overrated, a trip to Pike Place that makes time and space for food and exploring is one of my favorite ways to spend time in Seattle (want to know how I spend time at Pike Place Market? Read my local insider's guide).
To find the first mural in this series- one of my favorite Instagrammable spots in Pike Place– follow the stairs down from the iconic fish throwers down to ghost alley and the gum wall (which is, itself, a sort of mural) and continue down. Follow the descent of ghost alley until you reach more stairs, and take the stairs all the way down to Western Avenue.
There, at the base of the stairs, you'll find this pink floral mural, which is a fun warm-up for more impressive murals as you head northwest towards the Olympic sculpture park. (Alternate route if stairs are a challenge: find an elevator by following the signs behind the iconic fish thrower's market stall)
1st & Lenora Doodle Mural
1st & Blanchard Murals
Detour here into the Republic Parking Lot next to the army surplus store. In this large (for Seattle, at least) parking lot you'll find a few murals:
1. This Vintage comic-inspired mural is painted on the wall of the army surplus store and features a vintage comic-inspired art that I and my friends theorize is about addiction.
2. Ironically(?), the mural on the opposing wall is an advertisement for a pot shop just around the corner. This mural features the Seattle skyline stenciled on a dramatic and colorful backdrop.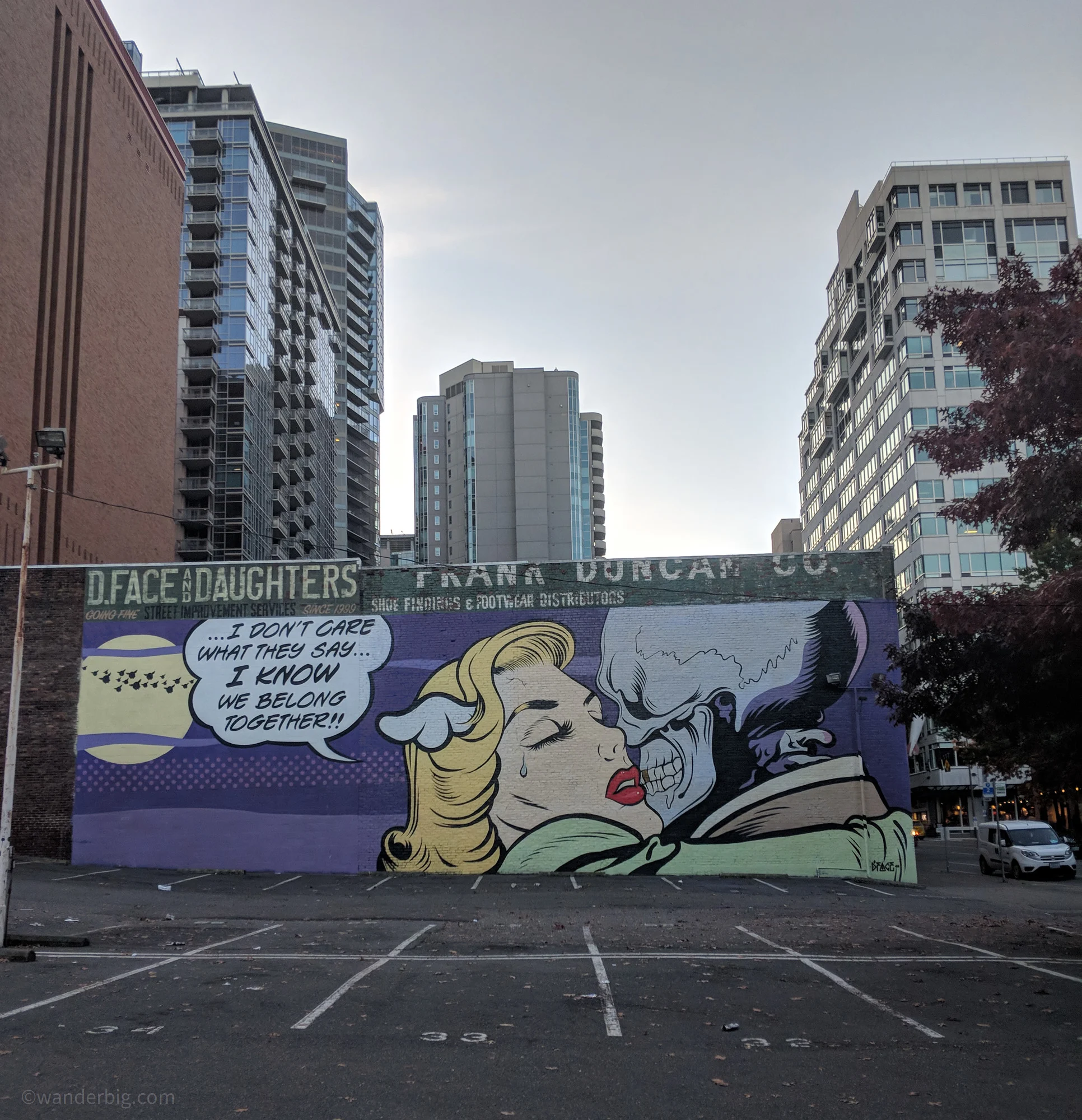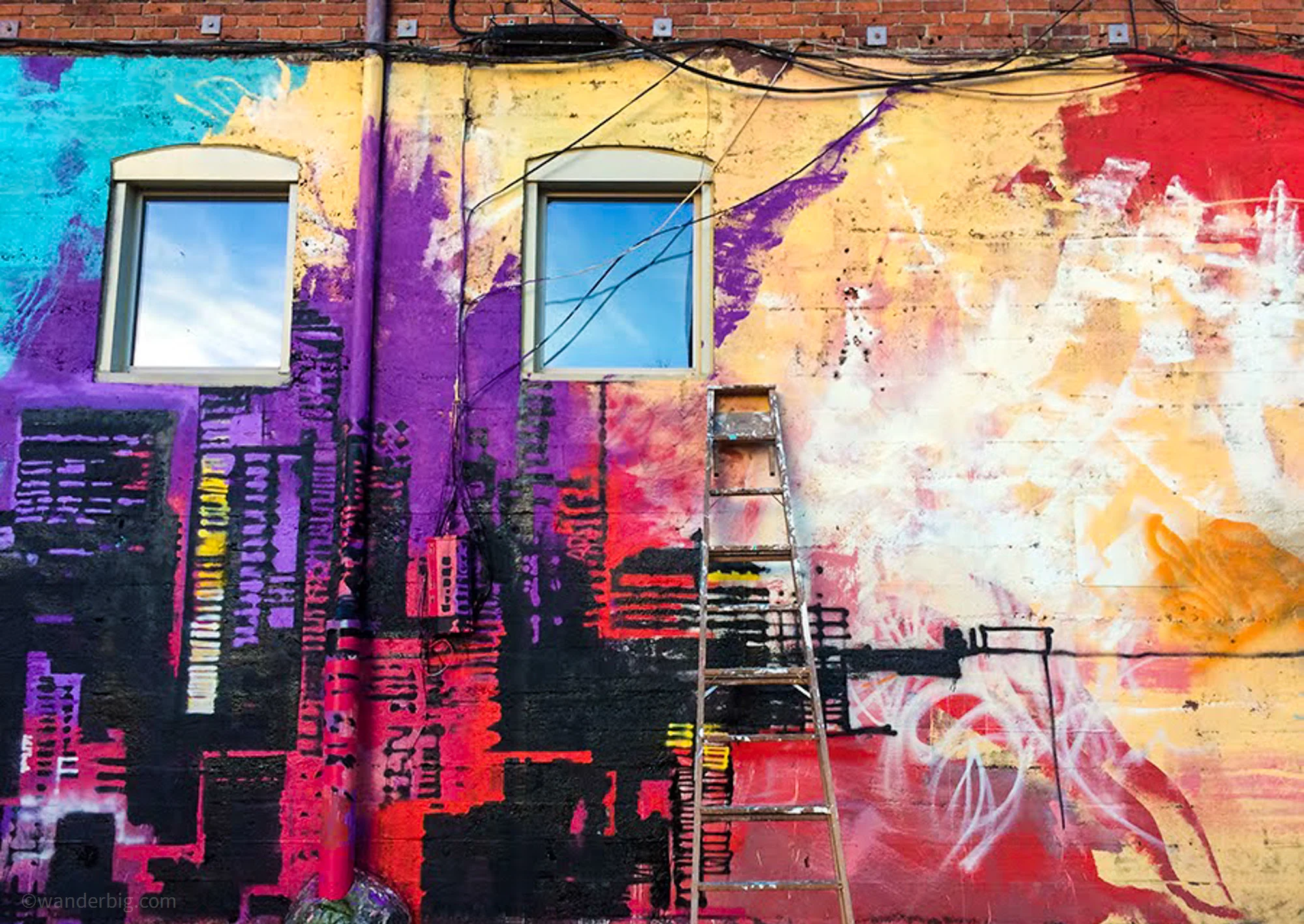 3. If you blink you'll miss it, but in between these two gigantic murals, you'll find a third "mural" – perhaps the most evocative of the three for me personally. These small squares are painted on the backside of a small, low-income apartment building called the Rivoli.
Here's the story: According to the graffiti nuisance ordinance, Seattle fines building owners if they do not remove graffiti quickly. Building owners are required to scrub or paint over graffiti immediately, but the Rivoli management took a tongue-in-cheek response to this policy and created what has become an interactive, ever-changing mural. Squares of paint layer over graffiti, which are then covered once again by graffiti, which are once again covered by colored squares of paint. In my 4 years of living in downtown Seattle, this mini mural has undergone countless transformations.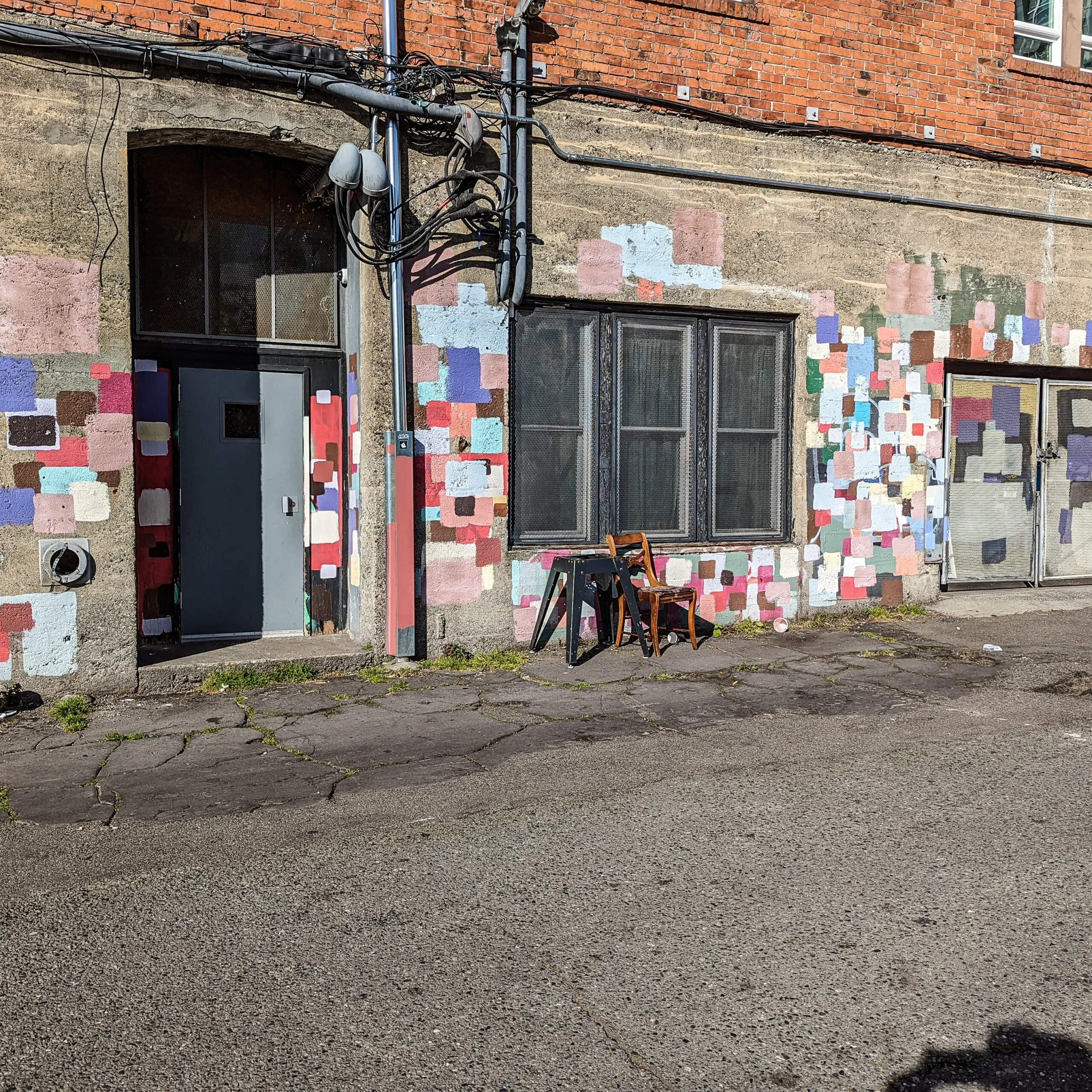 Jupiter Bar's Mural Alley
On Second avenue you'll find a bar named Jupiter that's filled inside and out with murals. Even if Jupiter is closed in the morning or midday, you'll find open access to the mural-filled alley behind the bar.
Note: This alley is generally safe during the day (just stay alert and use basic safety precautions), but avoid it after dark unless you are with a group.
Belltown Dog Park
This quirky dog park can be a little sketchy, due to a nearby bus stop and proximity to homeless services, but it's worth a little detour to pop into this fenced urban dog park. This bleak and concrete-lined dog park has been cheered up with murals and dog-inspired art.
1. Pomeranian Mural: the pomeranian mural features dogs at play- lorded over by their king of fluffiness.
2. The play steps. Murals have gone three-dimensional on this series of painted ledges designed for dogs at play.
3. The Poop sculpture: Worth a LOL, this dog play structure may or may not have been designed tongue in cheek: it's hard to see the spiral ramp art installation as anything other than a poop emoji.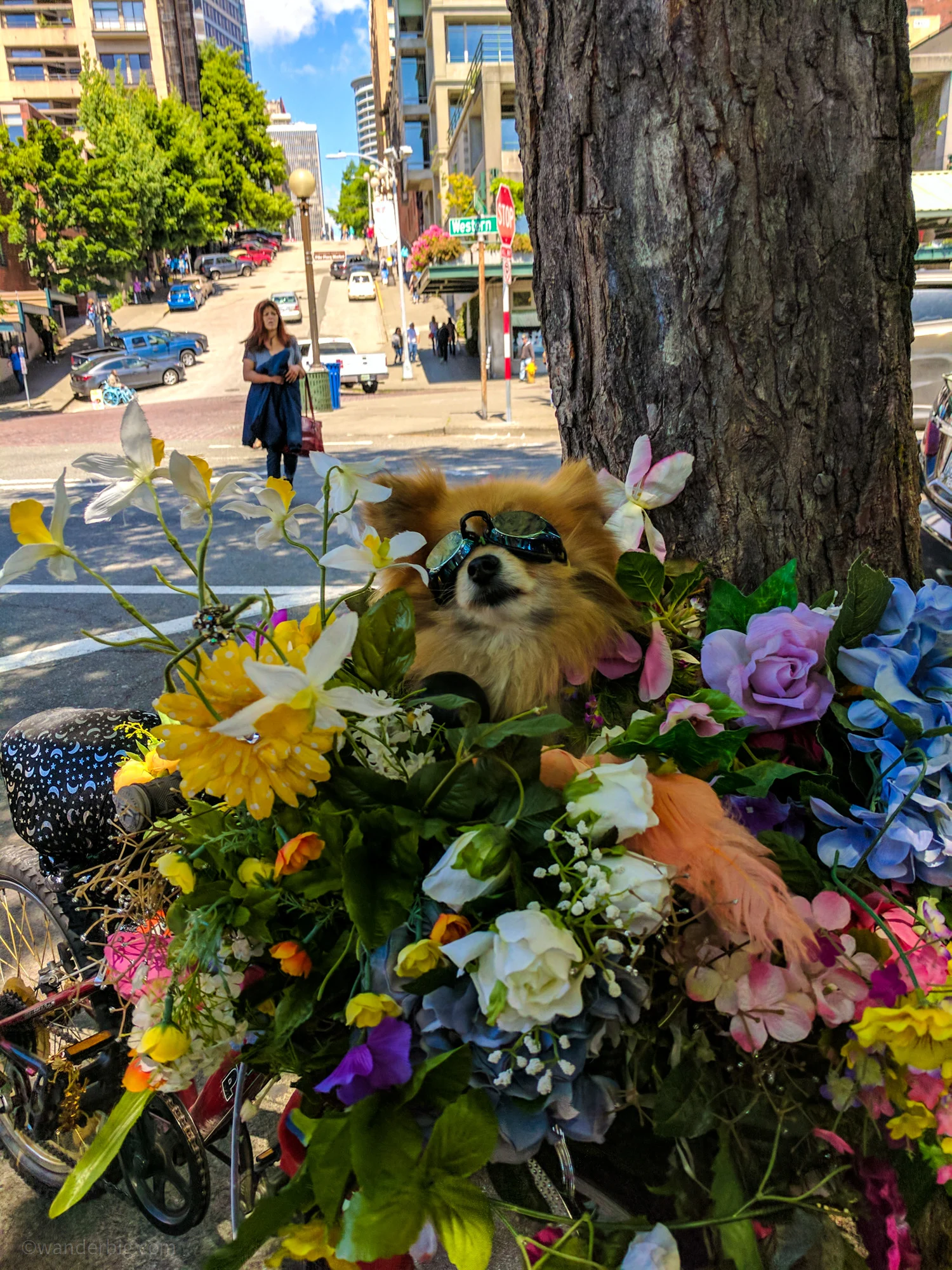 The Greetings from Seattle Mural in Belltown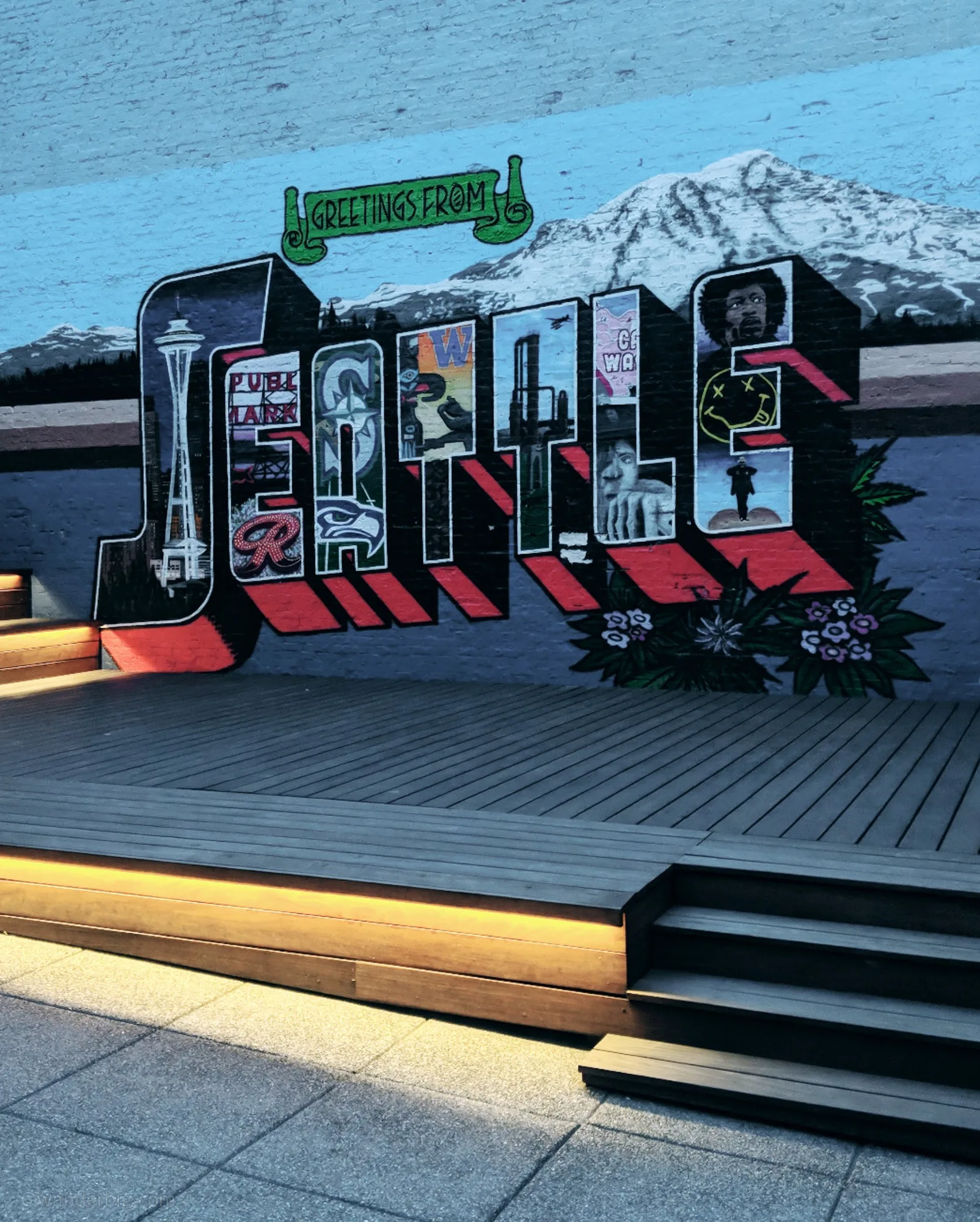 Once the most photographed mural in Seattle, around 2016/2017 this mural was, sadly, made part of a private event venue. Opaque gates enclosed the art that was once part of the community, and as the space was made into a private patio, access to view the mural was limited to those with the resources able to pay for tickets to high priced events or to the guided Seattle tours that sometimes still include this Greetings from Seattle Mural.
I've left this listing on the map because you'll pass it anyway, and it's not unusual to find the gate swung open for deliveries. If you're lucky, there's a chance you can peek around the open gates and snap a quick photo.
Belltown Public Garden and Mural
In Seattle, community gardens are called 'P-Patches" and Belltown has its own P-patch just 1.5 blocks from the Olympic Sculpture Park and just one block off of the typical tourist path from the Pike Place market to the sculpture Park.
This terraced garden features the public garden to walk through and several art installations including a fountain and rain art.
NOTE: Two unassuming cottages set in the garden are actually protected artifacts of Seattle history and form their own park, the Belltown Cottage Park. Although there's no plaque or information describing these cottages, they are actually hundred-year-old homes of Seattle's original dockworkers now preserved and occasionally rented out for artists and writers' creative spaces.
Destination: Olympic Sculpture Park
The Olympic Sculpture Park has only grown in popularity as the pandemic has pushed Seattle tourism outdoors. The outdoor sculpture park maintained by the Seattle Art Museum is the final destination of this mural walk. By the time you reach the stunning sculptures of the Olympic Sculpture Park, you'll have seen a dozen murals, shaping this itinerary into one that celebrates both "high" art and street art.
My Favorite Corner of the Olympic Sculpture Park:
The Olympic Sculpture Park includes a small green-glass greenhouse set in one corner. Don't miss this unassuming building: it's my favorite installation of the sculpture park. Inside this glass greenhouse, called the Vivarium, is an ancient log slowly decaying. It's an exhibit designed to invite visitors to consider how even in death, the once-mighty tree is giving life to many other forms of life. Maintained in light and humidity conditions that replicate a Pacific Northwest temperate rain forest, this building allows you to observe up close how old logs- called nurse logs- naturally nourish life in death.
Download the Free Google Map Walking Route:
Can you Walk from Pike Place Market to the Space Needle
Yes! The route from Pike Place Market to Seattle's iconic space needle is very walkable and takes about 30 minutes. To make your walk a little more interesting, use our google map, which will reroute you to pass dozens of murals and street art exhibits on the way from Pike Place Market to the Olympic Sculpture Park- which is just a few minute's walk from the Space Needle.
How I discovered this mural walk
For four years, I lived in the Pike Place Market neighborhood and attended classes at a graduate school just two blocks from the Olympic Sculpture Park, both major stops on the most popular Seattle tourist itineraries. As I walked to and from class, grocery shopped in the market, and discovered new-favorite restaurants in between these two major points in Seattle, I found a few of these murals and even watched a few of them being painted (one, in fact, on the brick wall of my very own apartment building, directly below my window!).
By the time I moved away from Seattle to digital nomad, I realized that I had adapted a route to and from Pike Place and the sculpture Park that took me past all of my favorite murals on a regular basis. Today, I'm sharing that route with you via this Google map (find the link below) and blog write-up.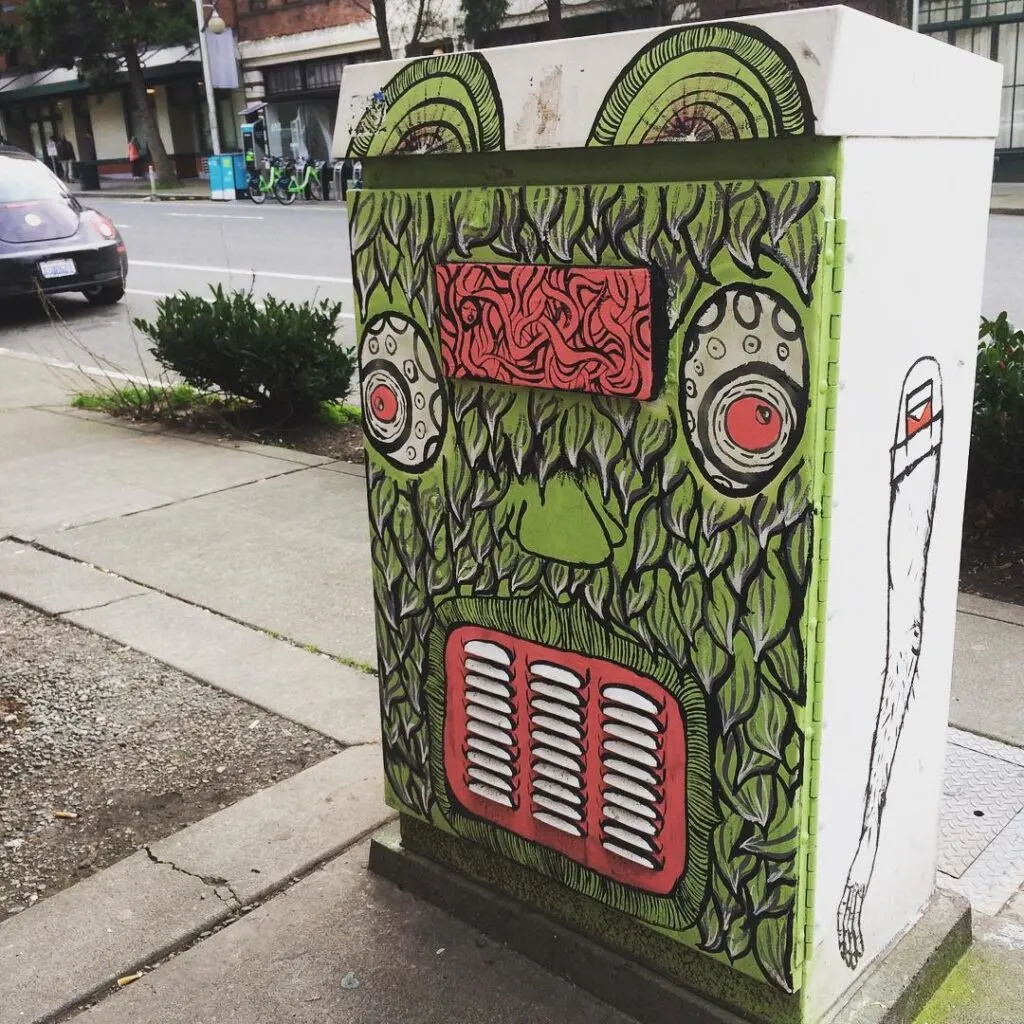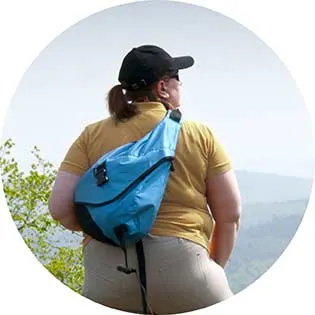 Lynli Roman's unique approach to travel is informed by decades of experience on the road with a traveling family and, later, years spent as a solo international traveler. When she's not writing about Seattle from her Pike Place Market apartment, Lynli writes on-location while conducting hands-on research in each destination she covers. Lynli's writing has been featured by MSN, ABC Money, Buzzfeed, and Huffington Post. She is passionate about sharing information that makes travel more accessible for all bodies.