Learn how to get from your arrival gate at SeaTac Airport to the iconic entry of Pike Place Market with this simple route guide- including tips for navigating Seattle's public transportation.
I've lived in Pike Place market for several years now. A few months after signing a lease on a tiny studio apartment in the Pike Place neighborhood, I sold my car. For the next three years, I navigated life in downtown Seattle without a car, including frequent trips in and out of the city via SeaTac airport.
Although I was lucky to be able to afford rideshare transportation some of the time, I never used it to get from the airport to my home in the Pike Place Market neighborhood. Why?
Because getting from the Seattle/Tacoma airport to Pike Place Market is 👏🏼 so 👏🏼 easy 👏🏼 and so cheap. In this article, I'll show you how easy it is to get from SeaTac airport to Pike Place market without a car.
Learning to Navigate Seattle by Lightrail
The first time I visited Seattle was a bit of an off-center visit. My travel didn't take me into the city center- but instead to a hotel just south of SeaTac airport, only steps away from a light rail station. With almost the entire day to kill, I debated taking the light rail into downtown Seattle to see the famous Pike Place Market, but ultimately I was too intimidated to try navigating Seattle's light rail to Pike Place. The next morning, I left with a few pangs of regret about not seeing Seattle's historic market.
Since then, I've moved to Seattle and become an expert at navigating Seattle without a car. Read on to learn how easy this route actually is.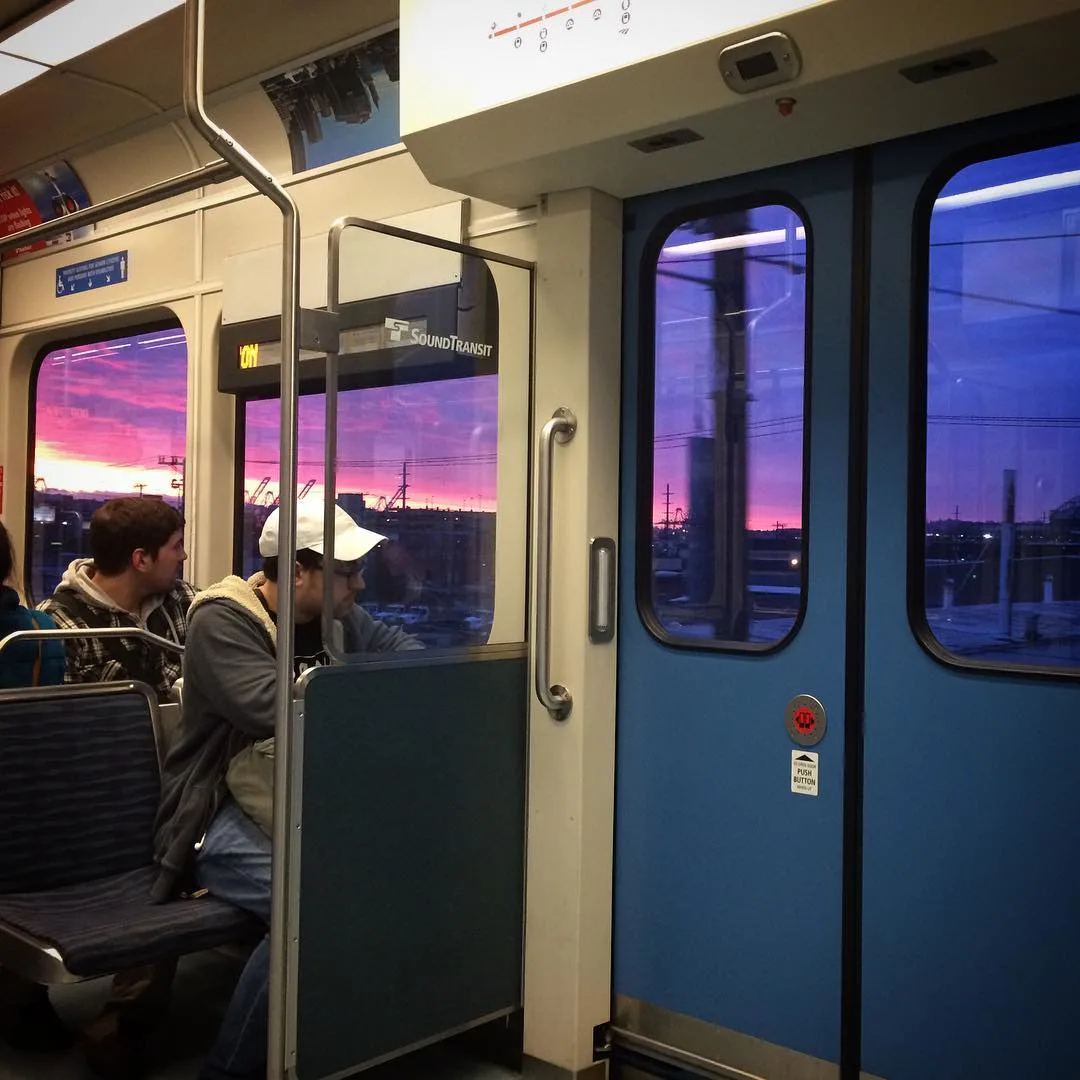 The easiest, fastest, and cheapest way to get from SeaTac to Pike Place: Light Rail Train
[click to download the following instructions on google maps]
Seattle has invested heavily in its light rail network, and although the network is not yet complex (there's just one line running north to south) the Seattle light rail was specifically designed to carry passengers from SeaTac airport to Pike Place Market-adjacent downtown.
It almost couldn't be easier to take the light rail from SeaTac to Pike Place Market:
First, head to Baggage Claim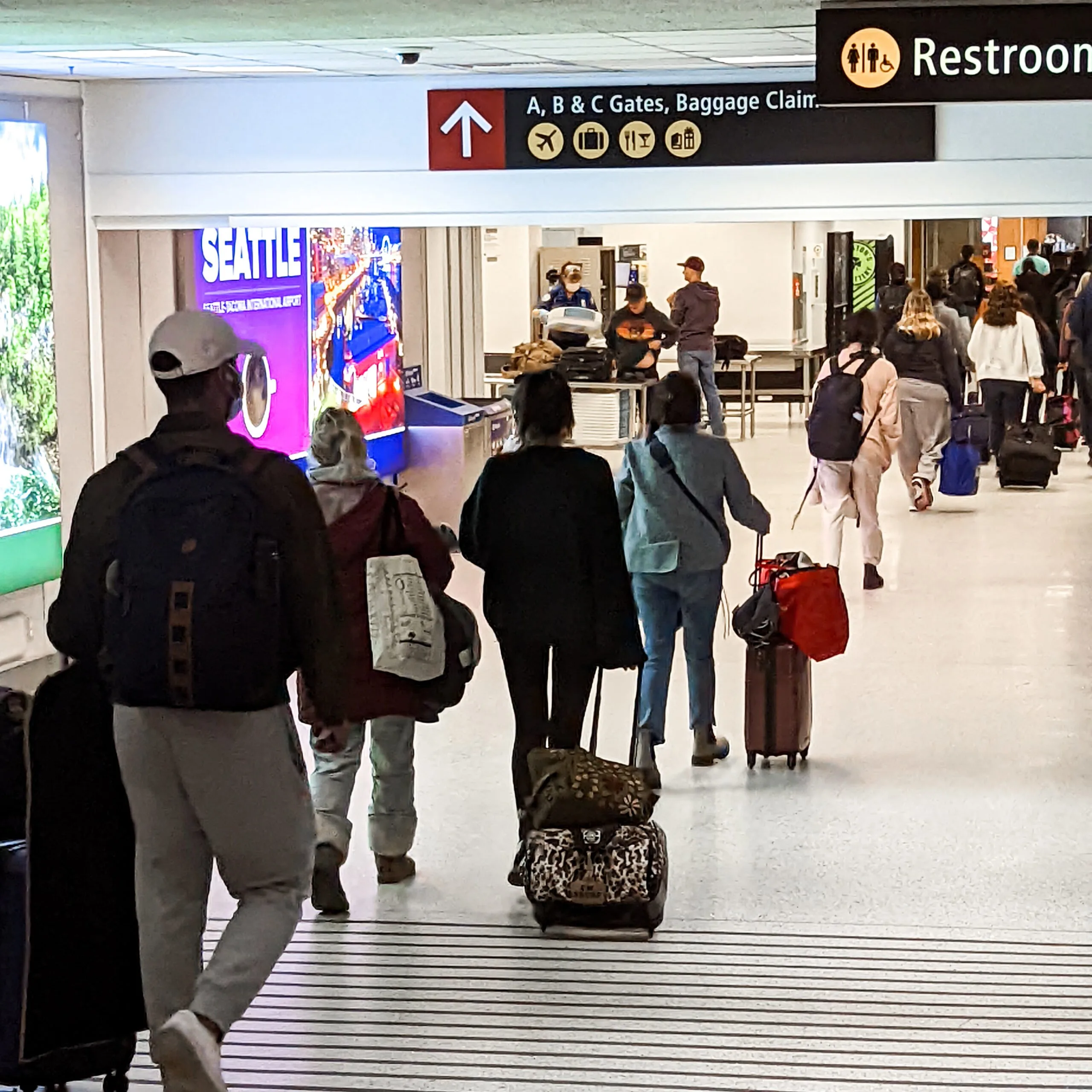 From SeaTac arrival gates, the first step to getting downtown is to head to baggage claim. Claim your luggage, and then take a look around. This area is covered with signs directing passengers to the lightrail station- you'll just need to take a moment to orient to your surroundings and read signs.
Follow Signs to Lightrail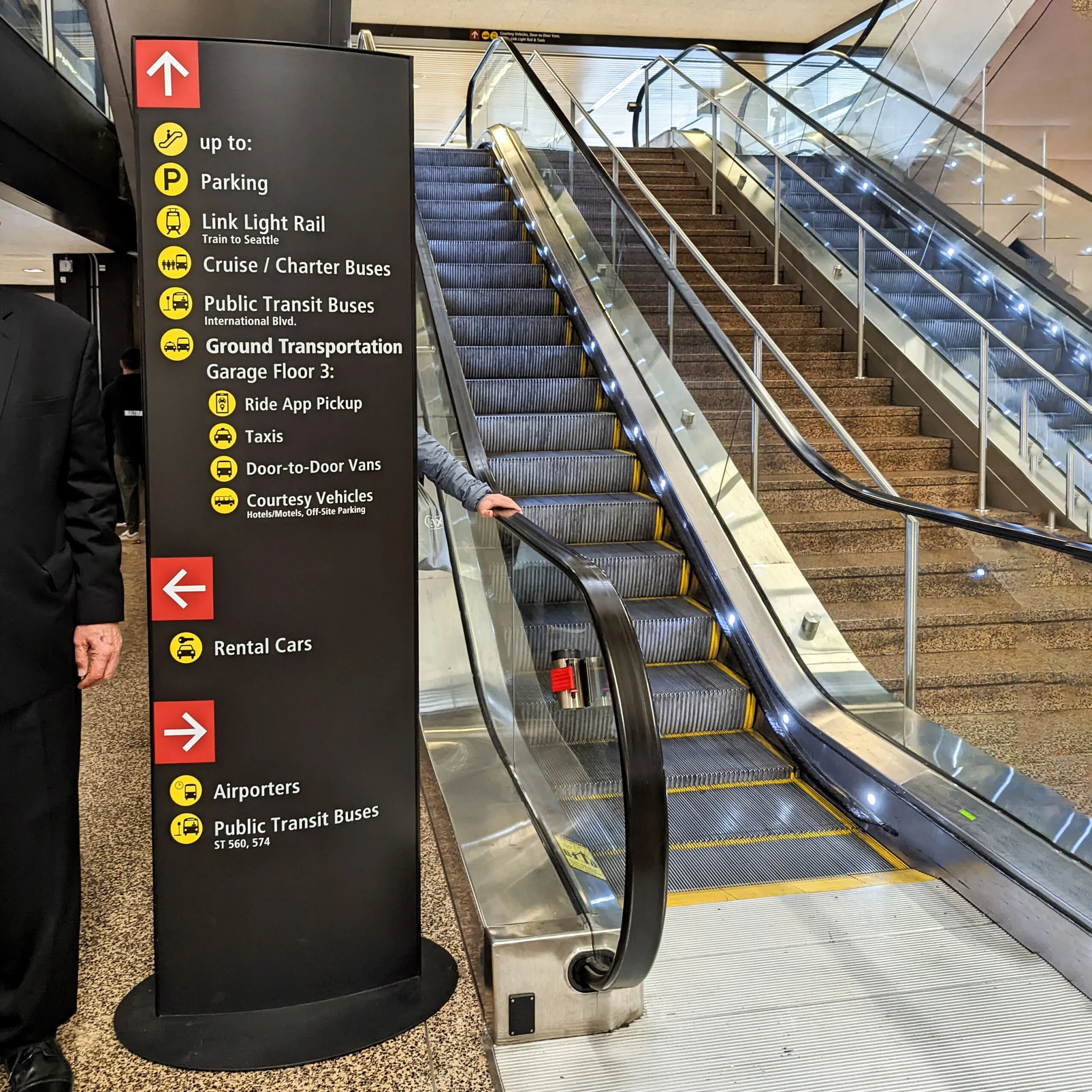 From baggage claim at the Seattle Airport, follow the signs to the Link Light Rail Train. The signs will direct you up one floor, and to a walkway that leads from the airport to the parking garage. (Don't worry, this really doesn't involve walking through a spooky parking garage!)
Keep Following Signs
They really don't want you to get lost, so you'll find excessive signage, as shown above, the whole way.
Walk or Wait for the Shuttle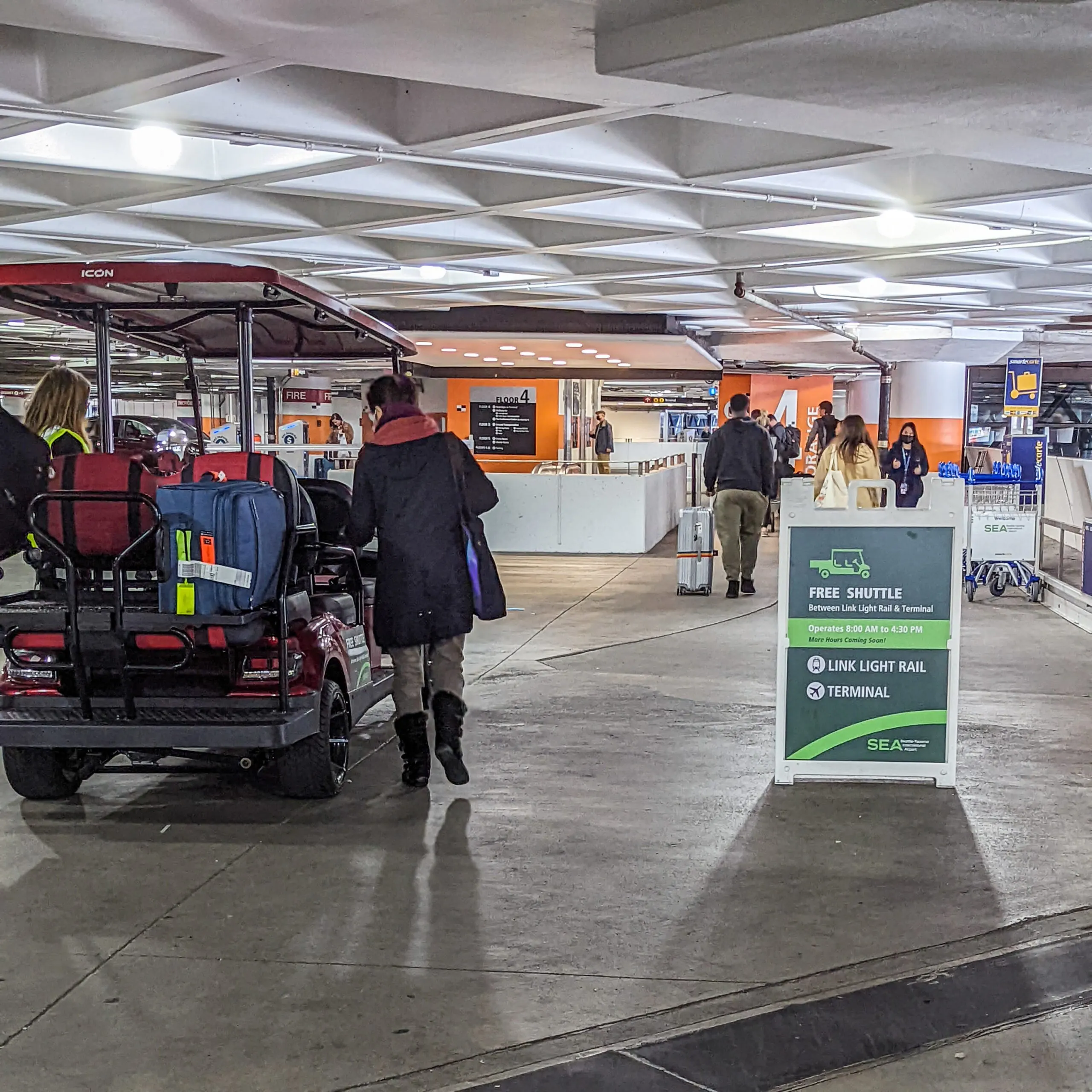 You can head down this well-lit corridor connecting SeaTac to the Light Rail Station or wait for a shuttle. The walk takes about 5 minutes, and I'm usually ready to move my legs after a long flight, so I walk.
Enter the Station & Look for a Ticket Kiosk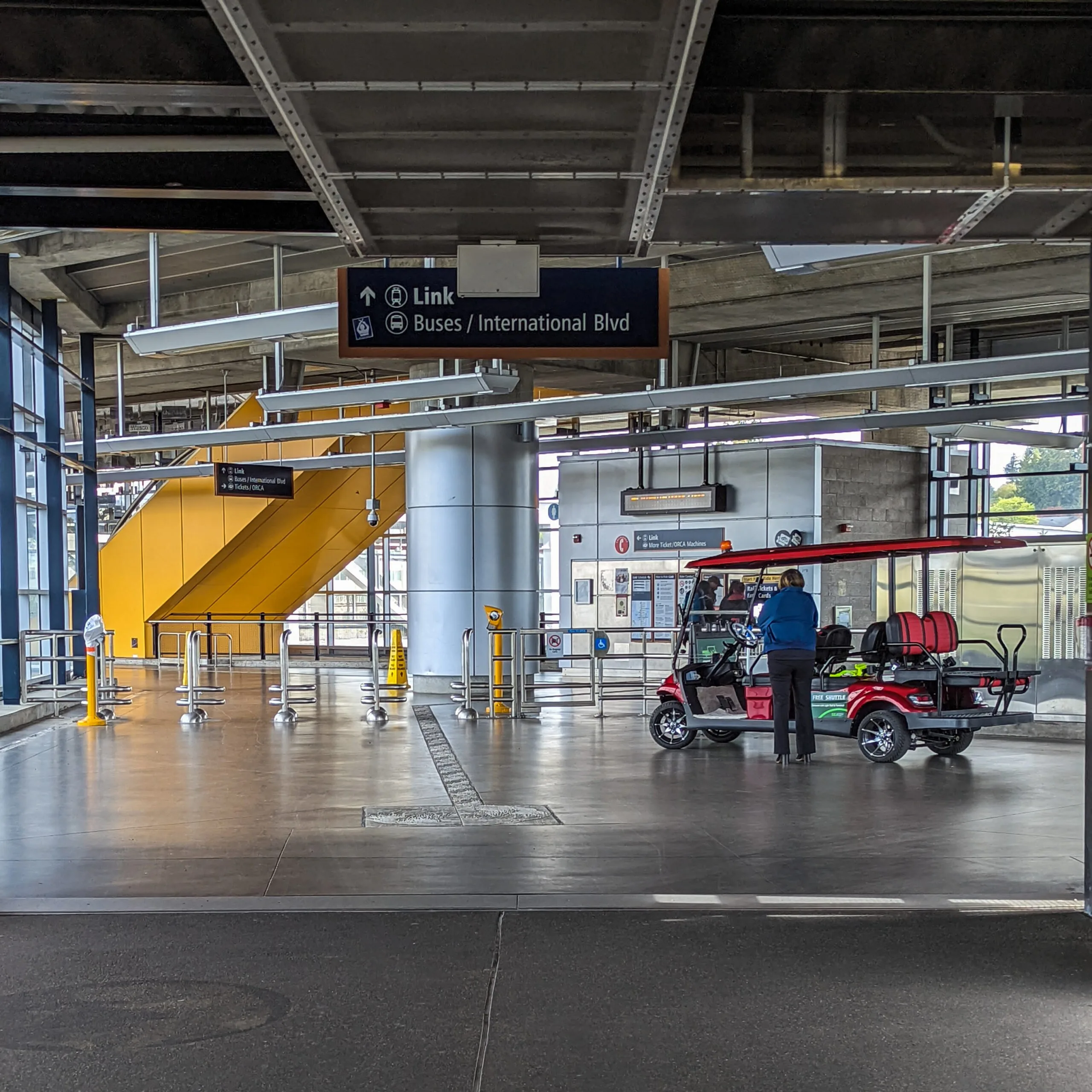 Follow the walkway until it opens up into a brightly lit, above-ground light rail train station. Thee, an ATM-like kiosk offers visitors the chance to purchase a ticket on the light rail for about $3-4. You can click here for a resource on how to use this ticket machine, but it's easy to use by following the on-screen prompts.
Buy a Ticket & Head Upstairs
Once you have a ticket, head upstairs to the platform where trains arrive every few minutes. A train pulls into the Seatac station every 6 minutes during rush hour, and every 10-15 minutes during non-peak hours.
Stand Under the Sign Saying "Seattle & Northgate"
A few years ago, there was no way to catch the wrong train from the station – all light rail trains leaving the SeaTac airport station headed north. Today, however, as the light rail system expands you'll need to make sure you board the right train.
💡 Hint: There is only one minor stop south of Seatac before the light rail line terminates. If there's a crowd on the platform at Seatac and you're the only one boarding a train – you're probably boarding the wrong train!
Board the Train & Keep your Ticket
When a train pulls up under the "Seattle and Northgate" sign, board. If you purchase a one-time ticket, you do not need to scan or tap it on a reader. However, you should keep the ticket in case fare enforcement boards your train.
When you get on, find a place for your luggage where it's safe and visible during the whole trip. Do not store your suitcase out of your line of sight. The train may become very crowded as you approach downtown.
Ride 11 Stops to University Street Station
Once you've boarded the light rail, stay on board for 11 stops (about 30 minutes) and get off at University Street Station.
Head Downhill to Pike Place Market
When you emerge to street-level from the underground University Station, look for the waterfront and head in that direction.
The most iconic entry point to Pike Place Market is located at 1st Avenue & Pike Street.
Download These Instructions as a Google Map
Getting from SeaTac to Pike Place Market by Public Bus:
A second option to get from the Seattle-Tacoma Airport to Pike Place Market is to use another form of public transportation: a good old-fashioned city bus. But the buses in Seattle are anything but old-fashioned – these electric-powered buses have a neutral carbon footprint, making them an excellent choice for energy-conscious travelers.
To take a bus from SeaTac to Pike Place market will require one bus transfer and about 1-1.5 hour transit time. It's slower and more complicated than taking the light rail because public transportation planners know that the light rail is designed to get passengers from the airport to Pike Place. If you'd prefer the bus to the train, here's how to get to Pike Place:
You'll need to have 3 to 4 dollars available in dollar bills to pay the bus fare, which spikes during peak hours.
Walk from SeaTac to a bus stop
From SeaTac arrivals walk to International Blvd & S 176th St, where you'll find the stop for the northbound "A Line" pay your fair and be sure to collect a pass from the bus driver that will allow you to transfer buses at the next stop at no charge.
Get off at Tukwila International Blvd Station
Ride two stops and exit the bus at Tukwila International Blvd Station
Board the 124 to Downtown Seattle
Board the 124 "Downtown Seattle Georgetown" Bus. Stay on the bus for 42 stops (you'll see a lot of south Seattle up close!) and exit the bus at 3rd Ave & Union St
Get off at 3rd Ave & Union St
When your bus reaches 3rd Ave & Union St, you're almost to Pike Place Market! A short walk, about .2 mile will deliver you to the doorstep- and the iconic view of Public Market sign – of Pike Place Market.
Bus routes may change, always confirm the current recommended route with Google maps or one bus away. To download this route map click here.
More Articles on Pike Place Market: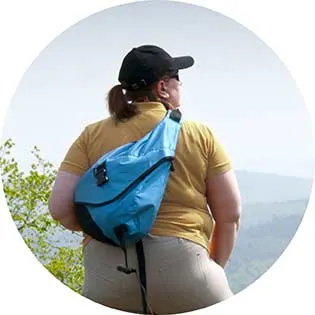 Lynli Roman's unique approach to travel is informed by decades of experience on the road with a traveling family and, later, years spent as a solo international traveler. When she's not writing about Seattle from her Pike Place Market apartment, Lynli writes on-location while conducting hands-on research in each destination she covers. Lynli's writing has been featured by MSN, ABC Money, Buzzfeed, and Huffington Post. She is passionate about sharing information that makes travel more accessible for all bodies.