I left for three months of trying out a digital nomad lifestyle in South America days after finishing graduate school. It was a whirlwind season of life, in which I had the opportunity to spend extended time in Chile, Argentina, and Peru.
Here's how I spent three months in South America without bumping up against yellow fever infection risks. Below is the list of cities/regions I visited, time spent there, and some of my favorite highlights.
Santigo, Chile
Time Spent: 5 days
Highlights: Bellavista neighborhood street art, national library, free art museums.
Punta Arenas, Chile
Time Spent: 1 day
Highlights: my air B&B host took me on a beachcombing, mushroom hunting, and berry picking adventure.
Puerto Natales, Chile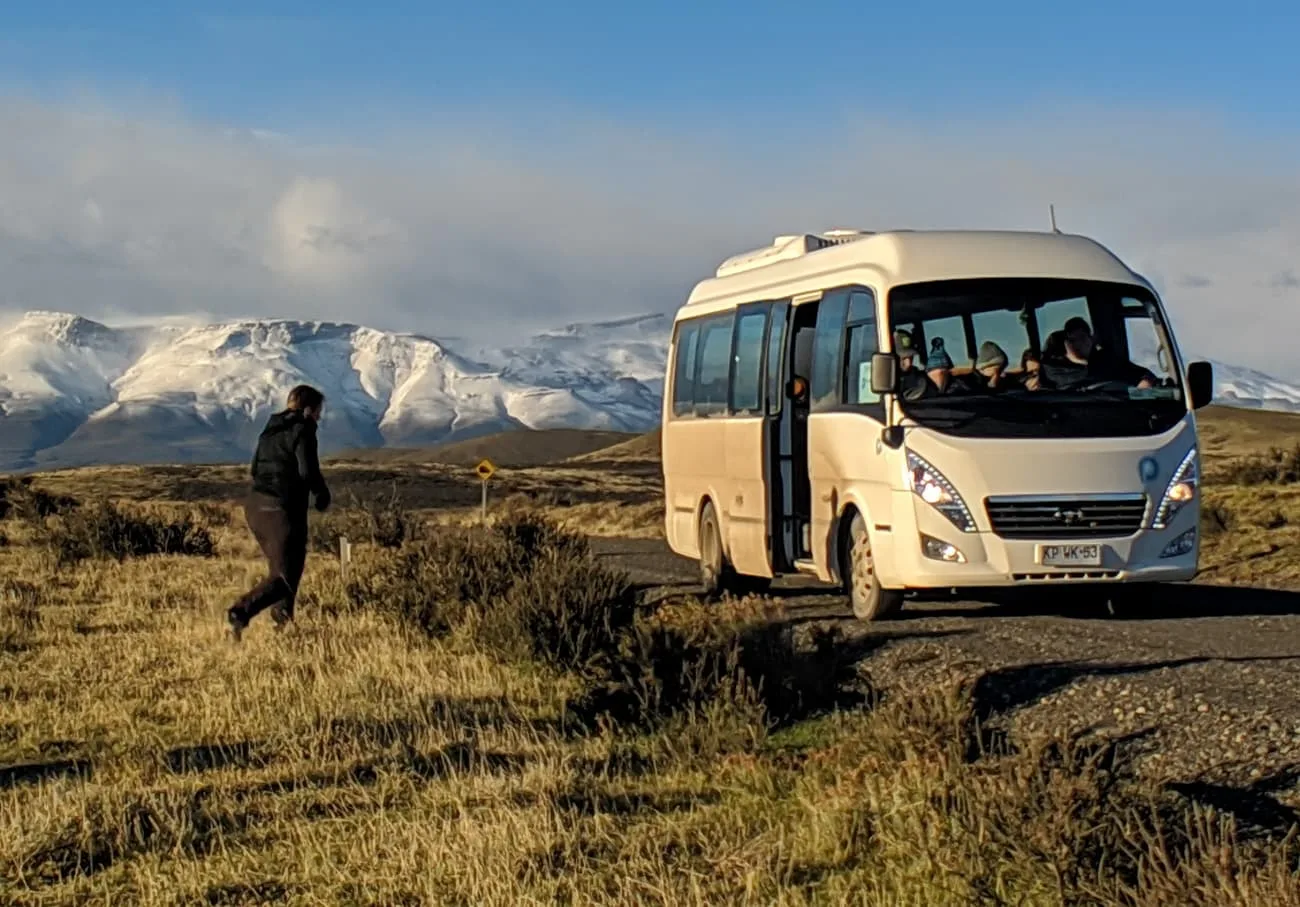 Time Spent: 2 days on the way to Argentina, 6 days coming back.
Puerto Natales was the star of my out and back adventure to Patagonian Argentina. On the way out I had booked a hostel but listened to my body when my anxiety started telling me a coed dorm room was not a place that I could rest well. Instead, I checked last minute hotel deals and landed in a four-star hotel at a hostel-private-room price. Puerto Natales is a city that swells massively with an influx of tourists every summer, and accordingly, during my visit in the fall (or "shoulder season"), there were many last-minute lodging options available at a fraction of the price they go for during the high season.
Highlights: this town is an outpost for Torres del Paine, and most visitors are either coming or going from the National Park. Although a day trip into the National Park was one of my highlights, I also found the rainy, blustery fall weather to be a perfect setting to write prolifically. On my return trip, I holed up in a magical Airbnb for a five-day writing retreat, some of the most productive work time of my trip.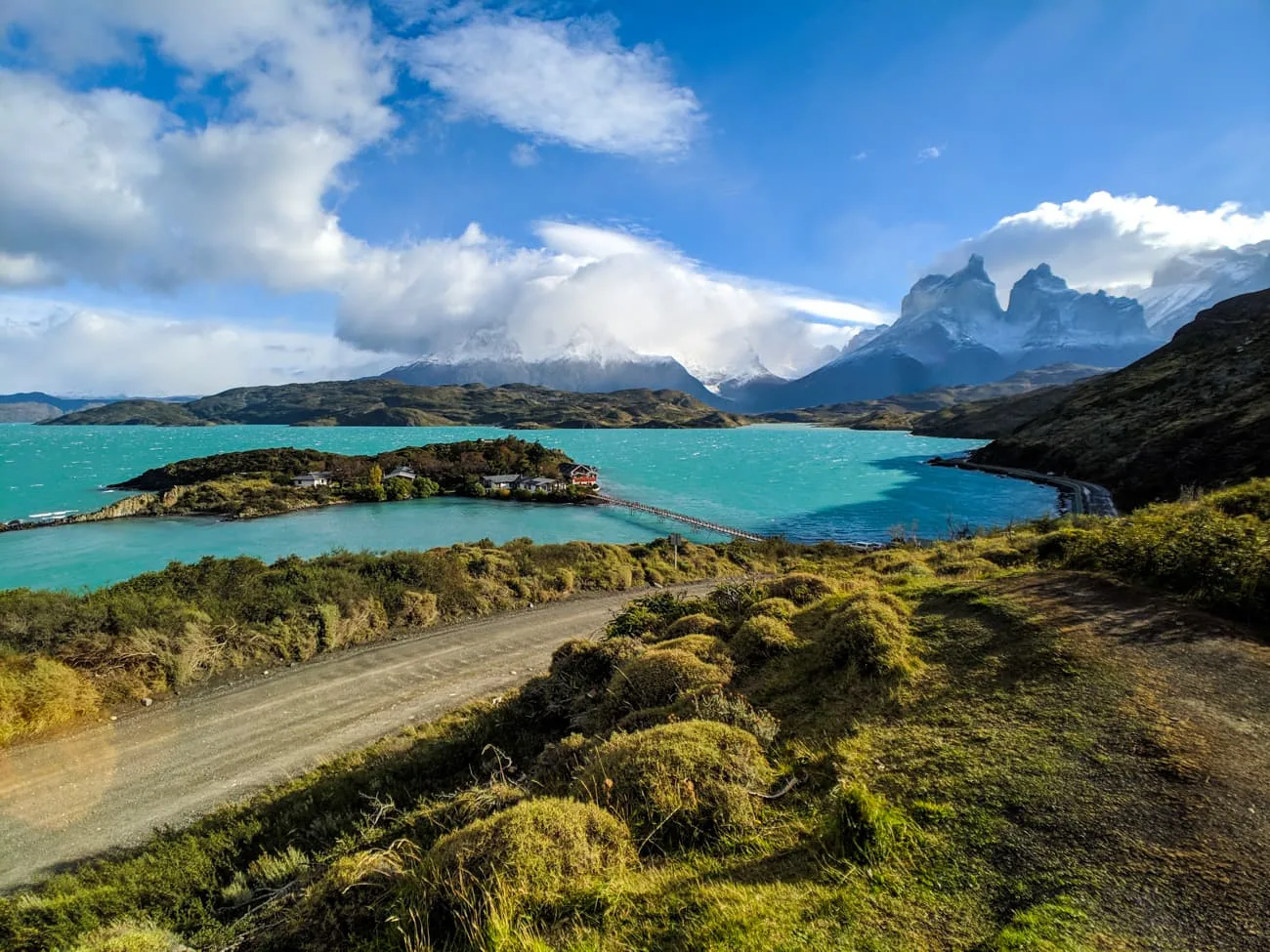 El Calafate, Argentina
Time Spent: 7 days
Highlights: Perrito Moreno Glacier, Nuniz Wildlife Reserve.
While you'd be hard-pressed to figure out how to spend an entire week in El Calafate, Argentina if you weren't an avid backpacker or a working traveler, I greatly enjoyed my week there as a digital nomad.
$11 steak dinners and peak fall foliage were a delight – as was the opportunity to view flamingos for the first time (of what turned out to be many opportunities during my time in South America)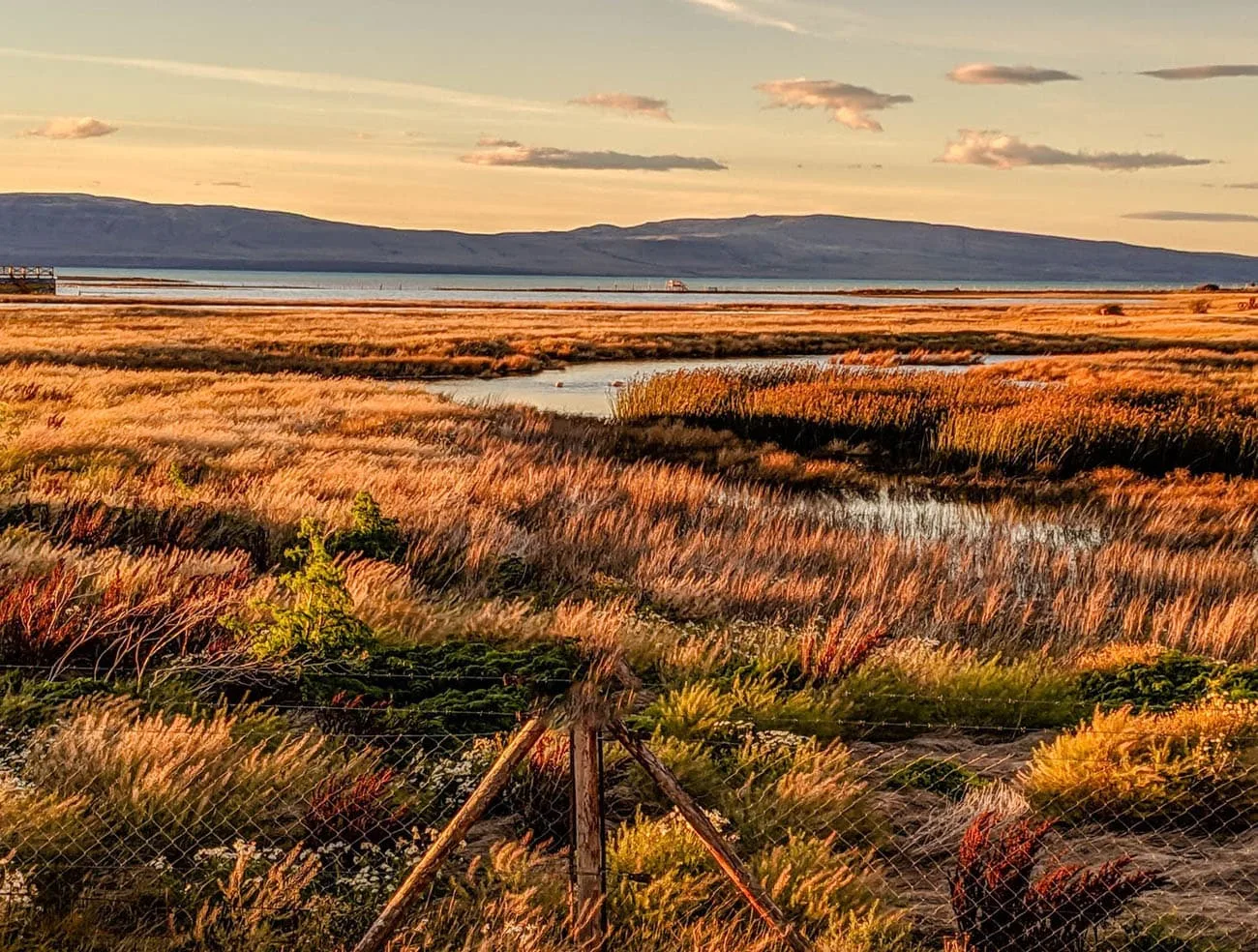 Puerto Montt, Chile
Time Spent: 2 days
Highlights: resting between adventures of my journey and enjoying the cafés and waterfront volcano views.
Two days in Puerto Montt was two days too long for me. Despite being perched on the water with magnificent volcano views, Puerto Montt is a commercial city without a lot of emphasis on tourism. However, it's a central starting point if you want to make attractions in the area their own separate day trips or if your travel style involves booking group tours- which often leave from this city.
For more Patagonia travel ideas:
Chiloe Island, Chile
Time Spent: 2 days
Highlights: Staying in a Palafito, Chiloe UNESCO churches, driving the Pan-American highway, & the Craft market in Castro.
I liked Chiloe enough that I wrote a whole article about it. I rented a car for three days- tacking on the Petrohue Waterfalls at the end of the adventure- and had a blast.
Puerto Varas, Chile
Time Spent 5 days
Highlights: Osorno Volcano and Lake Llanquihue
Puerto Varas proved to be a much nicer place to stay than Puerto Mont because Puerto Varas is a little more oriented to tourists and a much smaller city. This combination made this city a more pleasant place to spend time.
San Pedro de Atacama, Chile
Time Spent: 5 days
HIghlights: Altiplano (high planes)
San Pedro de Atacama is another location that warranted its own post. I had very mixed feelings about the city of San Pedro de Atacama, but the high planes outside the city were breathtaking and not quite as crammed so thickly with travel influencers.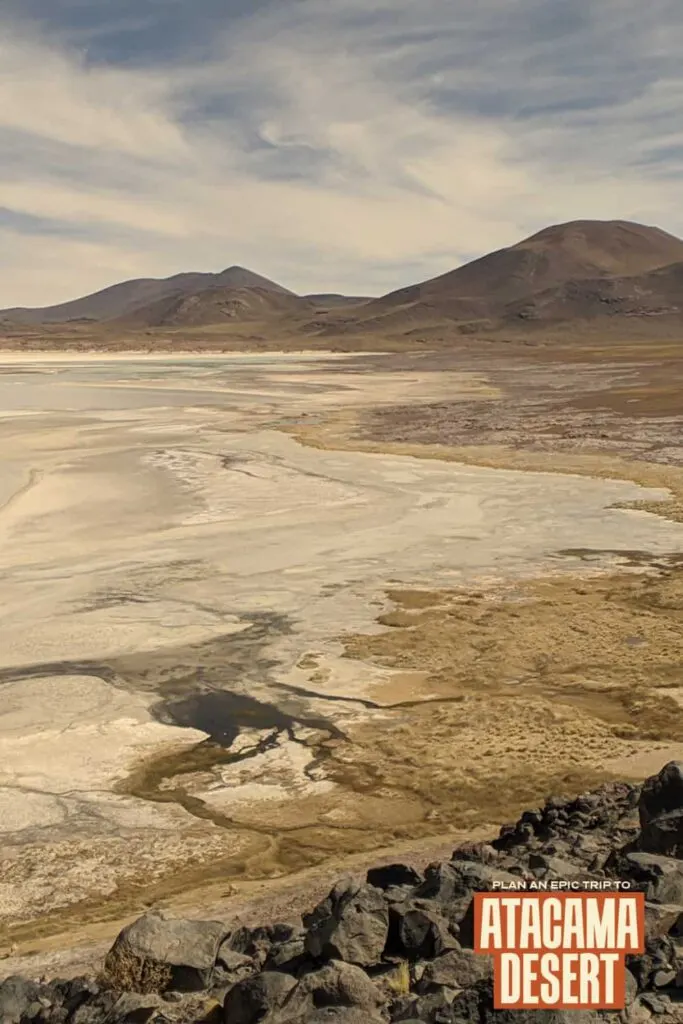 Cusco, Peru
Time Spent: 3 days
Highlights: historic city center. Food and culture. Chinchorro weaving class.
After a month in Chile, which is not known for its culinary delights, dining in Peru was a highlight of arriving in Cusco. Like many large old cities, Cusco is the kind of city where you can spend an entire day wondering, which is exactly what I did for my first two days.
On the third day, I did an Airbnb experience weaving class which carried me into the hills outside of Cusco for a one-on-one class in shearing, dying, and weaving fiber.
Ollyantambo, Peru
Time Spent: 2 days
Highlights: Macchu Picchu… I guess. "Lesser" Incan ruins, the city of Ollyantambo, and a Pachamama meal
Machu Picchu, which is accessible only by spending an enormous amount of money on trekking OR on heavily inflated train tickets, probably "should" be the highlight of my trip to this area, but it wasn't.
I was fascinated by the village of Ollyantambo, an Incan city that never fell into ruin, and instead was embraced by modern residents and continues to exist today with the same paved walkways, walls, entryways, and irrigation ditches the builders originally created. While in the city I had the opportunity to share a Pachamama meal with a local family and learn about the city and its history through storytelling.
Puno, Peru
Time Spent: 5 days
Highlights: Chifa Cusine
There's nothing too remarkable about Puno. Supposed to have a lovely plaza de arms, it was fully obscured with construction barriers during my stay. Instead, my time in Puno emphasized work and dining well.
Many travelers rave about the food in Peru- but I explored a bit off the culinary path and discovered a local favorite: Chifa. "Chifa" is an entire food cuisine that's similar to American-Chinese Food. As Chinese immigrated to Peru in the nineteenth and twentieth century, their cusine adapted in a similar way as Chinese immigrants to America.
In Peru, Chifa is eaten most often on Sunday. While beloved by many Peruvians, most tourists steer clear: which means Chifa restaurants are a great place to get an amazing meal with a tourist-price markup. Most Chifa restaurants don't have online reviews- so find the best spot by looking for a crowd. If you have to wait for a table, you're likely about to have great Chifa! Read more about Chifa Peruvian Cusine here.
Uros/ Lake Titicaca, Peru
Time Spent: 1 days
Highlights: Sleeping in a UNESCO site
While not the best sleep of my trip, staying in an Airbnb on one of the floating islands of the UROS people is an experience I will never forget.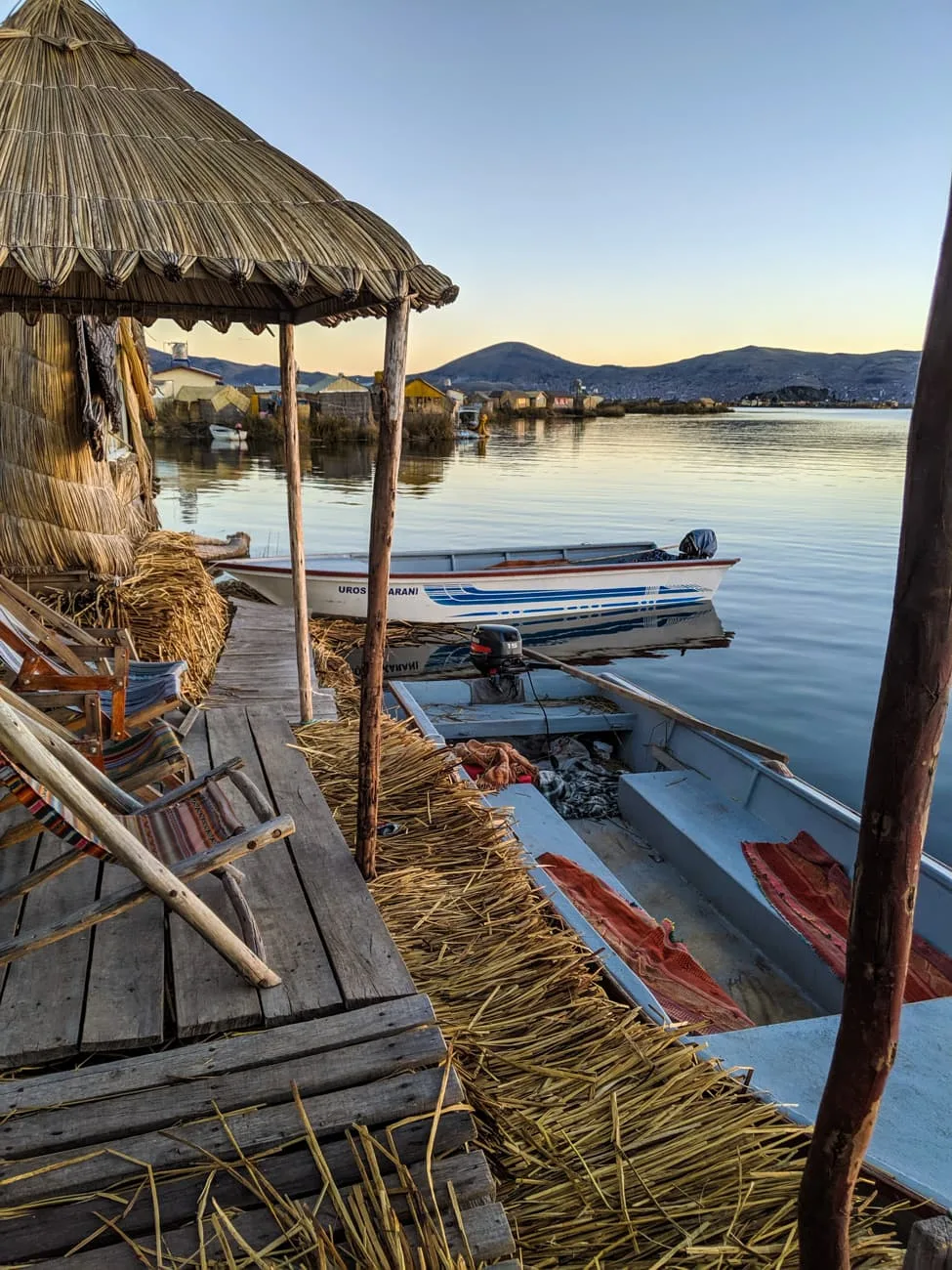 Arequipa, Peru
Time Spent 6 days
Highlights: Santa Catalina Monastery, Antique Shops, Food culture.
Arequipa felt like the Peruvian version of Seattle: hipster-foodie owned cafés, the best coffee of my South American trip, and a less frenetic feel to the city. Read more about my thoughts on Arequipa.
Arequipa was the only place in my travels where I noticed shops of "antiquities" – and while many were high-priced, I did discover and purchase the most iconic souvenir of my South American trip: a heavy hand woven blanket (called a frazada) for 130 soles / 35 USD.
Arica, Chile
Time Spent: 6 days
Highlights: Sea Caves, Chinchorro Beach, Second-Hand markets.
Back home, I'm thrift store queen, so when I stumbled across open markets filled with sellers offering secondhand goods not once, not twice, but actually four times during my six-day stay in Arica, I was in heaven.
The timing was perfect: as the end of my trip approached I was seeking small gifts to take back to the folks at home who had supported me on my journey. The markets, although mostly full of modern and mildly vintage clothing, also offered the opportunity to pick up older, authentically handmade items, for a good price.
The caves outside of the Arica, the Cuevas de Anzota, are also definitely worth a visit, and definitely worth their own blog post about how to safely visit and not get stranded- as I did!
Download my Printable Blank Travel Itinerary
Begin planning your trip today with this printable travel planning PDF designed for visual planners:
[purchase_link id="19867″ text="Purchase" style="button" color=""]
Valparaiso, Chile
Time Spent: 6 days
Highlights: Street Art
The street art of Valparaiso is unlike anything I've ever seen in any other part of the world. Venture past the tourist centers to climb high into the neighborhoods surrounding the bay and you will find virtually endless murals, decorative mosaics, and painted staircases. Although my time in Valparaiso was at the very end of my three-month trip and my body was fatigued and ready to return home to Seattle, Valparaiso was the perfect end of my trip.
I spent my six days in Valparaiso intentionally getting lost over and over and over- as one art-filled side street beckoned me to another and then to another until I finally grew tired and ordered an uber back to my Airbnb.
Ready to head out on this adventure? First check out my South American packing list tips.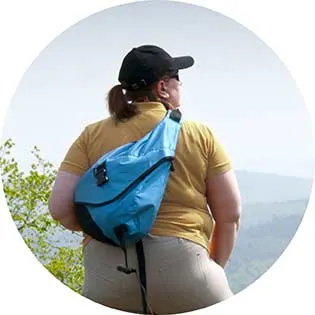 Lynli Roman's unique approach to travel is informed by decades of experience on the road with a traveling family and, later, years spent as a solo international traveler. When she's not writing about Seattle from her Pike Place Market apartment, Lynli writes on-location while conducting hands-on research in each destination she covers. Lynli's writing has been featured by MSN, ABC Money, Buzzfeed, and Huffington Post. She is passionate about sharing information that makes travel more accessible for all bodies.