One of my most memorable travel experiences is staying in the home of a Uros couple on their own private floating islands.
If you're researching visiting the villages of the Uros people you probably already know about this unique community of indigenous people. Uros have many traditions, foods, and other cultural elements that make them unique, but the Uros people are most known for their unique home – their village is made from clusters of floating islands. Each island is handmade from reed mats harvested from the lake's shallow marshes.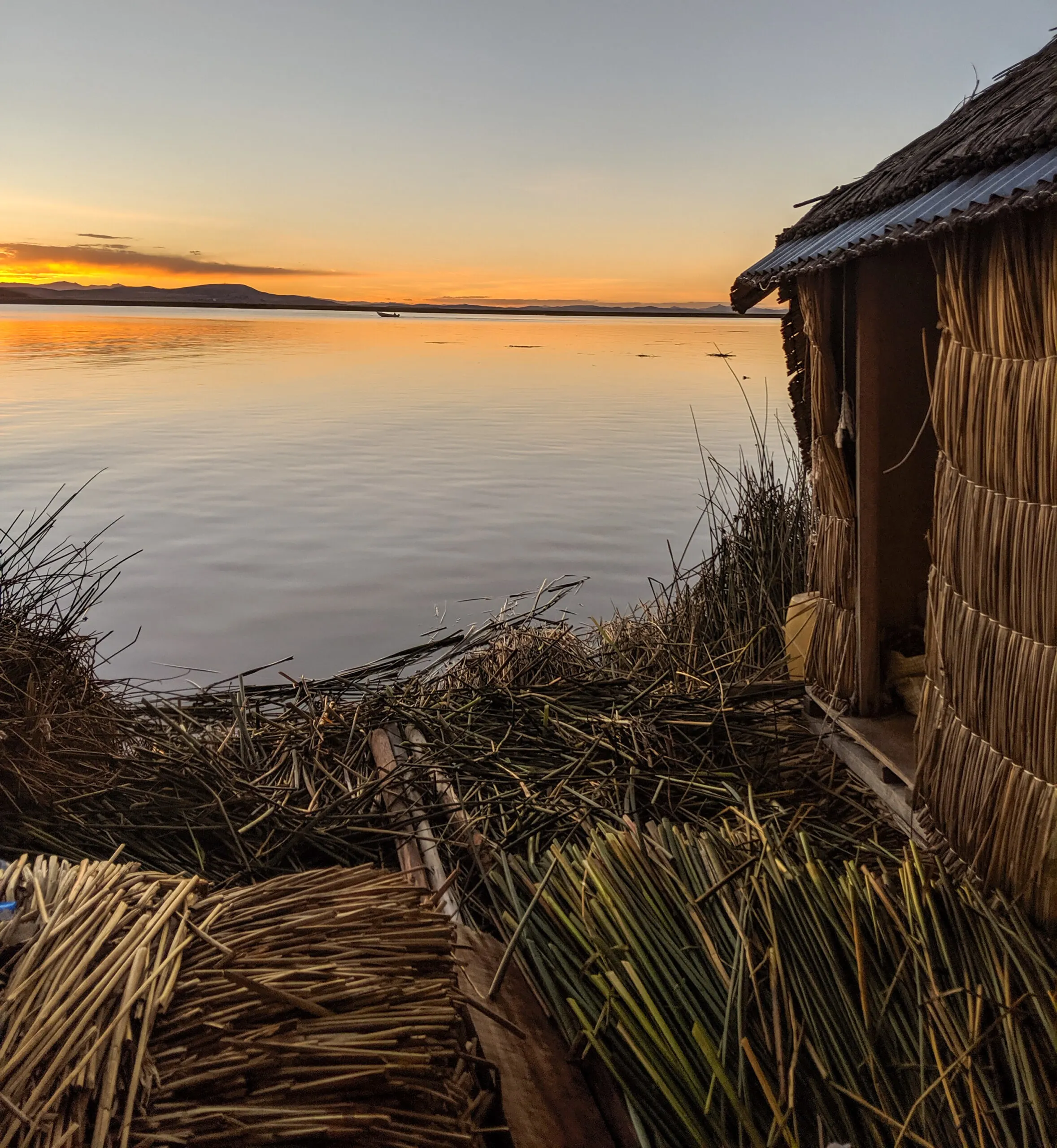 [Images of indigenous people shown in this post were taken with enthusiastic consent and appropriate compensation. Learn more.]
Lake Titicaca Floating Islands Packing list:
[In order to not avoid reinventing the wheel, this packing list assumes basic essentials typical for a Machu Pichu/Peru itinerary are already packed]
👞 Close-toed shoes or hiking boots (sharp-tipped reeds form the spongy footing of each of the floating islands)
🔋 Extra battery pack or long life power bank. (your island may have limited generator hours or a solar generator dependent on sunlight)
👚Wool layers (temperatures plunge at night on this alpine lake)
🛏️ Emergency Blanket (seriously, it gets cold. Your hosts will provide blankets and hot water bottles, but an emergency blanket is great to have)
🍪🥛 Snacks + Drinks (there's no vending machine or general store, so plan to pack it in)
🗻🤢 Altitude Sickness Awareness (Altitude sickness can strike anyone, regardless of age or fitness. It's both miserable and expensive- and preventable! Talk to your doctor about prevention)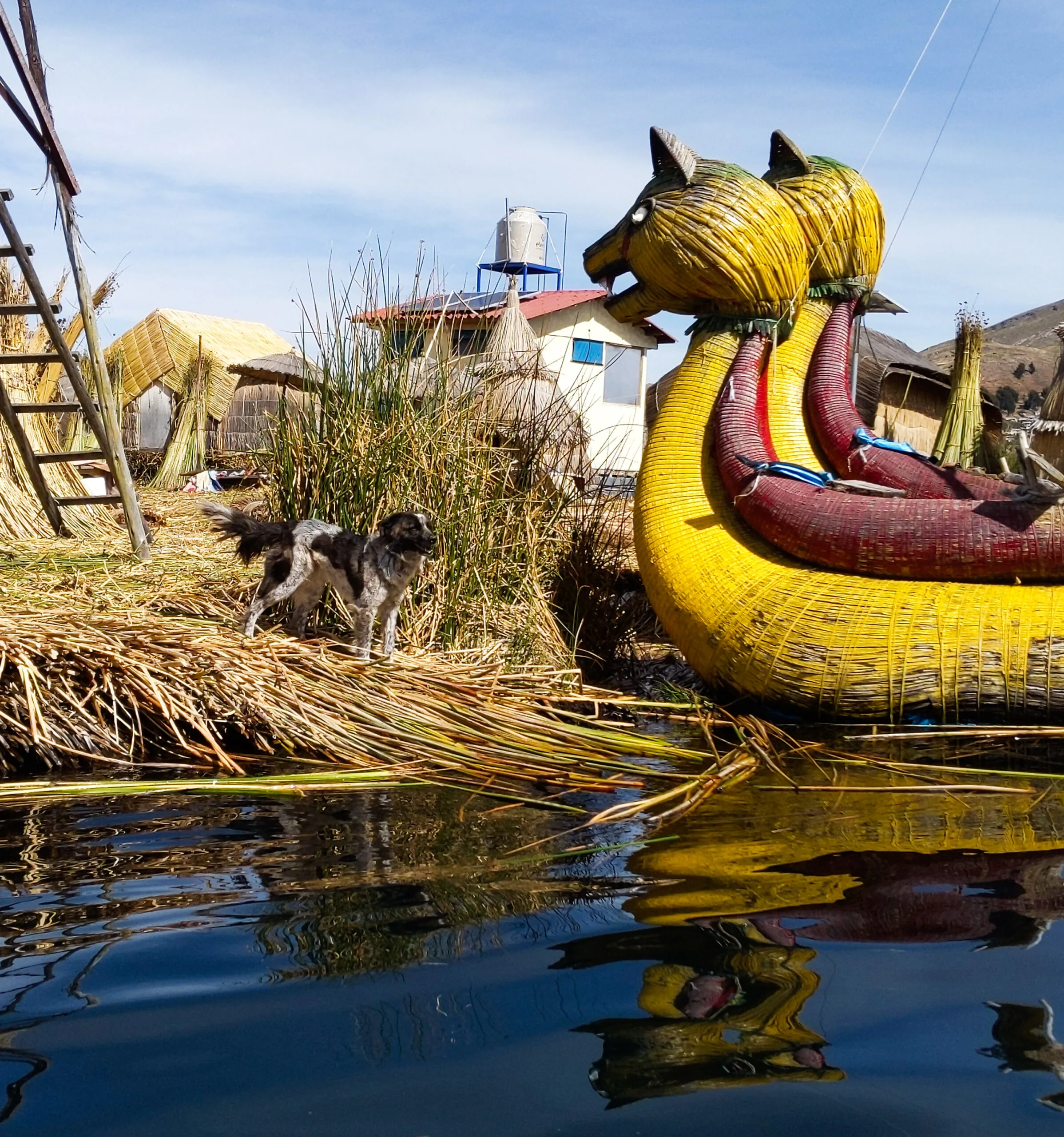 Off the beaten path in Peru: Beyond Macchu Pichu
Nearly every traveler to Peru heads straight for Machu Picchu, and since the average American traveler's vacation is short – only 4 days according to NBC reported data from GlassDoor! Many travelers head home after visiting Machu Picchu either by foot or by rail.
To taste a different side of Peru and its culture, when I visited Peru to make the requisite Machu Picchu visit, I took a less traditional route: Spending time in Puno, Arequipa, Cusco, and even a still-inhabited Incan village called Ollantaytambo which is accessible by rail or by inexpensive shared minibuses called colectivos. Being a more adventurous traveler – and a budget traveler – I chose the latter.
Many people leave Peru without seeing much more than Incan ruins, but Peru is filled with cultural and archaeological treasures beyond Macchu Pichu's.
One of the most unique things to do in Peru is to visit the Uros people. Although it will add few days to your trip, visiting the Uros village floating on Lake Titicaca is well worth a detour.
The transit from Machu Picchu-adjacent Cusco to the city of Puno near the shores of Lake Titicaca can be a long trip by car or bus. However, it is a short and affordable flight.
Getting to the Uros islands
As they say, getting there is half the fun and that's certainly true in the case of visiting the Uros people in the high elevation alpine Lake Titicaca.
There are a variety of ways to visit the Uros people ranging from half-day trips to full-day guided excursions. There are also more immersive options for visiting this indigenous group. You can even book home stays at one of the many guesthouse-islands.
Globalization has changed the landscape of the Uros communities. Once isolated and nearly entirely self-sufficient, these communities now rely on mainland governments for many critical services like education and for employment. Virtually all of the Uros people who are not employed in the tourism and hospitality industry take a boat to the mainland each morning and commute by boat back home in the evening.
As you can imagine, this is a difficult commute. For that reason survival of the Uros people as a community relies heavily upon tourism. That's just one of the reasons that taking a bit longer to explore, enjoy, and invest money into this community is a more sustainable way to visit than to just take a drive-by boat trip.
With that in mind, here are a few things to know before you go to the Uros Islands in Lake Titicaca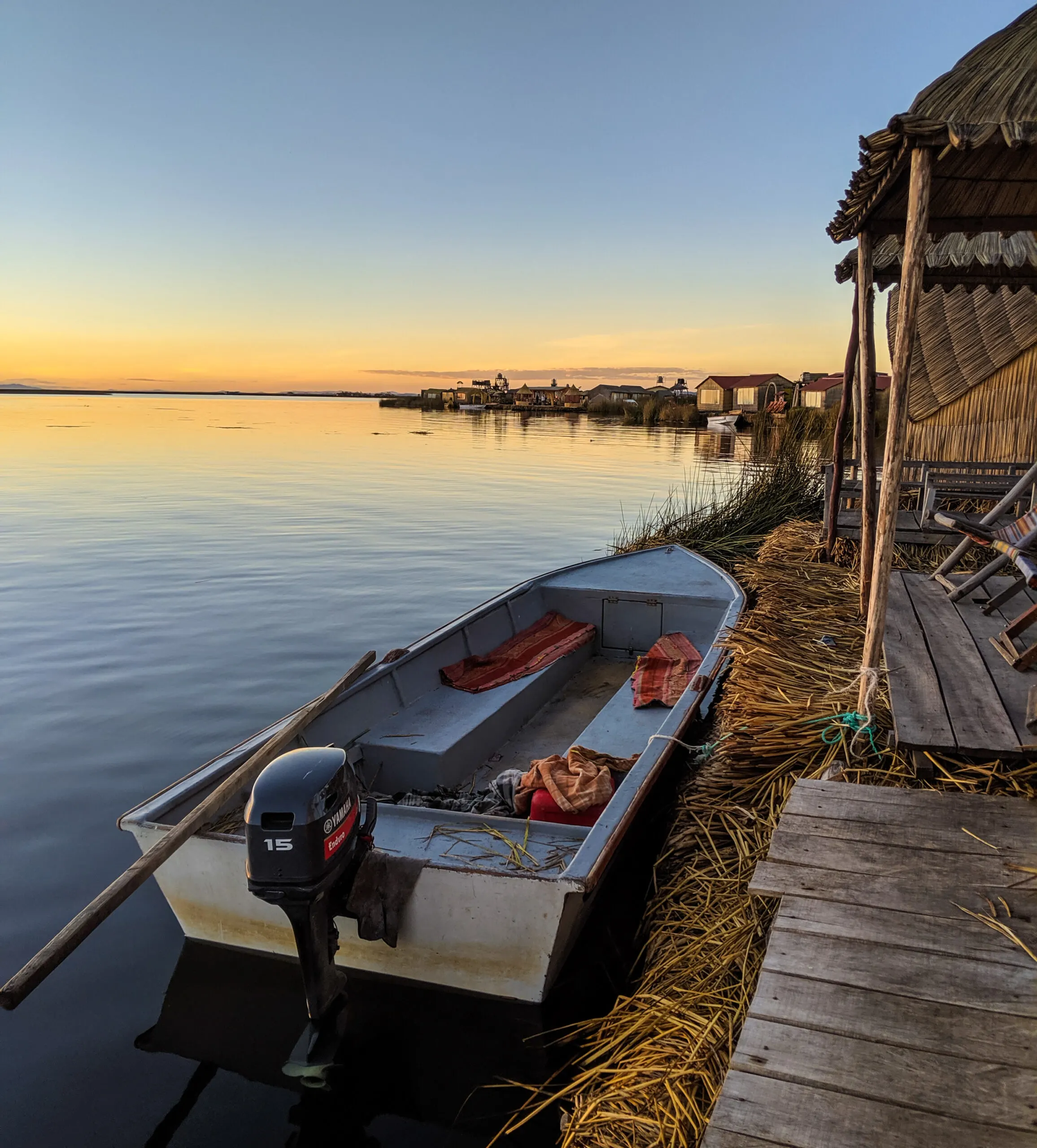 Tips for Visiting Uros Islands
1. Pack close-toed shoes.
The reeds that make up thick, dense mats that form the floating islands of the Uros villages are pointy! Unlike the footing you might expect on land or even on a boat, you can expect to sink into this footing with each step you take on an Uros island – especially if you are a traveler if you are fat traveler like me.
No matter our size, every step we take as tourists on the Uros Islands (or anywhere, for that matter) degrades the island.
In the case of the Uros Islands, one of the constant tasks of island owners is reinforcing their island with fresh reeds. Layering new, dry reeds on top of the island keeps the islands afloat and helps counteract the effects of humans walking on the island.
For more ideas for Peru destinations after Machu Picchu, Check out my article: After Machu Picchu.
While you may have packed mostly sandals for your trip to Peru, even hiking sandals may be uncomfortable on Uros islands. If you plan to spend a night or two on the islands you may wish to pack a pair of tennis shoes to protect your toes from uncomfortable pokes from the reed footing.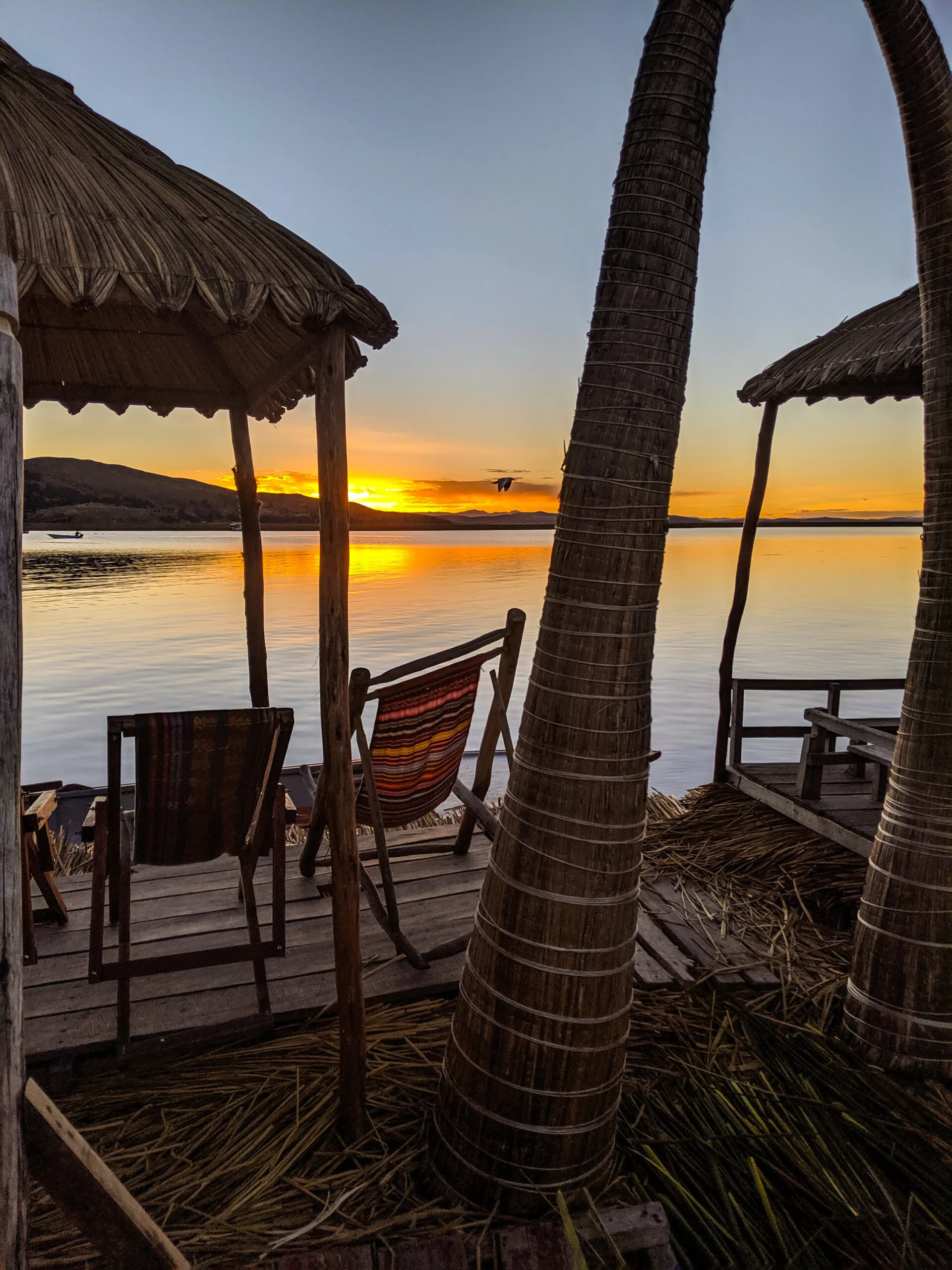 2. Pack for big shifts in weather.
If you've already been to Machu Picchu or hiked the Incan trail, you might think you are prepared for the weather of Lake Titicaca. But because of the extreme elevation of Lake Titicaca, you may find yourself woefully underdressed.
During my visit in the South American autumn, the daytime temperatures were T-shirt warm but at nights on the floating islands guesthouse, temperatures dropped below freezing. Cozy hot water bottles and warm Peruvian frazada blankets help ward off the cold that creeps into the reed-insulated huts, but warm clothing is a must.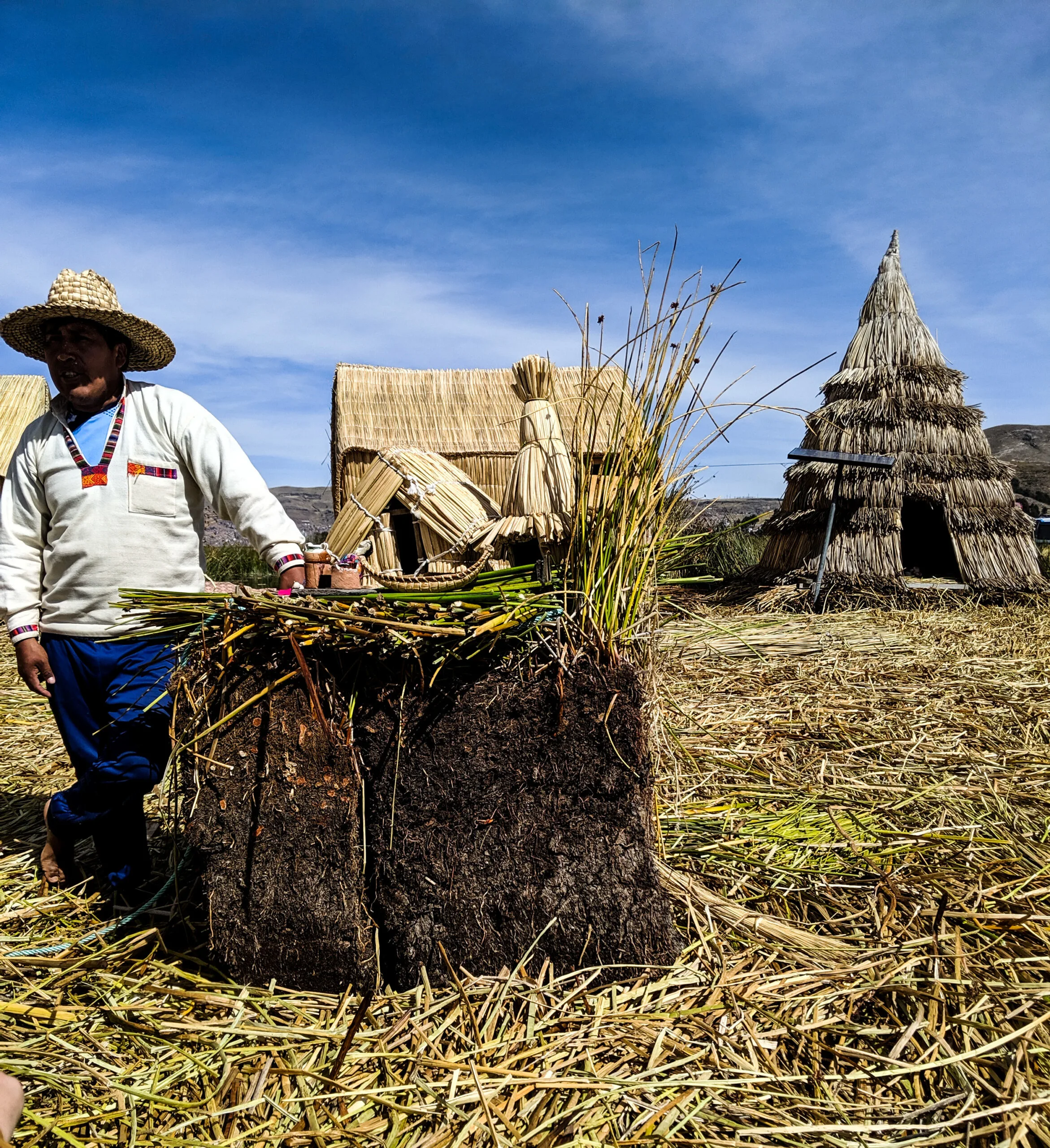 3. Book tours of the island in person
You can book tours to the Uros Islands on Get Your Guide, but, like most destinations, you may be able to save a bit by booking in person at the last minute.
While prearranged tours have their place – especially for group tours where you need to have a plan in place, for solo travel I often enjoy exploring at my own pace on a self-guided tour. Despite this, Uros is a location where a self-guided tour isn't really possible. Unless you have your own watercraft, you'll need to hire a way to get from the mainland to Uros.
Day trips can be booked from the harbor in Puno, Peru or arranged directly through your host if you make a reservation at a Uros guesthouse. Whenever possible, book directly with your tour guide or host. Booking directly with a member of an indigenous community means that it's more likely that your tourist dollars are invested directly into the community.
When booking through a booking site, that corporate-owned entity will take a cut for themselves. Often this can result in your money and not going to the community and instead funding a company that exploits locals communities.
Booking your stay through a site like Airbnb or VRBO will put you in touch with a local host, you can often message them to arrange additional services like a tour during your visit or meals.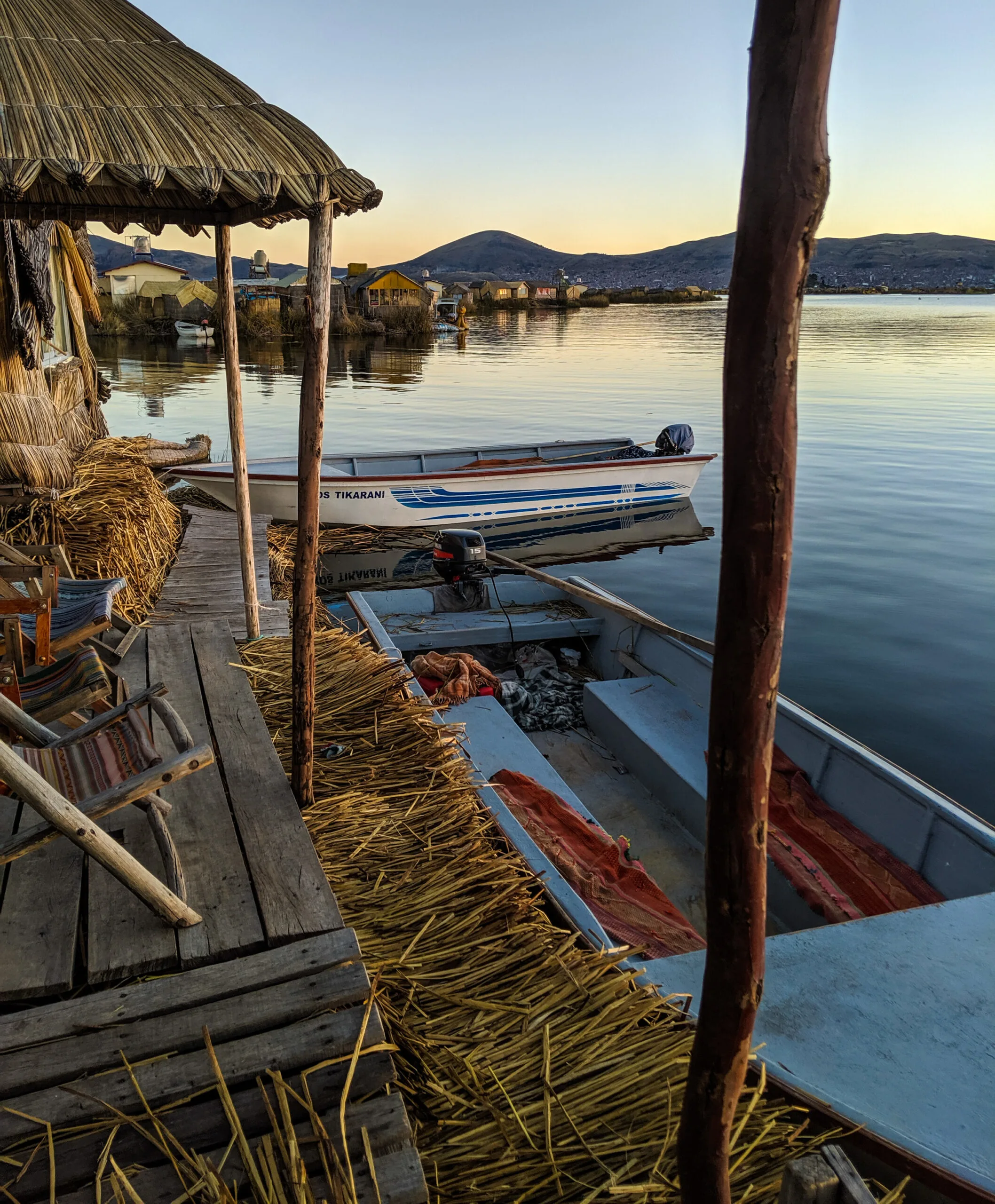 4. Buy something while you're there
Essential to visiting the Uros community without exploiting locals is intentionally making sure your tourist dollars reach the community.
Rather than staying in a hotel chain in Puno, eating at a chain restaurant owned by a global corporate corporation, and then taking a wake-creating/island-damaging boat tour through the Uros islands, instead go at a slower pace:
stay local,
eat local,
and support individuals and tour companies
These efforts can help support a sustainable Uros community.
Even if you find yourself in a group or on a tour where those things are beyond your control, make sure that when your Uros tour gives you the opportunity to get off the boat and set foot on one of these amazing floating islands, you purchase your snacks or souvenirs locally. I love the folk art pieces I found for sale on the islands peddled by local women.
Being a Plus-Size traveler on Uros
[Wanderbig.com is fat positive travel blog rooted in HAES research. Accordingly, the information below is provided to help make travel accessible and equitable for persons in large bodies]
Although culturally, people in large bodies are encouraged not to acknowledge the unique needs of our larger bodies, travel has a way of inviting us to step into the realities of our embodiment that can be both empowering and challenging for plus-size travelers.
In an effort to engage this aspect of travel more realistically, you'll find that many of my travel guides, itineraries, and trip reports include a frank reporting on what it was like to be a person who identifies as fat in that location.
Things I worried about as a fat traveler to Lake Titicaca's Floating Islands:
My pre-trip travel fears about my body: I was concerned that the size of my body might make transportation difficult in the small boats the Uros people use to navigate between islands and I worried that my heavier body might not be supported by the woven reed of the islands!
What I experienced: I was glad to find that my fears were unfounded, and I was relieved that they had not kept me from taking this adventure via an immersive homestay. The floating island guesthouse I stayed at was hosted by a middle-aged husband and wife who were also in larger than average bodies.
The floating islands of uros, I found out, are constructed from not just a mat of reeds but literally are many feet thick! The surface of each island extends more than a foot above the water level! My weight was not significant compared to the huts, generators, and furniture supported by these well-constructed floating islands.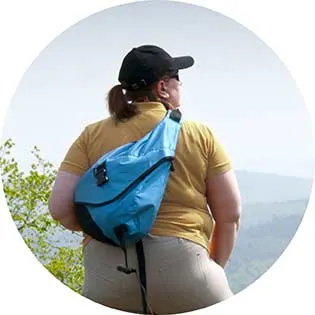 Lynli Roman's unique approach to travel is informed by decades of experience on the road with a traveling family and, later, years spent as a solo international traveler. When she's not writing about Seattle from her Pike Place Market apartment, Lynli writes on-location while conducting hands-on research in each destination she covers. Lynli's writing has been featured by MSN, ABC Money, Buzzfeed, and Huffington Post. She is passionate about sharing information that makes travel more accessible for all bodies.