[Images of indigenous people shown in this post were taken with enthusiastic consent and appropriate compensation. Learn more about why this matters.]
As I found myself traveling in Peru on the well-trodden path from Cusco to Machu Picchu, I found myself itching to escape the most well-trodden portion of the trip.
Even though I designed my own Machu Picchu itinerary, including an amazing stop in Ollaytaytambo, Peru, from the moment I arrived in Cusco I couldn't shake the feeling that I was part of some sort of tourist machinery designed to get me to spend money in Cusco, hustle me up the mountain, herd me through Machu Picchu, and promptly get me on the flight back home.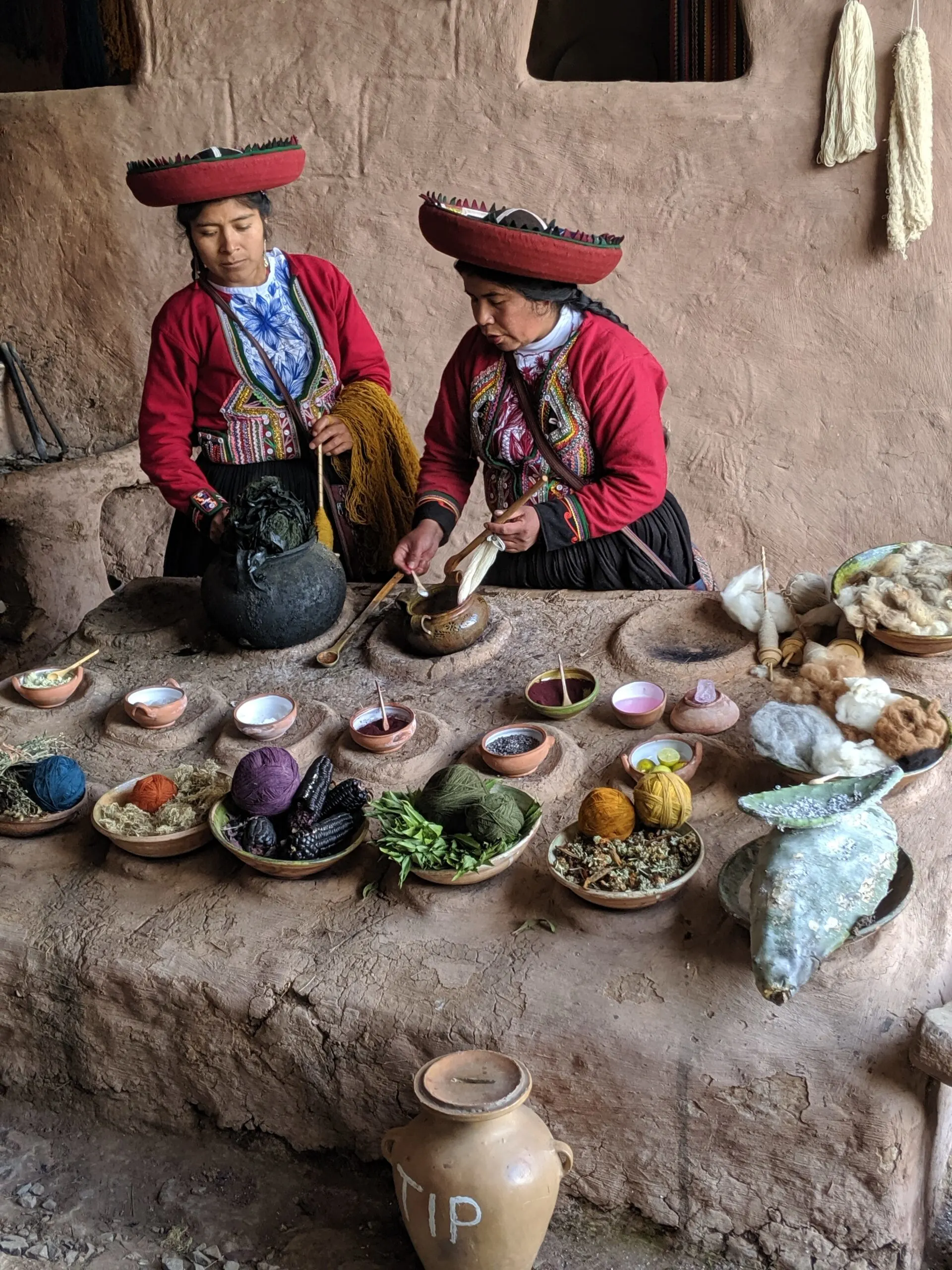 Slow Travel to Machu Picchu
In Cusco, Peru, I found it difficult to access the kind of cultural experiences that I love when I'm traveling. So, as I typically do when I am feeling this way (or just plain bored in a location) I pulled up Airbnb experiences to see what options there might be to have an experience beyond the typical trip to Machu Picchu.
The adventure that immediately caught my eye was an opportunity to visit a community of Quechua weavers in the Chinchero District, just outside of Cusco. I booked that Airbnb experience – a half-day of learning to weave and dye fiber from the master weavers of the Quechua people.
Why visit Chinchero for woven souvenirs from Peru?
Chinchero is renowned for high-quality woven goods, so the narrow highway that leads through the region is crowded with roadside shops and markets filled with textiles- some of which are produced locally and some of which are produced abroad or in domestic factories giving workers a below living-wage. In Chinchero you can find hand-woven socks, scarves, sweaters, and even stunning Andean Frazada blankets.
Authentic Quechua weaving, I learned from my host, isn't particularly easy to find despite the number of markets in Chinchero.
How to visit the weaving communities in Chinchero
If you can't budget time or money for the Airbnb experience to visit the Chinchero weavers, you can craft your own visit (but you won't, without arranging in advance, have the opportunity for hands-on experience spending, dying, and weaving fiber like I did)
A number of weaving markets, with demonstrations and weavers on site are available in Chinchero. My host, a young mother and entrepreneur from Cusco, told me that she had designed the Airbnb experience around the particular Chinchero marketplace named Chinchero Textil Ñawi Awapa because this weavers' market was a co-op in which the all-female weavers shared in the proceeds rather than being paid poverty wages by a wealthy business owner.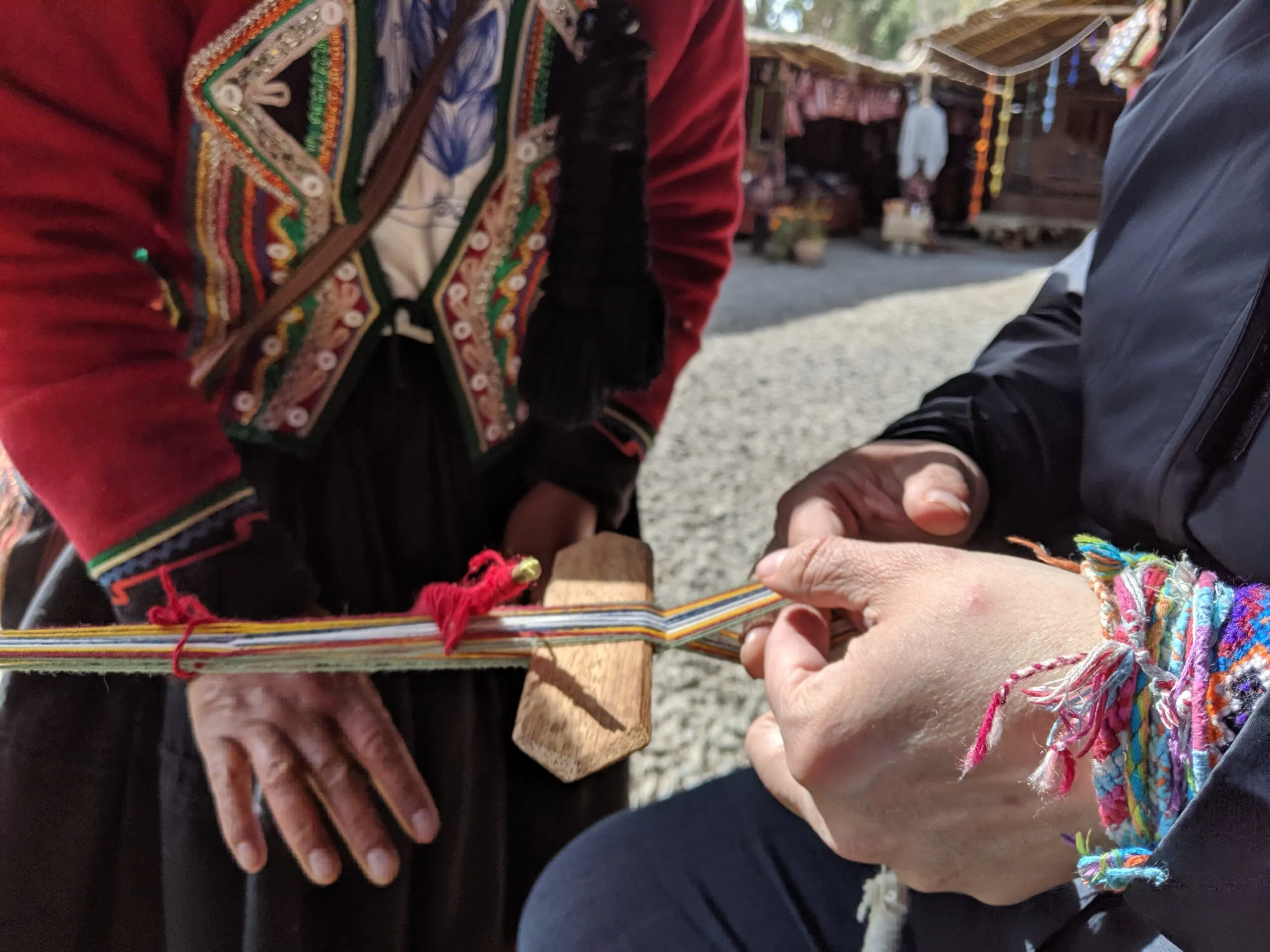 How to get from Cusco to Chinchero
The easiest way to get from Cusco to Chinchero is by taking "colectivo" (a van sized shared taxi). You can almost certainly arrange private transport from Cusco to Chinchero for a fee, however traveling by Peruvian colectivo is a unique travel experience worth having- and the whole trip from Cusco to Chinchero should be under $2 USD. For instructions on how to navigate collectivos in Peru, check out my guide to colectivos in South America.
Your colectivo from Chinchero will drop you in the main city portion of Chinchero, which is simply a collection of buildings along the roadside. From there, you can hire a rickshaw to the weaving market of your choice. Yes, a rickshaw!
In Peru these passenger compartments attached to motorbikes are a common way to navigate short distances, particularly outside of the city. With a little bit of translation, you can arrange for your driver to drop you off and pick you up or to drop you off and wait for a small fee while you explore the market, tour the educational exhibits, and post for a few photos with an alpaca.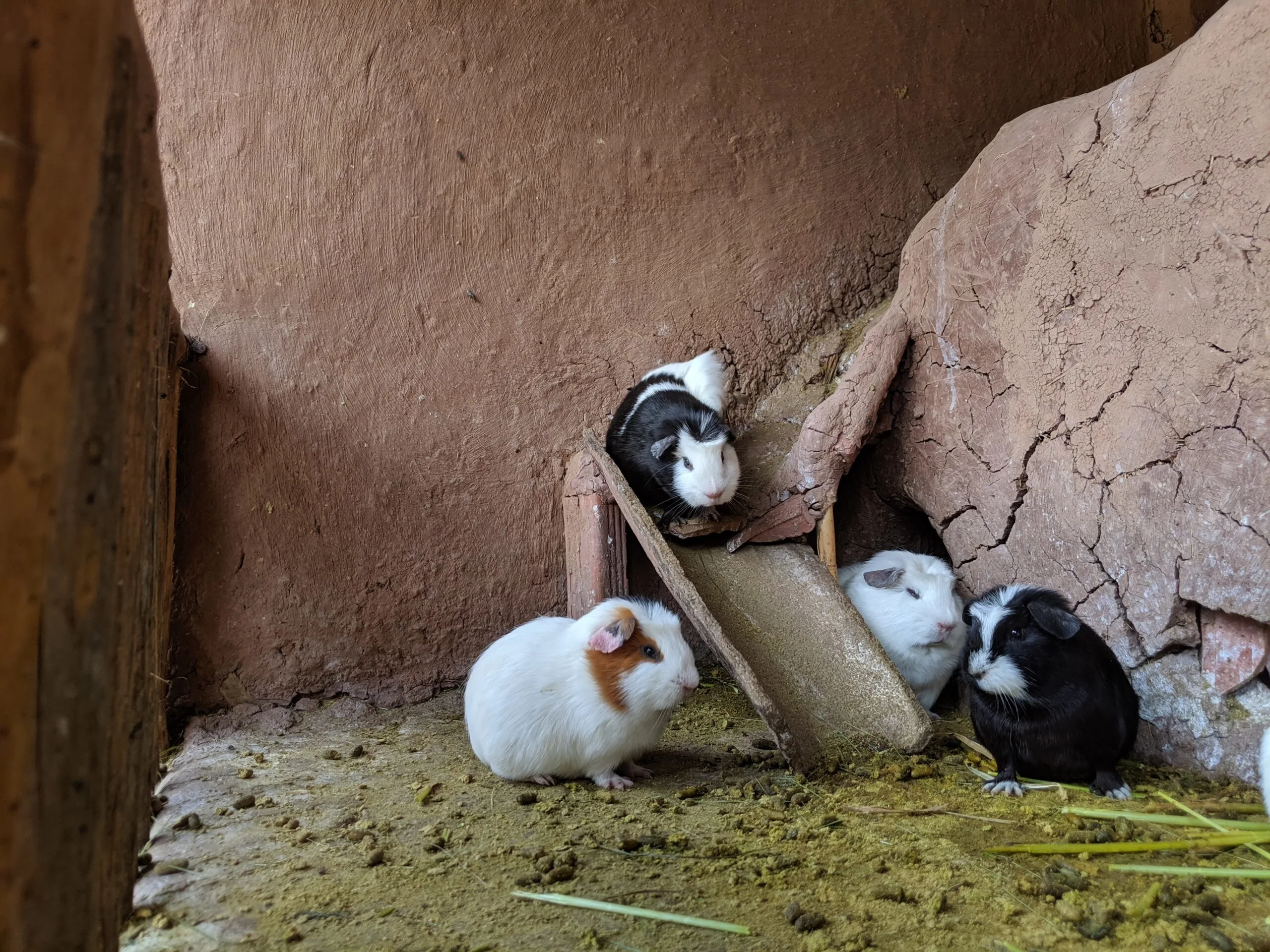 Pets on display like Obama, alpaca, and this display of guinea pigs give visitors an opportunity to interact with the animals that are part of everyday life in rural Peru.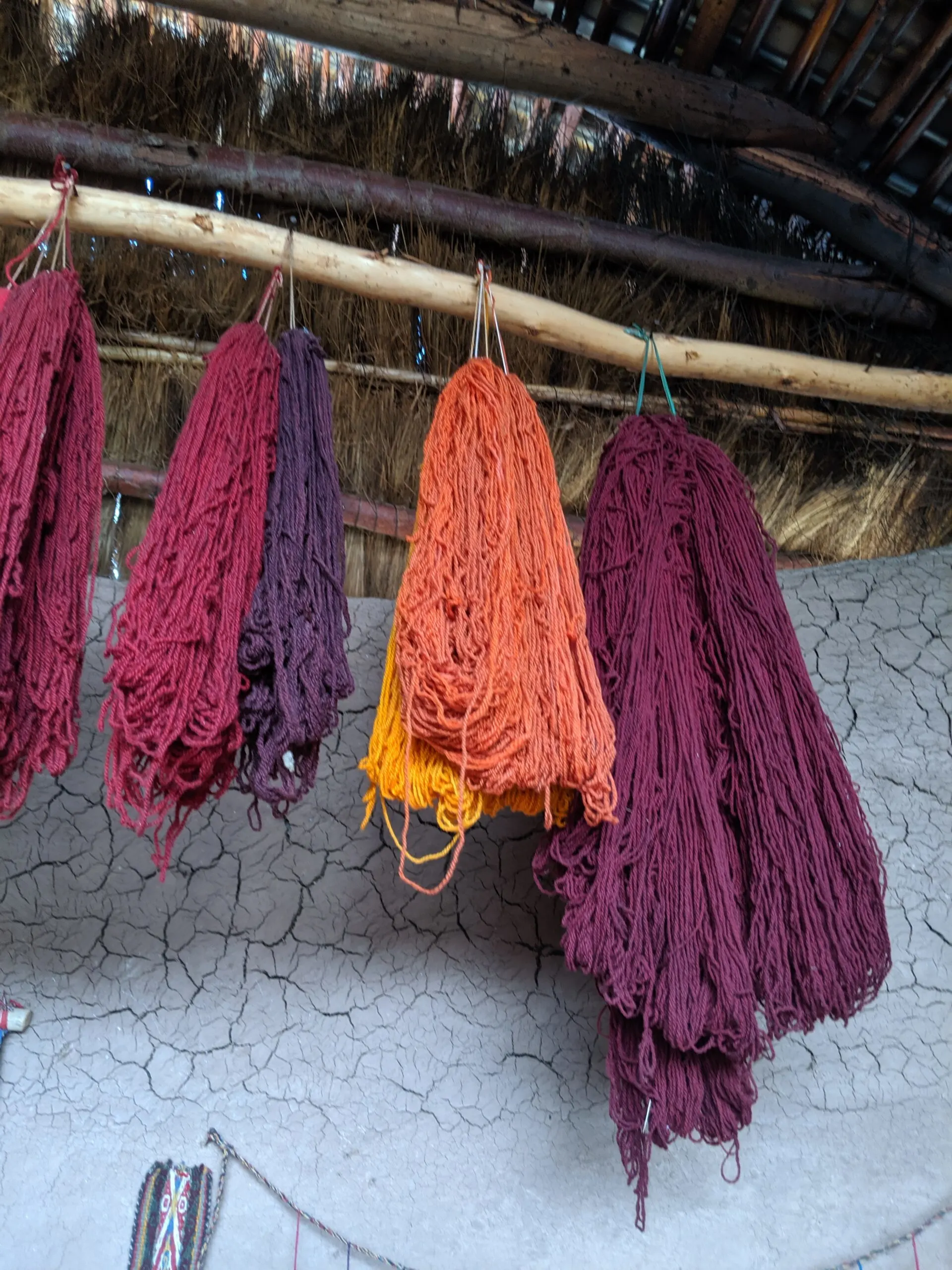 After dying, fiber is hung from the rafters near the heat of the stove. In this picture multiple colors of hand dyed alpaca yarn are hung under a thatched roof.
Although most modern Peruvian weaving is done with factory dyed yarn, in this image a Weaver demonstrates the selection of organic dyes used to add vibrant colors to Peruvian textiles.
The most common traditional Peruvian weaving style involves tying a number of strands to a static object like a poster pole and tying the other end around the weaver's own waist. In this photograph from my immersive Peruvian weaving experience, you can see a weaver's eye view of weaving a simple belt.
Quechua women are masters not only of weaving but also of creating dyes. Rather than relying on whatever tint and tone an organic dye creates on any given day, the Quechua weavers are able to add substances like salt, lime, or other modifiers that allow them to slightly tint or change the tone of a particular fiber die.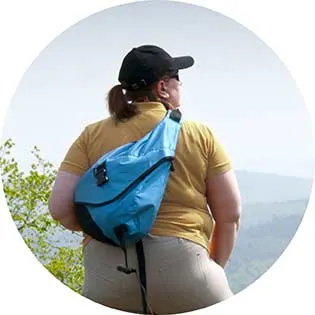 Lynli Roman's unique approach to travel is informed by decades of experience on the road with a traveling family and, later, years spent as a solo international traveler. When she's not writing about Seattle from her Pike Place Market apartment, Lynli writes on-location while conducting hands-on research in each destination she covers. Lynli's writing has been featured by MSN, ABC Money, Buzzfeed, and Huffington Post. She is passionate about sharing information that makes travel more accessible for all bodies.