In all my adventures, Arica, Chile (well, just outside Arica at Cuevas de Anzota) is the only place I have managed to get myself really, truly, stranded.
After walking about a mile and a half back down the road toward Arica and getting no cell phone service, I had to make the decision between walking on towards the city (About 10 km away) or turn back and asking the staff at the gatehouse for assistance.
On the assumption that they would have a working telephone and that I would not be the first tourist to over-trust my cell phone, I turned back. With my broken English, I told them I needed help, that I needed a taxi, and that my phone did not work…
The three guards stuffed inside the tiny booth spoke rapidly in Spanish for a few moments and then introduce me to a family nearby. The Chilean guards negotiated for my passage back to the city! Normally, this is just not how I travel – I'm extra extra cautious by nature. But it was midday, as I tuned into my intuition I sensed nothing amiss, and they were a family unit- a jovial middle-aged adult, a mom, three very young kids, and a teenage nephew.
Without other options, I decided to give it a go. And that is how I ended up meeting my new friends, who, I found out during the drive back to town, were an entire family of circus performers! The youngest knew English from working at circuses all over the world! When we got back to Arica, I asked the English-speaking man if I could pay them something for the trip. He translated to the father, who shouted back cheerfully "just go to the circus!"
Expect your phone to not work at Cuevas de Anzota. With Google Fi, I was able to switch between five or six different cell phone carriers to check for a signal and none of them provided service to this rocky outcropping just south of Arica. Google Fi has never let me down, always finding a signal when it seemed impossible, so I trusted it a little too much when I ubered to my location without pre-arranging transportation back.
Ultimately, this led to one of the most unique travel experiences of my life, but probably a situation I should have avoided.
How to get back to Arica,Chile from Cuevas de Anzota
Pre-arrange a Taxi Pickup. Arrange return transportation in advance. This is simple if you are using a taxi service and speak Spanish. If you're not a fluent Spanish speaker, arrange your taxi pick-up, agreeing upon the time, place, and fee, before you ever leave arica. For situations like this, I often use Google translate before I ever leave my hotel to cut and paste the sentences I will need to use into a notes app.
Hotel Host: depending on the lodging you have chosen, your host, hotel, or hostel may be able to drop you off and pick you up. If you are not comfortable speaking Spanish or negotiating with cab drivers, this is probably the best option.
Walking. Cell phone coverage becomes available but very spotty- with no data- about 1.5-2 miles up the coast from the park Just outside of the park is actually a developed beach with paved walkways- so for the first mile or so there's no exposed walking on the highway shoulder. If you can walk the 10 kilometers back to Arica, or just the 6 or so kilometers back to the point of data coverage, you can arrange transport to return to Arica when you are ready
Public transportation. As of June 2019, there appears to be no public transportation option to get to the Cuevas de Anzota.
Private guide or tour. Ironically, the day after I visited the caves and hitchhiked back with the circus, my Airbnb host actually offered to take me out to show me the caves! Hiring a guide might be the best way to enjoy this park if you have money to spend, however if you are happy staying on the trail and can read some Spanish, there are excellent interpretive signs and the trail is well marked. This is not a destination where I would invest in a guide unless I was interested in going on secondary trails, in which case a professional guide would be a wise investment in safety.
Group tours. As of June 2019, there were no English speaking tour companies available to visit Cuevas de Anzota.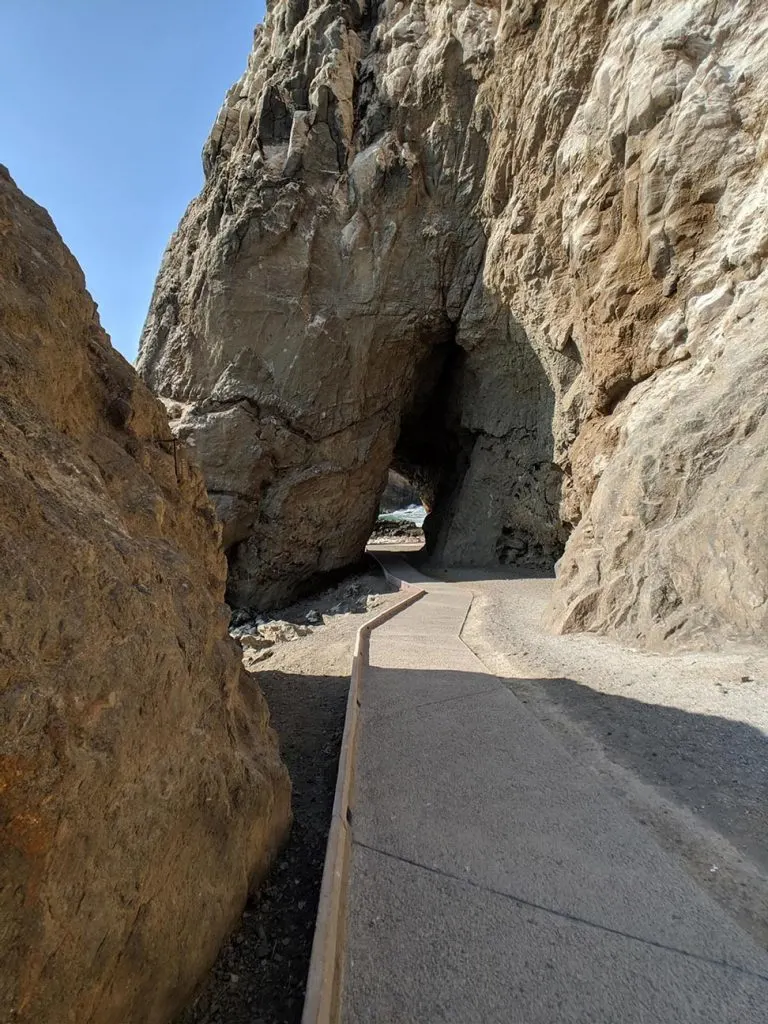 The following section may contain affiliate links. As an Amazon Associate, we earn from qualifying purchases.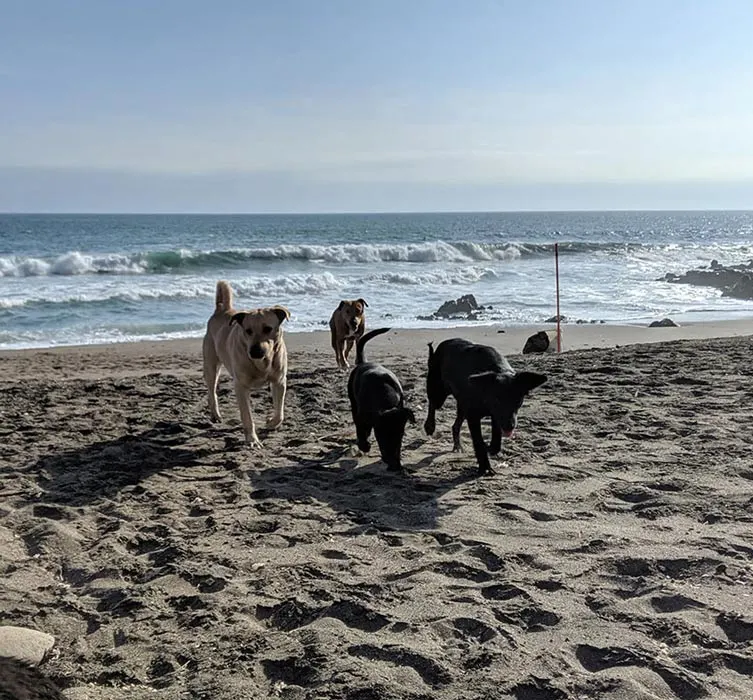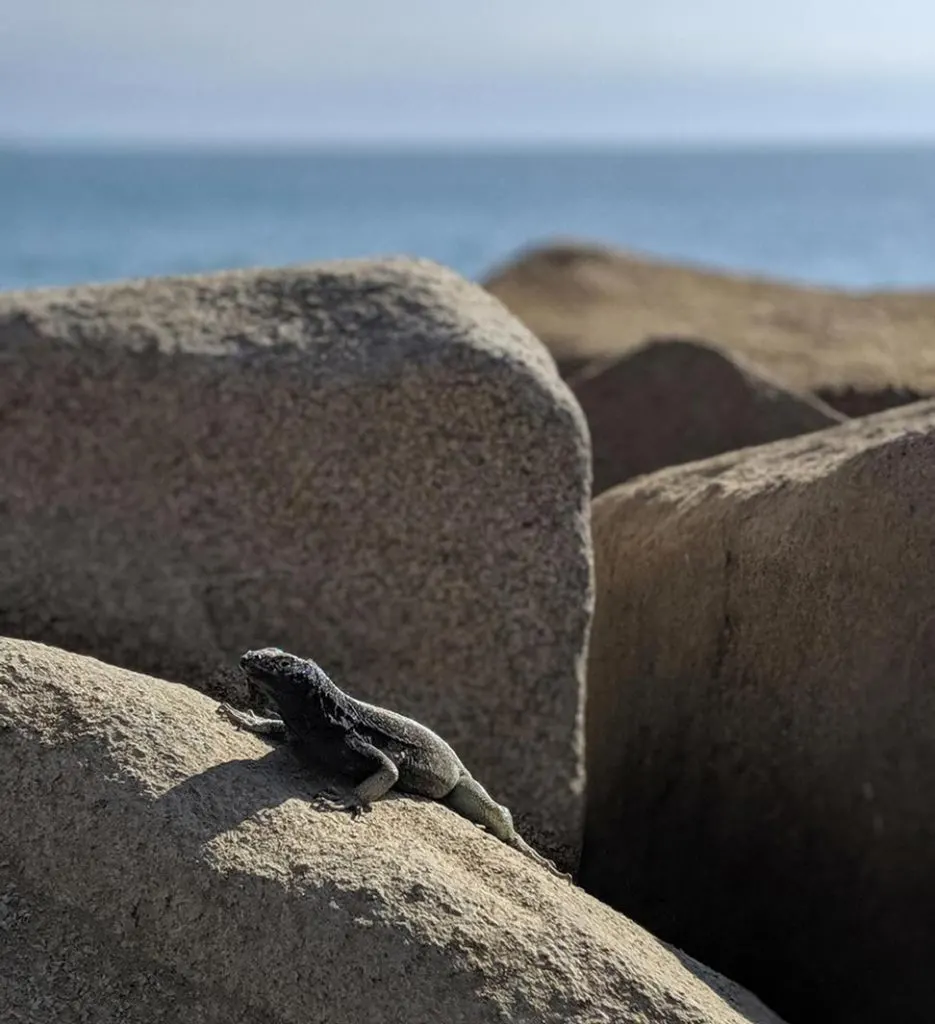 Cost to Visit Cuevas de Anzota
Entrance to the caves is free, and includes a hard hat!
Cuevas de Anzota Hazards and Accessibility
If I'm honest, I was rattled when I found out in advance about the required liability waiver and hard hat. In fact, I almost skipped out on this attraction. I'm not a hiker interested in extreme hikes. Because my PTSD affects my proprioception (the ability to know where one's body is in space) I'm a reluctant risk taker- especially when I'm alone on a trail. So I googled this destination a lot before I left to explore it, and I was surprised how little English-language information there was online about this trail. Based on this shortage of information and confusion about access and difficulty, I decided to write a quick trip report for you all.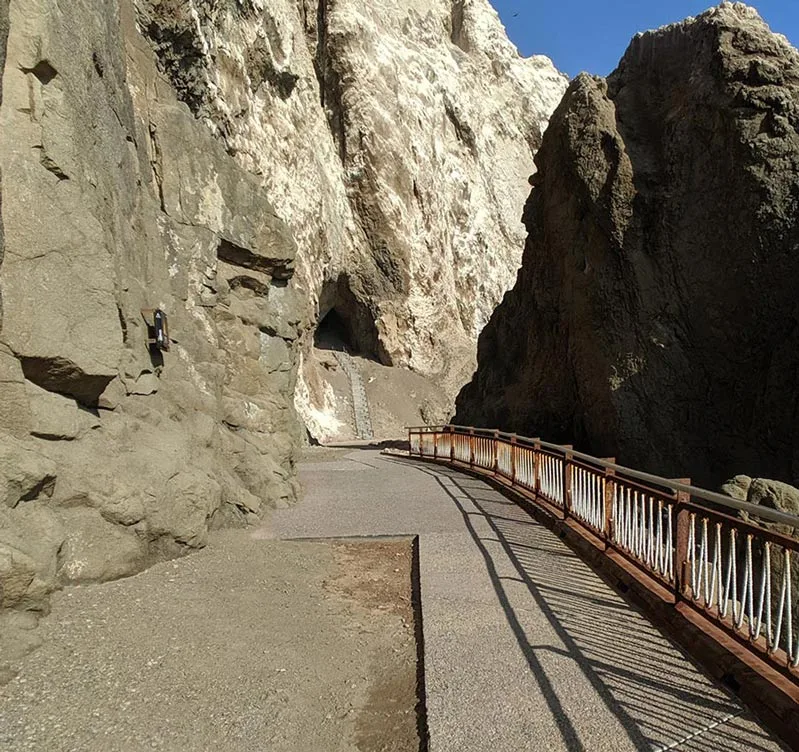 Despite the rather ominous sign of being required to sign a waiver at the entrance and being required to wear safety equipment while walking the trail, this was actually one of the easiest hikes I took in South America. In fact, if you stay on the paved trail that extends for about 3/4 of a mile along the coast and through a cave system, this hike is accessible for all bodies.
The total trail length is listed as a 1.3 mile (2.2 km) out-and-back path. Until the sidewalk turns, at about the 3/4 mile mark, to a thin dirt path along a ridge high above the water, this path would actually be accessible for most wheelchair users. Wide sidewalks and even, well-maintained pavement from the parking area (which is on the street or in the nearby roadside lots) help make it accessible for everyone,
Why the Hazards?
I expect that the excessive safety measures are in place because of the many ways to go off-trail, to climb winding staircases, or to trek in this area. It was very obvious, from the main trail, that there were numerous side trails. While they weren't inviting to a novice hiker like me, they likely beckon the more adventurous type. You can plan your trip of confidence knowing that if you're not a risk-taker, this facility is well developed and there's no obvious danger for a risk-averse visitor.
Gear Needed
If you plan to stay on the main path, and only walk (no climbing, rappelling, or caving) no special gear or equipment is needed. I would advise a comfortable, well balanced shoe. (My Blundstone boots once again were the perfect travel shoe and were the perfect boot for this hike) and travel sunscreen as the two essentials for this visit. Even visiting in the southern hemisphere's late autumn, the sun was blistering at this location, with no shade other than the caves themselves.
Limited Capacity
For safety and to maintain the habitat of the resident fauna, the maximum admission is limited to 120 people. Staff is placed at the entry gate to enforce limited admission. When I visited on a weekday in June of 2019, capacity was not an issue- in fact, I only saw a few people during my out-and-back walk! If you are visiting during the height of tourist season (southern hemisphere summer) or when a cruise ship is docked nearby, plan to arrive first thing in the morning in order to beat the crowds, the heat, and perhaps see more wildlife than you would during a mid-day visit.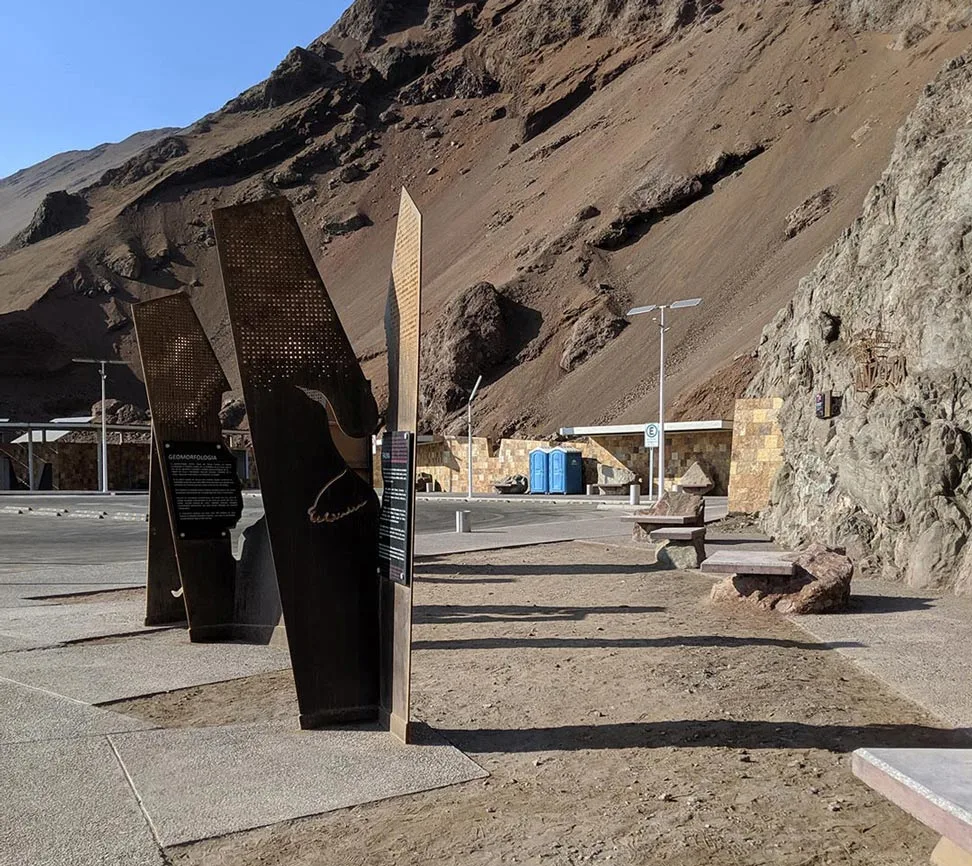 Conclusion
While the sea caves are certainly the stand-out attraction in this park, the wildlife was impressive and the petroglyphs were an unexpected surprise. Lizards and interesting-looking birds presented themselves around every twist of the trail. And interpretive signs and viewing binoculars were available.
Viewing binoculars were available for 100 pesos for about a minute, but I would definitely recommend bringing your own binoculars if you have access (In fact, binoculars made my #1 spot on the list of things I wish I packed for my South American trip). Following this trip, and before my Transylvania adventure, I invested in a Moment Telephoto Lens for my phone, which helped get dramatic wildlife photography on later trips.
English translations of Interpretive Signage
Some of the interpretive signage on the trail was highly visual and easy to translate without knowing Spanish (the sign below alerts visitors to look at the rocks above that are shaped like a face) but other signs were large blocks of Spanish language text. Because google translate (at least, the visual version) does not work without data, I snapped photos to translate later. Below I've posted the English translation, which you may wish to download and save before your visit.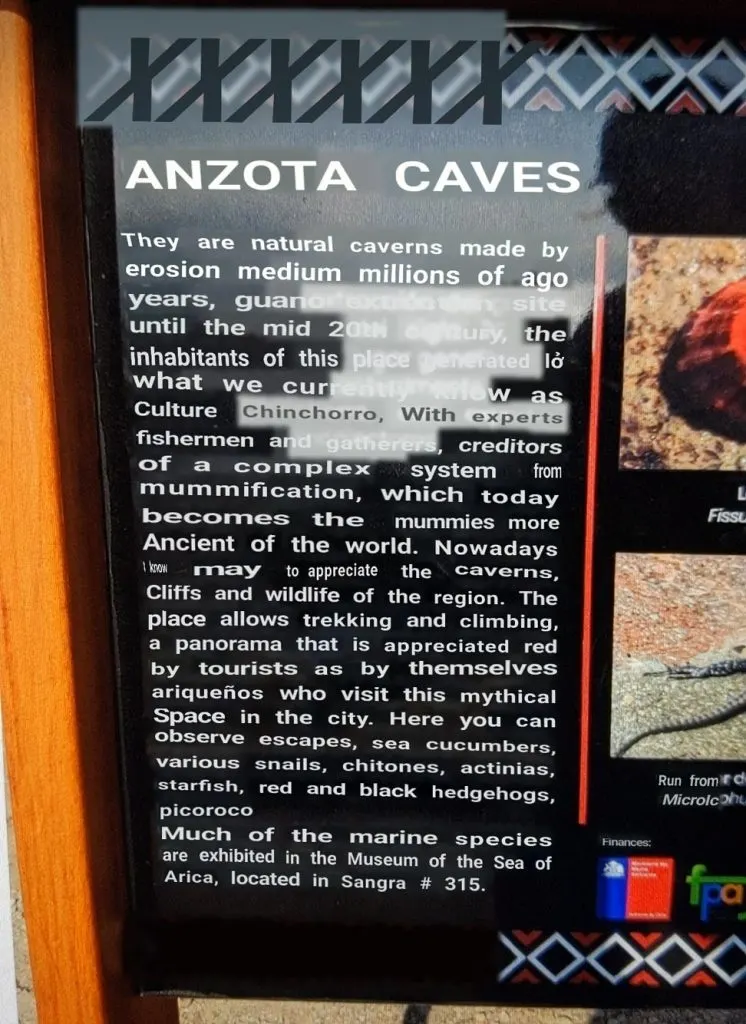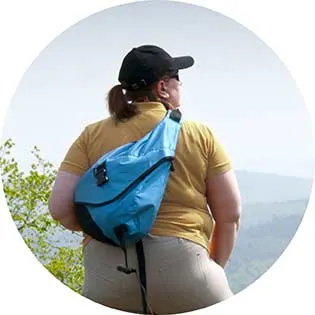 Lynli Roman's unique approach to travel is informed by decades of experience on the road with a traveling family and, later, years spent as a solo international traveler. When she's not writing about Seattle from her Pike Place Market apartment, Lynli writes on-location while conducting hands-on research in each destination she covers. Lynli's writing has been featured by MSN, ABC Money, Buzzfeed, and Huffington Post. She is passionate about sharing information that makes travel more accessible for all bodies.