Machu Picchu has a reputation that looms larger than life. But somewhere in the shadow (literally!) 30 kilometers down the mountain is a ruin that may even be slightly older than Machu Picchu.
If you're thinking about staying in Aguas Calientes, keep reading. You'll learn about a village just a few stops up the railroad track that connects Aguas Calientes to Cuzco. It's my favorite destination from my entire month spent wandering Peru: Ollantaytambo.
In this article, I share:
Getting off the train to Machu Pichu one stop early in Ollantaytambo, Peru allows visitors to experience life in an Incan city that never fell into ruin.
Ollantaytambo, unlike Aguas Calientes, is a living village that has been constantly inhabited since Incan times. Today, it's home to about 10,000 people. In the shadow of Machu Picchu's rise, Ollantaytambo is a thriving community that has benefited from tourism while mostly avoiding the effects of overtourism.
On the Way to Macchu Pichu: a Journey Just as Important as the Destination
While most travelers take the fastest route to Macchu Pichu and stay in Aguas Calientes. Aguas Calientes is the city-equivalent of an airport: a modern village of cement and corrugated metal. It was developed specifically to house the steady stream of international travelers headed to Machu Pichu.
Most travelers blaze right past the Ollantaytambo train station on the way to Aguas Calientes on the ascent to Machu Picchu. I think this destination is a great addition to a Peru trip. In fact, I got more from my time in Ollantaytambo than Machu Picchu itself!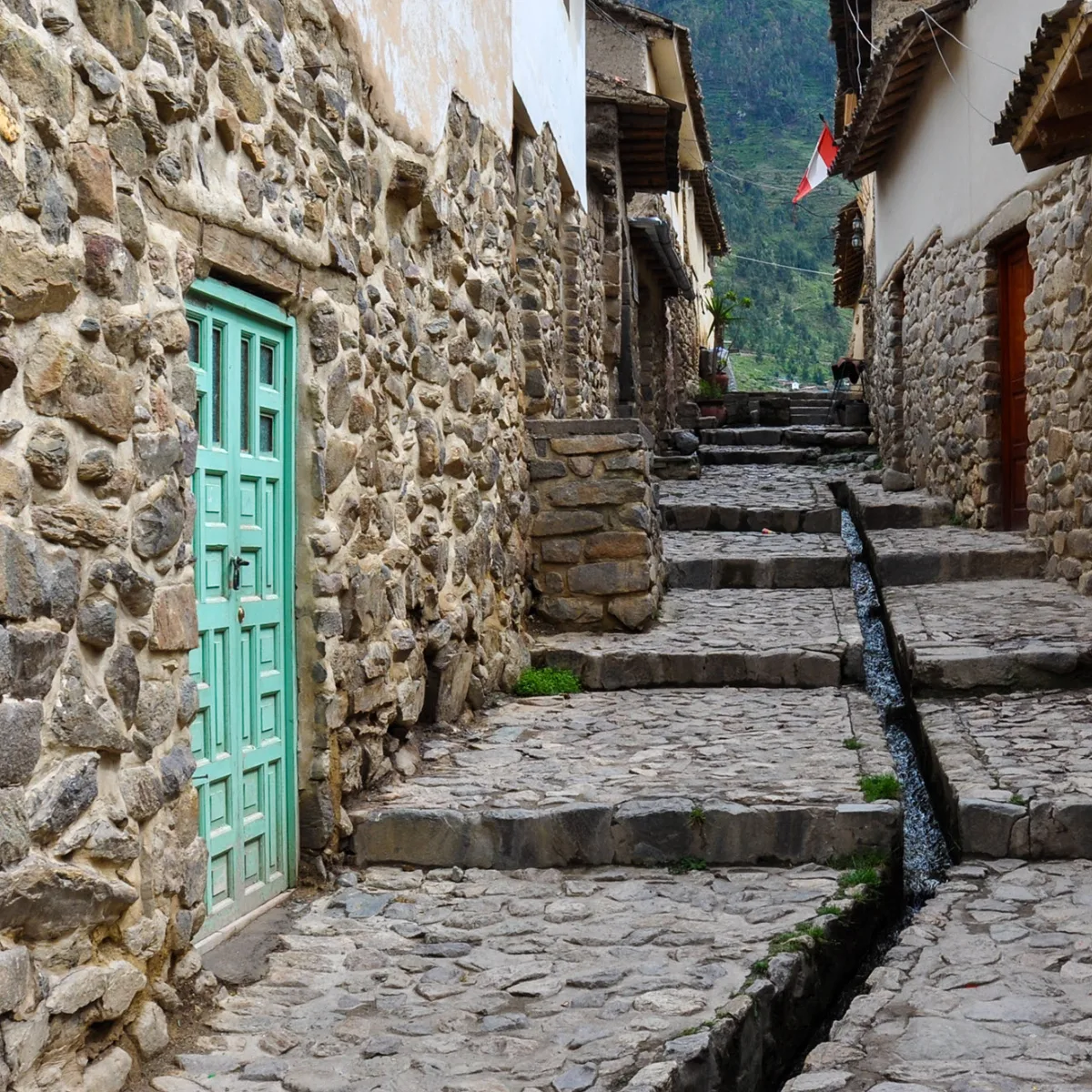 7 Reasons Not to Stay in Aguas Calientes Before Visiting Machu Picchu
Before my trip, I repeatedly googled whether I should stay in Aguas Calientes or in Ollantaytambo before my Machu Picchu visit. At the time, the Internet wasn't much help, and it was only through one Reddit user's glowing report of Ollantaytambo that I chose to give this village chance.
I'm thankful I took that reddit advice. To help others make an informed decision between Aguas Calientes or in Ollaytaytambo, I've written this article including these 7 reasons to stay in Ollaytaytambo and not in Aguas Calientes. (I also visited Aguas Calientes, but did not stay overnight there).
1. Travel Savings.
Ollantaytambo is slightly less expensive than Aguas Calientes, with hotels and restaurants there generally a bit more expensive than Cusco and slightly less than Aguas Calientes
2. More Incans Ruins for Less Money
Ollantaytambo sits in a valley between two mountains. Walking the quiet, narrow streets of Ollantaytambo, one only has to look up (in two directions) to get stunning views of Incan ruins! Additionally, both mountainside ruins are easily accessed. One side (Pinkuylluna, ruins of ancient Incan storehouses) offers completely free access to anyone willing to take the short but steep hike. The other side of the valley requires a small admission fee because it is part of the Ollantaytambo Archeological Park. With 15,0000 reviews averaging 4.8/5.0, this park is well worth visiting.
You'll get more Incan ruins for your buck by staying in Ollantaytambo, and you'll be able to explore these ruins without the crush of the constant crowd at Machu Picchu.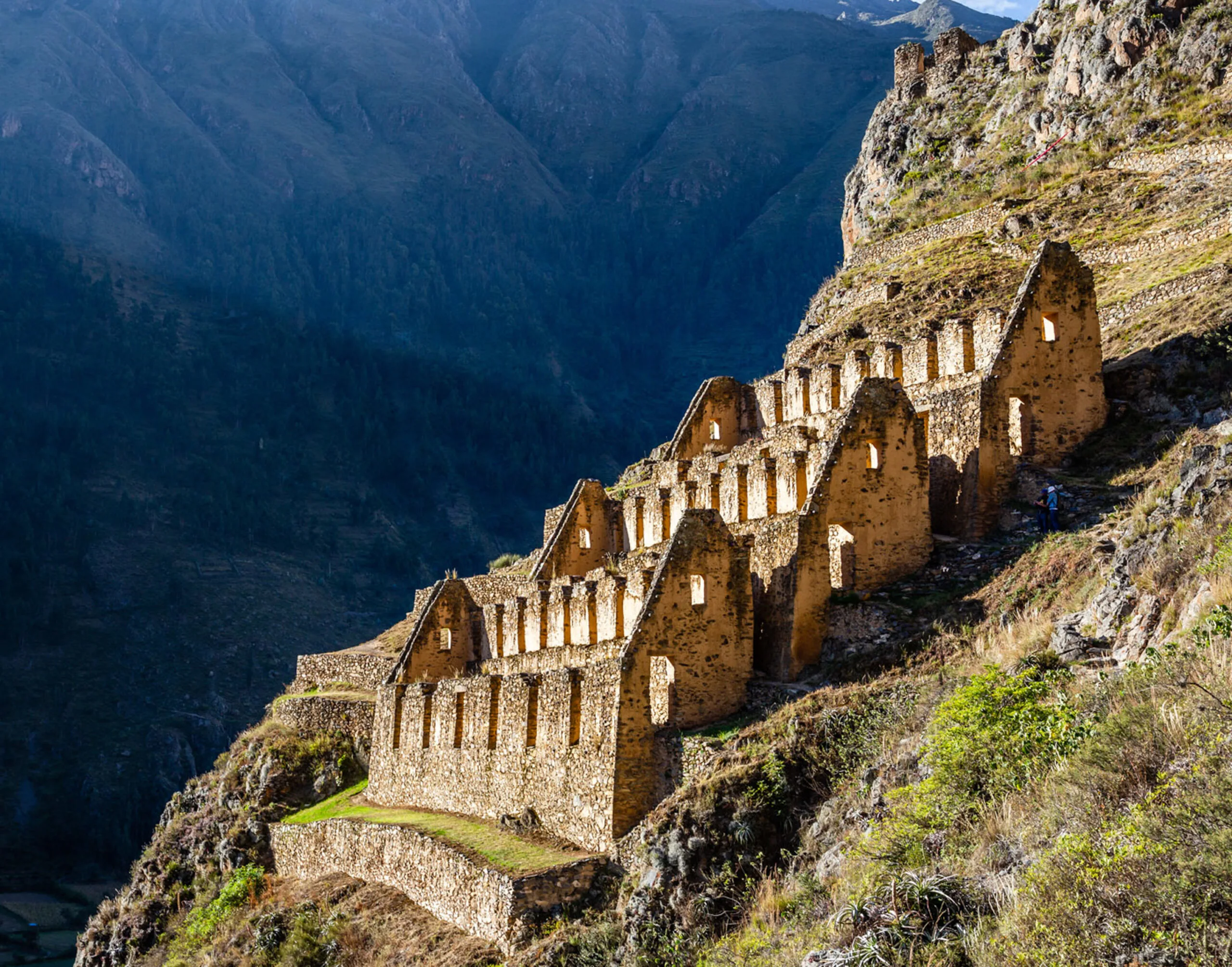 3. Authentic Peruvian food
While Aguas Calientes is a young city focused on meeting the demands of mostly Western travelers, Ollaytaytambo is actually home to native Peruvians. In Aguas Calientes, you'll have to hunt for authentic Peruvian food in a sea of menus highlighting pizza and hamburgers. In Ollantaytambo, there are many of authentic choices.
Ollantaytambo has its tourist restaurants, to be sure. However, only a street or two off the main drag you'll find authentic street food near the open market, food counters and eat-in restaurants frequented by locals, and several Chifa restaurants. (Chifa is a beloved food in Peru. It's a bit like the Peruvian version of Chinese American food- and because 99.9% of tourists never try chifa, the pricing is not inflated for tourist budgets. Read about my experience trying Chifa here)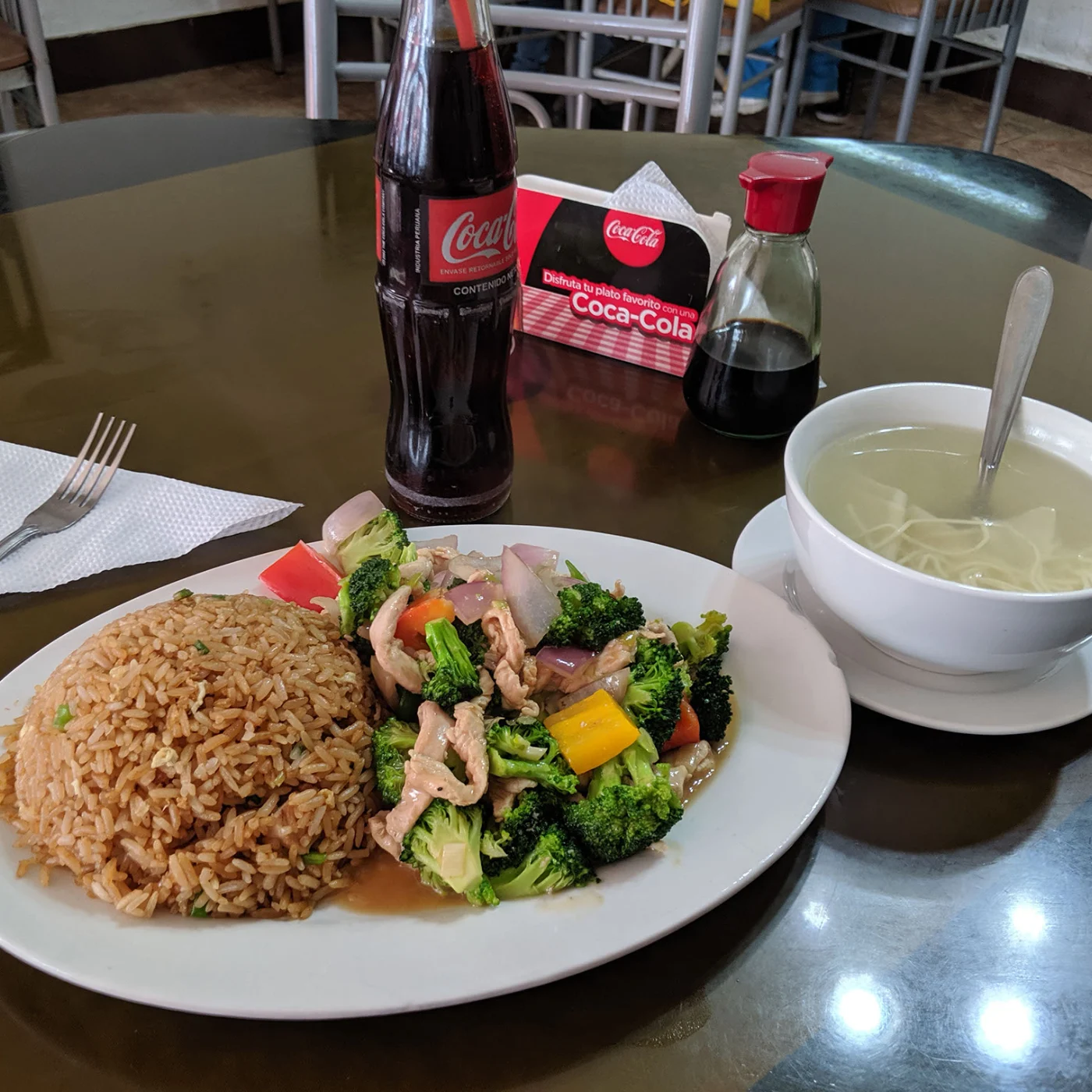 4. Ollantaytambo is laid-back
Aguas Calientes is a city focused on moving people to another location – tens of thousands of people a day, in fact. To me, it felt like the city version of an airport, with large buses, trains, and machinery moving crows of humans between boring block-type construction buildings.
Ollantaytambo, on the other hand, is a community with a split economy. While tourism plays an important role in Ollantaytambo and has helped ensure the survival of this village, it's much quieter and somewhat agrarian. During my stay, it wasn't unusual to see livestock being hand-walked through the city streets.
Because Ollaytaytambo's streets are very narrow – more on that later – most of the city is navigable only by foot, bike, and ultrasmall cars and vans. Combine all of this with a river flowing through the city and multiple aquifers and you've got a relaxing, more peaceful alternative to Aguas Calientes.
5. Better souvenir shopping.
Everyone told me that the best souvenirs in Peru at the best prices would be at the market outside the train station at Aguas Calientes, but I spent hours shopping through that enormous market- at times aggressively marketed to – without finding a single thing that felt like a special souvenir.
Ollantaytambo also has a tourist market and while the market there is smaller, it was there that I found some of my favorite treasures of my entire month in Peru. Although I didn't find the Peruvian frazada I was looking for (but did finally find in Arequipa), I did find a Machu Picchu token necklace that I adore and wear frequently to this day, as well as a set of throw pillowcases made from a frazada.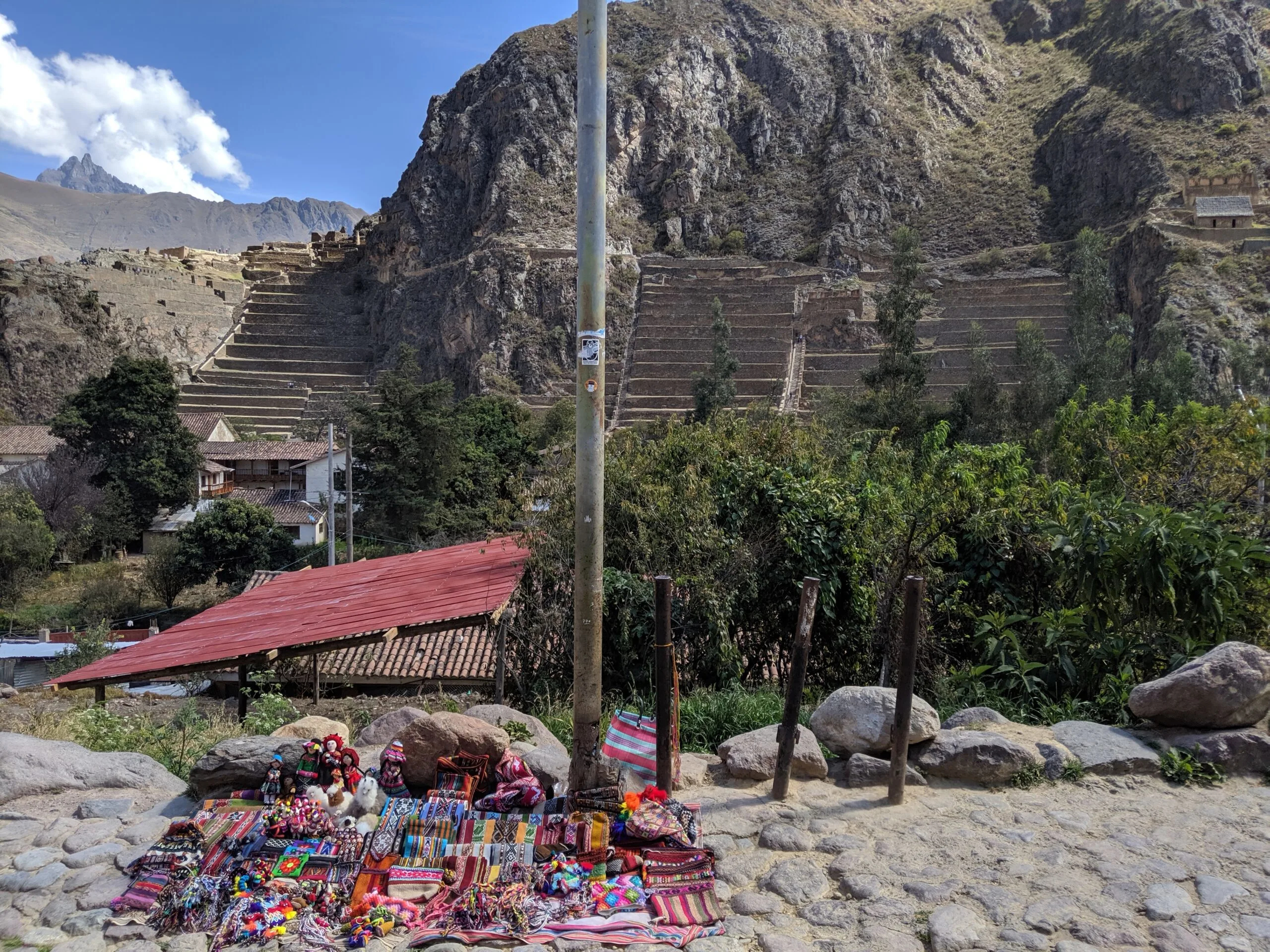 6. Authentic experiences
Although certainly, this varies from traveler to traveler, I found that in Ollaytaytambo I had access to a unique Peruvian experience that I would not have had if I stayed in the more popular Machu Picchu overnight spot of Aguas Calientes. More specifically, during my time in Ollaytaytambo, an Airbnb experience was available that allowed visitors to take part in a traditional meal called a Pachamama.
Spending time getting to know locals and sharing this culturally important meal was one of the highlights of my month in Peru.
Looking back on this trip and how my experiences shaped me as a human and as a traveler, I can honestly say that the Pachamama meal I was able to take part in Ollaytaytambo was far more enjoyable, memorable, and meaningful than my actual experience of seeing Machu Picchu.
One more, and trust me, I saved the best for last: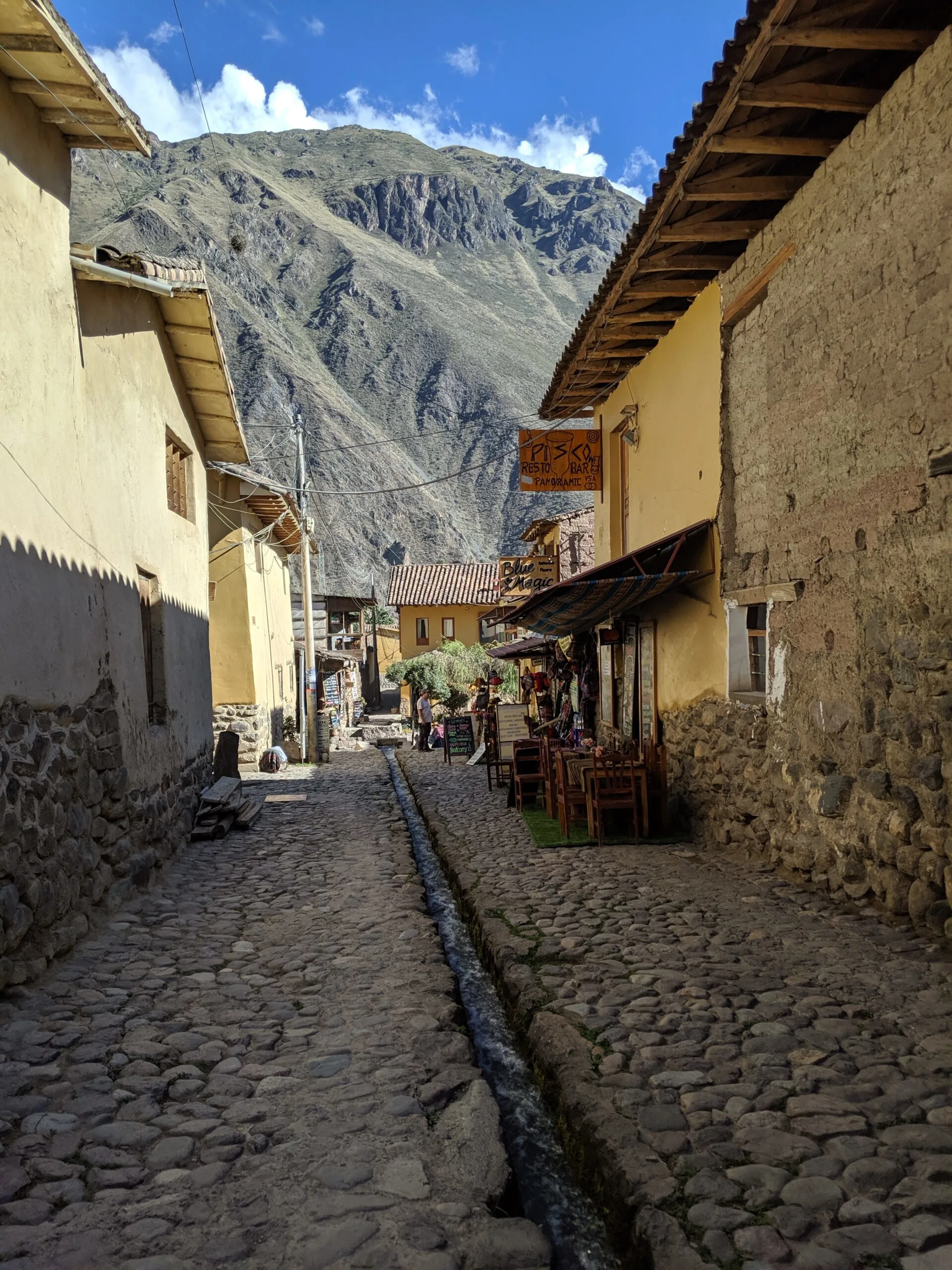 7. Live in an Incan ruin
Really!
I'm not someone heavily into archaeology but even I geeked out about staying in Ollantaytambo. Why? Because, it turns out, Ollantaytambo is a living Incan "ruin." Or, better put, it's an Incan city that has survived rather than falling into ruin. While Machu Picchu and even the ruins on the hillsides above Ollantaytambo are half walls and fallen stones, this city itself has somehow maintained its old identity while adapting to modern life.
In Ollantaytambo streets are narrow because they are the streets, walls, and buildings are that were planned, laid out, and built by Incan builders who couldn't imagine modern cars.
Open Aquifers that splash water down through channels in the middle of streets are the same aquifers that watered children, cleaned dishes, and bathed families nearly a thousand years ago. As you walk down the street in Ollantaytambo you can see the division in the walls where new construction has been added on the foundations of old Incan homes. If you have the privilege of staying in one of these homes, you'll find yourself having to stoop at each doorway- as the original Incan-built thresholds remain the entry to most of these homes.
To me, living, walking, and travel journaling in a living breathing Incan city was an experience far more profound and educational than Machu Picchu's mystique, and if you have the time in your Peru itinerary to visit this gem, I highly encourage it.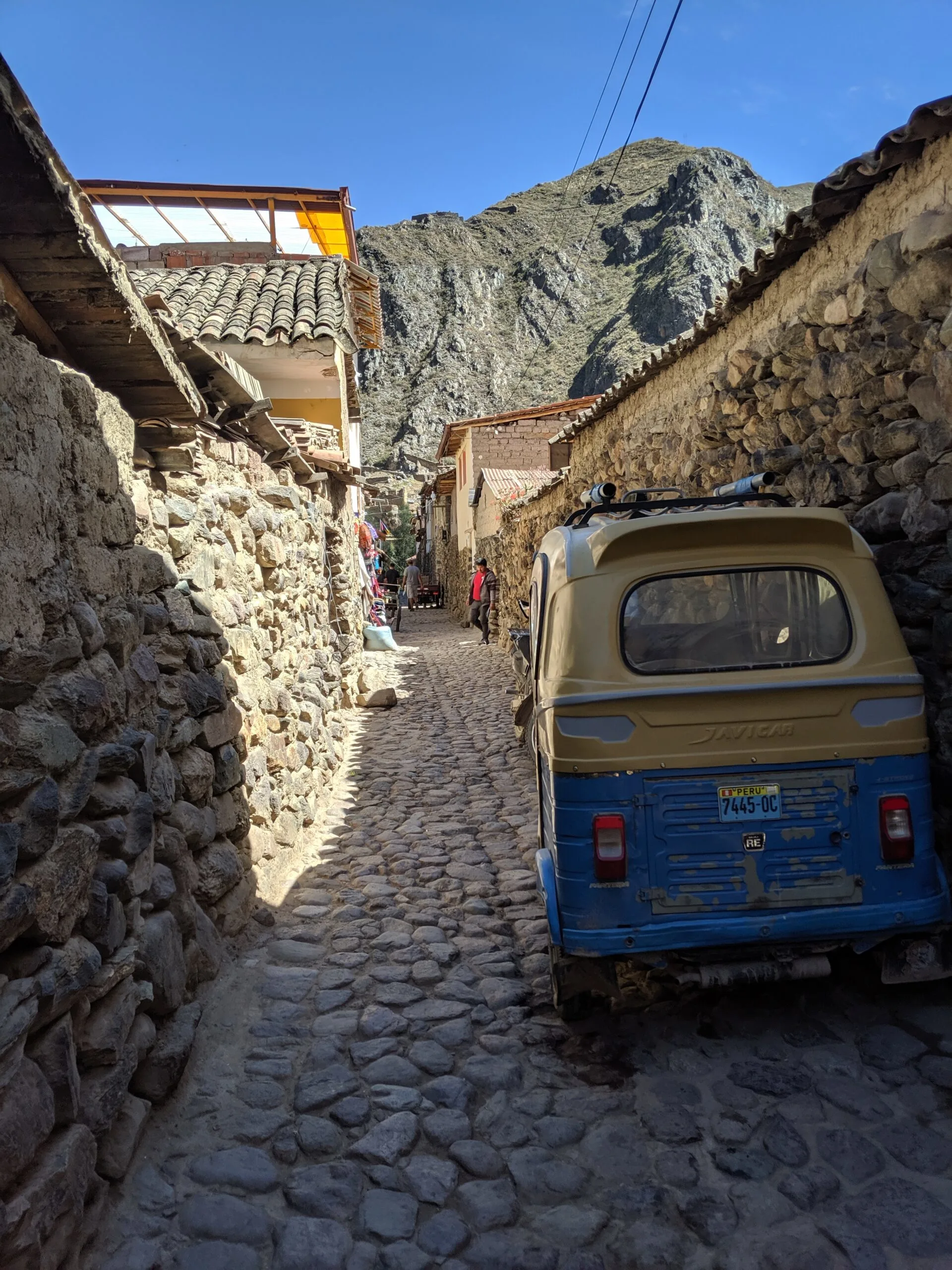 Every traveler to Machu Picchu has to make a few critical decisions about transportation and lodging. While some people make Machu Picchu a day trip from Cusco, this can be an exhausting day as the train from Cusco to Aguas Calientes, the last stop before Machu Picchu, takes about 4 hours if trains are running on time (and that's not always guaranteed).
Four Ways to Get from Cusco to Machu Picchu:
Essentially, getting from Cuszco to Macchu Picchu gives you four choices:
1. Getting to Machu Picchu from Cusco as a day trip with no overnight stay
Pros: It's possible! Unless you are an enthusiast or an archaeology buff, Machu Picchu itself can be "seen" in under an hour. Crowds pressing visitors forward through the walkways make it hard to linger anyway. A day trip can work to do a quick visit and get on with your itinerary.
Cons: Getting to Machu Picchu, Seeing it, and getting back to Cusco in one day is a very long day. Additionally, the railway and train cars between Cusco and Machu Picchu are not the most reliable. During my visit, a locomotive broke down and left us stranded on the track for 4 hours. For travelers who were taking the train all the way back to Cusco that night, the 4 hour delay turned their ride into an 8-hour train trip- causing several to miss flights that had been cautiously booked with plenty of margin for more typical delays.
For more ideas for Peru destinations beyond Machu Picchu, follow me on Pinterest.
2. Getting to Machu Picchu from Cusco with an overnight in Aguas Calientes
Pros: After taking the train to Aguas Calientes the day before, your Machu Picchu day's travel will be easy! Just had to a bus station to book the same-day passage for a ride up to the Machu Picchu entry.
Cons: Aguas Calientes is a new city, constructed for the purpose of housing, entertaining, feeding, (and sometimes exploiting) tourists. Frankly, it is an eyesore, and although there are some nice hotels, having passed through it, it's not a destination I would choose to stay overnight.
3. Getting to Machu Picchu from Cusco with an overnight in Ollantaytambo
Pros: Ollaytaytambo is, itself, a fantastic destination worthy of a full day or two. It can be reached from Cusco by train or (for only $2 US dollars) you can get from Cusco to Machu Picchu via 'colectivo'. From Ollaytaytambo, a 90-minutes ride on a morning train can take you to Aguas Calientes and return you to Ollaytaytambo after your Machu Picchu assent. Ollantaytambo lodging is a little bit less expensive than lodging in Aguas Calientes or the expensive lodges just outside the Machu Picchu entrance.
Cons: Staying in Ollaytaytambo does require just a bit of extra maneuvering on Machu Picchu day – getting from Ollaytaytambo to Machu Picchu will require a train ride, then a bus ride, and then a train and bus ride to get back to Ollaytaytambo at the end of the day.
4. Machu Picchu via trek or other guide-managed arrivals.
If Machu Picchu is the central focus of your trip, rather than Peru, the region, and greater Incan civilization ruins, a guided tour might be a good fit for you. Even with a guided tour, you'll probably be taking one of the routes above, at least partially. Treks to Machu Picchu from Cusco generally take advantage of, at least partially, the rail system for a portion of the trip.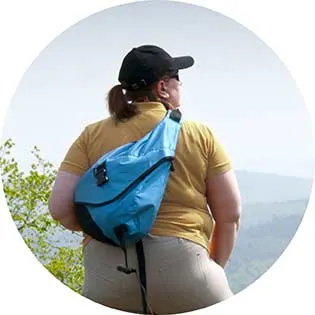 Lynli Roman's unique approach to travel is informed by decades of experience on the road with a traveling family and, later, years spent as a solo international traveler. When she's not writing about Seattle from her Pike Place Market apartment, Lynli writes on-location while conducting hands-on research in each destination she covers. Lynli's writing has been featured by MSN, ABC Money, Buzzfeed, and Huffington Post. She is passionate about sharing information that makes travel more accessible for all bodies.