Machu Picchu is a (literal!) mountain top experience for many travelers, but what happens next? In this article, you'll learn about things to do in Peru after Machu Picchu.
I spent a month exploring the villages and hills around Machu Picchu, and here's what I recommend doing alongside your trip to the Sacred Valley.
Peru has something for everyone. From opportunities for adventure and breathtaking vistas to incredible food and opportunities to purchase handmade goods. There's more than enough to fill your itinerary!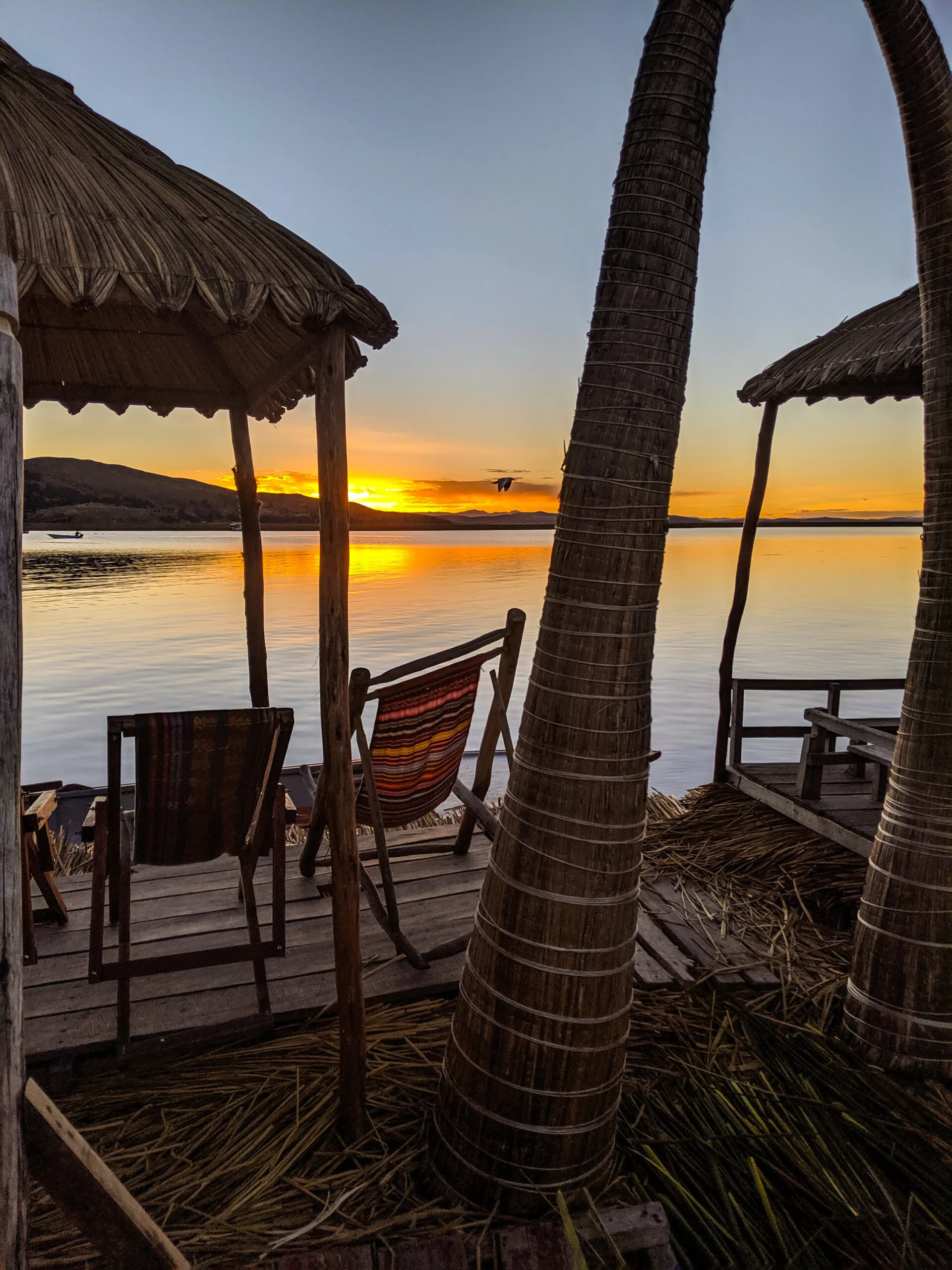 There's almost a dizzying variety of options for things to do in Peru for tourists. My main recommendation is this: experience more of Peru than just Machu Picchu.
Many travelers visit Macchu Pichu as almost a drive-by experience. Delivered directly to the tin-and-concrete tourist basecamp of Aguas Calientes, Peru, many travelers miss opportunities after Machu Picchu to explore the many other treasures of Peru.
While you're in Peru, here are a few places to add to your Machu Picchu itinerary that are both well-known and off the main path…
Visit Machu Picchu's Neighbor Monuments
For miles upon miles around Macchu Picchu, Peru is literally littered with Incan ruins. Machu Picchu isn't necessarily the best- it just happened to have the best (re)discovery story and the best PR.
In my post about why travelers should stay in Ollaytaytambo instead of Aguas Calientes, I show you how to access way more Incan ruins, many with a fraction as many tourists around.
In Ollaytaytambo- the only developed train stop between Cuzco and Machu Picchu-Adjacent Aguas Calientes, travelers can explore 3 Incan ruins (and two are free!)
Pinkuylluna (pictured) are ruins of ancient Incan storehouses on the hillside above Ollaytaytambo. It offers completely free access to anyone willing to take the short but steep hike.
Ollaytaytambo Archeological Park. The other side of the valley (opposite Pinkuylluna) requires a small admission fee because it is part of the Ollaytaytambo Archeological Park. With 15,0000 reviews averaging 4.8/5.0, this park is well worth visiting.
Ollaytaytambo Old Town. By far my favorite Incan ruin in Peru wasn't in ruins at all! Ollaytaytambo is a modern city built on the literal foundations of an Incan city. It was fascinating to see this city still thriving.
After Machu Picchu, I recommend staying an extra day in Ollaytaytambo before returning to Cuzco. It's a fun village with sufficient tourist infrastructure to be fun without being too touristy. You can even stay in an Incan home! I booked an Airbnb experience to share a Pachamama meal during my stay.
After you've explored Ollaytaytambo, you can take the train back to Cusco or save money and have an interesting travel experience by taking a colectivo back.
See Peru's White City: Arequipa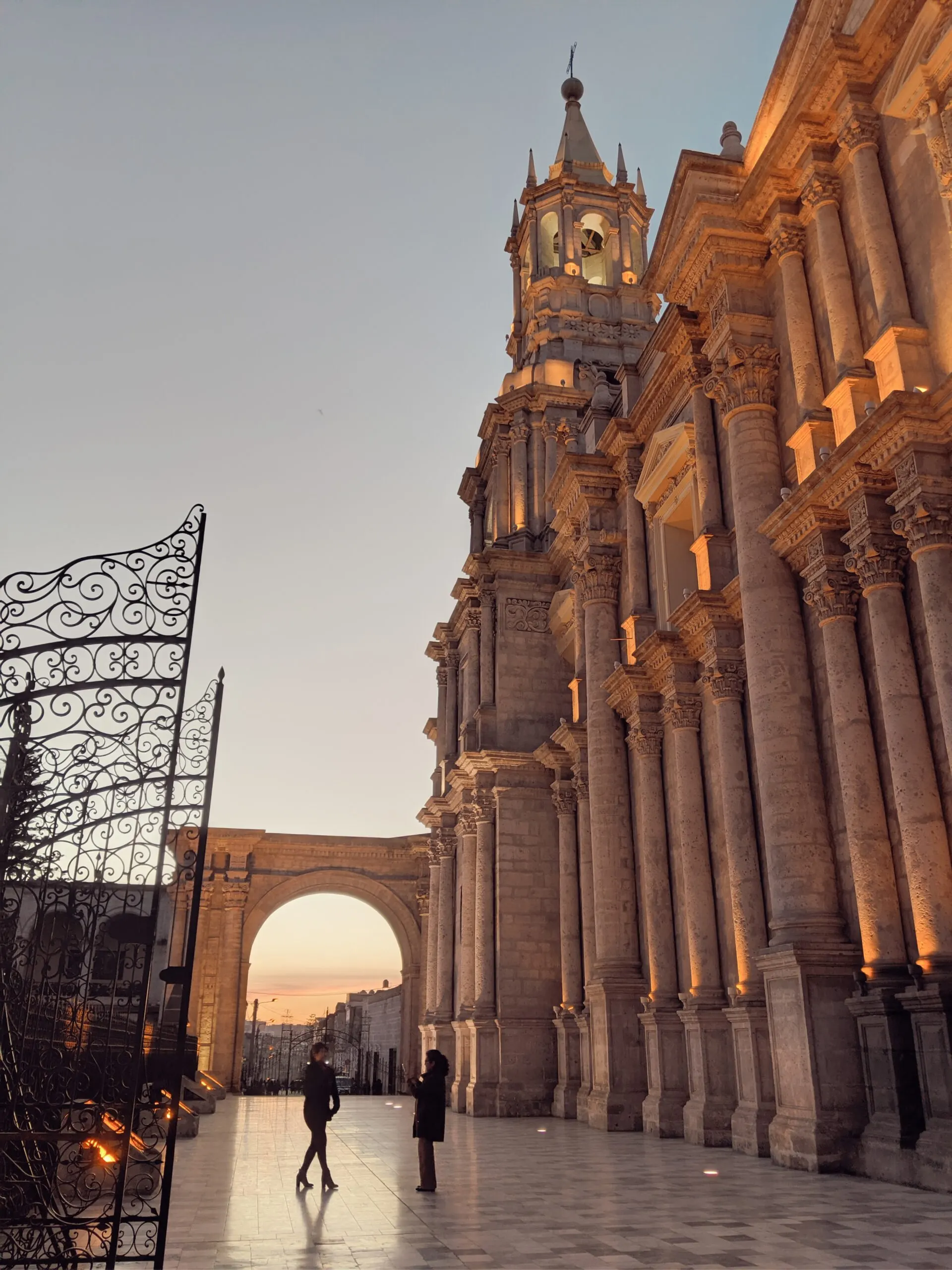 If I was planning a honeymoon or engagement trip today, I'd go to the city that I visited after Machu Picchu: Arequipa, Peru. But it's not just for couples!
Arequipa is a Spanish colonial-era city in Peru built from white volcanic rocks mined from the nearby volcanoes. Walking through its city square surrounded by white buildings is pretty incredible. Combine this unique feature with the great amenities available in Arequipa and it tops my list of things to do after Machu Picchu.
Things to Do in Arequipa:
🥾🛶 Outdoor Adventures
Near Arequipa, you'll find two incredible canyons – deeper than the US's Grand Canyon! Both are perfect for outdoor adventurers or folks who prefer a guided day trip.
🏪 Mercado San Camilo Market
By the time you've emerged from the Sacred Valley, you may be truly "over" open markets of Peru. But hang in there and visit Mercado San Camilo Market in Arequipa.
This market is a true South American market. Rather than catering to the needs of tourists, you'll find an incredible variety of local goods. Even with tourist market burnout, it's worth making time in your itinerary to visit Mercado San Camilo Market.
⛪ Santa Catalina Monastery.
I orient my travels around UNESCO world heritage sites, so when I arrived in Arequipa I zeroed in on the site. With quiet villas cloistered by walls and cloaked by flower-filled courtyards, I loved exploring this 16th-century Peruvian monastery and learning about the women who had called it home. Learn more about how to buy tickets here.
🕯️🕯️🕯️ Hint: This UNESCO site opens after dark for exploring. You can wander the monastery lit by candles, torches, and hearth fires. Exploring the monastery with electric lighting extinguished also makes this a great spot for stargazing.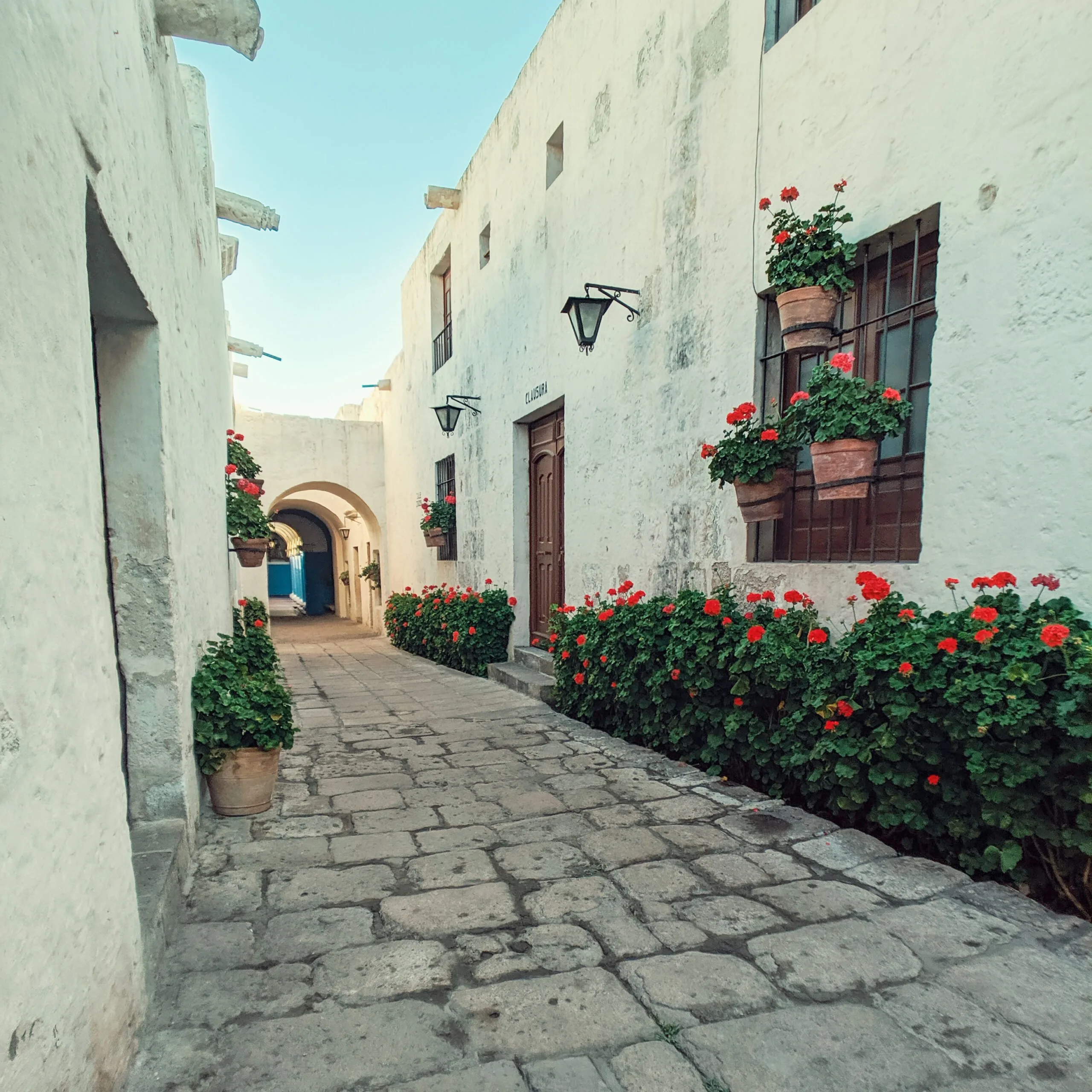 🌋 Volcanoes
No mention of Arequipa would be complete without talking about the majestic volcanoes that flank the city. The Misti, Chachani and Pichu Pichu are located just outside the city and tours to get a closer look are available – though I found the views from the monastery to be tough to beat!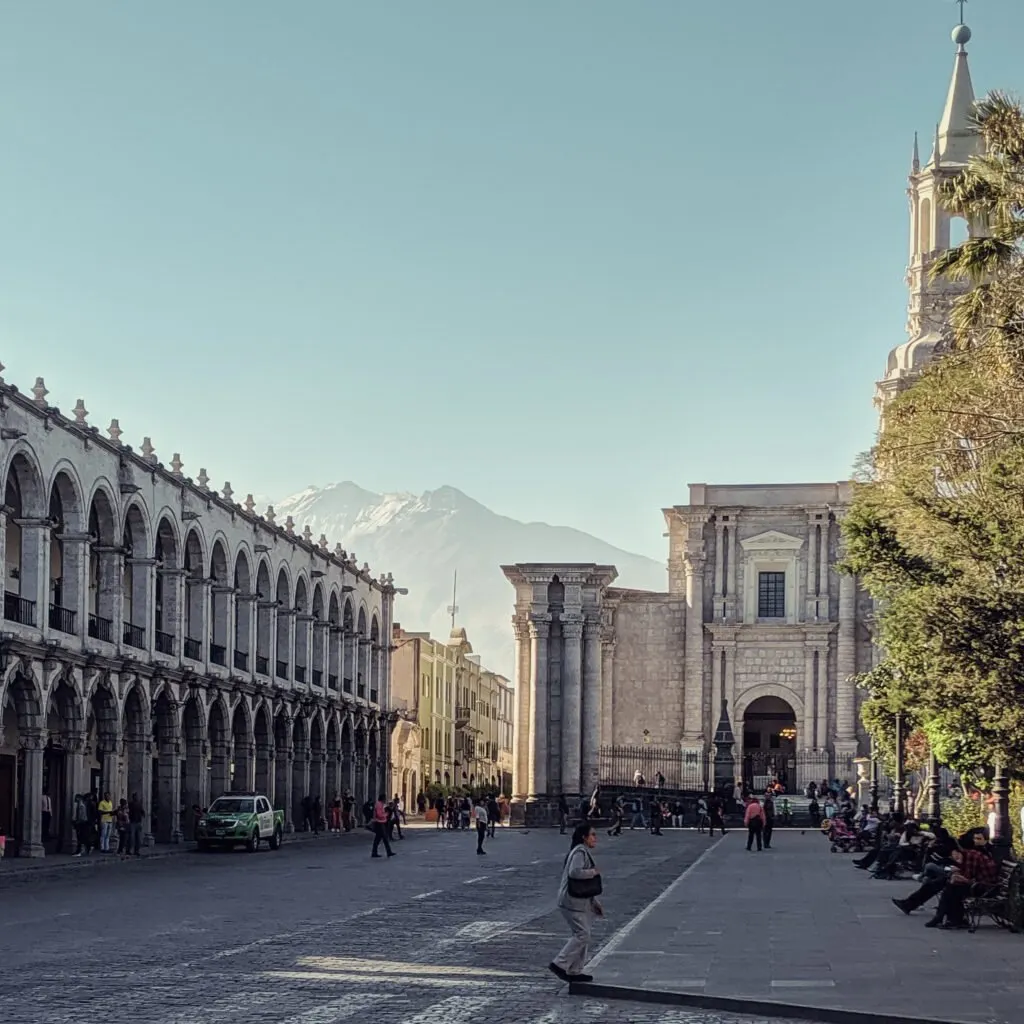 Why You Should Rest Awhile in Arequipa
Arequipa Is ideal for slowing down for a few days. – It's a unique city in Peru worth enjoying.
With a younger, more progressive population and a reputation for being tourist-friendly but not over-touristed, Arequipa has some great amenities for travelers.
If you're feeling weary after Machu Picchu but aren't quite ready to head home, I recommend staying a few days in Arequipa. Lodging and food are extremely affordable and the city has many businesses and services geared towards digital nomads. Take a few days to lay low and work remotely (or edit your Machu Picchu photos) in this dreamy white city.
Explore the Manu National Park's jungles.
Manu National Park is an excellent choice for those who want to avoid crowds while still enjoying a UNESCO site. One of South America's greatest national parks is a treasure trove for thrill-seekers and environment lovers alike.
Manu National Park is one of the most biodiverse places on Earth. It is home to an incredible array of plant and animal life, including many endangered species. The park is home to over 1,000 species of birds, including the rare Andean condor. It is also home to turtles, crocodiles, and jaguars.
With a tour through Manu National Park you can experience tropical rain forests, cloud forests, and Andean highland forests all in one day!
As with most vast wilderness areas, the best way to see it is with a reputable tour guide. I recommend booking through Get Your Guide, which offers a number of tours of Manu National Park, with tour operator reviews you can read before booking.
Discover the Amazon's Mysteries
Many travelers to Peru head to the Amazon rain forest after Machu Picchu. With Machu Picchu's location perched on the edge of where the Sacred Valley transforms into true Amazon jungle, seeing a jungle after Machu Picchu is a common excursion.
In Peru, 60% of the country is covered by the Amazon rainforest, though most tourists skip this attraction.
Probably due to the popularity of Machu Picchu, the section of the Amazon rain forest in Peru is actually a less popular tourist destination than the Brazilian Amazon. Because of this, visiting the Peruvian side of the Amazon can be a way to minimize the carbon footprint of your vacation and participate in sustainable travel.
Just like the national park mentioned above, the best way to experience the Amazon rain forest after Machu Picchu is to employ a great guide.
Share a Pachamama Meal
A Pachamama is a sacred meal in the Peruvian culture. The meal is named after the goddess Pachamama, who is said to be the mother of all things.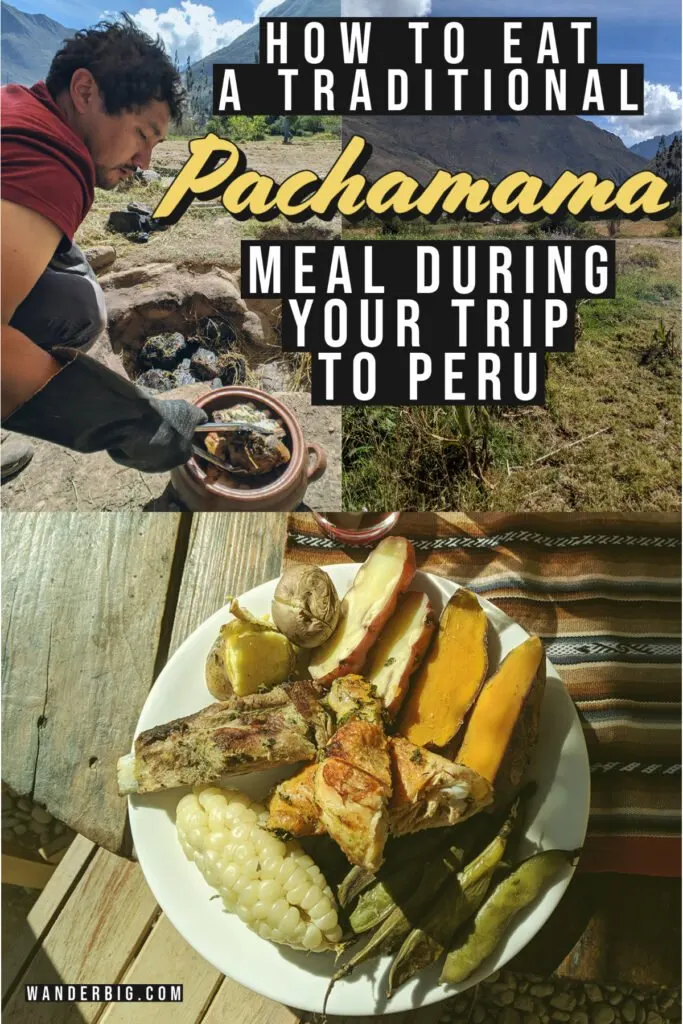 While you'll find some hotels or resorts offering some version of a Pachamama meal, I recommend seeking out a locally owned guesthouse or Airbnb experience that offers a Pachamama meal with the full experience.
The meal is typically made with local ingredients, such as potatoes, corn, and beans, and is traditionally cooked in an oven made in the ground.
After Machu Picchu, sharing a Pachamama meal with your travel companions or simply your host can be a way to deepen the cultural engagement with your Machu Picchu trip. Read about my experience at a Pachamama meal here.
Learn to Weave in Chinchoro
Guys, I am all about hands-on travel – and as a kid who grew up on the craft show circuit, I'm obsessed with learning all kinds of handicrafts. So it was a no-brainer when I saw a Airbnb experience offering a full day of learning from famous Chinchero weavers in the community of Chinchero outside of Cusco Peru. Although I did this travel adventure before Machu Picchu, it would be a perfect activity to follow up your assent to that iconic destination.
Many travelers seek a cheap day tour of the area around Cusco after Machu Pichu, and Chinchero is often included. The thing is, most cheap day tours that include Chinchero will include only a drop-off at a shopping-center. Often, my host told me, these markets are operated by corporate conglomerates from the city, not the community.
Seek out an ethical, fair trade weaving co-op and schedule a hands-on tour. During my day with the weavers, I learned to shear alpaca fiber, dye fiber, and weave! Read more about my time in Chinchero here.
Explore the World's Highest Lake & the Uros Village
A few hundred yards from the coast of Lake Titicaca, you'll find the floating islands of the Uros people. I've written about my visit previously, but needless to say this is one of the best things that I recommend doing in Peru after Machu Picchu.
Generally, there are two ways to visit the Uros islands:
A boat tour. For a few dollars paid at the harbor, you can board a boat to be taken out to visit the floating islands. You will cruise slowly between these reed-built islands and stop and disembark the boat on an island turned tourist market. I advise against this method, not just because it's a bit dull, but because of the environmental impact that these tours have on the homes of the locals. Each boat's wake contributes to the deterioration of a family's home, so it's better to minimize boat traffic.
A guesthouse on a floating island. While the lodgings on these floating islands are basic, the hospitality is abundant. Many families who live on the Uros island have a cottage or two on their islands specifically for hosting tourists. In many, you'll find solar powered phone chargers and modern composting toilets.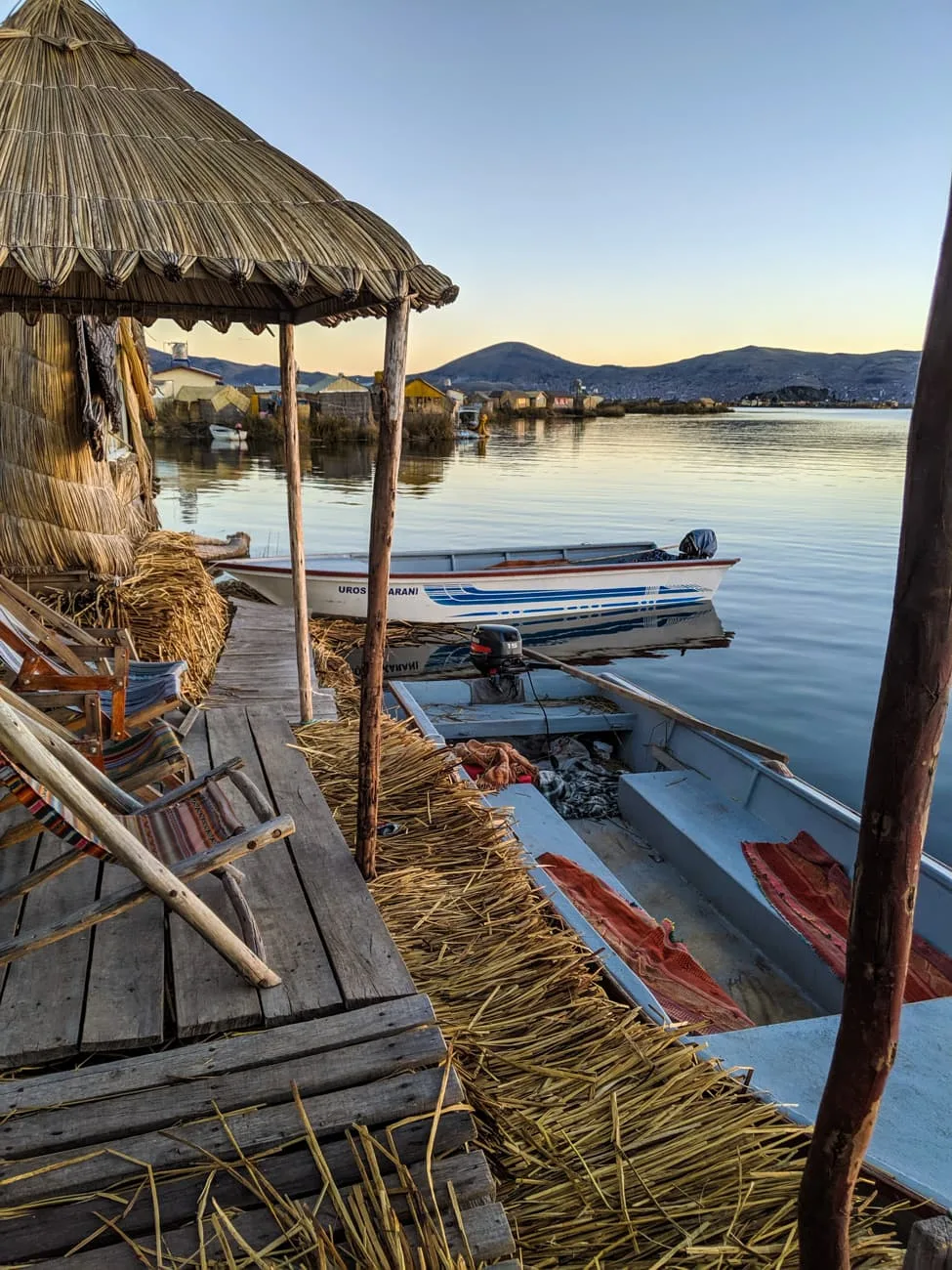 🕯️🕯️🕯️ 💡 Hint: If you struggle with altitude or even think you might, be sure to talk to your doctor before your trip. Prevention is easy, effective, and affordable.
Discover Lima's Treasures
Peru's capital, Lima, is a vibrant city with much to offer visitors. The food is amazing and Lima is a must-visit for those on a culinary pilgrimage adjacent to their Machu Picchu trek. Chifa, a favorite of local Peruvians but rarely tried by tourists, should not be missed.
There are many beautiful buildings to see in Lima. Notable landmarks in Lima are La Catedral de Lima and the Church of Santo Domingo. In addition, to these historic churches, it has a thriving and diversified nightlife scene that is well-known.
Consider visiting Peru's capital city, Cuzco, and the Sacred Valley.
Due to its proximity to Machu Picchu, Cusco has an economy very intertwined with tourism.
Because of this, walking in Cusco means you'll be approached constantly (often aggressively) to buy goods and services.
Be aware, maintain boundaries, and base your buying habits on research and recommendations you trust – not who can street-market most aggressively.
You'll probably find yourself in Cusco either before or after Machu Picchu, but I recommend strongly to spend an extra day or two in this city. Not only is it filled with an impressive collection of colonial architecture, pre-Incan ruins, and traditional Peruvian art and music – it's also a great way to adjust to the altitude. You can spend a day or two exploring Cusco while your body acclimates.
The good thing about the popularity of Cusco for tourists is that there is so much to do! You'll find almost a countless number of day trips, immersive activities, and incredible restaurants.
Final tips for travel after Machu Picchu
My best tip for Machu Picchu is to set realistic expectations. Unless you're on an endorphin high from trekking to the mountaintop site, it's probably not going to be a life-changing experience.
That's ok.
Travel changes us through thousands of tiny moments, not one big one.
Machu Picchu is a popular tourist destination, but if I'm honest, treking these ruins wasn't an especially remarkable experience for me. Here's what's actually waiting for you by 9am at that iconic overlook you see in all the travel influencer's photos:
To best enjoy Machu Picchu, make sure that it is part of your Peru trip, not the singular goal.
If you plan only a brief trip to Machu Picchu and find it crowded and unpleasant, it runs the risk of ruining your entire vacation. On the other hand, if Machu Picchu is just one part of enjoying the incredible, food, nature, and culture of Peru- well, in that case, you are setting yourself up to have an incredible trip to Machu Picchu and beyond.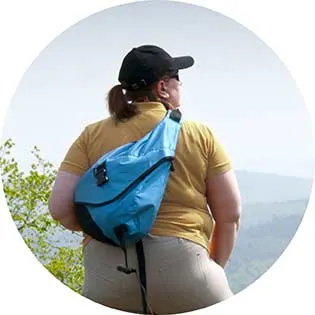 Lynli Roman's unique approach to travel is informed by decades of experience on the road with a traveling family and, later, years spent as a solo international traveler. When she's not writing about Seattle from her Pike Place Market apartment, Lynli writes on-location while conducting hands-on research in each destination she covers. Lynli's writing has been featured by MSN, ABC Money, Buzzfeed, and Huffington Post. She is passionate about sharing information that makes travel more accessible for all bodies.