Perito Moreno Glacier includes one of the most expensive admission fees for parks in Argentina- but I didn't mind paying this fee when I discovered the grandeur of this glacier and the investment the park has made in making this glacier accessible to all bodies.
In this article, you'll learn:
Keep reading to learn 3 tips for visiting this glacier and why I think glacier viewing should be on every traveler's 2022 itinerary.
Perito Moreno Glacier in Los Glaciares National Park features a system of very stable walkways and staircases that allow you to view the glacier and surrounding mountains from many levels. Along the way, you'll find park benches perfect for watching the glacier calf, practicing mindfulness, or travel journaling.
3 Best Tips for Visiting Perito Moreno
1. Plan an afternoon visit
The best time to visit Perito Moreno is in the mid to late afternoon (ideally, during the summer months). If you're like most travelers, when you are planning a big destination like Perito Moreno, you will wake up early and get there first thing in the morning to have the full day to explore. While that's not a bad idea when visiting Perito, make sure that you don't book outbound transit before mid-afternoon.
Here's a secret: Calving (when a big block of ice break off from the glacier) is the most exciting part of seeing a glacier. Perito Moreno calves large icebergs constantly – but almost exclusively in the afternoon. As the sun comes up and the day warms, more calving occurs. If you get there first thing in the morning and leave by early afternoon, you'll miss the most dramatic part of visiting this glacier!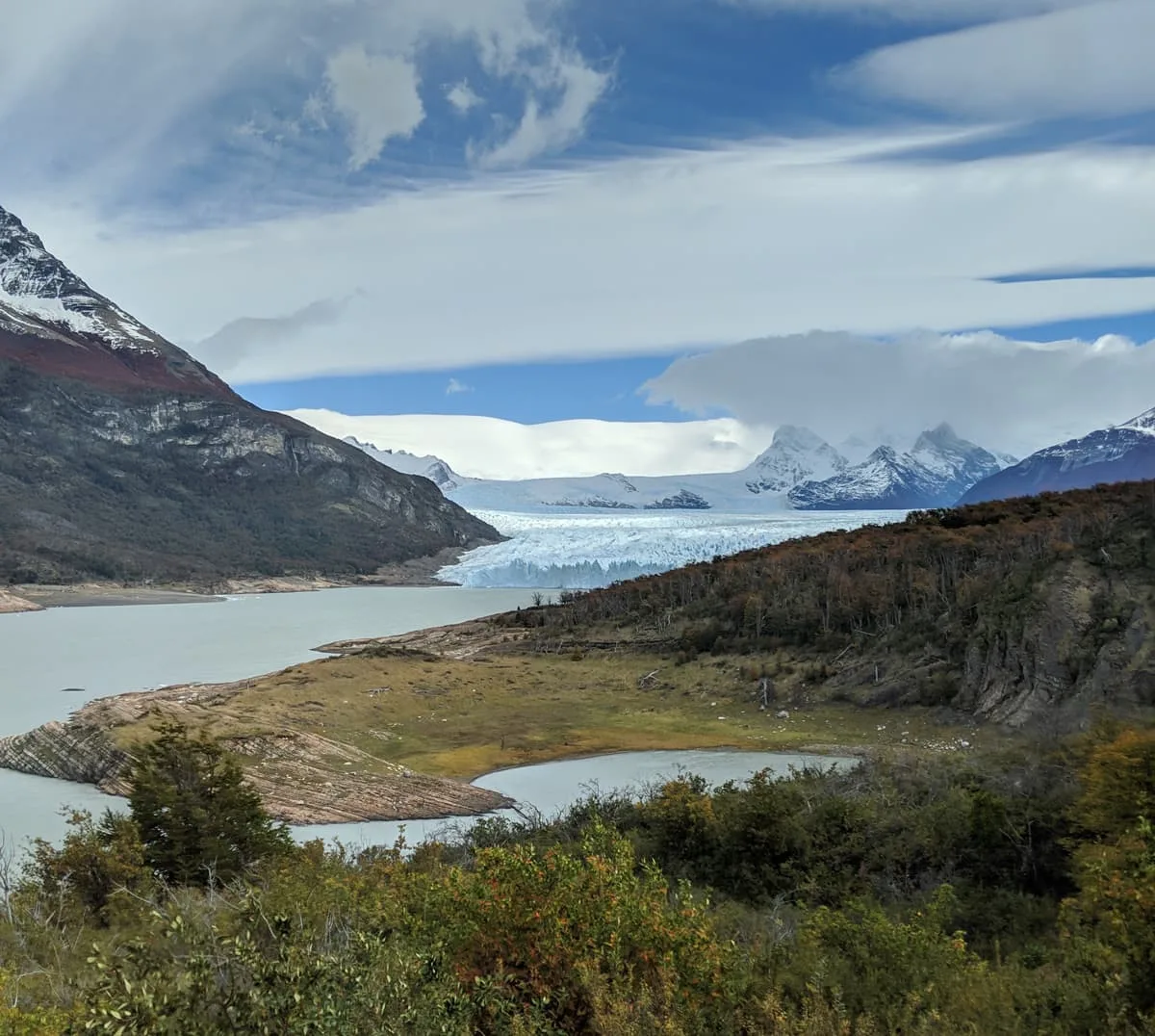 2. Pack a lunch or purchase one on Entry
Perito Moreno features a large, modern restaurant, cantina, and restroom facility at the entrance to the viewing platforms. There's plenty of seating at the restaurant, there's just one problem: the large glass windows in the restaurant don't offer even a sliver of a view of the majestic glaciers nearby. Instead, as long as the weather is somewhat moderate and agreeable to outdoor eating, grab your lunch to-go from the café and began descending the steps and platforms to the dramatic views below. Platforms on various levels offer bench-style seating, and sitting (with eyes on the glacier) is actually a far better way to see icebergs calve than trying to walk, traverse stairs, other people on the stairs, and watch for icebergs calving at the same time.
TIP: The platforms will be windy. Very windy. Any loosely held trash from your lunch or snacks can easily be blown into the wilderness so hold on tight and use good, zippered pockets to manage your trash (interestingly, when I visited, staff handed out white shopping bags on entry. Presumably because the white trash bags would be less of an eyesore if lost in the icy landscape below)
3. Try to find a bus pickup on the lower level
Visiting Perito Moreno means traversing staircase after staircase after staircase until you reach the water level below. While the stairs are safe and well developed, with many platforms and benches to rest on the way up, you may wish to arrange for transportation that will drop you off at the upper level and pick you up at the lower level. At the lower level, boat rides are also available, which afford an even closer view of Perito Moreno.
Follow my Patagonia Travel Board on Pinterest for More Ideas
How to visit Perito Moreno glacier from El Calafate
You can plan and pre-book expensive guided tours to Perito, but this is one destination where you can easily do a self-tour. The park is easy to navigate and modern, and shuttles from Perito Moreno to and from El Calafate are coming and going constantly.
If you don't have a car, the best way to get to Perito Moreno from El Calafate, if you don't have a car, is by catching a shuttle from the bus station in El Calafate. Without trains, buses are the most common way that tourists navigate the area.
In the bus station, you can purchase a same-day or next-day ticket to take an inexpensive shuttle to the entrance of the Perito Moreno viewing platforms.
How big is Perito Moreno?
The Perito Moreno Glacier is one of the most incredible things I have seen on my travels. Located in the Southern Patagonian Ice Field of Argentina, this glacier truly awed me. At a height of over 250 meters, the Perito Moreno Glacier is one of the largest glaciers in the world.
If you're like me, a typical American, "250 meters" is a pretty meaningless phrase. It's impossible to imagine! So here's another way to consider the size of this glacier: Perito Moreno is roughly the size of a 75-story skyscraper! And as you can see from the photos, the height isn't even the most impressive imension to this glacier.
And its size is not the only thing that makes it so special. The Perito Moreno Glacier is also one of the few glaciers that is still growing. Every year, the glacier advances by an average of 2 meters. This is due to the continuous snowfall in the area.
Being a Traveler in a Large Body in Patagonia
Wanderbig.com is fat positive travel blog rooted in HAES (Check out the research on HAES or my article on the topic here)
I felt the absence of larger bodies in Patagonia. Though fitness-focused Seattle sometimes feels inhospitable to fat bodies, never have I experienced that sense of otherness quite as much as visiting Patagonia. In Patagonia, I saw, in the space of 3 weeks, only two other larger-bodied tourists. This, itself, is cause for lament- as I ache for people of all body sizes to feel the freedom and opportunity to experience travel.
Read more about the movement to make travel more accessible for all bodies here.
Perito Moreno Glacier features a system of very stable walkways and staircases. And unlike many bridges and stairs that I've encountered during travel (I'm looking at you Plitvice National Park!), these walkways are stable- without a wobble. They are wide enough for 4-5 people to walk abreast. Or, alternately, to allow space for faster walkers to pass slower walkers.)
Is the Perito Moreno glacier worth visiting?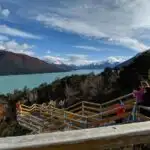 Definitely. Especially if you are already visiting Patagonia, the Perito Moreno glacier is well worth a visit- even if it's hard to get to. I also wondered, during my month in Patagonia, if this destination was worth the six-hour bus ride from Puerto Natales, but when I finally arrived I got my first glimpse of the enormous glacier, I got it. I had the opportunity to spend the entire day watching icebergs actively calve off and plunge into the waters below. I was so glad I decided that Perito Moreno was worth it and added it to my itinerary.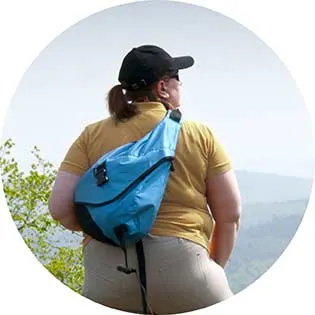 Lynli Roman's unique approach to travel is informed by decades of experience on the road with a traveling family and, later, years spent as a solo international traveler. When she's not writing about Seattle from her Pike Place Market apartment, Lynli writes on-location while conducting hands-on research in each destination she covers. Lynli's writing has been featured by MSN, ABC Money, Buzzfeed, and Huffington Post. She is passionate about sharing information that makes travel more accessible for all bodies.