When traveling in Peru, Chifa is one of the foods most travelers don't try but most western travelers would enjoy. Here's my ode to Peru's Chifa cuisine, and why I loved it.
First, what is Chifa
Chifa often gets incorrectly categorized by Americans as "Chinese food" or, still wrong but closer to accurate, as "American Chinese" food – the dishes and preparations are very similar to what you might find at popular Chinese food restaurants in America. However, Peru's Chifa cuisine is not American Chinese food and there are differences that are important both culturally and in a culinary sense.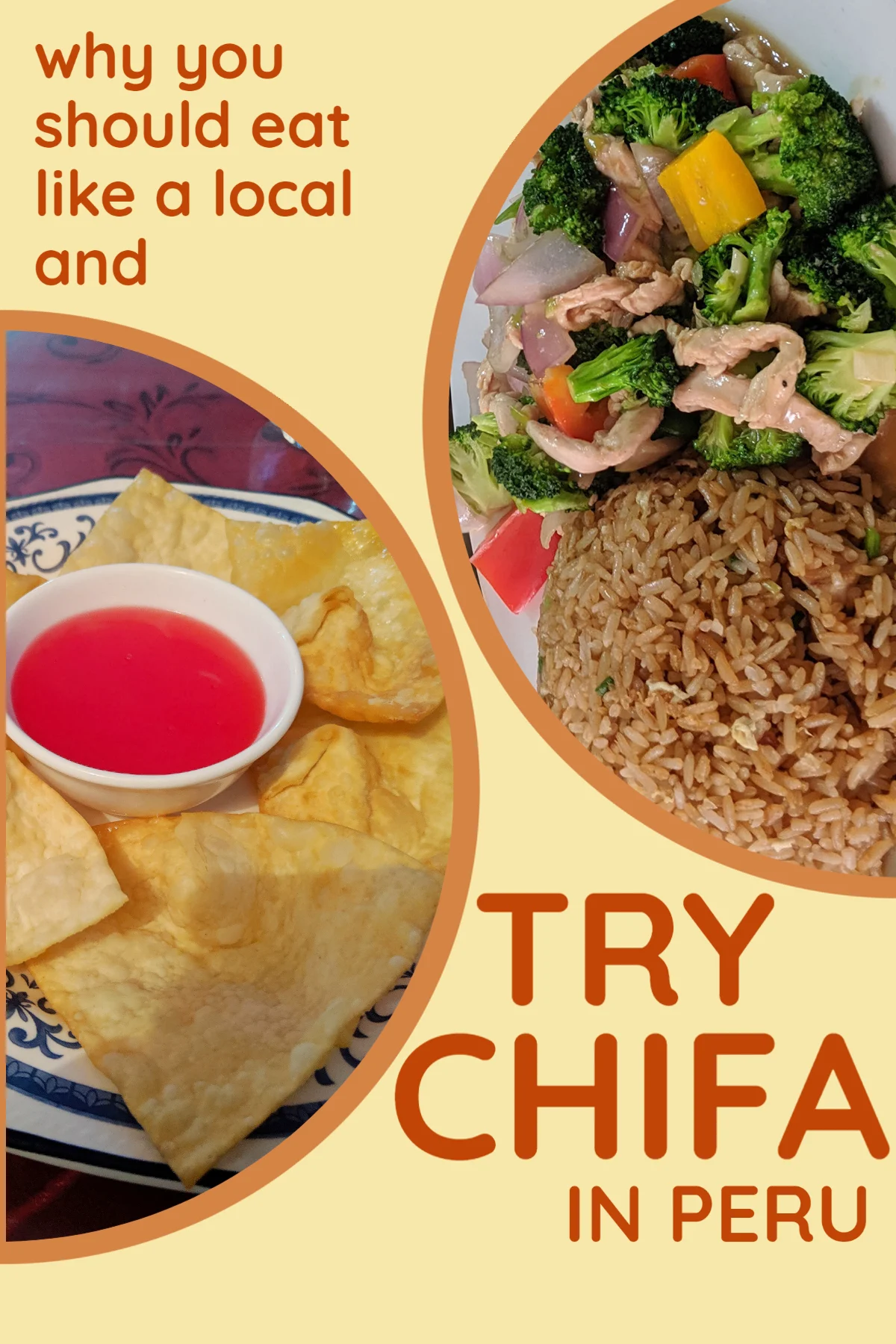 Where does Chifa come from? Similar to American Chinese food, chifa was developed by entrepreneurial Chinese immigrants attempting to appeal to the palates of diners in Peru. On nearly a parallel track to the development of Chinese American food in America, Chifa developed independently as a cheap and satisfying meal for blue-collar workers. Over time, just like American Chinese food, Chifa became a beloved part of Peruvian cuisine.
Today, Peruvians of all social classes enjoy Chifa foods in both restaurants and through home preparation. Traditionally, it was enjoyed by families on Sundays, and this tradition has continued to the present day – if you try chifa food as a tourist in Peru on a Sunday, you might find it impossible to even get a table in the crowded Sunday afternoon restaurants! Instead, try to go on a weekday when restaurants aren't as crowded and you can take your time with the menu.
Chifa is an Authentic Peruvian Cusine
Chifa is a fun cuisine to try while you are traveling in Peru because it's a cuisine nearly untouched by tourists. You won't find Chifa restaurants on the main drag of a tourist area of Peru, and many people who travel for weeks in Peru will likely never even hear about this unique cuisine. Eating Chifa, then, is a particularly authentic travel experience – expect menus to need translation (I use my camera with Google translate in live mode for easy menu translation).
Chifa is Affordable for Budget Travelers
Because this food has not been popularized among tourists, and the restaurants are located generally a block or two outside of tourist areas, Chifa is a cheap meal for travelers in Peru. For hostel backpackers and students traveling on a budget in Peru, it would be difficult to find anything cheaper to eat – and more satisfying – than Peru's Chifa cuisine. Huge, hearty portions can be had for just a few US dollars.
Chifa was widely available in Ollaytaytambo, the village one stop up from Aguas Calientes and Machu Pichu and my favorite stop of my time in Peru (read more about why I think you should stay in Ollaytaytambo not Aguas Calientes on the way to Machu Pichu here).
Chifa is Picky Eater Friendly
Cheap meals for travelers in Peru aren't necessarily hard to find, thanks to the exchange rate that favors American dollars, but one challenge for many travelers trying to stay on a budget in Peru is finding food that feel safe for picky eaters. Some people, due to sensory issues or just high-sensitivity, struggle with what would be called picky eating (but I generally regard it as just comfort with foods that are predictable and safe).
Chifa is a great option for you if you identify as a picky eater. Why? Because the flavors – that are so similar to American Chinese food – will be safe and familiar. If even American Chinese food feels a little too exotic for your palate, Chifa restaurants still may be a great option for eating as a picky eater in Peru because you can easily order steamed vegetables or protein with no sauce or seasoning. This simple preparation can be a cheap way to get food to please even the pickiest eater in your Peru travel group.
Chifa Reminds Me of Home
Trying new restaurants when I travel is one of my favorite things to do. When I traveled in Peru, I was on my third month of a three-month trip in South America. Surprisingly, the food I missed most from back home was actually Seattle's Asian food scene. In Chile, this food had been impossible to find but in Peru, thanks to 19th-century immigration patterns, Asian food was more accessible.
From intentional Peruvian/Asian fusion restaurants to these hole-in-the-wall Chifa restaurants, Peru scratched my itch for really good umami flavored savory foods, and I ate at Chifa restaurants at least once a week during the remainder of my stay.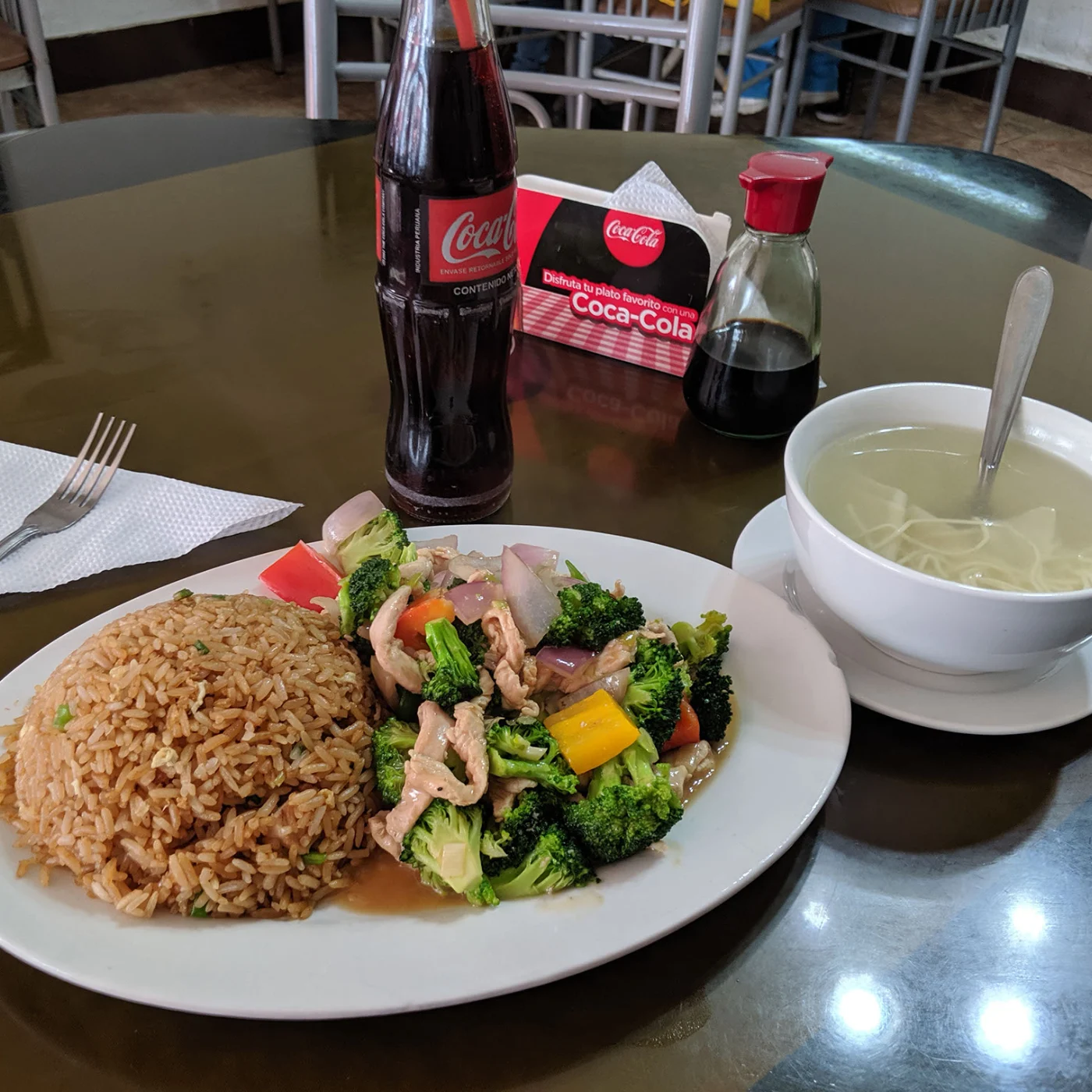 What to order at a Chifa restaurant
If you aren't sure what to order at a Chifa restaurant, go with a small basic dish and a small portion of something more experimental. Since chifa is a very affordable meal in Peru for tourists, you may want to order more than one item to experience more of this unique cuisine and find your favorite dishes.
Trying News Foods while Traveling
Trying new foods when we travel is one of the ways that we can really experience a culture. Although tourist-centered restaurants offer a small taste of local cuisine, getting off the beaten track and trying restaurants that aren't geared toward tourists – sometimes even restaurants that don't have any reviews by tourists is a great way to really experience the cuisine of a country.
When I was in Peru, none of the Chifa restaurants had reviews on the standard restaurant review sites used by Americans, so I had to get out of my comfort zone and take a chance. I found that one of the best ways to choose a good restaurant was simply to watch people in the area. A great restaurant should be crowded at lunch because it's known locally for quality and tasty food. If you find a restaurant that's crowded with locals – there's a good chance that eating there as a tourist will be a phenomenal experience.
Read more about Chifa and the way this cuisine is intermingled with social change and identity through this piece in The University of Michigan Undergraduate Journal of Anthropology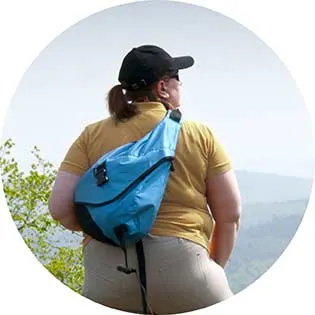 Lynli Roman's unique approach to travel is informed by decades of experience on the road with a traveling family and, later, years spent as a solo international traveler. When she's not writing about Seattle from her Pike Place Market apartment, Lynli writes on-location while conducting hands-on research in each destination she covers. Lynli's writing has been featured by MSN, ABC Money, Buzzfeed, and Huffington Post. She is passionate about sharing information that makes travel more accessible for all bodies.