As I researched for my trip to Chile, I kept finding myself drawn back to the island of Chiloe. Shrouded in both literal fog and the mythology of superstition, this archipelago is home to 16 UNESCO sites: all churches, remarkable for their construction by master shipbuilders using native woods and unique construction. A day trip – which takes a full 10 hour day and visits a handful of major churches- is probably enough for most tourists, but I felt this island beckoning me to explore a little deeper. Keep reading to learn about my solo exploration of Chiloe Island in the northern Patagonian Chilean region of the Las Lagos district.
Finding resources to build my own itinerary for three days on Chiloe were hard to come by, so I thought I would post my itinerary below, along with a guide to navigating the ferry to Chiloe, in another post.
Getting around Chiloe
Chiloe was my very first time renting a car outside the US. I hesitated for a few days in Puerto Montt (a city that I don't recommend lingering in for multiple days) before deciding to go ahead and rent a car- and I'm so glad I did! If you are considering renting a car for Chiloe- you will definitely want to upgrade to a 4×4 all-wheel drive. Although the highways were some of the best I've seen in South America, many of the mapped roads leading to the churches of Chiloe aren't much more than steep dirt paths with ruts and washed out portions. Literally, no less than a dozen times as I was exploring the island I thought to myself "I'm SO glad I got the all wheel drive!"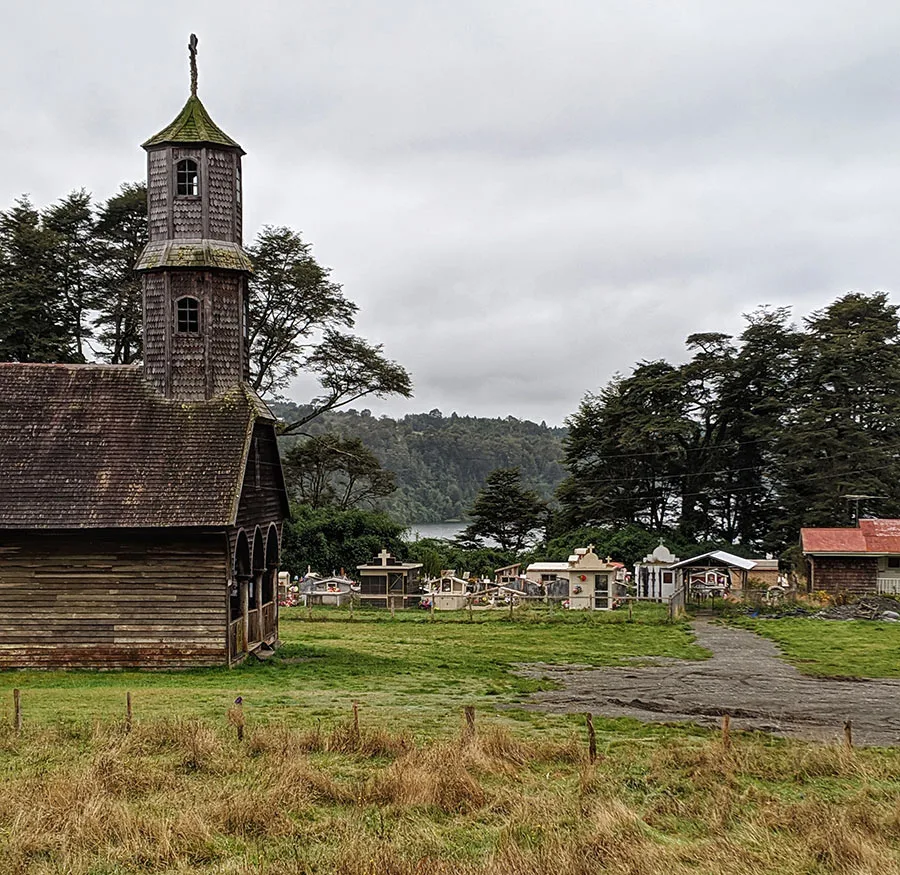 TIP: If, like me, you're far more comfortable driving on open highway than in crowded city centers, you can use other forms on transportation. I decided I would not force myself into a super anxiety-provoking him situation but trying to drive and park in downtown Chiloe, and instead used the ample parking by the Palafitos and Ubered into the city center to see San Francisco church. From that church walk to the craft market (my favorite in South America so far and home to some very skilled artists), then Uber back to your car or your lodging. An Uber each way was about $1.75 each way and felt like money well spent.
3 Day Chiloe Island + Petrohue Falls Itinerary
Day 1
Ferry to Chiloe
Church of San Francisco, Castro
Feria Artesanal y Mercado Campesino Lillo
Mirador Gamboa
STAY AT: PALAFITS hospedaje
La Cevichería Espacio Palafito
WHERE TO STAY
Chiloe's main city- Castro- is iconic for its Palafitos- houses on stilts perched above the water. Although I'm familiar with homes, hotels, and businesses on piers in Seattle, it was interesting that the "stilt houses" in Castro were unfinished logs- and when the tide recedes, the houses soar above marshy waters.
Many of the Palafitos are converted into guesthouses that range from hostels to boutique hotels, and are worth booking for the experience of sleeping in one of these unique homes.
I stayed in the "PALAFITS hospedaje" which had great design, a good breakfast included, and a stunning waterfront view.
Download my Printable Blank Travel Itinerary
Begin planning your trip today with this printable travel planning PDF designed for visual planners:
[purchase_link id="19867″ text="Purchase" style="button" color=""]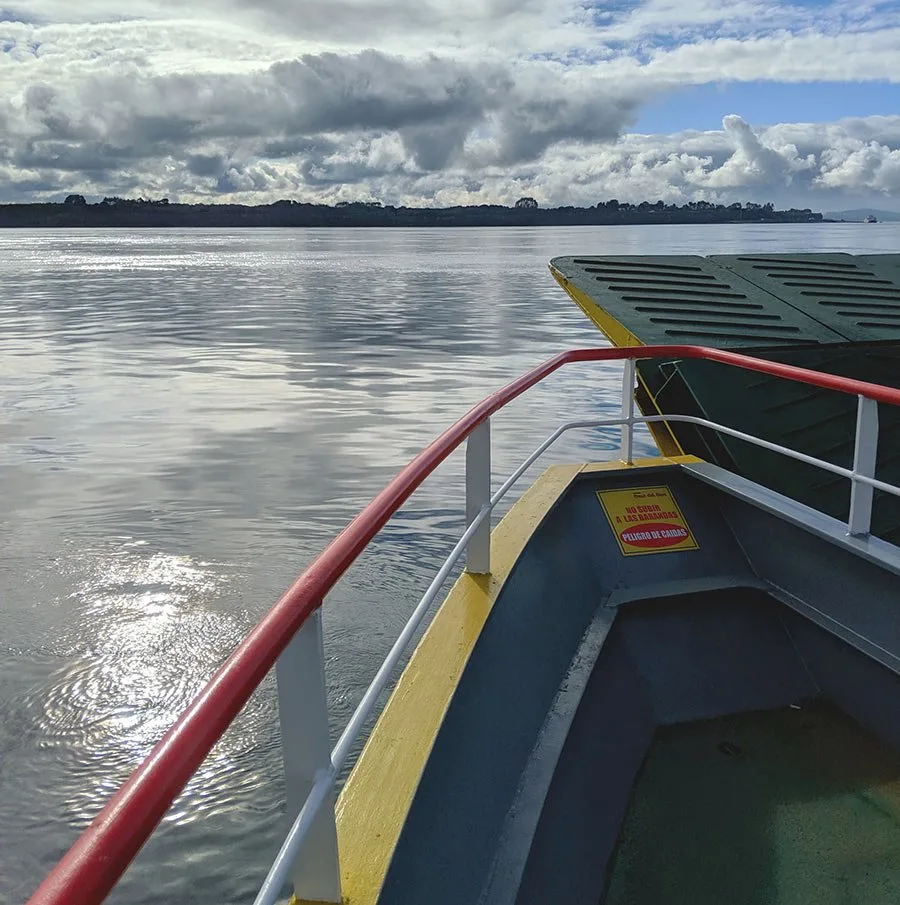 Day 2
PALAFITS hospedaje
Church of Nercón
Church of Chonchi
Iglesia San Antonio de Padua de Vilupulli
Mirador Sector Nalhuitad
Iglesia de Dalcahue
Iglesia San Juan Bautista
Iglesia de Tocoihue
Iglesia de Tenaún
Iglesia de Quicaví
STAY AT: Eco Cabañas KimPiyan Chiloé (in Ancud)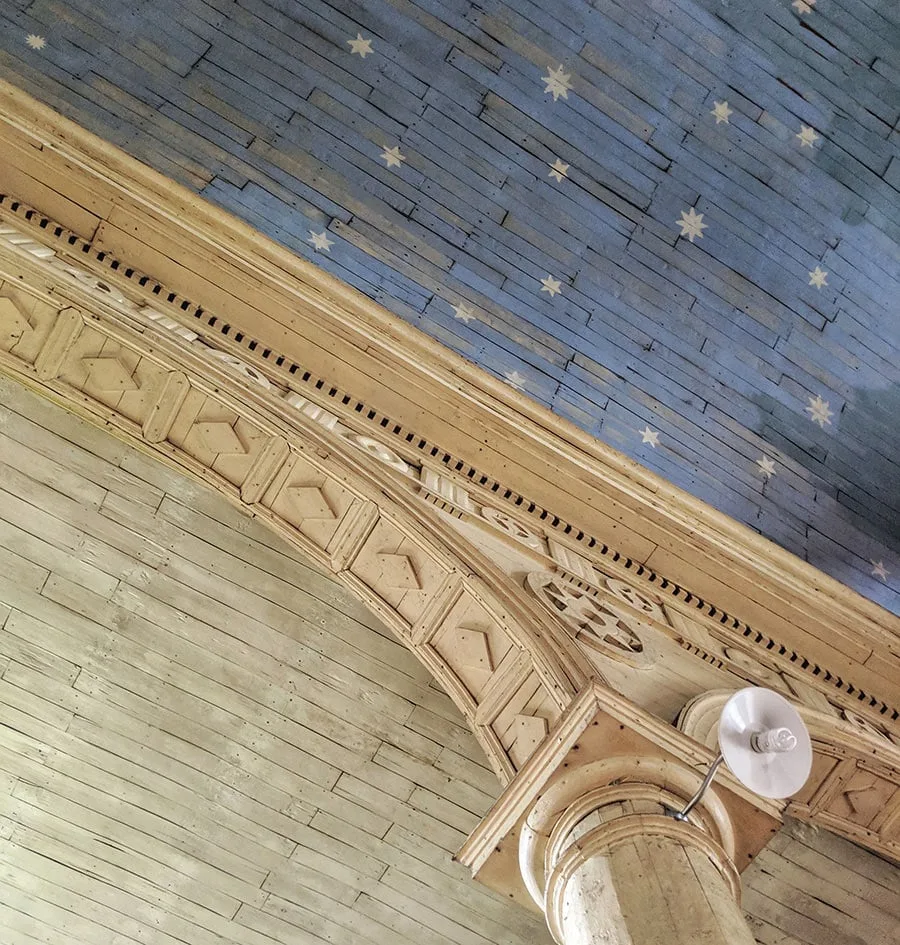 WHERE TO STAY
My second night in Chiloe I decided to stay in Ancud so that early the next morning I could head off the island and on to Petrohue Falls. When I arrived at my AirBnB, however, there were multiple red flags about the home and my host.
For more Patagonia travel ideas:
As a solo female traveler, I trust my gut.
Generally, I don't let something get to the point of three-strikes, and often take off after the second red flag.
In Ancud, my Airbnb host tried to get me to go to an address other than the one listed on Airbnb, wouldn't communicate through the Airbnb messages (the ONLY way Airbnb customer service can help you if something does go wrong with your booking), and when I got to the neighborhood I realized the location was not a neighborhood I felt safe.
I jetted, and from a roadside pullout 5 minutes outside Ancud, I booked a cabana at Eco Cabañas KimPiyan Chiloé. I loved my little cabana and enjoyed waking up the next morning to a view of the valley below was a kind reminder that I can be trusted to care for myself (a big accomplishment for me, as someone who has had a very unkind inner voice for much of my life).
Day 3
Eco Cabañas KimPiyan Chiloé
Ferry service
Petrohué Waterfalls
Laguna Verde
I stayed at: Cabanas Anulen Bosque Nativo
WHERE TO STAY ON CHILOE
My third night was spent off Chiloe Island- relaxing after a long drive day and preparing to return the rental car the following morning. I stayed this night at Cabanas Anulen Bosque Nativo, which are eco cabins in La Ensenada, but very steep steps between the washroom and the lofted bedroom, a non-functioning refrigerator, and no electrical plugins incline me to not recommend this site to other travelers.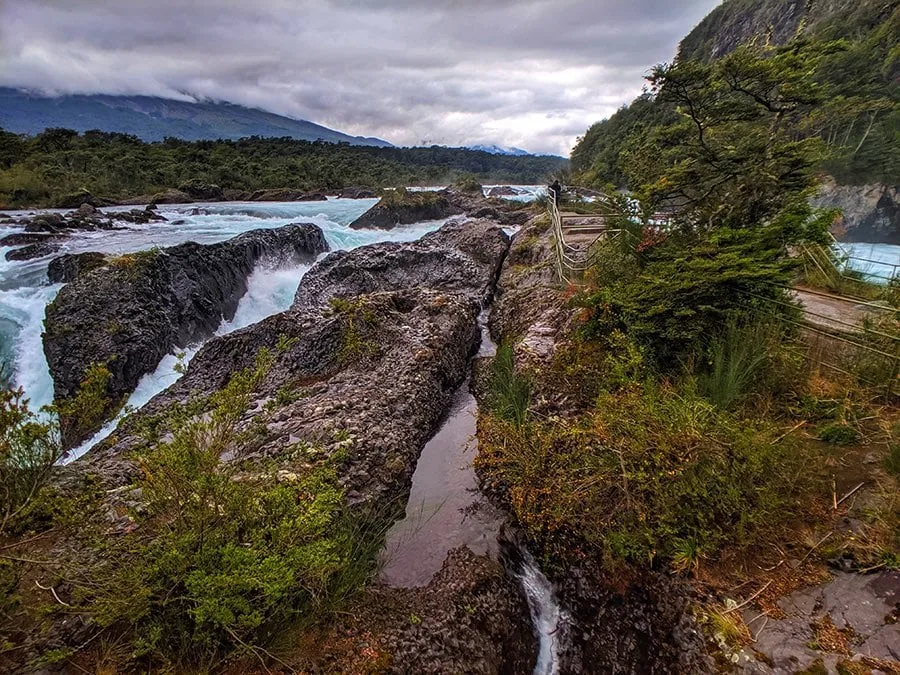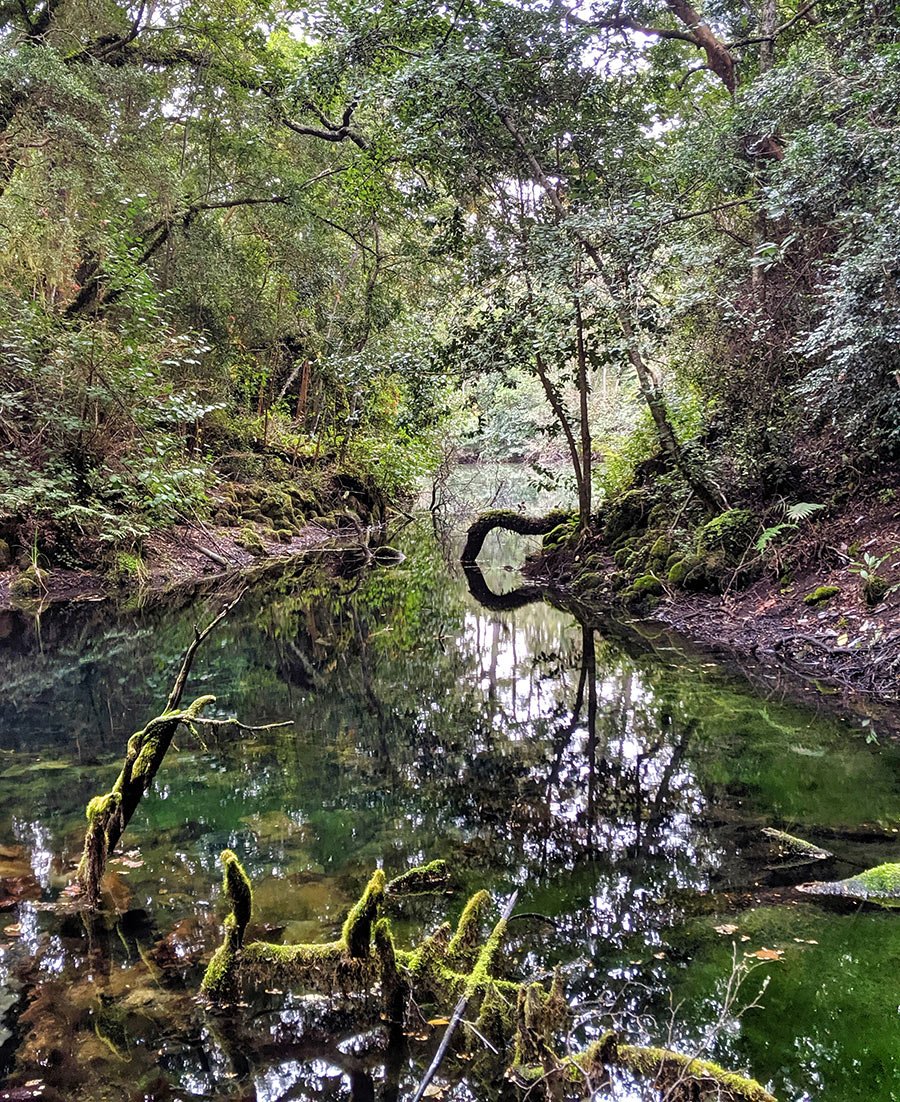 A NOTE ON CHILOE AIR QUALITY: CITY HOTELS VS RURAL CABANAS
I wish someone had warned me about air quality on Chiloe.
Like much of Patagonia, the primary method of heating homes is wood burning. If you are visiting in the Patagonian winter, be aware that the often foggy atmosphere of Chiloe combined with all that smoke creates very smoky air in the inner neighborhoods of all the cities. I have well-controlled asthma but had to start taking additional medication during my time on Chiloe for this reason.

If you have respiratory issues, plan to stay in "cabanas" in the countryside where the air is much clearer.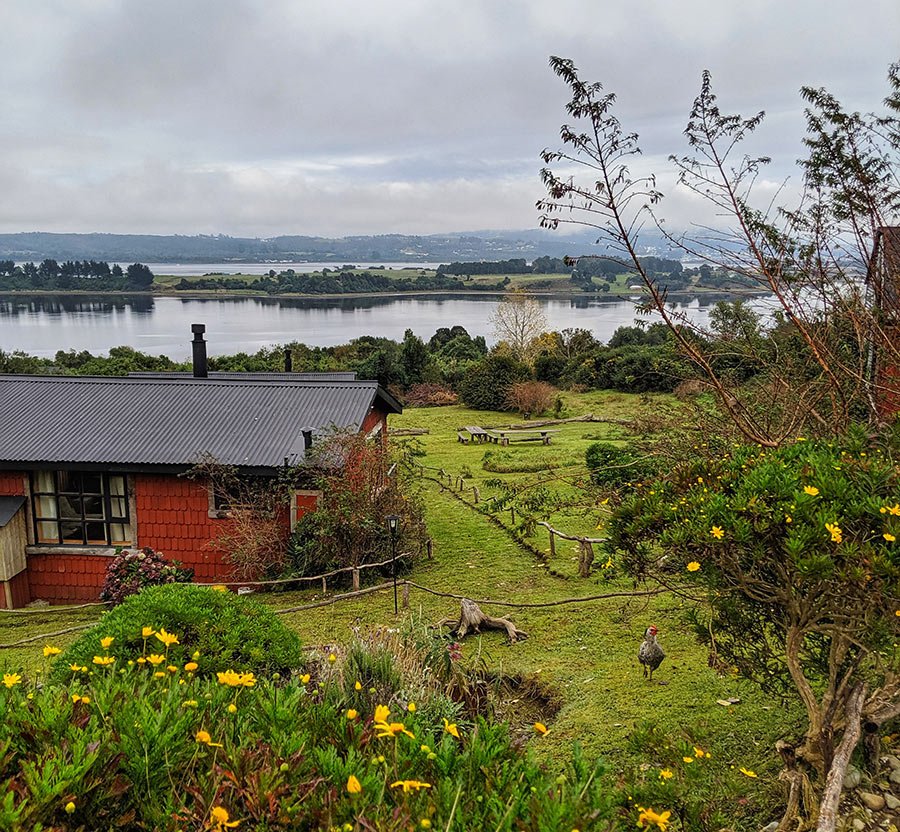 CHILOE IN A LESS-ABLED BODY

While less wild than Patagonia-proper, Chiloe has few sidewalks and many of the roads are little more than tracks. If you've rented a car, getting around should be easier. Most of the churches on Chiloe have incredibly close parking (I've never parked as close to a UNESCO site as I was able to with the churches on Chiloe!)

Lodging and Stairs in Chiloe.
You should know that it's more or less standard to have bedrooms in short-term rentals lofted over a first-floor bathroom. In many cabanas and "hospadajes", bedrooms are separated from bathroom and living areas by a steep set of stairs.
This is generally not mentioned in the online listings for the properties and for this reason, finding accommodating lodging in Chiloe might be a challenge, and probably wouldn't land Chiloe on my list of best destinations for travelers with limited mobility.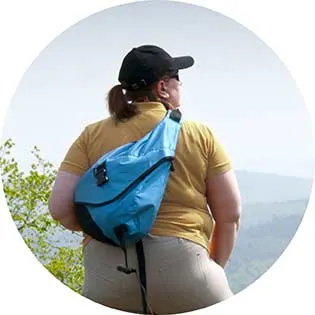 Lynli Roman's unique approach to travel is informed by decades of experience on the road with a traveling family and, later, years spent as a solo international traveler. When she's not writing about Seattle from her Pike Place Market apartment, Lynli writes on-location while conducting hands-on research in each destination she covers. Lynli's writing has been featured by MSN, ABC Money, Buzzfeed, and Huffington Post. She is passionate about sharing information that makes travel more accessible for all bodies.