I believe one of the very best ways to become acquainted with the culture and take home something of artistic – but affordable – value is by visiting local markets and shopping with the individual vendors that come together to create the magic of an open air market. There's something almost magical about how vendors arriving one by one in the predawn hours can transform what was a normal street one day into a bustling market by the next morning.
After growing up going to the Kansas City flea market, and four years of living above the Pike Place market in Seattle Washington, I decided to center art fairs, flea markets, and culturally significant shopping markets in my South American and European travels in 2019. Below I put together a list of some of my favorite flea markets to visit as a solo traveler, plus some extra suggestions collected from feedback from other travelers. Got a market you'd love to see added to the list? Drop me a line in the comments below!
A Very Incomplete List of Tourist-Friendly International Flea Markets:
Buenos Aires, Argentina – San Telmo's market in Buenos Aires, Argentina. One traveler commented, "The books alone are worth the trip." San Telmo's market is not only known for its impressive book selection, but it's also famous for tango! Visitors can witness passionate tango dancers showcasing their skills amidst the market's lively atmosphere.
Brussels, Belgium – in a city known for its antique shops, be on the lookout for quality used goods in shops in most neighborhoods. Brussels is renowned for its delicious culinary scene – the city is a haven for food lovers.
Tongeren, Belgium – The Tongeren flea market is an absolutely gigantic flea market held regularly. More information. Just four hours by car from Paris this market is worth an add-on to a Parisian trip. With a history dating back to the 14th century, this market offers a unique blend of ancient artifacts and vintage treasures.
Toronto, Canada – Toronto's Kensington Market features an entire street filled with thrift stores. If you get to spend 3 days in Toronto, this market is a must-see for vintage hunters. Kensington Market boasts a rich multicultural heritage and the market has a vibrant and inclusive atmosphere. In addition to global goods, you'll find numerous international cuisines represented in the restaraunts tucked among the market.
Arica, Chile – I added this stop to my South America trip because I heard the Sunday market of used/vintage/antique stuff was great, and I was pleasantly surprised that other used markets would pop up and disappear randomly in different stops during my week there. Got one of my favorite travel trinkets there- a vintage handwoven rug for USD $2.
Santiago, Chile – Persa Bio Bio, in Santiago. One traveler says: "Save a day, it is a huge maze of tiny stalls in warehouses and includes stuff piled up to the ceiling. Lots of junk, but you eventually find something interesting."
Mexico City, Mexico – Mexico City's Ciutadella Market offers a diverse range of second-hand items, including clothing, accessories, and other vintage treasures. Exploring the market's stalls and vendors, you'll find unique pre-loved pieces and vintage goods. With a good assortment of retro fashion, antique collectibles, and one-of-a-kind vintage items, the Ciutadella market is a must-see in CDMX.
Kansas City, United States – the Kansas City flea market, technically known as "Nate's Swap Shop 63rd Street Drive-In" is an outdoor market that runs year-round, every Saturday and Sunday. This is actually the market that inspired this author's appreciation for international flea markets- I grew up in a small town not too far away and my family would regularly make pilgrimages here.
London, England – also in London, travelers recommend the Brick Lane market.
London, England – London also has Kempton Racecourse, which is one of the larger antique markets in England.
London, England – The infamous Portobello Road Market in London is a must do for vintage shoppers in London. Additionally, there are many little shops and tents selling pretty much anything you can think of: Antique, vintage and new.
Paris, France – Sunday – Les Puces flea market on Sundays is a great stop for a perfect antique Parisian souvenir. Also, Paris has many nice second- hand bookstores if you're not able to visit the Sunday market.
Tbilisi, Georgia – The Dry Bridge Market in Tbilisi is a great spot for secondhand treasures.
Berlin, Germany – Berlin has two flea markets of note the better known Mauerpark and the Arkonaplatz market, the latter of which is described as being a more authentic fleamarket, and the former targeted more towards tourists seeking souvenirs.
Budapest, Hungary – a couple of the ruin bars host flea markets on Sunday mornings. (I'm not a drinker so this was a really fun way to see the ruin bars- one of them was hosting a houseplant sale!
Mumbai, India – in addition to many used book stands in the market, visitors recommend the famous chor bazaar for travelers seeking antique and vintage treasures.
Jakarta, Indonesia – Jalan Surabaya in Jakarta is a great place to look for all old-style handicrafts and records
Solo, Indonesia – Pasar Triwindu in Solo, Indonesia is pretty neat if you're looking for vintage things that are Indonesian specific.
Tehran, Iran – Friday. Tehran, Iran has a big Friday market.
Galway, Ireland – Galway, Ireland, and surrounding counties are filled with charming antique shops. Be on the lookout for an amazing used bookstore called Charlie Byrnes
Rome, Italy – Porta Portese market is a fleamarket held in Rome each Sunday.
Tokyo, Japan – The Shimokitozawa neighborhood is especially known for secondhand shops open daily throughout the week.
Tokyo, Japan – Tokyo, Japan has lots of flea markets occurring on a regular basis. The Oedo market, is Japan's largest outdoor market and is held every first and third Sunday of the month. This market includes many vendors and, lots of traditional Japanese trinkets and art.
Vilnius, Lithuania – Vilnius in Lithuania is known to have great thrift and vintage stores, especially for clothes from the Cold War era like chunky jackets and drab military style clothing.
Amsterdam, Netherlands – IJ- Hallen is the largest flea market in Europe. Watch the calendar or the website though, this fleamarket only occurs 1 weekend every 2 weeks.
Arequipa, Peru – The streets around the famous monastery are loaded with antique shops (and a lot of cheap junk, but there's definitely legitimate antiques and authentic vintage stuff). Check out my article on Peruvian Frazada Blankets to learn why you should definitely keep your eyes peeled for this unique souvenir in Arequipa.
Cusco, Peru – Cusco, Peru's San Pedro Market is a popular stop in Peru. Containing seemingly everything under the sun from fresh produce two antiques this is a popular stop with tourists and locals alike.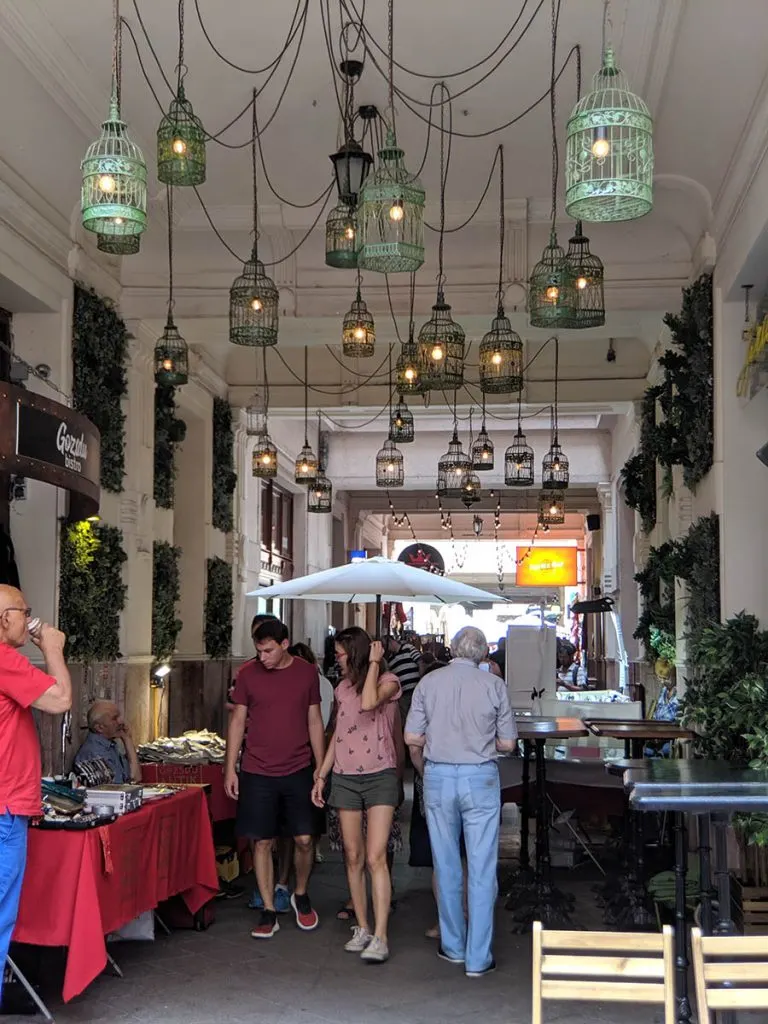 Lisbon, Portugal – Feira da Ladra, is promised to be a truly unique flea market with all kinds of interesting offerings.
Bucharest, Romania – Vitan Market (Targul Vitan) pops up in an enormous auto lot each and every Sunday morning. Vendors bring new, used, and an abundance of vintage items. During my visit, I bought old ornate skeleton keys as gift souvenirs for friends and family back home from my vacation in Transylvania. At 50¢ each, they were an inexpensive hit!
Madrid, Spain – Sunday – Madrid Spain El Rastro It's every Sunday
Barcelona, Spain – Monday Wednesday Friday Saturday – Encants Market in Barcelona. (Look for the Futuristic location with a funky mirrored ceiling). This market offers a huge variety of products and a wide variance in prices. Open Mon, Wed, Fri and Saturdays. +41.400853, +2.186262. Nearby, you'll find Vic Braseria, a cozy restaurant serving traditional Spanish croquettes, unquestionably one of my favorite things to eat in Barcelona
Zürich, Switzerland – Flea Market Bürkliplatz, is reported to be well worth the stop for particularly unique vintage items from World War II
Bangkok, Thailand – Chatuchak market in Bangkok, Thailand is a massive market selling everything under the sun. A special section is dedicated to vintage clothes- with other travelers promising deals to be had there.
Istanbul, Turkey – Grand Bazaar in Istanbul is an obvious choice in Istanbul but don't miss the bazaar in Osh, Kyrgyzstan.
New York, United States – Just an hour away from Downtown NYC are the dual villages of Lambertville, NJ and New Hope, PA, both include a healthy assortment of antique shops.
Montevideo, Uruguay – Sunday– Montevideo's massive Sunday market spans up to six blocks. This, the Tristán Narvaja street market is a traditional street market that takes place every Sunday in Montevideo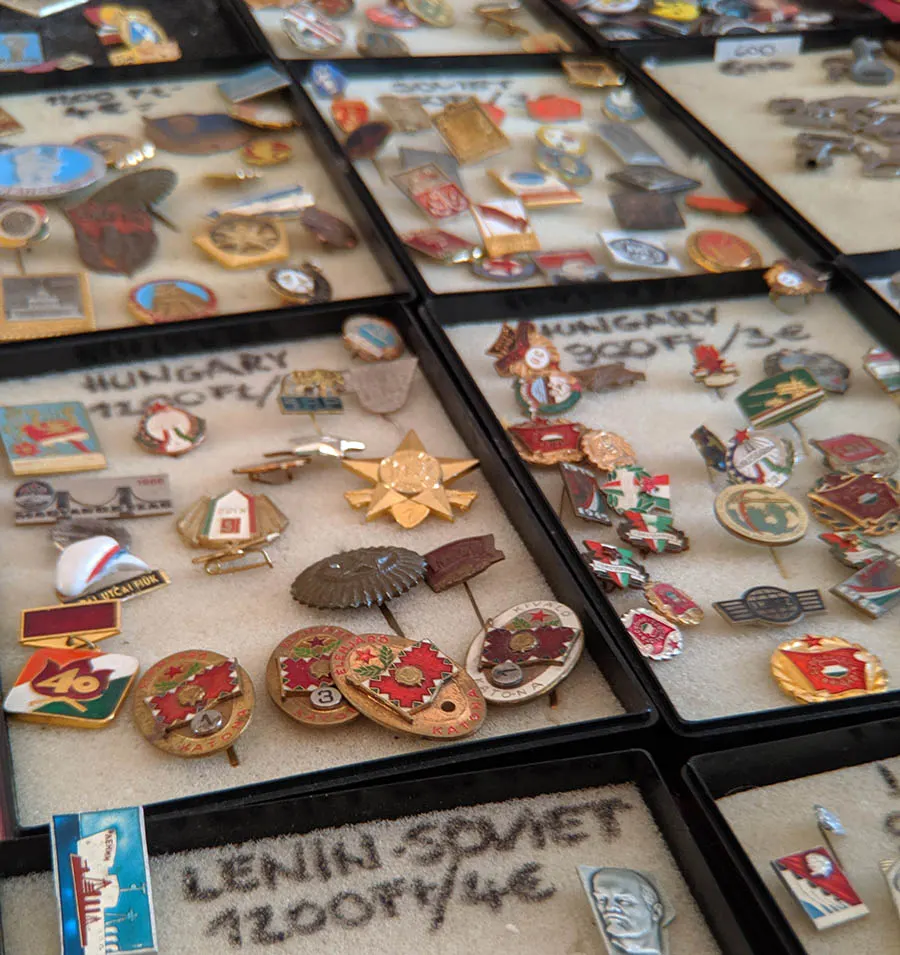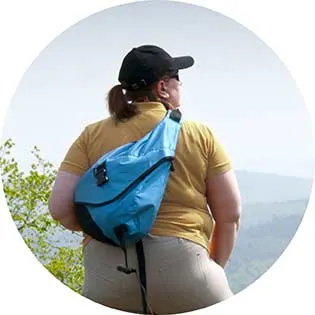 Lynli Roman's unique approach to travel is informed by decades of experience on the road with a traveling family and, later, years spent as a solo international traveler. When she's not writing about Seattle from her Pike Place Market apartment, Lynli writes on-location while conducting hands-on research in each destination she covers. Lynli's writing has been featured by MSN, ABC Money, Buzzfeed, and Huffington Post. She is passionate about sharing information that makes travel more accessible for all bodies.