Traveling as a digital nomad has many challenges. One of the challenges we don't talk about too often is the difficulty of balancing work and play: a recipe for burnout
In this article, I share some of the techniques that have worked for me as I explore the world as a solo traveler and full-time blogger. You'll learn about:
Finding the middle ground between work and sightseeing can be challenging for many working travelers. Often, this fear of missing out can result in low-quality work or disappointed clients. On the other hand, if we overinvest in work, it's a recipe for digital nomad burnout!
Too much work, and we may waste valuable time to see, explore, and learn about the world and the location we are visiting.
Personally, I tend a bit toward the latter. It's easy for me to zero in and work relentlessly – even if a pristine beach, national park, or UNESCO site is just outside my door.
💡 As a digital nomad, I've learned strategies to balance and boundary my work on the road. The strategies explained below help me to deliver quality work while making sure that I make the most out of my time in a location.
Schedule Your Time
As a career digital nomad, my number one tip for preventing burnout is scheduling.
Without a schedule, I find myself feeling guilty on days spent as a full-time tourist and filled with FOMO on days in front of a keyboard. A schedule allows me to relax into my day – whatever type of day I'm having – knowing that my time is planned. A balanced schedule helps prevent burnout by balancing my need for adventure with the requirements of my job.
💡 Insider tip: Using a simple scheduling app or even Google Calendar can help provide something called "containment." Knowing that I have a schedule that I will follow helps contain my stress about working too much, working too little, or wondering if I am missing out on adventures.
Pro tip: Be faithful to your schedule. It's okay to call an audible and make last-minute changes sometimes, but if you consistently violate your own boundaries by ignoring your schedule, you're on course for burnout. Respect the schedule to keep it a potent tool to help manage your work-life balance.
Bookend your Digital Nomad Hours
One thing we learned, collectively, during the challenges of 2020 was the value of having a commute (See research journal article: The Mindful Commute).
Many people found that without the "bookends" of a change in location to begin and end their workday, work-related anxieties began spilling over. The same can be true for digital nomads who are using their living space as their workspace.
💡 Insider tip: One way to prevent digital nomad work stress from bleeding into burnout is by creating a beginning and ending practice for your work "shifts". Think of it like a mind-commute to and from work.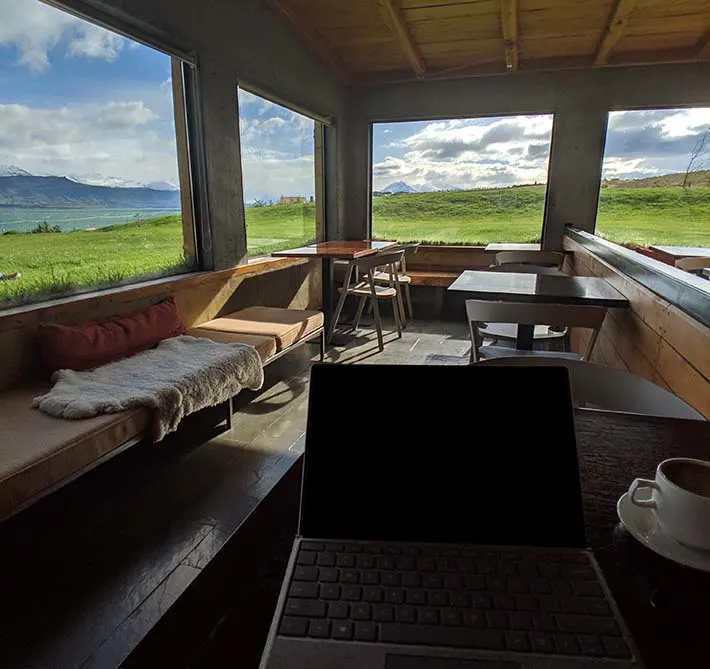 Create Rituals to Start and End
We don't really think about it much, but rituals play an important role in modern life. Some typical rituals include:
🌅 the way you wake up,
☕ the food or drink you prepare first thing in the morning,
🚴🏽‍♀️ and the way you transition into your workday
These rituals actually serve an important psychological function. They perch on the edge of our consciousness and quietly inform our brain that things are okay, everything is normal, and our day is at least somewhat predictable. Though unconscious, they help our brain rest and not get overwhelmed.
When we travel, we often lose these rituals. Intentionally adding practices that we can use (no matter where we are in the world) to begin and end a workday can help.
These little rituals (like closing and placing a laptop inside a bag at the end of a day) can help us cope with the demands of the digital nomad lifestyle.
Create a Mission Statement.
People tend to be more burnout resilient we know that we are working towards a defined goal, for a defined reason. There's no better way to take advantage of this than to craft your own mission statement.
Your mission statement might vary- and that's ok.
Do you work solely for the purpose of being able to travel?
Do you do the work you do because you believe it matters and you have something valuable to offer the world through it?
Considering these things, and how they intersect with our personal values is a starting point. Looking at how we want to align ourselves in the world based on how we understand our work can be helpful.
✍🏽 How to write a mission statement: If you don't know where to start, the University of Minnesota has a guide to writing a personal mission statement that can easily be adapted for creating a mission for your digital nomad journey.
In recent years, psychologists, social workers, and organizational psychologists have been low-key obsessed with SMART goals. If you've worked in a corporate culture you may already be familiar with the concept. Smart goals are specific, measurable, attainable, relevant, and time-based.
SMART goals help us, and those who supervise us, evaluate how we are progressing toward a goal. Smart goals can help flesh out a mission statement and help us communicate more clearly with bosses and clients about what we've accomplished. And that clear communication, readers, is key to preventing digital nomad burnout.
Once you have created a mission statement for your travel-based digital nomad, keep it visible, revisit it, and remind yourself of your mission statement when it comes time to reevaluate work, travel, or lifestyle.
Set vocational boundaries.
In modern work culture, it's common to struggle with vocational boundaries. Many jobs require that employees work above and beyond 9-to-5 hours. Even though this is a common conflict, for digital nomads, this conflict can be amplified.
Often, when good, conscientious employees are working as digital nomads, they feel pressure to prove themselves. This can be a set up for managers or coworkers to take advantage of your work ethic to ask you to take on more than you can reasonably handle or than you are paid to do.

The best time to set vocational boundaries is before you set out on your digital nomad adventure.
The second-best time to set vocational boundaries is now.
Communicating clearly what you are and are not available for and when you are available for it (see above, re: scheduling) helps prevent burnout by setting expectations. It communicates to your bosses and coworkers that when you are working, you are fully committed. It also states that your work hours are set to support you vocationally and in your travel pursuits.
Stay Active in Communities Back Home.
While good boundaries and communication with your work team might be somewhat intuitive for many digital nomads, this one might not be.
Seek to stay active and engaged in the communities you left behind.
Why? Because community and personal relationships are, significant research asserts, one of the bedrocks of self care. In fact, it's a major factor in the CDC's social determinants of health research.

Even if you identify as a loner, stay connected by:
🐉🧙🏽‍♂️ checking in via Skype with your Dungeons and Dragons group,
🤵🏽👰🏽 talking a friend into helping you virtually attend a coworker's wedding,
🍸🍺 or planning an online happy hour with your hobby club back home
Activities like these help maintain connections and build wellbeing while you are away.
The longer you're gone, the harder it will be to stay active in these communities, but relationships take work and the benefits of staying connected are worth the work in the long run.
Seek Meaningful Self Care through Connection.
If the quarantine of 2020/2021 taught us anything, it's that in order to thrive, we all need face-to-face connections with other humans. Here are some ways to seek burnout-beating self-care for digital nomads:
Personal Therapy
Personal therapy is available online in any corner of the world that has a stable internet connection. Therapy can provide a valuable space to process the thoughts and feelings that being away from home can bring up. This can leaving us more able to enjoy traveling without feeling quite so emotionally and psychologically isolated- which is a powerful antidote to burnout.
Seek out Real Connections
For some people, meeting people while traveling is easy due to their comfort making friends in hostels, naturally social personalities, or their ease with dating apps.
For introverts, connecting with others while traveling requires more work.
Never fear, there are plenty of ways to connect and hang out with others even in the middle of a long digital nomad trip. Some of my favorite examples include:
Booking small group tours,
trying airbnb experiences,
or even just challenging yourself to strike up a conversation with a stranger once a day
💡 Insider tip: Don't underestimate the power of small interactions to get the face-to-face connection we need to thrive.
Allow play to disrupt your work.
Finally, take time to play. No, not just taking time off to check items off your travel itinerary, but play.
Play is spontaneous, enjoyable, and done just for the sake of doing it (rather than task-oriented).
Play shows up in many different ways for different people, but research is clear that people who make space to play actually work more effectively.
Play can take on so many different forms that it's difficult to describe just how to do it- but chances are you have a pretty good sense of the things that bring you intrinsic joy just by doing them.
For me, play while I'm traveling as a digital nomader might look like wandering aimlessly through a beautiful city enjoying the sites, sitting in a café and writing in my travel journal, practicing my travel hobbies, or playing a spontaneous game with a fellow traveler.
Tl;dr
Being a digital nomad has many challenges. The experience often results in burnout or dissatisfaction with the experience. However, there are things you can do to maintain a healthy work/life balance while traveling as a digital nomad.
By integrating play into your daily routine, communicating boundaries, creating a schedule, and connecting with others, you can have a satisfying experience as a digital nomad.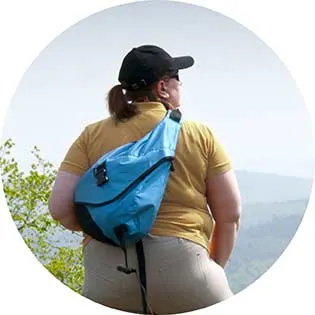 Lynli Roman's unique approach to travel is informed by decades of experience on the road with a traveling family and, later, years spent as a solo international traveler. When she's not writing about Seattle from her Pike Place Market apartment, Lynli writes on-location while conducting hands-on research in each destination she covers. Lynli's writing has been featured by MSN, ABC Money, Buzzfeed, and Huffington Post. She is passionate about sharing information that makes travel more accessible for all bodies.