As a ferry-loving transplant to the Pacific Northwest USA planning a trip to both Italy and Croatia, I was excited to find that ferries are an option for connecting Italy with Eastern Europe. Booking my tickets was easy enough (through Jadrolinija website or directferries.com) but information beyond when to show up was sparse- and English-language information about what to expect and how to best travel this route was nearly non-existent.
In the interest of assisting other English language speakers doing Adriatic crossings aboard ferries, here's a rundown of my experience traveling via Jadrolinija during peak season in July 2017. I first sailed on an overnight voyage from Ancona, Italy to Zadar, Croatia, and then two weeks later took a daytime trip from Dubrovnik, Croatia to Bari, Italy.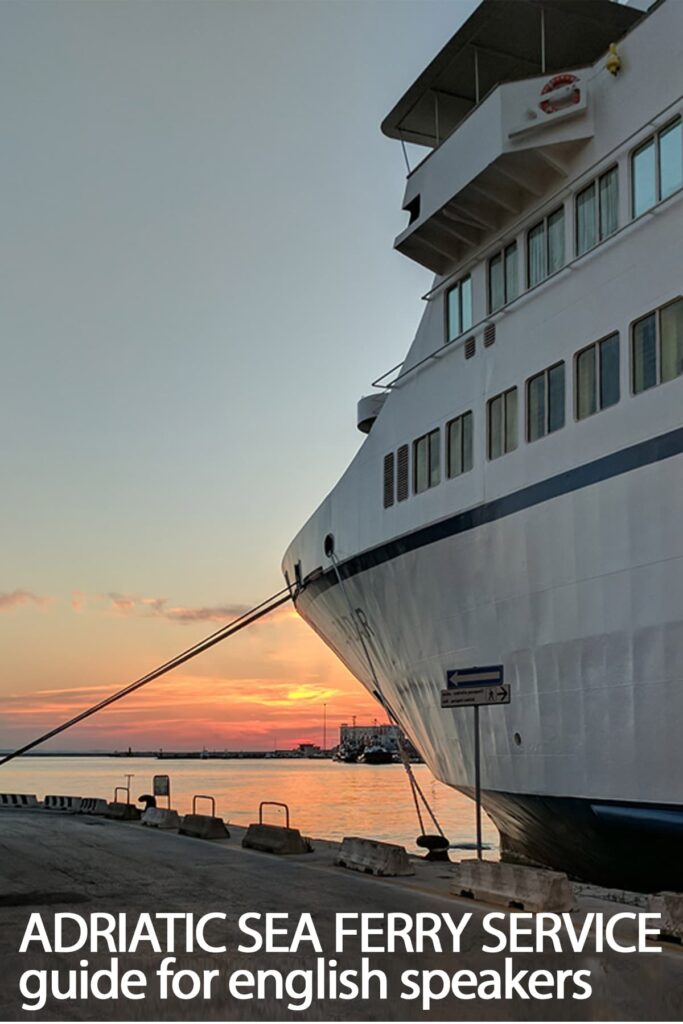 The Drama of Departing from Ancona Italy by Ferry
Ticking information varies, but Jadrolinija sternly warns passengers to arrive no later than 2 hours before departure (3 hours is the published requirement on some of the documentation I looked at). So when my already-cutting-it-a-little-closer-than-I'd-like connecting train from Florence, Italy was more than 1 hour delayed, making me miss my train into Ancona, I panicked.
Jadrolinija is not the best when it comes to putting out info on their ships- at least not in English. Even the ticketing information did not contain instructions on where to check-in! And only another blog clued me into the fact that Ancona was a LARGE port, and the distance from the ticketing office to the ferry dock is not walkable.
Given what little I knew, when my train finally rolled into Ancona at 8:15pm (for a reservation on a 10pm departure) I was in a full-blown panic mediated only a little by the fact that a phone call placed to the Jadrolinija office informed me if I checked-in by 9 pm I should be okay, and that the Number 12 or the Number 20 bus, with stops at the train station, would take me from the Ancona train station to the Jadrolinija office.
Choosing Taxi or Bus from Train Station to Port
So here' the thing, I'm from Seattle, and even with Seattle's above-average public transit, it's *never* a good idea to take a bus when you are running late. So I started frantically looking for a cab outside of the train station. Thankfully, before I spotted a cab, I saw the Number 12 bus pulled up to a weird little bus stop (more on that below). Despite having no idea how to pay for the bus, I hopped on and was immediately greeted by an American couple, also headed to the ferry, who looked as bewildered as I.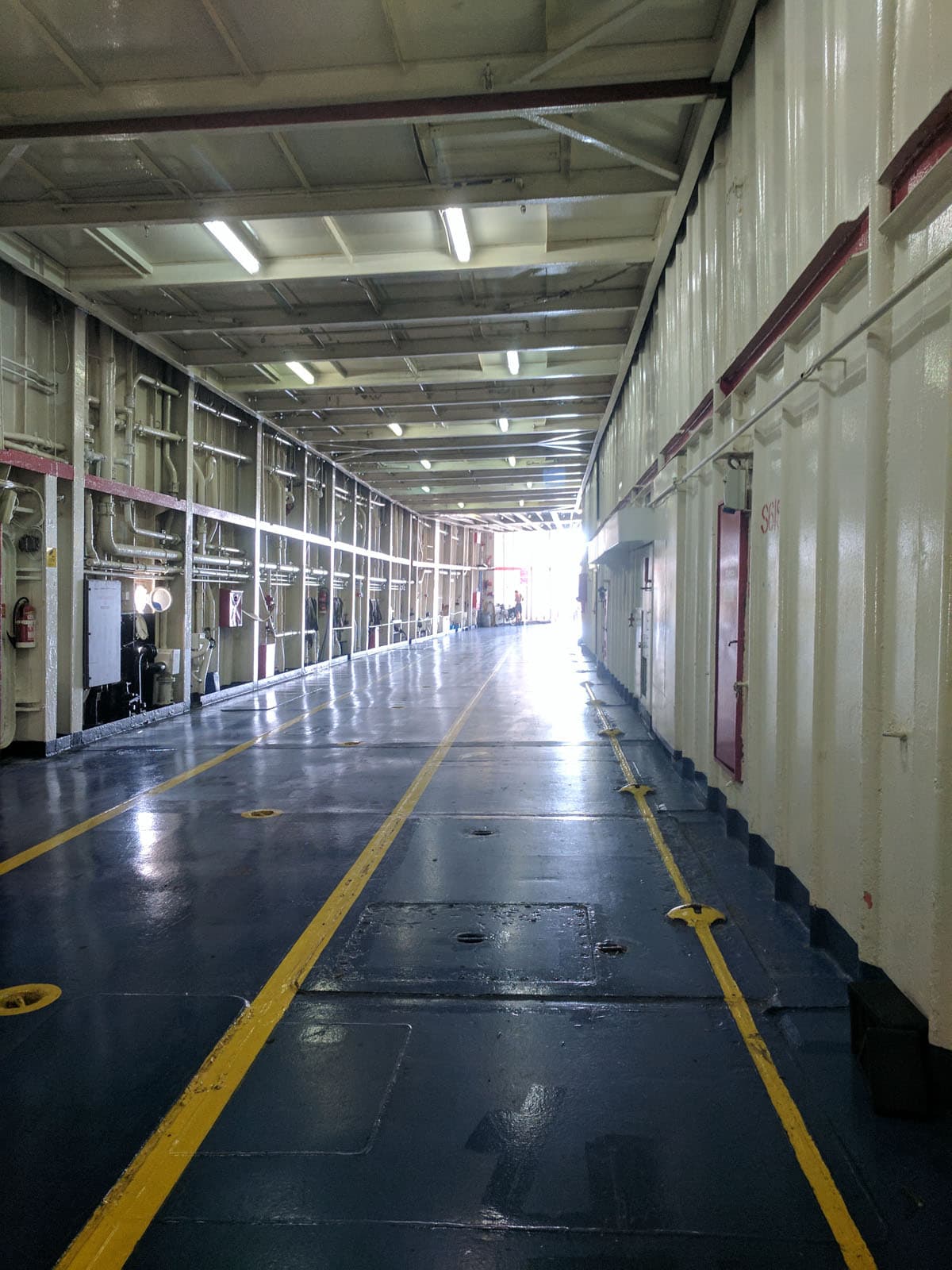 Getting to the Jadrolinija Ancona Ferry from the Ancona Train Station.
To get to the Jadrolinja Ancona dock, exit the Ancona train station through the main entrance exit and- directly across from the exit- you'll see a large and crowded bus stop. This is NOT the bus stop you want. Instead, walk about 20-30 meters to the left of the large bus stop, to a triangle-shaped curb with a sign reading "12/20". This is where the buses stop that continue on to the ferry offices (You must stop at the office before the port, all local ferry offices share a single building so don't stress about being taken to the wrong ferry office). After you've stopped at the office, the same bus will take you to the port where you'll embark on the ship.
Follow for more Croatia Travel Hints
Take the 12 bus from the Ancona Train Station to the Ferry Offices*,
then once checked in at the ferry office,
Take the 20 bus from the stop in front of the ferry office to the ferry terminal.
COST: I was a little unclear about this, but apparently these buses are free, paid for by the ferry companies. At least, I didn't pay and another passenger indicated that was policy.
*What bus stop to get off at for the Ancona Ferry:
I was really anxious about knowing when to get off, but as it turns out, it's nearly impossible to miss the stop for the ferry offices. The bus will arrive at a large building set apart from other buildings and marked very clearly with logos of various ferry companies. (note: Jadrolinija did not have a large sign, but smaller window decals)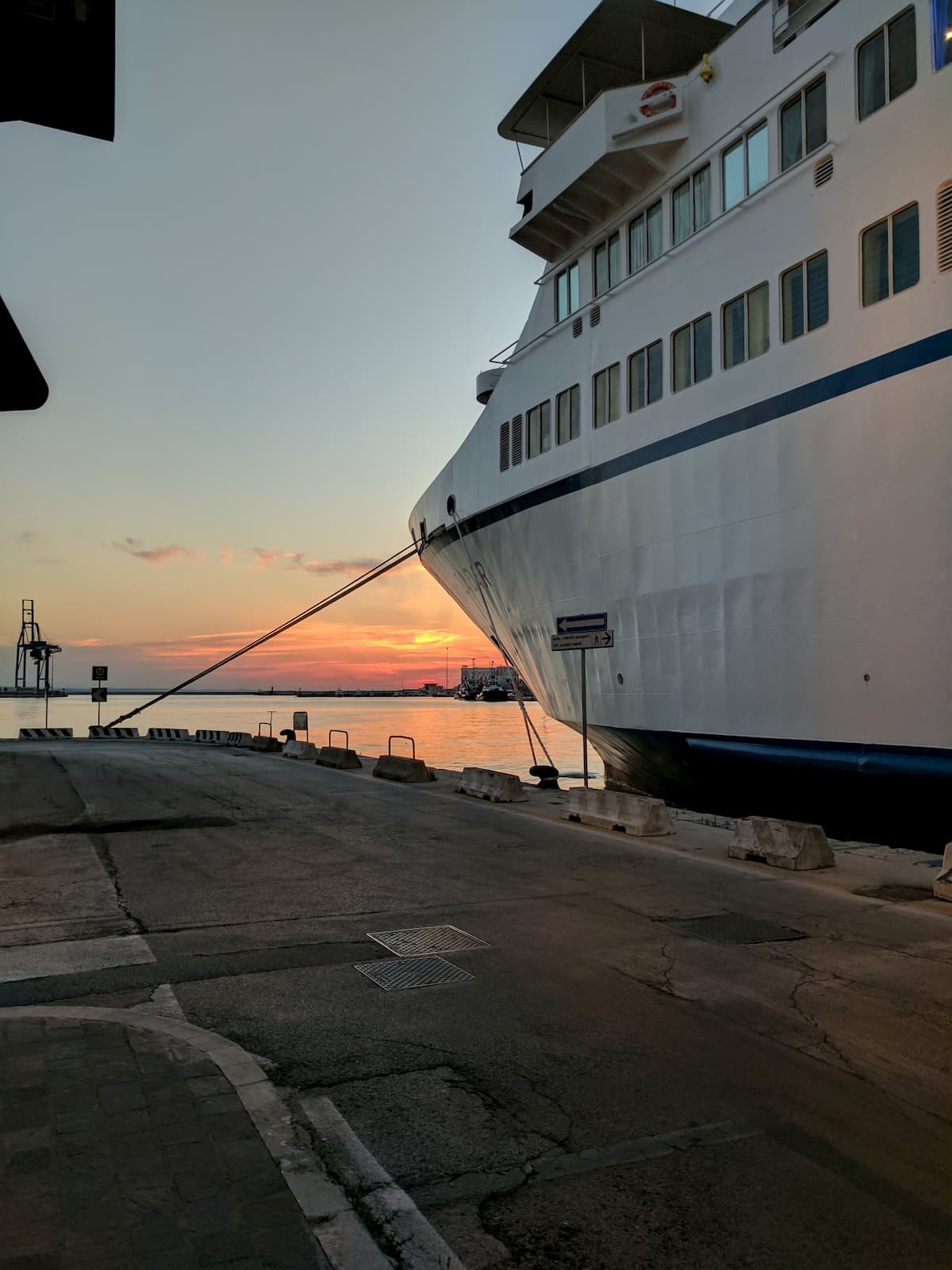 Showing up late to a Jarolinja Ferry
Instead of checking in 2 hours in advance, as directed, my train rolled into Ancona Station with about 1 hr 45 minutes to ferry departure. I'd read horror stories about lines, security, and passport control so I was really worried.
Thankfully, Jadrolinija seemed to have an Italian sensibility about the 2-hour limit- and it was more "suggestion" than "mandate".
Although I don't recommend testing your luck and arriving late, it was great to pass through customs and baggage check with no delay. Even for my trip, in the peak of the summer season on a ferry course (Ancona to Zadar) that runs inconsistently, there were no lines when I checked in. Passport control involved simply strolling up to the window and showing my passport. By this time I was a stone's throw of the actual ferry and had 45 minutes to spare before departure, so thankfully was able to relax.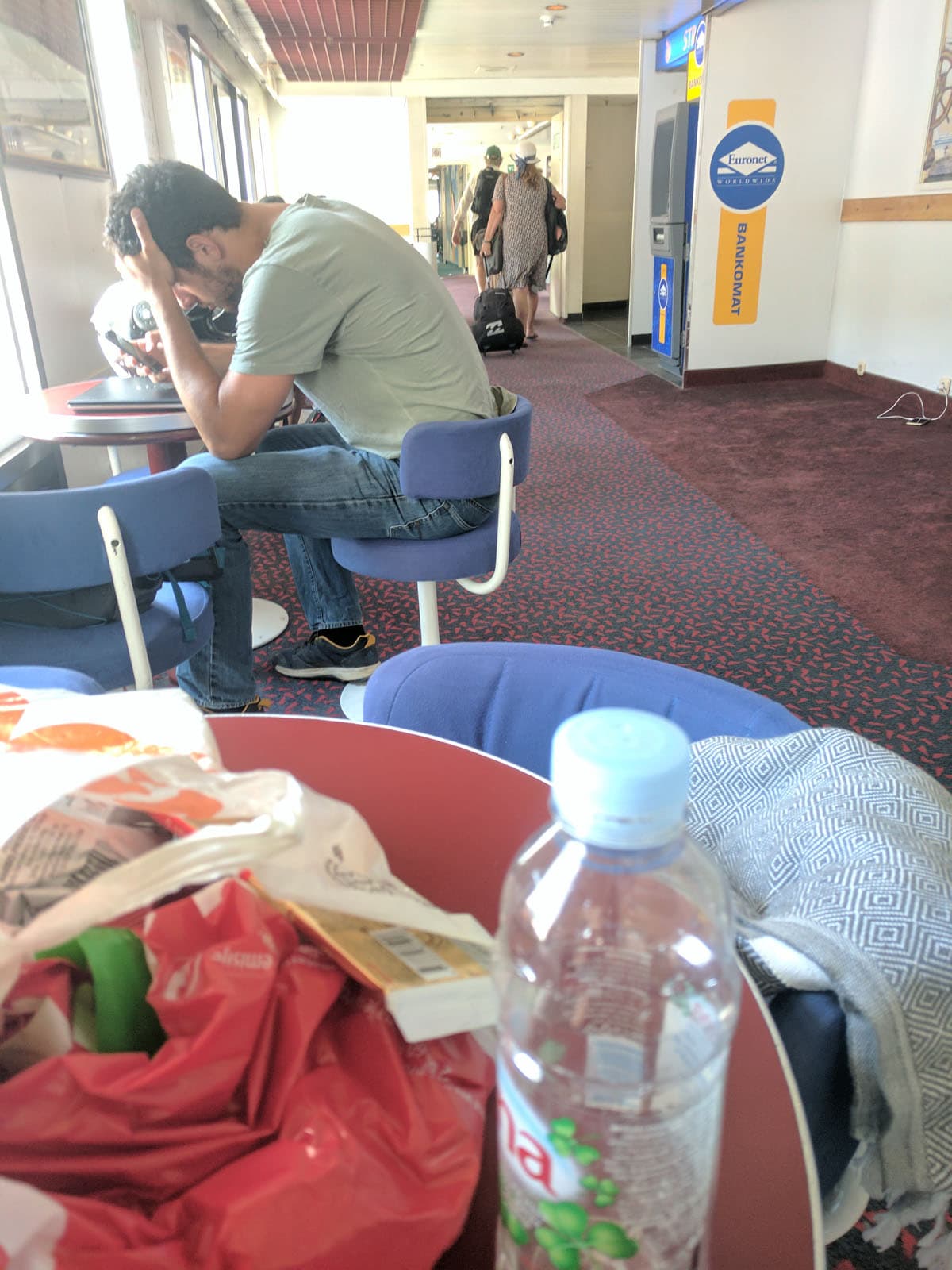 Ferry Ticket Types:
Should You get a Cabin, Reclining Chair, or Deck Seating for Jarolinja Overnight Ferry?
This is a trickier question than it should be, because the deck seating varies vastly from ship to ship. If you want to sleep (and have trouble sleeping in less-than-ideal spaces) book the cabin without question. If you are young, poor, or adventurous, read on!
Unfortunately for me, cabins were sold out by the time I booked my overnight trip from Italy to Zadar, Croatia, so I booked a reclining seat.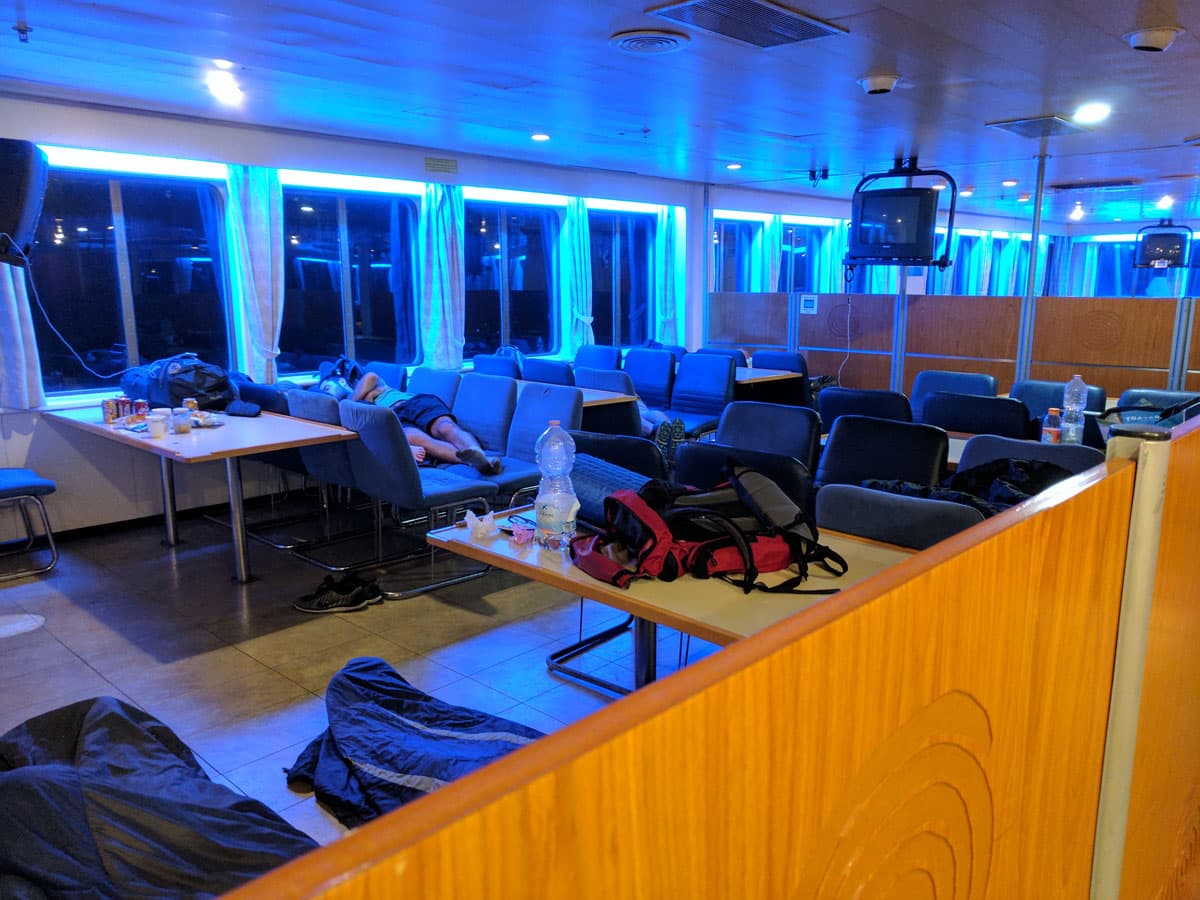 Unfortunately on my outgoing vessel, the ferry named "Zadar", the reclining seats are a bit of a racket to get passengers to pay a bit more for nothing. The recliners didn't actually recline or have amenities like a simple tray table. After a few hours, I migrated from my "premium" seat up to a table on the main deck where I was able to work comfortably with a table and a reasonably supportive chair.
Thinking I'd game the system, on my return voyage (on the vessel "Dubrovnik") I booked only deck seating- no extra upgrade to a comfy chair- and the deck seating was terrible. The Dubrovnik's deck seating appeared to be intentionally designed to be uncomfortable and awkward to sit on, making this 8-hour leg of the journey a rough one.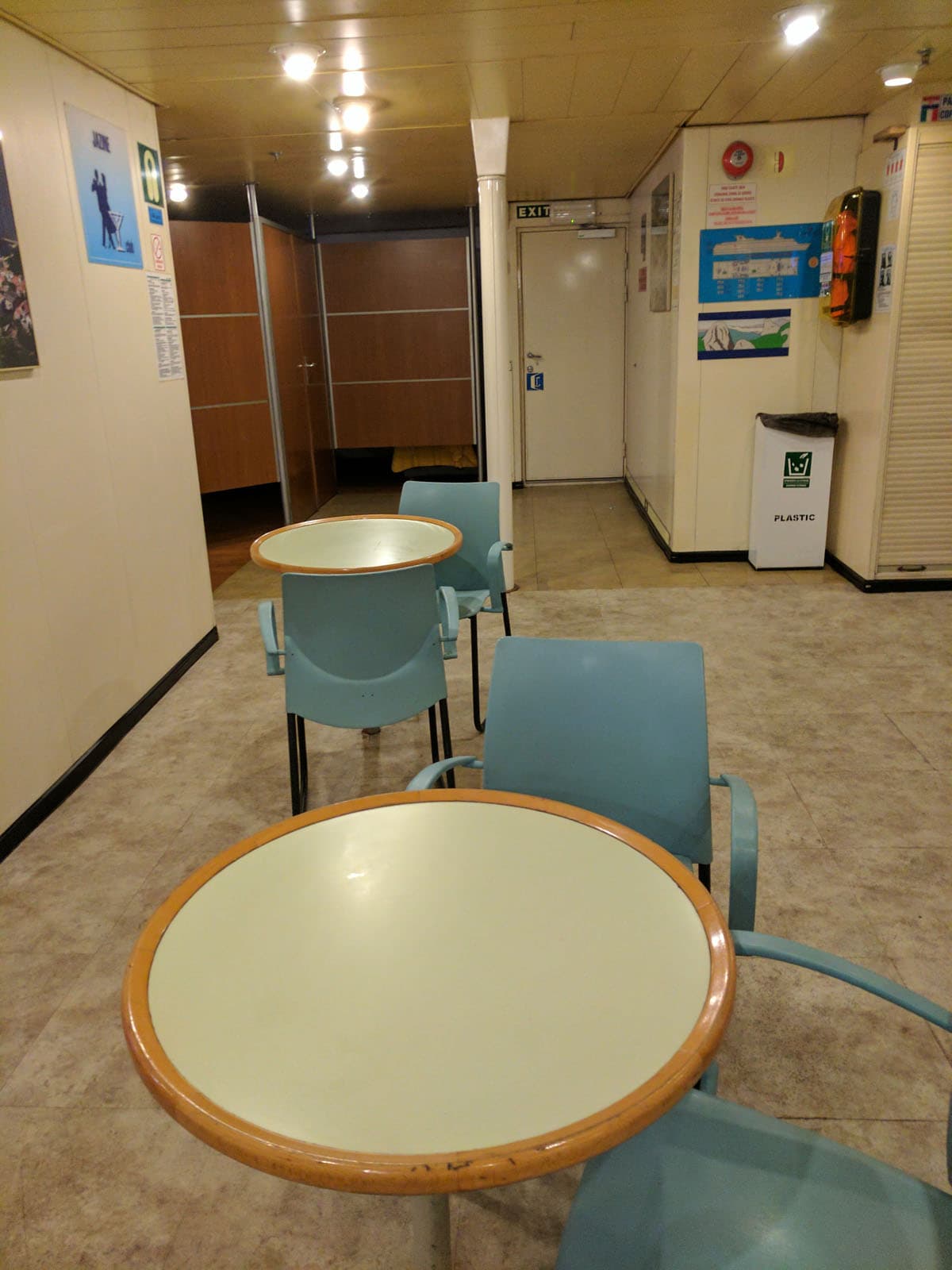 Pro Tip: In the reclining chair seating area, seats are assigned by number. However, like most of my experiences with transportation in Croatia and Eastern Europe, no one sits in their assigned seat and no one seems to care if you take theirs. When you arrive, pick a seat with a view and/or a power outlet nearby, park your bag in front of the power outlet (they're a hot commodity!), and settle in.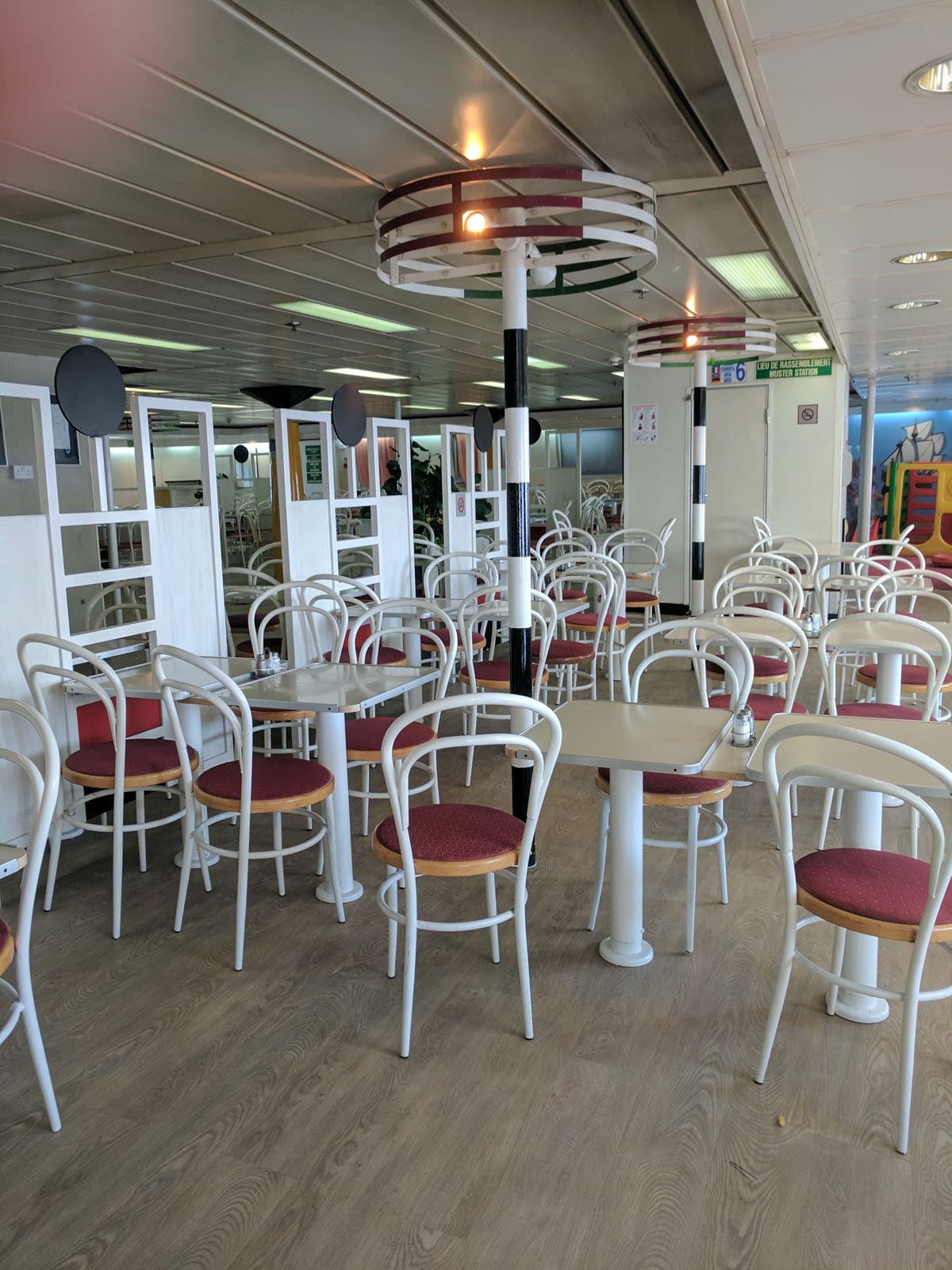 Sleeping on Deck on Croatia Ferries
Before my trip, I heard rumors that many travelers- particularly young backpackers- booked the cheapest possible overnight ferry tickets and simply stretched out on the floor to take advantage of a "free" night's lodging. As I boarded my fery, it was clear the rumors were true: every possible flat surface was claimed by the time I boarded.
Various couches are arranged in the club area, and savvy "deck" passengers (the lowest fare) arrive early to stake out the full-length couches, allowing flat sleeping (which I have to imagine is far more comfortable than the fixed "recliners" tickets sold as a "premium" option).
While the Ferry Dubrovnik offered no such luxuries, I was impressed at the number of couches aboard the "Zadar"- easily several dozen. If you are comfortable sleeping in a public space, have a partner or group to help watch your stuff, and can board early, this is the on-board accommodation I would actually recommended. Aboard the "Dubrovnik," where the video below was filmed, there were fewer couches but still options for sleeping with some level of comfort on deck.

Eating and Drinking on Croatia Ferries
Definitely, plan to bring your own food and drink. In Summer 2017 bottled water on the ship was priced at 5 Euro for 1 liter and food was equivalently overcharged. Overestimate your water needs, especially if the weather is warm.
While technically air-conditioned, on the return route, in particular, the temperature of the cabins hovered in the upper 70's to lower 80's and I found myself purchasing water to stay hydrated even though I'd packed two liters.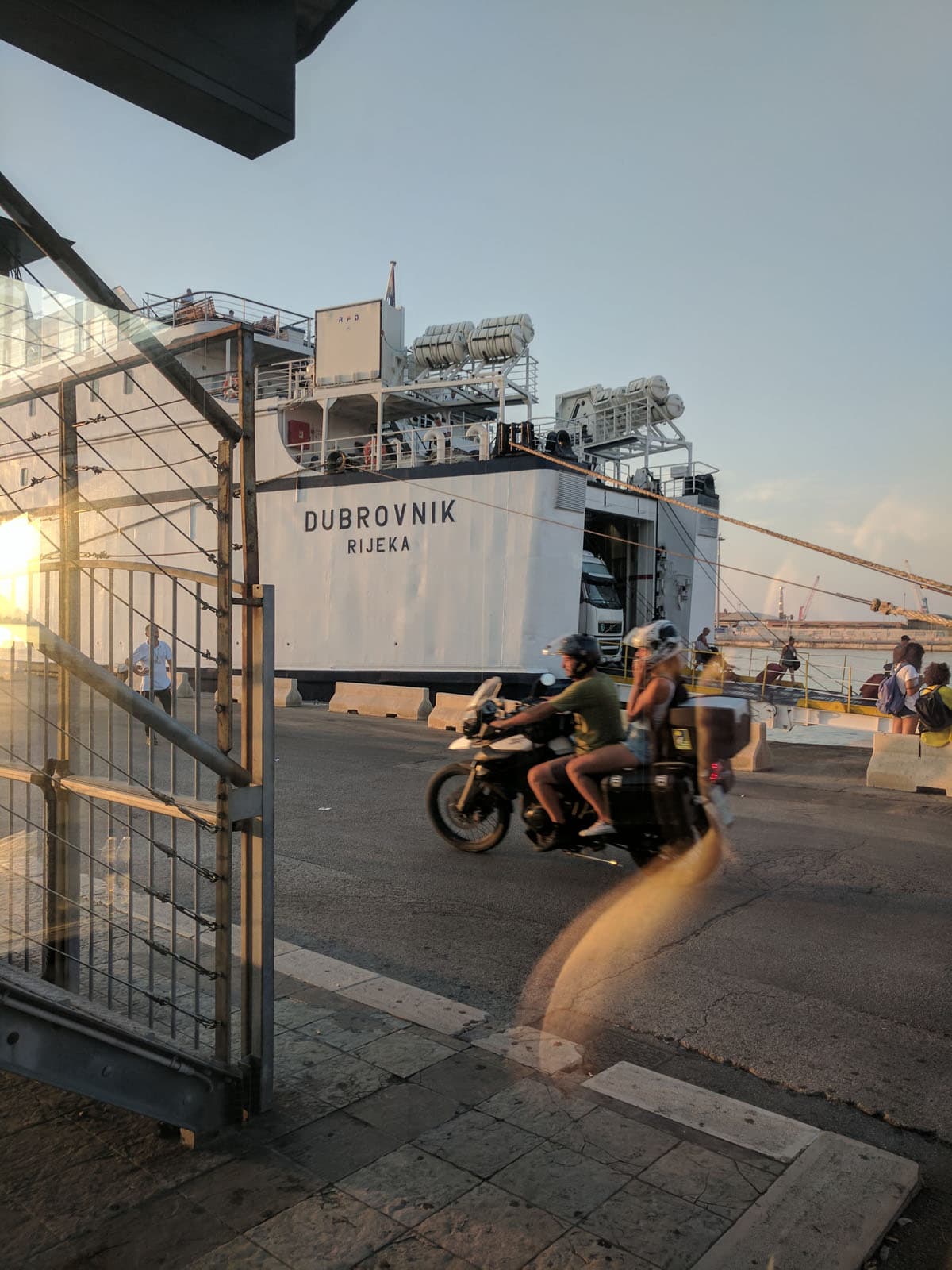 Video Walkthrough of Jadrolinija Dubrovnik Passenger Deck
In all its weird glory: I managed a quick walkthrough video of a passenger deck, and you can get an idea of just how comfortable folks make themselves as they camp out between artificial plant jungles and the on-board dance hall.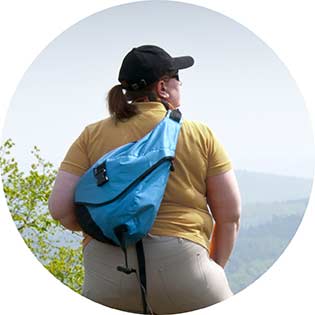 Artist, digital nomad, and highly sensitive person, Lynli started traveling full time as a digital nomad in 2018. Writer and Illustrator by day, remote-destination explorer by other-days, Lynli is passionate about pushing the boundaries of her own comfort zone, exploring the world as a female, fat, one-bag traveler, and journalling it all on WanderBig.com