One of the many highlights of my six weeks in Patagonia in 2019 was when I headed up to the northernmost portion of the Patagonia region- a section of Chile that most tourists skip. This region is known for volcanoes and dramatic waterfalls, but just off the mainland lies the island of Chiloe (pronounced "chill-'oh-eh").
In my first ever solo international driving experience, I rented a car in Puerto Mont and drove it aboard the Chiloe Island Ferry so I could explore the island of Chiloe a little more freely. Group tours from Puerto Mont leave for Chiloe daily, but I knew that a group tour to this locale wouldn't be my style.
You see, Chiloe is known for dozens of handbuilt wooden churches tucked away in remote corners of the island. The UN has recognized these structures as significant to human culture, awarding them- collectively- UNESCO status. Group tours, like most group tours skim over the details and show only the biggest, busiest, and easiest to get to sites- and I wanted a little bit more.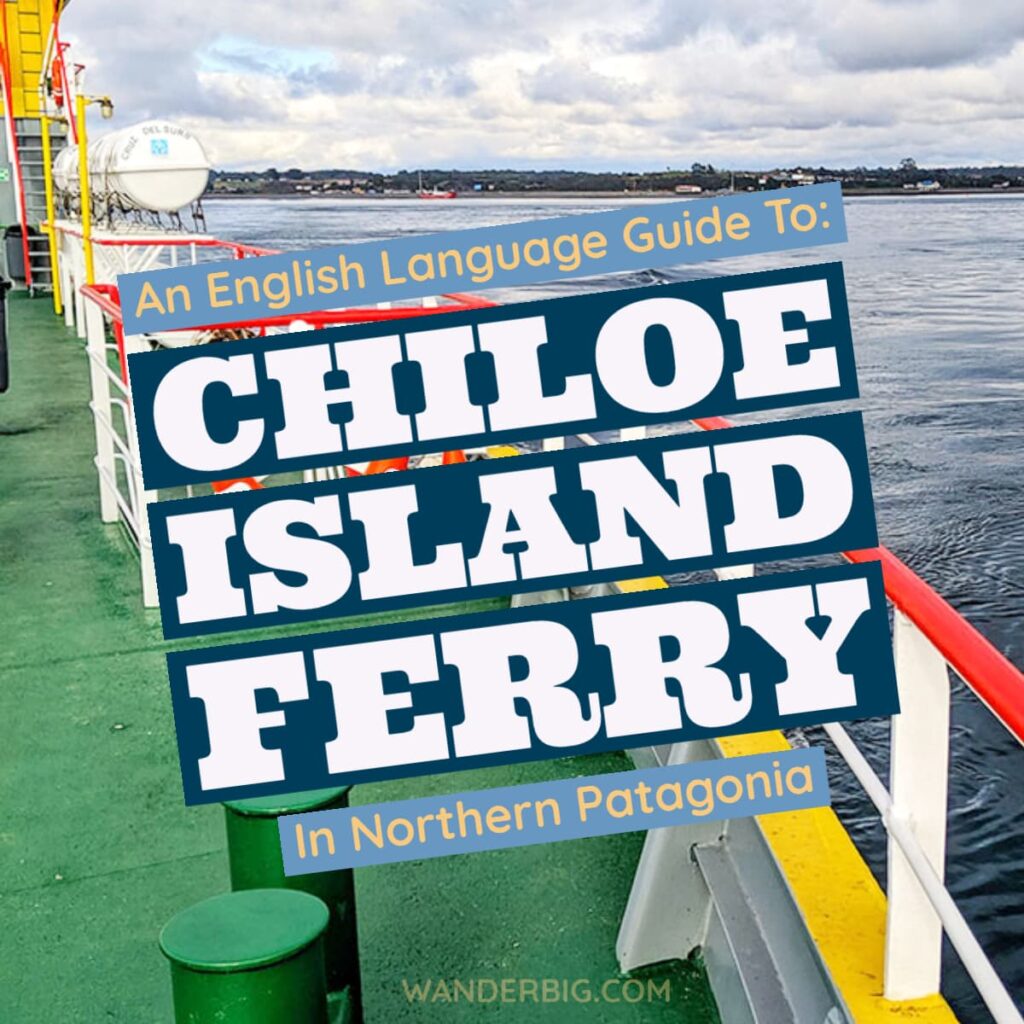 I've wrote at length about my visit to Chiloe Island when I posted my itinerary for three days on Chiloe Island, but in this post, I wanted to talk specifically about the Chiloe Island ferry that travels between the mainland of Chile to Chiloe Island: how it works, how to pay, and what to expect- all questions I had that didn't have English language answers online in 2019.
How do you pay?
In many countries, ferries have a toll booth to pay before boarding, but this ferry accepts payment AFTER you've boarded. Once parked, stay in your car and wait. A staff member dedicated to collecting fees will make the route collecting the toll from each car. I'm not sure if a credit card was accepted as of 2019, but change was available for cash when I didn't have the correct amount of bills.
How much does it cost? For a car and person: $12,900 CLP each way (about $18.50 USD) in 2019.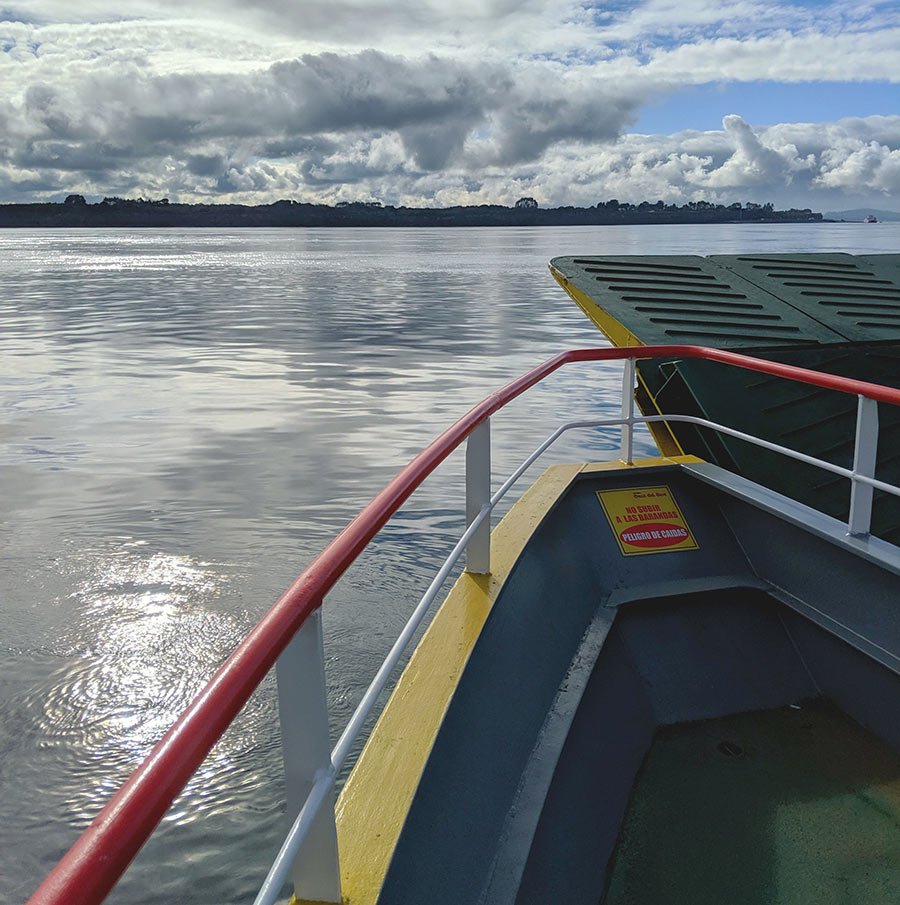 How long does it take?
The Chiloe Island ferry crossing takes about 30 minutes and you can get out and walk around. Although the boat is small you can take a steep flight of stairs up and enjoy the ride on the deck.
Is there a bathroom on the Chiloe Island ferry?
YES. Both ferries I took had bathrooms on the car deck, available free to paid passengers. One boat had significantly nicer bathrooms than the other, so it may be a coin toss on cleanliness.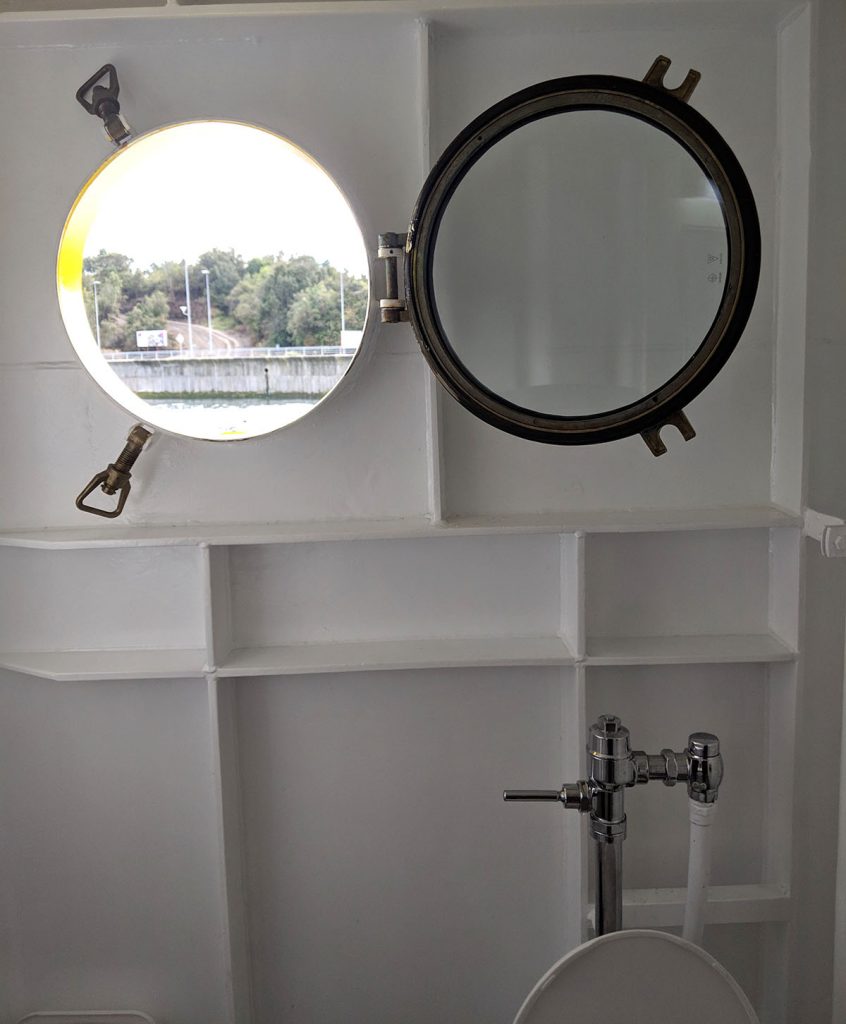 Watch a Video Tour of the Chiloe Island Ferry:
How do you board the Chiloe Island Ferry?
The boarding process is a little hairy- at least, compared to my familiarity with the process of the Washington State Ferries in the USA.
As you approach the dock, watch for flaggers and follow their gestured instructions. If a ferry is waiting, you will be directed down onto a concrete ramp (that goes directly into the water- yikes!). The ferries tend to come in at angles, making it awkward but not to anxiety-provoking to board. Once on the boat, more flaggers will direct you into a parking space.
How often do ferries cross to Chiloe Island?
Ferries are boarding and crossing constantly- I actually did not have to wait at all at either crossing. When I pulled up, I was almost immediately waved onto a boarding boat. Although on my outbound trip I missed the boarding of the ferry that was docked when I pulled up- another ferry docked almost immediately.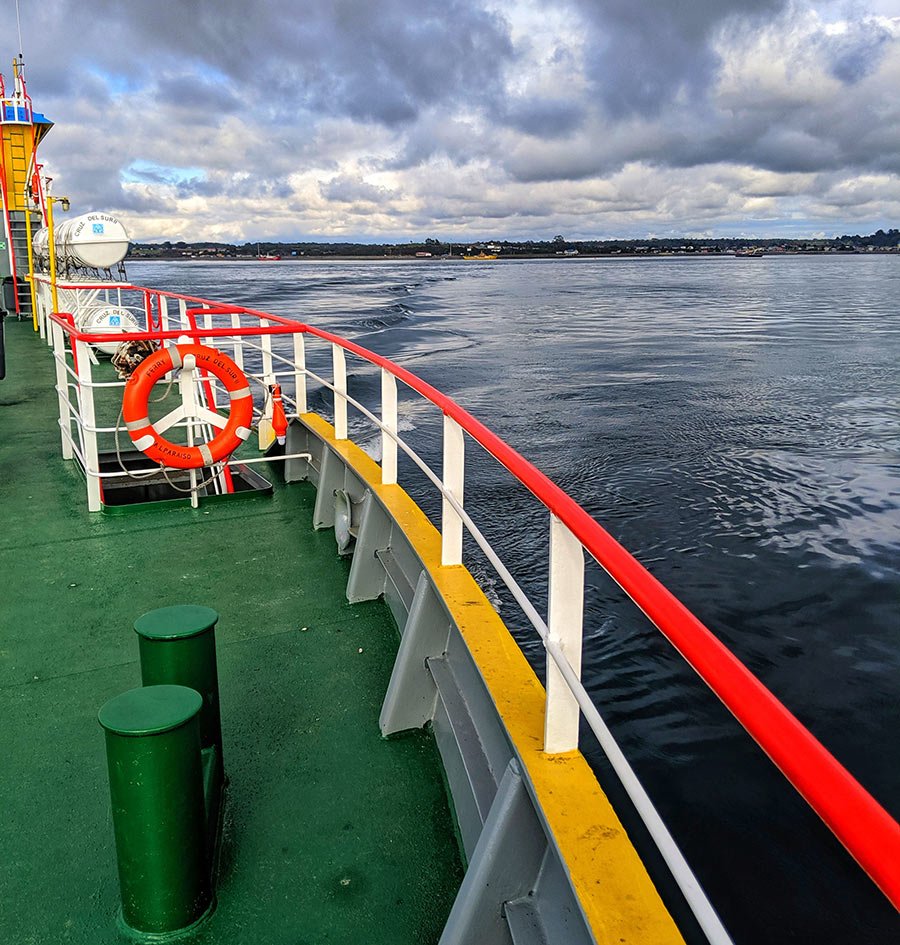 Can I get out of my car?
Yes. You are free to wander the public sections of the Chiloe Island Ferry boat- which includes the car deck, bathrooms (along the side of the car deck), and along one side of the upper deck. In nice weather, plan to spend the entire trip on the upper deck- the view is incredible and I saw interesting birds and marine life on both crossings. Keep your eyes peeled for Black Chilean dolphins (to my delight, a pod of dolphins passed on my outbound ferry trip), Peruvian pelicans, and a number of other animals.
Audio transcription of video for screen readers: "Here's a 90-second walkthrough of the ferry that goes from the mainland of Chile to Chiloe Island in Chile in northern Patagonia in the lakes district. You can read the whole write-up on my trip and how to use this very on my website wanderbig.com, in the meantime I wanted to narrate this brief video that shows you the size of the ferry and how it's built.
It doesn't look anything like the ferries we have in the Pacific Northwest but it's safe and you can see it's not full- at least, on this ride- and it's an open-air ferry so cars are just pulling in straight off the dock. Loading was an experience: you pull in, then somebody comes up to your window to take your payment, and then it's about a 30-minute ride to the mainland. During the crossing, you can get out of the car and there are bathrooms and trash cans and a viewing deck.
As you can see, there's a ramp on either side that they let down as they dock, and there are two staircases that lead up to this observation deck. Because it's about thirty minutes for a crossing, and there's lots of wildlife to see, I definitely recommend getting out of a car. On my trips, I saw dolphins from the observation deck and pelicans. It was a beautiful ride and as you can see the water was super smooth on the way back.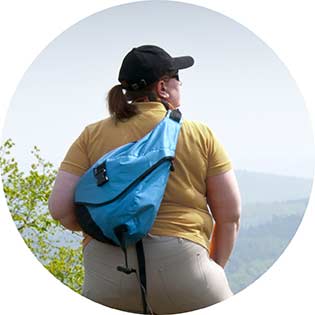 Artist, digital nomad, and highly sensitive person, Lynli started traveling full time as a digital nomad in 2018. Writer and Illustrator by day, remote-destination explorer by other-days, Lynli is passionate about pushing the boundaries of her own comfort zone, exploring the world as a plus size, one-bag traveler, and journaling it all on WanderBig.com