If you are planning a trip to Seattle in June, July, or August, get ready- you will be visiting at the absolute peak of Seattle's gorgeous summer weather. You'll be able to experience the best that Seattle has to offer- including the festivals, concerts, and outdoor markets that happen all over the city in June and July.
Unfortunately, though, you'll also be visiting during peak tourists season. Major attractions like Pike Place Market and the Space Needle might be difficult to navigate due to crowds, but never fear- that's why I've created this guide to visiting Seattle during these peak summer months. As a local, I've got all the local insider tips to help you skirt the crowds and make the most out of your visit to Seattle in June, July, or August.
If you're planning a trip to the Pacific Northwest this summer and looking for things to do in Seattle, check out this list of insider tips. Compiled by seasoned locals, this list is your best bet for maximizing your summer trip to Seattle.
Soak up Sun on the Outdoor Deck of a Ferry: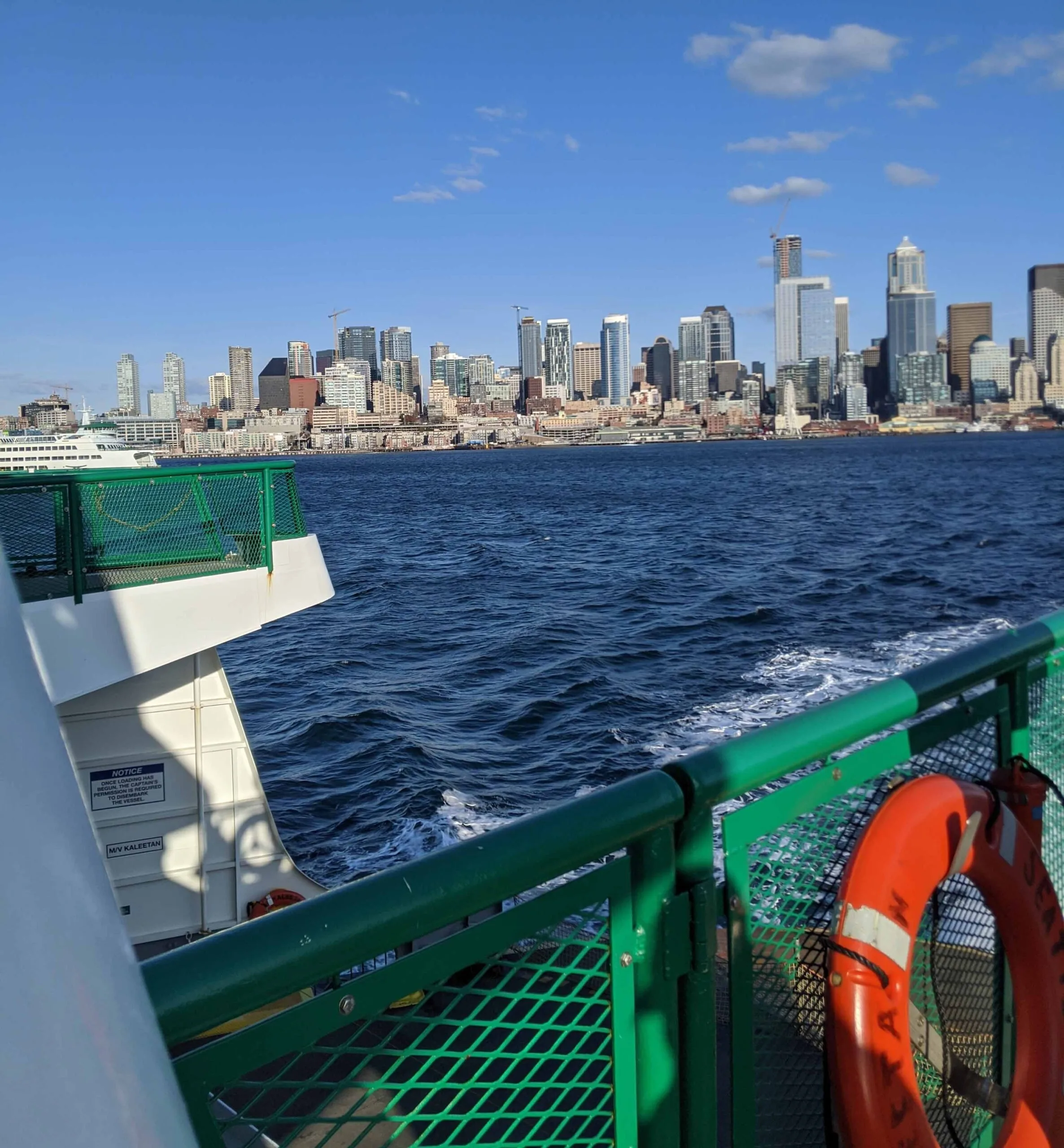 One of the best things to do in Seattle on a summer day is to ride one of the city's iconic ferry boats. Traveling between downtown Seattle, Bainbridge Island, and Bremerton, the Seattle WSDOT Ferries offer a one-of-a-kind view of the sound and an easy way to hop away from the city for an afternoon. Walk on as a foot passenger or drive your car right on board. When riding ferries in Seattle in July, July, or August, you should definitely take advantage of the warm weather to hit the upper deck to soak up the sun and take in the beautiful sights of the Puget Sound.
Make the most of your time on your Seattle ferry ride by using my tips for getting the most fun out of your jaunt on Seattle's favorite form of public transportation.
Find a Private Pocket Beach for a Swim
Here's a true secret to how local's enjoy Seattle in July and August: There are dozens of tiny waterfront parks where anyone can relax, swim, and have a picnic on what is essentially a private beach.
Thanks to an obscure 1996 city law that even most locals are unaware of, anywhere in Seattle where a street dead-ends at a waterfront, the area between the end of the road and the water is public land.
Thanks to these tiny pocket-beach parks (usually no wider than a 2 lane street!) visitors and locals are free to lounge, sunbathe, picnic, and swim on some of the most desirable waterfront in the region for free. Because they ofer some privacy and distance from crowds, they're one of my favorite summer date ideas in Seattle.
Learn how to find these pocket beaches in my article on the best swimming in Seattle.
Visit Bainbridge Island:
For Seattle visitors in June, July, and August, Bainbridge Island can be a great day trip and a chance to see more of the Pacific Northwest outside of Seattle without having to rent a car.
It's simple to get from Pike Place Market to Bainbridge Island, and the chance to experience this unique mode of transportation across the Puget Sound is something you should put on your Seattle tourist bucket list.
Perfectly paired with a Seattle ferry ride is a visit to Bainbridge Island. Bainbridge is a quaint island community featuring a cute downtown full of shops, restaurants, coffee houses and art galleries. There are many things to do on Bainbridge without a car. Try some delicious food and drinks at Pegasus Coffee House, hang out on the waterfront, and spend the afternoon exploring Winslow Way.
Explore the Unknown Parts of Pike Place Market:
Especially bustling during the summer, the legendary Pike Place Market has been offering sights, sounds, and flavors to Seattle visitors and locals alike for over 100 years. Located along Seattle's waterfront, Pike Place is a multi-level, indoor-outdoor market featuring fresh food and flower vendors, deliciously prepared foods, coffee, artists, artisans, live musicians and more. Spending an afternoon at the market is a perfect thing to do in Seattle on a summer afternoon. Here are 15 things you absolutely must do at Pike Place Market.
Local Hint: if the market is uncomfortably crowded, head UP or DOWN. Only about 15% of Pike Place Market tourists explore the rich shops, restaurants, and oddities located off the main walkways. If you see steps, stairs, or ramps veering off- go exploring! There are multiple levels above and below Pike Place Market open for exploring. You might even find the best coffee shop in Seattle, my favorite restaurants, or the secret rooftop garden in Pike Place Market.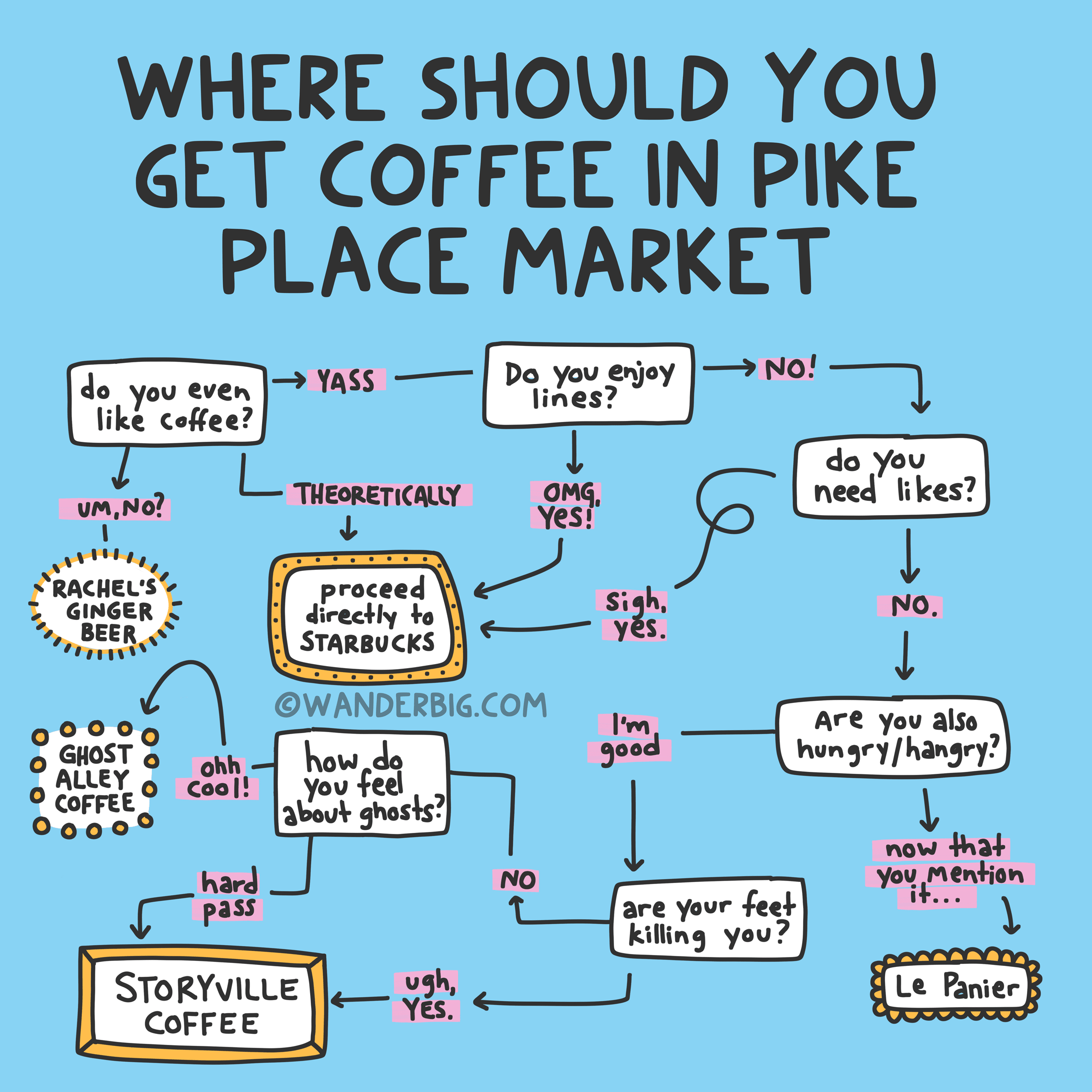 Seattle Aquarium:
Located right next to Pike Place Market, the Seattle Aquarium is another great thing to do in Seattle in June, July, and August (or any other time!). Perfect for families, kids, and animal lovers alike, the aquarium hosts a wide variety of marine animals, including birds, otters, and Pacific Northwest salmon. The aquarium also offers July and August tourists an opportunity to cool off in air-conditioned comfort- as many of the indoor exhibits are kept a little dark and a bit cool for better viewing.
Ballard Locks:
For historians, naturalists, and boat enthusiasts alike, the Ballard Locks are a fun and unique place to visit during a trip to Seattle, especially in June, July, or August. Established as a historical site in 1917, the Ballard Locks feature a museum, visitor center, gift shop, Fish Ladder Education Center, plus opportunities to watch large ships and small boats navigating the locking system. There's even a world-class botanical garden on site perfect for picnics and sunny walks. Located in the city's quaint and beautiful Ballard neighborhood, the Ballard Locks are not to be missed.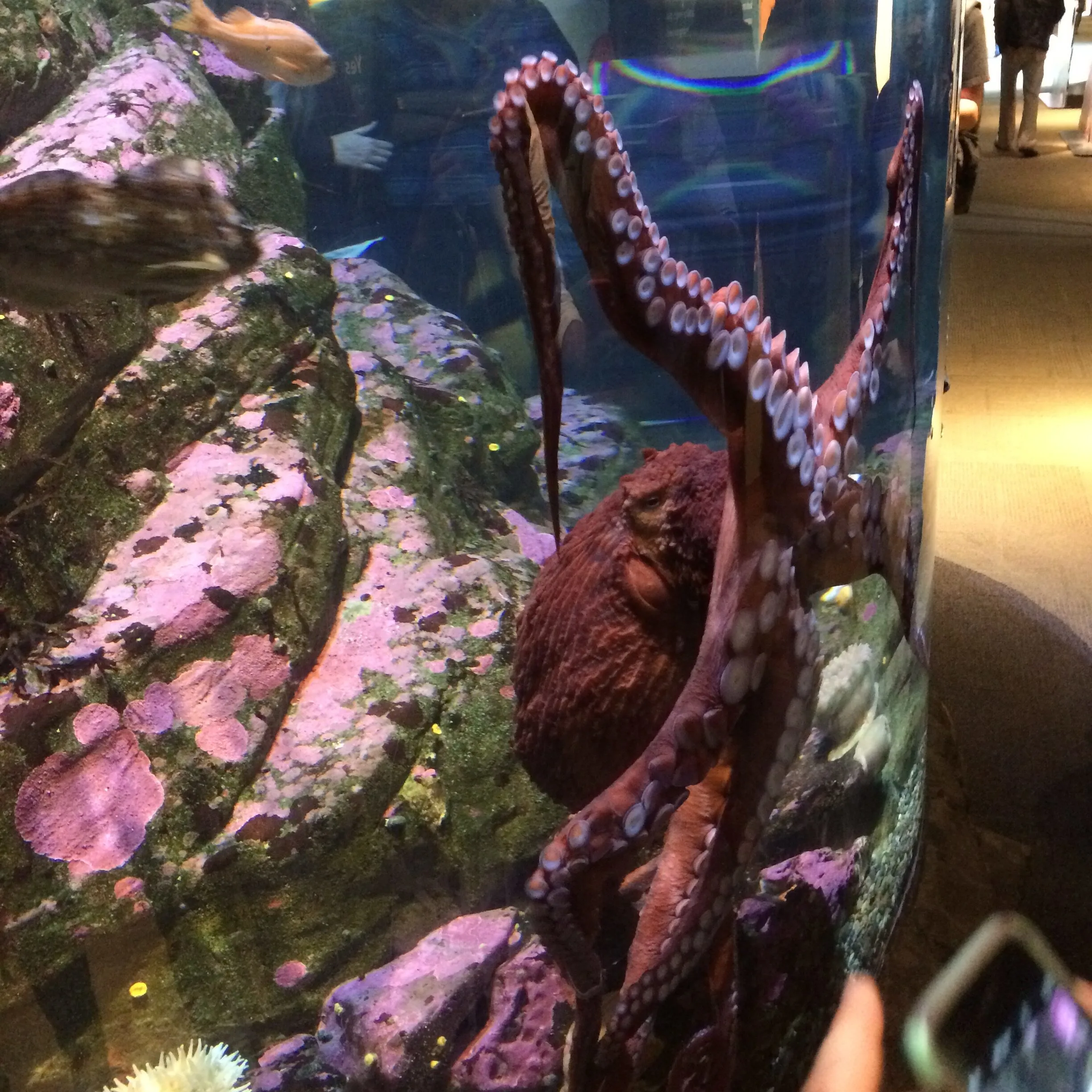 Beachcombing and exploring tidepools (free):
As a waterfront city, Seattle has a lot to offer in the way of beachcombing and tidepool exploration. Check out Golden Gardens or Constellation Park for the best tidepools where you can find starfish, sea urchins, crabs, and more when the tide is low. These spots are also great for beachcombers looking for beautiful driftwood or sea glass.
For travelers staying downtown and visiting Seattle without a car, try checking out the pocket beaches along the downtown waterfront near the space needle. My guide for walking from Pike Place Market to the Space Needle will take you right past these reconstructed beaches that- even though they were once industrialized waterfront docks- now are home to all kinds of marine life. (When I lived downtown, these pocket beaches were my retreat. When conditions were right, I could grab an espresso on the way there and spend my lunch break counting starfish on the rocks of the pocket beaches!)
Seattle Center and The Space Needle:
No matter the time of year, every trip to Seattle should include a visit to the Space Needle, especially if this summer visit is your first visit to Seattle. Built for the 1962 World's Fair, this eye-catching landmark features a 520 ft. elevator taking visitors into the air to a rotating observation deck and sky-high restaurant. The surrounding Seattle Center is a sprawling 74-acre complex featuring multiple performing arts spaces, cafes, and festivals throughout the year. Check out the Seattle Center website to find out about events happening during your trip.
Local Insider Tip: Seattle Center features several huge water fountains- and they are splash-friendly! Local's know, if you want to cool off during a June, July, or August visit to Seattle, you've got to jump in a Seattle Center Fountain! s
Additional tip for parents: the biggest fountain ("International Fountain") is closest to the Space Needle, but big kids can make it a little too rambunctious for younger kids. Instead, take smaller kids to the Fountain of Creation nearby, where a brand new splash pad and kid-sized fun awaits.
Hiking (sometimes free):
If you're excited about getting outdoors, June, July, and August are all great times to experience the wonders of hiking in the Pacific Northwest. A short drive from some of the most popular hikes in the state, Seattle is a prime location for hiking enthusiasts and newbies alike. Check out the Washington Trails Association website to find a hike perfectly suited to you and your crew. Some of them even lead to lakes and rivers perfect for a dip on a hot summer day!
Visiting Seattle in July or August with no rental car? No problem. In the summer, Seattle actually runs public busses to popular hiking trailheads on weekends. Learn more about the Trailhead Direct program and how to use it.
If you do have a car, check out these quirky novice-friendly hiking adventures near Seattle:
Olympic Sculpture Park (free):
Centrally located just north of Belltown, the Olympic Sculpture Park offers an entirely free, year-round sculpture park experience. Spread out over nine acres, this park is another great thing to do in Seattle on a sunny afternoon. With views of the Puget Sound, the Olympic mountains, and the Space Needle, the Olympic Sculpture Park is a special spot hidden right in the middle of the city.
The sculpture park is also adjacent to my map for my Belltown Mural Walk.
Alki Beach and boardwalk (free):
West Seattle's hidden treasure, Alki Beach is the ultimate spot to spend a summer day in Seattle. Lined with amazing restaurants and cafes, Alki Beach features a long boardwalk perfect for biking, rollerblading, or just taking a walk in the sun. The sandy beach is home to dozens of beach volleyball courts and fire rings for enjoying campfires after sunset.
If you're visiting Seattle this summer, and have a bit of ambivalence about choosing Seattle as your destination instead of a tropical beach, be sure to set aside a full day to enjoy some fun in the sun at Alki!
Berry picking (sometimes free):
One of the best parts of summer in Seattle is the abundance of wild berries ripe for the picking. Starting in June, you can find blueberries, huckleberries, blackberries, and more depending on where you look. The blackberries are easiest to find in the city, but they don't usually get fully ripe until late July or early August. So if you're visiting in the earlier part of the summer, check out some of the u-pick blueberry farms in the area or keep your eye out for huckleberries when you're out hiking in the woods.
Indoor museums (sometimes free):
Fun and accessible at any time of the year, Seattle's abundant indoor museums have something interesting for everyone. The Seattle Art Museum (SAM) even offers free admission to all visitors on the first Thursday of every month. Check out the super fun and unique Museum of Pop Culture (MoPOP) at Seattle Center or take the whole family for a fun day at the Pacific Science Center. Whatever your interests are, you'll find something at one of Seattle's many world-class museums.
Concerts and live shows:
Much like a trip to the museum, catching some live music in Seattle is something you can do any time of the year. But in the summer, you can even find a range of outdoor concerts so you can admire the sunset and listen to some amazing bands at the same time. Check out resources like Seattle Theatre Group and Visit Seattle for helpful, year-round event calendars.
Sunset at Golden Gardens (free):
Hidden along the western edge of the Ballard neighborhood, Golden Gardens is one of Seattle's most beautiful beaches and nature areas. Perfect for a visit to the city in June, July, or August when the sun is high and the water is a little less cold, Golden Gardens offers beachcombing, tidepools at low tide, forest walks, off-leash dog areas, and beautiful views of the Puget Sound and the Olympic Mountains.
Although the waters of the Puget Sound are very cold even in July and August, brave souls can swim off this beach- though there are better spots to swim in Seattle.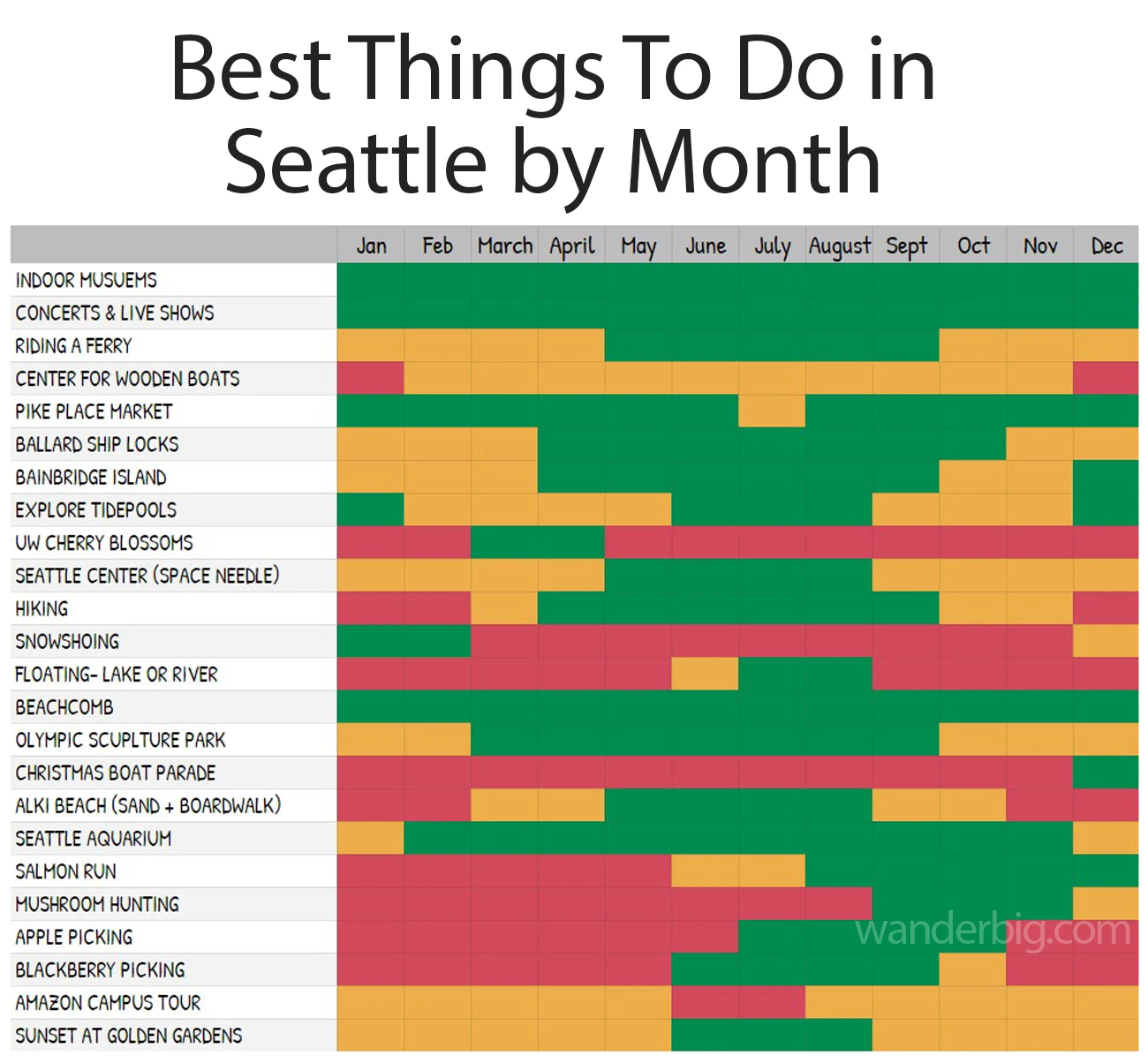 Final Thoughts on Visiting Seattle in June, July, or August
If you plan a trip to Seattle in June, July, or August, you will be there during the height of the city's beautiful summer weather. You'll be able to enjoy the best of what Seattle has to offer, including the festivals, concerts, and outdoor markets that take place throughout the city in June and July.
You will, however, be visiting during the peak tourist season. Crowds may make it difficult to navigate major attractions such as Pike Place Market and the Space Needle. It is critical to research and plan ahead of time in order to make the most of your trip and experience everything Seattle has to offer. Check out insider tips from locals to maximize your trip and make the most of your time in the Emerald City.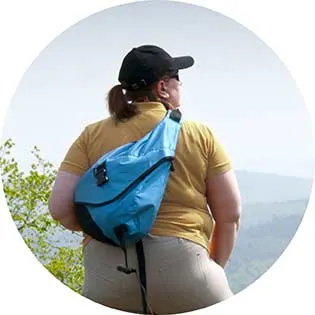 Lynli Roman's unique approach to travel is informed by decades of experience on the road with a traveling family and, later, years spent as a solo international traveler. When she's not writing about Seattle from her Pike Place Market apartment, Lynli writes on-location while conducting hands-on research in each destination she covers. Lynli's writing has been featured by MSN, ABC Money, Buzzfeed, and Huffington Post. She is passionate about sharing information that makes travel more accessible for all bodies.