As an urban metropolis, there's no shortage of places to swim in Seattle, but in this article, I share some of the best – or in some cases just extraordinary- places to swim in Seattle.
Ranging from well-managed public pools to isolated secret swimming holes, this list of places to swim in Seattle is your guide to all the best spots to check out to enjoy the most memorable swimming in Seattle this summer.
Seattle's Secret Pocket Beaches aka "Street End" Public Land
One of the best-kept secrets in Seattle (likely due to modern day Seattle being almost completely comprised of transplants rather than natives) is that Seattle has literally dozens of tiny parks where anyone can lounge, swim, and picnic on what is, essentially, a private beach.
Thanks to a 1996 Seattle law, anywhere in Seattle that a street dead-ends at a waterfront, the land between the end of the road and the water's edge is public land.
That means all those many streets that dead end at what appear to be private beaches are, in fact, not private. The narrow strip – just a street's width wide – extending from the end of the pavement to the waterfront is accessible to everyone.
Locals know this is one of the best ways to enjoy a beach day in Seattle without crowds or noise. To find the closest dead-end beach in Seattle, check out this article on Seattle's pocket beaches and learn how this much-debated (by property owners, at least) law maintains water access for recreational use throughout the city
"Wherever a public street dead-ends at water in Seattle, the space between that dead end and the water is public property"

The Stranger
You can find a map of what the city calls "Shoreline street ends" here on the seattle.gov site.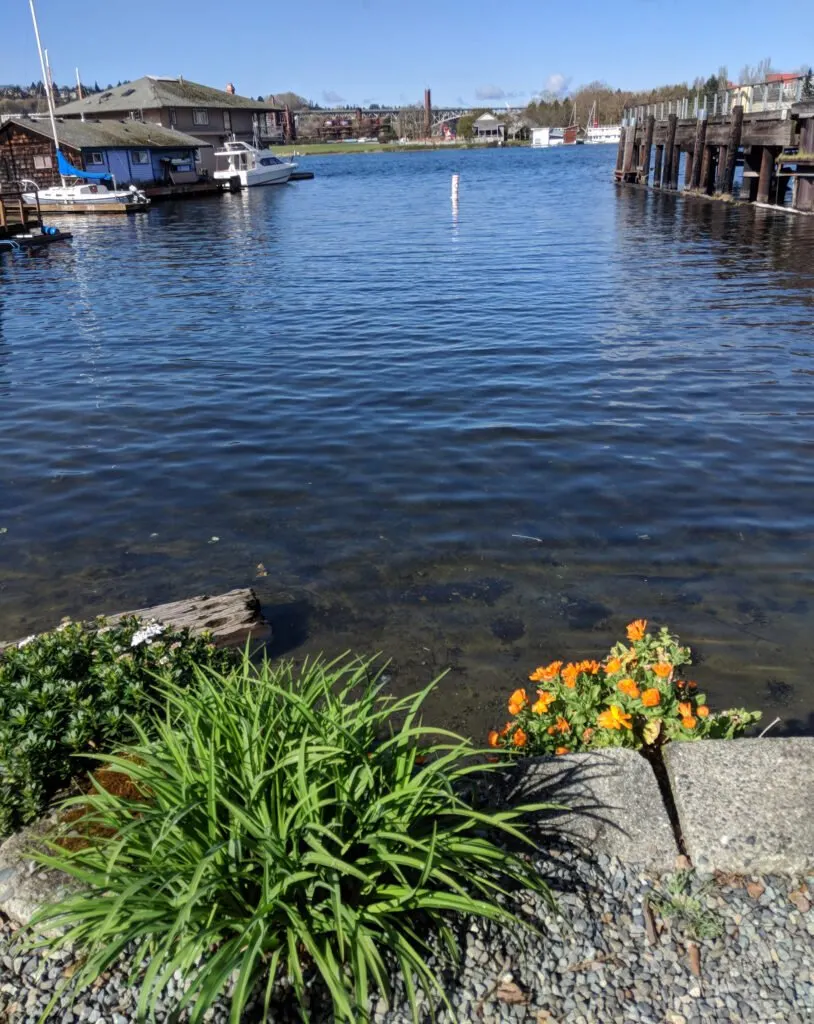 Magnuson Park Swimming Beach
6505 NE 65th St
Although Magnuson Park in Seattle has one of the busiest waterfronts in the summer, it's popular for good reason.
This Lake Washington beach is ideal for easy entry to swimming in Lake Washington, and features mostly calm waters due to the terrain of the shoreline. Adjacent to the Magnuson part swimming beach you can also take low-cost sailing lessons or rent a paddleboard at the nonprofit headquarters for Sail Sand Point.
Note that there is no lifeguard on duty at the Magnuson Park swimming beach, and it is possible to be drawn out away from the beach by currents in Lake Washington, so it may not be as safe as river floating near Seattle or other swimming activities that stay in shallow or supervised water.
Flaming Geyser State Park
Just a short drive from Seattle you'll find Flaming Geyser State Park, where warm weather means you can swim, float, or canoe down the Green River. Read my guide to Flaming Geyser State Park for more information about where to put in and exit the river.
Space Needle Splash Pads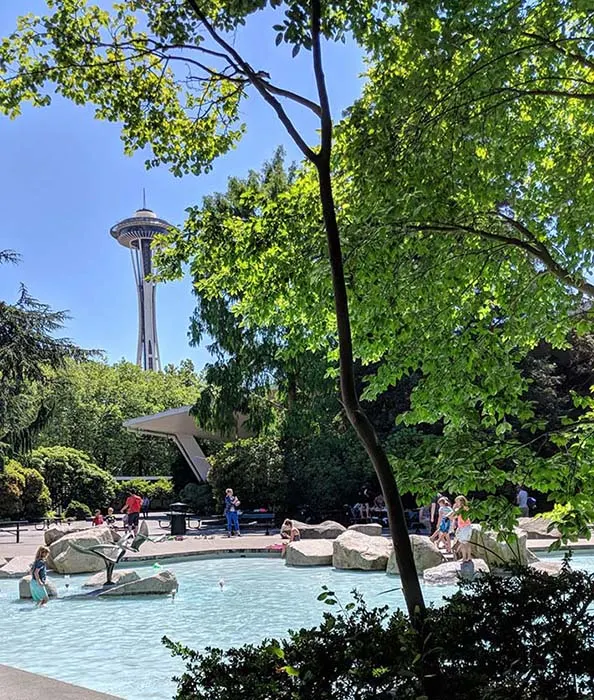 The fountains at Seattle Center, at the base of the Space Needle, are a fun place to get very wet- though these spaces are not intended for fully submerged swimming. Read my guide to family-friendly fun at Seattle Center for more information on these art-filled splash pads and wading pools.
Swimming at Seattle's Green Lake Park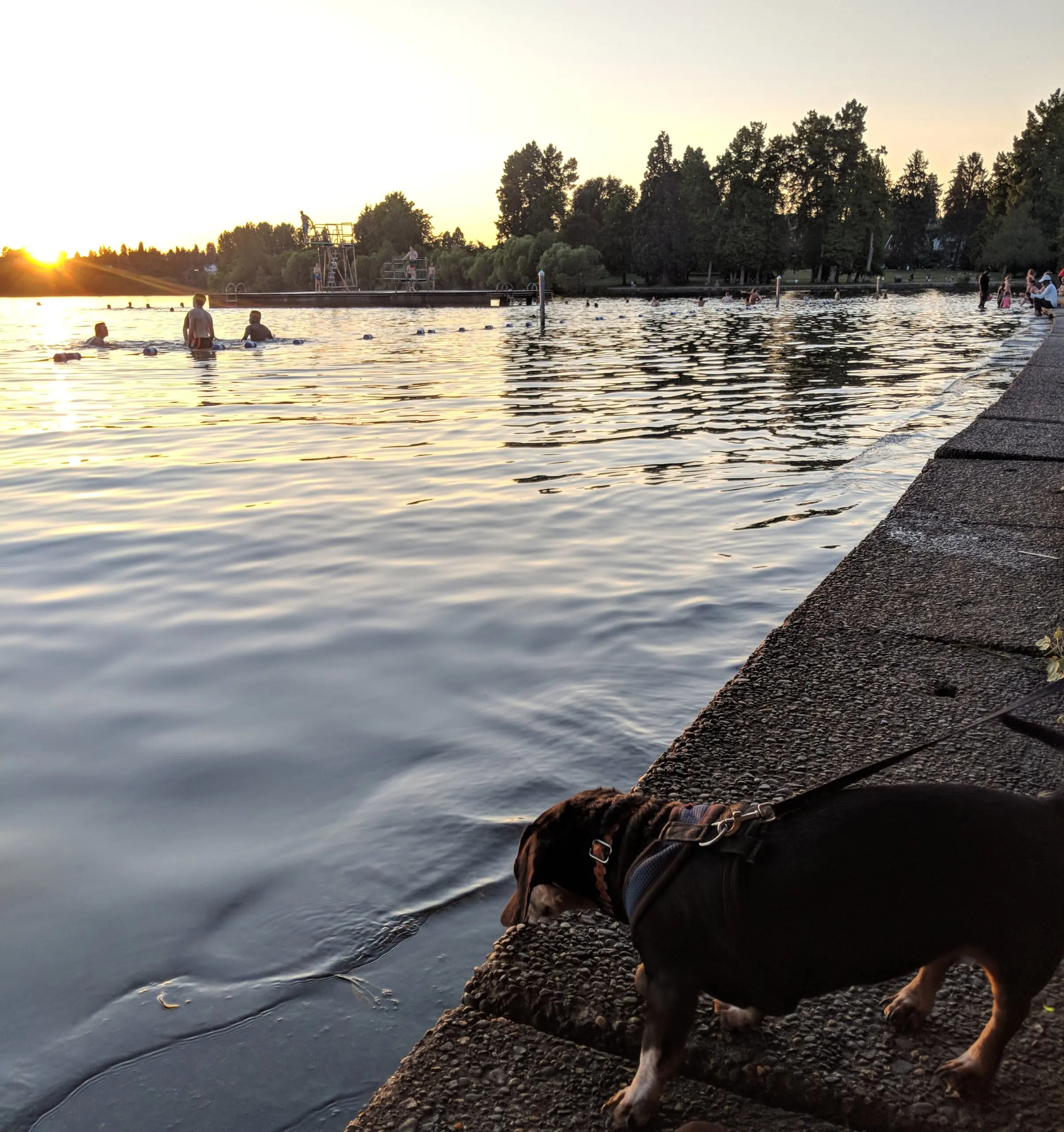 Generations of Seattleites have enjoyed summers spent diving off the dock and lounging on the stairstep entry at Green Lake Park. Indeed, this can be an idyllic place to swim in Seattle (free from the potentially dangerous currents of the Puget Sound and even Lake Washington) and it is one of the most popular places to see and be seen while swimming.
Green Lake offers swimmers in Seattle the advantage of a lifeguard on duty – making it one of the best natural (i.e. not a swimming pool) places to swim in Seattle. A major drawback of swimming at Green Lake, however, is concerns about water quality. Because this relatively small body of water is filled with bodies of both human and waterfowl, the water in Green Lake is not the cleanest. In fact, the one time I personally dunked my head underwater at Green Lake I instantly felt my nasal passages burning and, by the next morning, had a full-blown sinus infection.
Even if you decide not to swim in Green Lake, the soft rolling lawns of this park and the calm waters edge, where you can dunk just your feet if you choose, is a great place to enjoy the water in Seattle.
North Shore Lagoon Swimming Pool At Anderson School
18709 Bothell Way NE, Bothell, WA 98011
Have you ever wished that there was something like a cross between a public pool and a catered peak beachfront resort?
Well, the North Shore Lagoon Swimming Pool at Anderson School in Bothell Washington, just outside of Seattle, offers swimmers a place to swim that closely meets this request.
At the Anderson school, which is not a school, but rather an old school building converted to a restaurant, hotel, and pool that is open to the public for for for a fee, you can enjoy a dip in a saltwater pool that is protected from Seattle's wind, rain, and show.
With its modern tiki theme and impressive snack bar, it's hard to find a pool that rivals the Anderson pool. Learn more on their website.
Jetty Island
Although Jetty Island is a 45-50 minute drive from Seattle to Everett Washington, Jetty Island is definitely among the best places to swim in Seattle, especially by the time peak summertime rolls around.
The sandy beaches of this island, created from the dredged-up sand from the bottom of the Puget Sound, offer soft beaches and a unique beach vibe. Unlike most Puget Sound beaches, the water off Jetty Island is more shallow – allowing sunlight to penetrate and warm the water. This makes Jetty Island one of the few pleasant places to swim in the Puget Sound without plunging into icy cold water.
For more information on getting to Jetty Island and what to do once you're there, check out my guide to swimming at Jetty Island.
Colman Pool
8603 Fauntleroy Way SW
The Colman Pool is a truly unique place to swim in Seattle and it's a Seattle landmark.
Situated right on the beach, on Point Williams (which is located just north of the Seattle Ferry port to Vashon Island) Colman Pool offers outdoor swimming in a heated saltwater pool that's directly overlooking the open water of the Puget Sound. In non-pandemic years, it features a Giant Tube Slide and admission for Children is about $5, with adult admission around $7.
Colman Beach
1732 Lakeside Ave
Confusingly located nowhere near Colman pool, Colman Beach is my favorite large public swimming beach in Seattle.
Located just south of the Lacey V. Murrow Memorial Bridge along Lake Washington, this beach, was added to the National Register of Historic Places in 2020. Located in South Seattle near the Mount Baker neighborhood this beach is my very favorite spot to float in Seattle due to the calm waters, easy access, and relative obscurity compared to more popular beaches.
Grab a few inflatables and a towel and hit this beach any day of the week, this public park is a little less popular than many of the more talked about places to swim in Seattle, and it's not uncommon to only have to share the waters and the beachfront with only a few other park patrons.
Queen Anne Pool
1920 1st Ave W
For a more traditional public pool experience, the Queen Anne pool is among the great places to swim in Seattle. For people seeking swimming or aquacise for fitness, or lessons and how to swim for all ages, the Queen Anne pool is an excellent choice for swimming that is easy to access from downtown Seattle.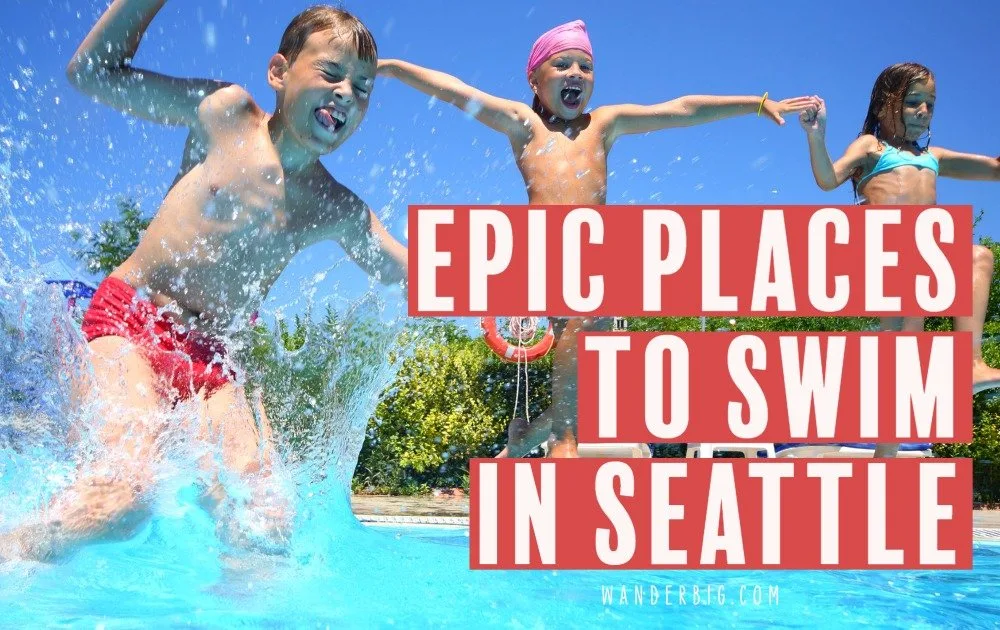 Swimming in Seattle: Three Choices
When it comes to going swimming in Seattle, there are a few ways to approach this activity. Because Seattle is surrounded by water, there's plenty of water to swim in, the challenge is that not all water in Seattle is warm enough for safe swimming.
The three choices for swimming in Seattle essentially boil down to:
Swimming in the Puget Sound
Due to icy currents from the Arctic Circle and the stunning depths of the Puget Sound, the sound is icy cold at worst and just a bit chilly at best.
Despite this, people swim in the Puget Sound in Seattle all the time. Many Puget Sound open water swimmers take advantage of the warmth added by wetsuits, but visiting the right beaches (like Jetty Island) on the right days (95 degrees and higher, ideally at the end of a hot summer) mean that you can enjoy a swim in the Puget Sound without an additional layer.
If you want to swim in the Puget Sound in Seattle, wait for the warmest days of the year and visit beaches with gently sloping tide flats – these allow the sunlight to warm water more efficiently than beaches that go very deep very quickly.
Swimming in Lake Washington
Lake Washington seems to be the most popular place to swim in Seattle – and many people would regard it as the best place to swim in Seattle.
With its many beaches and relatively clean water, swimming in Lake Washington offers relatively calm waters compared to the more choppy and unpredictable waters of the Puget Sound.
Swimming in Seattle's Smaller Lakes
While most people in Seattle swim in Lake Washington, many locals are loyal to swimming in the smaller lakes and ponds in King County. Echo Lake and Lake Ballanger are two small lakes in North Seattle beloved by swimmers. These waterfronts can be a little less crowded and a little more sheltered from the open water intimidation of swimming in the Sound or in Lake Washington.
Remain alert, however, as the smaller ponds and lakes can be equally dangerous for inexperienced or unsupervised young swimmers.
Swimming in Seattle Public Pools
For most of the year, swimming in Seattle is limited to indoor pools – both private and public. Pools like the Queen Anne Pool or the YMCA, help make swimming year-round accessible. Private pools like the Anderson school can offer exciting opportunities to swim even when it's too cold to enjoy outdoor swimming in Seattle. Swimming indoors in Seattle in the winter is one of the best ways to stay in shape for open water activities in Seattle in the summer.
Final Thoughts on Swimming in Seattle
As you can see, there are many options for swimming in Seattle, and while the best places to swim in Seattle is definitely a matter of personal preference, this list of places to swim in Seattle offers a great – though perhaps controversial to some- rundown of the best places to swim in Seattle.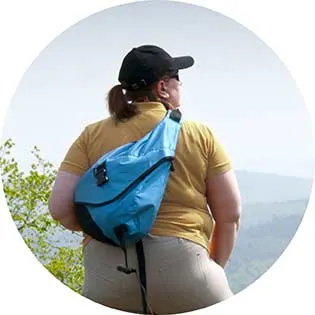 Lynli Roman's unique approach to travel is informed by decades of experience on the road with a traveling family and, later, years spent as a solo international traveler. When she's not writing about Seattle from her Pike Place Market apartment, Lynli writes on-location while conducting hands-on research in each destination she covers. Lynli's writing has been featured by MSN, ABC Money, Buzzfeed, and Huffington Post. She is passionate about sharing information that makes travel more accessible for all bodies.