There's no shortage of things to do in the Ballard neighborhood of Seattle. This storied neighborhood is home to quirky shops, museums, bars, and restaurants, Seattle's second most famous farmers market, and a surprising amount of wildlife. But beneath the typical (cough corporate-sponsored cough) list of things to do in Ballard, you will discover a community brimming with creative individuals who passionately create and share their art and craft. 🎨✨
In this article, I'll be sharing my local tips on things to do in Ballard, much like I shared my insider tips for Pike Place Market. Within this post, you'll find adventures and activities you won't come across in blogs written by those who merely visited for a weekend. I'll offer you a local's perspective on exploring Ballard – including where to spot seals and otters at the ship locks, a locally owned restaurant where the neighborhood has gathered for a century, and two seemingly unremarkable shops that will leave you astonished.
Best Things to do in Ballard According to Locals
You could easily spend a long weekend in Seattle's Ballard neighborhood and have plenty to do! To help you plan your visit, here is my list of priority destinations that will give you a real insider's look at this quirky neighborhood.
Hattie's Hat Diner 🍔🍹
5231 Ballard Ave NW, Seattle, WA 98107 | www.hatties-hat.com
What is it: Seattle's Oldest Restaurant. Open Breakfast – Dinner + Late Night Bar
Hattie's Hat Diner is a perfect stop for this list of things to do in the Ballard neighborhood of Seattle, Washington. Once you've explored, you've probably worked up the hunger, and there's no more iconic place in Ballard than Hattie Hats for brunch, lunch, or a signature Bloody Mary cocktail.
Hattie's Hat has been a restaurant in the neighborhood since 1904 – and you won't believe how much of the interior of this restaurant remains untouched. Wooden booths, an incredible classic bar, and countless vintage signs make it cozy and interesting.
It's a great spot for a group of Seattle explorers, since the menu offers many different options. From classic diner fare to options that appeal more towards the modern Seattle palate (a.k.a. green, healthy, and often vegan), it's really a menu that appeals to everyone. During my last visit, I had the chicken and waffles which were the envy of the table! 🍗🧇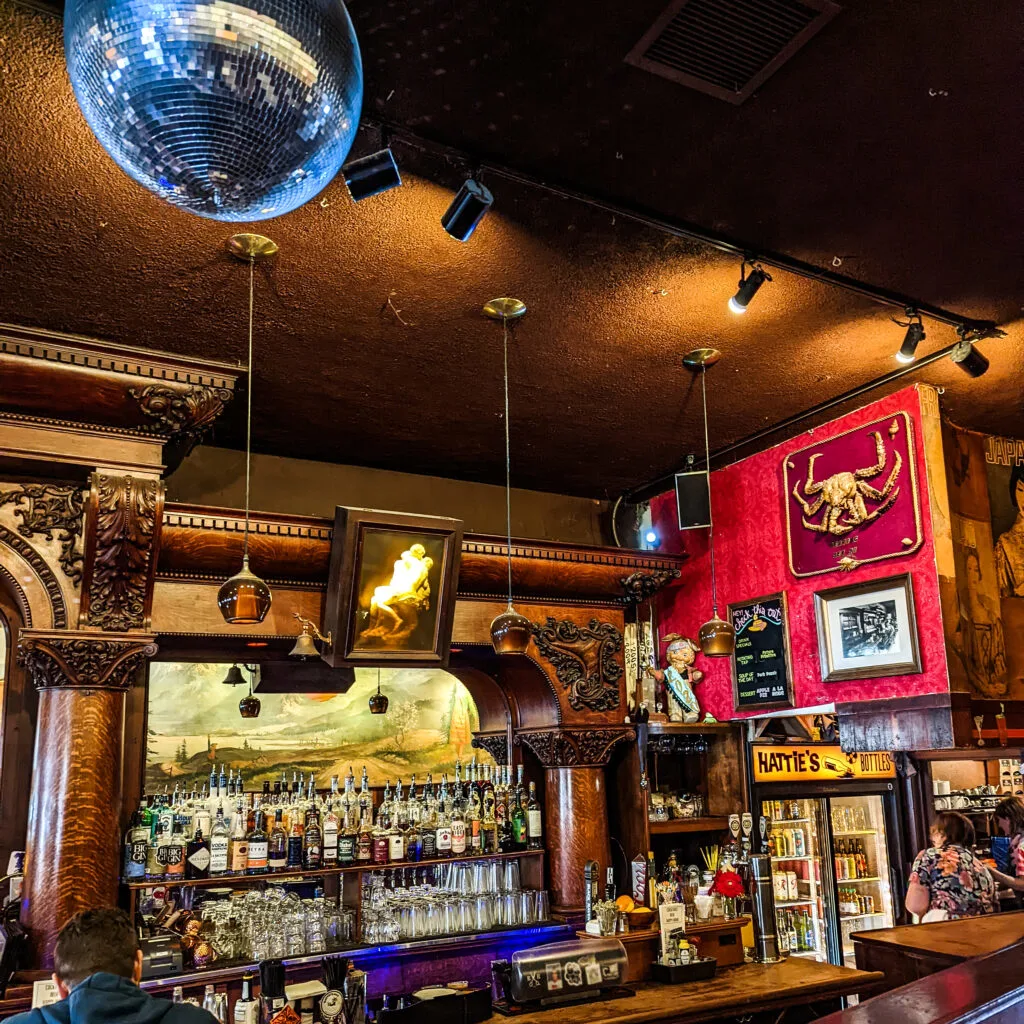 Ballyhoo Curiosity Shop 🧙🏿‍♂️🦉
5445 Ballard Ave NW, Seattle, WA 98107 | www.instagram.com/ballyhoo.curiosity
What is it: "Half Natural History Museum, Half Antique Shop"
I walked past the entrance to the Ballyhoo Curiosity Shop a dozen times before I peeked inside this tiny storefront. And boy was I surprised! While unremarkable from the exterior, the Ballyhoo Curiosity Shop entrance leads directly to a staircase which descends into what I honestly think I can say is the most magical shop I have ever encountered – literally!
Whether you are interested in pretty rocks and crystals, macabre antiques, or just taxidermy chickens (yes, seriously), you'll easily find a half hour or hour's worth of entertainment in the basement of this old building in the Ballard neighborhood.
Ballyhoo Curiosity Shop describes themselves as a cross between a natural history museum and an antique store – add a dash of a well-curated museum gift shop, and I think this description is pretty accurate.
Ballard Locks 🚢🐟
3015 NW 54th St, Seattle, WA 98107 | www.ballardlocks.org
What is it: "It's like the Sea Mammal Version of Applebee's" – An overheard traveler
I included the Ballard Locks in my list of cheap things to do in Seattle, but it's worth including in this list of things to do in the Ballard neighborhood of Seattle.
While Seattle locals looking for a unique day of exploration in Ballard have probably already visited the ship locks and the salmon ladder, first-time travelers to Ballard – or those staying in the neighborhood and looking for something to do – the ship locks is a must-see.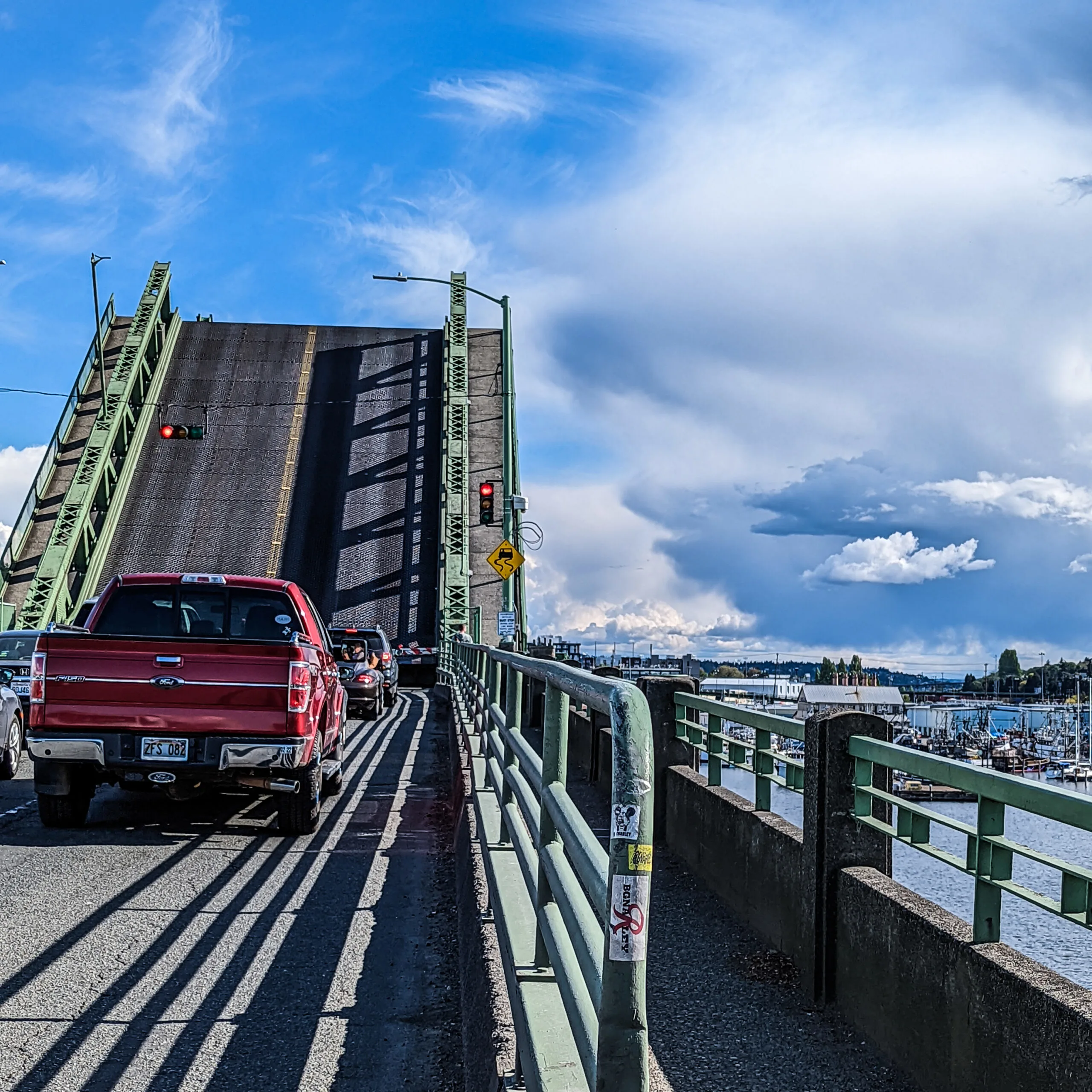 The locks themselves are a feat of engineering – and anybody with a keen interest in boats or mechanics will definitely enjoy watching the boats rise or drop to accommodate the difference in water level between Lake Union and the Puget Sound (Lake Union stays at a higher water level in order to prevent saltwater intrusion into this freshwater lake). The ship locks are so narrow that it's really fun to be only a few feet from the crew and passengers on the passing boats – which typically come out on the deck to enjoy the novelty of passing through the locks.
On the far side of the ship locks, you will find a salmon ladder where, from July to about October, salmon will swim up on their way to smaller creeks and streams to spawn.
💡 Insider Tip: While watching salmon climb the ladder, and observing their resting space through an underground viewing area is fun, it's not my favorite part. My favorite part is watching the open water on either side of the salmon ladder. There, if the salmon are running, you can spot otters and seals hanging out and waiting for an easy meal.
The Seattle Metaphysical Library 🔮📚
2220 NW Market St, Seattle, WA 98107 | www.seattlemetaphysicallibrary.org
What is it: a weird, hidden-away library of off books curated bu unusual people.
The Seattle metaphysical library is a destination for those who identify as "woo woo" and those in a more conservative camp. Why? It's just plain fascinating.
What is the Seattle metaphysical library? The Seattle metaphysical library is, in the true sense of the word, a library. Collections of books are cataloged, stored, maintained, and loaned out. In this case, however, the books are largely of a sort you won't find a big public library. Here, the stacks are filled with rare, out of print, and perhaps a few haunted tomes covering all manner of metaphysical, supernatural, and spiritual topics.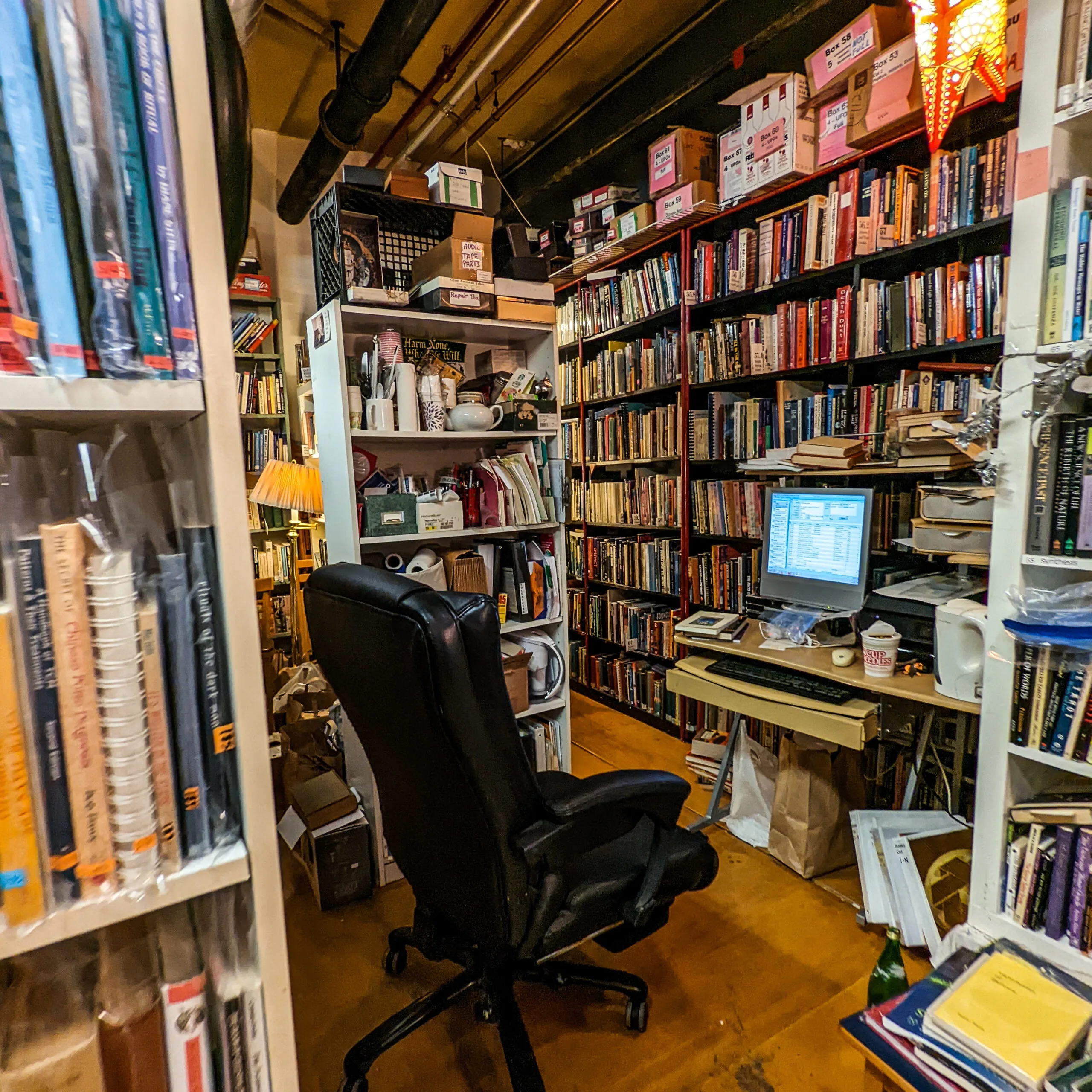 Like every good library, there is of course a librarian, perched on a chair in the corner of a grouping of rooms absolutely splitting at the seams with books. Upon visiting, a librarian will be present to greet you and show you around the metaphysical library if you'd like.
For most, the adventure of visiting the metaphysical library will be in finding it, but if you find yourself stopping and browsing forever, that's okay too. There are spaces designated just for sitting and flipping through the books in the collection. Not in town long enough to check out a book from the metaphysical library? No problem, You'll find 1 to 2 tables of books for sale on any given visit.
My favorite part of visiting the Seattle Metaphysical Library was finding it! Although the street front entrance was somewhat well marked (a sandwich board and a small plaque signify you're at the right place) it's the journey after you enter the building that really feels like you are traveling to a liminal place: a stairway leads to a hallway, the hallway leads to the corner, and the corner leads to yet another hallway and corner. Keep following the signs down these court orders and, like Alice in Wonderland, you'll eventually stumble into the humble quarters of the Seattle Metaphysical Library.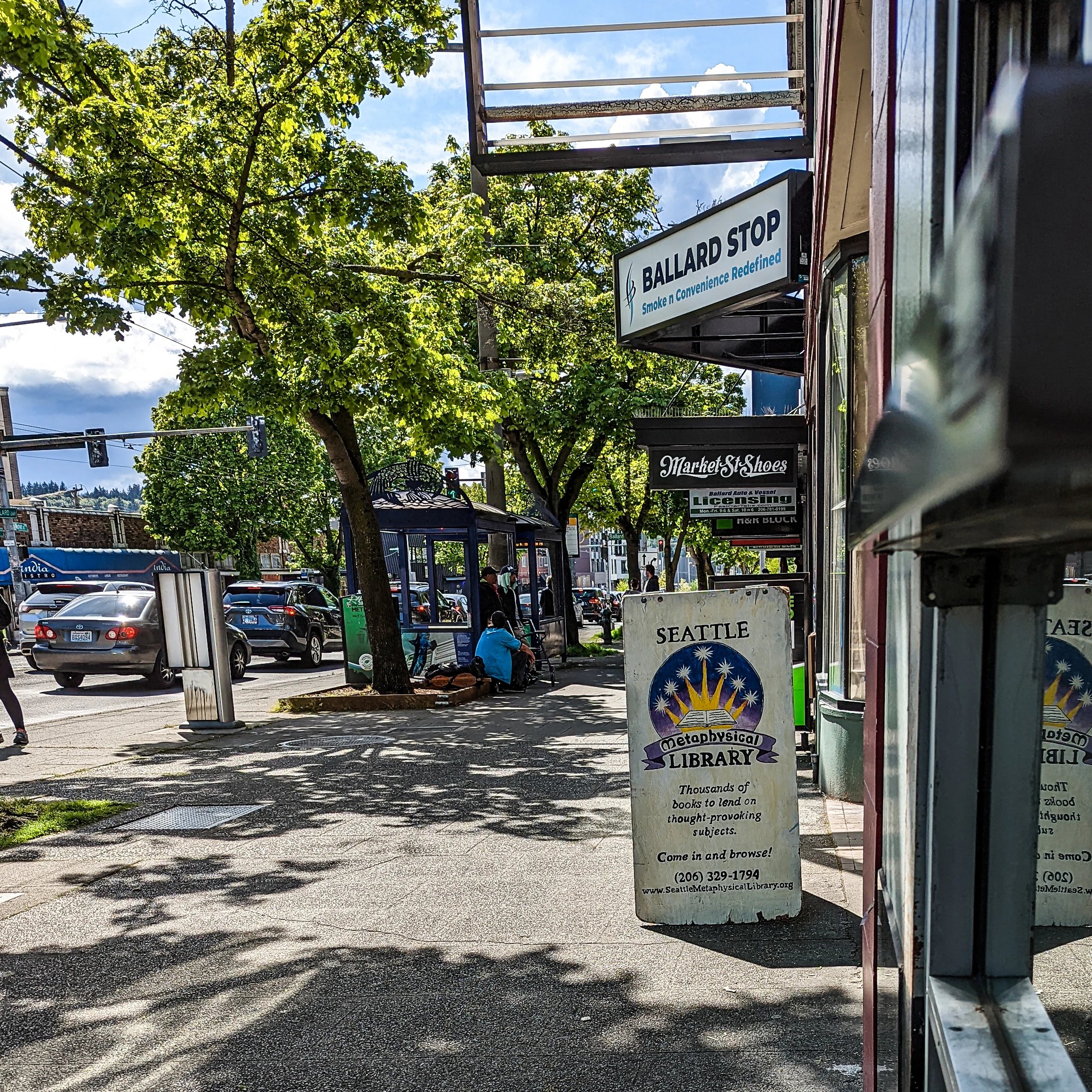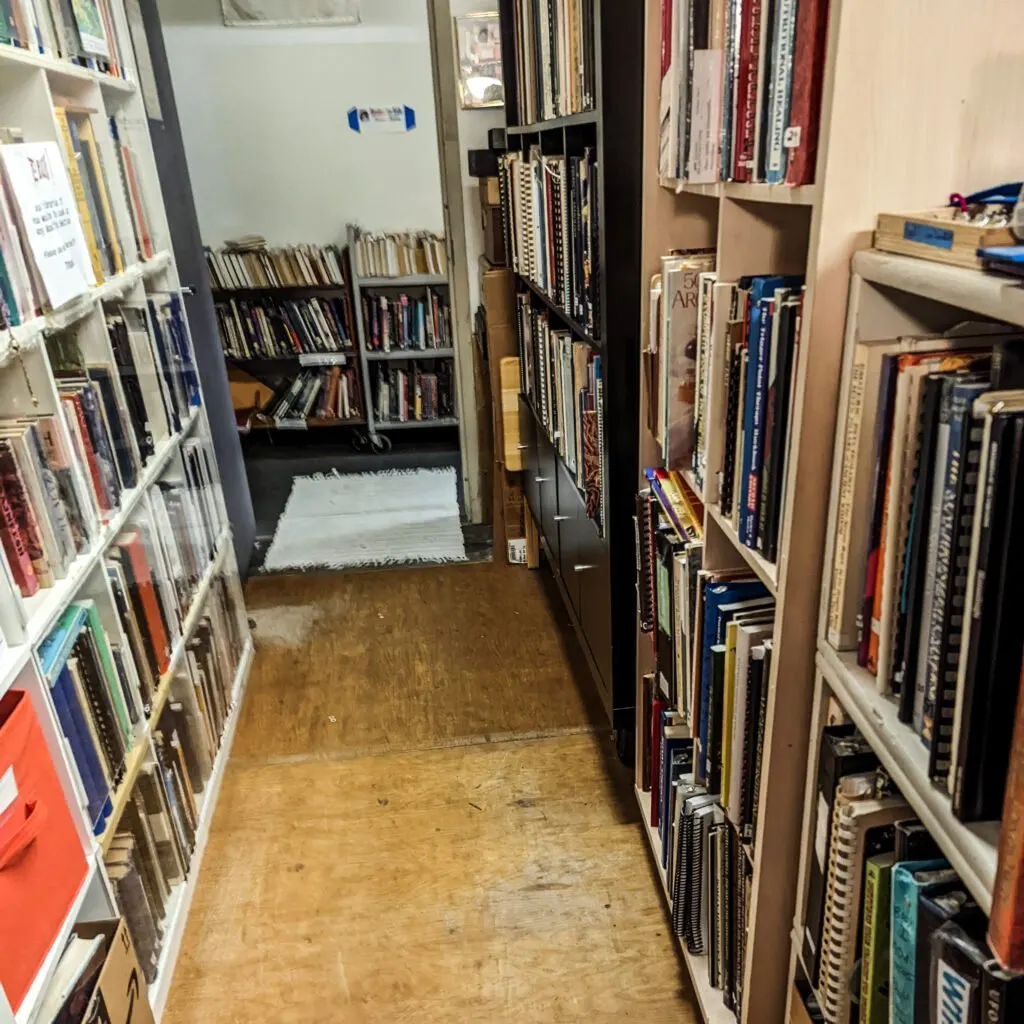 While you're in the neighborhood: Old Carnegie Library 🏛️📚
2026 NW Market St, Seattle, WA 98107 | www.kangarooandkiwi.com
What is it: One of the libraries funded by 19th century millionaire Andrew Carnagie, known for style and architecture.
Have you ever wish that you could visit an Australian-themed sports bar housed inside of an old Carnegie library? Well this Ballard neighborhood destination can scratch that itch!
In a turn of events that would make Dale Carnegie turn over in his grave, Kangaroo and Kiwi serves up brews, chicken wings, and "cheese toasties" in the luxuriously wood paneled reading rooms of this 19th century former library. Pop in for a drink, brunch, or just the free bathrooms and do a bit of exploring through the building architecture that harkens back to a very different time in the life of the Ballard neighborhood.
If you have time: Push/Pull Comix
2000 NW Market St, Seattle, WA 98107 | www.pushpullseattle.com
What is it: indie comic book shop
In the shell of now-shuttered Dakota Art Supply , Push/Pull is half gallery, half comic shop, and half art supply store (yes, I know that is 3 halves! ) Embracing both "serious" illustrators and the novice, Push/Pull offers art supplies, classes, workshops, and a rotating display of featured artists.
The Best Place to Stay in Ballard Neighborhood of Seattle
For travelers who want to explore beyond Seattle's Pike Place Market, the Space Needle, and the Ferry Terminal, Ballard is an excellent neighborhood to stay in. One major bonus for tourists staying in Ballard is that hotel rooms are significantly discounted from the extreme rates charged downtown. With a thriving and easy-to-use public transportation system, you can easily get from Ballard to major tourist spots in the neighborhood and beyond using Seattle buses. Learn more about getting around Seattle without a car.
The following section may contain affiliate links. As an Amazon Associate, we earn from qualifying purchases.
Hotels I Recommend:
Hotel Ballard
Hotel Ballard is by far the most iconic place to stay in the Ballard neighborhood of Seattle. It's got a mix of historic charm and modern amenities, a pretty rocking rooftop terrace.
Click here to check nightly rates at Hotel Ballard
Ballard Inn
A step down from Hotel Ballard, the Ballard Inn is a charming budget-friendly option. If you don't mind sharing a bathroom (lots of old hotels and even apartments in Seattle still have common bathrooms!), the Ballard Inn can be an affordable way to make your money stretch a little farther while visiting Seattle.
Keep in mind that travelers report a lot of street noise (Ballard is a thriving neighborhood with many loud bars and restaurants), but you'll be right in the heart of the neighborhood with quick access to all of these things to do in Ballard.
Click here to check nightly rates at Ballard Inn
How to Spend a Half Day Exploring Ballard
⛪ While many cathedrals and temples charge an entry fee, here's the travel hack ya'll are here for: If you show up on time for a religious service, admission is free. You can leave when you've had your fill or stay through the service and explore for free afterward. You might even be invited into private spaces to see spaces beyond a typical tourist.
Final Thoughts on Seattle's Ballard Neighborhood
To sum it up, the Ballard neighborhood in Seattle is a vibrant hub overflowing with an abundance of things to do and see. From its eccentric shops, museums, and vibrant nightlife, to the bustling farmers market that stands as Seattle's second most famous, and the unexpected encounters with wildlife, Ballard never ceases to amaze.
However, beneath the surface of the typical attractions, there's a dynamic neighborhood with no shortage of creative minds. This community is teeming with individuals who are not just consuming art and craft, but actively producing and sharing their own unique expressions.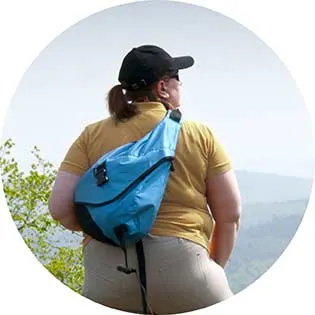 Lynli Roman's unique approach to travel is informed by decades of experience on the road with a traveling family and, later, years spent as a solo international traveler. When she's not writing about Seattle from her Pike Place Market apartment, Lynli writes on-location while conducting hands-on research in each destination she covers. Lynli's writing has been featured by MSN, ABC Money, Buzzfeed, and Huffington Post. She is passionate about sharing information that makes travel more accessible for all bodies.