Getting around Portland, Oregon without a car is easy with these tips for exploring the city carless!
In this article, I'll share with you some of the best ways to get around Portland without a car- including 5 alternatives to a rental car for Portland tourists and tips for residents living in Portland with no car.
How I Became an Expert: Living in Portland without a Car
I learned firsthand that it isn't necessary to have a car in Portland, Oregon- in fact, being carless in Portland is often easier than having a rental car or owning a car! When I moved here from Florida in 2012, I decided to sell my sedan and wait until I got settled to buy a new vehicle – but guess what? Six years later, I was still happily getting around Portland carless!
I learned that with the public transportation available in Portland, I really only needed a car on gorgeous weekends when I craved to get out of the city and into the surrounding PNW hiking trails. These days, even with the convenience of at car at my disposal, I still prefer taking local transportation around the city (for work and for pleasure), here's how:
Reasons not to Rent a Car for Portland Vacations
As an out-of-town traveler you will find your stay much more pleasant if you save yourself the trouble of renting a car- trust me. Why?
Portland Streets aren't Easy to Drive. The residential streets are where most of the parking is, especially in the quintessentially "Portland" areas to visit, and not only are streets very narrow but also, parking is permitted on both sides (which makes them even more congested).
Traffic in Portland can be Terrible. Traffic on the major highways 1-5 and I-84 can be a nightmare and it would be a shame for you to spend your vacation sitting in traffic when you could be seeing the charming neighborhoods that you undoubtedly came to Portland to see!
From the moment you step outside of PDX airport, the Portland MAX Light rail is there to take you straight into the heart of the city, and fits much better in a travel budget than a Lyft, Uber or Taxi. Once settled, you can decide for yourself which will be your preferred way to get around the city.
5 Alternatives for Renting a Car Portland, OR
Walking in Portland
Every pocket neighborhood in Portland has with its own lively, walkable main street to take a leisurely stroll down and just see what you see– and you'd drive right by it all if you were in a car! Depending on how much time you have, I'd recommend using TriMet (Public Bus) in tandem with your own two feet, so you make sure to see it all.
From downtown, you can easily walk to the famous Pearl District and boutique storefronts on NW23rd Street. The Northeast has the Alberta Arts District and Mississippi Avenue; the Southeast part of Portland has Hawthorne and Division 'D-Street' Village. Each area includes its own set of eclectic shopping, charming lunch spots, local bars with craft cocktails, and quirky dessert joints.
Biking around the City
Many tourists find cycling to be the preferred way to explore Portland efficiently and safely without a rental car. Portland is regularly named one of the most bike-friendly cities in the country! It has well-maintained bike lanes, extensive pathways throughout the city, and 'bike boulevards' that give priority to cyclists over motorized vehicles.
If you're in town without your own set of two wheels, you can easily find one to rent through a local company. As an alternative to public transportation, privately owned BIKETOWN electric bikes can be found in hubs all over town (125 hubs to be exact, at the time of this article's publication) and are very user friendly: simply download the app, pay the introductory $5 fee and enjoy your ride for .08 cents per minute.
Best Bike Route for Tourists in Portland
In nice weather, a ride down the East bank Esplanade along the Willamette River, across the infamous (pedestrian only aside from the Streetcar) Tilikum bridge and through the South Park Blocks will be a blissful and memorable part of your trip.
Pro tip: do this on a Saturday or Sunday and the route will take you through the Portland Saturday Market, one of the largest continuously running open-air arts and crafts markets in the country!
The MAX Light-Rail Train: Portland's
The MAX is an affordable and convenient way to get around Portland, as it covers much of the city and its outskirts, and connects the airport to downtown. There are 5 main Max lines:
Blue Line (Hillsboro/City Center/Gresham)
Green Line (Clackamas/City Center/PSU)
Red Line (Airport/City Center/Beaverton)
Yellow Line (Expo Center/City Center/PSU)
Orange Line (Milwaukie/City Center)
Notice that every line runs through downtown and is predictable every 15 minutes during peak hours. Unlike the city busses, light rail trains in Portland stop at every station regardless of a passenger signal, and every line has its own schedule and operating hours (easily found on the TriMet website).
If you're familiar with riding subways at home or from previous public transportation while traveling, this above-ground alternative will feel familiar and easy to navigate even for tourists on their first visit to Portland!
Ride the Portland Streetcar
The Portland Streetcar has expanded greatly since its introduction in 2001, when it was limited to the NS line going from PSU (Portland State University) to the Pearl District. Nowadays you can catch either the A Loop or the B Loop (same route, but one goes clockwise and the other counter-clockwise)- that takes you from the eastside of the city to the west side (via the Tilikum Crossing bridge), through PSU up to the pearl district, back across the Broadway bridge and down through Lloyd all the way to OMSI (Oregon Museum of Science and Industry).
I love taking the streetcar because there is so much to see and do along this loop- you could literally spend a whole day adventuring between stops! For many Portland tourists without a rental car, the streetcar will be all you need to see the city.
Ride Bus in Portland: Tri Met
Getting around Portland, OR by bus is cheap and accessible. Busses in portland go almost everywhere, are popular, reliable, and the reason I was able to so effortlessly live in Portland for 6 years without a car!
You'll find bus stops are everywhere in portland, drivers are friendly, and the routes are easy to navigate! Plus, as I mentioned before- the busses have bike racks on the front, so you can double up on your carless exploration about town and see even more!
Similar to the Max Light Rail, the busses run about every 15 minutes, and the easiest way to pay for your fare is through the Hop Fastpass App– it'll be just $2.50 for 2.5 hours or $5 for a day pass (24 hours).
More Transportation Options
Rideshare
Like most modern cities, Portland offers an assortment of rideshares and taxis. Rideshares can be a good alternative to use when you are too tired to walk, get off the bus at the wrong stop, or are running late for a timed event.
HINT: Always set up and fund your rideshare app before you leave home. You don't want to have to pull out a credit card or be distracted at an airport, curb, or parking lot!
Rental Car Alternatives
For the weekend warriors looking to leave Portland's urban neighborhoods and explore Mt. Hood, The Willamette Valley, or the Oregon Coast, there are plenty of ways to get yourself behind the wheel of a car without having the Monday through Friday responsibility. Zip car, rental car companies, and the app Getaround will suit your temporary needs just perfectly. Take it from me, you'll thank yourself for seeing so much more than you otherwise would have in the time spent finding parking!
Living and Commuting in Portland Without a Car
Whether you're headed to your daily grind or meeting up with friends for happy hour, you'll find it's a breeze to get yourself from point A to B. The TriMet system– consisting of the Max light rail, streetcar and public busses– runs on a frequent and reliable schedule and will deliver you close to wherever you're going (for cheap!)
Portland is a very compact city, and downtown is comprised of only 26 by 13 blocks (that are only half blocks compared to most other cities' standards). This proximity coupled with the lush urban forest that runs throughout makes walking to your destination both enjoyable and efficient.
Hint: keep a lightweight rain shell with you for those trademark PNW afternoon showers!
As an inner east-sider living in Northeast and working in southeast, my method of choice has always been a combination of bussing and biking, as all public busses have a bike rack on the front that are extremely convenient and user friendly.
For everyday living, you'll find that you won't have to go very far to have all your needs met as every neighborhood seems to come with its own set of staples: grocery stores (large chains and co-ops), coffee shops, an abundance of food trucks and restaurants and even local movie theaters!
With a rapidly growing population and narrow streets, these tips for living, working, and visiting Portland without a car can help you enjoy more of your visit with less stress.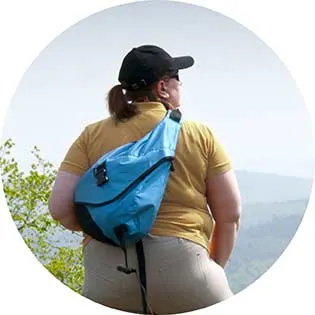 Lynli Roman's unique approach to travel is informed by decades of experience on the road with a traveling family and, later, years spent as a solo international traveler. When she's not writing about Seattle from her Pike Place Market apartment, Lynli writes on-location while conducting hands-on research in each destination she covers. Lynli's writing has been featured by MSN, ABC Money, Buzzfeed, and Huffington Post. She is passionate about sharing information that makes travel more accessible for all bodies.