The first time I drove down the freeway that cuts through downtown Seattle, my attention was drawn upward. I'd seen freeway lids plenty of times, but Seattle's downtown freeway lid hinted at something unique and spectacular: towering evergreens extended high over the lid and wandering vines dangled far over the edges. This, I would later come to learn, was my first look at Freeway Park.
Freeway Park is a unique park in downtown Seattle Washington. Created by Lawrence Halprin's office under the supervision of Angela Danadjieva, it opened to the public on July 4, 1976. This expanse of concrete, water, and grass was designed to defuse the sound from the freeway below and link the neighborhoods of Capitol Hill, First Hill, and the Downtown core.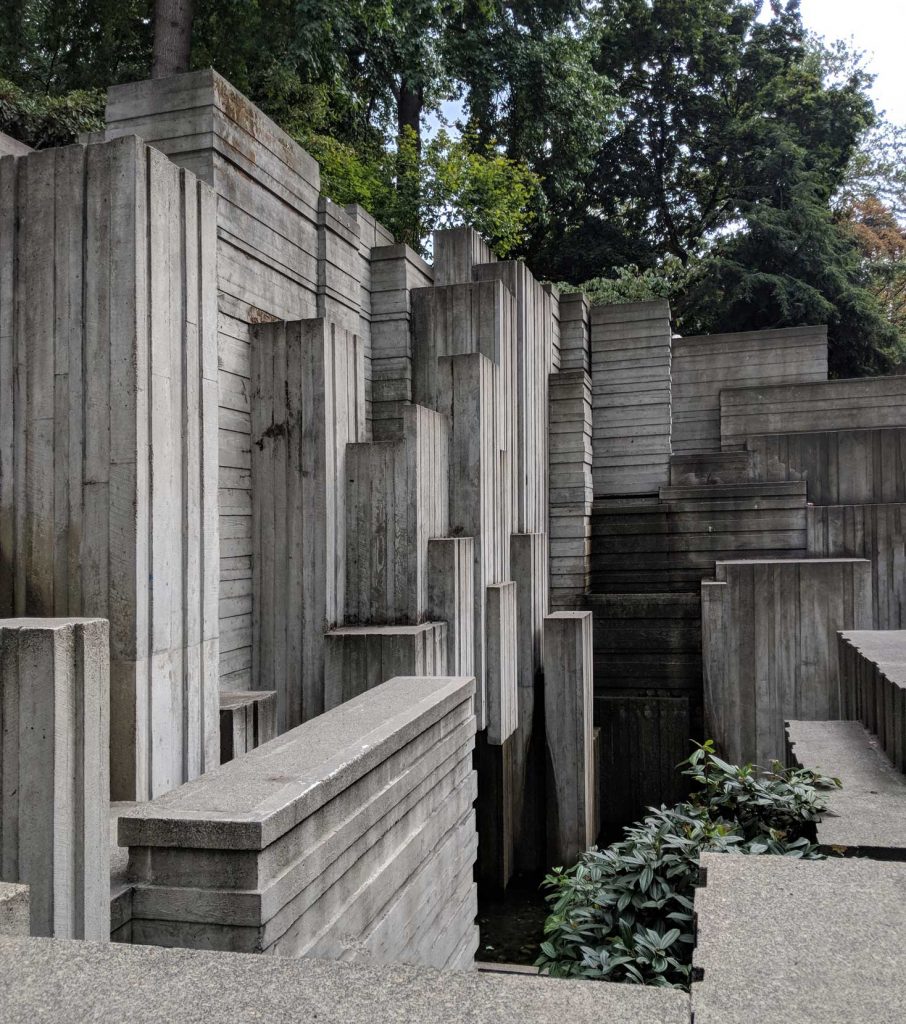 For many years, Freeway Park fell into disrepair, and despite being a literal textbook example of brutalist architecture and home to jaw-dropping sculptures including a man-made "canyon," Freeway Park was rarely visited or utilized as a play-space. During these years the waterfalls were turned off and the park became known for crime, unpermitted camping, and loitering.
I'm happy to report that as of fall of 2018, freeway Park is a bright and well-maintained public space. Though it's location in the heart of Seattle during our present opioid crisis means that addicts and signs of drug use may be present, equally present are security foot patrols.
Thanks to the city's effort in maintaining security and rejuvenating the landscaping, Freeway Park is one of my favorite parks in Seattle. On weekends it is home to free park-commission-sponsored activities like kite painting and urban sketching, while on weekdays it's an often-enjoyed lunch spot for employees from the high-rise office buildings towering high above the park.
During your visit to Freeway Park, don't miss the exit via the Washington state convention center – where the brutalist architecture continues through an atrium and into the building's concrete facade beyond.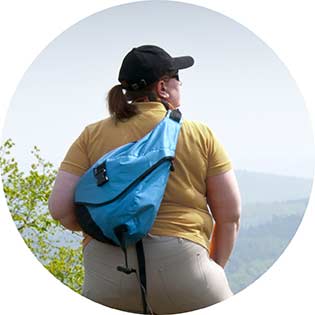 Artist, digital nomad, and highly sensitive person, Lynli started traveling full time as a digital nomad in 2018. Writer and Illustrator by day, remote-destination explorer by other-days, Lynli is passionate about pushing the boundaries of her own comfort zone, exploring the world as a female, fat, one-bag traveler, and journalling it all on WanderBig.com