Freeway Park is a unique park in the core of Seattle's Downtown. Built directly on a freeway overpass, this park is both an architectural wonder and a restful urban oasis. Read more to learn my tips for visiting this Seattle landmark.
Exploring Freeway Park
The first time I drove down the freeway that cuts through downtown Seattle, my attention was drawn upward. I'd seen freeway lids plenty of times, but Seattle's downtown freeway lid hinted at something unique and spectacular: towering evergreens extended high over the lid and wandering vines dangled far over the edges.
This, I would later come to learn, was my first look at Freeway Park.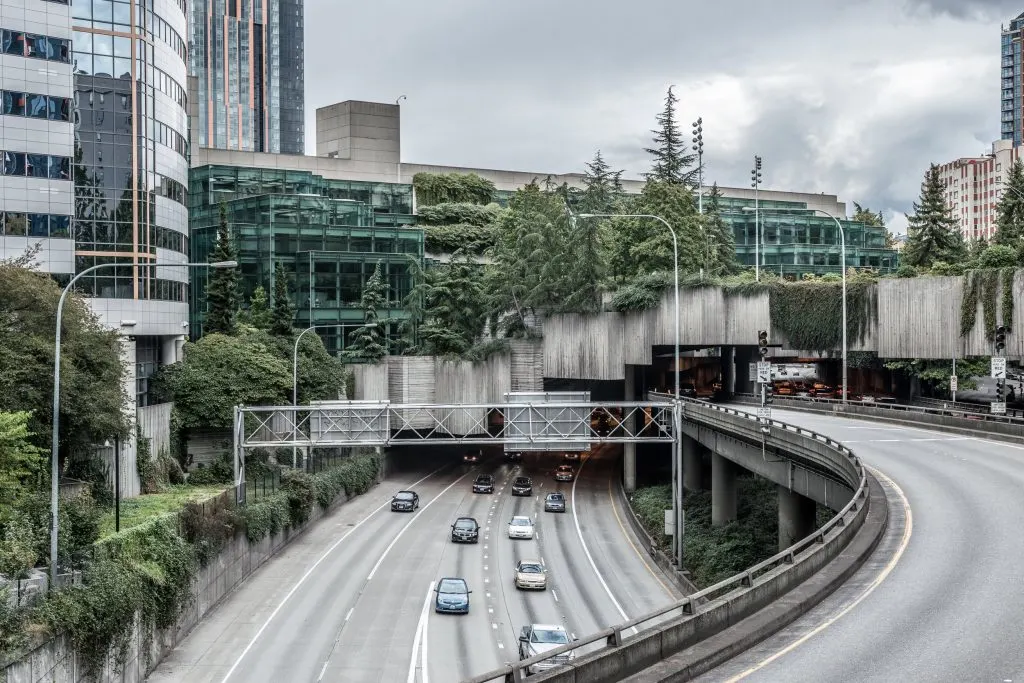 Freeway Park is a unique park in downtown Seattle Washington. Created by Lawrence Halprin's office under the supervision of Angela Danadjieva, it opened to the public on July 4, 1976. This expanse of concrete, water, and grass was designed to defuse the sound from the freeway below and link the neighborhoods of Capitol Hill, First Hill, and the Downtown core.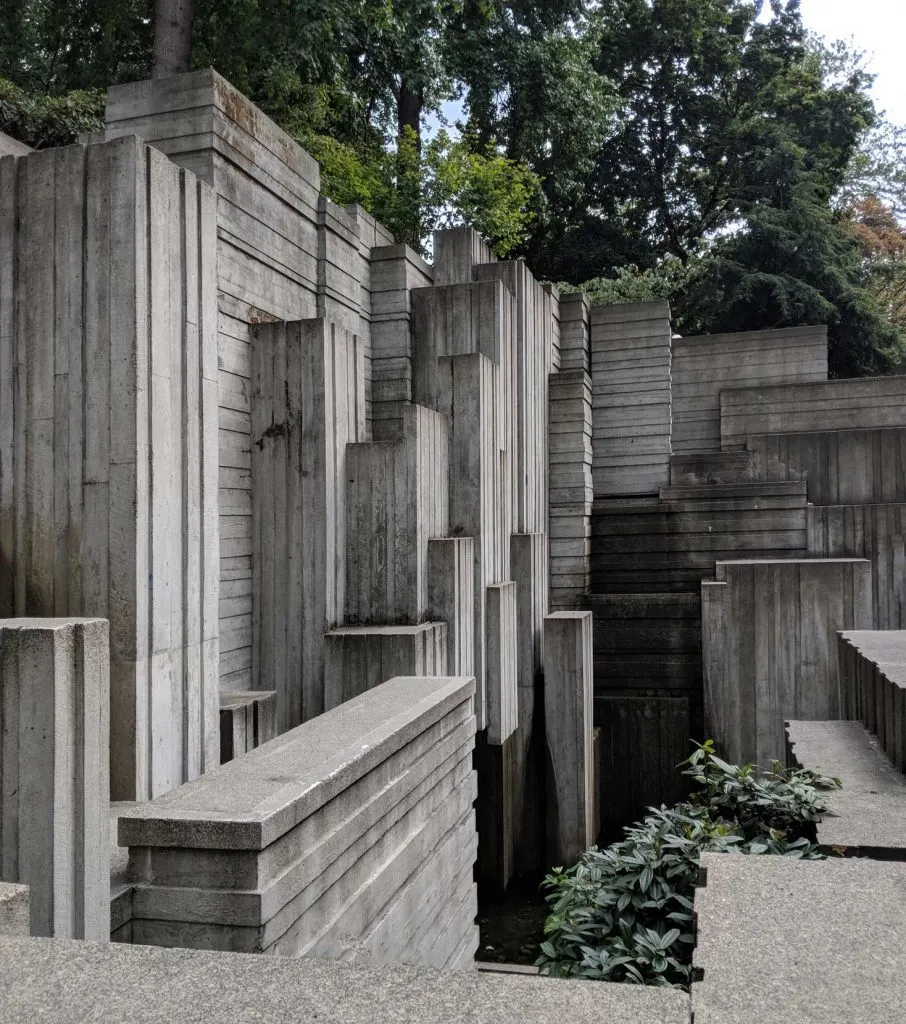 For many years, Freeway Park fell into disrepair, despite being a literal textbook example of brutalist architecture and home to jaw-dropping sculptures, including a man-made "canyon."
Freeway Park was rarely visited or utilized as a play space. During these years, the waterfalls were turned off and the park became known for crime, unpermitted camping, and loitering.
I'm happy to report that as of the fall of 2019, Freeway Park is a bright and well-maintained public space. Though its location in Seattle means that signs of drug use may be present, equally present are security foot patrols.
Like any urban location, it's a good idea to avoid this park after dark- especially if you are a solo traveler in Seattle.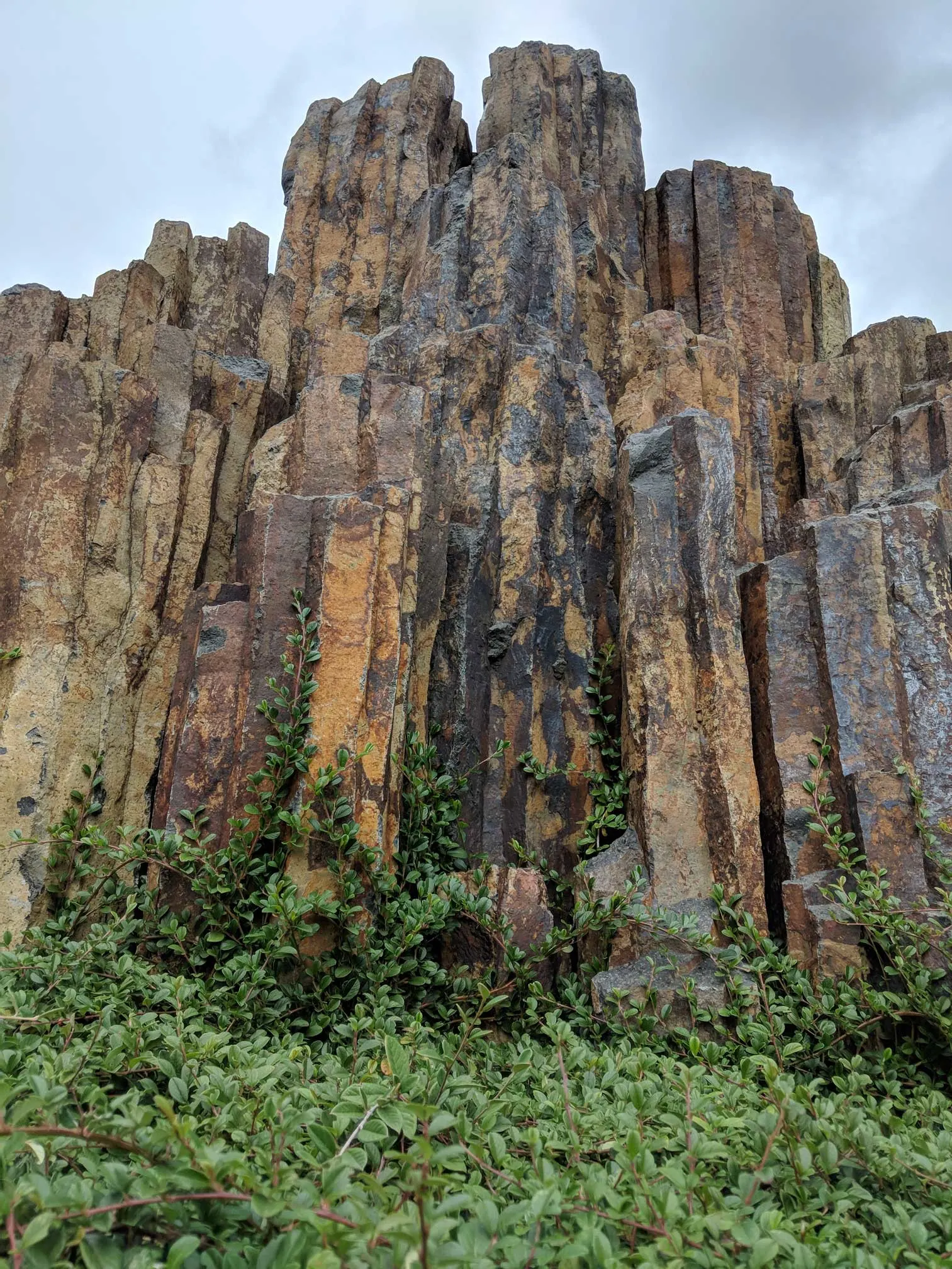 Thanks to the city's effort in maintaining security and rejuvenating the landscaping, Freeway Park is one of my favorite parks in Seattle. On weekends it is home to free park-commission-sponsored activities like kite painting and urban sketching, while on weekdays, it's an often-enjoyed lunch spot for employees from the high-rise office buildings towering high above the park.
During your visit to Freeway Park, don't miss the exit via the Washington state convention center – where the brutalist architecture continues through an atrium and into the building's concrete facade beyond.
Tips for enjoying Seattle's freeway Park
Like most destinations (and especially Seattle's own Pike Place Market), Freeway Park is best enjoyed with mindfulness-based travel practices.
If Freeway Park is on your itinerary for a Seattle visit – or a Seattle day trip – you might be tempted to charge on through this small park. However, if you rush your visit and pause only for a few minutes at the water features, you'll miss some of the magic that this small freeway lid park offers.
Here are a few tips for enjoying Seattle's Freeway Park fearuing a man-made brutalist canyon-inspired art exhibit:
Give yourself at least an hour to enjoy Freeway Park
When we are ready to rush on to the next item on our itinerary, we often miss the experience in the present moment. Making sure that your time is managed so that you don't have to rush your visit can actually make your time spent at a destination like Freeway Park more memorable and enjoyable. For more tips on being fully present to travel experiences, check out my article on mindful travel.
Explore all the paths
Because of the unique location of Seattle's Freeway Park on top of a freeway lid, it doesn't have the simple straightforward layout that you might expect from a city park. Instead, paths can diverge or intersect unexpectedly- and entire quadrants of the park can be missed if you don't take the time to follow some secondary paths.
In particular, don't miss the freeway overlook. Although it's the loudest part of the park and definitely the least park-like, it's an interesting experience to move, in just a few steps, from the leafy green shelter and relative quiet of the park to the loud urban view of watching cars speed under the overhanging vines that spill over the edges of the freeway lid.
Bring a lunch or snack
Sitting and taking-in a space Like Freeway Park, that other people might be enjoying at the same time, can be challenging for some people- especially new solo travelers. Packing lunch or snacks can help: it can give you something to do and can help you slow down and enjoy the park. Thankfully, Freeway Park has many nearby restaurants that offer take-out. During summer weekends you may even find food trucks or food carts within the bounds of Seattle's freeway lid Park.
Journal or sketch
Both longhand journaling and sketching offer a way to create a totally unique record of your trip- journals and art are the best souvenirs, and they're a great way to expand your perspective and notice more about the park. If travel journaling about Freeway Park or other destinations feels overwhelming, take one of the altered approaches that I described in my guide to starting a travel journal. With easy steps to begin creating simple records of our travels, we can create an amazing document to refer back to later in life.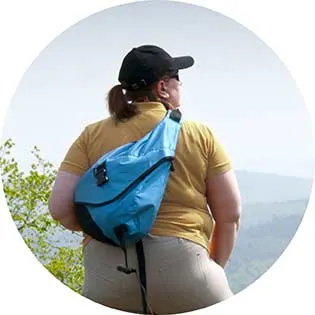 Lynli Roman's unique approach to travel is informed by decades of experience on the road with a traveling family and, later, years spent as a solo international traveler. When she's not writing about Seattle from her Pike Place Market apartment, Lynli writes on-location while conducting hands-on research in each destination she covers. Lynli's writing has been featured by MSN, ABC Money, Buzzfeed, and Huffington Post. She is passionate about sharing information that makes travel more accessible for all bodies.