It may surprise you to learn that for many travelers, the more they travel, the less they pack!
When I started out traveling as a digital nomad, and plus size traveler, I packed a lot. However, as I traveled more, felt the literal and metaphorical weight of managing all that luggage, and as I began following the Reddit subs r/onebag and r/digitalnomad, I begin to wonder what it would be like to travel with less luggage. Curious about the freedom of travel with only one carry-on-sized bag, I tried it! In this article, I share a little bit about my experiments, adjustments, and tips for traveling as an ultralight, minimalist packer.
One-Bag Packing for Long Term Travel
I was worried that I wouldn't be able to pack everything I needed into one suitcase for long trips, but one of the best pieces of advice I got when I packed for my first three-month trip was this: The only difference between a packing list for a 3-day trip and a packing list for a 3-month trip is fingernail clippers!
On this page, I have collected a simple rundown of all of the One Bag Travel related posts on wanderbig.com, including how to shop for the perfect bag for you, a doodle-Illustrated guide to absolute essentials for one bag travel, best packing hacks, my ultimate packing list for plus-size travelers, how to make ultra-compact makeup compacts to fit in one bag luggage and more. Also covered are how I pack a plus-size capsule wardrobe for travel, essential luxury items you will find in my one bag, and how to pack to get a great night's sleep every night on the road. Finally, I've included some ideas for one-bag-friendly teeny tiny souvenirs that offer a big wow when gifted to friends and family back home.
Finding your Bag for One Bag Travel
Most blogs on the topic of one bagging it make a huge fuss over luggage- mostly to oversell visitors very expensive luggage via affiliate marketing links. If you're sick of being sold a line of b.s. instead of a good bag, here's my guide to finding the perfect one bag, suitcase, or backpack for you. (Hint: it's incredibly personal and my number #1 tip will land you a free bag) What works for me probably won't work for you– but check out the post for tips for finding that goldilocks bag of your own- without spending a fortune in the process of shopping for luggage.
Illustrated Essentials for Surviving a 16-hour Flight
Arguably, the worst part about travel is the often very long, torturous flights to get to our destination. In this article on illustrated essentials for surviving a long flight, I share a few of my best hacks to get through the 12, 14, 16, or even 18 hour flight without going crazy. Better yet, it's an Illustrated guide – browse through my sketchnote on what should be in your carry-on to make your flight not just less uncomfortable, but productive, restful, and comfortable.
Best One Bag Travel Hacks – Doodled
Also in the realm of Illustrated travel guides, check out my 11 best travel hacks in doodle form. Ranging from packing tips to simple ways to care for your body that can recharge your to be an even more adventurous traveler, these Illustrated 11 tips are some of my best – and most unique- recommendations for packing, self-care, and generaly surviving and thriving on the road as a solo traveler or digital nomad.
One Bag Packing List
No travel website would be complete without a packing list, so I've curated my contribution: What makes my one bag list two different than countless others out there? My packing list is a bit unique: a recommended packing list for one bag + female + digital nomads.
Traveling as a female traveler who needs to include basic equipment for work, and female-specific items in just one bag or suitcase can make packing a bag an extra challenge – but so rewarding when you have everything you need and it all fits in one bag. The benefits of being a female one bag nomad are that you are able to pack up quickly on transfer days, have everything you need on hand without having to search for it, and only having one bag of to worry about during complex travel and transfers.
Ultra-compact Makeup for One Bag Travel
Often, beauty products, skincare, and makeup are the Achille's heel of female one-bag travelers. Even travel size products often waste an incredible amount of space in luggage and can't help but spill over into separate bags. However, when you're committed to traveling with only one piece of luggage, finding (or making!) ultra-compact makeup and products is essential. To help me meet my travel priorities, I create my own makeup compacts that are ultra-compact and perfect for either one bag international travel, or even as a way of packing simple makeup products when backpacking.
One Bag Luxury Essentials
Even though you can go without something, doesn't mean it's something you should go without. Sometimes having a few basic, compact, luxury items in your one bag are totally worth it. And some luxury items can have enough multiple uses to justify the space they take up in your bag, backpack, or suitcase. In my article on eight one bag luxury essentials, I cover what these eight items are for me: things that make life on the road easier.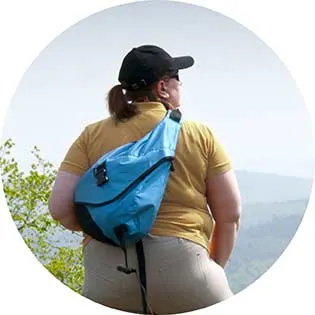 Lynli Roman's unique approach to travel is informed by decades of experience on the road with a traveling family and, later, years spent as a solo international traveler. When she's not writing about Seattle from her Pike Place Market apartment, Lynli writes on-location while conducting hands-on research in each destination she covers. Lynli's writing has been featured by MSN, ABC Money, Buzzfeed, and Huffington Post. She is passionate about sharing information that makes travel more accessible for all bodies.